While Nutrisystem and Jenny Craig have been around for a number of years both companies continue to heavily market their products, with commercials and ads for both in a number of popular magazines and on lifestyle TV channels.
These two companies are both very credible and though there has been some speculation if their success stories are typical or not there are plenty of dieters that find success.
Main Differences Between Nutrisystem vs Jenny Craig
The main differences between Nutrisystem and Jenny Craig are:
Nutrisystem is less expensive at around $300-350 per month, whereas Jenny Craig typically costs around $450 per month
Nutrisystem offers more active health counseling, whereas Jenny Craig is a system that you follow without much coaching
Nutrisystem offers more snack and dessert options compared to Jenny Craig
Many people are drawn to the Jenny Craig System or Nutrisystem because they are so easy. Both diet program options focus on pre-cooked meals (and meal delivery) which are a nice choice for busy people that don't have time to cook often. Both diets also have foods and snacks that appeal to people that don't want to give up their favorite desserts or carb meals.
If these types of diets interest you, here is a breakdown of how each one works and some reasons why you may (or may not) want to choose one over the other.
My Bottom Line Up Front: I personally prefer Nutrisystem because it is more adaptable to different health restrictions and is more cost effective, especially if you can take advantage for 50% off promos like this one.
How the Nutrisystem Diet Works
Nutrisystem has been around since 1972 and still remains one of the major dieting companies in America. There approach to dieting revolves around prepared meals and snacks for members, which they believe is more successful because it helps eliminate user error in cooking.
This system consists of four main plans:
Within these plans, you'll also have choices for Basic, Core or Uniquely Yours memberships. Depending on the membership you choose you can get free shipping, diet support, access to more meals and more.
There are only two phases to Nutrisystem:
Phase 1/Lean13 – Lean13 is Nutrisystem's new program designed to kickstart weight loss. This first week comes with the Turbo Takeoff box with portion control meals and snacks designed to ignite fat loss more quickly.
Phase 2 – After the first week you will eat the normal Nutrisystem diet, either for the 4-week plan or longer if you wish.
Nutrisystem Cost and Offer Details
The Nutrisystem plans range from $9.82 to $11.96 per day, depending on membership. All plans are 4-week durations and include 5 meals per day, allow for eating fresh produce, and are shipped to your door. This isn't that outrageous considering you have to pay for food anyway. One of the benefits of the Nutrisystem cost is that you save money on eating out or overshopping! Planning is easy and quick and cost-effective.
Pricing Note: They frequently offer special promos for various plans. For example, right now you an save 50% off here + get the first 2 weeks free.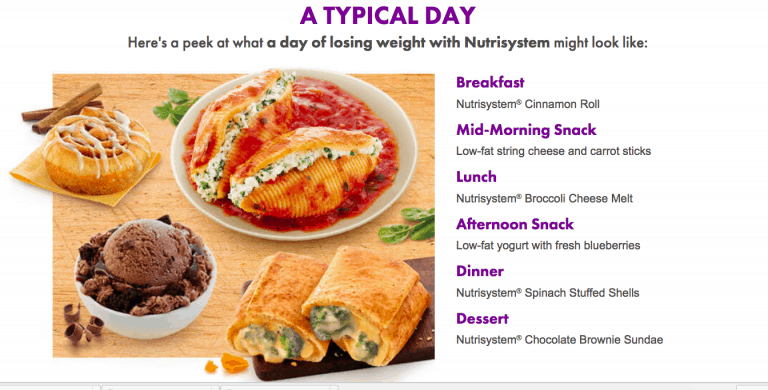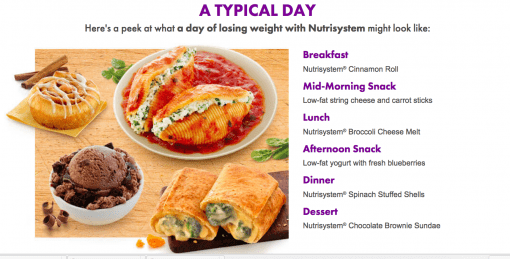 Nutrisystem Meal Plan
Each plan aims to help dieters lose up to 2lbs per week. Meals and snacks have very specific nutrition so you don't have to worry about calories. Typically meals focus on high protein and fiber, with no low and no preservatives. There are over 150 different meal and snacks to choose from.
Here are some examples of foods in the Nutrisystem Program:
Nutrisystem Breakfast
Nutrisystem® Cinnamon Roll
Mid-Morning Snack
Low-fat string cheese and carrot sticks
Nutrisystem Lunch
Nutrisystem® Broccoli Cheese Melt
Afternoon Snack
Low-fat yogurt with fresh blueberries
Nutrisystem Dinner
Nutrisystem® Spinach Stuffed Shells
Dessert
Nutrisystem® Chocolate Brownie Sundae
Other foods you might enjoy:
Dark Chocolate and Sea Salt Nut Bar
Ice Cream Sandwich
Milk Chocolate Flavored Pretzels
Chocolate Brownie Sundae
Chocolate Cupcake
Orange Cream Bar
White Cheddar Popcorn
Fudge Bar
Walnut Chocolate Chip Cookies
Cheesecake Flavored Bar
Whole Grain Soft Pretzel
Toffee Crunch Cookies
Oatmeal Chocolate Chunk Cookie
Chocolatey Pretzel Bar
Chocolate Cake
Oatmeal Raisin Cookie
Peanut Butter Cookie
Fudge Brownie
Chocolate Caramel Bar
Chewy Peanut Bar
Sweet and Salty Snack Mix
Snickerdoodle Cookie
White Chocolate Chunk Cookies
Golden Pound Cake
Smoky BBQ Snack-A-Rounds
Chocolatey Nougat Bar
Tiramisu
Red Velvet Whoopie Pie
Thin Mint Crisp Bar
Popcorn
Chocolate Chip Cookies
Carrot Cake
Vanilla Shortbread Cookies
Coconut Almond Bar
Honey Mustard Pretzel Bits
Double Chocolate Peanut Butter Cookies
Salt and Vinegar Snack-A-Rounds
Stuffed Apple Pie
Apple Pecan Bites
Cheese Puffs
Garlic Parmesan Snack-A-Rounds
NutriChocolates
Zesty Herb Snack Mix
Chocolate Peanut Butter Brownie
Pretzels
Stuffed Chocolate Pie
Chocolate Sandwich Cookies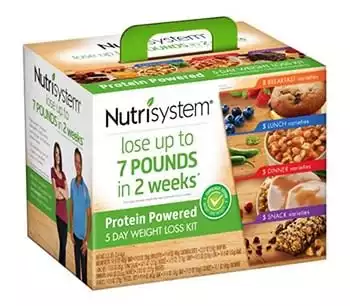 Why I Actually Like Nutrisystem
Look, in a perfect world I would recommend everyone just practice some self-control... but sometimes "sticking to a system" is what works best. For clients I work with who "just need a plan", Nutrisystem is one of the plans I recommend.
Choose Your Weight Loss Plan
We earn a commission if you click this link and make a purchase at no additional cost to you.
Pros and Cons of the Nutrisystem Diet Plan
The major advantage of Nutrisystem program is that it offers a great selection of different foods and is very convenient. The easier a diet is to follow, the more likely dieters will find success. This is the main reason why many people do achieve excellent weight loss on this diet. Not to mention eliminating the needs to count calories, carbs or other macronutrients is a blessing.
The Nutrisystem program also has great dieter support, not only in the form of customer service but also in the form of counseling. It can be difficult to deal with cravings or feel unsure about whether a meal adheres to the Nutrisystem diet or not. This online and phone support can be helpful to those that have failed with other diets because they didn't have support from friends or family.
A final pro tip is that Nutrisystem does stress the importance of exercise and physical activity, including them in their diet plans. Many diets forget to include advice for exercise or may not even mention it, to begin with. While it's common sense that you'll need to exercise for maximum weight loss, many dieters appreciate that Nutrisystem promotes a specific regimen.
A major con of the Nutrisystem Diet is that it focuses on pre-cooked meals. While this is a benefit for some, it simply doesn't help people maintain healthy eating habits in the future. If dieters could focus more on not just eating better but actually making better meals, a healthier relationship with food would be established.
How the Jenny Craig System Works
The Jenny Craig System has been around since 1985 and is one of the most popular diet plans for women. It is very similar to Nutrisystem in that is eliminates the need for dieters to cook or do excessive meal prep while on the diet (with pre-packaged food options).
The Jenny Craig Plan
The success of the Jenny Craig System is largely due to the way it works in terms of personal support and membership. There are over 500 Jenny Craig centers with a total of 2,000+ professionals ready to help dieters. They also offer phone and email support/counseling, though they stress the importance of meeting in person at their centers at least once a week. Many dieters find this support invaluable as it can be tough to make these kinds of dietary changes alone, whether you are slightly overweight or obese.
Some Jenny Craig Plan Reviews
While many seem to be thrilled with the Jenny Craig program, there are just as many (if not more) people that find their services lacking. Here are a few of some actual reviews from Jenny Craig members, the good and the bad so you can make a more informed choice for this program!
"This is my second time at Jenny Craig. The first was in 1991, I lost 38 lbs in 8 weeks. This time I've lost 15 lbs in 17 days so far. All these people whining about the food quality and size are not really committed to losing weight. If you follow what they tell you to do and eat the food that you're supposed to eat there's no way you won't lose weight. Yes, the food is more expensive than McDonald's but then again you are getting balanced meals, low calories and control fat and carbs. Obviously that's not what you were getting in your previous diet on your own. If you can muster a little self control you will succeed. I have nothing but great things to say about the Jenny Craig system." Brian of Blacklick, OH
"I order chicken fettuccine and got my order this last weekend. Twice, this week, the containers came out of the package in one piece. When I took it out of the microwave I didn't notice that one side of the container was missing and not to be found anywhere and so I must have ingested it. This happened again today and now I'm afraid to try anymore. I liked this service but they're using subpar materials." Michelle of Portland, OR
"This company is awful. PLEASE DO NOT SIGN UP FOR THIS WEIGHT LOSS PROGRAM! The food is barely edible. The portions are more than tiny. It is expensive. You do not lose the weight. Customer service is nasty. Other than that lol it's great! They have unnecessary rules. One being you're only allowed 4 substitutions per food order! What do they care if you pay for them. They only have to pack a different item. Ridiculous! Never mind for someone dieting with crummy food to choose from. I only have 10 pounds to lose. I can only imagine what if you had to be on this program for an extended period of time. Try anything else as this program is a sad joke." Marianne of Kennesaw, GA
"My biggest problem, besides food price, is the change of consultants that happens every month. I just get a good feel with my consultant and then they move them around to another center and I'm back to starting all over again with a new person. I love the last consultant I had and now they moved her to another location and I feel like I don't want to do this all over again with a new person. In the last 4 months, I have had 4 different consultants. This program emphasis having someone you can talk and relate to as helping with your weight loss goals, but now does that even help when you get a new person all the time. The program does work, but I think, even though I am a life time member that it's time I do it without the Jenny Craig staff and expensive food." Debbie of Hilliard, OH
"I first went to Jenny Craig in 1994 and lost 40 lbs in 8 months. Back then they had mandatory classes on nutrition, exercise, maintenance etc. I just went back last week again after 22 years and gaining back the weight after numerous back surgeries and the inability to exercise much. Things had changed, they no longer had the mandatory classes and the entire process has been streamlined. So far in week two, the food is small portions but filling and the weight is starting to go down very steadily. Most of the consultants there have been through the Jenny Craig weight loss program themselves, so they have their own stories. The staff has been great and seem to really be about your being successful. Yes, the food is extremely expensive, but you get what you pay for, well portioned foods which are fairly tasty." HA of San Ramon, CA
Reviews are all from, Consumer Affairs. Check out more Jenny Craig reviews here: Consumer Affair Reviews for Jenny Craig.
Jenny Craig Meal Plan
Diet-wise Jenny Craig offers over 100 different pre-packaged meals, all of which are frozen or shelf-stable food and require reheating. You can also find snacks like kettle corn. Each meal is specifically designed for weight loss and includes the macronutrients you need to be healthy. Like Nutrisystem, you won't need to count calories or worry about those things. Simply eat your daily meals and you'll be good to go.
Before ordering your meals you will need to meet with a consultant to develop a diet plan, as well as designing a matching exercise regimen.
Here is a sample menu:
Breakfast: Jenny Craig Blueberry Muffin, 2 oz. String Cheese, 2 cups Coffee w/4 tablespoons sugar-free Vanilla creamer
Snack 1: Jenny Cookies & Cream Anytime Bar
Lunch: Jenny Craig Turkey Club Panini, Green Beans, Apple
Snack: Jenny Craig S'mores Snack Bar
Dinner: Jenny Craig Rising Crust Pizza, 2 oz. String Cheese
Snack: Pear
Notice how you can make some food choices that are not Jenny Craig food items, like fresh fruits and vegetables, but for the most part, you'll have to stick to the plan and choose Jenny Craig prepared food choices.
Here are some examples of foods in the Jenny Craig program:
Apple Cinnamon Oatmeal
Barscotti with Cranberries and Almonds
Blueberry Pancakes & Sausage
Breakfast Scramble
Cheddar Cheese Omelet
Chocolate Muffin
Cinnamon Rolls
Cinnamon French Toast
Kettle Corn
Margherita Pizza
Chocolate Lava Cake
Chicken Fettucine
Chicken Street Tacos
Turkey Burger
Cinnamon Rolls
Triple Chocolate Cheesecake
Beef Chow Mein
Beef Merlot
Asian Style Chicken
Butternut Squash Ravioli
Broccoli and Cheese Stuffed Potato
Pros and Cons of the Jenny Craig System
Like Nutrisystem, many people enjoy the Jenny Craig System because it simplifies eating. Instead of having to research a diet plan, gather recipes and cook all on your own, all you need to worry about with this diet is choosing the pre-made meals you want from a long list. Many people already fail at dieting on their own because they don't have the time or willpower to cook every day. With Jenny Craig, this isn't an issue.
The obvious downside to Jenny Craig is that it requires a membership fee, which doesn't include costs of meals. This system can quickly get expensive and some dieters find it isn't worth the high cost when there are less expensive options.
Also, some dieters have found that being stuck with frozen or shelf-stable foods isn't appealing to the taste buds. While Jenny Craig claims to have some of the best tasting meals, you might find you don't enjoy them.
Another thing to consider is that the Jenny Craig meals are designed for the average person and are not appropriate for those with diet restrictions. If you require gluten-free meals, are a vegetarian, can't consume sugar or are allergic to peanuts, you won't be able to eat these meals.
Which is Better?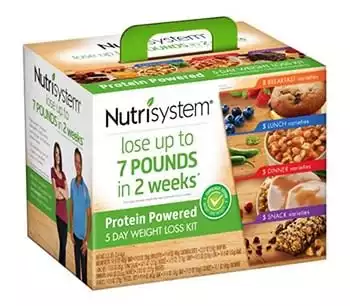 Why I Actually Like Nutrisystem
Look, in a perfect world I would recommend everyone just practice some self-control... but sometimes "sticking to a system" is what works best. For clients I work with who "just need a plan", Nutrisystem is one of the plans I recommend.
Choose Your Weight Loss Plan
We earn a commission if you click this link and make a purchase at no additional cost to you.
Nutrisystem and Jenny Craig have both been proven to be successful for years, helping many people lose weight and keep it off with long-term weight loss. All without having to agnonize over nutrition facts at the grocery store.
Far from just helping with weight loss goals, there are numerous other benefits including lower blood pressure, more regulated blood sugar levels (good for borderline diabetics, etc…).
However, it seems as though Nutrisystem may be the better choice for a few reasons. If you're torn between the two system, you may want to give Nutrisystem a try first.
They offer excellent customer support and counseling, have a huge selection of foods and include snacks as well as desserts.
Bottom Line: Many fans find that Nutrisystem meals taste better, not to mention those with dietary restrictions, like diabetics and vegetarians, can still enjoy this diet. Nutrisystem is also less expensive and offers a risk-free guarantee, something rarely found in dieting programs. If you are interested in trying, be sure to save 50% off of every order here.
Similar Diet System Articles
Here are some related research articles we've done:
Disclaimer
Last updated: November 19, 2019
The information contained on www.altprotein.com website (the "Service") is for general information purposes only.
Alt Protein assumes no responsibility for errors or omissions in the contents on the Service.
In no event shall Alt Protein be liable for any special, direct, indirect, consequential, or incidental damages or any damages whatsoever, whether in an action of contract, negligence or other arising out of or in connection with the use of the Service or the contents of the Service. Alt Protein reserves the right to make additions, deletions, or modification to the contents on the Service at any time without prior notice.
Alt Protein does not warrant that the Service is free of viruses or other harmful components.
Fitness disclaimer
The Service offers health, fitness and nutritional information and is designed for educational purposes only. You should not rely on this information as a substitute for, nor does it replace, professional medical advice, diagnosis, or treatment. If you have any concerns or questions about your health, you should always consult with a physician or other health-care professional.
Do not disregard, avoid or delay obtaining medical or health related advice from your health-care professional because of something you may have read on the Service. The use of any information provided on the Service is solely at your own risk.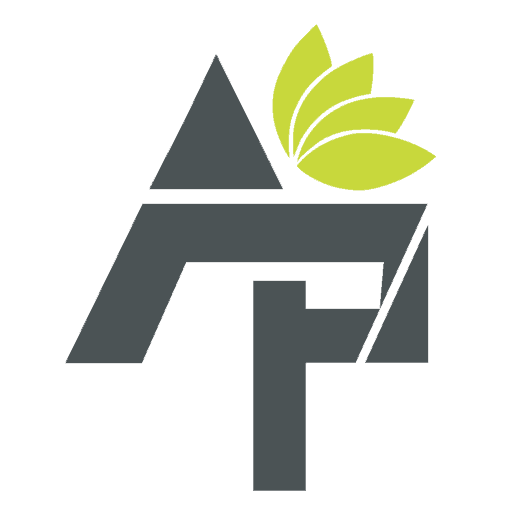 Alt Protein Team is a team of professionals and enthusiasts committed to bringing you the most up-to-date information on alternative protein, health and wellness, workouts, and all things health-related. We've reviewed a lot of products and services so you don't have to guess when you spend your hard-earned money on them. Whether you want to shed some pounds, build lean muscle or bulk, we can help you figure out what you need to do and what you need to have to achieve your goals.