There is one simple thing that 99% of us should do in order to be healthier: eat more greens. A staggering number of people fail to get enough veggies in their diet, which is why so many suffer from digestive problems, heart problems, metabolic disorders, and the list goes on. It's nearly impossible for the average person to eat "too much" veggies.
The problem is that veggies aren't as delicious as some of the other foods around (protein, carbs, etc.). It can be difficult to force yourself to eat veggies, which is where green superfood powders come in handy. With just a single cup of green juice, you get the nutrients from up to 7 cups of veggies. It's a good way to ensure that you get all the vitamins, minerals, fiber, and antioxidants your body needs.
Here, we'll take a look at All Day Energy Greens, a supplement that combines fruits and veggies in one to deliver a VERY wide range of nutrients and promotes better health.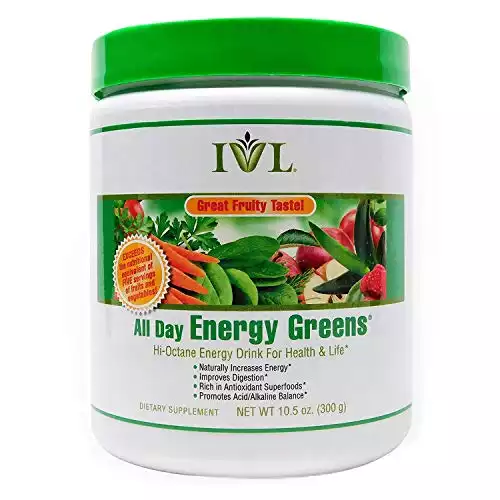 About All Day Energy Greens
All Day Energy Greens is a green supplement designed to make it easier for you to improve your daily nutrition. It contains the vitamins, minerals, and antioxidants from 38 different veggies and superfoods–including green tea, grape seed, suma, organic brown flaxseed, red raspberry leaf, chlorella algae, alfalfa, spirulina, and ginger root. These 38 different ingredients combine to deliver a powerful dose of nutrition with each serving.
With each scoop of the powder, you get roughly 5 of your daily servings of fruits and veggies. For those who have a hard time adding more raw foods to their meals, this is a good option to consider. You can blend with your favorite fruit juice, make into a green smoothie, or even just mix with a cup of water.
Key Features
Contains 38 different ingredients, many of which are certified organic
Contains fruits, vegetables, herbs, and extracts
Each portion contains 5 servings of fruits and veggies
Made with all natural ingredients
Contains no synthetic ingredients or chemical additives or flavorings
Price: $40 for 10.5 ounces (Check this listing for the latest live prices)
30 servings per container
Specifications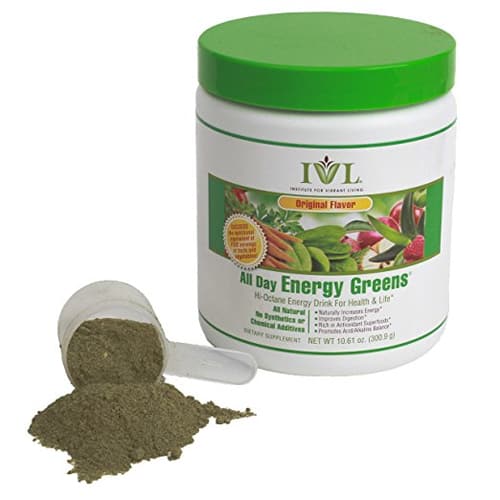 This is a green superfood powder designed to promote a healthy pH balance in your body. Most of the food we eat today promotes acidity in the body, which can lead to a wide range of health problems.
By consuming more fruits and veggies (via the superfood powder), you promote a more alkaline pH balance. This helps to reduce your risk of disease and health problems, and improves your body function overall.
Not only does the supplement contain a hefty dose of vitamins and minerals, but it's also packed with antioxidants that can counteract the effects of free radicals in the body. The antioxidant content makes it an effective oxidative stress preventer, and will help to defend your body against a wide range of diseases, fatigue, and aging.
Pros of All Day Energy Greens
Here are a few of the positive things users have had to say about All Day Energy Greens:
Boosts energy — As the label states, this is a product designed to improve energy production throughout the day. A number of users have commented saying things along the lines of "Within 3 days, I noticed…more energy". The high antioxidant content of the supplement makes it a useful option for those who want a more natural energy boost. It contains no caffeine, taurine, or any other stimulant, simply a natural way to increase energy production.
Great for edema — If you are suffering from edema (swelling caused by water retention), you may find that this is the product for you. Many people have commented saying that the supplement helps them to urinate more, meaning they expel excess water more efficiently.
Decent taste –– With green supplements, you can't expect a GOOD flavor. However, this supplement's flavor runs more toward red veggies (red bell peppers) than dark greens (broccoli, kale, spinach, etc.). It has a "bright" flavor that many people found surprisingly enjoyable, compared to other "green" superfood powders.
Mixes well — It doesn't matter whether you mix this powder in a blender or with a spoon, it will mix in with your juice or water easily. You won't have to worry about clumps thanks to this simple superfood powder.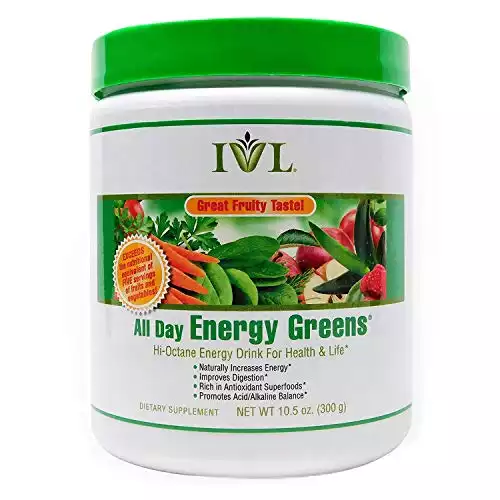 Cons of All Day Energy Greens
As with any product, there are drawbacks to All Day Energy Greens:
Hard to find product information — Many competing products will give a full breakdown of their ingredients, which is ideal for those who like to know EXACTLY what's in their food. This product does not do that, and it's hard to find information on what's in the supplement–even on the product page (but we did find a list of ingredients!).
Limited nutritional information available — It would be nice to know exactly how much of each vitamin and mineral you're getting with each serving, but the nutritional information on this superfood product is limited. This makes it difficult to know if you should be adding other vitamins or minerals to your diet.
Pricey — Each can of this superfood powder costs $40, and you only get a 1-month supply. That's a pretty high price, considering that there are competing products that offer more product for a lower cost. Check out the latest prices and discounts.
Has a "diet" flavor –– The product contains Stevia, which gives it that "diet product" flavor that is often hard to enjoy. For many people, an unsweetened green powder would be a better option than one sweetened with Stevia.
Other Options to Consider
Not sure All Day Energy Greens is the product for you? Here are a few other options to consider:
Garden of Life Raw Organic Green Superfood — This product is made with all organic materials, and it contains the nutrients from 34 different fully raw ingredients. It's a vegan-friendly product, made with ZERO chemical or artificial additives. The price tag on this superfood powder is also significantly lower than All Day Energy–just $2.79 per ounce compared to $3.81 per ounce. All in all, a decent choice.
Amazing Grass Green SuperFood — This is one of the top-rated superfood products on Amazon, with over 67% of the 8,000+ reviews being 5-star. It's an all-natural superfood powder made from organic ingredients, delivering a hefty dose of nutrients in an easy-to-drink form. It is rich in antioxidants thanks to the Acai and goji berries used in its formulation, along with all the enzymes, vitamins, and minerals you need to be healthy. It's also fairly cheap–just $35 for a 17-ounce tub.
Naturo Sciences Natural Greens — This supplement is also very well-rated, with over 800 5-star reviews on Amazon. It contains a higher antioxidant content than All Day Energy Greens, a hefty dose of metabolism-boosting Vitamin B12, folic acid, beta carotene, and other vital nutrients. It also has a much higher fiber content, making it a digestion-friendly supplement. You'll even get live probiotics with each serving, a boost to your digestive and immune systems.
Bottom Line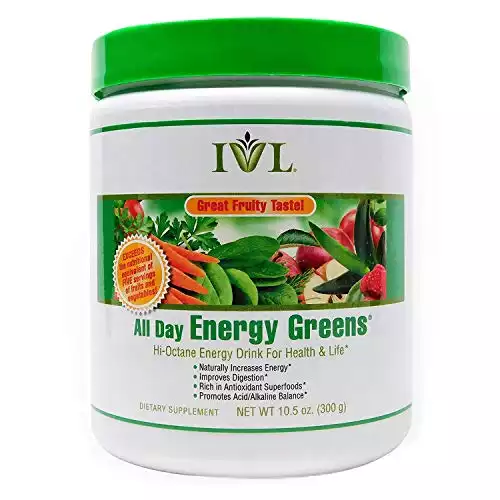 While All Day Energy Greens is a decent option, it's not the BEST on the market (see the products listed above). You get a hefty dose of vitamins, minerals, and antioxidants, but the taste is a bit lacking and you're never exactly certain what's in your products.
You may be better off with a product like Amazing Grass Green Superfood or Green Vibrance. Read here the whole list of best supplements here.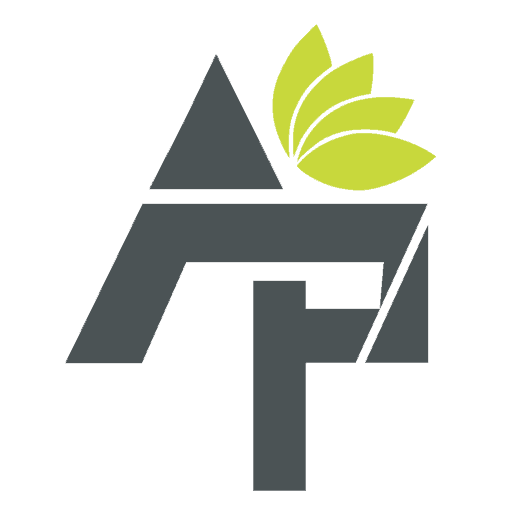 Alt Protein Team is a team of professionals and enthusiasts committed to bringing you the most up-to-date information on alternative protein, health and wellness, workouts, and all things health-related. We've reviewed a lot of products and services so you don't have to guess when you spend your hard-earned money on them. Whether you want to shed some pounds, build lean muscle or bulk, we can help you figure out what you need to do and what you need to have to achieve your goals.