In this review, I'll dig into the Abundant Greens superfood powder to see if it's worth the hype.
First things first…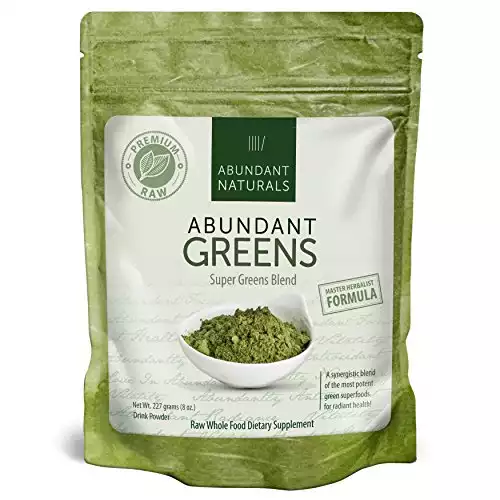 What's the Deal with Superfoods?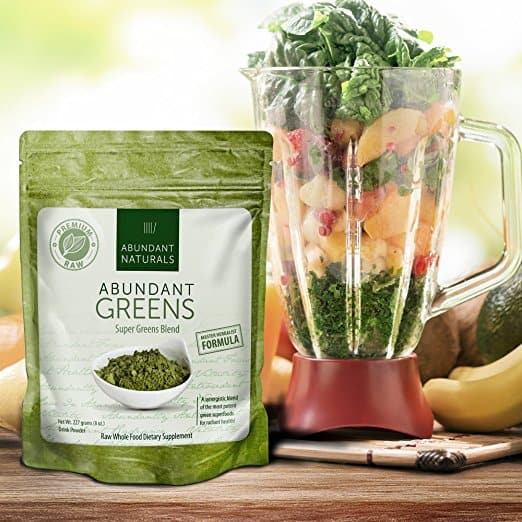 Superfoods are all the rage now in the nutritional supplement world. Superfoods are plants dubbed by the marketing world as foods that pack a large amount of antioxidants, polyphenols, vitamins, and minerals. While little research has actually been conducted on these so-called superfoods, they all do have something in common – lots of good for you nutrients.
Dark Greens: Whether you believe the superfood hype or not, it is important to consume lots of healthy fruits and vegetables. Dark leafy greens tend to be the most nutrient-dense vegatbles that often get dubbed as a superfood. Spinach and kale are ones that often come to mind for most people. Kale is rich in vitamin A and is an anti-inflammatory plant. In other words, it's good for you so eat it.
Supplemental Greens: Not everyone is a fan of spinach and kale. There is only so much you can eat before you just can't eat another spoonful of kale. Enter greens supplements. Greens supplements are a great way to get a high dose of the good stuff in the leafy greens without actually eating them.
Added Fruit: Very few people consume the recommended five servings or more of fruits and vegetables everyday. Fruits and vegetables are good for our health because research has shown that eating a diet rich in fruits and vegetables can reduce your risk of developing cardiovascular diseases, various cancers, high blood pressure, and other chronic diseases.
Restores Balance: Additionally, many people consume too much protein and too little fruits and vegetables. This can lead to an acid overload in the body. While it won't lead to any major health issues, a high acid load can negatively affect bone and muscle growth. Fruits and vegetables can offset this. Greens are alkaline foods and can prevent acid overload. Greens supplements are especially good at enhancing your recovery time after tough workouts and increase your daily dosage of important vitamins and supplements.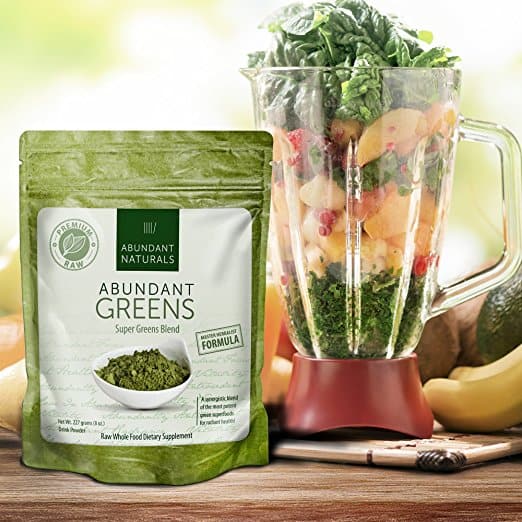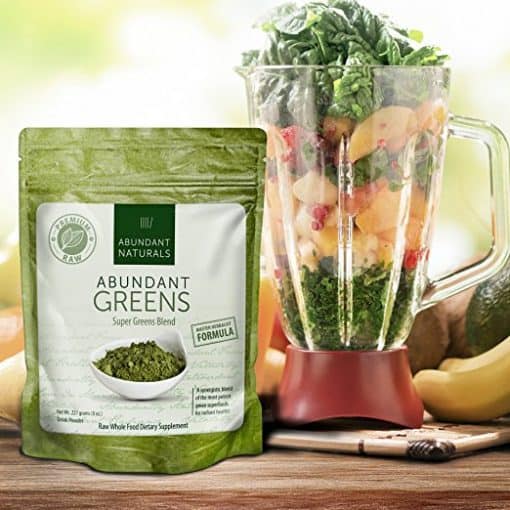 Which brings us to Abundant Greens…
Abundant Naturals is a small, family-owned company founded on the commitment to provide vital nutrition through certified organic nutritional supplements. The Sarasota, Florida based company is committed to producing only the finest products with the most nutrient dense, organically grown ingredients available.
About Abundant Greens Organic Superfood Smoothie Powder
Abundant Greens is a 100% bioavailable, enzymatically-live, and cell-ready nutritional supplement powder that is jam-packed with nutrient-rich ingredients. Superfood ingredients include moringa leaf, chlorella, spirulina, and wheatgrass among other nutrient-dense ingredients. All seven ingredients are certified organic with the USDA Organic seal.
Abundant Greens is sold exclusively through Amazon and is backed with a 30-day no question asked refund policy. A 28-day supply retails for just under $1.07, as of this writing (check here for the latest pricing).
The Quick Facts – At a Glance
Ingredients:
Wheatgrass, moringa leaf, alfalfa leaf, chlorella, spirulina, barley grass, stevia leaf
Ingredient Source Countries:
USA, Taiwan, India
Processing Method:
Gently dried
Flavor:
Natural
Cost Per Serving
$1.07 (

check here for latest

)
Refund Policy:
30-Day no question asked
The Review – My Thoughts After Using
If you're looking for a high-quality greens nutritional supplement powder then look no further than Abundant Greens Organic Superfood Smoothie Powder. This stuff is the real deal. While Abundant Greens no longer sells through their company or health food stores, it sells directly through Amazon reducing the price greatly.
At $1.07 per serving (at the time of this writing), this greens powder is a good buy (check here for current price). All seven ingredients are 100% certified organic through Quality Assurance International and are grown and harvested from three countries – the United States, India, and Taiwan.
Most nutritional supplement companies use harsh manufacturing processes that actually kill most of the amino acids, vitamins and minerals, and phytonutrients, but Abundant Greens uses a gentle drying process that preserves the nutrient profiles of all the ingredients.
A 6-gram serving contains only 20 calories, 40% of your daily Vitamin A, 10% of Vitamin C, 10% of Iron, and 6% of calcium. While the powder isn't particularly high in any vitamins or minerals, many people have reported feeling more energized and less bloated after consuming the powder on a regular basis.
It is definitely high in superfood greens.
Moringa tea is a native plant from the sub-Himalayan areas of India and Pakistan. Locals have used the plant for centuries for medicinal purposes. It has been used to treat arthritis, diabetes, diarrhea, and many other diseases. It is commonly used in India and Africa to help fight malnutrition because dried moringa can retain up to 90 vitamins and minerals, including all eight essential amino acids.
Other important superfood ingredients include chlorella and spirulina, which each contain over 100 trace vitamins and minerals and support healthy brain function. Both alfalfa and wheatgrass are chlorophyll-rich plants that can help in normal blood clotting, hormonal balance and detoxification.
All ingredients are 100% organic, gluten-free, vegan, and non-GMO.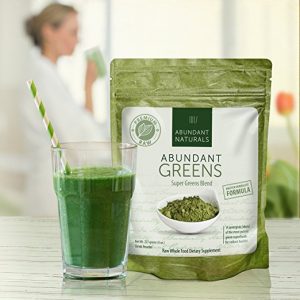 Abundant Greens markets the nutritional supplement as a smoothie powder, but when mixed with water it doesn't have the consistency of a smoothie. However, for a greens product, it tastes good. It still tastes a bit "earthy," but compared to other brands, it's a good taste.
The product can be mixed with just about any liquid was water to milk to a smoothie. I especially enjoyed the powder in a fruit smoothie. The powder dissolves well with very few clumps in water.
The Pros of Abundant Greens
High concentration of superfood greens
Only seven ingredients
100% certified organic
Tastes good and mixes well in liquids
30-day no questions asked refund
The Cons
Not very high in vitamins and minerals (still need to supplement separately for these)
Can only purchase on Amazon
The Final Scoop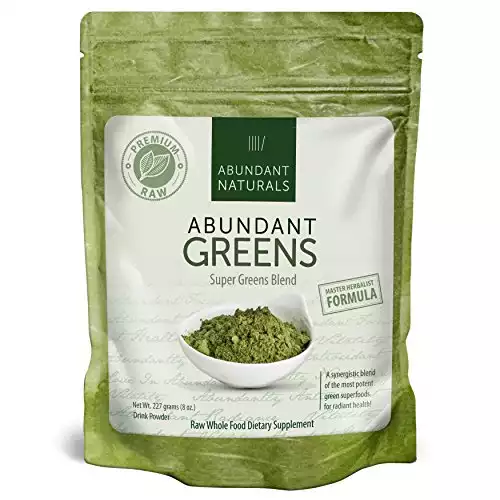 Overall, we really like Abundant Greens Organic Superfood Smoothie Powder. It's not particularly high in listed vitamins and minerals, but we know that all seven 100% organic, non-GMO ingredients are high in trace vitamins and minerals.
The powder is easy to mix in all liquids including water and smoothies and tastes great for a greens powder. At an average of about $1.07 per serving, this organic and nutrient-dense supplement powder is a great additional to your pantry and your daily diet. You can check the latest promotional pricing here.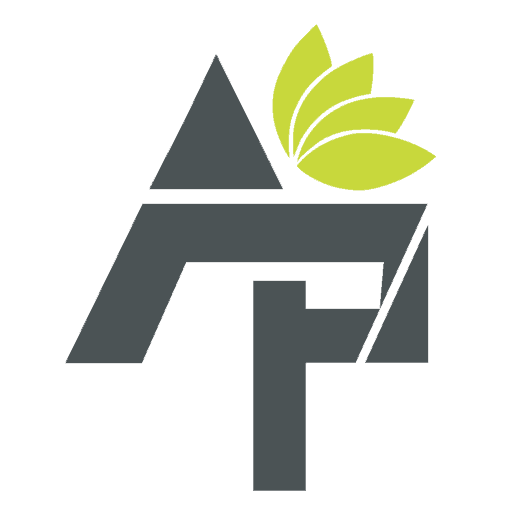 Alt Protein Team is a team of professionals and enthusiasts committed to bringing you the most up-to-date information on alternative protein, health and wellness, workouts, and all things health-related. We've reviewed a lot of products and services so you don't have to guess when you spend your hard-earned money on them. Whether you want to shed some pounds, build lean muscle or bulk, we can help you figure out what you need to do and what you need to have to achieve your goals.