Compared to the traditional American diet that is far too high in unhealthy fats, low-quality protein, sugars and a lack of whole product, the vegan diet is a huge improvement. However, jumping into veganism shouldn't be taken lightly. While a diet consisting of only grains, fruit and vegetables seems complete, it truly isn't as humans were designed to be omnivores.
Since vegans aren't consuming animal products it's extremely easy for nutrient deficiencies to occur. A vegetarian diet may also need to supplement some of the core vitamins and nutrients, so pay attention even if you aren't strictly vegan!
The 4 main vitamin or mineral deficiencies that can occur are:
Vitamin B12 – The major deficiency all too common in vegan diets is vitamin B12, because there is no vegan source of this vitamin present. Vitamin B-12 deficiencies aren't often noticed right away and can be present for a few years before you start noticing symptoms. This can be very dangerous as a lack of B-12 can cause irreversible neurological damage to the body. It is absolutely essential that vegan supplement with B-12.
Vitamin D – It's widely known that most adults don't get enough vitamin D in their diet. Dairy is a major source of vitamin D, and naturally, vegans won't be able to consume this source. Aside from drinking soy milk, vegans should choose a multivitamin with vitamin D. Vegans should also make a strong effort to get a little sunlight everyday. Calcium is another important mineral that should be combined with vitamin D as they work together.
Iron – Women on a vegan diet need to pay special attention to their iron levels. While you can maintain healthy iron levels from a varied vegan diet, menstruating women should supplement with iron since diet alone may not be enough to keep them healthy. It's not a bad idea for both men and women to get a multivitamin with additional iron however. Especially if you know you don't eat enough dark leafy greens or legumes like beans.
Iodine – Like B-12, iodine is another mineral that majority of vegan diets don't have enough of. The average person gets iodine from either iodized salt or milk. Aside from seasoning with salt, making an effort to eat sea vegetables like seaweed or other algaes help. Spirulina is another excellent source. Since the average vegan probably won't eat these foods on a regular basis, it's a good idea to just find a multivitamin that contains some iodine so you don't need to worry about it.
Nutritional deficiencies can cause very serious health problems so it's important to take preventive measures. Because the vegan diet is excluding one very large food group, it's imperative to take supplements to ensure you are getting the vitamins, minerals and other nutrients you need to maintain optimal health.
Carefully reviewing your diet and focusing on certain plants, fruits, vegetables, or grains is important but most health authorities recommended vegans also take a multivitamin at a minimum.
If you're new to the vegan lifestyle or are concerned you may not be getting the proper vitamins, here are 3 different vegan-friendly multivitamins to try out.
Deva Vegan Multivitamin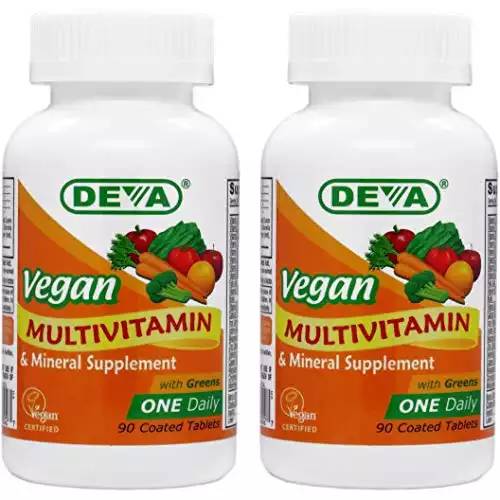 Deva Nutrition produces only 100% vegan supplements and is one of the major nutritional companies registered with the Vegan Society organization. Their Vegan Multivitamin and Mineral Supplement goes above and beyond the quality expected in most vitamin blend.
This multivitamin is enriched with greens, vegetable powders, and herbs to ensure maximum nutrition is delivered. These additives include spirulina, alfalfa, broccoli, cinnamon, dandelion, rose hips, ginger, and spinach, just to name a few.
It even contains 400 mcg of Folic Acid, which can be a great addition to any vegan diet.
The Vegan Multivitamin has all of the essential vitamins and mineral needed at 100% minimum of their daily value, with the majority being higher. Since B-12 deficiencies are the biggest worry for a vegan, Deva included 100 mcg of B-12 per serving. This tablet also has 18mg of iron. It comes in a coated tablet that is easy to swallow. This multivitamin does have a very light "green" flavor as this coating is chlorophyll.
Deva sells this product in 90 tablet bottles, so one bottle will supply you for about 3 months. It also contains 100 mg of calcium, which is a good thing if you say no to all forms of dairy!
VitaCost Simply Vegan Multivitamin
Vitacost is a well-known supplement brand and retailer. Despite their excellent, competitive prices of their supplements, Vitacost has very high standards for their nutrient-rich products and is a very reputable company to purchase from. While you can find a range of different vegan multivitamins on their website, their own Vitacost Simply Vegan Multivitamin is an excellent choice.
This multivitamin is enriched with green superfoods and digestive enzymes. The Simply Vegan Multivitamin has 33 essential vitamins and mineral, including all the major ones vegans are prone to becoming deficient in.
This particular tablet is iron-free, so is ideal for men, post-menopausal women or women that already take with a separate iron supplement. It has 100 mcg of B-12, which is 1,667% of the recommended DV. These pills contain added spirulina and chlorella, making them a good source for chlorophyll and iodine.
The added digestive enzymes is something many vegan multivitamins lack, but can be very useful for those with sensitive stomachs. Some people, vegan or not, find that multivitamins can make them feel a little queasy, especially on an empty stomach. These enzymes help prevent this problem and also help the digestive system more efficiently absorb this multivitamin.
Vitacost sells this multivitamin in a 60 tablet bottle, with the recommendation for adults to only take one daily with food unless otherwise directed by a doctor.
NOW Foods Daily Vits Multi Vitamin & Mineral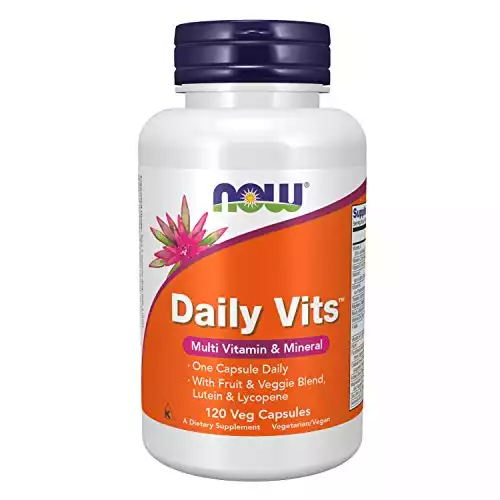 A great multivitamin option for those that are on a tight budget is NOW Food's Daily Vits. While not sold only for vegans, this multivitamin is vegan-friendly. It comes in a huge 250 capsule bottle, for an excellent price of about $30 (For the latest prices and discounts, check here) depending on retailer.
NOW Foods is a more economically-priced brand but this multivitamin has all the major essential vitamins and minerals you need.
This multivitamin has about 100% DV on all of the major vitamins and minerals vegans need. While this may not be as impressive as the numbers on other brands, it will still be perfectly adequate if you already eat a vegan diet that focuses on preventing deficiencies. For B-12 is has mcg which is 100% of the recommended daily value. Iron comes in at 50% DV, with iodine at 100% and vitamin D at 400 IUs.
The Daily Vits multivitamin is really useful when used in combination with other supplements. For example, if you already take extra vitamin D or B-12, you probably don't need the super high content in other multivitamins like Deva's. In that case you can save money and still get everything you need by using Daily Vits instead.
Some Final Thoughts
Whether you are a strict vegan or just implement a vegetarian diet into your life, it can be tough to get all the nutrients you require. The vegan lifestyle is arguably one of the healthiest, but only when special attention is paid to diet. Too many vegans make the mistake of assuming they are healthy and getting everything they need simply because they eat a lot of produce and don't eat animal products. This simply isn't true.
Whether you're just starting out vegan or have been eating vegan for years, it's a good idea to regularly see your doctor and get bloodwork done to ensure you aren't suffering from a deficiency.
An ounce of prevention is worth a pound of cure when it comes to any new diet. The first step towards better health as a vegan is to begin taking a multivitamin, such as the 3 featured here so you can get your daily nutrients in!
Recommended Reads: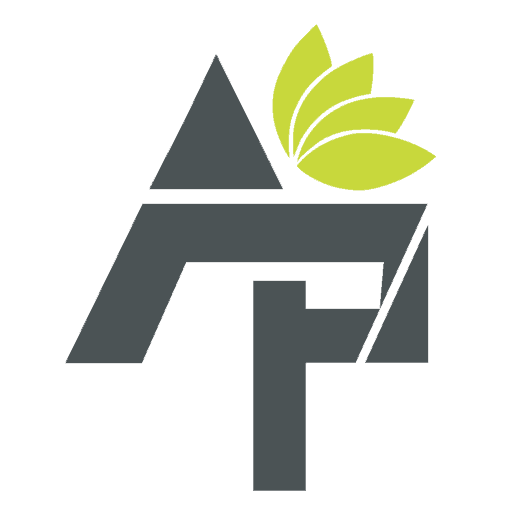 Alt Protein Team is a team of professionals and enthusiasts committed to bringing you the most up-to-date information on alternative protein, health and wellness, workouts, and all things health-related. We've reviewed a lot of products and services so you don't have to guess when you spend your hard-earned money on them. Whether you want to shed some pounds, build lean muscle or bulk, we can help you figure out what you need to do and what you need to have to achieve your goals.