If you're like most Americans, you aren't getting your recommended servings of fruits and vegetables.
In fact, according to a 2018 report by the Center for Disease Control, a measly one in ten Americans get enough fruits or vegetables in their daily diet. That's fairly astonishing, and a startling statistic.
Even if these stats are potentially improving, there's still an astounding majority of Americans who are falling short, which is partially why products like Balance of Nature and Juice Plus are now on the rise.
But what even is Balance of Nature and Juice Plus? And do they really make up for skimping on fruits and vegetables? In this article, we'll introduce you to these two companies and also show you which one is the better value, both for your health and your budget.
Bottom Line Up Front: If we had to go with ONE natural supplement, I would lean towards Balance of Nature here because it is more cost effective and focused offering.
Recommended Daily Servings of Fruits and Vegetables
Official USDA recommendations indicate that adults should aim for a total of five to nine servings of fruits and vegetables per day, which may sound like a lot, especially to someone who is not used to eating fruits or vegetables much at all.
And there is also confusion as to what constitutes a serving. In general, one serving of fruits or vegetables looks like:
One cup of fresh fruit or half a cup of dried fruit, or one medium fruit
Half a cup cooked or one cup of raw vegetables
In addition, experts recommend you get a variety of types of fruits and vegetables. Not only should you ideally rotate different hues, but you should make sure to incorporate a few servings of leafy greens every week.
Leafy greens include vegetables such as kale and spinach. The more variety you incorporate, in general, the better for your overall health. And while fruit juices do technically count as a fruit serving, there are some concerns, which we will address.
If I don't like eating fruit, can't I just drink juice?
Admittedly, many people don't like eating whole fruit, aren't shopping for it, or just want something even more convenient. – juice!
Though there are signs that the popularity of juice is on the decline, it's still a way many Americans, mostly adults and up, enjoy fruit. Orange juice alone is valued at over 12.3 million dollars market value, with apple juice a popular second choice. It's true that these juices can be tasty, and even come fortified. It is not uncommon, for instance, for orange juice to come with other nutrients such as Vitamin D.
The problem is that not all juice is healthy. Juice mixes tend to blend water and sweetening agents and even artificial dyes and supply precious little of the original nutritional benefits of the original fruit. Unless something is labeled one hundred percent juice you may very well be drinking something more like sugar water than actual fruit juice.
But even one hundred percent juice can have its downsides. Even 100 percent juice:
Contains next to no fiber of the original fruit
May not satisfy your hunger and can even cause a spike in blood sugar
Is more calorically dense than eating fresh fruit
In general, one hundred percent fruit juices or vegetable juices are not inherently bad for most people, but they also tend not to offer the nutritional benefits of the original fruit.
The best option is to drink juice in moderation–in other words, it's better than not getting fruits and vegetables at all, but it's also not a perfect substitute by any means. And for anyone who has issues with blood sugar, juice may simply not be an option.
What If I am Already Getting Enough Fruits and Vegetables
Even if you think you're already getting in your recommended servings and fruits or vegetables, it's possible that products like Balance of Nature and Juice Plus could still be beneficial for you.
For one, many people underestimate how many fruits and vegetables they're actually getting in. Unless you're keeping track or following a plant-based diet, there's a high probability you may be falling short, even if you don't intend to. Even short of that, you could still benefit from a product like Balance of Nature or Juice Plus. That's because, if you're just getting the minimum recommendations, you could stand to benefit more.
While the USDA recommends five to nine servings of fruits or vegetables, more research is now indicating that the highest health benefits occur at levels as high as ten servings a day. A study by the Imperial College of London, for instance, found that consuming as many as ten servings a day could produce even greater health benefits. And in fact, some estimate that increased consumption of fruits and vegetables could prevent as much as nearly eight million premature deaths per year around the world.
But getting ten servings of fruits and vegetables a day is not realistic for most people. And then there are other people, who cannot digest large quantities of fresh fruit or vegetables for digestive or other reasons. That's where something like Balance of Nature and Juice Plus come in to supplement your diet.
Health Benefits of Fruits and Vegetables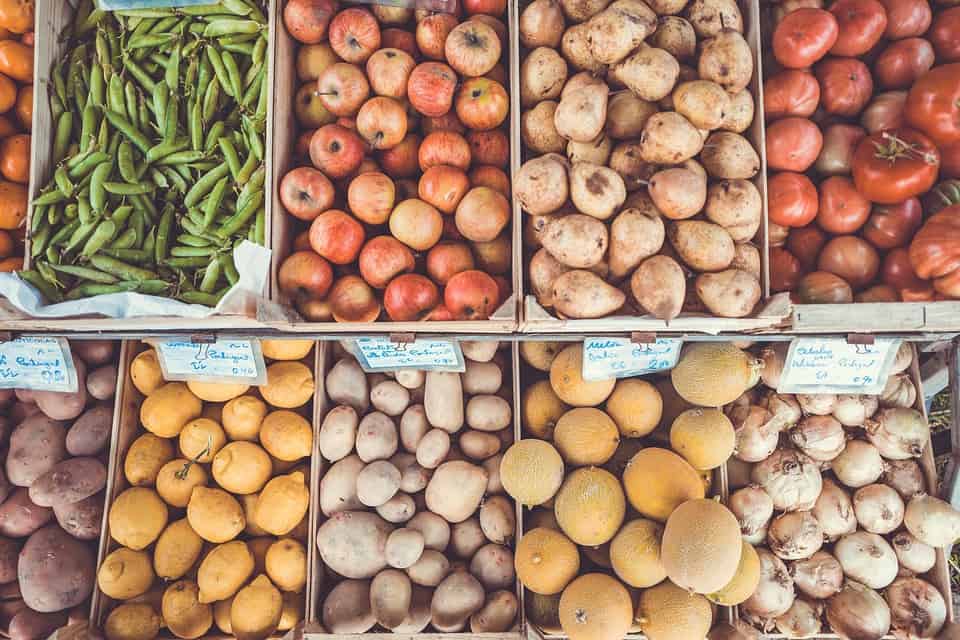 In fact, it might be just as easy to frame the impact of eating fruits and vegetables not so much by the potential benefits, but by the risks to her health when you fall short. Fruits and vegetables, as most know, supply crucial vitamins, minerals, fiber, and even antioxidants and other benefits that support nearly every body function.
That's because fruits and vegetables, next to free of dietary fat and low in calories, provide helpful fiber to keep you full and keep digestion regular; and vitamins and minerals including but not limited to potassium, vitamins A and C, and folic acid, among others.
Eating enough fruits and vegetables can:
Reduce your risk of heart disease
Reduce your risk of certain cancers
Help regulate blood pressure and cholesterol levels
Help you maintain a healthy weight
Reduce your risk for kidney stones and osteoporosis
Reduce your risk for strokes
In general, those who consume more fruits and vegetables in their diet tend to live longer, healthier lives.
What exactly is Balance of Nature and Juice Plus?
Balance of Nature and Juice Plus are both nutritional supplements in the form of capsules.
Both are dietary supplements, taken like you would a multivitamin, to support nutritional health.
The catch? Unlike regular vitamins, these capsules are made from concentrated extracts from fruits and vegetables.
Balance of Nature is my pick, but if you are looking for what is comparable to Balance of Nature, Juice Plus is the best Balance of Nature Alternative.
The idea is that these capsules are meant to support your health where you may fall short of vitamins and minerals, and help you benefit as if you were to eat in whole fruit and vegetable supplement form, but without the hassle.
What's wrong with regular multivitamins
Multivitamins are actually a topic of debate. While they do have the power to provide nutrients you may be missing from your diet, it may not be entirely as beneficial for your overall health.
For one, most vitamin supplements are missing out on antioxidants and other special qualities of fruit and vegetables. For another, they do not typically supply the fiber that helps regulate your appetite and digestion.
But there's even more reason now to consider an alternative approach. While vitamins can be helpful especially for those that fall short on nutrients, research from John Hopkins suggest that we have overestimated benefits.
While for now, the jury is still out if and to what degree multivitamins are as helpful as getting those same nutrients from natural food sources, one thing is clear: too much of them can actually be harmful.
Why Do You Need to Try Balance of Nature or Juice Plus Instead?
Since Balance of Nature and Juice Plus provide vitamins and minerals directly from fruit and veggie supplement concentrates, it's considered a more natural source and is closer to eating actual fruits and vegetables.
Plus, both types of capsules include additions such as fiber so you can reap benefits more comparable to regular fruits and vegetables. There are a lot of additional products like Balance of Nature, but we'll keep this article to seeing if Juice Plus is better than Balance of Nature.
The Difference Between Natural Fruit vs Vegetable Concentrate Capsules
The best way to tell the difference between Balance of Nature and Juice Plus dietary supplement is to examine both closely for the following:
Pricing and availability
Dosage and Vitamins and Minerals
Ingredients
Other Products
Customer and Company Reviews
In each category, we'll be looking at how both Balance and Nature and Juice Plus not only compare with one another but also help support your health and provide the best value possible.
After digging into each category, we'll make a recommendation as to which natural supplement we would most recommend.
Pricing and Availability
Pricing and availability may not be the very most important factors, but they can be limiting ones. When we take a look at this category, we do want to keep in mind, that, as natural food supplements, they will tend to run on the more expensive side.
In terms of availability, both may be purchased from the company's sites, though you may find a few Balance of Nature products on Amazon.
Balance of Nature Cost
Balance of Nature – Balance of Nature gives you several options for purchase. There's a multipack wellness system for a little over one hundred dollars, 90 capsule bottles of supplements for seventy dollars, and a special fiber blend for fifty dollars with the current sale. Balance of Nature is currently the top Juice Plus alternative.
Juice Plus Cost
Juice Plus – With Juice Plus, pricing is a bit different. They offer a two pack of two hundred and forty Juice Plus capsule servings each or a three pack. The two-pack costs about forty-five dollars, while the three pack costs a little over seventy dollars. But then there are also many other options, including chewables and snack bars. While these do appear to be cheaper, one thing that's odd is that the pricing is termed per month, rather than per product.
On the surface, the sticker price is less, but in fact, that pricing is per month for four months. That is, those prices reflect not the overall price, but the price you'll pay in three or four-month installments.
Winner: Balance of Nature
While at first, the sticker price may seem cheaper with Juice Plus, you'll end up saving with Balance of Nature, at least in terms of most of the regular capsule blends.
While monthly payments may be a nice option for some people, it's also good, if you can, to simply pay it off as soon as possible and overall you'll be more prone to losing track of how much you're spending with monthly payments than were you to pay it upright.
Ingredients and Doses
Just for comparison's sake, we'll focus on comparing the basic capsules for Balance of Nature vs Juice Plus. While it's true that Juice Plus has other products that Balance of Nature doesn't, it's the fairest to compare like products.
Balance of Nature – Balance of Nature capsules are taken per three capsules or almost three-gram servings. The fruit and vegetable capsules supply of about seventeen fruits or vegetables each. The Fiber and Spice variety, meanwhile, is taken in heaping spoonfuls and dissolved. It supplies a modest amount of carbohydrates, forty percent of your daily fiber, and omega three and six fatty acids. For the regular fruit and vegetable capsules, there is no specific information as to what vitamins and minerals the fruits and vegetable blend supply.
Balance of Nature Ingredients Label:
See the Balance of Nature nutrition facts as listed on the Amazon listing: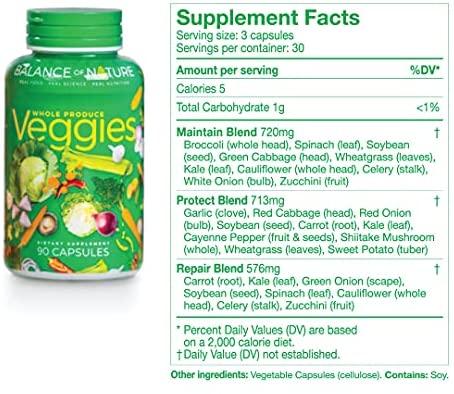 Juice Plus – Juice Plus is more transparent in terms of what vitamins and minerals the regular fruit and vegetable capsules supply. Two capsules of the regular blend supply forty two percent Vitamin A; one hundred and twenty percent Vitamin C; twenty four percent folate, and twenty percent of your recommended Vitamin E. Their drink mixes, meant as recovery shakes, supply eight grams of dietary fiber, thirteen grams of protein, forty to forty-five percent of Vitamins D, B, and C; as well as twenty percent of your daily iron.
Juice Plus+ Orchard & Garden Blend | Amazon
120 Capsules in Each Bottle 2 Month Supply 1 bottle of Orchard Blend (120 Capsules) and 1 bottle of Garden Blend (120 Capsules) 17 different fruits, vegetables, and grains in convenient capsule form.
Buy at Amazon.com
We earn a commission if you click this link and make a purchase at no additional cost to you.
02/07/2023 07:10 pm GMT
Winner: Tie.
It is entirely possible that Balance of Nature has some great nutritional stats, but we simply don't know based upon the packaging. Plus, the recovery drink mixes from Juice Plus provide other essential nutrients like Vitamins D and iron.
Other Ingredients
Non-active ingredients are important, too! If your focus is one whole, natural nutrition, you'll want as few other ingredients as possible.
Balance of Nature – Balance of Nature contains no artificial or added sugars, dyes, or other ingredients in their capsules.
Juice Plus – Juice Plus also does not contain any added dyes, sugars or artificial dyes. They do of course add other ingredients to other products, including their shakes and nutritional bars. They do add some cane sugar and thickening agents, for instance, to their shakes.
Winner: Balance of Nature
Since we can't compare shakes, we have to go based on capsules, and both are natural and free of other ingredients. While we'd like to see a little less sugar in the shakes from Juice Plus, it's not the highest that I've seen.
Other Products
We'll keep this short and sweet. If we're looking at sheer variety as the primary health benefit, Juice Plus hands down has more to offer. Juice Plus has recovery shakes, nutrition bars, chewables, and drink mixes, making it a complete Balance of Nature alternative. In comparison, Balance of Nature has fruit, vegetable, and fiber and spice capsules.
Winner: Juice Plus products, if you're looking for variety.
Ratings – Balance of Nature vs Juice Plus
Customers sometimes have a lot to say in terms of just how worthwhile the products are.
There are no external ratings for Balance of Nature currently on Amazon; the only ratings are reviews by individuals. Most indications point to mixed or absent reviews.
Juice Plus, on the other hand, does have some review on Amazon. Reviews for Juice Plus are a little mixed, but are above average, both for product ratings on Amazon and outside. While some customers were not happy with the products, overall there seems to be an indication that most were.
Winner: Tie. With next to no reviews to be found few of the main website, it's hard to put the finger on just how good of service is BEYOND our personal experience (that counts for something). And Juice Plus, while imperfect, mostly holds positive reviews.
Bottom Line Summary: If we had to go with ONE natural supplement, I would lean towards Balance of Nature here because it is more cost effective and focused offering.
That said, Juice Plus has a wider range of products. The biggest downside is the monthly payments, which can be costly, so make sure it's within your budget, and you consider the whole price before you purchase. Besides the cost, Juice Plus is a very comparable Balance of Nature competition.
Further Reading on Nutritional Drinks
Disclaimer
Last updated: October 21st, 2022
The information contained on www.altprotein.com website (the "Service") is for general information purposes only.
Alt Protein assumes no responsibility for errors or omissions in the contents on the Service.
In no event shall Alt Protein be liable for any special, direct, indirect, consequential, or incidental damages or any damages whatsoever, whether in an action of contract, negligence or other arising out of or in connection with the use of the Service or the contents of the Service. Alt Protein reserves the right to make additions, deletions, or modification to the contents on the Service at any time without prior notice.
Alt Protein does not warrant that the Service is free of viruses or other harmful components.
Fitness disclaimer
The Service offers health, fitness and nutritional information and is designed for educational purposes only. You should not rely on this information as a substitute for, nor does it replace, professional medical advice, diagnosis, or treatment. If you have any concerns or questions about your health, you should always consult with a physician or other health-care professional.
Do not disregard, avoid or delay obtaining medical or health-related advice from your health-care professional because of something you may have read on the Service. The use of any information provided on the Service is solely at your own risk.
You can also review our Editorial Integrity Policy.