If you need to lower your calorie intake in order to lose weight, you should take a look at protein shakes. These products have gained a lot of awareness and popularity lately. Some of them are more effective than others but, even so, there is a wide range of options out there.
In this comprehensive article, we will review two of the best protein shakes on the market: Shakeology and Juice Plus. So, what is the difference between them and which one is the best? You're about to find the answers to these questions, below.
Our Recommendation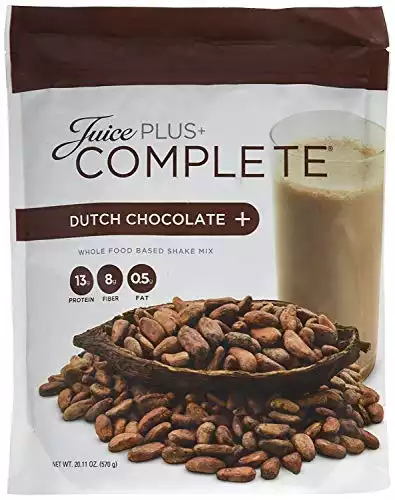 Juice Plus Complete | Amazon
The drink for your well-being, vegan (prepared with non-dairy milk), a vegetable protein with high biological value, high relative protein percentage (Cal%), fibre, minerals and vitamins without preservatives without artificial colouring and flavourings, gluten-free.
Buy at Amazon.com
We earn a commission if you click this link and make a purchase at no additional cost to you.
Juice Plus vs Shakeology – Nutritional Facts
Do Protein Shakes Help You Lose Weight?
You must probably wonder why protein shakes became so popular in the weight loss industry. First of all, you should never follow a trend without being well informed. Whenever you are on a strict diet, you must lower your calorie intake. The calorie deficit will support your body in the process of burning more calories. Simply put, the output must exceed the input when it comes to calories.
Both Shakeology and Juice Plus supplements are specially created to contain a low amount of fats, carbohydrates, and sugars. Furthermore, these protein beverages are rich in fiber and protein while also being an excellent source of energy. So, replacing fatty foods and carbs with these high-protein drinks will help you lose weight.
Another advantage of consuming these products is the fact that they play an important role in muscle repair and muscle mass growth. In other words, you will be able to recover a lot quicker after an intense workout. Most protein shakes contain dietary fiber which is not easily digested by your body. Instead, this type of fiber transforms itself into a gel-like structure that makes you feel fuller for a longer period.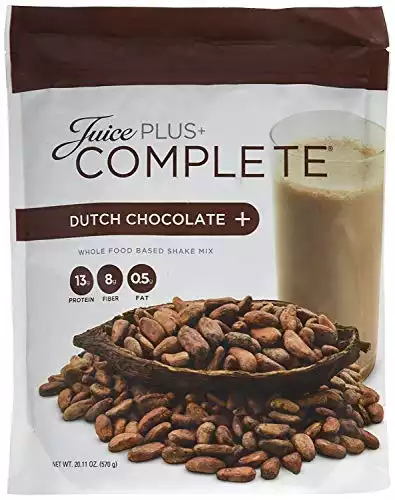 Juice Plus is a direct competitor of Shakeology. It is a well-known brand of dietary supplements. According to the company's representatives, their products are the best alternative to fruits and veggies. Each Juice Plus drink is made from approximately 30 different fruits and vegetables. Moreover, they contain minerals, vitamins, and plant compounds.
Ingredients List
Juice Plus products are marketed in various forms. They come as capsules, chewable gummies, pills, shakes, soups, and nutrition bars. But the most popular Juice Plus products are their protein replacement shakes. These are marketed in three available blends: vineyard blend (berries), orchard blend (fruits), and garden blend (vegetables).
The maximum recommended intake is one or two capsules per day. A Juice Plus shake contains the following ingredients:
Broccoli;
Apple;
Beet;
Peach;
Tomato;
Parsley;
Pineapple;
Carrot;
Spinach;
Rice bran and oat bran;
Kale;
Cabbage and other ingredients.
When it comes to vitamins and minerals, these shakes are full of them. They contain vitamin C, calcium, carotenoids, folic acid, vitamin E, enzymes, soluble fiber, and many others.
Our Recommendation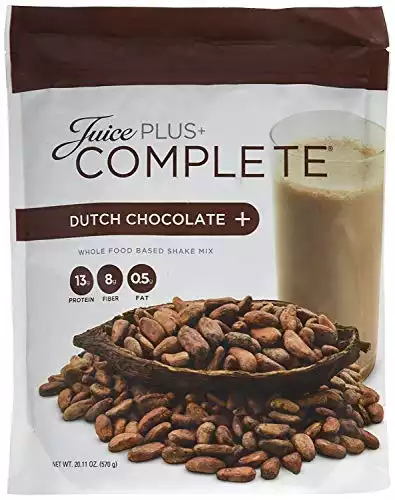 Juice Plus Complete | Amazon
The drink for your well-being, vegan (prepared with non-dairy milk), a vegetable protein with high biological value, high relative protein percentage (Cal%), fibre, minerals and vitamins without preservatives without artificial colouring and flavourings, gluten-free.
Buy at Amazon.com
We earn a commission if you click this link and make a purchase at no additional cost to you.
Juice Plus Pros
Juice Plus products contain healthy fruits and vegetables without any isolated minerals and vitamins. Being a whole foods supplement is a major advantage of this brand;
Juice Plus supplements are backed by reliable scientific research. According to these studies, Juice Plus contains antioxidants that are easily absorbed by the body. Moreover, these elements protect you against cardiovascular diseases, help maintain healthy gums and skin, and lower oxidative stress;
Although this is definitely not a substitute for vegetables and fruits it can offer a little comfort to those of you who are not fans of whole vegetables.
Juice Plus Cons
This is not like a comprehensive multivitamin. Therefore, you might be required to take some additional vitamins or supplements like vitamin D or Omega 3;
Juice Plus orders are made in four-month increments. Also, you will be required to order both the Garden and the Orchard blends. Simply put, you cannot just order the Garden blend which can be tricky if you want to increase vegetable consumption and lower the fruit intake;
Some consumers have complained about the fact that Juice Plus products can be a little too sweet and a bit sugary.
Shakeology is a meal replacement protein shake that comes in the form of powder, being easy to prepare when mixed with water or milk. It contains a lot of protein and fiber and it is created to promote weight loss, muscle recovery, and muscle growth. Moreover, this supplement helps your digestive system and boosts your overall energy which comes in handy, especially if you have an active lifestyle.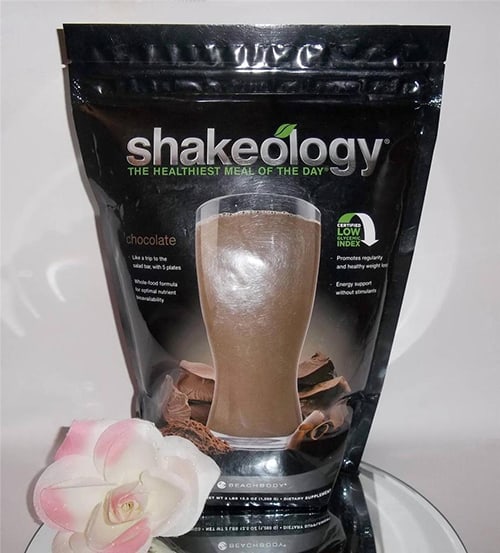 Ingredients List
All Shakeology shakes contain the following ingredients:
Whey protein isolate;
Sprouted brown rice protein;
Pea protein;
Coconut flower nectar;
Maca root.
Other additional ingredients are:
Chia seed;
Sprouted quinoa seed;
Yacon root;
Flaxseed;
Spirulina;
Chlorella;
Sacha inchi seed;
Camu-Camu;
Himalayan salt;
Acerola cherry.
So, basically, this product contains healthy and beneficial elements such as a protein blend for muscle growth, a phytonutrient blend for longevity, antioxidants that protect your body from free radicals, probiotics for a better digestion, and an adaptogen blend that boosts mental performance.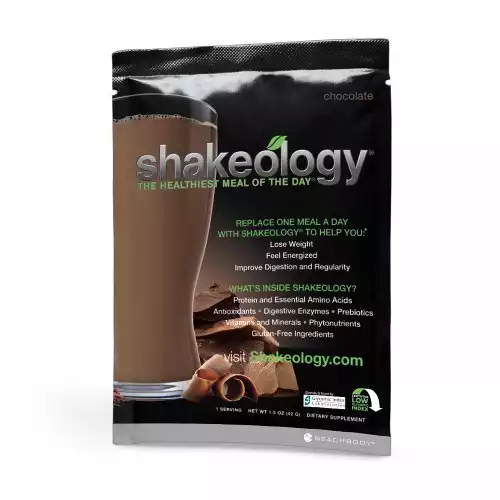 Shakeology Chocolate | Amazon
Shakeology is a powerful Superfood formula designed to give your body the perfect combination of nutrients to help give you energy, reduce cravings, maintain healthy body weight, and support your immune system.
Buy at Amazon.com
We earn a commission if you click this link and make a purchase at no additional cost to you.
Shakeology Pros
When it comes to weight loss, Shakeology products are highly effective. These shakes curb your cravings and keep you fuller for a longer period of time;
It is a great dietary supplement that is also a well-rounded and balanced source of nutrients, minerals, and vitamins;
Believe or not, these shakes can also work the other way around. They can help you gain a little weight if that is what you are looking for. To achieve that, all you have to do is to consume these beverages right after your main meals;
Shakeology gives you an amazing energy boost and changes your mood for the better;
Improves digestion and speeds up your metabolism while also stabilizing gut health;
A Shakeology protein drink contains only high-quality ingredients;
Provides vegan-friendly alternatives for both vegans and vegetarian people.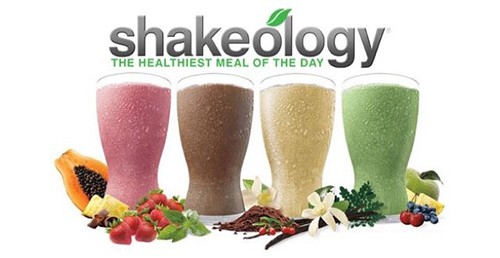 Shakeology Cons
A few consumers said these shakes have a bad aftertaste but one could say that this is highly subjective and a matter of preference;
It contains pea protein which is not a bad thing but is quite unnecessary;
This product is overpriced, according to some reviewers. They say that Shakeology shakes are very similar to other less expensive supplements in terms of nutritional content.
Juice Plus vs. Shakeology – Comparative Overview
Now, that we've looked at these two brands and analyzed them one by one, it is time to gain a new perspective, from a comparative approach and see which one wins the most points in the end.
Shakeology Nutritional Values
Shakeology protein shakes can be easily consumed as nutritional snacks, in between the main meals. One serving of approximately 40 grams (one scoop of powder) must be combined with around 8-12 ounces of water. Each serving provides 140 calories, 19 grams of carbohydrates, 11 grams of sugar, 16 grams of protein, and 3 grams of fiber. This shake has a very low content of fat of only 0.5 grams per scoop.
Considering that Shakeology shakes are filled with vitamins and minerals, makes us state that these protein beverages are premium weight loss products. The company even commercializes vegan-friendly alternatives besides their regular shakes.
You will be glad to know that these power protein drinks don't contain caffeine, soy, gluten or any other potentially-allergenic ingredient. Nonetheless, they are manufactured and processed in a facility in which other products that contain soy and gluten are made.
Juice Plus Nutritional Values
If you're very strict with your diet and calorie intake, then Juice Plus is probably better for your preferences. One scoop or serving of this shake (around 37.5 grams) contains only 120 calories, 13 grams of protein, and 20 grams of carbohydrates. It also provides 8 grams of fiber and 10 grams of sugar. A great advantage is that this product doesn't contain fat at all.
If you have a vegan lifestyle, you can prepare these shakes with soy milk or other vegetable milk. Juice Plus beverages are gluten-free as well as caffeine-free. On the other hand, they do contain soy. So, you should be careful if you are allergic to this particular ingredient.
A potential drawback when it comes to Juice Plus nutritional value is its high sodium content. One scoop has 250 mg of sodium. Although this substance is needed by our bodies, too much of it can lead to health problems like kidney conditions, heart diseases, and high blood pressure. Furthermore, a high amount of sodium will interfere with your weight loss goals because it might cause water retention.
Shakeology vs. Juice Plus – Which Is More Effective?
Now that we have already discussed both Shakeology and Juice Plus from their nutritional value perspective, there is still one question that must be answered: do these protein powders really work? Let's start by analyzing the performance and effectiveness of the premium brand, Shakeology.
Shakeology shakes contain high-quality dietary fiber but in a lower quantity compared to Juice Plus drinks. However, they still do a great job at keeping you full until the next meal. Shakeology acts as an excellent appetite blocker. Besides keeping you satiated, these protein shakes also provide a significant boost of energy.
One might say that Juice Plus contains more dietary fibers. While this is totally true, it doesn't really make Juice Plus products more effective than those made by Shakeology. Unlike Shakeology beverages, Juice Plus shakes keeps you satiated but not for very long. Also, their protein content is quite low.
Juice Plus vs. Shakeology – Which Is Better in Terms of Available Flavors?
Finally, let's take a look at the flavor varieties offered by these two weight loss supplement brands. Most people search for something that provides plenty of flavor options to avoid getting bored easily. From this point of view, Shakeology wins because it is innovative. You can opt for one of the following flavors: chocolate, café latte, vanilla, Greenberry, and strawberry. Even the vegan-friendly alternatives come in two different flavors: strawberry and chocolate.
When it comes to flavor choices, Juice Plus is not that great. It only has two varieties: Dutch Chocolate and French Vanilla. Still, this might not be a real problem as long as both these flavors are your personal favorites.
Juice Plus vs. Shakeology – Price Comparison
You can purchase a bag of 30 servings of Shakeology powder for $129.95. Another option is to buy 24 packets for the same price but considering that the bag provides an extra of six servings, we recommend you to go for that option. If you become a Beachbody coach, you will receive a significant discount of 25%.
On Amazon, Juice Plus costs between $84.99 and $92.99 for a container of 120 capsules (For the latest prices and discounts, check here). The price varies depending on the seller and the shipping cost of $4.54 is not included.
In conclusion, one serving of Shakeology costs around $4.33 while the same portion of Juice Plus is approximately $0.77.
Bottom Line
Both Shakeology and Juice Plus are good. However, in many aspects such as nutritional value, protein and fiber content, the range of available flavors, and more, Shakeology exceeds Juice Plus. They provide low-calorie beverages and there are plenty of varieties to choose from. On the other hand, Juice Plus is also a good option due to its low fat and calorie levels but it contains a bit too much sodium.
Have you tried these proteins before? If not, do you plan on giving them a try? Which one is your favorite? Don't hesitate to share your insights with us, by leaving a comment in the dedicated section below.
Our Recommendation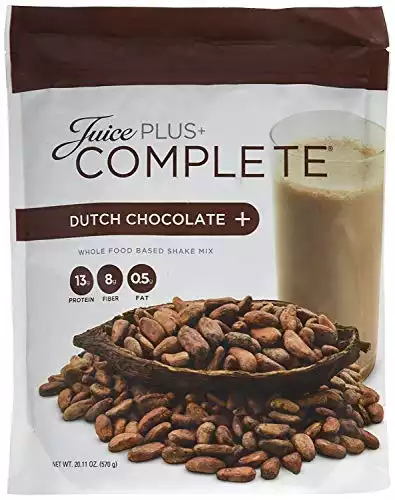 Juice Plus Complete | Amazon
The drink for your well-being, vegan (prepared with non-dairy milk), a vegetable protein with high biological value, high relative protein percentage (Cal%), fibre, minerals and vitamins without preservatives without artificial colouring and flavourings, gluten-free.
Buy at Amazon.com
We earn a commission if you click this link and make a purchase at no additional cost to you.
—-
Disclaimer
Last updated: December 16, 2019
The information contained on www.altprotein.com website (the "Service") is for general information purposes only.
Alt Protein assumes no responsibility for errors or omissions in the contents on the Service.
In no event shall Alt Protein be liable for any special, direct, indirect, consequential, or incidental damages or any damages whatsoever, whether in an action of contract, negligence or other arising out of or in connection with the use of the Service or the contents of the Service. Alt Protein reserves the right to make additions, deletions, or modification to the contents on the Service at any time without prior notice.
Alt Protein does not warrant that the Service is free of viruses or other harmful components.
Fitness disclaimer
The Service offers health, fitness and nutritional information and is designed for educational purposes only. You should not rely on this information as a substitute for, nor does it replace, professional medical advice, diagnosis, or treatment. If you have any concerns or questions about your health, you should always consult with a physician or other health-care professional.
Do not disregard, avoid or delay obtaining medical or health-related advice from your health-care professional because of something you may have read on the Service. The use of any information provided on the Service is solely at your own risk.
You can also review our Editorial Integrity Policy.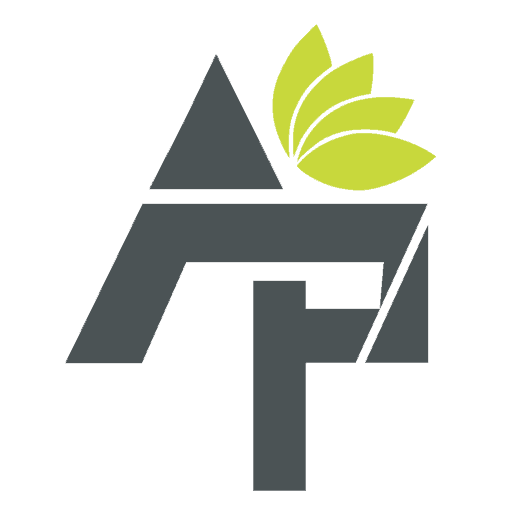 Alt Protein Team is a team of professionals and enthusiasts committed to bringing you the most up-to-date information on alternative protein, health and wellness, workouts, and all things health-related. We've reviewed a lot of products and services so you don't have to guess when you spend your hard-earned money on them. Whether you want to shed some pounds, build lean muscle or bulk, we can help you figure out what you need to do and what you need to have to achieve your goals.