There is nothing better than enjoying a delicious bone broth and achieve an improved overall health, better-looking skin, stronger bones, and more flexible joints. If you're like me, you will not have the necessary time, patience, and energy to prepare your own broth and waiting for it to simmer for hours.
Therefore, a quicker yet also healthy solution is Au Bon Broth which is a convenient option that doesn't sacrifice the quality of a homemade broth.
In this review, you will find more useful details about this product like its main benefits, pros, cons, price, and more.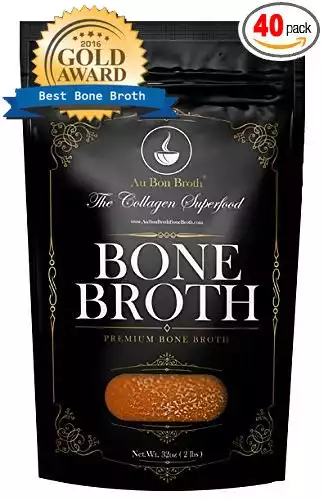 What Is Au Bon Broth?
Au Bon Broth is an effective supplement that uses only organic and natural ingredients and has plenty of health benefits. Bone broth has a positive impact on your body, and this nourishing formula is no exception. Every bone broth container is filled with safe substances, not to mention this brand is a trustworthy one.
Unlike many other products on the market, Au Bon Broth will help you achieve superior results. It is a dense nutrition food, enriched with collagen, gelatin, and other key nutrients. As long as you consume it on a regular basis, it will help you prevent several health conditions such as autism, obesity, chronic fatigue, depression, and diabetes.
A Few Words about the Manufacturer and Its Marketing Claims
This organic supplement is manufactured by Au Bon Broth. The company claims that their superfood promotes youthfulness, better health, and boosted energy. They also say that their product is the healthiest bone broth on the market due to its high-quality ingredients. Even the bones they use come from organic animals who they claim to be humanly raised.
This particular broth is filled with minerals, vitamins, and gelatin. Also, it is free of flavorings, colorings, soy, gluten, and dairy. For this reason, many doctors recommend it as a body cells healer.
Ingredients
If you pay attention to what type of food you ingest, then, you will definitely like this supplement that uses only natural and organic ingredients. Unlike many other similar products that include chemicals, fillers, additives, and synthetic ingredients in their formula, Au Bon Broth has only high-quality and healthy ingredients:
Grass-fed organic beef and pastured beef bone with marrow;
Pasteurized organic whole chicken;
Free-range whole turkey;
Organic vegetables such as onion, carrot, celery, thyme, garlic, diced tomato, sage, rosemary, etc.;
100% purified water;
Additional ingredients: peppercorn, sea salt, bay leaves, coconut oil, apple cider vinegar, and chicken bouillon.
As you can see, this brand emphasizes the need of using only organic substances and the result is an excellent one because the final product meets the quality requirements and the customers' expectations.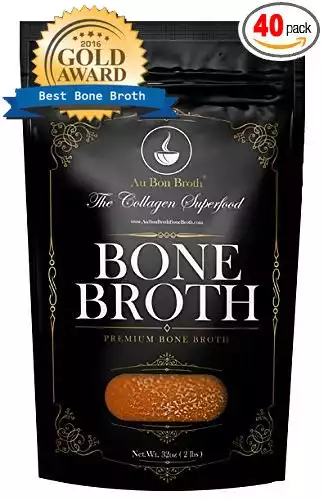 Recommended Daily Dosage
There's no standard fixed dosage that you should consume per day but, usually, the recommended number of servings vary from one to a maximum of five cups or capsules a day.
Available Varieties
The company markets three types of bone broth supplements:
Classic bone broth capsules;
Premium organic frozen bone broth;
Pure low sodium organic bone broth.
The last two types of broth come in a solid jelly-like form that you must heat to create a bone broth soup.
Nutrition Facts
Premium Organic Bone Broth – per one serving of 4 ounces
Calories
28
Protein
7 g
Dietary fiber
0 g
Carbohydrates
1 g
Total fat
0.5 g
Potassium
165 mg
Sodium
340 mg
Cholesterol
3 mg
Pure Organic Bone Broth – per one serving of 4 ounces
Calories
14
Protein
7 g
Dietary fiber
0 g
Carbohydrates
1 g
Total fat
0.5 g
Potassium
88 mg
Sodium
14 mg
Cholesterol
3 mg
How Does It Work? Main Benefits
This product works a bit differently than a regular supplement. The ingredient mix improves the product's health benefits and, in this case, the bone broth has gelatin obtained through a heating process.
This further leads to the appearance of essential amino acids that your body needs in order to produce connective tissue. So, Au Bon Broth makes your joints, bones, and tendons more flexible, stronger, and healthier.
a. Joint Repair
Due to the fact that bone broth contains collagen as well as other key minerals and nutrients, this supplement will heal damaged joints and will prevent other health issues from happening. As long as you include bone broth in your daily diet, your body will remain versatile, flexible, mobile, and strong for years.
b. Cleansing and Detox
Several studies have shown that short-term detox and cleansing diets are good for your body. During these eating plans, all your organs will become able to relax and clean themselves because they will not be busy digesting solid food anymore. Therefore, consuming bone broth will provide a soothing, healing, and gentle effect on your organism.
So, now you know! Whenever you feel like giving your body a break and let it rest, you can safely consume Au Bon Broth.
c. Weight Management
One of this tonic's key benefits is its weight loss support. It will help you manage your weight better because this supplement offers a filling sensation that will fuel your energy throughout the day. In other words, you will not feel the constant need to snack on unhealthy foods that might harm your health and mess up your diet.
d. Improved Hair, Nails, and Skin
Due to its collagen content, bone broth is good for your nails, hair, and skin. It makes them thicker and stronger. After a while, you will notice better nails, clearer skin, and even stronger hair. With bone broth you can never go wrong, considering all these spectacular benefits.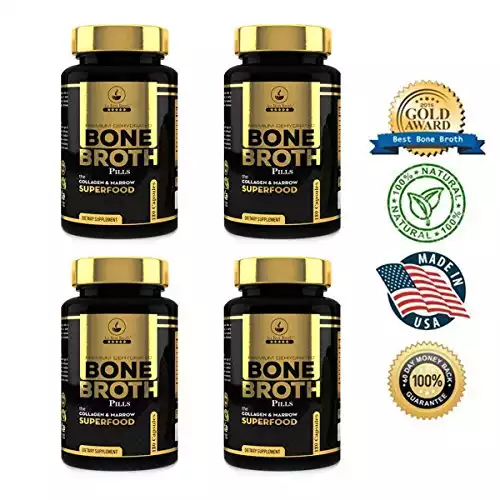 Pros of Au Bon Broth
Promotes healthy joints and strong bones;
Can help you lose weight;
Improves joint mobility and flexibility;
Boost your digestive system's health;
Protects your skin against aging signs;
Cleanses your liver;
Makes your body go through a well-deserved detox and cleansing process;
Promotes better and more restful sleep;
Strengthens your nails and hair and improves the way your skin looks;
Fuels your body, keeps you satiated for a longer time, and boosts energy levels;
Has powerful anti-inflammatory properties.
Cons of Au Bon Broth
It is not vegan or vegetarian-friendly because it contains animal-sourced substances.
Au Bon Broth is an amazing product that doesn't have any worrying drawbacks.
How Much Does It Cost?
You can buy this product from the brand's official website or you can find it on Amazon.
Au Bon Broth Official Website
a. Bone Broth Capsules
b. Premium Organic Frozen Bone Broth
c. Pure Low Sodium Bone Broth
The company provides free shipping on every order.
Amazon
We recommend you to buy in bulk so that you pay less per container.
Money Back Guarantee
With Au Bon Broth, you will make a risk-free purchase because this supplement comes with a money back guarantee of 60 days. Simply put, if within two months since the purchase, you feel dissatisfied with the product, all you have to do is to contact the brand's representatives and you will receive a full refund.
Precautions and Possible Side Effects
There are no evident side effects of Au Bon Broth and consumers have not reported negative experiences after consuming this supplement. However, there are some possible generic side effects that one might deal with when eating bone broth:
The risk of lead contamination – Unfortunately, our modern environment is often contaminated with harmful heavy metals and if these substances get in the animals' systems, people who consume meat, broth, and other animal-sourced products might also struggle with the side effects of this type of contamination. For example, a living organism that has been contaminated with heavy metals can have the following symptoms: digestive disorders, kidney damage, decreased bone and muscle growth, and joint pain.
Possible brain fog and seizures – although this is a very rare issue, a few people might have a nasty experience when consuming bone broth. For some, this might be a superfood while for others might cause several concerning health problems like learning and memory-related issues, autoimmune disorders, skin rashes, fatigue, and others.
However, these potential side effects described above are not commonly met. Also, as long as you purchase the bone broth from a trusted source and you opt for natural products that don't contain harmful additives, everything should be just fine.
As an additional precaution, you should seek a thorough medical consultation before consuming bone broth, especially if you find yourself in one of the following situations:
You are pregnant or lactating;
You suffer from a medical condition and/or you are under medication.
Is Au Bon Broth Effective?
Most customers have declared themselves satisfied with this supplement and they have provided positive reviews and high ratings regarding the quality of Au Bon Broth. According to them, this is a good addition to any recipe. Moreover, this bone broth is filled with collagen which has plenty of health benefits, it is not watery at all, and it is very nutritious.
Summing It Up
The bone broth manufactured by Au Bon Broth is an excellent supplement. Not only is this broth delicious but it is also a nutritious superfood with a lot of health benefits. It will help you lose weight and achieve a better-looking skin. Moreover, it is known for its anti-inflammatory properties. Bone broth prevents or even delays osteoporosis.
So, considering all these facts, I strongly recommend you to try the Au Bon Broth supplement and let us know its effect on your body. If you consider this article to be useful, feel free to share it with your friends, on your social media accounts.
Recommended Reads: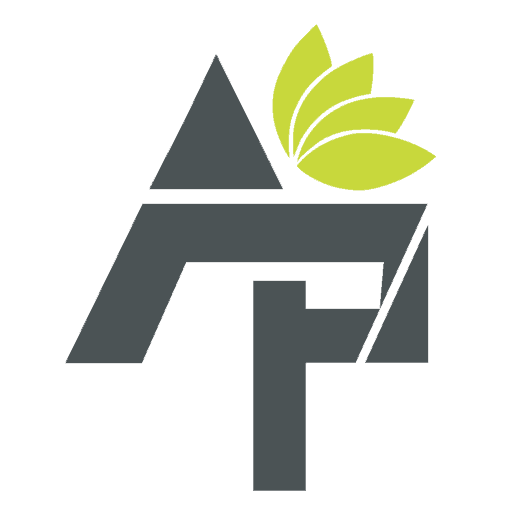 Alt Protein Team is a team of professionals and enthusiasts committed to bringing you the most up-to-date information on alternative protein, health and wellness, workouts, and all things health-related. We've reviewed a lot of products and services so you don't have to guess when you spend your hard-earned money on them. Whether you want to shed some pounds, build lean muscle or bulk, we can help you figure out what you need to do and what you need to have to achieve your goals.