Hello there, protein powder lovers! Today, we have decided to review two of our favorite brands of protein powder available on the market: Orgain and Vega One.
These two brands are fighting to achieve the Supreme title. We will cover aspects such as ingredients, pros, cons, and pricing options.
Protein is essential when your muscles are under a lot of stress. These powders will make them function just a tad beyond their limits which will lead to a quicker rebuild and repair process.
Bottom Line Up Front: These two supplements are very comparable. Vega One has a longer track record and has more flavor options with additional "meal replacement" qualities. However, Orgain offers slightly more protein per serving and is generally at least 10% cheaper (save this link for later to save 10% off your order).
Why I Love Orgain
Smooth, slightly sweet (but not TOO much), all plant-based. Orgain is definitely one of my FAVS. Best of all, it doesn't break the bank.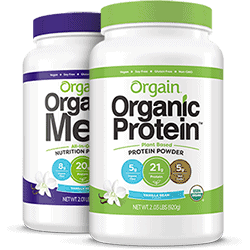 I earn a commission if you click this link and make a purchase at no additional cost to you.
Orgain vs Vega One Vegan Protein – Comparison Overview
| | |
| --- | --- |
| Orgain | Vega One |
| It is a vegan and organic protein powder. | It is a vegan-friendly supplement. |
| This product has a good flavor. | It has a wide range of flavors. |
| It contains a complete amino acid profile. | Natural organic ingredients: probiotics, antioxidants. |
A. Orgain Organic Protein Powder Shake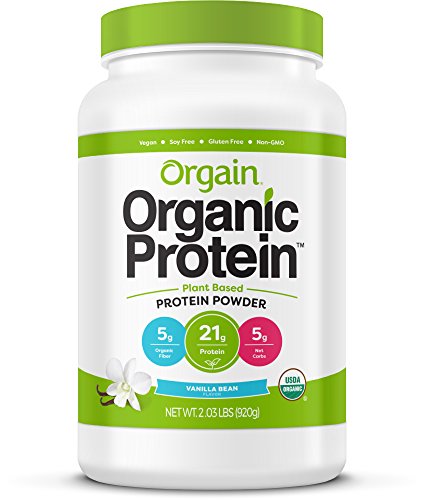 This protein powder supplement takes a different approach to the needs of fitness enthusiasts and athletes. It is a natural and organic product that can be easily used by vegans when they are looking for an efficient protein source that will help me stick to their vegan lifestyle (check out the 7 best tasting vegan protein powders).
Orgain is the vegan alternative to regular protein supplements. It contains 21 grams of plant-based protein that will help muscle recovery as well as growth. If you want to avoid dairy products and meat while maintaining a healthy and fit body, this product might be the right choice for you.
How Does Orgain Organic Protein Powder Work?
As we previously mentioned, this product is made from plant-based protein. This protein content is enriched with a complete profile of amino acids that will help your muscles recover and grow quicker than expected.
It is important to find high-quality protein sources but this can become a daunting task for people who choose not to eat meat or any dairy product.
If you are a vegan, using Orgain protein powder will contribute to building muscle mass and maintaining an overall healthy body without forcing you to let go of your desired lifestyle.
Ingredients
There are two main categories of ingredients in Orgain protein powder: a protein blend and a complete profile of amino acids or BCAAs.
1. Protein Blend
This blend is quite different than most other protein supplements that contain whey or milk. It is comprised of several great organic ingredients such as organic chia seeds, organic pea, organic hemp protein, and organic brown rice.
When it comes to a plant-based diet, one must combine the right sources together to obtain optimum results and Orgain does exactly that; it mixes all the right sources together for a complete muscle recovery. Therefore, the best moment to consume this product is after an intense workout.
2. BCAAs
BCAAs make you feel more energized. With the help of amino acids, your body will speed up its muscles' recovery time and boost muscle mass growth. Orgain formula contains all the essential amino acids you need and they come in the proper quantities.
Taste & Mix-ability
Orgain's manufacturer has created two main different flavors that you can choose from: Vanilla Bean and Creamy Chocolate Fudge. We all have our personal taste and preferences regarding flavors and taste. However, in this case, most consumers have stated that the Vanilla option is better than the Chocolate one.
The company has tried its best to market a supplement that has a cleaner taste. Therefore, don't expect Orgain to have a strong and sweet flavor that reminds you of a milkshake. It has a pleasant taste and a nice texture that resembles fruit smoothies.
This supplement's texture is a well-balanced one that is neither thin nor grainy. It mixes well with coconut or almond milk. It's true that you might find some clumping in your blender after preparing this drink but it is definitely not a deal breaker.
Pros
This supplement has a nice taste and good flavor as well as a pleasant texture.
There's no sugar added in this protein powder.
You will achieve your fitness goals in a more effective way due to this supplement's energizing properties.
Cons
The only amino acids contained by Orgain are the ones that come from its protein blend ingredients; there are no additional BCAAs included in this product.
Some consumers think that regular protein powders taste better than this vegan supplement.
Pricing Options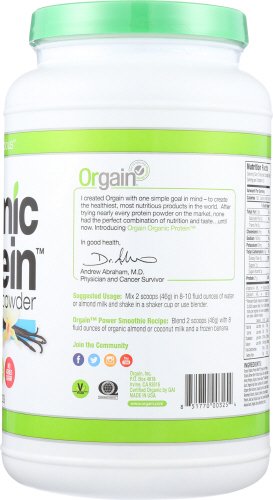 The list of good news continues because Orgain protein powder is one of the most affordable organic products on the market. You can buy this product from several online and offline retailers, including Amazon. If you want to buy in bulk, then a good option is Costco which sells this powder for the price of 30 dollars for a 2.74-pound container.
On Amazon, you will find the following pricing options:
These prices may vary a little bit depending on the container's size, flavor, and especially the provider.
The official Orgain website markets this product for the price of $39.99 for a container of 2.03 pounds which is significantly more expensive than other sellers such as Costco. Still, on the official website, you will find a wider range of available flavors; besides the main Vanilla and Chocolate flavors, you will also find the natural unsweetened version as well as other options: peanut butter, iced matcha latte, and pumpkin spice. ALSO, if you go with the meal replacement Organic Meal Powder here, you can save 10% right now.
Bottom Line on Orgain Powder
All in all, this is a good protein source if you are an athlete or a sports enthusiast with a vegan lifestyle. Orgain will definitely save you a lot of time that you might usually spend to prepare regular milkshakes or protein drinks. Besides the fact that it contains a more than decent amount of vegan protein, it also comes with a full essential amino acid profile.
Orgain Organic protein powder works great for busy people, professional with a modern way of life, athletes, students, moms on the go, and others.
Note on Pricing: You can save 10% right now if you use this link for the Organic Meal Powder.
Why I Love Orgain
Smooth, slightly sweet (but not TOO much), all plant-based. Orgain is definitely one of my FAVS. Best of all, it doesn't break the bank.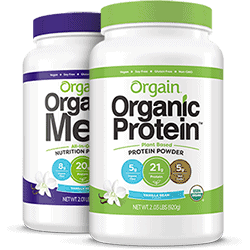 I earn a commission if you click this link and make a purchase at no additional cost to you.
Vega One "All-in-One" Protein Shake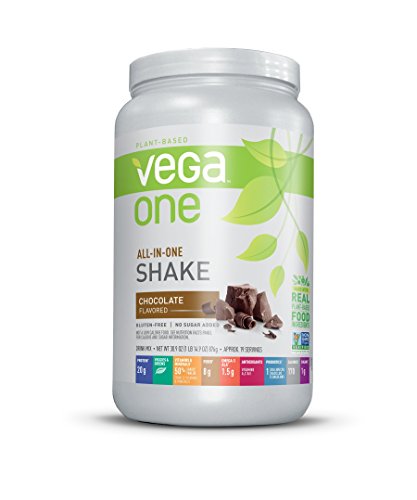 Plenty of fitness professionals recommend Vega One not only to athletes but also to people who want to lose weight or simply improve their life quality. According to the manufacturer, Vega One contains all the essentials your body needs such as probiotics, protein, greens, and more.
Also, this supplement is well-known for its great value and pleasant taste. It is a meal replacement created only from plant-based protein sources. It provides a great amount of amino acids without containing dairy ingredients. Not only is this product a vegan-friendly supplement but it is also gluten-free.
How Does Vega One Work?
Vega One has healthy and beneficial additives like hemp protein and flaxseed that are a great source of fiber and they help your digestive system. The formula gives you many satisfying additions. Moreover, it is a well-rounded product that successfully competes with whey protein supplements.
Ingredients
This is a great product that contains fiber, protein, greens, probiotics, antioxidants, and Omega-3. There's no added sugar in Vega One. One protein shake provides over 20 percent of your daily dose of fiber. It is free from many potentially allergenic elements like gluten, soy, dairy, artificial flavors, and more.
1. Protein Sources
Saviseed protein;
Hemp seed protein;
Whole grain brown rice.
2. Fiber Sources
3. Greens
Kale;
Spinach leaf;
Broccoli;
Alfalfa grass.
4. Antioxidants
Grape seed extract;
Mangosteen;
Acai berries;
Pomegranate seed.
5. Vitamins and Minerals
Vega One shakes contain the essential nutrient base any organism needs. It has calcium, vitamin C, vitamin A, and iron.
This supplement is sweetened with stevia and it also contains some secondary ingredients like citric acid (used as a flavoring agent as well as a preservative) and organic acacia gum which is included as a food stabilizer.
Taste & Mix-ability as a Protein Shake
Vega One markets a wide range of flavors, including the following ones: natural unsweetened, berry, chocolate, vanilla chai, French vanilla, mocha, coconut. The least appreciated one is the natural unsweetened variety while the most popular formulas are chocolate and French vanilla.
Vega One protein shakes are very smooth when it comes to texture and consistency. This supplement doesn't have the grainy texture many of the other powders have because it is an all-natural product. It is easy to prepare and consume. All you need to do is mix one serving of this powder with water, almond or coconut milk or any other beverage of your choice.
Pros
It is a vegan-friendly product made from natural ingredients.
It provides a great nutritional base that your body needs to function properly.
Vega One contains healthy and beneficial probiotics and antioxidants.
It is an affordable vegan supplement.
You will have plenty of options to choose from regarding flavor and taste.
It has awesome mixing features.
Cons
Some consumers said this product is a little pricier compared to most other vegan protein powder options.
Although it is a great vegan supplement, Vega One is not an organic product.
Pricing Options
You can purchase Vega One from the company's official website. There are plenty of wellness facilities that market this product, but we recommend the official site as a more secure alternative.
There are several available sizes that influence the final price:
You will also find Vega One on Amazon. The price will range between $24 and $100 depending on the container's size and your chosen flavor. For example, here are some price tags so that you can have a clearer idea of how the cost varies:
Bottom Line of Vega One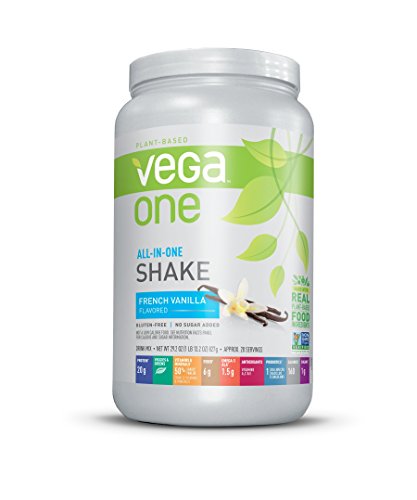 Vega One is one of the best meal replacements on the market. These shakes have a great taste, a smooth texture, and they mix well with plenty of beverages. It might seem a tad more expensive than other similar supplements but the money you spend is worth every penny.
Where to Buy Vega One? While you can pick up Vega One at Amazon here, it's also sometimes available with special discounts directly at the Vega site here.
Nutritional Value – Brands Comparison
| Comparison | Price | Price Per Serving | Protein Per Serving | Calories Per Serving | Sodium Per Serving | Fiber Per Serving | Carbs Per Serving | Fat Per Serving |
| --- | --- | --- | --- | --- | --- | --- | --- | --- |
| Orgain Protein (20 servings) | Aprox. $16.65 for 2.03 lb tub | $0.83 | 21g | 150 | 200mg | 5g | 13g | 4g |
| Vega One (19 servings) | Aprox. $49.99 for a 1.9 lb tub | $2.94 | 20g | 160 | 242mg | 8g | 10g | 6g |
Orgain vs Vega One – Which One Should You Purchase?
When considering buying a certain protein powder supplement, you must look at the price tag but not before including factors like weight, grams of complete protein per one serving, and serving size in the overall price equation. Both these protein powder supplements are affordable and they provide plenty of health benefits.
Both of these supplements are also certified Non-GMO by the Non-GMO Project, so there's litter difference in quality.
If you want an organic drink, you should definitely go with Orgain Organic protein powder. Despite its many advantages, Vega One is not organic. On the other hand, if you're searching for a wide variety of flavors that will keep you from getting bored easily, then you should opt for the Vega One alternative.
Whatever your decision is, you can rest assured that both these products are worthy of your attention.
Final Thoughts on Orgain vs Vega One: Which Vegan Protein Powder is Best?
Why I Love Orgain
Smooth, slightly sweet (but not TOO much), all plant-based. Orgain is definitely one of my FAVS. Best of all, it doesn't break the bank.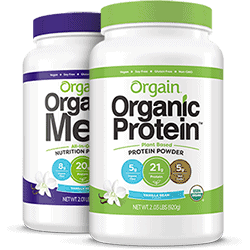 I earn a commission if you click this link and make a purchase at no additional cost to you.
When it comes to choosing the right vegan protein powder for your needs, making the right decision that will benefit your health is essential. That is why we created this review of two of the most popular supplements in the fitness industry.
Both options are great as meal replacement shakes and are a fraction of the cost of other popular shakes.
We hope you enjoyed reading our article and that the details we provided were useful. Now it is time for you to let us know which one of these two products is your favorite vegan powder supplement. Have you tried them before? Feel free to leave us a comment!
Bottom Line Summary: These two supplements are very comparable. Vega One has a longer track record and has more flavor options with additional "meal replacement" qualities. However, Orgain offers slightly more complete protein grams per serving and is generally at least 10% cheaper (save this link for later to save 10% off your order).
Additional Research:
—-
Disclaimer
Last updated: December 8th, 2020
The information contained on www.altprotein.com website (the "Service") is for general information purposes only.
Alt Protein assumes no responsibility for errors or omissions in the contents on the Service.
In no event shall Alt Protein be liable for any special, direct, indirect, consequential, or incidental damages or any damages whatsoever, whether in an action of contract, negligence or other arising out of or in connection with the use of the Service or the contents of the Service. Alt Protein reserves the right to make additions, deletions, or modification to the contents on the Service at any time without prior notice.
Alt Protein does not warrant that the Service is free of viruses or other harmful components.
Fitness disclaimer
The Service offers health, fitness and nutritional information and is designed for educational purposes only. You should not rely on this information as a substitute for, nor does it replace, professional medical advice, diagnosis, or treatment. If you have any concerns or questions about your health, you should always consult with a physician or other health-care professional.
Do not disregard, avoid or delay obtaining medical or health-related advice from your health-care professional because of something you may have read on the Service. The use of any information provided on the Service is solely at your own risk.
You can also review our Editorial Integrity Policy.
(Visited 1,407 times, 9 visits today)
Health enthusiast, runner, protein nut. Owen likes to write about protein, particularly alternatve supplementation and supplement comparisons.