Vega was founded back in 2001 but quickly became a renowned and respected plant-based health food and supplement company. Vega fills a unique niche for those that want plant-based supplements that can compete with true athletic/performance products. I had to wonder – does Vega Protein & Greens Protein Powder live up to the hype?
There are plenty of companies that provide vegetarian- or vegan-friendly health supplements but many were lacking when it came to customers who had higher than average needs.
Whether you're a long-time athlete, a bodybuilder or someone that just enjoys hitting the gym regularly, you are probably already well-aware how difficult it can be to get enough protein in a plant-based diet.
Resorting to supplements is a given but even finding a plant-based protein that tastes good, mixes well and provide enough protein to be worthwhile is difficult, to say the least. This is made even more difficult if you avoid soy proteins.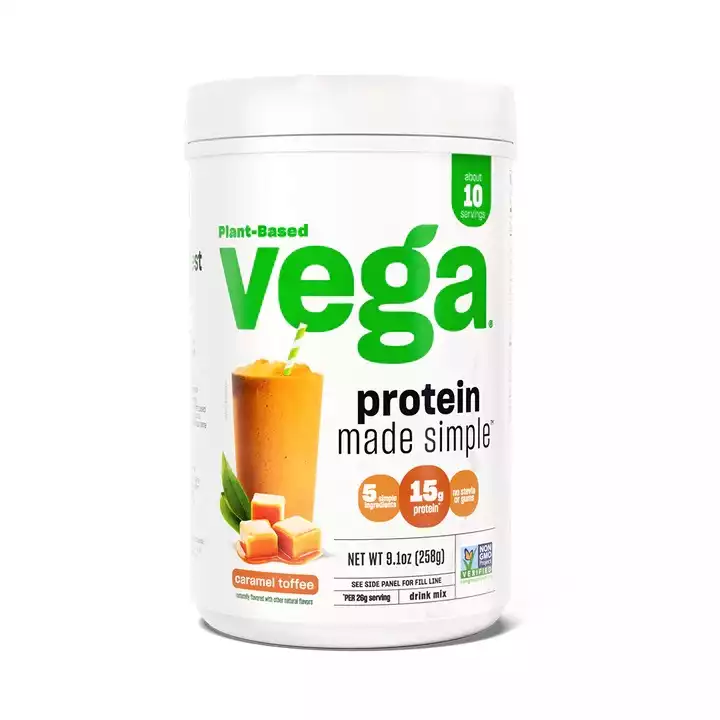 The Case for Vega – Our V

ega Protein and Greens Review
Vega supplements are a Godsend for athletes or busy people who need some clean and organic protein.
All of their products are:
Certified vegan
Completely gluten-free
Minimally processed and with only non-GMO ingredients
Free of soy and all dairy-derived proteins
No fillers, artificial flavors, or sweeteners
Vega has a few different protein products, including Vega Protein & Greens. If you're looking for a powder that will give you a healthy dose of protein as well as vital nutrition, you really can't go wrong with this choice.
Nutritional Facts and Ingredients in Vega Protein & Greens
Vega Protein & Greens is just as much of protein powder as it is a nutritional shake. First off when you're shopping for this powder you'll be surprised that it comes in six different flavors, something rare compared to other plant-based proteins.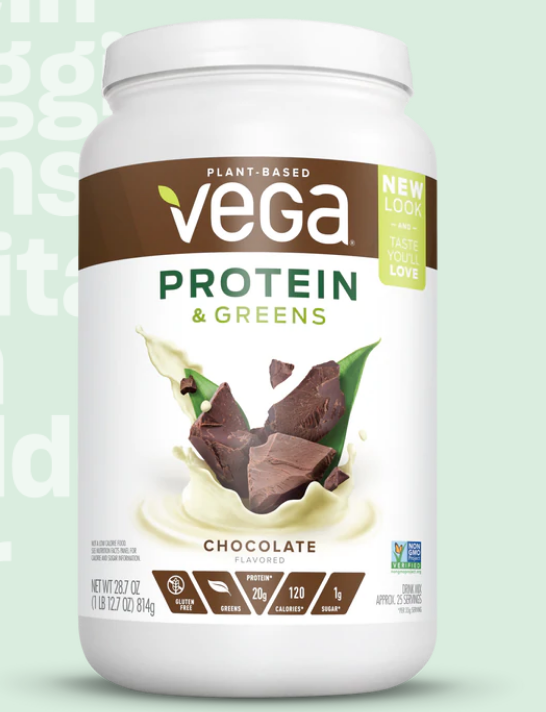 You can get this powder in these flavors:
Chocolate
Vanilla
Berry
Tropical
Coconut Almond
Natural
*Each flavor available in Small (16 servings), Medium (19), or Large (25) containers*
Chocolate tends to always perform well in protein powders so it's no surprise that chocolate is the most popular and recommended flavor for Vega Protein & Greens Protein.
Nutritional Facts Based on 1 Scoop of Chocolate:
120 calories
1 gram of fat
180mg sodium
6 grams of carbs
2 grams of sugar
20 grams of protein
Calcium and Iron
Ingredients in Chocolate include:
Vega Protein Blend (pea protein, Vega Saviseed Protein, hemp protein, and sprouted whole grain brown rice protein)
Dutch cocoa powder
Natural chocolate flavor
Vega Green Blend (organic alfalfa grass powder, spinach powder, broccoli powder, and organic kale powder)
Papaya concentrate powder
Stevia leaf extract
Xanthan gum
Just like any other powder you simply mix a scoop of powder in 8 to 12 oz of liquid. This could be water, juice or almond milk, depending on your preferences. Vega also recommends trying this powder in smoothies if you're a fan of them.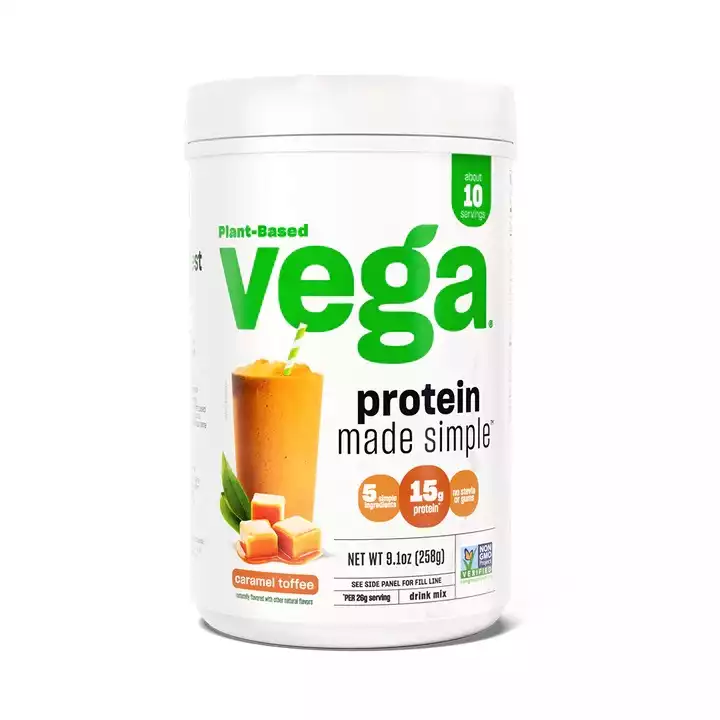 Vega Protein & Greens tends to rank as a solid 4 out of 5 star vegan protein powder. Here are the three main reasons why you should give it a try.
Has Greater Nutritional Value than Protein Alone
Typically you're going to want to drink a protein supplement for one purpose – to get more protein in your diet, particularly directly post-workout. Many protein powders are pure protein and give relatively little nutrition otherwise. If you're going to need to drink protein anyways why not at least get a product that has other nutritional benefits?
Vega Protein & Greens is exactly what you'd expect it to be. It focuses on providing the body with protein as well as nutritional from Vega powdered green blends. Each serving of Protein & Greens gives you 20 grams of protein as well as two servings of greens. Not to mention the added papaya extract helps with the digestion process, meaning no stomach trouble and more nutrition pulled from the drink.
Mixes Well Into Any Liquid
One of the worst things about some protein powders occurs when you try to mix it with water just to find you're left with a clumpy mess rather than a smooth drink. This issue is common in cheaper protein powders but also in plant-based proteins, especially those with minimal processing. Thankfully Vega Protein & Greens doesn't have this problem.
You can easily mix this powder with water, either in a large glass using a fork or, a better option, in a traditional protein shaker cup. If you tend to sip on your protein rather than drinking it all down quickly you may need to get it a swirl between sips but this isn't an issue.
It also mixes well with thicker liquids such as almond milk. If you aren't opposed to soy or dairy and are only buying a vegan powder for other benefits you can easily mix the powder with other beverages as well.
Particularly Good in Smoothies
It seems as though a majority of Vega customers enjoy making plant-based or green smoothies. Green smoothies are wonderful on their own but tend to lack in protein, which is where Vega Protein & Greens comes in. The level of protein in the powder, as well as the double serving of greens, makes it perfect for adding to green smoothies or fruit smoothies.
Those new to green smoothies or are sensitive to a strong "green" taste will like how the flavored powders help to make their smoothie a bit more sweet and palatable. A morning smoothie with a scoop of Vega is a great way to start the day or, depending on the other ingredients, as a meal replacement during the day.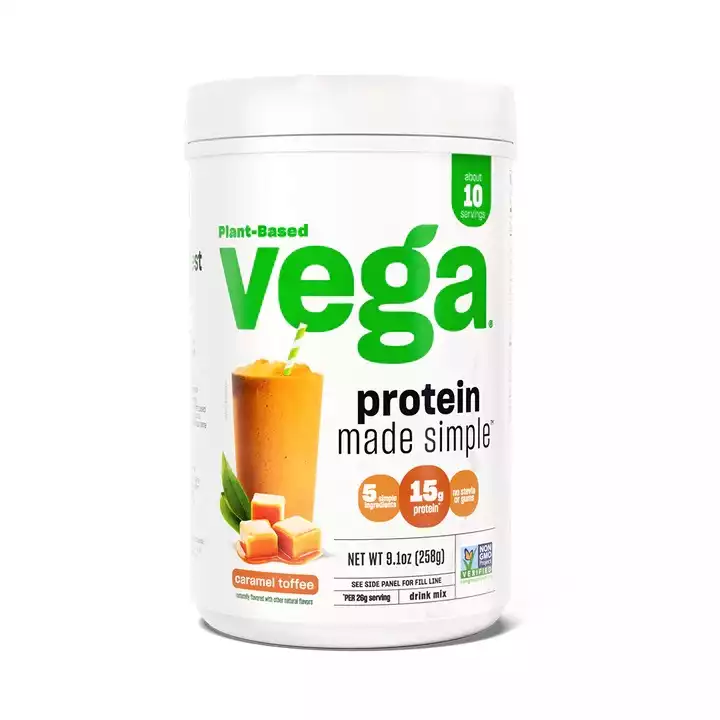 Here is a green smoothie protein shake recipe using Vega Protein & Greens protein powder that I know you'll love because it combines those familiar flavors of mint and chocolate that everyone loves.
Green Organic Mint Chocolate Smoothie You'll Love
Ingredients
brewed peppermint tea of your choice
1/2 cup non-dairy milk
2 cups spinach
1 medium frozen banana
A few ice cubes
3 tablespoons non-dairy chocolate chips
Instructions
To be prepared at least 30 minutes in advance:
Make yourself a cup of peppermint tea. Leave it out and let it cool. Don't use hot tea for this recipe.
Add all the ingredients in your best blender (leave out a few chocolate chips for garnish).
Pulse quickly until creamy and smooth.
Pour into your best travel cup and take to go, don't forget to add the rest of the chocolate chips for garnish and extra yummy texture.
Enjoy!
Disadvantages of Vega Protein & Greens
There are two common reasons why this Vega protein occasionally gets poor reviews from customers, so you may want to consider these before purchase.
Expensive Compared to Normal Protein Powders
This isn't so much of a fault of Vega as it is a common issue among plant-based proteins. The ingredients used in plant-based proteins are less common, especially those that also avoid soy ingredients, which means the powders are more expensive.
The large container of Protein & Greens contains just 25 servings and retails for right around $40 For the latest prices and discounts, check here. So this means if you plan on enjoying a scoop a day you'll be spending over $40 a month for this product alone. Depending on your own opinions this could be overpriced when compared to normal protein powder.
Can Have a Typical Chalky Taste and Texture
The most common complaint about Vega Protein & Greens is the taste and/or texture. Cheap protein powders are often described as chalky or gritty, and though this powder is certainly very well-made with high-quality ingredients, it seems to suffer the same fate.
This is an individual experience as some love the taste and find it perfect compared to other plant-based proteins. If you're used to plant-based proteins you may not notice much of a texture difference in this product, but if you're coming from more traditional whey proteins you might find this product to not be as smooth.
Alternatives to Vega Protein & Greens
If you've found that Vega Protein & Green isn't for you there are two other options to consider:
Nature's Plus Spiru-Tein
Nature's Plus Spiru-Tein is ideal for those that want more energy than Vega Protein & Greens and more flavor options but perhaps aren't as focused on protein. Spiru-Tein comes in a ridiculous number of flavors, 25 in total, and the majority of which taste amazing. You'll find normal flavors like chocolates and vanillas as well as unique options like Peaches and Cream, Banana or Cherry Jubilee.
Each scoop contains 14 grams of protein, spirulina, a huge variety of vitamins and minerals, as well as essential and nonessential amino acids. This is a great choice for those that want a little protein but mostly want a drink for the morning that has the nutritional needed to kickstart their day.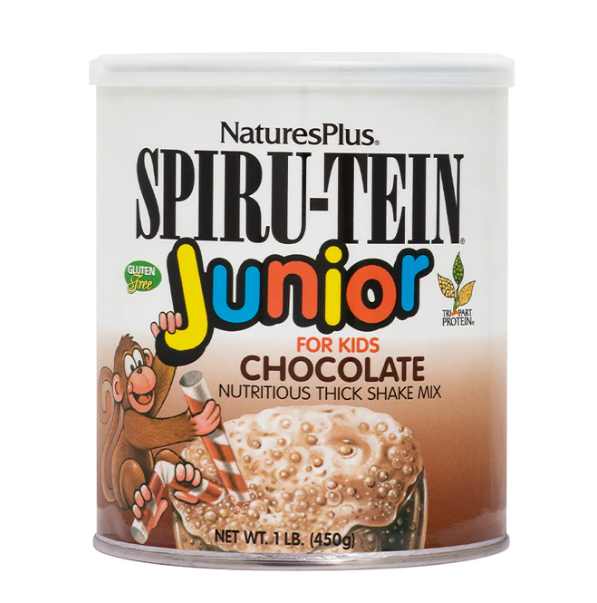 PlantFusion Complete Plant Protein
PlantFusion has more protein, with 21 grams per serving, along with impressive amounts of BCAAs, Glutamine and a proprietary enzyme blend for digestive health. Like Vega, this powder contains no soy or gluten and is hypoallergenic.
Nutritionally it is very similar to Vega but the addition of BCAAs and Glutamine make it a better choice for those that are focusing on building muscle. PlantFusion also has a unique protein blend which contains the normal pea protein isolate, but also artichoke, sprouted amaranth, and sprouted quinoa protein powders.
Where to Buy Vega Proteins and Greens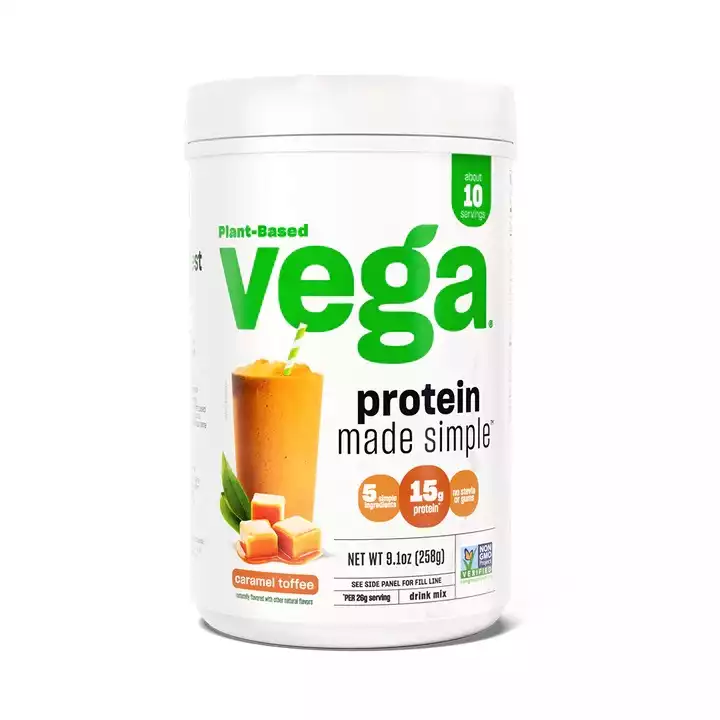 I frequently see this blend available in supermarkets and supplement stores, but I've almost always found the best prices online.
I generally order from either of these two places:
Final Thoughts – Vega Protein and Greens Review
Overall the Vega Protein & Greens is a solid product that has a number of fans supporting it. Vega is an excellent brand and the effort they put into crafting each product is evident. If you're new to plant-based proteins or want a protein powder that also performs double-duty as a nutritional shake, you'll definitely want to get a sample or purchase a small container to try.
Additional Readings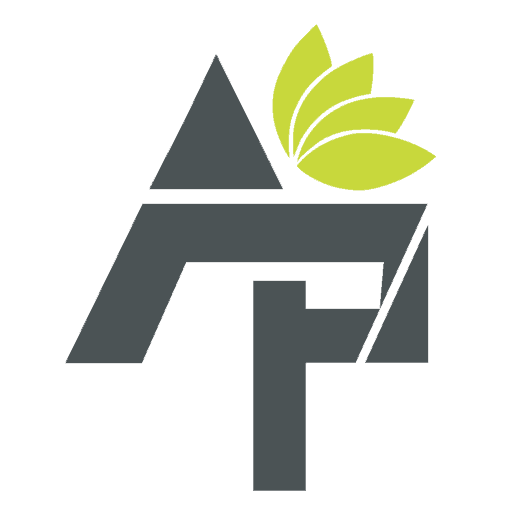 Alt Protein Team is a team of professionals and enthusiasts committed to bringing you the most up-to-date information on alternative protein, health and wellness, workouts, and all things health-related. We've reviewed a lot of products and services so you don't have to guess when you spend your hard-earned money on them. Whether you want to shed some pounds, build lean muscle or bulk, we can help you figure out what you need to do and what you need to have to achieve your goals.