There are many schools of thought on the benefits of fitness supplements. However, most of them seem to point out that Vega Pre Workout supplement mix is a great choice for athletes and physically active people.
This product was developed by a well-known and appreciated athlete, Brendan Brazier. In this review, we will go over Vega supplement's ingredients, pros, cons, price, and the top reasons why I love Vega products.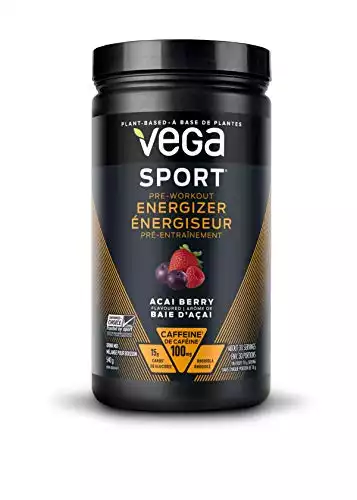 General Info about Vega Pre Workout Supplement
Brendan, Vega drink's creator, wanted to help people who want to consume healthy whole foods and have a plant-based diet. In his opinion, one must support performance with proper nutrition. Being a vegan himself, Brendan came up with this vegan and vegetarian-friendly product and we have also compiled a list of 7 Best Tasting Vegan Protein Powders for you.
There are three main lines of products under the Vega supplements brand umbrella. We will briefly present all these three segments although our review's main focus is the Vega Pre Workout product, which can be purchased on Amazon, for the price of $32.97 (For the latest prices and discounts, check here) per a
19oz container.
1: Prepare Segment
Vega Pre Workout manufacturer has developed a great effective and well-organized system. The Prepare segment is the first piece of the pre-workout energizing puzzle. The Vega Sport Energizer must be consumed prior to a workout and as you will discover below, it comes in two different flavors.
According to people who have used it, this power mix drink provides energy, focus, and endurance, preparing your body for an intense workout. Its plant-based ingredients offer you a slow yet steady energy boost without giving you a jittery sensation.
2: Sustain Segment
The second line of Vega fitness products includes the Endurance Bar, Electrolyte Hydrator, and Endurance Gel. Each of these supplements comes in two flavors as it follows:
Endurance Bar (it is a dense nutritious protein bar that contains Omega-3) – you can choose between Acai Berry and Mocha.
Electrolyte Hydrator (mixed with water, will restore your body's levels of minerals and electrolytes) – you can either purchase the Pom-Berry flavor or choose the alternative: Lemon-Lime.
Endurance Gel (this is the ultimate fitness fuel; it is one of a kind) – contains coconut oil; this product represents a non-carbohydrate source of energy. It comes in two flavors: Orange Zest and Raspberry.
3: Recover Segment
Last, but not least, there is the recover segment because Vega takes care of your worn out muscles even after a workout. In the Recover category, you will find three different Vega products: the Performance Protein powder, the Protein Bar, and the Recovery Accelerator. They all contain effective ingredients that will repair torn out muscles and refuel your energy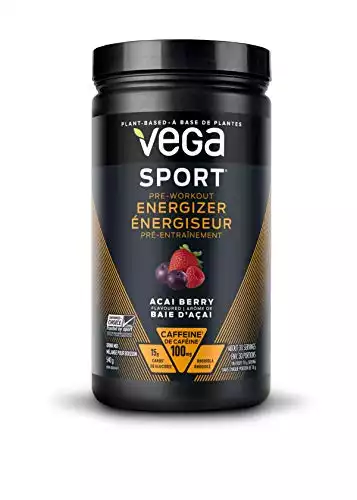 Main Features of the Vega Pre Workout Supplement
Boosts energy and mental focus.
Improves stamina and both aerobic and anaerobic capacities.
It is a certified gluten-free and vegan product.
Its main carb ingredients provide both instant energy and slower long-lasting energy.
You can choose from two flavors: Lemon Lime and Acai Berry.
It contains no less than 12 different plant-based and performance-boosting ingredients.
Ingredient Profile
*Due to its high popularity, Vega Sport Pre Workout is the focus of your review.
Vega Pre Workout supplements are well-known for their gluten-free and vegan ingredients. It doesn't contain any artificial sweeteners, colors, or flavors. Vega Sport Pre Workout Energizer is a plant-based product. Its 100mg caffeine comes from yerba mate and green tea.
Besides caffeine, this drink mix provides 14 grams of premium carbohydrate fuel achieved from a combination of organic palm nectar and brown rice syrup. Due to these unique mixes, most customers say that Vega Sport Pre Workout supplements apply an original approach to the pre-workout routine.
As we mentioned above, when it comes to carbs and energy fuel, this product focuses on two complementary carbohydrate sources. But let's see more about Vega Pre Workout's ingredients in the list below.
Vega Pre Workout Energizer Formula
Green Tea – this is a natural and healthy caffeine source. It is a classic antioxidant and pre-workout energy booster. It can relieve stress and anxiety due to its L-Theanine content.
Coconut Palm Nectar – this low glycemic carbohydrate is a complex ingredient that offers a long and sustained energy release.
Brown Rice Syrup – it complements the coconut palm nectar perfectly; it is a simple sugar that provides immediate energy.
Panax Ginseng – both parties (manufacturers and consumers) state that this ingredient improves one's capacity for sustained physical performance.
Turmeric – improves blood circulation. This will deliver high-quality oxygen as well as nutrients to your muscles.
Rhodiola – when you ingest this ingredient you are able to push yourself for a longer period during your workouts. It effectively delays fatigue.
Yerba Mate – this is another caffeine source which is also completely natural and safe. You will gain focus, energy, and endurance and you will avoid the risk of experiencing pre-workout jitters.
Kombucha – despite its exotic name, this ingredient has simple yet effective results: boosts your endurance and speeds up post-workout recovery due to its amino acids and active enzymes content.
Ginger – everybody uses ginger as a natural remedy for plenty of issues. Therefore, you probably know that ginger improves digestion. This leads to a more energized body and endurance. So, we can say it has a positive domino effect.
| NUTRITIONAL VALUE (per serving) | Quantity |
| --- | --- |
| Calories | 70 |
| Carbs | 16 g |
| Fiber | 1 g |
| Sugar | 12 g |
| Fat | 0 g |
| Potassium | 50 mg |
| Sodium | 57.5 mg |
Taste and Mixability
Vega Pre Workout Supplements come in two different flavors: Lemon Lime and Acai Berry. You can purchase either one, depending on your taste and preferences. Or, you can just alternate these two flavors. This way, you will not get bored of one single flavor.
Preparing a dosage of Vega Sport Pre Workout is very simple and easy to do. Just use one scoop of powder and mix it with water. Drink it approximately half an hour prior to your workout routine.
According to some clients, this powder combined with water can sometimes be a tad grainy. To avoid this from happening, make sure to shake the container once in a while.
Advantages
It is a natural controlled stimulant that powers up your entire body and prepares your muscles for an intense workout.
You can prepare it easily. It mixes well with water and your body will absorb it quickly.
It is more powerful compared to other pre-workout supplements. It provides just the right amount of caffeine and nutrients.
The Vega Pre Workout supplement contains only plant-based natural ingredients. You won't find anything artificial in it.
Disadvantages
It can be a little pricey for some people. However, this product's quick results, as well as its high-quality ingredients, are reflected in the price tag. So, you get what you pay for.
According to some consumers, there are a few other pre-workout supplements that can boost your energy level quicker than Vega Sport.
It is not a tasty product. Some even say it tastes awful. However, this is a vegan product which doesn't contain artificial flavors or sweeteners. So, I guess health comes with a price.
It is said that other pre-workout brands offer optimum benefits which Vega fails to provide. Meanwhile, others consider this to be a highly subjective matter: it all depends on one's organism and the way it processes this power drink.
| Strengths | Weaknesses |
| --- | --- |
| All natural plant-based ingredients. | More expensive than other pre-workout products. |
| Easy to prepare and easily absorbed by the body. | Unpleasant taste. |
| Gluten-free, vegan-friendly supplement. | – |
| Provides both short and long-term energy types. | – |
Vega Pre Workout supplement has received 4 out of 5 stars on Amazon in the customer reviews section. This can be seen as another valid argument that we are looking for a great and highly efficient product. An interesting fact that a couple of users pointed out is that the individual package is a bit hard to open.
Pricing Plan / Options
You can buy Vega products, including the Vega Pre Workout supplement, individually. Another option is to take advantage of the Vega offer, called the Vega Sport Starter Bundle. It includes two single-dosage packages of each Vega product. You can purchase the Starter Bundle for $19.99.
As I previously mentioned, the standard 30-scoops Vega tub costs around 32 dollars, which means that the price per servings is 1.06 dollars with a serving size of approximately 17 grams.
Where Should You Buy the Vega Sport Pre Workout from?
Those of you who are interested in purchasing this supplement can easily find it online on several different e-commerce sites but the most popular one is Amazon. The standard tub that contains 30 servings sells for approximately 30-40 dollars.
How and When to Consume the Vega Sport Pre Workout
To make sure you will benefit from everything this supplement has to offer, you must learn to take it properly. Drinking it too early before a workout can be infective. Therefore, make sure you take it half an hour before your training routine.
Before taking this product, you should be aware of your health issues, if any. For example, some people must monitor their caffeine intake. Still, some Vega Sport consumers stated that they find this supplement's caffeine level a bit lower than expected.
Is Vega Pre Workout Supplement Worth Buying?
We can definitely say that Vega has a lot to offer to its customers. It truly is one of the best pre workout supplements on the market. Vega Sport is a premium effective power drink that tops most of its competitors. While it's a little on the expensive side, its price tag is worth it due to this product's high-quality ingredients and provided benefits.
If you want to increase your focus and energy without experiencing jitters, this is the right product for you.
Bottom Line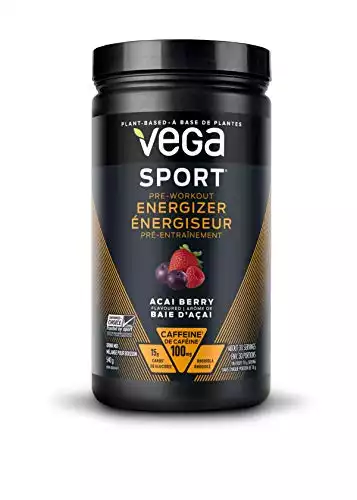 Nowadays, more and more people are searching for natural products that contain clean or even organic ingredients. Athletes, bodybuilders, and sports enthusiasts are concerned with what they eat or drink.
Being soy, gluten, and dairy-free as well as vegan-friendly, Vega Pre Workout supplement is a natural and complete product that provides all the necessary benefits that one's body requires to handle long intense workouts.
Just give this supplement a try. I almost guarantee you won't regret it. If you are comfortable with plant-based vegan products, then I strongly recommend you guys give it a try.
Additional Readings: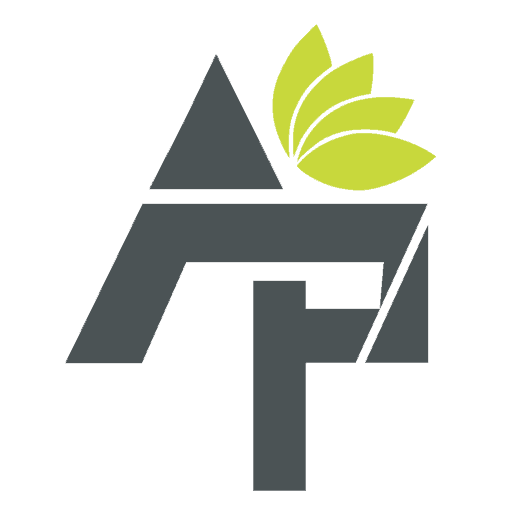 Alt Protein Team is a team of professionals and enthusiasts committed to bringing you the most up-to-date information on alternative protein, health and wellness, workouts, and all things health-related. We've reviewed a lot of products and services so you don't have to guess when you spend your hard-earned money on them. Whether you want to shed some pounds, build lean muscle or bulk, we can help you figure out what you need to do and what you need to have to achieve your goals.