BPI Sports offers a complete range of different workout and muscle-building supplements, for serious athletes and bodybuilders to those that are just starting to hit the gym on a regular basis. BPI is well-known for crafting highly effective supplements that are made of high-quality ingredients. One of their more popular products is the BPI B4 Pre-Workout.
This pre-workout capsule was carefully created to include potent supplements that will help users get in a better workout as well as increase fat burning and muscle development through thermogenics.
Whether you're new to supplements or not, B4 is a great choice to consider as a regular pre-workout or one to use when you feel like your normal powder isn't giving you the energy you need.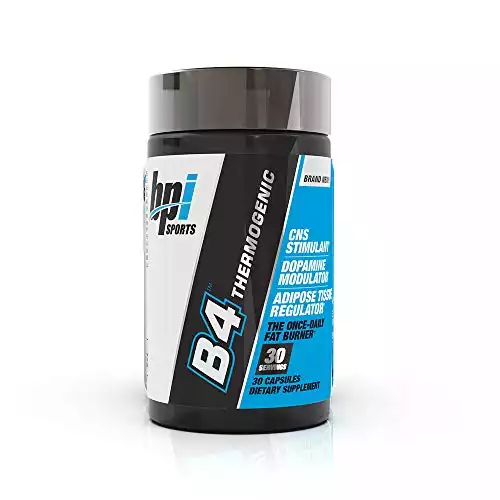 Nutritional Facts and Ingredients of BPI B4
There isn't actually a huge list of ingredients in B4 like so many supplements typically have. BPI specifically chose these ingredients carefully, creating their own proprietary Super Blend.
Supplement Information:
Serving Size – 1 capsule
30 MG of Niacin
680 MG of BPI Pre-Workout & Fat Burning Super Blend
Caffeine Anhydrous
Dendrobium
Sword Bean Seed Extract
Psoralea Seed Extract
Quercetin Dihydrate
Red Wine Extract
Yohimbe Bark Extract
BPI B4 retails for $32.99 for a 30 serving container. For the latest prices and discounts, check here. BPI recommends that B4 is taken 20 to 30 minutes prior to workout or training, though they do advise that B4 can be taken daily even on off days for continued effects.
Some customers find that B4 is most effective when they only take it on training days, as anecdotally it seems that constantly taking the same pre-workout on a daily basis seems to cause the supplement to lose its effect.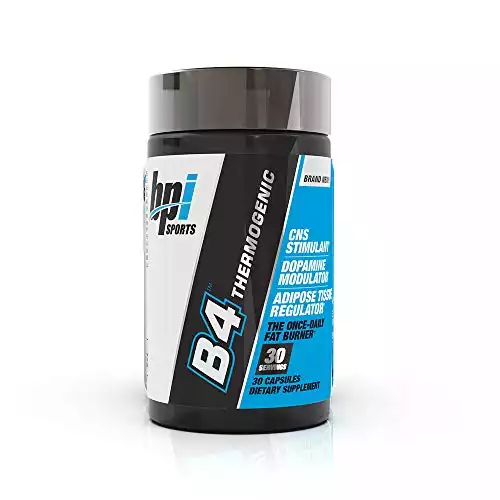 Advantages of BPI B4
There are two main benefits of using the B4 pre-workout.
Capsule Form is More Versatile
The majority of thermogenic and pre-workouts supplements come in powder form that you need to mix with water or other clear liquid. There are two problems with powders though. First off, some people that have very sensitive tastes may find that they do not like drinking their pre-workout. Others may not like the idea of having to drink a product loaded with artificial sweeteners either.
Secondly, if you're in a rush to get to the gym it is much easier to take a capsule than stop and mix a drink. If you go from school or work directly to the gym all you need to remember to do is take a pill about 30 minutes before you plan on getting to the gym.
Doesn't Need to be Combined with Other Pre-Workout Supplements
Some capsule style pre-workouts don't perform very well on their own and are stacked with a normal powder pre-workout to really get the best effect. B4 is designed to be used completely on its own. Another nice feature of B4 is that one serving is only a single capsule.
Some other pre-workout capsules aren't as concentrated and thus require multiple capsules, anywhere from 3 to 6. If you don't like taking pills then only having to take one is nice.
If you like to stack supplements you need to be careful what you decide to combine with B4. It is strongly advised by BPI to not combine B4 with other thermogenic supplements, whether it's another pre-workout, a general fat burner or any muscle-building blend.
Be sure to double-check ingredients before mixing things. B4 will work fine with the majority of post-workout protein supplements, and will even help you gain more from your post-workout supplements by improving your metabolism.
Does More than Just Give Energy
Some basic pre-workout formulas focus solely on giving energy and therefore are high in caffeine and stimulants. While a pre-workout shouldn't focus on nutritional needs, as that isn't its purpose, it should offer more than just jitters.
The blend of B4 contains ingredients that safely stimulates the central nervous system, helps balance dopamine levels and regulates adipose tissue. With B4 you will experience a more pleasant yet focused mood, heightened energy levels, a faster metabolism, and your workout will last longer since you'll be experiencing increased endurance and stamina.
B4 definitely increases energy but not so much that it affects daily life. This is useful on off days where you take the pill but aren't going to be able to run to the gym to burn off extra energy.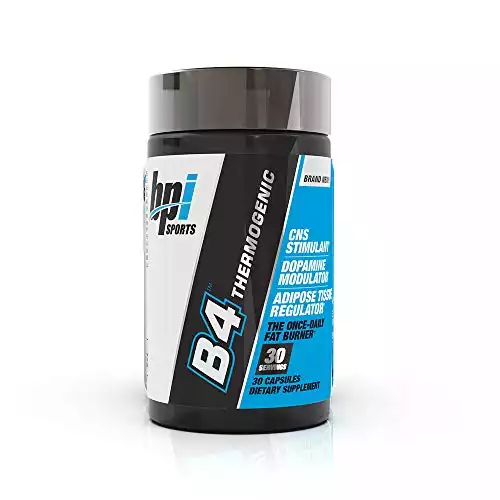 Disadvantages of BPI B4
Overall the BPI B4 pre-workout checks out as being safe, effective, and just a nice all-around product, but there is one potential downside to consider.
Isn't as Strong or Energizing as Other Pre-Workouts
Even though BPI's B4 is a great pre-workout, there is a trend among users that find that the product works well, but falls short when compared to other products. If you're accustomed to hardcore pre-workouts that leave you jittery on an energy high then you might think B4 is too weak.
That being said, B4 is a great choice for those that are new to pre-workouts or those that do not like the feeling of strong pre-workout supplements. B4 can also be useful on busy days where you might not be in the gym or training, but may instead need some extra energy for a hike, frisbee game at the park, and other activities.
In essence, B4 will help you get a better workout than nothing but may be a bit underwhelming for dedicated weightlifters, gym rats, and other athletes. BPI doesn't recommend taking multiple doses so if you think B4 might not give you enough power you may want to try a different brand rather than stack up on multiple doses.
Alternatives to BPI B4
If B3 doesn't seem like the right supplement for you, consider these three alternatives – APS Nutrition Mesomorph, Evlution Nutrition ENGN Shred and MuscleTech Plasma Muscle. These three supplements are pre-workouts and come highly recommended. They are all slightly different in terms of ingredients and power, but all are stronger formulas than B4.
APS's Mesomorph Pre Workout
First up is APS's Mesomorph pre-workout. Right off the bat you'll find that Mesomorph comes in some amazing flavors and really gives a kick of energy quickly. Flavors include Rocket Pop, Tutti Frutti, Pineapple, and Grape, just to name a few. This is a powder pre-workout that easily mixes with water. Mesomorph contains a whopping 4,000 MG of Beta Alanine and 5,000 MG of Citrulline Malate.
Next is EVL's ENGN Shred. The first ENGN pre-workout is still a great choice but if you really want a blast of energy and clarity you'll want to try out the Shred version. This is also a good choice for those that are focusing on really leaning out and burning fat.
ENGN Shred is another powder pre-workout that comes in four flavors – Blue Raz, Cherry Limeade, Fruit Punch, and Furious Grape. This formula includes 500 MG of CLA, 500 MG of L-Carnitine, 100 MG of Coleus Extract, 40 MG of Yohimbe Bark Extract, and 25 MG of Capsimax.
If you prefer a couple pre-workout then MuscleTech's Plasma Muscle is a great choice. Plasma Muscle comes in an 84 capsule container and is loaded with MuscleTech's OptiNOs supplement. OptiNOs is 450 MG blend of Turmeric Extract, Veldt Grape Extract and Bishop's Weed Extract. The final 400 MG of powder in this capsule is Peak ATP, which is Adenosine 5′ Triphosphate Disodium Salt. Plasma Muscle is great for those that want energy but are focused on packing on lean muscle.
Recommended Reads: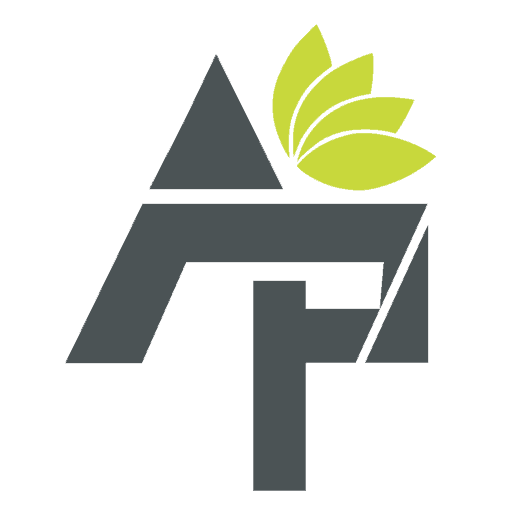 Alt Protein Team is a team of professionals and enthusiasts committed to bringing you the most up-to-date information on alternative protein, health and wellness, workouts, and all things health-related. We've reviewed a lot of products and services so you don't have to guess when you spend your hard-earned money on them. Whether you want to shed some pounds, build lean muscle or bulk, we can help you figure out what you need to do and what you need to have to achieve your goals.