For all of you out there who have been looking for a good fat burning stack, you should know there are plenty of options on the market, but not all of them are as effective as the ones described below. It takes time and patience to get ripped, but with the help of the following products, you can achieve your weight-loss goals a lot quicker. Here are my top three best fat-burning stack alternatives you should try.
1. King Weight Loss Stack
1st Phorm markets this fat burning stack, and it is one of the best fat loss combinations out there. It helps you lose weight, burns fat, and grow lean muscle mass. King Weight Loss Stack provides you with no less than five different supplements: a fat burner, a multivitamin, a metabolism catalyst, a whey protein powder, and a sleep aid. Now, let's see what each of these products is all about.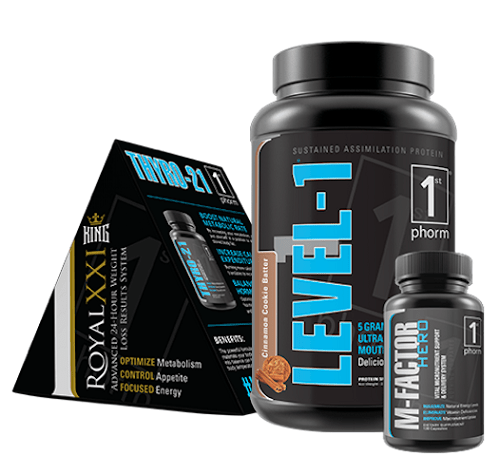 a. Royal-21 King
This is the fat burner, but it also works as an appetite suppressant and metabolic booster. Moreover, Royal-21 King is supposed to improve your mood while also increasing your focus. The product contains L-theanine, Dimethylethanolamine, and caffeine. This mix speeds up weight loss and boosts one's energy levels.
What I consider to be a small drawback is the fact that this supplement is made from a proprietary blend which means you cannot see the amount of each ingredient included in the formula. Still, the label presents the overall quantity, but this makes it impossible to estimate the product's effectiveness. According to the manufacturer, this is a fat-loss supplement that relies on an advanced thermogenic formula.
b. M-Factor
Another important supplement of the King Weight Loss Stack is M-Factor which is a multivitamin. The company markets two varieties of this product. The first version is specially formulated for men while the second alternative is specially designed to meet women's needs. However, both options are rich in minerals and vitamins, so they represent a good supplementation to your daily diet. The multivitamin comes in handy nowadays when most people follow a poor diet or an unbalanced lifestyle.
Besides minerals and vitamins, M-Factor also delivers micro-nutrients that promote muscle growth, prevent certain conditions such as prostate, hormonal balance functions, and increase protein synthesis. All these benefits are associated with M-Factor Hero™ which is the supplement's version for men.
Regarding the product's alternative for women, which is called the M-Factor Goddess, the company claims it prevents premature aging, boosts energy levels, and promotes a healthy hormonal activity.
c. Thyro-21
This is the stack's metabolic booster, but it also focuses on the consumers' thyroid health. It provides all the necessary compounds that promote a healthy thyroid hormone production. In fact, this leads to a positive domino effect: consuming this product improves your thyroid's activity which leads to hormonal balance which further results in an increased metabolic rate. This way, your body will burn more calories.
Thyro-21 is caffeine-free, so you don't have to worry about side effects such as jitters. Simply put, it is the ideal choice for sensitive people who experience unpleasant adverse effects when they consume caffeine or other similar stimulants.
d. Level-1
Level-1 is the stack's whey protein powder. Its main ingredient is a high-quality whey protein isolate that is also micro-filtered. Moreover, its formula resembles the nutritional structure of whole foods. Level-1 protein supplement provides plenty of benefits like preventing muscle damage, supporting sustained assimilation, and promoting both muscle growth and muscle repair. The product is well-appreciated because it comes with high levels of glutamine peptides which increase stamina and body strength.
King Weight Loss Stacks' Level-1 doesn't have annoying side effects. In other words, you won't experience any gas, burps, bloating, or stomachaches. However, it does have a negative side: for some reason, the manufacturer included a couple of artificial sweeteners in this product, but it remains a good-quality protein powder.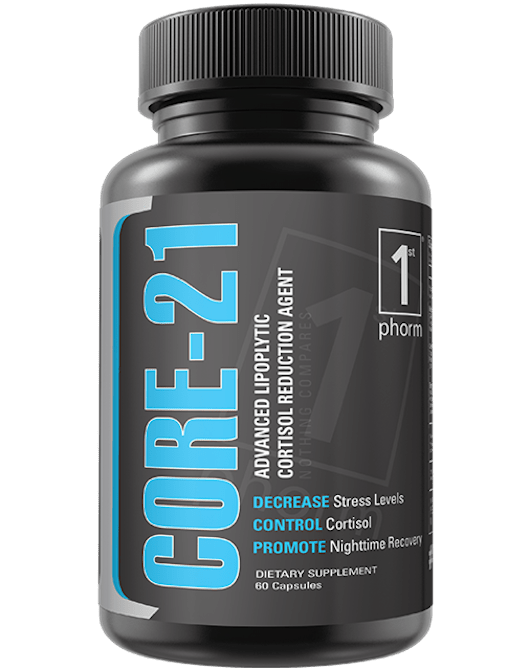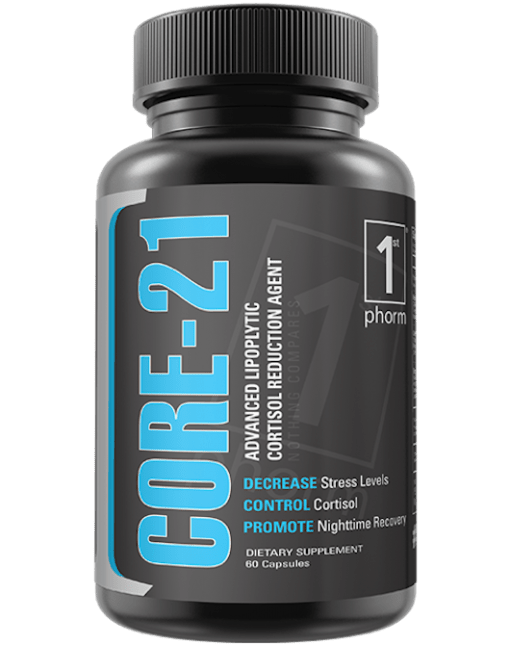 e. Core-21
The last item included in this fat-burning stack is the company's sleep aid which goes by the name of Core-21. You might know by now that sleep is crucial when it comes to plenty of health aspects including weight-loss and fat burn. Let me put it this way! If you don't sleep as much as you're supposed to, your body will release harmful elements in your system such as cortisol and ghrelin. Both these compounds make your organism increase its fat storage.
The product contains a mix of Rhodiola Rosea extract, melatonin, and Kava-Kava. All these ingredients will help you sleep better and achieve a state of relaxation.
Pros and Cons of King Weight Loss Stack
Pros
The stack comes with five different supplements that cover all the aspects of a controlled and balanced weight-loss and a healthy lifestyle, including a metabolic booster
Their fat burner contains high-quality and effective ingredients
·All these products provide you with a wide range of benefits such as fat burn, weight loss, improved sleep, boosted endurance, and many other perks
Cons
Unlike its main competitors, this fat burning stack doesn't include a pre-workout supplement
It has a pretty steep price
According to some people, it seems that the fat burner lacks certain important ingredients
Price
You can buy the entire stack on the company's official website. The price is pretty high: $189.99. But cheer up! There are nine different flavors for the Level-1 supplement that you can choose from chocolate, caramel latte, vanilla ice cream, pumpkin spice latte, ice cream sandwich, strawberry milkshake, etc.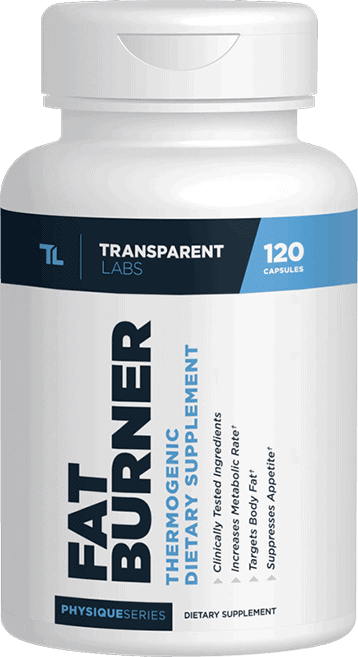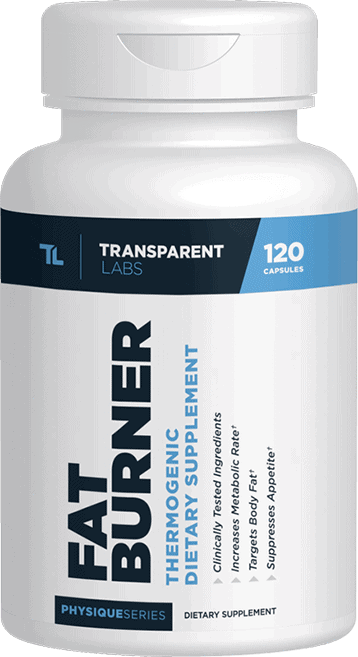 Lean Muscle Essentials is a pretty good fat burning stack manufactured by Transparent Labs. This package comes with four different products, and they are all formulated in such a way that you will be able to burn fat while also maintaining muscle mass. So, it will be easier to become fitter and leaner without losing muscle. The four products are a grass-fed whey protein, a pre-workout supplement, krill oil, and a fat burner. Let's find out more about each of the items above.
a. ProteinSeries Whey Protein
Nobody wants to lose muscle while shedding fat so this product is exactly what you need if you want to avoid that issue. And, this isn't just another whey protein powder that's going to deliver mediocre results. No! ProteinSeries is one of the best protein-based supplements on the market. The main ingredient is sourced from grass-fed and hormone-free cattle. The cows are raised in Austria. Furthermore, this product is free from preservatives and artificial sweeteners.
b. PreSeries LEAN
LEAN is a pre-workout supplement that's formulated to burn fat and help you lose those extra pounds that have been messing with your mind lately. It is full of active ingredients (24 of them) that target stubborn storages of body fat. The proper dosage will also give you enough endurance, stamina, and energy to perform better during your exercising routines. LEAN contains chromium, Synephrine HCl, Citrulline Malate, and other beneficial compounds. These high-quality ingredients lower fatigue, increase body strength, boost metabolism, regulate blood sugar levels, burn fat, and support a healthy thyroid.
c. CoreSeries Krill Oil
Krill oil resembles fish oil, but the first one is a lot more effective. It is rich in Omega-3 fatty acids. These long-chain elements will help your body build blocks of muscle. Moreover, krill oil prevents and even heals muscle tear that can occur during intense workouts. It is a shame that krill oil is such an underrated supplement because it is essential if you want to get ripped.
d. PhysiqueSeries Fat Burner
Last but not least, there's the stack's fat burner which increases your metabolism while also lowering your cravings. So, you will eat less and burn more fat. The formula is enriched with potent elements such as green tea extract, forskolin, 5-HTP, and cayenne pepper to suppress your appetite and boost your metabolism.
Pros and Cons of Lean Muscle Essentials Fat Loss Stack
Pros
Includes a decent pre-workout supplement that will help you burn more fat and complete intense workouts;
Their fat burner is a high-quality one
The company offers free shipping
It appears that the manufacturer has thought about every single detail: each product targets a certain aspect of a healthy and active lifestyle. For instance, krill oil speeds up muscle recovery while the whey protein powder promotes muscle mass growth
There are no artificial flavors, colors, or dyes in these products. Also, they contain non-GMO ingredients and are free from gluten
Cons
You can only buy this stack on the company's website
It is an expensive fat burning stack
Price
The initial price of this fat burning stack was $186, but now, the company offers a promotional price of $169. Unlike the other 2 stacks presented in today's post, Lean Muscle Essentials lets you choose your favorite flavor for two of the stack's products:
ProteinSeries whey protein isolate – chocolate, mocha, French vanilla, salted caramel, and strawberry
LEAN Pre-Workout – sour grape, orange, blue raspberry, strawberry lemonade, and green apple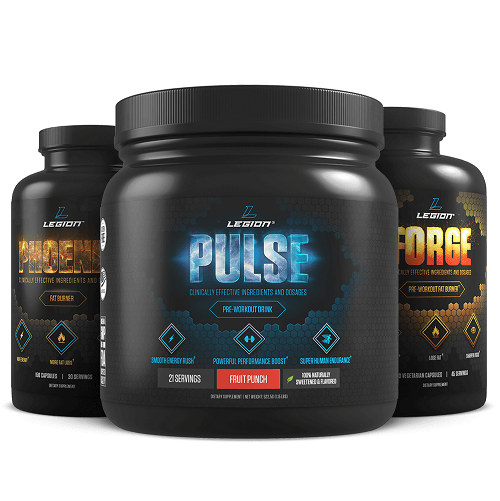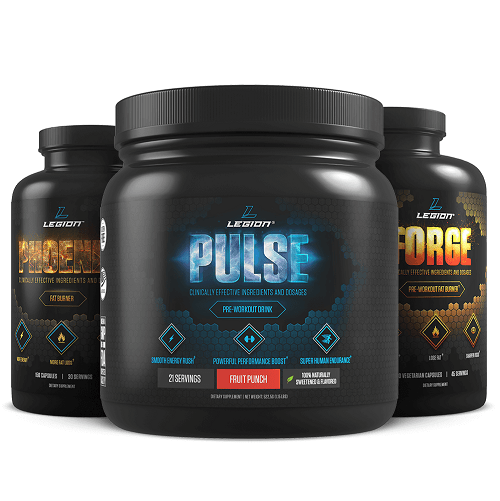 3. The Fat Loss Stack by Legion Athletics
This fat-burning stack is another excellent option for people who want to get ripped, build muscle mass, and burn fat. Legion Athletics' stack is comprised of three products: a pre-workout fat-burner by the name of Forge, a caffeine-free fat-burner, and a pre-workout supplement. Below, I have detailed each of these three products.
a. Forge Pre-Workout
Forge works uniquely. You will achieve optimum results by consuming it after a fasting period. It comes with a mix of Yohimbe and citicoline. These two compounds speed up the fat burning process. Moreover, the product also contains a decent amount of calcium that will strengthen your bones and promote good overall health.
On the other hand, I must say that Yohimbe might lead to certain side effects such as panic attacks or anxiety but these issues are not commonly seen and they can only appear in situations in which consumers are sensitive to this specific ingredient. Fortunately, the manufacturer made a wise decision by including a small dosage of Yohimbe in the product.
All in all, Forge is not really my cup of tea. In my opinion, Legion Athletics should have opted for a simple, classic pre-workout supplement.
b. Phoenix Fat Burner
Being a caffeine-free fat burner makes Phoenix a safe product. In other words, you won't have to worry about jitters after consuming it. Some of its ingredients are synephrine, green tea, forskolin, bark extract, and 5-HTP. Green tea works as a metabolic booster while 5-HTP is excellent when it comes to appetite suppression.
c. Pulse Pre-Workout
The third product of the Legion Athletics' fat burning stack is Pulse which is a traditional pre-workout supplement. Pulse provides some solid ingredients like betaine, theanine, Citrulline DL-Malate, and beta-alanine. Each of these compounds leads to important benefits:
Betaine increases your strength
Beta-alanine lowers fatigue
Theanine boosts your focus
Overall, this fat loss stack is pretty decent in terms of efficacy. At least, two out of their three products are very good. The only one that I have my doubts about is, as I mentioned previously, the Forge Pre-Workout which contains just a couple of ingredients and, to me, it doesn't look as effective as the other two supplements.
Pros and Cons of Legion Athletics Fat Burning Stack
Pros
The company's fat burner is a high-quality one
It is less expensive compared to other fat loss stacks
The stack is said to increase one's endurance, body strength, and focus while also lowering cravings
Their products are decent regarding their level of effectiveness, especially Pulse
Cons
I am not so sure about how well Forge works, and I am also a bit concerned about its potential side effects
The entire stack contains only three supplements which are less than other options on the market
Price
The best way to purchase this stack is by buying it directly from the manufacturing company. The current promotional price listed on the website is $94 (the initial cost of the stack was $105). You can also select your desired Pulse flavor from a wide range of possibilities: fruit punch, pink lemonade, watermelon, blue raspberry, cherry limeade, green apple, and grape. Another perk provided by the company is their 100% money-back guarantee, in case you are not happy with the way their products work.
You can also find these three fat burners on Amazon, but you have to buy them individually:
Forge– one container of 45 servings – $57.70
Phoenix – one tub of 30 servings – $39.97
Pulse – one container of 21 servings – $34.97
Final Thoughts
So, now you know which the best fat-burning stack alternatives are. These supplements will help you develop lean muscle mass so make sure you use them instead of potentially-harmful products such as steroids. I am not sure if I should say this, but my favorite choice is Lean Muscle Essentials, and I prefer it because it provides superior products with plenty of high-quality ingredients.
Recommended Reads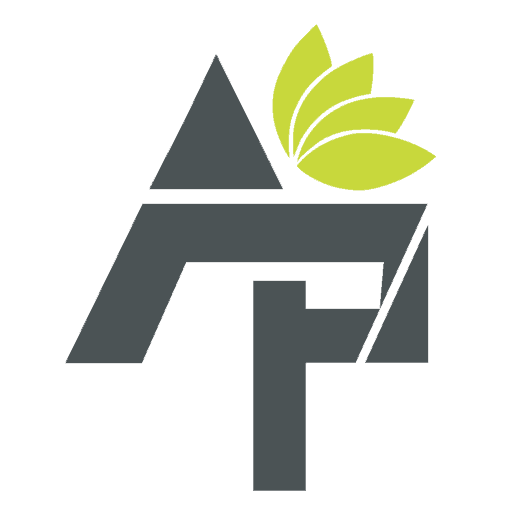 Alt Protein Team is a team of professionals and enthusiasts committed to bringing you the most up-to-date information on alternative protein, health and wellness, workouts, and all things health-related. We've reviewed a lot of products and services so you don't have to guess when you spend your hard-earned money on them. Whether you want to shed some pounds, build lean muscle or bulk, we can help you figure out what you need to do and what you need to have to achieve your goals.