Looking for a soy-free, dairy-free, legume-free, gluten-free protein powder? Here's a PurePaleo Protein review that might help you end your search. Even if you're not on a strict paleo diet and just landed here looking for a "clean" protein powder that'll help you hit your macro goals and gain and maintain muscle without consuming a lot of junk, keep reading for more on PurePaleo and other alternatives.
What Is PurePaleo Protein?
PurePaleo Protein is a protein powder product from Designs for Health, a company founded by an RD, a CDN, and a group of nutritionists in 1989. Over the years, they've created a range of nutritional supplements backed by extensive research and focused on quality.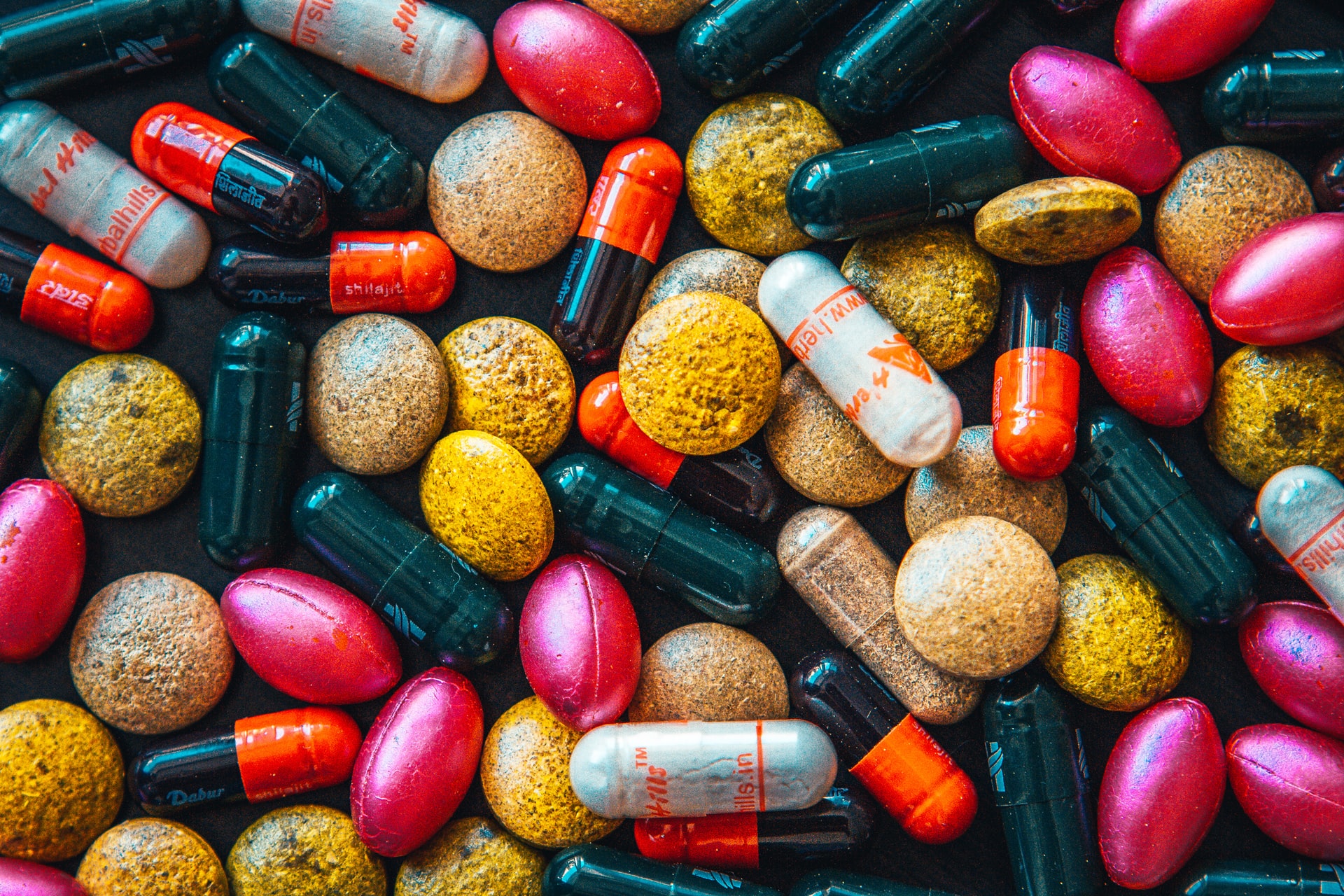 Flavor Options and Types of Protein:
Chocolate
Vanilla
IgG Chocolate
IgG Vanilla
Unflavored/Unsweetened
WheyCool in chocolate or vanilla
PurePea in chocolate, vanilla, or unflavored/unsweetened (organic also available)
Organic PurePea Plus with Greens
WheyMeal, which used to be PaleoMeal, available in chocolate, strawberry, or vanilla
VegeMeal, which used to be PaleoMeal DF, available in chocolate, berry, or vanilla
Regular
The regular powder is made from pure beef collagen peptides, not whey, soy, brown rice, or peas, so it fits nicely within a paleo, primal, or Whole30 lifestyle. It contains 21 grams of protein. The list of ingredients is short and sweet, which is a breath of fresh air compared to some options out there that are loaded with fillers and artificial flavors and sweeteners. For example, here's a look at what's in the chocolate one aside from the protein itself:
Natural chocolate flavor
Natural vanilla flavor
Medium chain triglycerides
Stevia leaf
Silicone dioxide
IgG
The IgG protein boasts of a wide array of amino acids, including BCAAs (which are great to consume post-workout). It's designed to support a healthy immune system and digest easily while helping you maintain lean muscle mass. The chocolate version of the IgG protein has a similarly short list of ingredients:
Protein from bovine serum albumin concentrate
Natural flavors
Cocoa powder
Sodium chloride
Stevia leaf extract
Price and Quality
Each container of regular PurePaleo protein comes with 30 servings. The PurePaleo™ IgG comes with just 15 servings per container. Prices vary. On average, the regular will cost about $91.00. The IgG will cost about $60.00. For comparison, the whey that Designs for Health offers will cost about $95.00. Check out the latest prices on Amazon here!
Sticker shock? I had some, for sure. You could get two tubs of a lot of brands of protein powder for about the same price as one tub of either of the PurePaleo ones. However:
The ingredients are extremely high quality (the animals do not consume GMO grains, they aren't fed hormones or antibiotics, etc.).
The company is careful about where they source their ingredients from.
The powders are created for easy absorption and use within the body.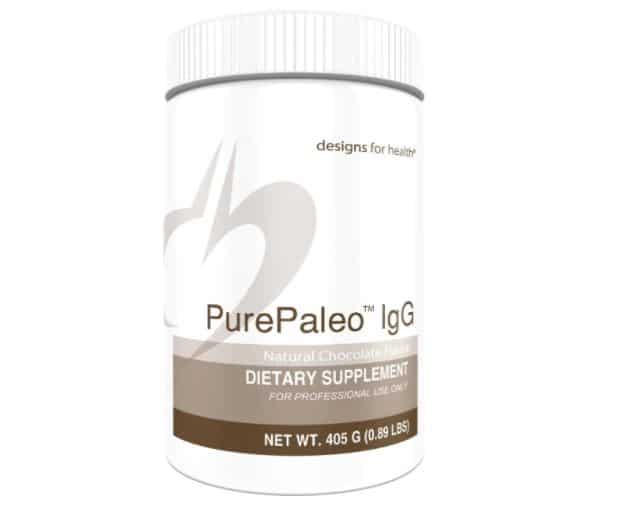 Pros and Cons
No protein powder is all good or all bad. This one's pretty good, but no product is perfect. Check out the pros and cons below:
Pros
The powders are made from high-quality protein.
They're low-carb, so it's easy to make them fit into your macros or just stick to a general low-carbohydrate diet. You'll be able to add fruit or healthy fats as you see fit.
Low in sugar
No artificial sweeteners; these powders are sweetened with stevia (other than the unsweetened/unflavored option)
Not a lot of ingredients, so there's less of a risk that your body will have a negative reaction to something in the product
No soy
Easy to digest (especially the IgG version)
More amino acids thanks to the way it's processed
The chocolate tastes like a Wendy's frosty (yummy!)
Cons
The first con is the price. It's one of the more expensive ones on the market, with prices starting at around $60.00 and extending upward to just over $90.00. In some cases, you may be able to find it for a few dollars less, but even at the lowest prices I've seen, it's still one of the more expensive ones out there.
There's not a wide variety of flavors to choose from. Vanilla, chocolate, and unflavored make great bases for all sorts of protein shake concoctions, but sometimes you just want something a little different that you don't have to create on your own.
If you're adhering to a vegan diet and looking for a clean protein to help supplement your diet and build or maintain muscle, you'll have to keep looking. This isn't a con for everyone, but it is for some. Vegetarians, however, may be fine with one of the other protein powder options from Designs for Health (more on those below).
Taste and Texture
I have good news and bad news.
First, the good news: These protein powders rate pretty well across the board. They taste good (some people disagree, of course), reviewers like the clean ingredients and the texture is smooth (but more on that in a minute).
Some reviewers even rave about how "great" the taste of the regular one is, which may be unheard of if you're new to the world of protein powders and have only tried a few from your local big box or health food store. Some people who don't care for stevia even said this one is somehow okay.
I will point out that people seem to like the IgG version's flavor less than the original or whey, and the vanilla and chocolate do better in taste evaluations than unflavored.
Now, the bad news: If you don't have a blender and you hoped you could just throw this into a shaker cup with liquid or mix it up with a spoon, I have to disappoint you. In order to get this to blend well with liquid, you'll have to put it in a blender. Nothing fancy is required (unless, of course, you're getting pretty experimental with the add-ins), but you'll need some kind of blender to get the best results with PurePaleo protein powder (and most protein powders, from my experience).
Another thing that I found was that even after I blended it, the shake would thicken naturally, especially if you don't add enough liquid. I also think this shake tastes way better with almond milk than just plain water.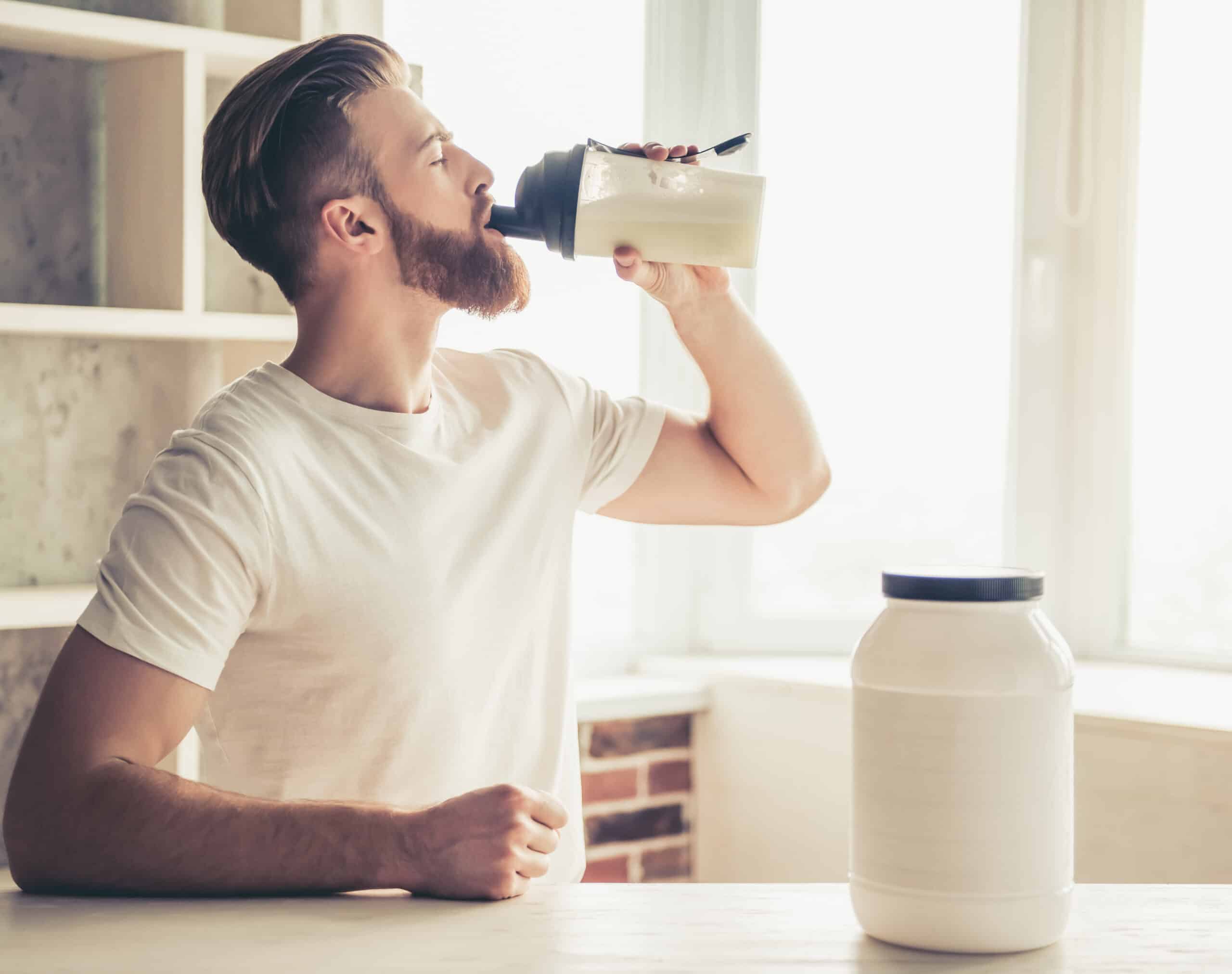 How's the Nutritional Profile?
The brief description of the nutritional profile: Excellent! Here's a breakdown of what you get from each type. I've included the whey here since whey protein is a common choice in the fitness world and it's nice to compare something new to what's familiar.
You'll see that the regular PurePaleo protein powder isn't that far off from the whey as far as nutrition goes. The IgG is quite a bit different, as it's lower in calories, protein, and fat but higher in sodium, carbs, and cholesterol (not saying that's a bad thing; it depends on your dietary goals):
| | | | |
| --- | --- | --- | --- |
| | Regular (Chocolate) | IgG (Chocolate) | WheyCool (Chocolate) |
| Calories/Calories from Fat | 100/10 | 90/Not listed | 120/20 |
| Total Fat/Sat. Fat | 1.5 g/0.5 g | 0.5 g/Not listed | 2 g/1 g |
| Cholesterol | Less than 5 mg | 70 mg | 20 mg |
| Sodium | 140 mg | 520 mg | 100 mg |
| Total Carbohydrates/Dietary Fiber/Sugars | 3 g/1 g | 5 g/Not listed | 5 g/1 g/2 g |
| Protein (Source) | 21 g (from HydroBEEF™) | 16 g (from bovine serum albumen concentrate) | 20 g (from whey) |
Alternatives
There are a couple of nutritious options (non-paleo) without a lot of fillers from Designs for Health that are worth a look:
As you can see from their names alone, they're not paleo-friendly. However, if you were looking for PurePaleo Protein reviews just because you were hoping for a healthy, clean protein powder option without a lot of extra ingredients you don't need, they may still work for you and your diet.
Outside of the Designs for Health brand, there are a few others on the market that might fit the bill (again, not all are paleo-friendly):
Primal Protein: A whey-based protein powder with more than a hint of coconut flavor from Primal Kitchen (available in chocolate and vanilla)
Jay Robb's Egg White Protein: A protein powder made from egg whites, available in vanilla, chocolate, strawberry, or unflavored
Piping Rock Whey Protein Isolate Powder: A whey protein powder available in unflavored or vanilla, one of the least expensive options
Sunwarrior: Vegan protein powder, available in Classic (a whole grain brown rice option available in chocolate, vanilla, and natural), Classic Plus (an organic pea, brown rice, quinoa, chia seed, and amaranth blend available in chocolate, natural, and vanilla), and Warrior Blend (an organic pea, hemp, and goji berry protein blend available in vanilla, berry, chocolate, mocha, and natural). Check out how to find the best protein powder here!
The Final Verdict
This one is a winner! Between the clean, short list of ingredients, the careful sourcing of ingredients, special care for those with intestinal issues, and the taste, the only thing left not to like about this is the price. And when you compare the price to what the product offers, even that doesn't seem so bad if you can fit it into your budget.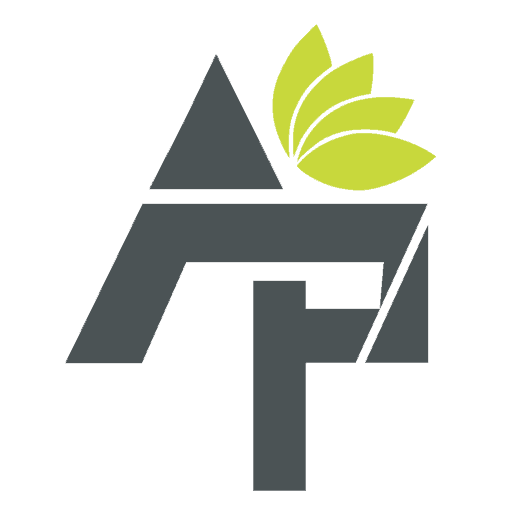 Alt Protein Team is a team of professionals and enthusiasts committed to bringing you the most up-to-date information on alternative protein, health and wellness, workouts, and all things health-related. We've reviewed a lot of products and services so you don't have to guess when you spend your hard-earned money on them. Whether you want to shed some pounds, build lean muscle or bulk, we can help you figure out what you need to do and what you need to have to achieve your goals.