If you've seen Dymatize ISO 100 on the market and are interested in learning a bit more about it, you have come to the right place. I tested it out extensively over the course of two months. There are some definite advantages and disadvantages so keep reading to get the full picture.
Dymatize ISO 100 is made from Hydrolyzed WPIs. These are also known as Hydro-lysates. They are whey protein processed with high temperatures and in acid conditions, in order that the protein is isolated. This is an expedient way to purify whey protein since it removes most lactose and fat.
Hydrolyzed whey protein is easily absorbed by the body, which makes it a good recovery drink after workouts. This supplement type has 90-100% protein, compared to Whey Protein Concentrates, which only have 70-80% protein. SO 100 is made from 100% isolate, rather than a concentrate.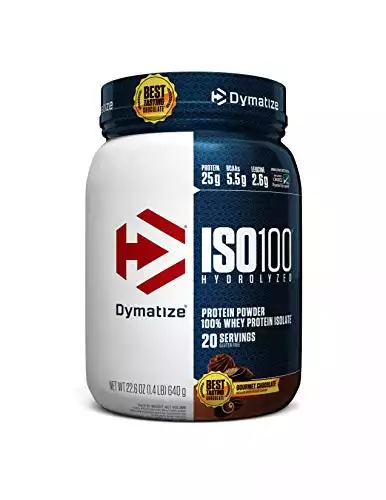 Macro-Nutrient breakdown for ISO 100
Serving size: 28.3 grams
Calories: 100
Total Fat: 0 grams
Calories from Fat: 0
Sugars: 0 grams
Carbs: 1.5 grams
Protein: 24-25 grams (depending on the flavor)
Dymatize ISO 100 relies on the whey protein for its naturally occurring content. Here are the function and breakdown of each fuel source:
Valine – 1,850 mg
Valine is essential for tissue repair and growth. It is an amino acid that is helpful in maintaining the balance of nitrogen in the body. It is also an energy source for muscles during periods of exercise, preserving the glucose stores of the body.
Leucine – 2,825 mg
Leucine also aids in nitrogen balance and is an energy supplier. Glycogen is conserved for muscle contraction. Leucine increases focus and alertness during workouts, and helps the body to synthesize protein. High levels mean your body can convert protein for efficient repair and building of muscle tissue.
Isoleucine – 1,975 mg
Isoleucine is an alanine and glutamine precursor. Your body needs these during physical activity, including weight training. Your muscle cells use this for fuel. Isoleucine is an important part of protein synthesis and it has anti-catabolic and anabolic properties. This increases endurance, while it reduces fatigue and the breakdown of muscle tissue.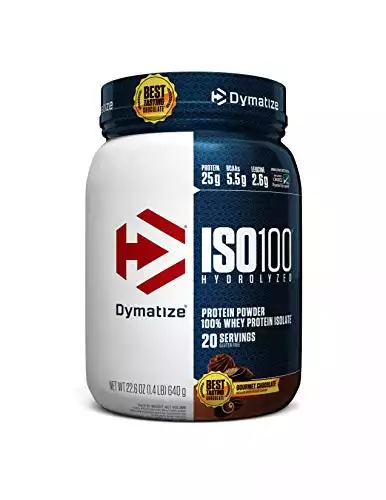 Advantages of Dymatize ISO 100
Good taste
25 grams of Protein
0 Fat grams
0 Lactose grams
0 Sugar grams
Aids in muscle repair and growth
Reduces fatigue
Increases endurance
Disadvantages of Dymatize ISO 100
24 grams of protein per serving is rather disappointing in this product that is promoted as having the highest protein content in the class. Other WPIs have similar levels of protein content.
Dymatize ISO 100 also tends to run a bit higher in price than similar products. However, I've seen

good prices here

.
This product mixes quite well, with no clumps. The taste, however, may be one of the chemical sweeteners. Some users cannot drink the product straight. They mix it with unflavored whey isolate or natural fruits.
The formula, when blended, may develop a foam. It makes up too much of the drink container. This may add to the gas experienced during or after workouts.
Overall Assessment
The manufacturers developed Dymatize ISO 100 to give you everything you need to adequately support the growth of muscle. The whey protein isolate is fast-absorbing and easily digested.
This product delivers speedy amino acid replenishing, which stops morning catabolism and speeds recovery after intense training. The whey proteins are cold-filtered, allowing your body to use what might be lost if processed in other ways.
The shortlist of ingredients means more pure protein delivery. The product is produced in an Informed-Choice® facility that certifies it does not contain any banned substances.
While some users did not prefer the taste of the protein supplement, most users actually liked the taste. Although some of the flavors tend to be a bit sweet, most users found them acceptable.
This fast-absorbing protein was designed for hard-working athletes. It contains the ingredients your body needs to repair and build muscle more rapidly. It doesn't contain extra ingredients that don't add some value to the product.
Each serving of Dymatize ISO 100 gives you 25 grams of hydrolyzed 100% whey protein isolate and 2.7 grams of L-Leucine. This is depleted when you are working hard. It is lactose and gluten free, contains less than one gram of fat and sugar each, per serving.
Final Thoughts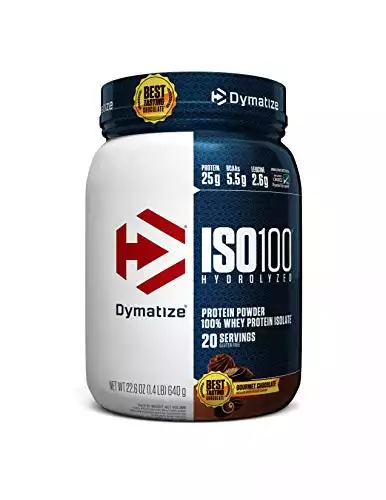 Since Dymatize ISO 100 is made of 100% whey protein isolate in a hydrolyzed formula, you get the nourishment your body and your muscles need, almost immediately after you drink it. ISO-100 has many more satisfied than dissatisfied customers in broad reviews researched online.
Overall, it seems to serve well the needs of people who use it. Dymatize is a highly rated protein source, receiving good reviews from both customers and fitness coaches. It is a good – well balanced – protein powder that serves as a good baseline to start with. You might want to eventually move to different types or brands of protein, but you can't go wrong with ISO 100.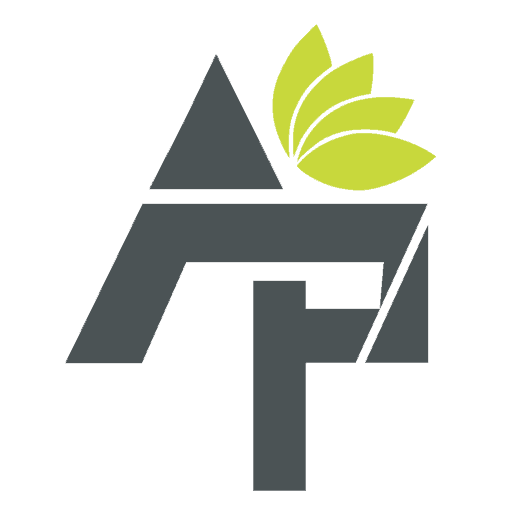 Alt Protein Team is a team of professionals and enthusiasts committed to bringing you the most up-to-date information on alternative protein, health and wellness, workouts, and all things health-related. We've reviewed a lot of products and services so you don't have to guess when you spend your hard-earned money on them. Whether you want to shed some pounds, build lean muscle or bulk, we can help you figure out what you need to do and what you need to have to achieve your goals.