Ancient Nutrition Keto Protein
I tried the vanilla flavor and while it wasn't my favorite as far as taste, it has so many good things going for it, like a solid ingredients list, protein from a source that's not whey or peas (chicken bone broth, mostly), and the promise of countless benefits that I can confidently recommend it.
I know those benefits are legitimate because I've experienced them in other products and even in my coffee (like MCTs for energy and, of course, caffeine).
Over the course of about 20 years, I've tried an excessive number of protein powders, wellness-boosting concoctions, supplements, and more.
I love experimenting, so I jumped at the chance to try this keto protein. I've tried egg white protein powder, but never protein powder made from chicken bone broth. And I'm already a believer in the perks of MCTs.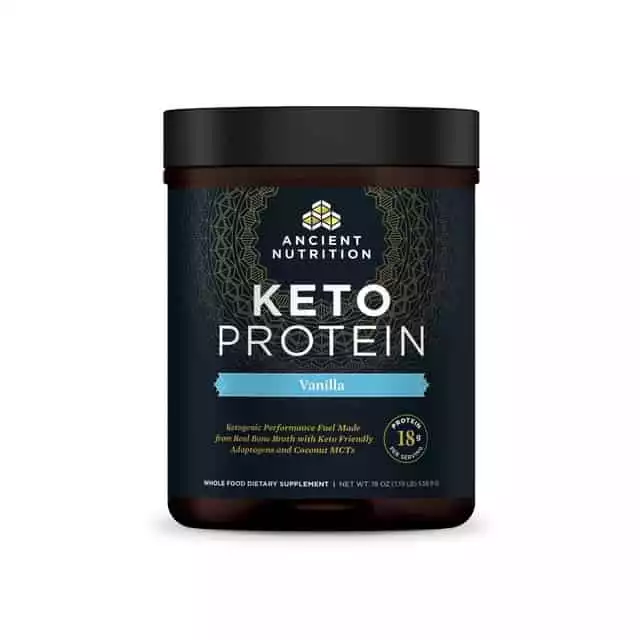 Bottom Line Up Front
I'll just come out and say it: I did not like the flavor of this one. Maybe the chocolate flavor is better than the vanilla one I tried. If you get creative with your smoothie flavors, you can disguise the taste of the protein powder and it might be worth it, since the ingredient list and benefits are solid and the benefits may outweigh the taste of the product on its own.
This "Keto Performance Fuel," as the Ancient Nutrition site calls it, is pretty impressive overall. Here's what you can expect:
10 grams of fat, 18 grams of protein, and 2 carbs

Ingredients, including bone broth, that work together to improve skin, gut health, muscle recovery, and joint health

Caffeine, for extra energy (from organic coffee fruit)

MCTs for extra fat-burning help and mental clarity

Antioxidants

The recommendation is to put it in your oatmeal, coffee, or smoothie and use it as part of a diet full of healthy fats, vegetables, fruits, and proteins

"Clean energy"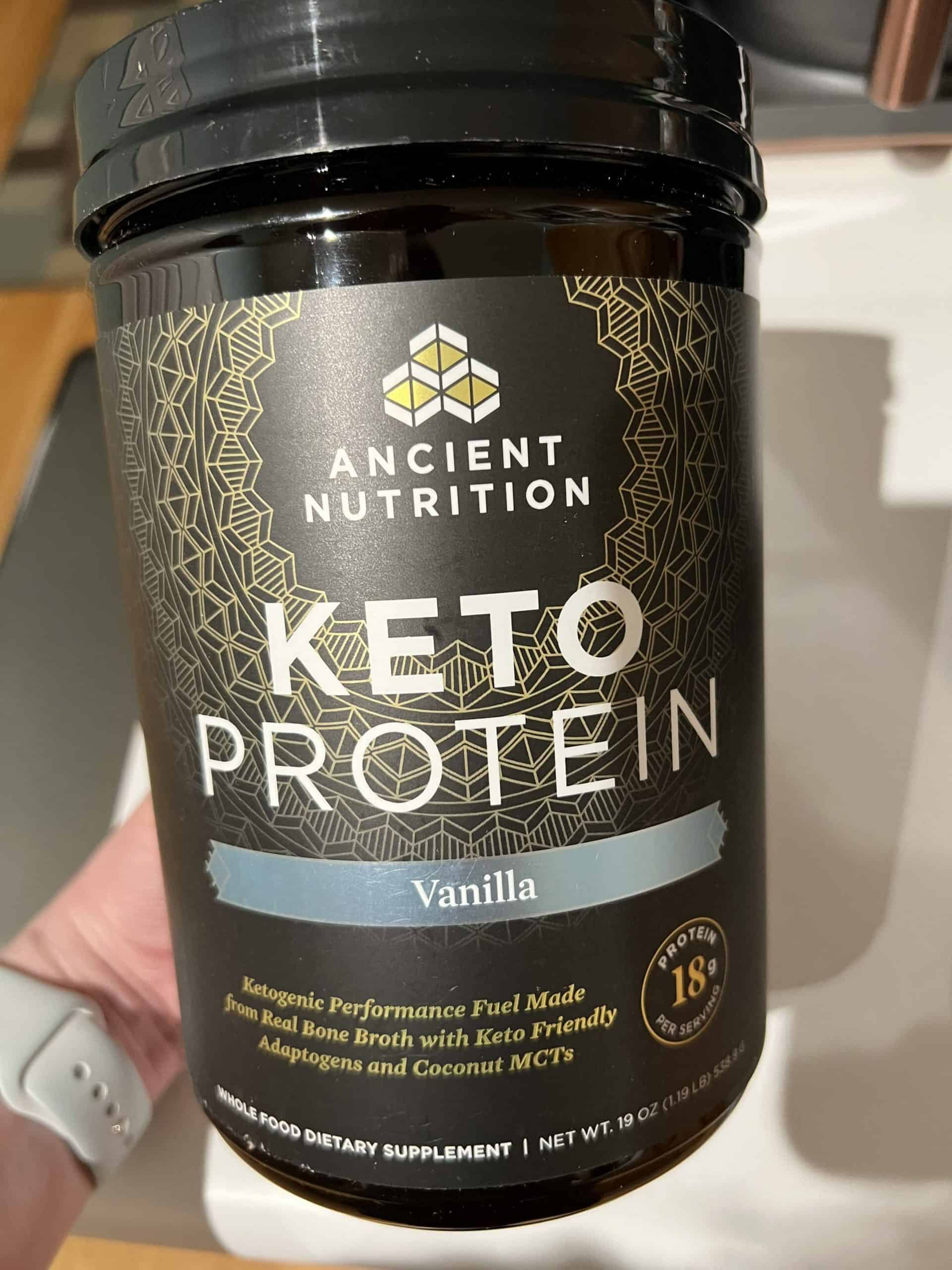 Pros and Cons
I really wanted to love Ancient Nutrition Keto Protein. There are many perks to using it, but I can't get past the flavor of the vanilla one that I tried. Yet, there are so many great benefits to this formulation that I would recommend giving it a try:
Sometimes health benefits and exciting ingredients can be worth it, especially if you're looking for something particular, like bone broth, in your protein powder.
Pros
The detectable smooth vanilla flavor wasn't overly sweet or fake-tasting. Other things mixed with the vanilla made it hard to drink, though. I blame the chicken bone broth oil.

As with all the Ancient Nutrition products I tried, the packaging is beautiful. I would be happy to store the protein powder on my counter for convenience and as a reminder to use it every day.

It contains adaptogens and coconut MCTs, which may help with fat-burning and reduce the effects of stress on the body. The list of ingredients is really top-notch. It's healthy, nutritious, and not stuffed with fillers. Each ingredient seems to have an essential purpose for being there.

It mixed surprisingly well with water in a shaker bottle, even though the texture made it look like it'd be an unpleasant experience.
Cons
The flavor was the biggest con. It doesn't matter how good the list of ingredients is, how affordable it is or isn't, or how good the texture is if the flavor is off-putting and you can't get it down, it's not worth it.

It's $64.95 for 17 servings. Less if you subscribe ($55.21).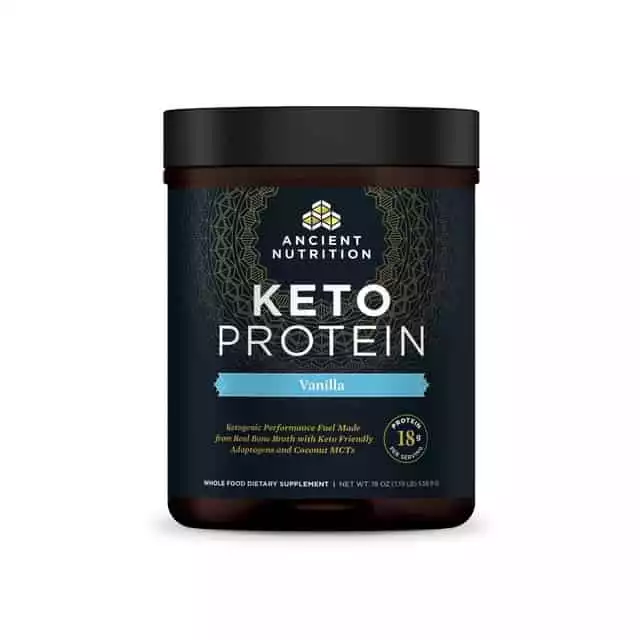 My Experience
This is my personal experience. I have tried many health supplements and shakes before and here is what I experienced with this product:
First, Let's Talk about the Flavor
The vanilla part was lovely, and the chicken broth flavor and saltiness would've been fine on their own (it would've been like drinking bone broth), but those two things just don't play well together. I felt like I was drinking vanilla milk cut with chicken broth.
I really can't think of anything to put this mix of sweet and salty in. The salty chicken broth flavor comes through as much as the vanilla in water.
The chicken flavor will ruin if you put it in a sweet shake. The vanilla may ruin it if you put it in bone broth to drink. I didn't try it this way, but if you're a fan of golden milk, it might be good in that.
The Texture
This was surprising. I could still see little chunks floating in the water after shaking it up, so I thought the texture would be off-putting. However, what I drank of it was pretty smooth. No complaints.
I mixed it with 12 ounces of water, which the tub said to do. This is more than their plant-based protein powder calls for (eight ounces).
Opening the Tub
As I opened the Ancient Nutrition Keto Protein tub, I could smell the chicken broth (or maybe beef broth–both are in there).
The protein powder looked like it would be chunky, but it also seemed light and fluffy. I had to dig around to find the scoop, which wasn't really a big deal. I did notice the powder made my fingertips feel stickier than other types of protein powder.
When I rinsed my hand, the residue felt slimy. Again, I was afraid of what the texture might be like when I tasted it.
The Aftertaste
The protein powder had a salty aftertaste that hung around for a while. My tongue felt especially dry, too.
I wonder if following a strict keto diet might train a person's taste buds to enjoy or crave the flavor. If you're following the ketogenic diet, it is worth trying this protein powder. Ancient Nutrition has a generous return policy: a 60-day money-back guarantee so you can taste it for yourself and see!
My Thoughts on the Ingredients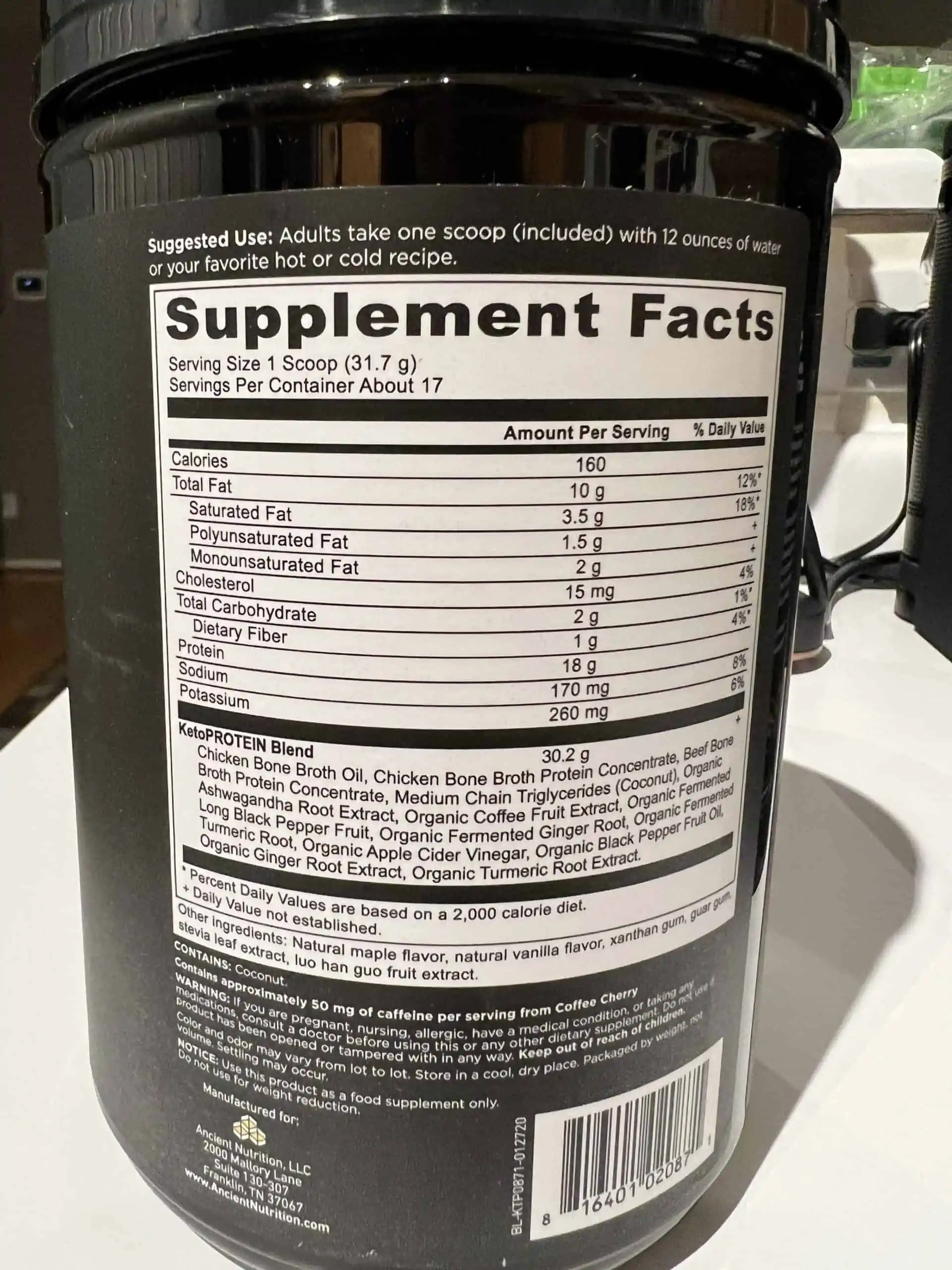 I never have complaints about Ancient Nutrition's ingredients. They're always top-notch, with few to no "extras." Everything is there for a good reason. That's why I desperately wanted to like Ancient Nutrition's Keto Protein.
Let's look at the list, so you can see why I'd love to find a way to make it work for me:
Chicken bone broth oil and protein concentrate and beef bone broth protein concentrate:

Anti-aging, gut health, digestive and immune support, better sleep, joint health

Coconut MCTs

:

Energy, help making ketones, potential fat-burning assistance, clarity, focus, brain health, help fighting yeast and bacterial growth

Organic ashwagandha root extract

:

May help with blood sugar levels, stress management, inflammation, brain health, increased testosterone and fertility in men, improved athletic performance, and better sleep.

Organic coffee fruit extract

:

Antioxidants, may help lower blood pressure, brain health, anti-aging, energy (from the caffeine), and boosted immunity

Organic fermented long black pepper fruit:

Antioxidant, liver support, maybe a defense against cancer, and anti-inflammatory

Organic fermented ginger and turmeric roots:

Digestion help, inflammation relief, antioxidants

Organic apple cider vinegar:

May help maintain healthy blood sugar levels and assist with weight loss

Organic black pepper fruit oil:

Black pepper helps the body use the turmeric and may also help with digestion and detoxification

Organic ginger and turmeric root extracts:

Good for digestion and inflammation, and powerful antioxidants

Natural maple and vanilla flavors:

To make the product more palatable

Xanthan gum:

Thickener

Guar hum:

Fiber, most likely used as a thickener here

Stevia leaf extract:

Natural sweetener

Luo han guo fruit extract:

Natural sweetener
Alternatives to Try
If this doesn't sound like exactly what you want, maybe one of these will be better for your needs: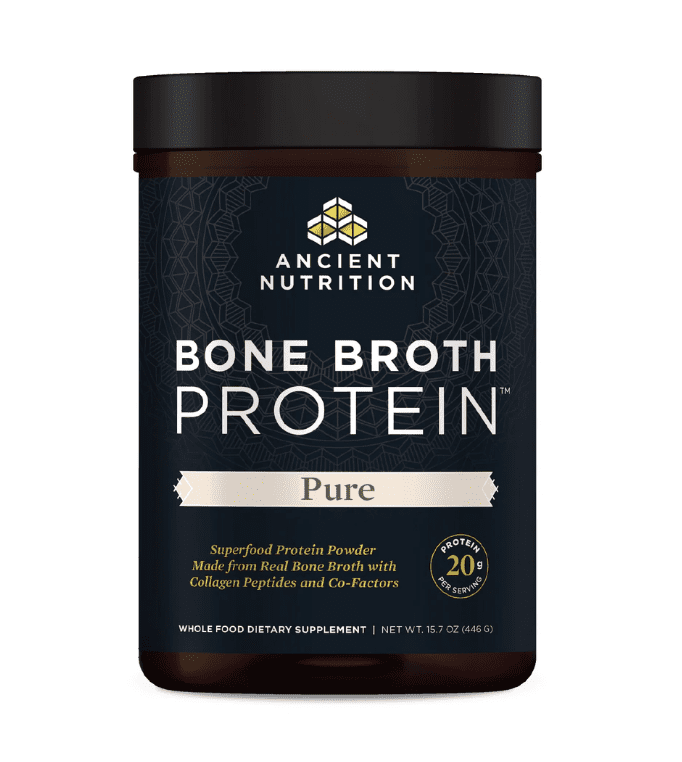 Ancient Nutrition Bone Broth Protein contains one ingredient: chicken bone broth protein concentrate.
It still carries some of the same benefits as the Keto Protein. Still, because it's not flavored with vanilla or chocolate (though those options are available, along with other flavors), it will be easier to mix into soups, stews, etc.
You'll get 20 servings for $49.95. If you subscribe, you'll pay even less.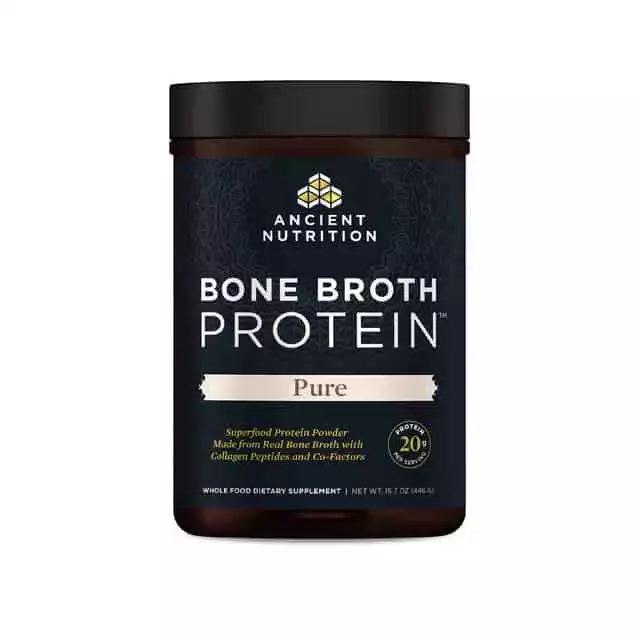 Bone Broth Protein Powder Pure | Ancient Nutrition
Features collagen type II, glucosamine, chondroitin, hyaluronic acid and 18 amino acids. Savory chicken flavor. Supports joint health and reduces joint discomfort.
Check Price
We earn a commission if you click this link and make a purchase at no additional cost to you.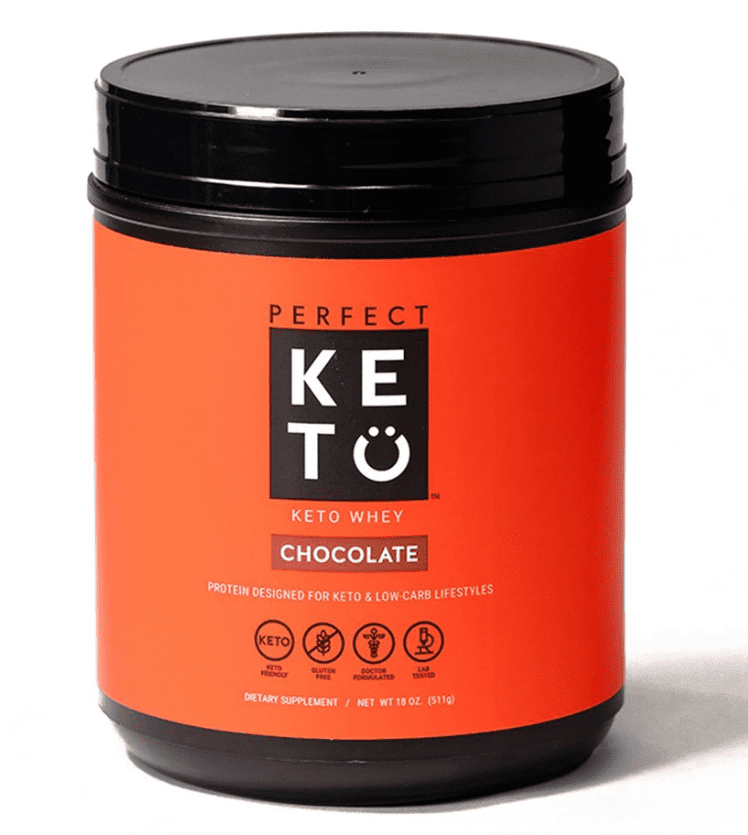 Keto Whey Protein Powder from Perfect Keto is also available in chocolate and vanilla. This one has a short list of ingredients: grass-fed whey protein, MCT, natural flavor, stevia leaf extract, and gum acacia.
You'll get 20 servings for $43.99 if you buy it once. The price drops to $35.19 if you subscribe.
Per serving, there are four grams of fat, two carbs, and 15 grams of protein.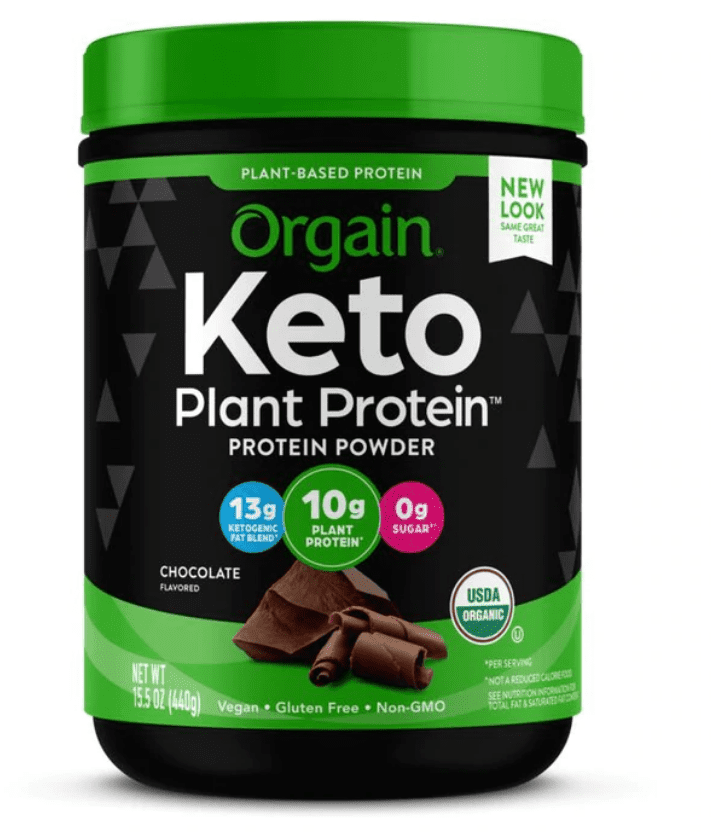 Orgain Plant Protein Organic Keto-genic Protein Powder is available in chocolate and vanilla for as low as $24.04 per tub (if you subscribe). Buying one jar at a time will cost $36.99, and there are only 10 servings per container.
As expected from a keto protein powder, it's high in fat–13 grams per serving. There are 10 grams of protein per serving. The ingredients list is clean. The protein comes from peas, typically an easier flavor to mask than chicken broth.
Clean Simple Eats Protein Powder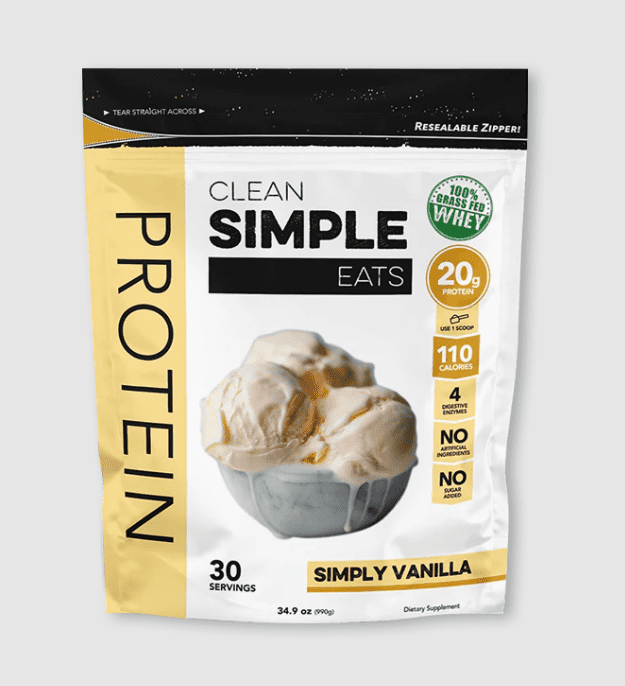 Clean Simple Eats Protein Powder isn't keto-specific, but the highest carb count I saw per serving was eight (some are lower).
There are 20 grams of whey protein per serving and clean ingredients. This brand offers a ton of exciting flavors, like cotton candy, brownie batter, vanilla cola, s'mores, etc. The regular price is up to $59.99 for 30 servings, but they run sales often, so you can get it for less.
Things to Consider
Are you on the ketogenic diet? If so, it might be worth a try, in case it tastes better to you somehow. I've heard that this can happen (that things start to taste different in general, not this specific product), but I've never experienced it.

Do the benefits of bone broth concentrate and protein make it worth trying?

Based on the flavor profile, can you think of a way to work this into your diet? Or do you think you could make the chocolate one work?

Is the cost worth it to you? If you were to drink it every day, you'd need to buy two tubs to get through the month since there are only 17 servings. If you're willing to buy a six-pack and have a subscription, you can get the cost down to $43.32 per tub.
FAQs
If you're still curious, these FAQs should help you decide whether Ancient Nutrition's protein powder is right for you.
Question: Is Ancient Nutrition bone broth protein keto-friendly?
Answer: Yes. Even the keto protein has bone broth protein in it, along with some extra ingredients.
Question: Is Ancient Nutrition keto-friendly?
Answer: Absolutely. Several of their products are designed to complement a keto diet, like Keto Protein and Keto Fire.
Question: Are protein powders okay on keto?
Answer: Yes. They're usually low on carbs anyway, so you'll be getting a healthy dose of protein and some fat, too, depending on your brand.
Question: Which protein is good for keto?
Answer: Outside of meat and some dairy products, a quality protein powder that doesn't have an excessive number of carbs is perfect. Something like Ancient Nutrition Keto Protein or similar would be ideal.
Conclusion
I have such a love-hate relationship with this protein powder. I know it's got potential to be a beneficial addition to anyone's diet (you don't have to follow a keto diet to reap the rewards of ingredients like these). The texture's not bad. It's not overly sweet. The vanilla flavor is delightful, especially when added to your favorite smoothie recipe.
I just wish the flavor were better. There's a chance that, with some determination, I could learn to like (or at least tolerate) it, but it just wasn't for me. I have other options I like to use, so I'll stick with those.
If you're in the market for a protein powder with MCTs, antioxidants, clean ingredients, more fat than your average protein powder (and more protein than your average plant protein, without depending on whey), I recommend giving it a try since Ancient Nutrition's return policy is so generous. You may love it, or at least have a creative use for it that will cover up the flavor.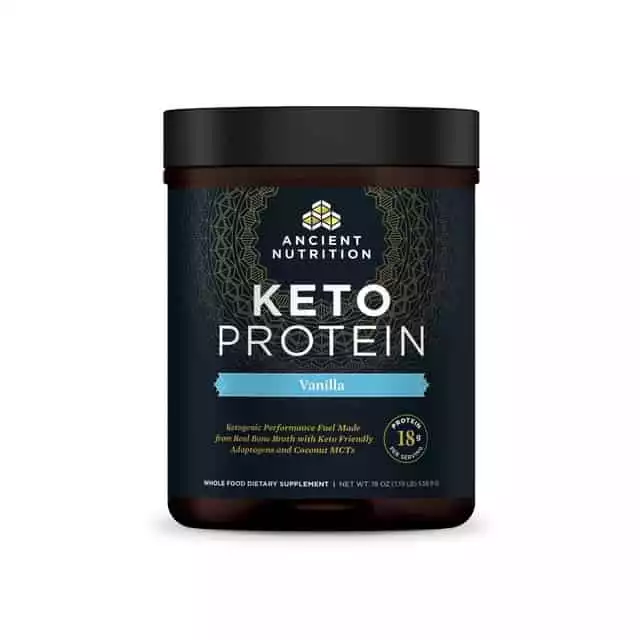 Recommended Reads: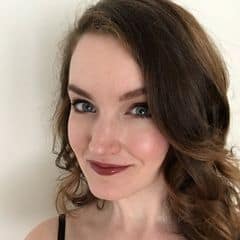 Crystal Schwanke has been on a fitness and health and wellness journey for more than a decade. She used to do wellness-related ghostwriting work and content writing for several well-known websites.
During this time, she tried all the protein powders, meal replacement shakes and mixes, and workout programs. Crystal's favorite way of eating is Paleo(ish) and even when she isn't writing about health and wellness and fitness, she often spends her time researching for the sake of learning. Her goal is to better equip herself so she can build a framework that will allow her to handle anything life throws at her.