I have a bit of personal history when it comes to turmeric. In all honesty, I can't stand it. I remember one time I read on Facebook that if I took a spoonful of turmeric every day and a bit of black pepper, my chronic migraines would go away.
And as someone who has suffered from chronic migraines for many years, I was willing to try just about anything. This was back before I had my migraines under control. I was tired of suffering in pain every day. So, I took a spoonful of turmeric for the first time, and ever since then, I've hated it.
I like curry and Indian food, but I just can't seem to get past turmeric. Even food with turmeric in it, I have a really hard time enjoying it because I can always taste it there. I don't like the spiciness of it, I guess? I'm not exactly sure what I don't like, but I know that I'm not a huge fan of it.
And if you read my other reviews, you'll know that I have looked at a bunch of different products from Ora Organics because I saw some of their products are highly recommended on social media. And so, when I laid eyes on the Good As Gold powder, I was honestly excited.
I will blame this one on myself; I had no idea that there was too much inside of this. And while you may think that I'm an idiot because it says "golden milk turmeric powder" right underneath the title of the product, I didn't see it. I was just excited to try out another type of supplement from Ora Organics.
However, I will admit that I knew that the You're Golden turmeric supplements did have turmeric in them. But, because I've heard so many people talk about the amazing experiences they've had with several Ora Organics products, I figured I would give the supplement to try.
After all, I've never tried turmeric in a suppressed pill form, so I was hoping I would have a different experience with the turmeric supplement than I've had with just taking solid spoonfuls of turmeric before. So, I did have hope when I was cooking the order button on these products. 
So, I clicked order on the box of products that I was ordering from Ora Organics and impatiently waited for my package to arrive on my doorstep. Did the to Ora Organics turmeric products change how I feel about turmeric completely?
That's a great question, but you're going to have to wait until we get to the rest of the review to find out about that truth. Or, you can just skip to the bottom line upfront if you're super interested.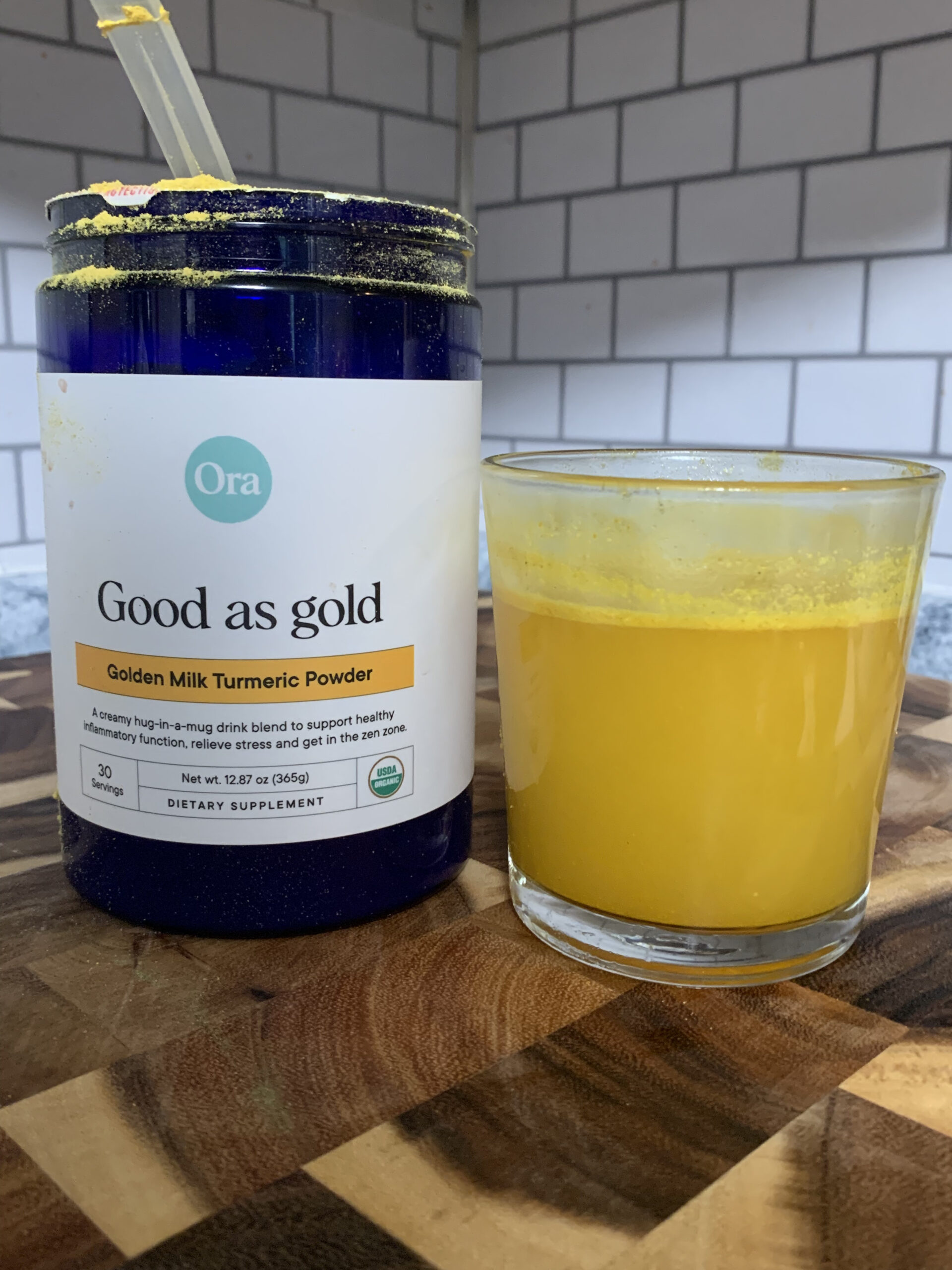 Bottom Line Up Front
Overall, I didn't really feel like there was any difference in how I felt taking the two turmeric supplements from Ora Organics. But, I did really like the taste of the Good as Gold powder and will only be keeping this in my pantry for a comfort drink that isn't hot chocolate. 
What is Turmeric?
The turmeric root is related to ginger. A lot of people commonly use turmeric as the spice in their food. Still, recently, more people have begun using it as a natural health supplement. Turmeric is usually very easy to identify because of the bright yellow-orange color of the spice.
What is Ora Organics? 
Ora Organics increased in popularity after their episode on Shark Tank aired. This is a company that focuses on producing all-natural supplements to benefit your help. They only use organic plant-based ingredients to create their products. 
This means that you don't have to worry about a lot of common allergens that are commonly found in other types of health and wellness supplements. In addition, their supplements are vegan and vegetarian-friendly, which is rather difficult to find in the health and wellness industry. 
The main focus of Ora Organics is developing healthier products with a focus on sustainability and only sourcing their plant-based ingredients from ethical sources. All of the products from Ora Organics don't contain any added filler, artificial colors, artificial ingredients, preservatives, or added sugars. 
What are the Benefits of Taking Turmeric?
Curcumin is the active compound of turmeric. A lot of scientific studies have been done to review the effectiveness of turmeric on our health. One of the most common discuss benefits of taking turmeric is reducing inflammation.
In the past, turmeric has been used to fight against colds, illnesses, information, and even help to increase the speed that wounds heal. Most people take turmeric for the anti-inflammatory benefits it provides. Still, other people swear that it helps to boost their immune system too. 
Are there Any Side Effects to Taking Turmeric?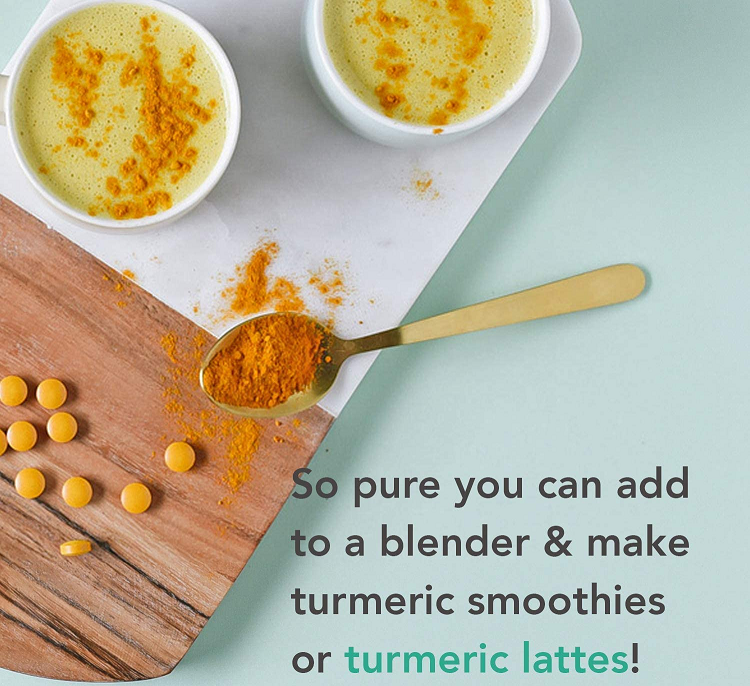 Turmeric can have blood-thinning properties, so it's very important that you don't take turmeric if you're on any medications to help thin your blood. Some people may experience digestive issues, such as heartburn, from taking turmeric. Other than that, be side effects of a turmeric supplement aren't widely known.
What to Look for When Shopping Around for a Turmeric Supplement
As you're shopping around for turmeric supplements, it's important for you to know that not all turmeric supplements are made equally.
There are a lot of turmeric supplements out there that vary in terms of the ingredient quality, cost to manufacture, efficacy, and potency. You need to understand how to find a quality turmeric supplement so you can filter out the bad options on the market.
So before we get too much further into the review, and important for you to understand what to look for when shopping around for a turmeric supplement. 
First, I would highly recommend that you purchase a turmeric supplement that comes with black pepper extract. Sometimes, this extract will come with piperine, which is another way to stop black pepper extract from being labeled. Looking for this ingredient in a turmeric supplement can help to improve the bioavailability of the tumor in your body. 
In addition, it's important for you to make sure that the company you're purchasing turmeric supplements from I've had third-party testing completed. This will ensure that the formula you're purchasing has been considered safe by the FDA in the ingredients used.
Finding a company that provides easy access to independent third-party lab testing will ensure that there aren't dangerous filler ingredients used in the ingredients, which will help to ensure the overall security of the supplement. 
Lastly, you should never purchase the supplement just because it's super cheap. With health products, you should be willing to invest in your health and purchase a supplement that isn't the cheapest option out there.
That doesn't mean you need to necessarily buy the most expensive option either! Just because a supplement is priced very affordably doesn't mean it's any good.
My Ora Organics Ordering Experience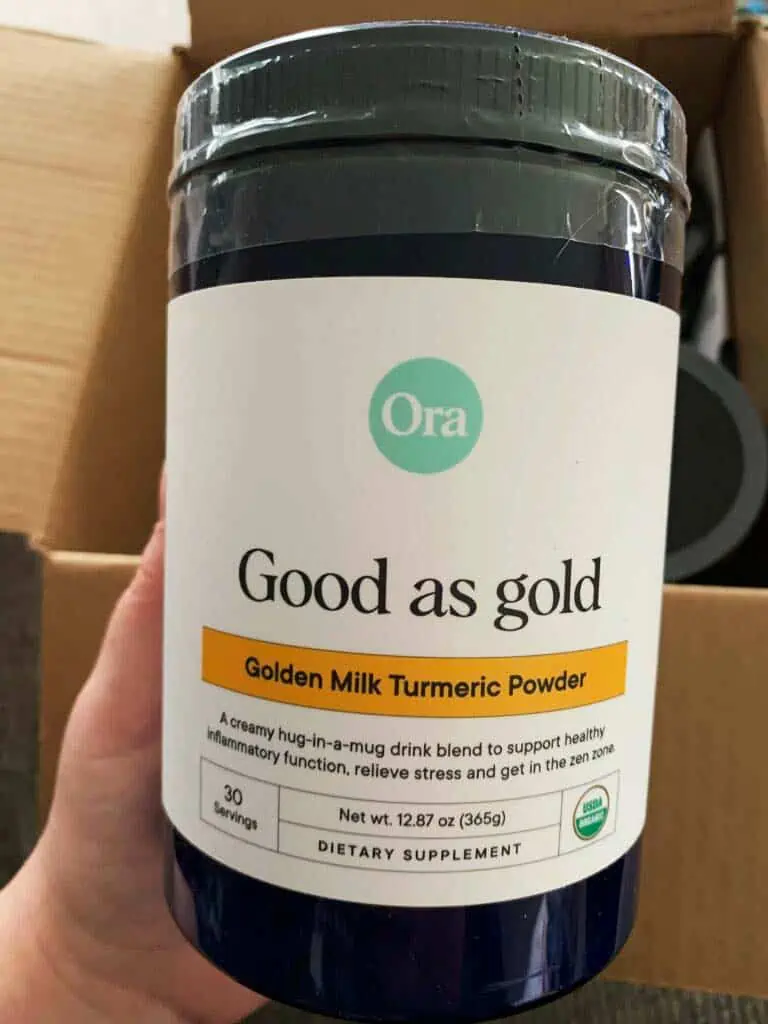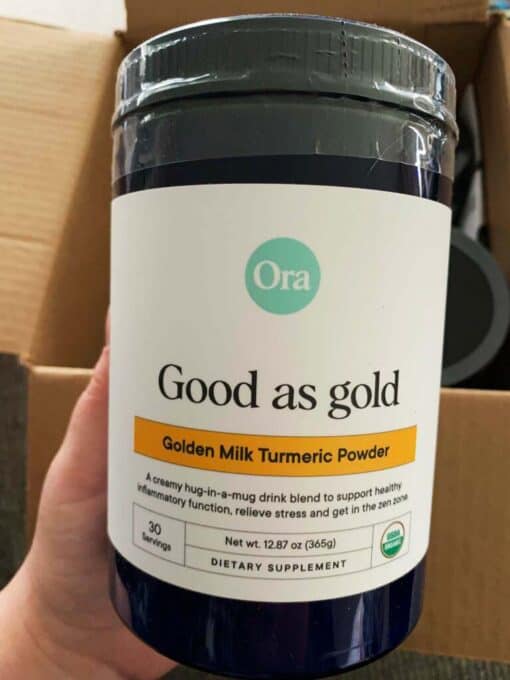 I wouldn't say my Ora Organics ordering experience was anything out of the ordinary. When I went on their website, I fell in love with the simplicity.
It was super easy to find everything that I was looking for, and there wasn't a bunch of advertisements or other frills that made me distracted. I came in with a simple mission, I was able to accomplish that mission, and the rest is history.
It only took about a week for my package to arrive. There were several products I ordered from Ora Organics, and everything came together and one brown cardboard box. The cardboard box didn't have a whole bunch of branding on it and was actually really simple, but I did appreciate that because it's a simplicity in the brand itself.
Inside the cardboard box, I found some brown packaging paper. There wasn't a whole lot to keep the jars protected, and it only really concerned me when it came to the safety of the turmeric tablets.
The turmeric tablets came in a glass jar, and I was really worried about them breaking. Thankfully, the jar arrived safely, and nothing in my order was damaged. I really liked how there weren't a bunch of card advertisements end extra stuff thrown inside of my box.
I really don't like how much waste occurs when I place all my orders, so I was really happy to see, but this wasn't an issue with Ora Organics. 
Ora Organics Good as Gold Powder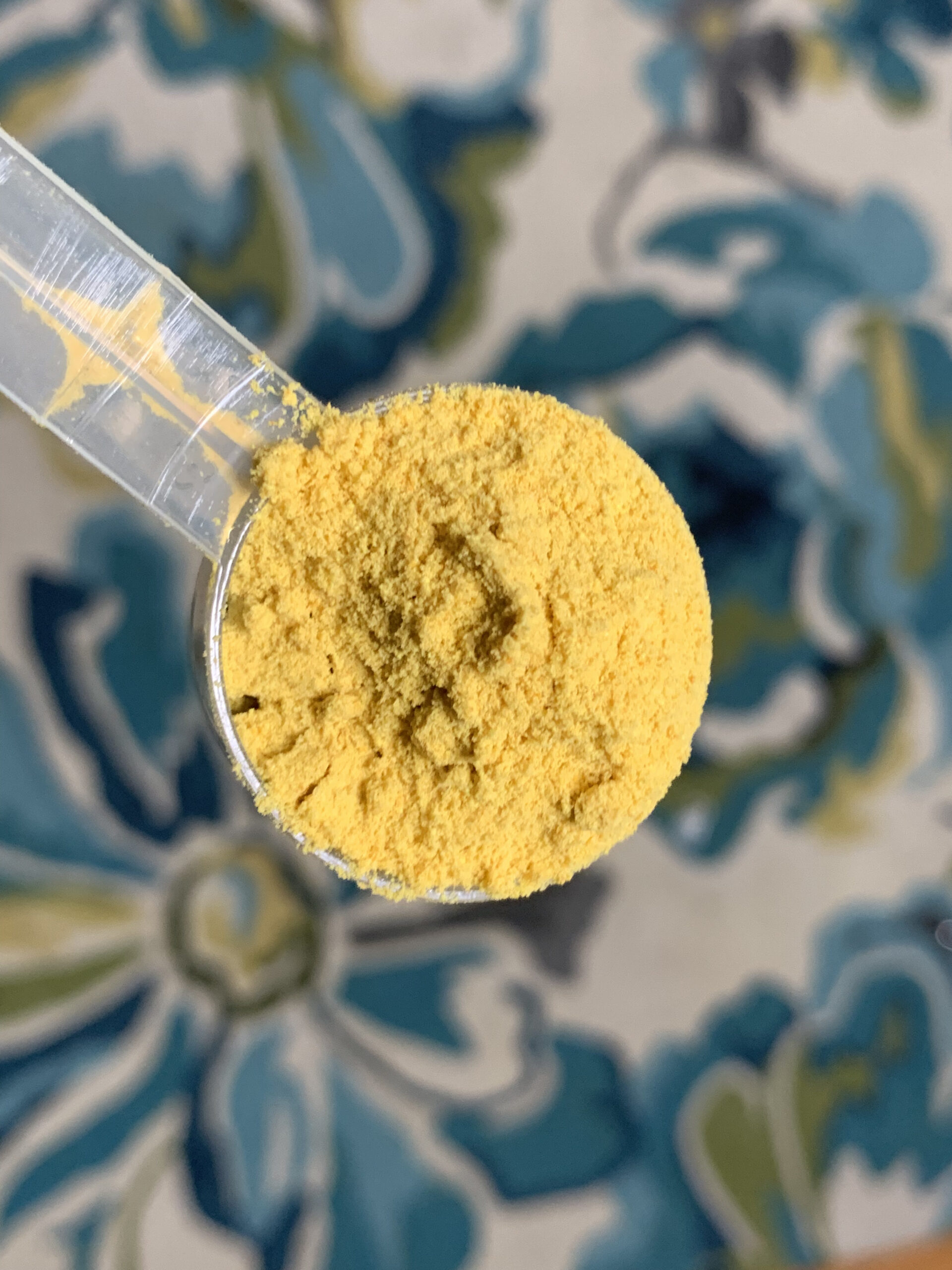 So, I ordered the Good As Gold powder because I wanted to have a supplement that was going to help me manage my chronic pain. I know a lot of my chronic pain comes from chronic inflammation.
I previously tried to help manage my chronic pain and inflammation from work. But, I never had any success with that, but I mainly thought this was because of how I was taking the trim work. So, I got the Good As Gold, because I saw that it help to support a healthy inflammatory response in my body.
Initially, when I was ordering this, I didn't realize that there were come right inside of this powder. after it got to my front porch, I saw that the Good As Gold powder was actually a golden milk turmeric powder.
I've never tried golden milk before, but I've seen it a lot on Tik-Tok. So, I figured that I would go into this with an open mind, despite Not enjoying the taste of turmeric previously.
Taste
I'll admit, this was a part of the supplement that I was the most nervous about. I didn't really have high hopes that it was going to work for me in terms of helping me to reduce my overall pain levels. But, this is one of the first products I tried because I was so nervous to see if I was going to like the taste or not.
I was looking for something that was a little more comforting, so I chose almond milk. Mixing my first drink wasn't difficult. I warmed up a glass of almond milk because Ora Organics recommends that you mix You're Golden milk turmeric powder with plant-based milk or water.
I warmed almond milk up in a pot, and I stirred in some of the golden milk turmeric powder. When I first open up the door, I didn't really get a strong turmeric smell like I was anticipating. Instead, I didn't really smell much of anything. I made myself a drink, and when I took the first step, I was honestly Blown Away.
This has a really lovely vanilla flavor to it that I wasn't anticipating. But, when I do look at the ingredient list, I can see that there's a natural vanilla flavor added to the mixture. In this one, there's a little flavor is very prevalent, which I personally really enjoy.
I recently looked on the website to see if there were any more flavors of this milk powder, but there haven't been any new flavors. I don't think that this is necessarily a bad thing, but if you're not a huge fan of vanilla, I can see why you would want to stay away from this golden milk powder.
Also, I haven't been able to find any other companies In my area that make golden milk drinks, so I have nothing to compare this to. But I did really enjoy the taste of the golden milk drink I had it.
Honestly, the drink was so soothing I've never had anything like it before. I totally understand why people hate this drink up online because, honestly, it was one of the best drinks I've ever had in my life. 
I did notice that as I drank more of my drink if I didn't warm my milk out enough, my powder would get a little chunky and not blend in very well.
So, I always made sure that I had my milk super warm to ensure that everything blended properly together. I drank this next with cow's milk, because that's where I typically have in my house more often. There wasn't a difference in the taste or the overall quality of the drink. It was still amazingly delicious.
My Overall Impressions
I don't feel like this drink did anything to help my body respond better to information. I don't feel like it's helped my body to be in less pain overall. So, in terms of health, I didn't notice a difference in my chronic migraines or my fibromyalgia. But, I did really enjoy using this drink as a way to relax at the end of the day.
It was really calming, soothing and helped me to fall asleep faster at night. So, this did do a great job at being soothing. And this is part of what Ora Organics describes it to be on their website. They don't just claim that it's great for anti-pain effects but also advertise it for it's calming end distressing effects. 
I didn't have any problems with this powder giving me any indigestion and I didn't have any bloating with it. Overall, I was super impressed with the quality and experience I had with the turmeric powder.
I plan on keeping this in my house as a way to help soothe myself to go to sleep, but I don't plan on keeping it to help me manage my chronic pain conditions. I would recommend this powder, but not to somebody looking for help with pain relief in anti-inflammatory benefits. 
Ingredients
Organic coconut milk, organic turmeric root, organic ashwagandha root, organic reishi mushroom, organic ginger root, organic black pepper extract, organic maple sugar, natural vanilla flavor, organic rice hall
Pros
Doesn't contain any artificial ingredients, colors, or flavors

Doesn't have any gluten, animal products/by-products, soy, GMO, or dairy

Doesn't have a lot of carbs

There are not a lot of calories in one serving

Has a really nice vanilla flavor
Cons
Doesn't come with multiple flavor options

Doesn't come with multiple serving options (30 days vs one day)
Ora Organics You're Golden Turmeric Supplements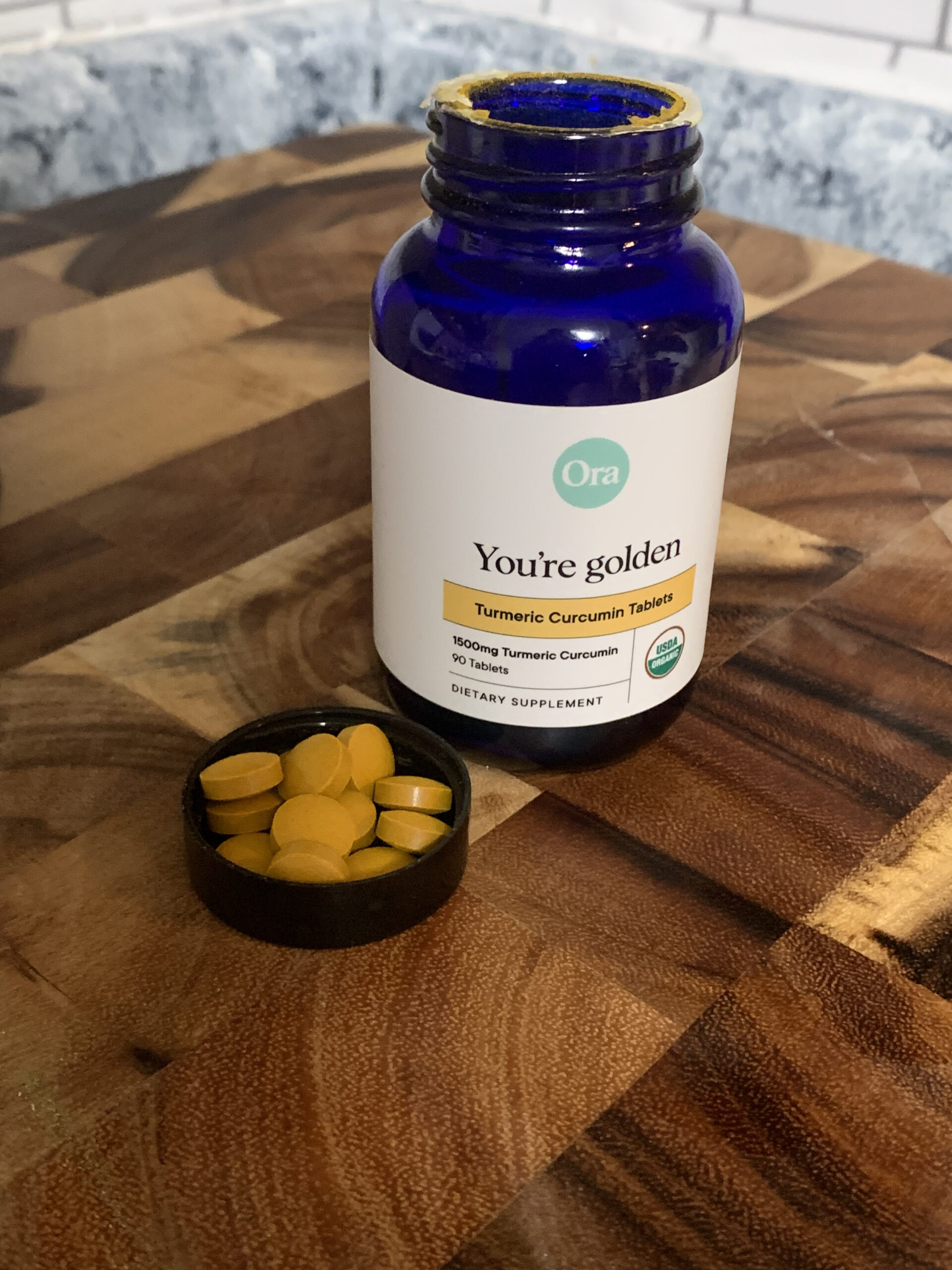 I also ordered the You're Golden turmeric curcumin tablets, containing 1500 mg of turmeric curcumin. There are 90 tablets inside the bottle I ordered. When I purchased these tablets online, I didn't know that the bottle they were coming in was glass.
So, when I opened up the package that I had received from Ora Organics, I was really nervous to hear a glass jar rolling around inside of the box. This is because there wasn't adequate protection Inside of the box to keep the jar protected.
Thankfully, this was the only glass jar inside of my order. Also, there wasn't anything wrong with the jar, so I'm grateful that everything came and talked.
When I did order this jar, there was only a 30-day supply available. You're supposed to take three tablets every day, so this is only a 30 day supply. There is a subscription option with these tablets as well, meaning you can choose to receive tablets every 30 days, every 45 days, every 60 days, or every 90 days.
I opened up the jar for the first time; I was relieved to see that the tablets were super small. I actually thought the color they are was absolutely beautiful.
There was a little bit of turmeric dust on the inside of the jar, but none of the pills were broken. How they're pressed together almost reminded me of Advil tablets.
I started taking these in hopes that I would receive the pain relief that I hear a lot of people talk about from turmeric. I had really high hopes, considering this also contains black pepper extract.
Black pepper is supposedly supposed to help the absorption of turmeric, which I hoped would mean for me that these tablets wiped all of my pain away. I'll admit I wasn't expecting a life-changing experience from these tablets. But, after taking them for a whole month, I didn't feel any difference.
Maybe there's just a possibility that turmeric doesn't work with my body or the types of pain conditions that I have. Maybe if I was someone that had joint pain because of my weight or because of a previous injury, I might find these tablets more beneficial.
I didn't find that these tablets did anything to help me with my inflammation or chronic migraines. But, again this may just be because of the health conditions I suffer from. 
Ingredients
Organic turmeric, organic turmeric extract (85% curcuminoids), organic black pepper extract
Pros
The tablets aren't too big

Not a lot of ingredients

Tablets are easy to swallow
Cons
Left me with heartburn

Only a 30-day supply option is available 

Doesn't contain any filler ingredients 
See also: Wonderslim Review and Guide: Is It Worth It?
Other Alternatives to Consider
Divinity Nutra- Turmeric Curcumin Supplements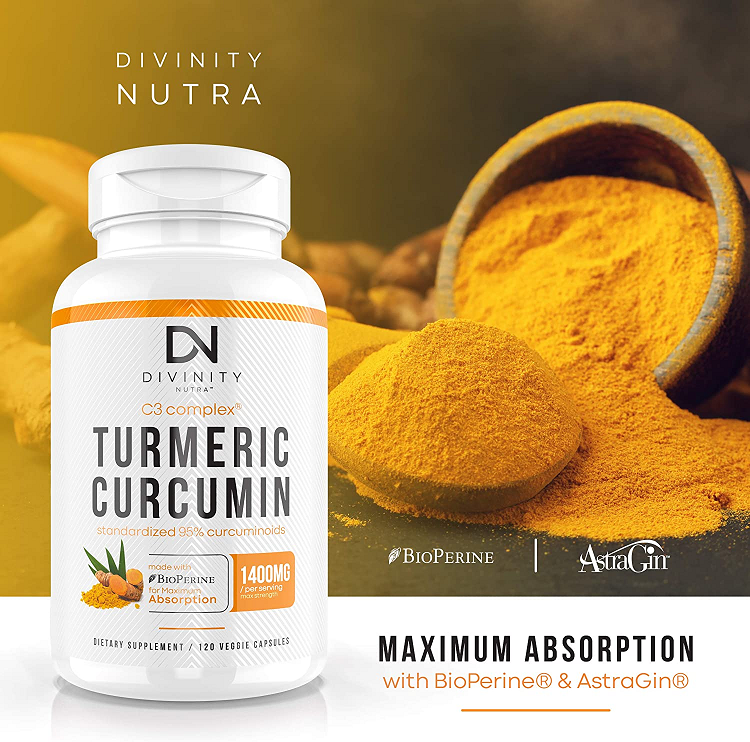 This is one of the best-selling turmeric supplements on the market. This turmeric supplement doesn't contain any gluten or GMOs. Plus, this turmeric curcumin supplement is also vegan and vegetarian-friendly and is made in the United States. All of the capsules are vegetable-based and are easy to swallow because they aren't too big.
The formula also contains black pepper extract too. My favorite part about the supplement is that it offers a 24-hour pain relief release, ensuring that you're serving a turmeric supplement that will replace your need for any over-the-counter pain medication to help you or your joint pain.
Plus, There's been tons of research performed are on the supplement, so you can find the science to back this formula too.
Nature's Bounty – Turmeric Curcumin Supplements
Nature's Bounty is available online and in-store, And they provide a gluten-free, non-GMO formula. In addition, this formula is made in the United States.
This is a readily available formula. It's a lot cheaper than other turmeric capsule supplements on the market, and it's great if you don't have a big budget to work with. The biggest downside to this formula is that it isn't vegan-friendly, although it is vegetarian-friendly. 
Turmaquik Golden Milk Powder
The ingredient list for this golden milk powder is super simple; there are only six ingredients! There aren't any added sweeteners, sugar, or any filler ingredients that you need to worry about inside of this golden milk powder.
I love that the charger you receive is enough for three months to apply, so you don't have to worry about making sure that you place an order every month. I think this is a great option to look into if you aren't happy with the golden milk turmeric powder provided by Ora Organic.
This golden milk powder doesn't have any GMOs, nuts, peanuts, gluten, or animal by-products. So, if you've been looking for a vegan and low-sugar golden milk powder to add to your diet, I would highly recommend you check out the Turmaquik golden milk powder. 
Garden of Life Organic Golden Milk Powder
There are a ton of ingredients inside of this organic golden milk powder a month which may scare you off. But, I wouldn't let the long ingredient list scare you off because there's a reason why there are so many ingredients.
A lot of the ingredients included in this golden milk powder are super high quality. I want to point out that there's also a probiotic blend available in this golden milk powder, which isn't something that's commonly found.
The biggest drawback with this organic golden milk powder is that it does contain tree nuts. However, I wouldn't say that this is the most allergy-friendly option on the market.
It is a vegan, gluten-free, non-GMO, and certified organic golden milk powder. And with the added probiotic blend, it provides even more strength and support to your overall help.  
FAQs
Question: Where are Ora Organic Products Made?
Answer: Currently, Ora Organic products are made in Austin, Texas.
Question: Does Ora Organic Offer a Subscription?
Answer: Yes, Organics does offer a subscription. You don't have to sign up for the subscription, but if you find that you enjoy their products, you can always try out there's description to save money.

You can schedule when you want your deliveries on their website or on side of the Ora app. You save 20% on your order of each product, which I think is one of the best reasons you should sign up for their subscription.

In addition, Aura Organics also promises access to any new releases that they have going on the market before anybody else does. They also provide free gifts and samples with every subscription purchasing make, which may be another incentive to someone who wants to try out some of their products but doesn't have a lot of money to spend.

The last benefit Ora Organics offers for their subscription model is they offer a 100% risk-free and money-back guarantee if you aren't happy with your order.

Personally, I only recommend the Ora Organic subscription if you already have one product that you know you're going to keep ordering to keep in your life and want to save money on your purchase.
Question: Who should not take turmeric?
Answer: If you have a bleeding disorder, GERD, diabetes, iron deficiency, liver disease arrhythmia, any conditions that are sensitive to your hormones, have problems with infertility, or gallbladder problems, I would highly recommend it that you talk to your primary care physicians before you start any supplement that has turmeric.

In addition, if you're pregnant, playing to come pregnant, or breastfeeding, I would recommend that you consult with your doctor before you start taking either the supplements or the golden milk powder.
Ora Organic Turmeric Review: Would I Recommend Ora Organics Turmeric Products?
I wouldn't recommend their tumor products for someone who is looking for help with their pain management, ways to reduce the inflammation in their body, or any other health-boosting properties.
I would only recommend the golden milk turmeric powder to anyone that's looking to have a tasty substance to help them fall asleep faster at the end of the day. 
I think it's a much healthier alternative to a lot of other comfort drinks since there's so much less sugar in this than other options. But, that's the only reason that I would recommend the golden milk turmeric powder to anyone. I wouldn't recommend the tablets; I personally didn't find that they did anything.
I felt no different and didn't notice any physical change in my body, so these supplements were just a waste of money. Also, the golden milk turmeric powder is also a waste of money in terms of helping me physically feel better. But, the only reason I'm not as mad about the golden milk turmeric powder is that I really enjoy the taste of it. 
Personally, I think you'd just be better off looking at other alternatives.
Recommended Reads: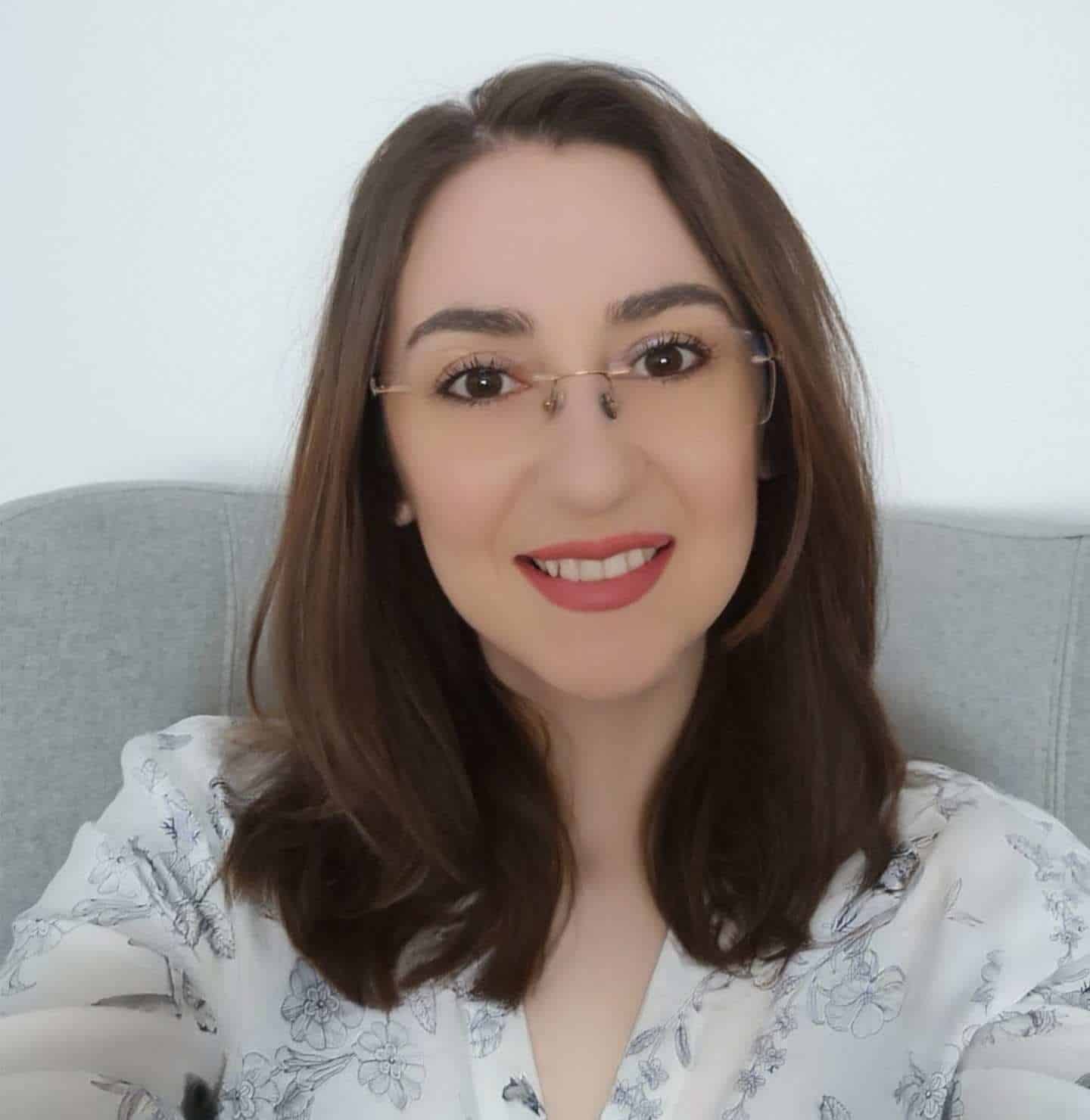 Alexandra Gavrilescu had a difficult time with her health, specifically her weight. She didn't know how to ask her parents for help in this department and that resulted in her becoming a little overweight. Children were mean to her in school and she wanted to find a way to become both physically and emotionally healthy. After finding things that worked for her like pilates, long walks, and salsa dancing paired with healthy eating—most of the time. She wanted to share what she's learned with others. This is why she's here on Alt Protein giving advice to readers in need of help.