When it comes to supplements in the world of health and fitness, there seem to be three major groups:
Those that regularly use dietary supplements in their fitness regimen
Those that shun dietary supplements or avoid them for whatever reason
Those that are new to fitness or unsure of whether they need a supplement or not
Whether you need or even want to use supplements is completely personal. It's fairly safe to say that the average person doesn't need a supplement to achieve their fitness goals, or build lean muscle mass. But if you want faster results or plan on training to achieve an above-average level of athleticism, supplements might help you, but where do you start?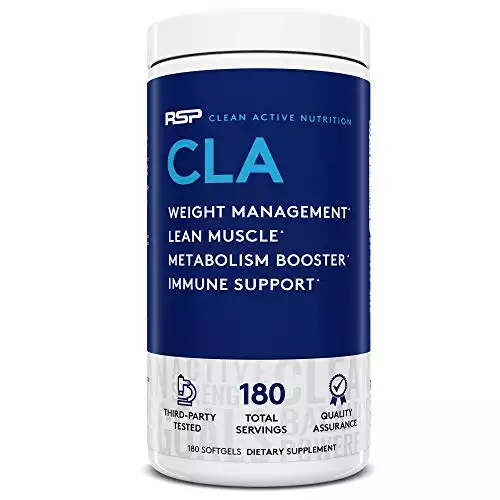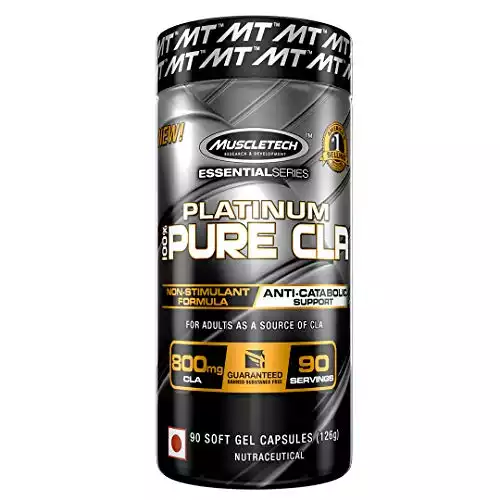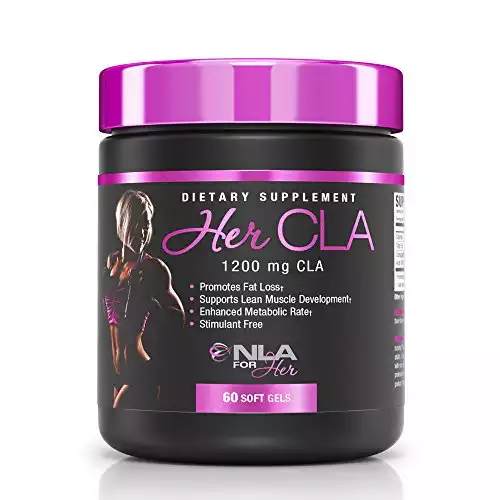 Evaluating the CLA Market
There are tons of supplements on the market. You've probably seen various pills and powders in stores or at your local GNC. Open any fitness-related magazine and you'll find ad after ad for the latest supplements promising incredible results. There is a bit of a shady connotation with using supplements as the marketing for most products makes them seem like a fix-all.
Keep in mind that a supplement is only a tool to help you with achieving your goals. There are many factors involved in seeing results, including body composition, genetics, your current muscle mass, effort, diet… the list goes on.
Only if you carefully do your research, find a supplement that is trustworthy and backed by unbiased reviews, and use it in conjunction with a healthy diet and exercise plan will you find success in
using supplements.
What to Look Out For When It Comes to CLA Supplements
The majority of the fat burning or muscle building supplements available haven't been tested properly. The best kind of testing would be a double-blind placebo-controlled kind of study, but these seem to be rare at this point in time when it comes to CLA supplements. There is a sore lack of studies, despite what the manufacturer claims. It is best to avoid most types of supplements for that reason.
Aside from potential health concerns, these fad supplements are often a waste of money. There is one type of supplement that has a bit of research history backing it, however- CLA supplements.
CLA stands for conjugated linoleic acid, which is a natural trans-fatty acid made from omega-6 essential fatty acids. CLAs are manmade and unlike other trans-fatty acids, many believe that conjugated linoleic acids have health benefits.
These health benefits range from decreased high blood pressure to improved asthma symptoms, but it's most popular reason for use is the belief that helps to decrease body fat while also increasing lean muscle.
The Benefits of CLA
When it comes to fitness there are 4 major benefits often believed to be found in high-quality CLA supplements:
Increased Metabolic Rate – A faster metabolism will help you achieve weight loss faster and improve your overall body composition
Increased Muscle Growth – Helps with weight loss and weight management
Lowered Cholesterol – Overall improved health and disease prevention
Lowered Insulin Resistance – Makes weight management easier and helps in preventing diabetes
These types of benefits can only be achieved with a high-quality CLA supplement so it's worth it to choose the most reputable and praised supplement you can afford. If you are looking for these effects, I've compiled a list that I think you'll love.
Here are 3 CLA supplements that stand out from the rest and have been proven to help with overall fat loss and lean muscle mass gain.
CLA by RSP Nutrition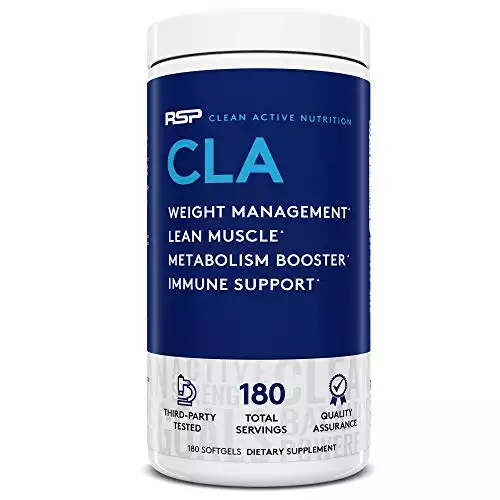 First up is CLA by RSP Nutrition, which is a basic but very effective supplement. It focuses on helping users:
Increase performance
Build muscle
Burn fat
Recover faster
The majority of those who've used CLA in conjunction with a proper diet and exercise regimen find that it speeds up body fat loss and seems to make it just easier to lose weight. If you are looking for these effects, good! Their metabolism is increased, and they have more energy during a workout without feeling unpleasant side effects.
Those with high cholesterol have also found that it has seemed to help them get it down to a healthier level than diet and exercise alone.
Depending on the retailer you can find CLA by RSP for about $24.99 (For the latest prices and discounts, check here) for 180 pills.
Each pill is 10 calories and offers 1,000mg of a CLA blend which combines pure CLA with safflower oil. It isn't clear exactly how many mgs of the blend is pure CLA.
Platinum Pure CLA by MuscleTech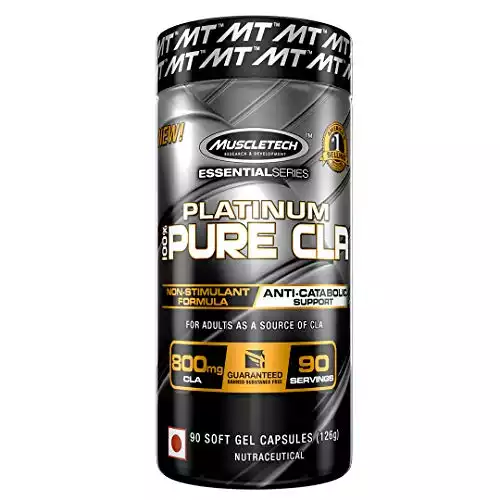 MuscleTech is a fairly well-known supplement brand, and their CLA pills are quite impressive. Their Platinum series was given the Award of Excellence for Most Innovative Brand of 2014 by BodyBuilding.com. Some benefits of this product include:
100% pure CLA from safflower seed oil
Free of stimulants
Contains no fillers or blends
Appropriate for those on a gluten-free diet
Like other reputable CLA supplements, Platinum Pure CLA is completely stimulant free and contains no other ingredients. It is great for stacking (combining supplements to speed up results) or on its own as a single supplement.
This brand is particularly popular amongst those who are new to CLA supplements or those that have bought CLA supplements in the past but found that they weren't getting the results they wanted.
Platinum Pure CLA is sold for about $12-$15 (For the latest prices and discounts, check here) for 90 pills which is a 30 day supply if taken as recommended- 1 pill 3 times a deal with a meal.
Each pill is 10 calories and unlike the first CLA supplement, Platinum Pure has 800mg of pure CLA. Since it is reasonably priced as well as top notch quality, this is a great choice for everyone.
Her CLA by NLA for Her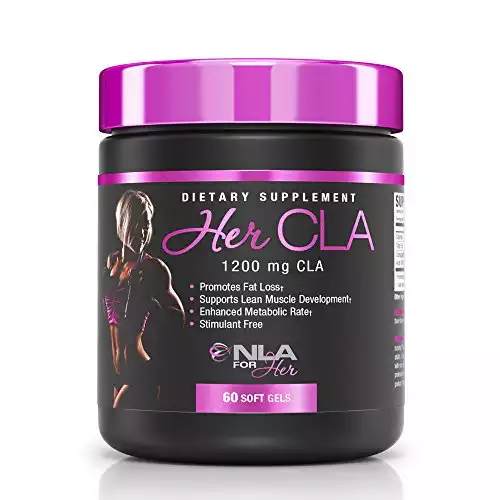 There usually isn't a reason why women can't take some of the same supplements marketed for men but some prefer to support female-based businesses when possible. If you are a woman new to supplements or just wanting to switch up to a different CLA pill, you will want to consider Her CLA by the NLA for Her brand.
Certain men's supplements can be too powerful but some women's supplements were too weak. NLA for Her fixed this problem by providing supplements specifically designed for female athletes and fitness models that needed a serious product. While Her CLA is one of their more simple supplements, it is going to help women see results.
Advantages of Her CLA include:
Highly concentrated CLA (1,200mg)
Each batch individually tested for contaminants
Helps women burn fat and build lean muscle
Prevents 'bulking up' (a common concern for women that want to stay lean)
May reduce belly fat
It is recommended that 1 pill be taken 3 times a day with a major meal. It is only recommended for use in females 18+ in age and otherwise healthy. Also if you are pregnant, thinking of becoming pregnant soon or nursing you should not use this product.
Her CLA only comes in one size option with is a bottle of 60 soft gel capsules. Each pill contains 80% CLA and 6% fat. The remaining 14% accounts for safflower oil, gelatin, glycerin, and water. If taken as recommended, one bottle will last for 20 days. Average retail price is right around $23.50, although you can sometimes find it on sale — check here for latest discounts.
Final Take on the Best CLA Supplements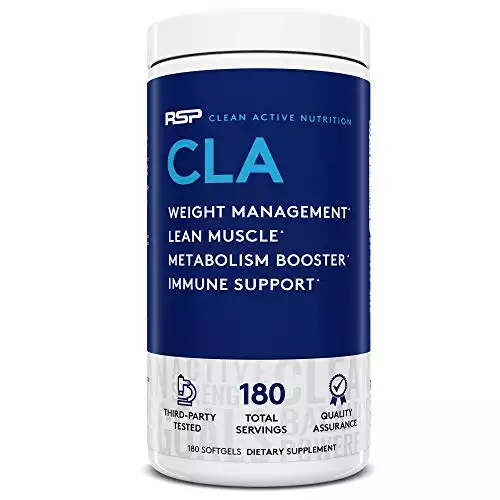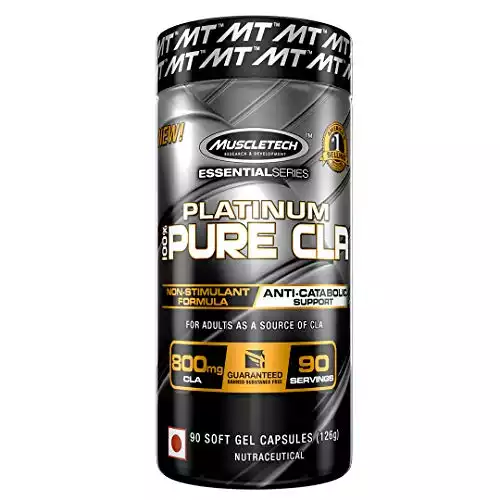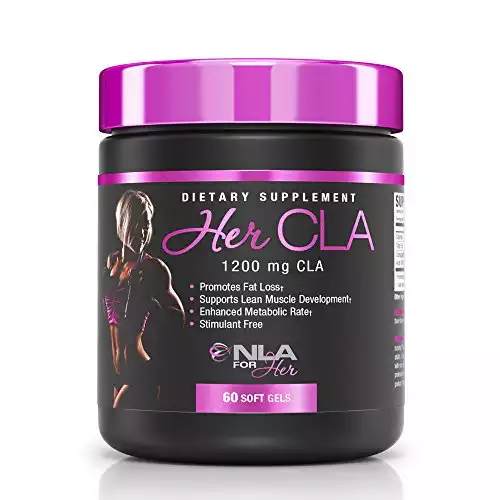 CLA supplements do have their place as a tool, but it isn't a magic pill. Don't expect results with any CLA supplement unless you are actively eating a healthy diet and exercising.
Even though CLA is great for athletes or bodybuilders needing to drop weight and burn fat quickly, it can be a great addition to the average person's regimen if they want to enhance their fat loss. It is also a great type of supplement for women and men who want to maintain lean body mass.
Recommended Reads: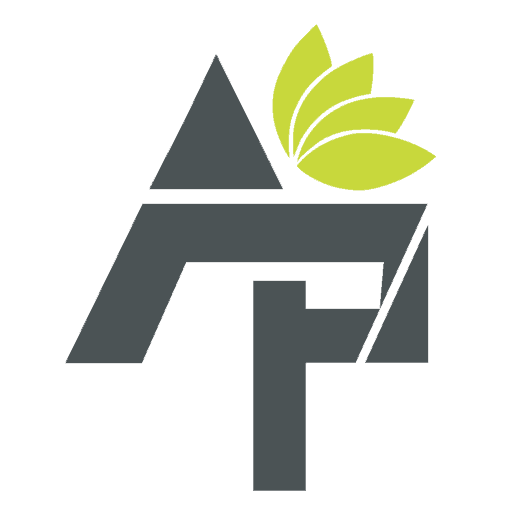 Alt Protein Team is a team of professionals and enthusiasts committed to bringing you the most up-to-date information on alternative protein, health and wellness, workouts, and all things health-related. We've reviewed a lot of products and services so you don't have to guess when you spend your hard-earned money on them. Whether you want to shed some pounds, build lean muscle or bulk, we can help you figure out what you need to do and what you need to have to achieve your goals.