This is the 21st century where almost everyone lives a stressed-out lifestyle that contributes little to overall health. In most cases, you're probably exhausted when going about your daily activities. And naturally, several clinical studies have found a link between weight gain and extreme stress.
The only time when the human body's metabolism is at its best and most efficient is when you're relaxed, ecstatic, and living a joyful life.
However, the masses have gone from drinking coffee and sugar-filled lates to green drinks these days, a practice that both celebrities, as well as everyday folks, have embraced wholeheartedly.
This is because green juices and smoothies have become excellent solutions towards leading a balanced and healthy life. Not only do they do provide immense nutritional benefits but also save a lot of time for you since they offer multiple vegetable and fruit servings in a single drink.
So if you belong to the group of people that leads a busy lifestyle and doesn't have enough time for meal prep. Smoothies and green juices are your best bet.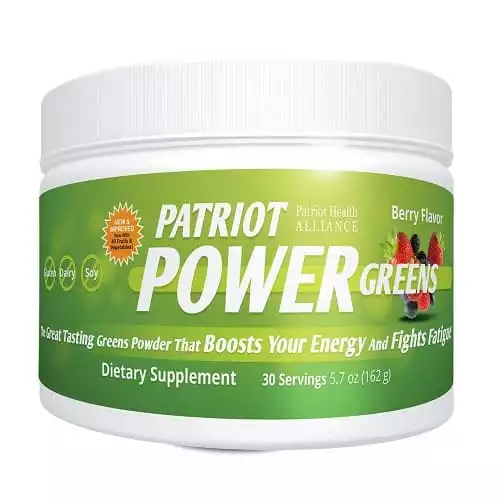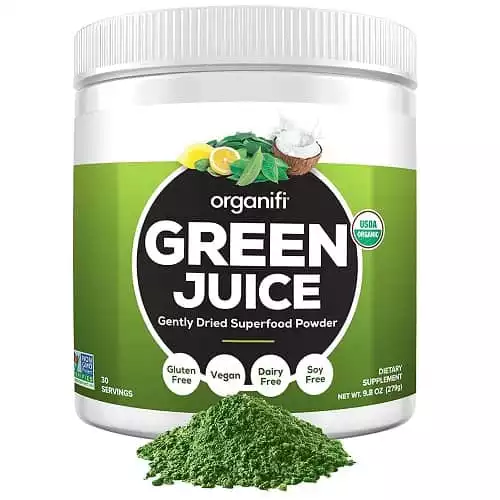 Why Do You Need More Greens In Your Diet?
But why do you need more greens, you ask? There is clinical proof that shows that we are filled with over 200 deadly toxins even before we are born. That, in itself, is more than enough incentive to push you towards ingesting as many greens as possible into your body as soon as possible
The human body is exposed to a host of dangerous chemicals such as pesticides, petrochemicals, fire retardants, etc. even before we leave the womb.
Does regular consumption of greens make any difference? Yes, they do because greens are full of healthy antioxidants, one of which is known as chlorella, the blue-green algae.
Chlorella plays a significant role in getting rid of the toxins – which have built up over time – in the human body. These toxins can bring about lethal side effects – which include damage to the nervous system and the brain, organ damage, cancer, developmental problems, etc.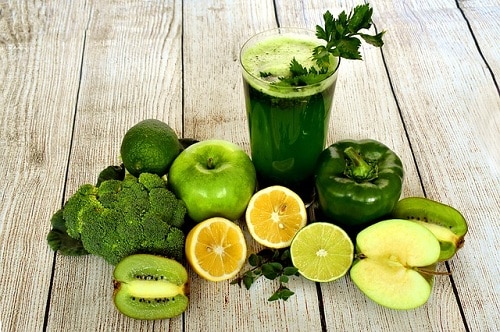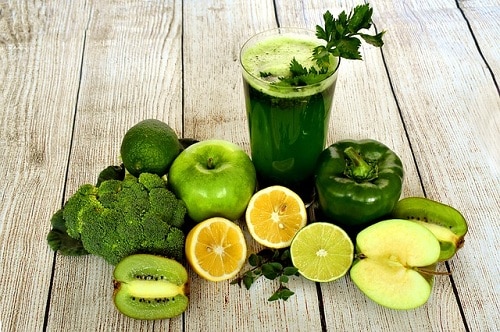 Regular consumption of greens helps us avoid all these side effects. Greens are also instrumental in getting your body into an alkaline state; this is the perfect condition the human body ought to be for avoiding inflammation, the root of most diseases.
Consuming more greens also delivers more nutrients into your body, thus preventing deficiencies that could harm you later on. If you often feel mentally sluggish and tired even during work hours, nutrient deficiencies could be the culprit.
But when you drink more smoothies and green juices on a daily basis, you will be vibrant and more energized to carry out the day's tasks!
Bodily Problems Caused by Inflammation
The following problems caused by inflammation are:
Mental fatigue and hazy memory
Discomfort and weakness in the body
Various problems in the arteries, nerves, and heart
Hip, knee, and joint pain
Unanticipated cellular growth in various parts of the human body
How to Get Your Recommended Daily Greens in 60 Seconds Flat
Do you know that you can obtain double the amount of daily greens in a single, scoopable powder mixed with a smoothie or water?
These powders are known as greens powders, and they come in numerous variations; some contain herbs and fruits while others contain proteins and enzymes.
On the surface, each one of these green powders – which you may have seen in the local health store in your neighborhood – may appear great, but it is highly crucial that you do your own research to determine the best among them. A look at the list of ingredients will show you the ones that are more superior to others, and the prices of a few of these greens make them not worth it at all.
In this write-up, we will be taking an in-depth look at and comparing two different types of smoothies or green juices: Organifi Green Juice and Patriot Greens. The goal is to determine which of them offers the best health benefits, nutrients, short prep time, taste, flavor, etc.
Both green superfood drinks do not have the earthy flavors that are commonly found in most of their competitors. Let's start with Organifi Green Juice.
Organifi Green Juice
Organifi is one of the most influential and successful supplement companies in the world today and the creator of the Green Juice, their famous flagship "gently dried superfood powder" product.
If you're looking for one of the best ways to get all your nutritious superfoods in one glass, then Organifi Green Juice (read my full review here!) is your best bet.
A Quick Mention of The Benefits of Drinking Organifi Green Juice
Requires no blending, juicing, chopping or cleanups
Boosts immune function
Alleviates occasional stress
Balances hormones naturally
Enhances mental clarity
Contains more than eleven significant ingredients that act as anti-inflammatory- and appetite-fighting agents
Organifi Green Juice: Nutritional Facts
One serving – i.e., 30 calories – of Green Juice powder contains the following:
2 grams of protein
4 grams of carbs
4 grams of fiber
1 gram of sugar
If you're observant, you'll notice that a single serving of Green Juice contains 5 grams of carbs. At any rate, this product has an extremely high fiber to carbohydrate ratio.
When it comes to micronutrients, you may not obtain much. Green Juice contains virtually no vitamins or minerals; however, you can still get the following:
3% of your recommended daily intake of calcium
1% of your recommended daily of sodium
11% of your daily intake of iron
There is no clear indication of how much one serving of Green Juice powder contains; however, the Alkaline Greens Blend weighs about 5.1 grams while the Superfood Blend weighs 1.45 grams.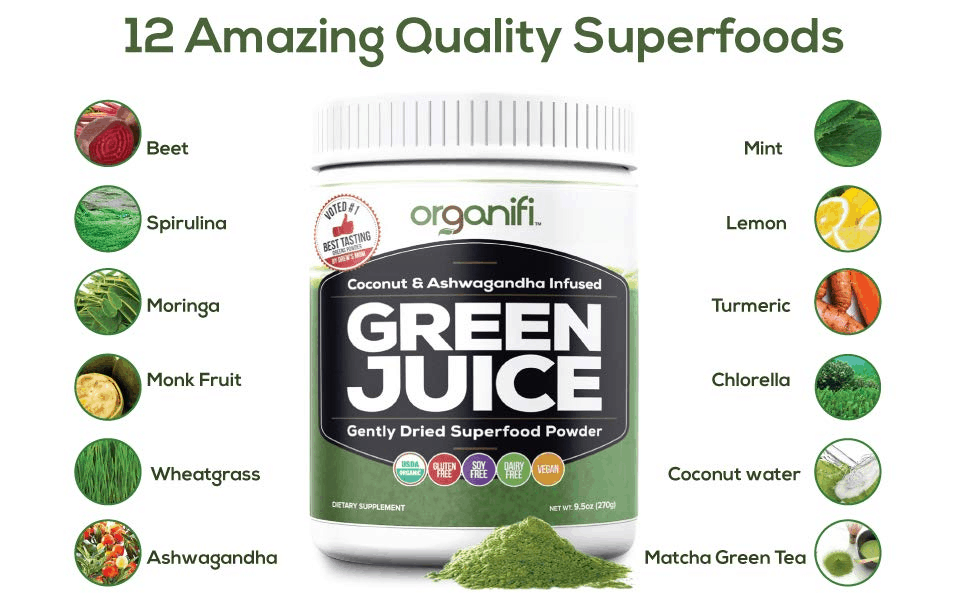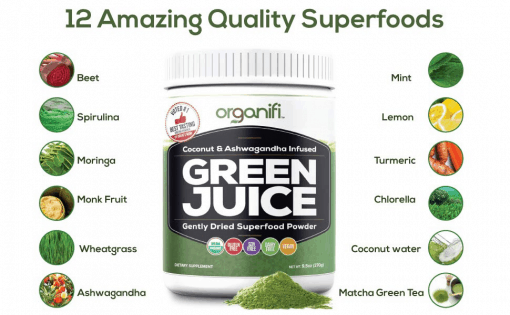 Organifi Green Juice: Ingredients
Each ingredient in this highly nutritious drink is organic in nature and comes in two major groups.
The first group – i.e., Alkaline Greens Proprietary Blend (5.1 grams) – includes:
Spirulina – This nutritionally valuable microorganism is rich in iron, calcium, and protein. It is one of the most authentic sources of vitamin as well as other helpful nutrients which are vital for our system
Chlorella – These Green Algae is loaded with a high amount of polyunsaturated fats which are effective in reducing inflammation and for treating cancer.
Wheatgrass – It contains a high intensity of chlorophyll which helps in the regeneration and purging of blood cells
Matcha Green Tea – It contains EGCG which is an antioxidant which reduces stress
Moringa oleifera (also known as horseradish tree leaf) – It helps in strengthening the cell walls in your body while preventing heart disease and diabetes
The second group – i.e., Super Food Proprietary Blend (1.45 grams) includes:
Red beet root – It contains high levels of manganese and folate which help in minimizing impending risks of heart disease and thinning of your blood.
Coconut water – This ingredient provides a significant amount of potassium which cleanses the kidneys and your blood, thereby ensuring that only harmless things continue to flow in your bloodstream.
Turmeric – It contains anti-inflammatory agents as well as other antioxidants
Ashwagandha root extract – This is an adaptogen that increases mental focus, boosts the immune system, and lowers blood pressure.
Mint – It is used for treating insomnia, indigestion, cramps, and other fitness problems
Lemon – It reduces appetite and also stabilizes blood sugar levels
Additional ingredients present in this supplement include mint flavor, prebiotic fiber, orange, monk fruit, and lemon.
There isn't any indication of the quantity or amount of each ingredient found in a single serving; what you will come across is information that indicates that Superfood Blend is 1.45 grams and Alkaline Greens Blend is 5.1 grams.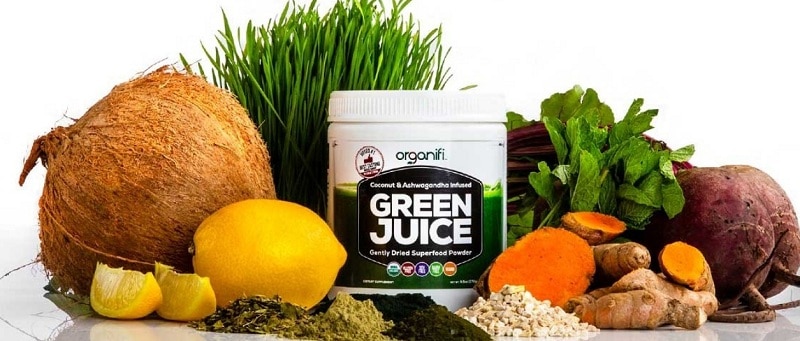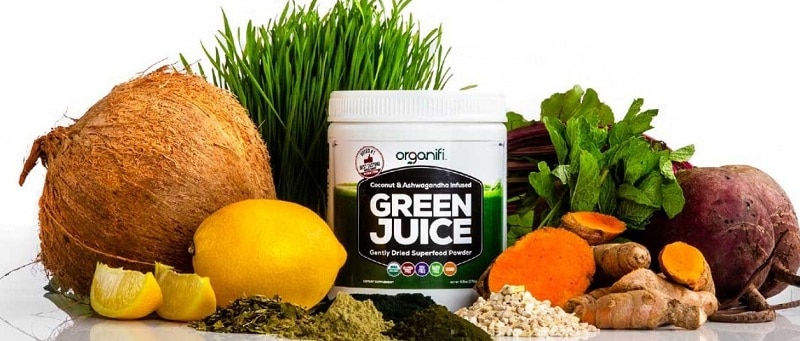 Organifi Green Juice: Effectiveness and Benefits
The most significant selling point of this supplement or product is an herb that has been used for an incredibly long time in Ayurvedic medicine and is known as Ashwagandha.
Ashwagandha is unlike other numerous plants that end up as therapeutic remedies. This herb is also referred to as an "adaptogen," and this term is used to describe compounds or plants that possess the capacity to enhance the way the human body reacts to stress.
There is also a lot of evidence that corroborates the fact that Ashwagandha helps in lowering stress, cortisol, and anxiety. Although these are the best-known effects of this 'restorative' herb, it may also play a significant role in reducing total cholesterol while boosting up power outputs during rigorous drills or workouts.
Stress wields a strong immunosuppressant effect on the human body, and this is what this product aims to tackle as it claims to improve mental clarity and immunity, all thanks to the presence of Ashwagandha.
Organifi Green Juice contains a rich dose of matcha, spirulina, chlorella, and wheatgrass which delivers a substantial amount of antioxidants. These antioxidants are linked to an enormous variety of benefits.
For instance, oxygen partly damages our cells – have you ever wondered how this odorless and colorless gas rusts metal? – but antioxidants play substantial roles in mitigating the damage.
Spirulina has considerable effects when used for the treatment of precancerous mouth sores. Mint takes care of headaches, heartburn, and irritable bowel syndrome. Turmeric has positive effects when treating osteoarthritis, while green tea enhances mental alertness.
So if you're looking for a greens powder that is loaded with antioxidants and Ashwagandha, Organifi Green Juice should come up first on your list.
You may not, however, depend on this greens powder for your recommended daily intake of minerals and vitamins since there is no information that indicates the presence of these micronutrients.
But you can depend on Organifi Green Juice to provide an excellent dose of iron to meet your daily needs.
Organifi Green Juice: Taste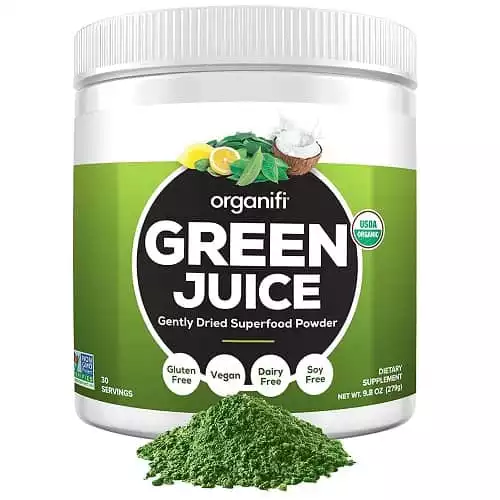 The taste of the Organifi Green Juice is unlike the other green superfood powders on the market today. Most green superfoods taste like dirt, and this may be attributable to the ingredients – spirulina, wheatgrass, chlorella – that is present in them.
Although Organifi contains much of these same ingredients, it is not too bitter. The green superfood tastes a lot like unsweetened mint green tea. It is also highly refreshing and pleasant when mixed with cold water. For lovers of green tea, Organifi is a walk in the park.
Pros
Tasteful for a green drink
Ashwagandha
Certified organic ingredients
Turmeric and Moringa
Mixes better than most green superfoods out there
Adds noticeable focus and energy without a caffeine jolt
Gluten free
Does not contain heavy metals
Cons
It is pricey
It does not contain enzymes or probiotics
The price of Organifi Green Juice is subject to change at any time. But you should expect to pay any amount starting from $60 to $80 (for 30 servings); that is about $2.30 per measure or scoop. It is, however, a bit on the expensive side when compared to other greens powders on the market today.
Here is a breakdown of the purchasing options: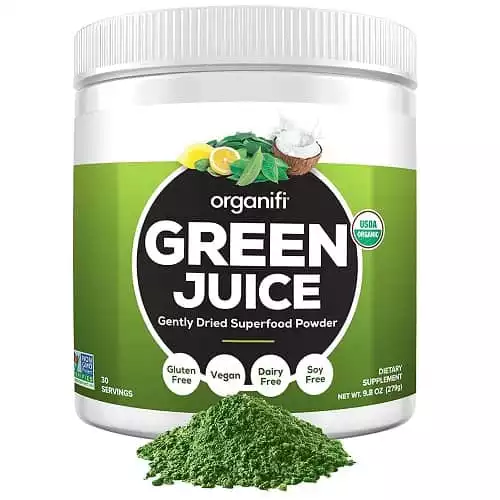 One bottle of Organifi Green Juice should suffice for at least 30 days.
You can check for more current prices on the seller's or manufacturer's website.
But it has all the necessary organic ingredients that enhance the overall function of the human body. So, the price may well be worth it in the end.
Patriot Power Greens
Patriot Power Greens is a detoxifying product from one of the supplement companies in Salt Lake City, Utah called Patriot Health Alliance. This supplement company lives up to its name as they make regular donations to the United States Armed Forces under the name of customers. So, if you buy from them, you can be sure that a donation – in your name – will be made to the U.S. Armed Forces. That is just how patriotic they are.
Patriot Power Greens was created primarily for the military personnel of the United States. It tastes good, satisfies cravings, and also provides a significant amount of energy to users. This green superfood powder is an excellent combination of 38 vegetables and fruits, 7 digestive enzymes, and 10 probiotics.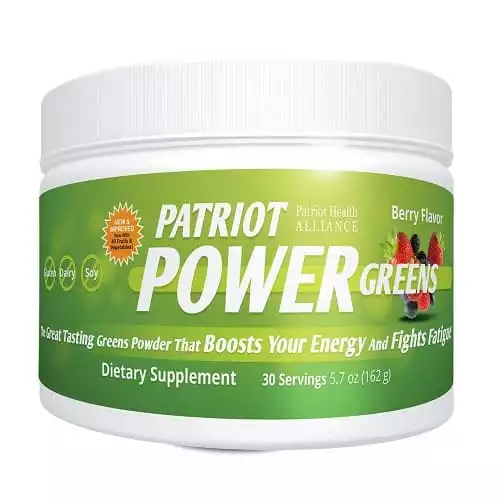 Patriot Power Greens can also be utilized by elderly individuals or senior citizens, who want to feel youthful again by combating fatigue, minimizing brain fog, sustaining energy levels, and enhancing mental focus. It was invented by a Texas-based veteran and board examiner of the United States Air Force, Dr. Lane Sebring.
Take note that Patriot Power Greens is not meant for weight loss. So, if your goal is to lose weight by drinking greens or smoothies, you may want to look elsewhere for products that meet that criterion.
Ingredients
Patriot Power Greens is an alkaline nutritional formulation that comprises more than 37 organic fruits and vegetables. It also has other components such as:
Spirulina algae
Kale
Beet juice powder
Broccoli
Acai juice
Spinach
A variety or two of seaweed, i.e., Kombu, Nori, and Wakame seaweeds
Cauliflower
Amia fruit extract
Coconut water
Goji berries
Prunes
Insulin – a prebiotic fiber with immense digestive benefits
Dietary fiber
Stevia
Patriot Power Greens also contains 10 strains of probiotic bacteria – e.g., S. Thermophilus, B.Lactis, and L. Paracasei – and 7 digestive enzymes. The latter is linked to improved nutrient absorption and digestion. This greens supplement drink does not contain allergens such as gluten, wheat, peanuts, dairy or soy.
But there is no clear indication of how much probiotic is in each serving. This is why it is kind of tough to measure its effectiveness with other green superfood products on the market today.
One scoop of Patriot Power Greens contains:
20 calories
4 grams of carbohydrates
1 gram of protein
2 grams of fiber
The organic formula blend that is Patriot Power Greens pledges to sharpen your memory and even improve the digestion of food with veggies which have been clinically proven to provide a lot of health benefits.
Patriot Power Greens: Taste
Patriot Power Greens has a mixed berry flavor, though it is free of sweeteners and artificial flavors. One of the prominent ingredients in this green superfood product is organic apple powder, though it also contains other flavorings from:
Papaya
Raspberry
Mango
Blackcurrant
Pear
Acai berry
Pomegranate
Grape
Strawberry
Blueberry
This indicates the undertone of passion fruit and apple when you drink the green superfood product.
If you are averse to sugary food, this green superfood product may be a little disconcerting since it tastes almost like a real fruit juice. The combination all these ingredients provide 15-health which does not result in diabetes or any kind of blood sugar-related issues.
All in all, Patriot Power Greens tastes delicious and slightly sweeter than other green superfoods out there today.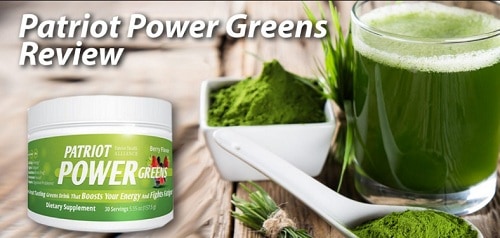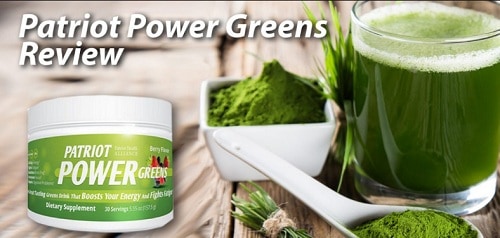 Patriot Power Greens: Does it work?
A lot of studies are highlighted on this product's website which shows how effective the probiotics are to overall health.
According to the green superfoods website, probiotics improve heart health, digestion, and also dramatically influences mental health. But the actual amount of probiotics in one serving is not stated.
This is a significant factor that should not have been left out of the labeling. For instance, the number of probiotics present in one of the Patriot Power Greens's competitors, Sun Warrior is up to 2 billion per serving while another competitor, i.e., Green Vibrance contains approximately 25 billion per serving. Therefore, no one knows how effective the Patriot Power Greens is when compared to other green superfoods that contain probiotics.
The company that produces the Patriot Power Greens does not reveal the quantity of each ingredient in the product. It is hard to find any information on whether or not Patriot Power Greens contains the right amounts of minerals and vitamins for you. The only information you may find is that the health supplement comprises thirty percent of your recommended daily intake of Vitamin A and six percent of your daily intake of iron.
For a green superfood product, these amounts are not 'that' much.
The official website of the company also claims that Patriot Power Greens reduces – or neutralizes – inflammation, provides 'unlimited' stamina, turns "old guys into young bucks" and states that many of their clients have lost their joint pain, memory, and impotence problems.
The website also states that Patriot Power Greens can effectively replace some prescription drugs – such as nonsteroidal anti-inflammatory drugs or NSAIDs for joint pain. No evidence or study shows why this is so, aside from some superficial probiotic studies.
Patriot Power Greens: Price
When you take price into account, Patriot Power Greens costs around $59 per tub – i.e., about 30 servings, so it is more expensive than a lot of other greens superfoods on the market these days.
Patriot Power Greens, when purchased from the official website of the manufacturer, is as follows:
7 Pack sampler $9.95 (with free shipping), i.e., about $1.42 per serving
Single canister (30 servings) at $49.95 plus shipping costs ($8.95), i.e., $1.96 per serving
3 canisters (90 servings) at $149.99 with free shipping – i.e., about $1.67 per serving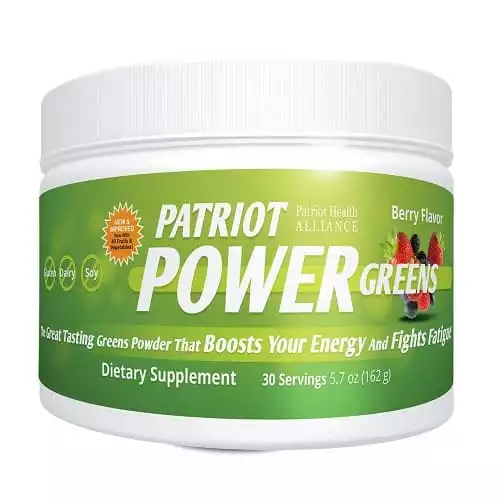 Patriot Power Greens: Side effects
There is no mention of side effects, though a few users of this green superfood supplement notice a few secondary potential effects such as:
Nausea
Flatulence
Dizziness
Upset stomach or stomach pain
Liver damage
Pros
Contains enzymes
Comes with probiotics for enhancing gastrointestinal health
Comes in an easy-to-drink formula
Available in 3 different categories which allow a potential user to choose any of these alternatives
Organic
Superfood ingredients
Cons
Does not disclose the exact amount of probiotics present in the nutritious green drink
Relatively expensive for some
Almost nonexistent customer support
Organifi vs. Patriot Greens Comparison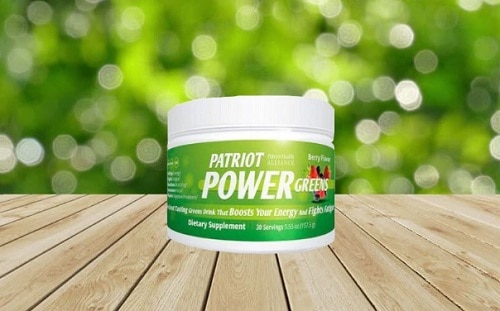 Each of these green powder superfoods has their strengths and weaknesses. They will be outlined in the next list:
Organifi Green Juice
It is one of Amazon's best selling green superfoods with a lot of reviews
Every ingredient is listed clearly with few exceptions. It does not contain verifiable amounts of essential micronutrients
Users have stated the effectiveness of this green superfood on Amazon where it has garnered more than 800 reviews. This shows that the superfood is doing what it was created to do: provide the needed energy boost for the day's work as well as the daily recommended intake of a few essential nutrients
Patriot Power Greens
It is not listed on Amazon, Walmart, eBay, etc. To determine the health benefit of this superfood is somewhat tricky as there are no real buyer reviews to look at.
According to the manufacturer, this product contains about 38 fruits and vegetables along with probiotics. But not all these ingredients are mentioned in detail on the official website of the company.
It contains enzymes and probiotics, though the effectiveness of the latter is difficult to measure since there is no definite indication of the amount present in a single serving of the green superfood supplement.
Bottom Line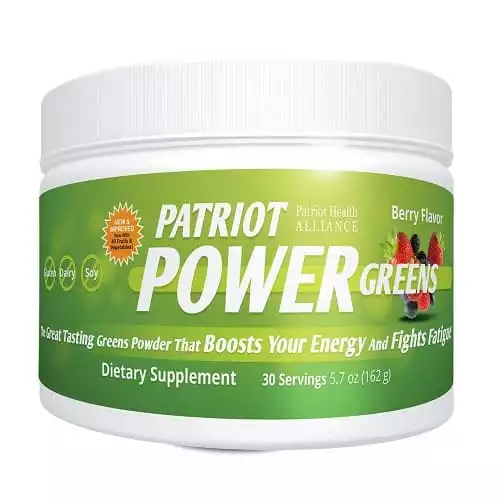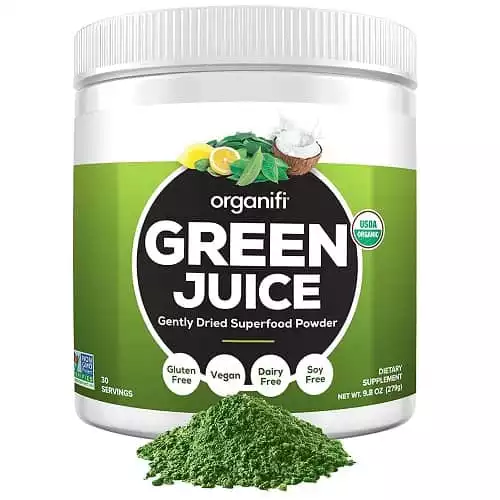 From all indications highlighted in this comparison article, although both Organifi Green Juice and Patriot Power Greens are organic and healthy in nature, the ingredients used in producing Patriot Power Greens are hazy.
Consumable products should have clear and distinct listings that showcase the ingredients used in producing them. This will be helpful for people who are allergic to some ingredients in such green superfood supplements.
The only thing one can say about Patriot Power Greens is the fact that this green superfood contains digestive enzymes and probiotics which enhance overall digestive health. But other information about the effectiveness of this supplement is virtually non-existent. The minerals or vitamins it contains are not disclosed, as well the benefits of a few of the ingredients mentioned on its official website.
Organifi Green Juice, though somewhat pricey, costs less than its counterpart, Patriot Power Greens. It provides much more benefit as indicated by its clear representation of the ingredients used in manufacturing it.
That is not to say that Patriot Power Greens does not have its own benefits, but it is safer to go with tried and tested green superfoods like Organifi Green Juice that does what it says: provide essential nutrients that support the immune system, liver, and the mind.
Organifi Green Juice is a rich source of antioxidants, iron, and Ashwagandha. These ingredients have cognitive and anti-anxiety benefits that are almost second to none in the green superfoods market today.
Organifi Green Juice is also all the rage with a ton of positive reviews on Amazon. So, if you want to go for a green superfood product with more benefits, integrity, and openness, Organifi Green Juice is the best option!
Further Reads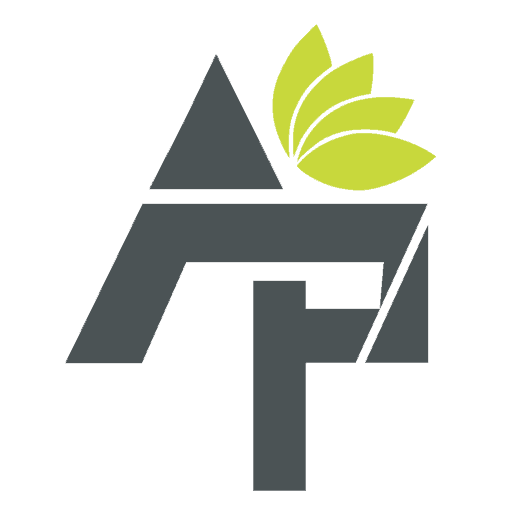 Alt Protein Team is a team of professionals and enthusiasts committed to bringing you the most up-to-date information on alternative protein, health and wellness, workouts, and all things health-related. We've reviewed a lot of products and services so you don't have to guess when you spend your hard-earned money on them. Whether you want to shed some pounds, build lean muscle or bulk, we can help you figure out what you need to do and what you need to have to achieve your goals.