Bacon has always been popular in the United States, regardless of the brand, if someone's following a carb heavy diet plan or a keto one. But some of the best indicators show that it's only getting more popular.
The Agricultural Department predicts that by the end of this year, pork consumption will at least hit, if not surpass, consumption levels of red meat.
In 2017, over 18 million Americans consumed more than 5 pounds of bacon over the course of a year.
Bacon has made wavelengths in keto. Tasha Metcalf, a blogger for a keto website, even tried an experiment: she ate primarily bacon for 30 days straight. Each day, she ate about 30 strips of bacon. It wasn't just a whim: Metcalf explained that bacon has a great protein to fat ratio, and, of course, is low-carb.
Eating bacon every day isn't recommended. In fact, conventional wisdom would suggest that eating bacon for extended periods of time would result in increased blood cholesterol levels and weight gain.
Her results were the opposite. In 30 days, she lost 18 pounds, her cholesterol levels improved, and her blood pressure dropped an astonishing 30 points, by her account.
She did stop eating bacon for every meal, but she still likes to incorporate it with her breakfast (bacon and eggs anyone?) and as part of a meal recipe. So can we just eat crispy bacon wrapped everything to kick start our metabolism?
Health Concerns about Bacon Consumption
That isn't to say we can take Metcalf's account as definitive evidence that bacon is a healthy choice for everyone (and should be added to every recipe), and certainly not in that concentration. While bacon is undeniably one of the best foods in terms of protein and carb ratio for keto, there are some reasons to be cautious.
For one, we don't know the other factors that may have improved to her health, nor can we generalize how her body responded to everyone and not even everyone following keto.
And there are some valid concerns when it comes to bacon, especially mainstream brands you find the main refrigeration section of your grocery store.
Some studies link the consumption of processed meat to common cancers. The issue is that many who consume lots of processed meats also tend to have less healthy lifestyle habits, so we cannot separate correlation with causation.
Nitrates, present in most mainstream brands, have been linked to the formation of nitrosamines, which in animals have been linked to certain cancers
Many brands tend to be high in sodium (any recipe with bacon tends to half high sodium count)
Some brands also have added sweeteners and other preservatives that may be detrimental to both your health and for keto.
As you can see, consumption of bacon and the risks are mostly studies of correlation. In other words, we have strong repeated suggestion that health risks and consumption of bacon are linked, but the evidence that it directly causes these concerns is mixed.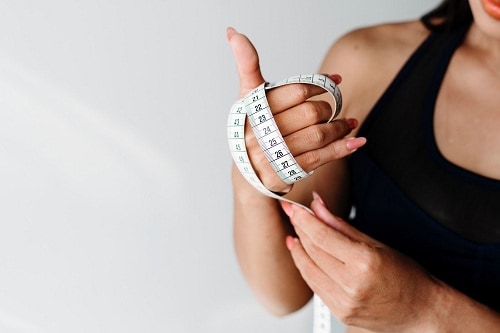 The Good News about Bacon
Bacon lovers, rejoice–there's also evidence that bacon actually does have some health benefits. The trick is consuming it in moderation to fit your keto diet, limiting other processed meats, and buying brands that use quality ingredients and cut back on the potentially harmful ones.
In addition to saturated fat, bacon also contains monounsaturated fats, which have been linked to lower LDL cholesterol levels and blood sugar management.
Some brands of bacon also provide B vitamins, selenium, zinc, and phosphorus.
The best brands replace nitrates with Vitamin C, another essential vitamin.
Bacon is less calorically dense than competing breakfast meats, like sausage.
Bacon is low carb, and a source of both protein and fats–essentials for keto
The bottom line? Bacon should be on the table, especially for keto.
The key is making sure you select the best brands and rotate bacon with other Keto friendly protein and bacon fat sources (no bacon and eggs every day).
Why is Bacon Helpful for Keto?
As we've discussed, bacon is a source of protein, fats, and even vitamins and minerals. And the best brands don't contain nitrates or added sweeteners. With some key criteria in mind, bacon can fit well into your keto diet, even though it seems counter-intuitive to literature on low-carb diet trends.
But to help, we've selected the best brands for keto. The bacon brands we selected were not based on prestige, but the quality of ingredients. Every brand was selected based on the following criteria:
Nitrates: Nitrates may or may not contribute to your risk of certain cancers. But there's no reason to take a risk. While many bacon brands have cut back on the level of nitrates, there are some that have eliminated them completely. Nitrates are used as a preservative, but brands have found more natural ways to keep your bacon fresh. NOTE: look for nitrate-free bacon labels on packaging.
Added Sugars: Added sugars are not only bad for your health; they're also something to avoid for keto.
You'd be surprised that there are brands that add sugar to their bacon, especially certain varieties, such as maple bacon.
Net Carbs: Bacon is already a low carb option naturally, but we made sure these brands stay true to that (the only reason you'd get higher carb counts would be something like added sugars).
Fat Content: The bacon fat content in bacon is a concern to many people, but in terms of keto we actually want to avoid anything that's either low or reduced fat. Not only do we need fats for keto, but lower fat versions can add sugars or unnatural additives to make up for taste loss from the lower fat levels.
Organic/ Natural: While certainly not a requirement for keto, we did include some brands that were certified organic. And we did also focus on brands that used natural ingredients over preservatives, so you're getting quality proteins and fats and less of things that are not helpful, or even harmful, for keto.
Uncured vs Cured: Uncured and cured bacon actually does play a role. It's not just a matter of preference: while cured is treated with salt and nitrates, uncured is only treated with salt. While we did include uncured options, please note that these have a shorter shelf life.
The Best Bacon Brands for Keto: Our Picks
To get the best bacon brands for keto, you'll have to be willing to look a little harder, and, likely, pay a little more.
Keep in mind that this list is by no means inclusive. There are many great bacon brands out there, but these are ones that are available on a national basis.
Some will be available in health food aisles, and some may be easy to order online. When selecting the best bacon brand for you and your keto diet, keep in mind that sometimes paying a little extra is worth it, especially if you see yourself using bacon as a more regular staple.
Also, note sodium levels. While not a concern specific to keto, bacon does tend to be a higher sodium food. Excessive sodium has been linked to higher blood pressure levels and related health concerns.
If sodium is a concern, you can also opt for reduced sodium options. Otherwise, just make sure, on days you have bacon, you keep the rest of your sodium in check.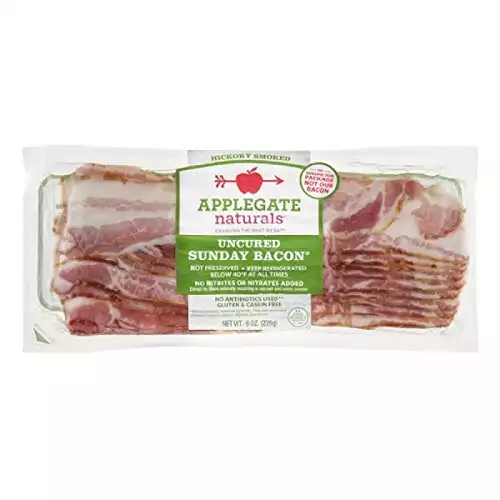 Applegate has made a name for itself selling more natural products, with a dedication especially to meat that is antibiotic free, GMO-free, and free of growth hormones. Plus, they're well distributed, available in a number of chain grocery stores.
This is a hardwood smoked bacon, without any added sugar. The ingredients list is about as simple as you can get, with only sea salt and a small amount of celery powder to keep the bacon fresh.
It doesn't provide anything in the way of vitamins and minerals, but it does get you some protein and fat with a classic taste. Reviews were mostly positive, with consumers saying they liked both the cut and taste.
Per 2 strips: 60 calories, 5g total fat, 0g net carbs, 4g protein, 290 mg sodium
Hardwood Smoked
Antibiotic and GMO-free
Nitrate free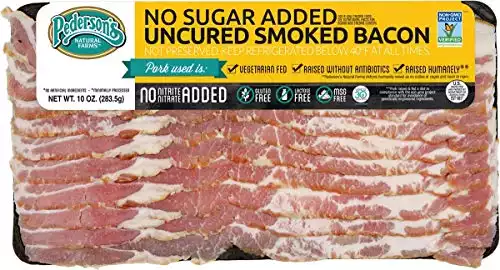 Pederson's Natural Farms Bacon | Amazon
Not only do they raise their pigs right, but they also grow the grain used to feed those pigs. It allows for a higher quality, well monitored feed free of animal by-products.
Buy at Amazon.com
We earn a commission if you click this link and make a purchase at no additional cost to you.
Pederson Farms emphasizes self-sustaining farms, and they grow their own grain to provide quality feed for their pigs. The company is also committed to antibiotic and growth hormone free meat. Smoked foods are achieved by using real wood chips, while some other brands create a synthetic smoked flavor.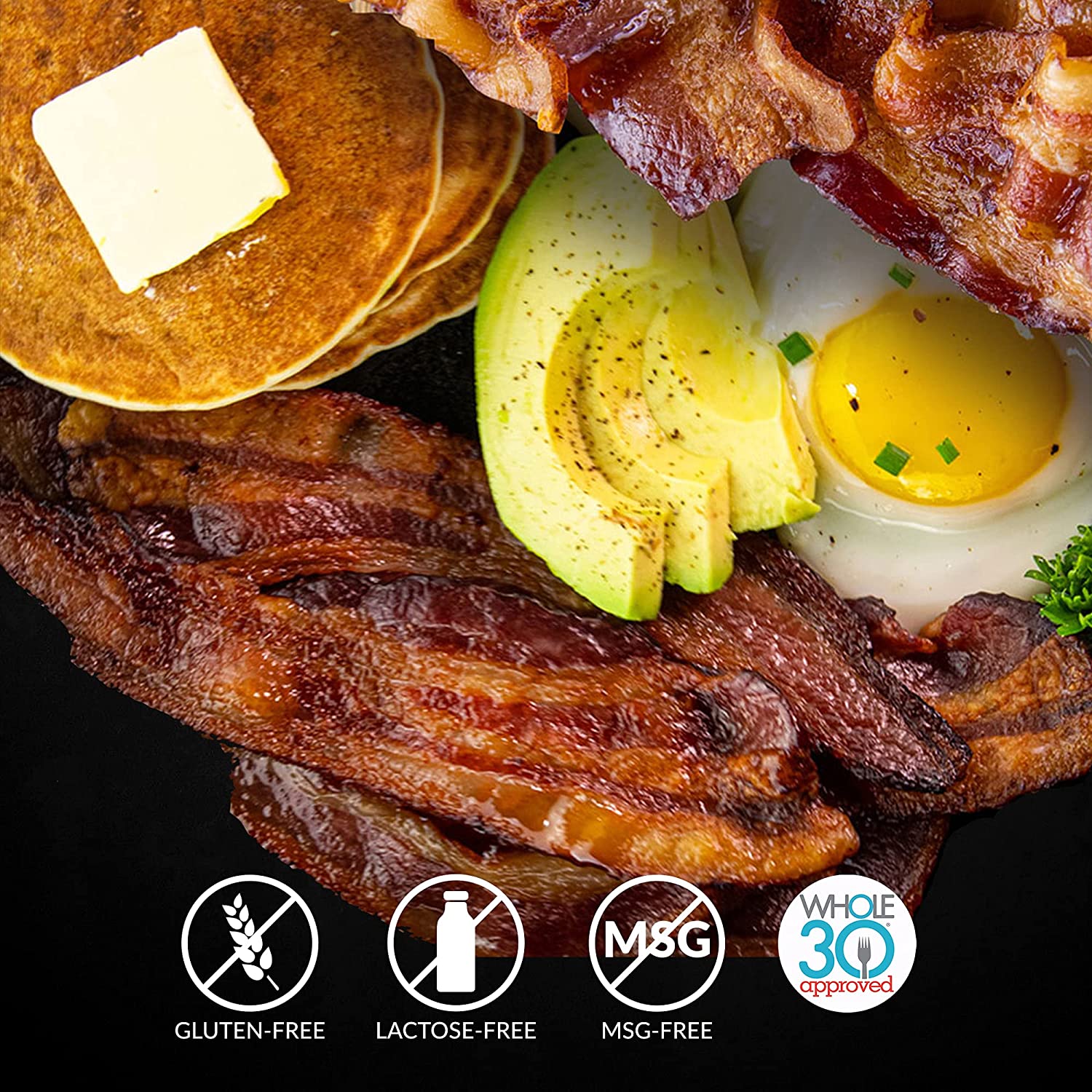 These hickory smoked strips are also free of MSG, artificial ingredients, added sugars and flavored with a touch of rosemary extract. It is higher in sodium, nearly double the count in Applegate, at least per strip (it's hard to know the precise comparison, as strips may be thicker or thinner).
Per 1 strip: 30 calories; 2g total fat; 0g net carbs; 2g protein; 230 mg sodium
Hickory smoked
Antibiotic, MSG, and nitrate free
Smoked with real wood chips
#3 Grassland Sliced Fresh Side Pork Bacon
Grassland Beef LLC is a company you may never have heard of. They own four cattle farms in Missouri and Illinois, though they do also have a few partner farms in Tasmania.
Despite this, all of their products are GMO-free. Their cattle are grass fed and other animals are raised from co-op farms across the country. They also use no hormones or antibiotics. Pork is chilled for five days, rather than aged.
The reason this brand makes our list of best bacon for keto is that it offers a different way to consume beacon. It's far from cheap, but this is about as natural as you can get.
These fresh slices are what they call "naked bacon": it isn't cured or salted in any way. While you do have to consume it faster, you can add any spices you like, and control sodium levels.
(They also offer a more conventional product: Sugar-Free Pork Bacon Slices).
Nutritional information is not provided; you may be able to inquire about the company or see on the label upon purchase
Single Ingredient
Add seasonings you want
GMO, antibiotic, and nitrate free
#4 Jones Dairy Farm- No Sugar Hickory Smoked Bacon Slices
The Jones Dairy Farm company is headquartered in Wisconsin, and products are available in stores across the nation.
It's more of a mainstream brand, but all of their products are certified gluten-free, plus they've recently introduced a line of meats raised without antibiotics.
The bacon itself is not certified antibiotic free. It is free of added sugars and nitrates. It's also perhaps and easier to find bacon brand for a hickory smoke flavor.
Per 1 slice: 50 calories; 4g total fat; 0g net carbs; 3g protein; 120 mg sodium
Hickory smoked
Available nationwide
Gluten free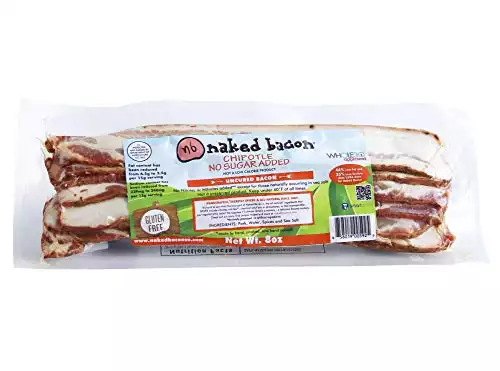 Plus, unlike other brands, this brand injects no water in their bacon–a trick to make it seem like you have more bacon than you actually do. The zesty and unique chipotle flavor is also great. Plus, spices with heat may help with keto and fat burning.
Another awesome thing about Naked Bacon? Part of proceeds goes towards World Food Program USA, a non-profit organization committed to fighting global hunger.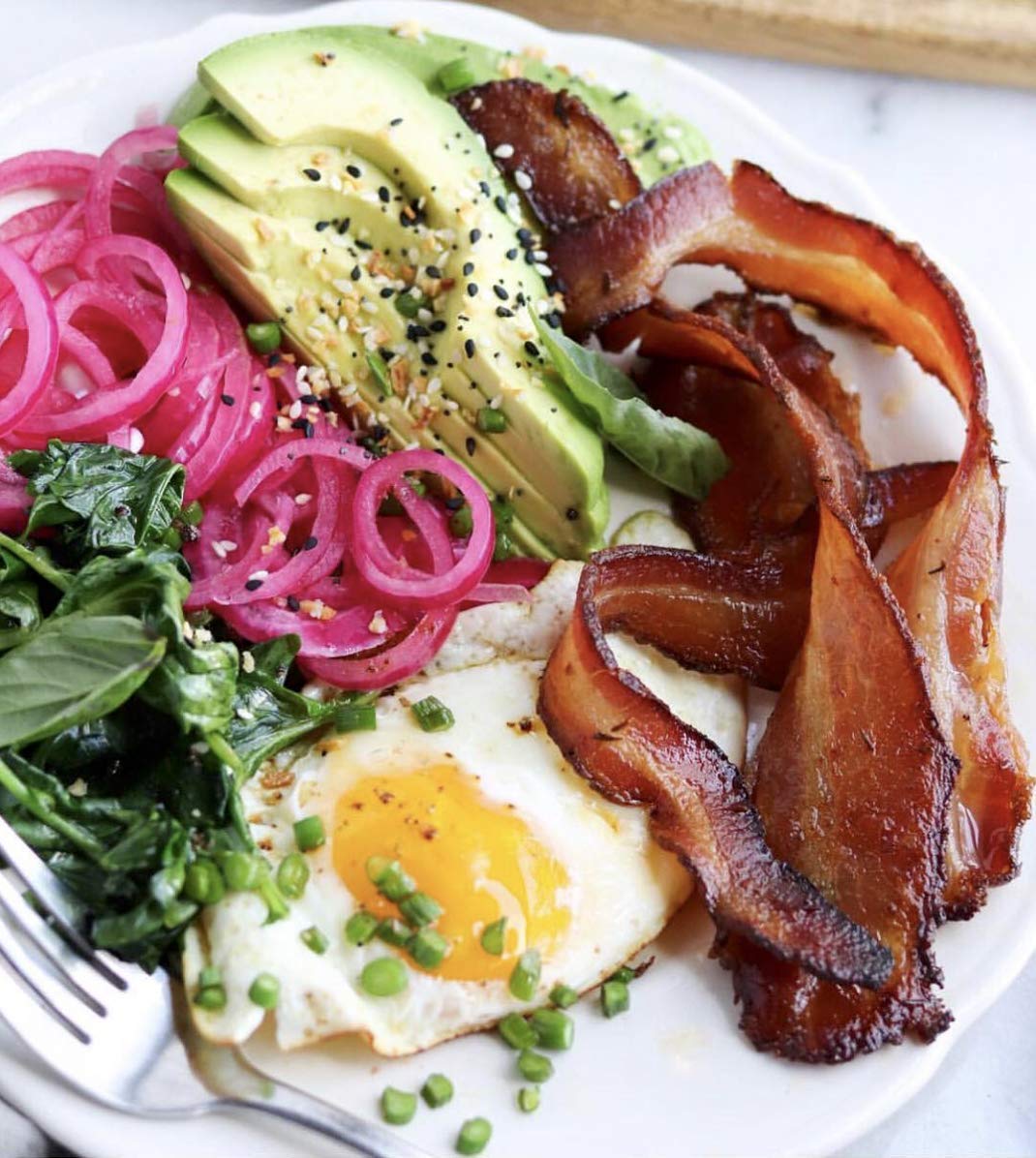 No nutritional information provided; contact for information
Spicy chipotle heat
Nitrate, sugar, and preservative free
Prepared in small batches
Hand cut
No injected water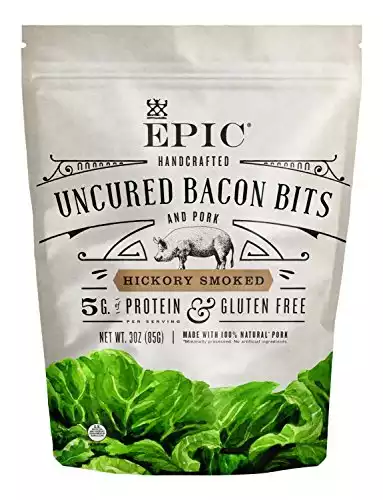 Sometimes you want bacon bits. While you can certainly make your own, Epic is one of the best brands for keto if you want something to easily crumble over a salad. The bacon comes entirely from pork belly and claims to have a taste similar to beef jerky. You could even use it as a portable snack. They also boast healthy Omega fatty acids.
Epic as a company helps support sustainable animal welfare practices, as well as humane living conditions for the animals they raise.
Per 9 pieces/bits: 30 calories; 2g total fat; 2g protein; 0g net carbs; 60 mg sodium
Gluten free
Omega fatty acids
Portable and multi-use
Signature "beef jerky" taste
Vegan Keto Bacon Alternatives
What to do if you're following a vegan keto diet? If you recently swapped diets and still like the taste and versatility of bacon, there are a few options. Here are some of your best bets: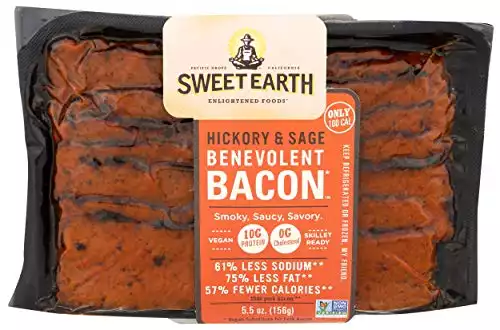 Sweet Earth Benevolent Bacon | Amazon
A modern classic of bacon: plant-based, healthy, sustainable and delicious. Smothered with our smoked hickory sage sauce, each strip is packed with clean protein, loaded with flavor, low in saturated fat and cholesterol free.
Buy at Amazon.com
We earn a commission if you click this link and make a purchase at no additional cost to you.
Bacon isn't only for meat eaters. This vegan option is still great for keto and offers a smoky herb-infused flavor, with an even more powerful pack of protein than traditional bacon. It does have a little sugar, but it's from maple syrup, and only adds a single gram per serving.
It's hard to find a vegan option of bacon that is appropriate for keto and free of nitrates, so this brand is still one of your best options. It's lower in fats, but the ample protein makes up for that. Plenty of seasonings also makes this a more innovative bacon that you can use in a variety of ways.

The higher carb count is due to the use of red beans and wheat to provide texture, fiber, and flavor.
Per 2 slices: 90 calories; 3.5g total fat; 5g net carbs; 1g fiber; 10g protein; 160 mg sodium
Organic ingredients
Vegan
Plenty of seasonings
A powerful punch of protein (10g per serving)
#2 Upton's Natural Bacon Seitan
In terms of staying true to our criteria, Upton's vegan bacon is a slightly better brand in that there are no added sweeteners. In fact, the ingredients list is fairly simple and short. It's a natural bacon flavor, so you may want to add something to make the taste a little more interesting. However, we do note the carb count is a little higher than we'd like, though certainly not out of reason when complemented with other low carb foods.
It's rather low in fat, so we suggest serving with a side of healthy fats, like sliced avocado. That said, it's hard to argue with the 15g of protein that 2oz provides. It's also non-GMO and kosher certified.
Per 2 oz: 100 calories; 1.5g total fat; 7g net carbs; 15g protein; 264 mg sodium
Vegan
No added sugars
Kosher and non-GMO certified
High in Protein: 15g per serving
FAQs
Question: Is Bacon Keto Friendly?
Answer: Bacon is Keto friendly, even though it can be higher in sodium. The best keto bacon is lower in sodium and contains natural ingredients without nitrates.
Question: Can you eat bacon every day on Keto?
Answer: Having 2-3 slices of bacon every day for breakfast is a keto friendly way to maintain a high fat, low carb diet.
Final Thoughts on the Best Bacon for Keto [Keto Diet Foods]
Finding the best bacon brands for keto takes looking carefully at ingredients. You'll want to watch your sodium if that's a concern, and mostly steer clear of reduced fat bacon brands. For vegan keto, there are a few options, but you'll likely want to add some healthy fats to your plate.
Think bacon is off limits? With these tips in mind, it doesn't need to be. Yes, to bacon and eggs (the ultimate easy and delicious breakfast bacon recipe), in moderation, AND included it in your keto recipe.
This Might Interest You
Disclaimer
Last updated: February 13th, 2020
The information contained on www.altprotein.com website (the "Service") is for general information purposes only.
Alt Protein assumes no responsibility for errors or omissions in the contents on the Service.
In no event shall Alt Protein be liable for any special, direct, indirect, consequential, or incidental damages or any damages whatsoever, whether in an action of contract, negligence or other arising out of or in connection with the use of the Service or the contents of the Service. Alt Protein reserves the right to make additions, deletions, or modification to the contents on the Service at any time without prior notice.
Alt Protein does not warrant that the Service is free of viruses or other harmful components.
Fitness disclaimer
The Service offers health, fitness and nutritional information and is designed for educational purposes only. You should not rely on this information as a substitute for, nor does it replace, professional medical advice, diagnosis, or treatment. If you have any concerns or questions about your health, you should always consult with a physician or other health-care professional.
Do not disregard, avoid or delay obtaining medical or health-related advice from your health-care professional because of something you may have read on the Service. The use of any information provided on the Service is solely at your own risk.
You can also review our Editorial Integrity Policy.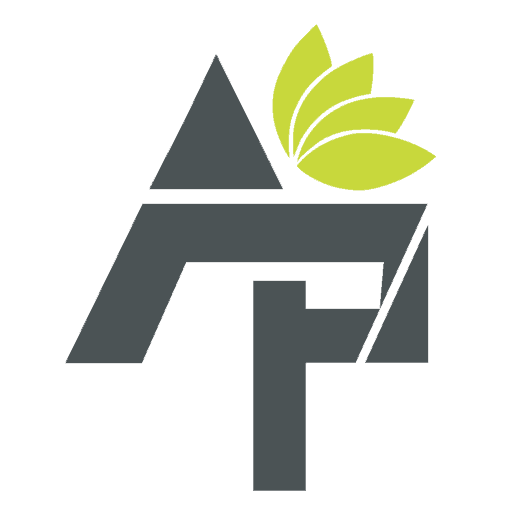 Alt Protein Team is a team of professionals and enthusiasts committed to bringing you the most up-to-date information on alternative protein, health and wellness, workouts, and all things health-related. We've reviewed a lot of products and services so you don't have to guess when you spend your hard-earned money on them. Whether you want to shed some pounds, build lean muscle or bulk, we can help you figure out what you need to do and what you need to have to achieve your goals.