Are you trying to lose weight but can't decide between Ambronite vs Huel? Don't worry because you're not alone.
For context, Ambronite is a Finnish company that prides itself on creating a natural meal alternative. Ambronite refers to its supplements as "real food meal shakes". It highlights that the company uses whole foods in all its products to separate itself from the unwanted press weight loss supplements have received in the past.
Huel, on the other hand, is a vegan-friendly product created with environmental friendliness in mind. In my eyes, at least, it highlights the company's commitment to doing its best to include everyone and help the planet.
Both Huel and Ambronite are popular due to being convenient but yet "healthy." However, there are pros and cons to weigh up. What's more, some people argue that most health supplements are unhealthy.
So that's some food for thought before you buy.
Nevertheless, these two are popular options as far as weight, health, and exercise supplements go. But, whether or not they're safe or even necessary is up to you to decide.
Read on for a clear buying decision!
Main Differences Between Ambronite vs Huel
The main differences between Ambronite vs Huel are:
Ambronite prioritizes using high-quality whole foods, whereas Huel does not, making Huel cheaper.
Ambronite does not offer free products to first-time buyers, whereas Huel does
Ambronite provides a Ketogenic meal shake, whereas Huel does not.
Ambronite mainly sells meal replacements and energy bars, whereas Huel sells protein bars and protein powders
Huel provides a hot and savory meal option, whereas Ambronite has yet to release such a range.
What is Ambronite?
Ambronite is a Finnish food supplement company. Its meal replacement shake comes in powder form, and you mix it with water before drinking. The supplement presents itself as an organic alternative to eating your fruits and veg because of its natural ingredients.
Conveniently, you can concoct an Ambronite drink to act as a meal replacement, and that'll provide you with all of your body's daily needs. There are Ambronite bars available for quick snacking. There are also all the nutrients you need to recover from exercise and have energy throughout the day.
What is Huel?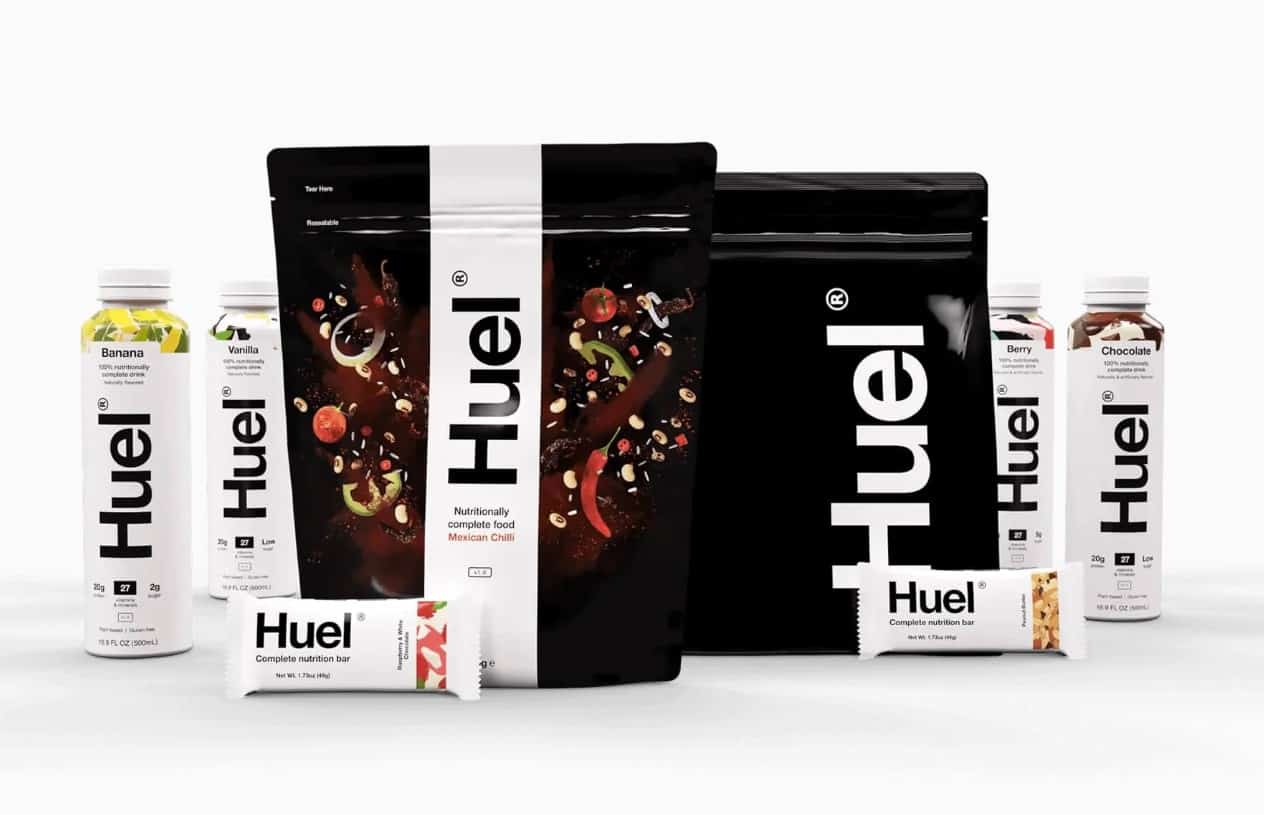 Like Ambronite, Huel is another meal replacement supplement. Where Huel differs from its competitor pertains to its form. You can buy Huel as a powder, bar, liquid, or grain – that's a lot of options for some healthy fuel. Huel Ltd manufactures the product, and they claim that the supplement provides all the vitamins and minerals you need. It's also got some macro-nutrients to give energy and help with recovery post-exercise.
Ambronite vs Huel – Nutrients
In this section, I'll be going over the nutrients contained within these products.
Ambronite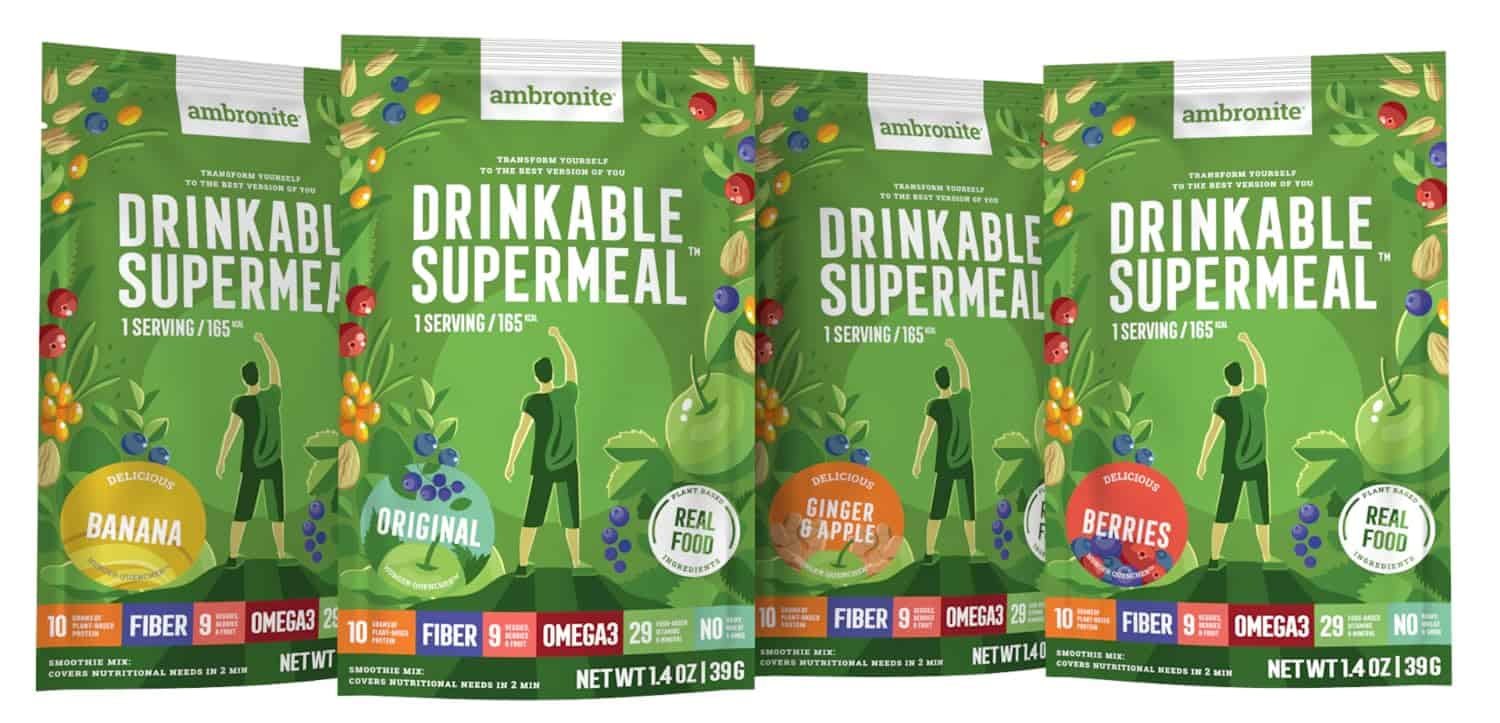 In truth, you'll find that Huel offers much of the same macro and micronutrients within its meal replacements. So I won't start naming out protein, fat, and so on. However, there's still a difference worth noting. And that's the AmbroGreens supplement. AmbroGreens contains the essential micronutrients your body needs. According to the company itself, you'll benefit from an immunity boost as well as nutritional insurance and feeling fuller. Here's a tremendous Ambronite review we did ourselves.
A List of Micronutrients You'll Find in AmbroGreens (per 100g)
Natrium: Better known as sodium, this mineral is one of the many essential minerals we need to function correctly. Sodium benefits our nervous system and muscles. Therefore, simple tasks like staying hydrated and thinking become difficult without sodium.
Potassium: Like sodium, we need potassium to live. It's an essential mineral and electrolyte because it allows our muscles to work optimally.
Magnesium: Is vital to the energy systems of the body. Interestingly, it makes over 300 such systems in the body function as they should. For example, magnesium helps with proteins synthesis and energy production. Meaning it's important for active people like you.
Calcium: helps keep our bones and teeth healthy.
Iron: See above
Phosphorous: keeps bones healthy and other major organs such as the kidneys.
Iodine: maintains thyroid hormones proper function and helps with metabolism and growth.
Manganese: aids our body in breaking down nutrients and has links to bone development.
Vitamin A: retinol helps the body's immune system fight off infection, so the skin remains healthy while supporting vision in poor light.
Niacin: Vitamin B3 promotes all-around good health and can increase good cholesterol while lowering triglycerides.
Other Ambrogreens nutrients:
Biotin B7
Vitamin B12
Vitamin E
Vitamin K
Phycocyanin
Chlorophyll
Huel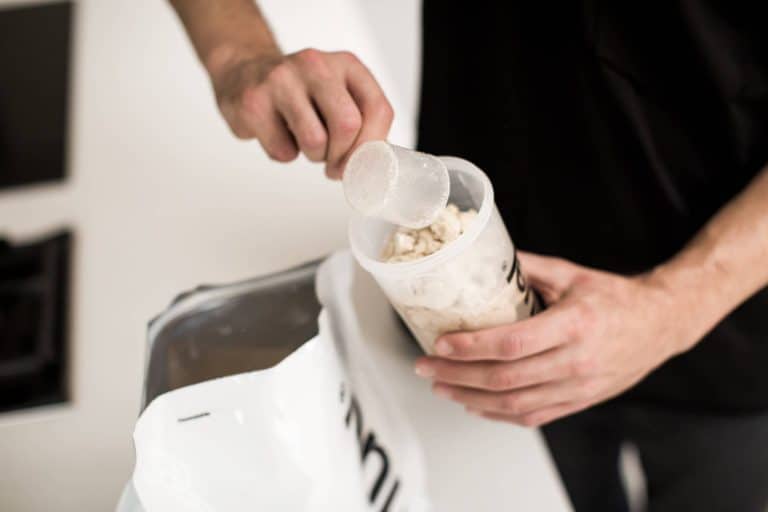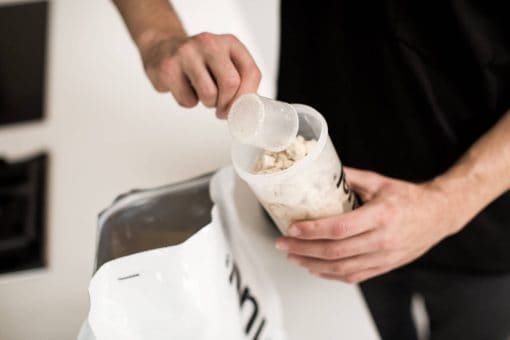 Let's begin by taking a look at Huel's nutritional value. Huel, like Ambronite, claims to provide the nutrients with your body needs. It's easy to prepare and doesn't taste too bad either.
Healthline is a popular health website that tends to dabble in all things wellness. Unsurprisingly, the company has an informative review of Huel. I recommend you take a look and see for yourself.
Anyway, I've Compiled a Shortlist of Nutrients, Vitamins, and Minerals that You Can Expect in Huel Products:
Calories: Huel supplements contain roughly 400 calories per meal except for Huel bars with 200 calories.
Protein: A vital macronutrient that helps us feel full, be healthy, and recover after exercise.
Fat: You can expect to consume fat in Huel products. However, a certain amount of unsaturated fat is needed to remain healthy. Fat like protein and carbohydrates, which we'll mention next, is a macro-nutrient and therefore good for us in the correct doses.
Carbs: Carbohydrates provide energy that can help you get through the day and boost your mood.
Fibre: A gram of fibre is simply a carbohydrate that moves through the body undigested because the body can't break down fibre into sugar.
Vitamin C: This antioxidant is essential to your body's normal functioning. We can't produce it ourselves, so we need to eat kiwis, oranges, kale, etc.
Vitamin B12: This vitamin helps our bodies make red blood cells and DNA and support our nervous system.
Vitamin K: Is Essential for blood clotting and is rare in the everyday diet.
Iron: Haemoglobin relies on iron to produce red blood cells to circulate oxygen around the body as we breathe.
Vitamin D: Helps to ensure that there's the right amount of phosphate and calcium within the body.
Thiamin: Also known as vitamin B, is essential to the healthy maintenance and growth of our body's cells.
How to Use Ambronite and Huel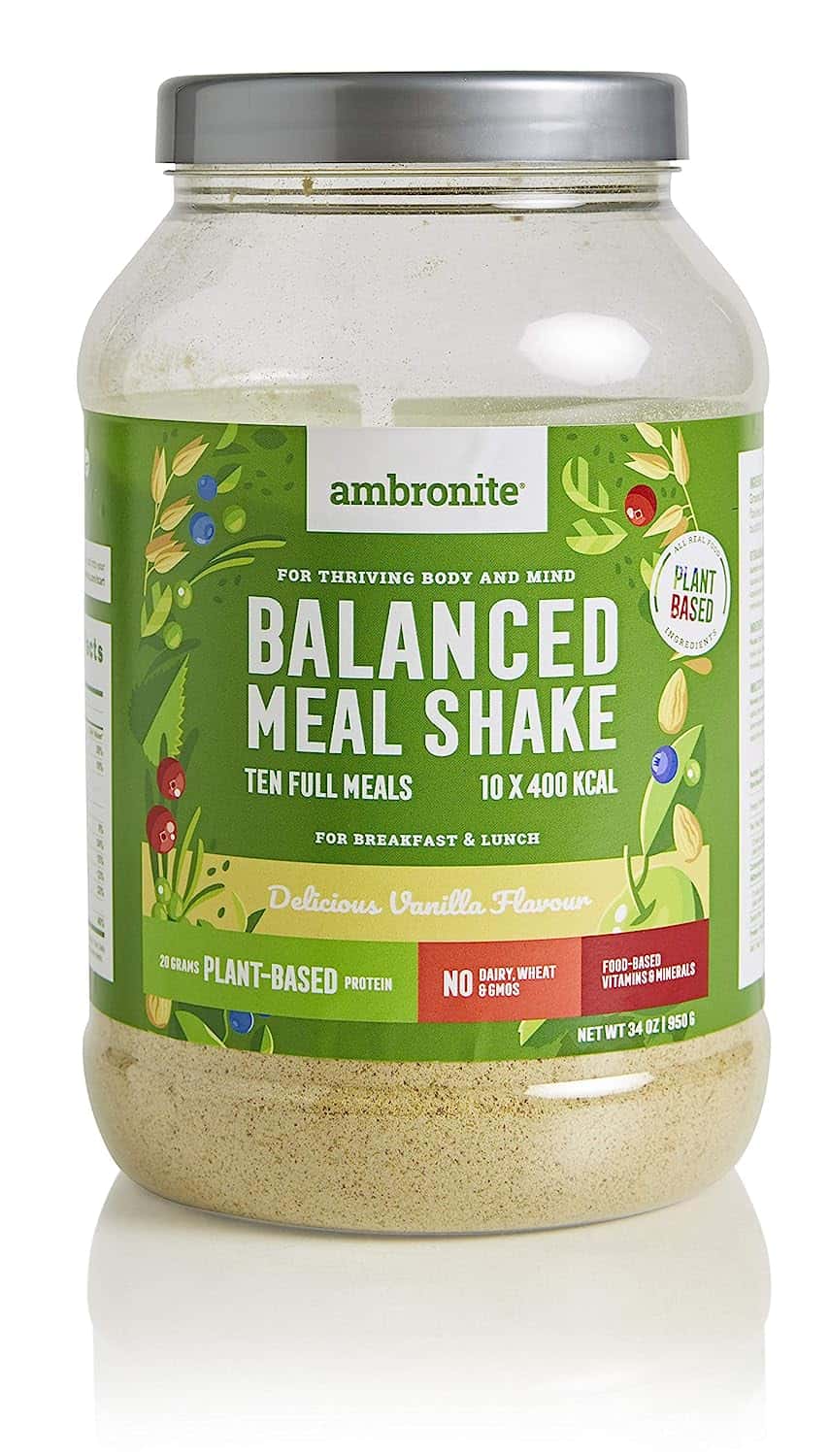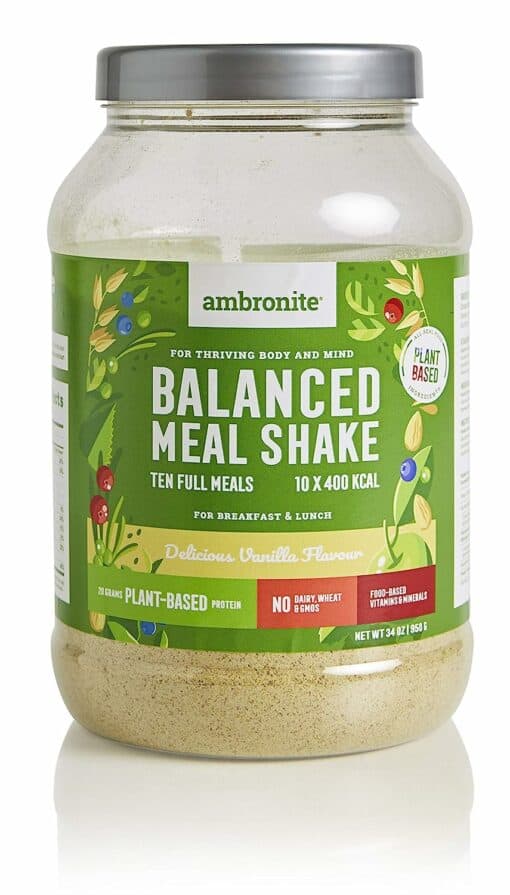 There are no set ways of adequately using Ambronite or Huel because it just depends on your goals. For example, if you're someone who doesn't have a lot of time in the mornings, it could be a quick breakfast option. Conversely, you might overeat at lunchtime and find taking Huel helps you eat less.
Or, you might choose to replace all your meals and add small bits of food such as bananas and nuts to make your meals more substantial. If that's your prerogative, then go for it, but please be warned that it's not the healthy option to take and is far from recommended.
Here's a guide to using supplements safely – CLICK HERE
Don't forget, Huel also offers vegan protein powders and bars to customers that you can use to recover after a hard workout or before bed to encourage gains. There's also Ambronite bars that provide energy and are entirely plant-based.
These options could be great snacks whenever you're tight for time or perhaps craving a healthy treat between meals. Neither Ambronite nor Huel's products can replace the benefits of eating whole foods, so use them wisely.
Finally, if you're unsure about anything, I'd suggest reaching out to a nutritionist or dietician.
Huel vs Ambronite | Products
Ambronite Keto Meal Shakes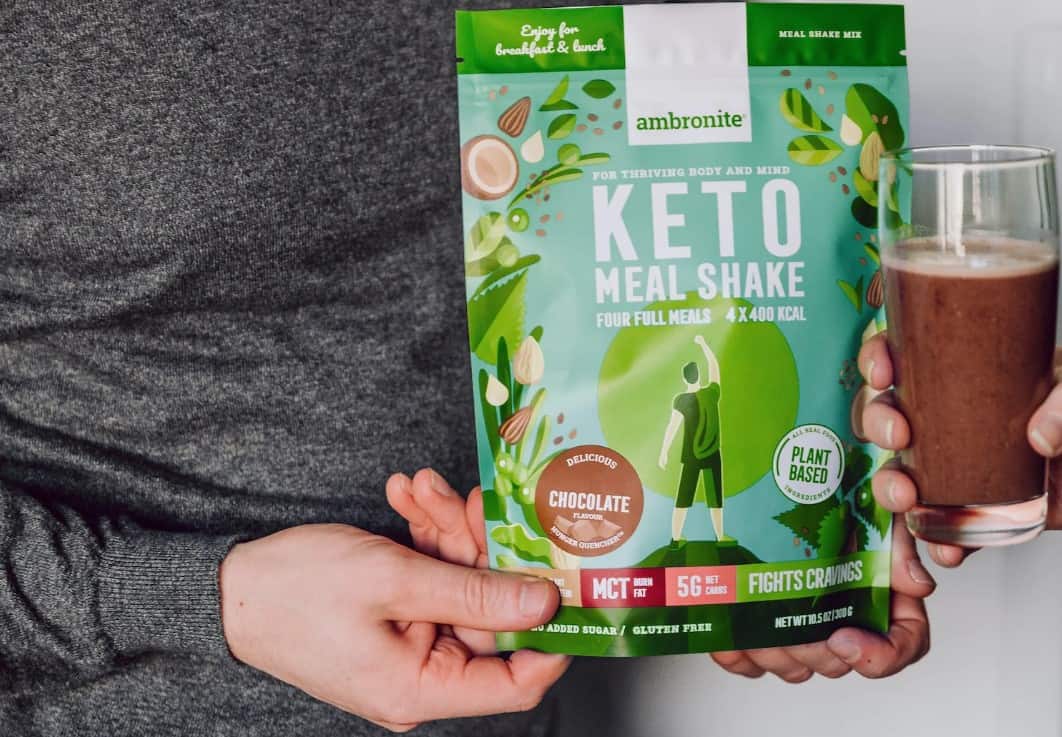 Ambronite offers keto meal shakes to help you enjoy the rewards of the ketogenic (keto) diet. Keto is a diet that helps you lose weight by eating less and curbing cravings by entering a state of ketosis. In a nutshell, keto is a high-fat, low carb diet, and the Ambronite keto shakes make it easier to succeed while following the diet.
Shakes can help consumers stave off feelings of hunger for around four hours and provide essential nutrients. People seem to be happy enough with the product, from what I can tell. Nevertheless, some people are complaining that it mixes poorly and tastes bland.
There's a 110% money-back guarantee, so there's no harm in trying it to see for yourself.
Is there?
Not entirely because I'm almost certain you can only get your money back on what's unopened. So it's a good idea to contact them directly and ask for a free sample, and the same goes for Ambronite.
Huel Black Edition Nutrition Facts
Huel Black Edition is a lower-calorie, higher-protein version of Huel's typical protein powders. Typically, you'd find 39g of carbs in Huel v3.0 protein but the Black Edition powder only contains 17g of carbs. Like that again, there's typically only 29g of protein in v3.0, yet this powder contains 40g of protein.
The Black Edition has more protein at the expense of fewer carbs and slightly more fat. Overall, Huel Black Edition contains 50% fewer carbs and 33% more protein.
On top of that, the black edition is gluten-free and uses natural sweeteners and green tea extracts that serve as a source of antioxidants.
For more information on Huel Black, I suggest you take it to Reddit. There are a lot of people providing insight into their experiences with the product.
Ambronite vs Huel – Other Products for Selection
Let's begin by looking at Ambronite.
Ambronite
Keto Meal Shake – This product helps those on the ketogenic diet burn fat and subdue cravings for four hours.
AmbroGreens – This is a supplement that'll help you get a portion of your vitamins and minerals in quickly and conveniently.
Shaker, t-shirt, and scooper – These products are free for Huel's first-time buyers.
Complete Plant Protein – Huel doesn't offer a plant protein powder such as this product. Made from berries and natural ingredients, it provides a decent amount of protein at 22 grams per serving.
Ambronite Complete Meal Shake – This is a plant-based protein powder. For those wondering, it's different to the above supplement because it contains more whole foods and a much higher percentage of fat and carbs.
Huel
Hot and Savoury – The nutrition company sells packet meal replacements such as mac and cheese. Oh, look at the nutrients contained within because there's quite a lot.
Protein powders – Huel has protein powders on offer to help muscles recover. E.g. Huel complete protein
Meal replacement shakes – You can buy shakes that are high in nutrients and calories to replace meals
Ready to drink – There are ready-made Huel meal replacement shakes available
Bars – Huel has energy and protein bars available
Ambronite vs Huel | Pros and Cons
Ambronite Pros
No additives, GMO-free, and vegan friendly
Contains essential nutrients
Good for your health if used correctly
Ketogenic protein shakes are available
Believe in only using the best quality ingredients from natural fruit, vegetables, and plants
Taste is always improving
Interestingly, you can have free shipping when you spend $150 or more.
Ambronite Cons
Some find the taste bland, and some reviewers have found that the powders don't mix well
Pricing would appear to be too high for some
Keto and Balanced meal shakes don't contain enough vitamins and minerals for the price
Huel Pros
Provide instant hot and savory meals
Vegan friendly
Discounts are available along with loyalty bonuses (subscribe and save at checkout)
It contains essential macro-nutrients and 26 vitamins and minerals
Easy to prepare
Soft on sensitive stomachs
Good for health when used wisely
Cheaper option
Free products for first-time buyers
Huel Cons
Again, there are reports that the taste isn't right
Some people feel that the powder shakes are lumpy
Not made from as many whole foods as the likes of Ambronite
Ambronite vs Huel | Pricing Assessed

I touched on this earlier, but Ambronite and Huel come at different price points. However, both supplement companies offer subscriptions and discounts to sweeten the deal. I like these promotions because they help loyal customers who have already tried and liked the products.
Also, bear in mind that both companies work off a tiered sell-in "bulk" system. Should you buy 100 meals, you'll be paying less per 400 calories in the long run, but you'll be paying more upfront. Hence I encourage you to try the product before splashing on a big offer.
Here's an example of what I mean:
Ambronite and Huel Price List is Cheaper the More You Buy
Take the complete shake that has replaced the old balanced shake.
Ambronite Complete Meal Shake – This product costs €6.80 per 400-calorie meal if you don't subscribe to a direct debit plan. By that logic, 100 meals should cost €680
Right?
Well, that's actually not the case because Ambronite likes to run bundle offers using discounts to encourage you to spend more. Hence without a subscription, 100 meals cost you €5.57 per meal and therefore is €1.23 cheaper per meal than buying ten meals. Meaning, subscribing can make this product cost as little as €4.73 per meal or €4.03 if you avail of this offer.
So it pays to buy Ambronite meals in bulk, and the same goes for Huel supplements.
Ambronite vs Huel Price Saved on Recurring Orders

Ambronite lets you save 15% if you subscribe to ordering x number of meals every one to two months. Therefore, you could save 80 euros on your 100 meals. But, again, you'll need first to try the meals to ensure you like them.
Huel offers a similar deal but comes at a much lower price point. Huel discounts tend to be smaller at 10%, but the price is already low, and there are Huel discounts and coupon codes available to choose from. Meaning Huel is the best option for a cheap bargain meal replacement.
Check out our Ambronite review to learn more about shipping costs, how you can avail of free shipping, and pricing thresholds.
Huel Pricing
For those who are more interested in buying Huel supplements, you'll be pleased to know that the Huel price per meal also becomes cheaper when you buy in bulk. Overall, Huel is significantly cheaper per meal.
For instance, Huel powders cost roughly €1.50 per meal. That contrasts starkly against the cheapest Ambronite powder that comes in at around €4 per meal. Therefore, Huel is undoubtedly the more cost-effective option, but there's a tradeoff between cost and quality to consider.
Huel prices are going up, so bear that in mind.
FAQs
Question: Where are Ora Organic Products Made?
Answer: Currently, Ora Organic products are made in Austin, Texas.
Question: Does Ora Organic Offer a Subscription?
Answer: Yes, Organics does offer a subscription. You don't have to sign up for the subscription, but if you find that you enjoy their products, you can always try out there's description to save money.

You can schedule when you want your deliveries on their website or on side of the Ora app. You save 20% on your order of each product, which I think is one of the best reasons you should sign up for their subscription.

In addition, Aura Organics also promises access to any new releases that they have going on the market before anybody else does. They also provide free gifts and samples with every subscription purchasing make, which may be another incentive to someone who wants to try out some of their products but doesn't have a lot of money to spend.

The last benefit Ora Organics offers for their subscription model is they offer a 100% risk-free and money-back guarantee if you aren't happy with your order.

Personally, I only recommend the Ora Organic subscription if you already have one product that you know you're going to keep ordering to keep in your life and want to save money on your purchase.
Ambronite vs Huel – Buying Decision
I won't beat around the bush – if I had to choose between Ambronite and Huel, I'd select Huel. And there are a lot of good reasons to support my decision and some strong arguments against it.
Firstly, Ambronite's price per meal is high. I can't afford to pay that much money for a supplement. Next, I like how Huel runs its brand. For example, Huel gives first-time customers a free t-shirt, scooper, and a shaker.
What's more, the Huel refer a friend scheme lets you save £10 on your next order over £40. So Huel's marketing team does a great job creating a likable brand.
Not to mention, Huel shakes, meals, and snacks are nutritious and taste fine. Huel also has more high-protein options, so it would appear better suited to gym-goers.
That said, it's difficult to ignore the quality ingredients contained within Ambronite's products. If I were looking for a higher quality meal replacement supplement (or had the money!), I'd choose Ambronite.
The company is doing a great job improving its products' taste, mixability, and nutrient content year on year. You're certainly getting high-quality whole foods in your supplements.
In summary, Huel is the cheaper option and contains enough nutrients for me to feel it's a good choice. I like the taste, and Huel supplements mix well. On the flip side, Ambronite is expensive and contains higher-quality ingredients.
For now, I'd go with Huel!
Recommended reads: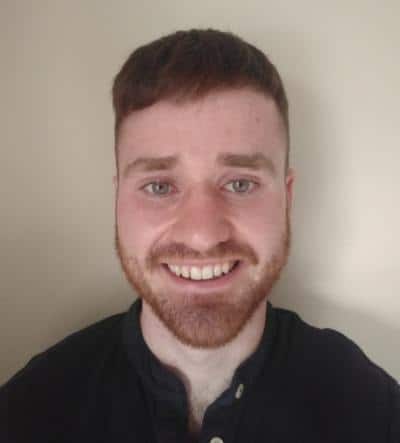 Eoin is a fitness enthusiast. He has extensive experience in strength and conditioning, powerlifting, plyometrics, and sprinting. He is passionate about bringing a healthy regime that encourages a healthy diet and active lifestyle. Aside from fitness, his interest includes eCommerce, human geography, and his lovely dog, Theo.