Who wants to drink their greens?
I'm going to be honest with you; I don't even want to eat my greens half the time.
I know it's super childish, but I really don't like eating vegetables. I think it's ingrained in me because of how I was brought up to eat vegetables. In my house, we only ever ate boiled vegetables. No flavor, they're mushy – can you blame me for not liking them?
Now that I'm older, I probably don't love vegetables as much as I should. But, I have gotten a lot better about making sure I'm taking in my greens. In fact, I think that spinach is my favorite leafy green. I love putting it on sandwiches, in salads, on chicken. But, there's only so much spinach a girl can eat in one day.
And as I've gotten older, I realize just how important being healthy is. I want to be around as long as possible for my son. So, I've now set out on a mission to find products that allow me to be healthier without making huge adjustments in my lifestyle.
With gas prices on the rise and groceries becoming even more expensive, as a new mom, I can't afford to spend hundreds at the grocery store every week just on vegetables. So, I began to look around online to see if I could find a way could drink my greens.
That's when I stumbled upon the Ora Organics Super Greens Powder. But, what is this powder, and what benefits did it have to offer to my lifestyle?
I admit that I had a hard time finding reviews on the Ora Organics Easy Being Green powder. Well, I decided that the best thing for me to do was to order it myself, mainly because I've seen many people on social media talk about how great the Easy Being Green powder is. I wanted to see if it was worth the hype that I saw a lot of people talking about online.
So, is Ora Organics Easy Being Green powder worth the hype? Or was it something that I would highly recommend you stay away from? Well, you'll have to find out. Keep on scrolling; we're about to go on a journey together.
Bottom Line Upfront
I'm definitely ordering this powder again. I loved it!
Why an Organic Superfood Powder?
I would highly recommend that you always choose an organic superfood powder before any other option. That's because organic ingredients don't contain any chemicals are pesticides during the growing process.
This ensures that you're not ingesting unhealthy and potentially dangerous levels of chemicals and pesticides that were used on the plants during their growing process. Overall, a lot of people like using organic ingredients because they're safer, healthier, and sometimes even taste better.
What Exactly is Ora Organics Easy Being Green?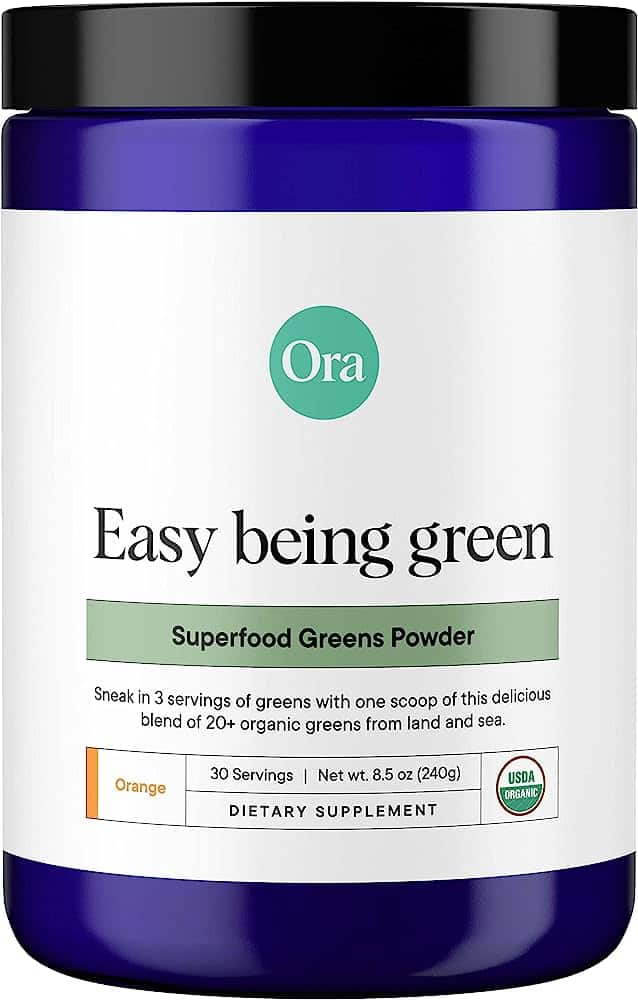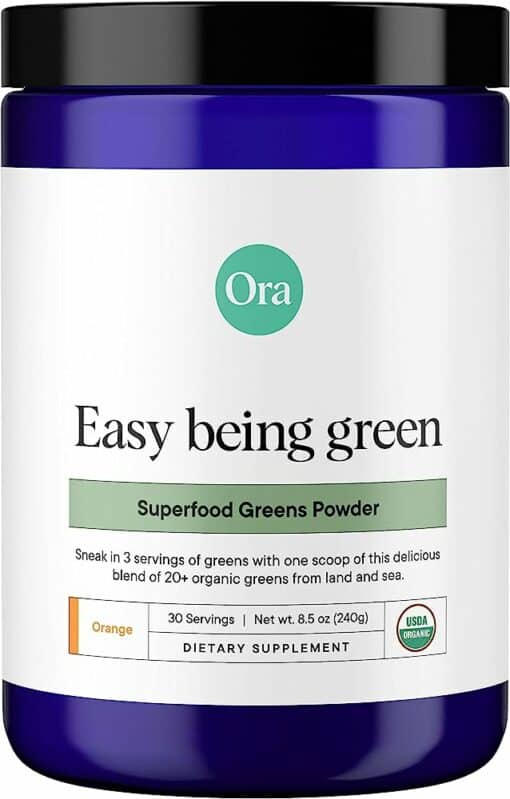 Okay, so we all know that for you to stay healthy and fit, you have to have a lot of protein. But, nobody really talks about losing weight, staying healthy, and how important having a ton of greens in your diet is. I mean, that's really what got me here; realizing how important having a ton of vegetables in my diet is.
And with the average American diet, so many of us are focused on cutting back on carbs and increasing our protein consumption that nobody talks about vegetables. There are so many beneficial nutrients found in green vegetables that aren't found anywhere else. Plus, with so many of us focusing on adding more protein into our diets, we aren't thinking about the potential dangers that come with eating an unbalanced diet.
What drew me to the Ora Organics Easy Being Green powder is that one serving of the Easy Being Green powder provides a huge load of nutrition to my body. The Organics website talks about how there are grass, algae, herbs, vegetables, and superfoods that can be found all inside one serving of the Easy Being Green powder.
While I was ordering on their website, I found that Ora Organics said you only had to mix a scoop of the powder with a glass of water. They also said that I could sprinkle some of the powder on top of a smoothie or on top of my breakfast oatmeal if I didn't like the idea of making a big smoothie first thing in the morning.
My Ordering Experience
When I hopped on the Ora Organics website, I was looking for a few different products. When I saw that they had a superfood green powder, I wanted to check it out for myself.
This is one of the products that I saw a lot of while I was scrolling through social media, so I wanted to see if it was worth the hype.
So, I looked around at all the different flavors that I was anticipating to be on the site. However, there was only an orange flavor available. Now, I do have a complaint about this. I am someone who once had a lot of food allergies. The only thing that changed was that I gave birth.
After I had my son, it seemed like the majority of my allergies went away. If you were someone who was allergic to oranges, there wouldn't be any other option available for you to try. So, I do hope that one day Ora Organics comes out with a different flavor other than Orange.
However, I do appreciate that there are two serving sizes available for the superfood green powder. Like the other powders that I ordered, there's an option for one serving size and another for 30 serving sizes.
Some of the other powders that I ordered only had 20 servings, so I thought that this was nice that they came with 30 servings. But, I like that there was also the option for just one, just in case you wanted to try a small serving without committing to a whole jar.
There are two different ways that you can order your Ora Organics Easy Being Green Powder. You can choose to make a one-time purchase, or you can choose to subscribe and save.
With the subscription option, you can save 20% on your order. What I really love about the subscription option that's offered on the website as they allow you to choose between getting deliveries every 30 days, 45 days, 60 days, and 90 days. So, you're really able to customize your entire experience with a subscription to the powder.
On their site, Ora Organics says that this powder actually contains antioxidants, minerals, and vitamins. They say that there are the ingredients inside this green powder that support a healthy cardiovascular system and encourage a healthy balance of your blood sugar.
What really caught my attention is that Easy Being Green contains prebiotics, which helps to support healthy digestion, and ashwagandha for a balanced mood. I take ashwagandha to help my anxiety, and I am a regular prebiotic and probiotic user, so having these added ingredients inside the powder was amazing.
In addition, every product that Ora Organics offers is certified by the USDA to be organic. The company is based out of San Diego, California, and only uses plant-based ingredients to make its products. This also means that their products are vegan and vegetarian-friendly.
My Unboxing Experience
So, I actually ended up ordering a few different products from Ora Organics. It didn't take too long for my package to arrive. It only took about a week, and my powders came inside of a brown cardboard box. Inside, there wasn't a ton of filler. Instead, there was only some brown packing paper keeping some of the jars separate.
There was one concern I did have as I opened up the boxes was how many of the jars were touching each other. Thankfully, nothing was damaged or chipped during its shipping.
I did really like how there wasn't a bunch of advertisements or flyers stuck inside of the box. That was really nice to see because I always complain about how much extra packaging goes to waste.
Ingredients
Ora Organics recommends 8 grams of the Easy Being Green powder per serving. Inside the ingredient list, there are 25 different ingredients that are all organic and plant-based.
The main ingredients inside this green powder are blends. You'll find Organic Alkalising Grass Blend, Organic Alkalising Greens Blend, and Organic Digestive Adaptogens and Prebiotics Blend.
For you to best understand what's inside of this powder, I've broken down the blends here:
Organic Alkalising Grass Blend
Organic Barley Grass Juice Powder, Organic Wheat Grass Juice Powder, Organic Alfalfa Leaf Powder, Organic Oat Grass Powder
Organic Alkalising Greens Blend
Organic Spinach, Organic Kale, Organic Broccoli, Organic Cabbage, Organic Dandelion Leaf, Organic Parsley, Organic Cilantro, Organic Celery, Organic Green Bell Pepper, Organic Leek, Organic Chlorella, Organic Spirulina, Organic Dulse, Organic Sea Kelp.
Organic Digestive Adaptogens and Prebiotics Blend
Organic Tapioca Starch Oligosaccharides, Organic Ashwagandha, Organic Triphala.
Other Ingredients
Natural lemon flavor, natural orange flavor, Organic monk fruit, Organic lemon juice powder.
With the entire list broken down, you'll find that there isn't any dairy, gluten, soy, GMOs, peanuts, tree nuts, additional sugars, filler, artificial colors, artificial flavors, preservatives, or sweeteners found in this formula. I'm all about that!
First Impressions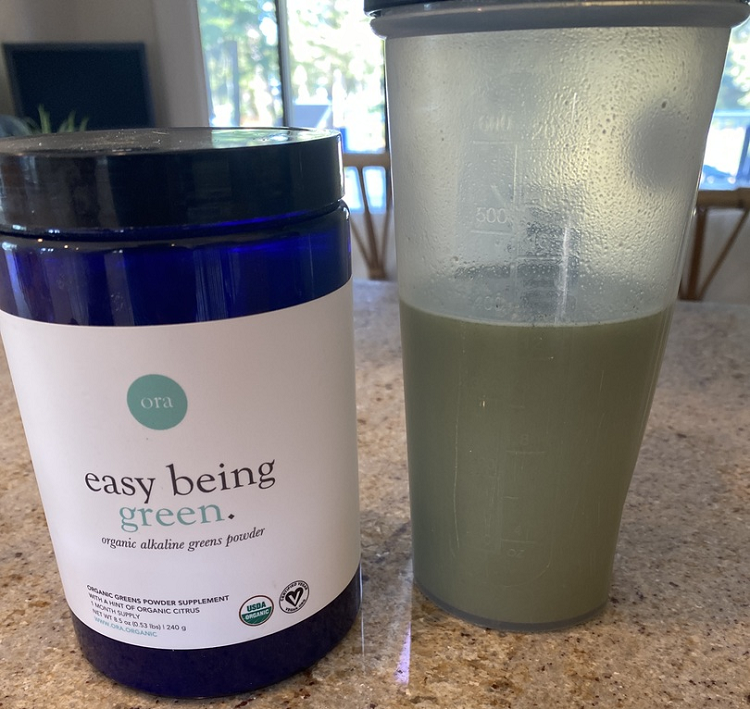 I love the jar from Ora Organics. I think all of their packaging are super duper cute. Plus, when I was on their website, The website was easy to use an order form. There wasn't a bunch of distracting content that made it difficult for me to order. If there was one word that I had to choose to describe Ora Organics, it would be sleek.
Their website had a whole bunch of products to choose from, but I love how nothing seems rushed. I'm not sure how long this brand spent planning its launch, but everything seems to have a lot of attention to detail.
There doesn't seem to be anything lacking or missing. Personally, my favorite part about this powder is the name. It's really easy to remember, and there aren't a whole lot of other products out there with the same name, which I find to be very beneficial fr my memory.
When I was mixing this in with some water, I thought that it was super easy to shake up. I was worried that this was going to be the type of powder that I was going to need to warm up the water or use a blender for everything to mix effectively together.
But I honestly love that this was a great powder to easily mix up in cold water because it makes it transportable. I can throw this jar in the car, have a few water bottles, and I would be all set.
The Taste
So – how does Ora Organics Greens taste?
Well, I bet that's why you've been here all along. After all, it's the taste the most important part of the powder? Sure, if it works, that's great. But nobody's going to want to use it if it doesn't taste food, right?
When I opened up the jar, I didn't get hit in the face with a zesty scent. I LOVE the smell of oranges. Citrus scents are my favorite, so I was surprised when I didn't get a strong scent of citrus when I pulled back the safety lid.
The powder itself is green, which wasn't a huge shocker.
But the taste – well, I was surprised, to say the least.
I honestly was not expecting to like the taste of this formula at all. It actually tastes good! Again, I don't like vegetables, and I don't have a whole lot of experience trying out green powders. I was expecting this to taste like broccoli and kale, but it didn't! It actually had a very pleasant citrus flavor to it. It wasn't anything overpowering.
I had mixed it in with a glass of water, and I had a pleasant drink that was substantial enough to replace my morning breakfast. The citrus flavor was super nice; it wasn't overpowering, it wasn't heavy, and it didn't make me feel like I was eating cleaning supplies.
Instead, It was a refreshing addition to the supplement and had a light sweet flavor to it. I would even go as far to say that it tasted almost like a natural tangerine-flavored lemonade.
I really liked the overall taste of the Ora Organics Easy Being Green powder! It didn't leave me with any heartburn or weird aftertaste in my mouth. Well, I did have a cooling sensation from the monk fruit, there wasn't any taste in my mouth, but I felt like I had to cover up or that I was worried about making my breath smell bad.
However, I did have one complaint. The texture of this green powder was a little grainy if I didn't make sure to thoroughly mix it up. So, what I would do is I would add in some water, mix it up and then let the drink settle down for a second.
Then after that, I would make sure to give it one good shake again before I started drinking it. This would ensure that I didn't get any graininess or lumps of powder in my drink.
How I Felt after Taking the Ora Organics Easy Being Green Powder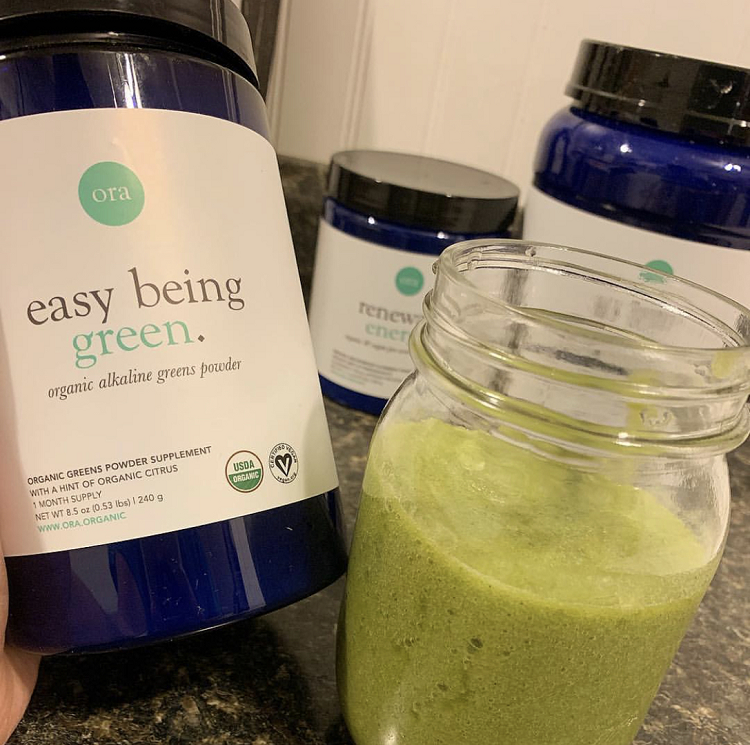 I took the Ora organic Easy Being Green powder for a few days. I honestly wasn't expecting to feel any different, especially because there wasn't any caffeine or other product to help make a huge difference and how I felt overall. I was excited to see if the ashwagandha would make a difference in my mental clarity.
However, I didn't really notice a huge difference in the first day or two. But, after taking it for about a week, I began to notice a few small changes in my body.
The most significant difference that I felt was in my stomach. I'm actually super in tune with my gut health, mainly because I take it so seriously. I'm on prebiotics and probiotics.
But, I stopped taking them for a two-week period because I was interested in seeing if the Easy Being Green powder had enough prebiotics to make me feel any different. I wasn't impressed initially, but I did feel slight changes in my body after taking this powder for a few days.
It definitely wasn't enough for me to consider replacing my current prebiotic and probiotic regimen. Still, I did appreciate the small difference I felt in stomach pain, gastrointestinal distress, and feeling nauseous.
In addition, I also noticed a difference in my overall mental clarity. I didn't feel as anxious or nervous as I normally do, but it was a very small difference again. I think for me to feel more of a difference in how I feel on a daily basis, I would have to take more and then one serving per day.
I did feel fuller for a longer period of time, so I wonder if that's not because my body is missing some sort of vitamin or mineral found in the supplement. But it's not like there's a huge dosage of one specific vitamin or mineral inside of this powder either, so I'm not exactly sure what that is.
Mainly, I just felt better about myself because I felt like I was doing something good for my body. Ora Organics did market this as a great formula to increase the overall health of your body because of the vitamins and minerals that are found in this that aren't often found in the average American diet.
I don't think this is necessarily a supplement that I would take if I felt super bad and looked for a life-changing powder. Instead, I'm thinking that it's a better green powder to add to your diet if you're looking for something that'll help keep your body healthy and protected from oxidative stress and free radicals.
See also: Les Mills vs Beachbody: How to Achieve Your Fitness Goals?
Side Effects
Just like with any health product, side effects are a possibility for some people. I was really happy to see that such a limited amount of potential allergens could be included in this superfood powder. However, it wasn't without all the side effects. I had some side effects, but they were very minimal.
If you've never had monk fruit before, be prepared for a slight cooling sensation in your mouth. The sensation I had was like I had just chewed mint gum and swallowed it. The cooling sensation went all the way down to my stomach.
This wasn't unpleasant, and it was something that I was anticipating, mainly because I have had monk fruit as a sweetener before. But, if you've never had monk fruit before, I would highly recommend you be cautious of this.
Is Easy Being Green by Ora Organics Gluten-Free?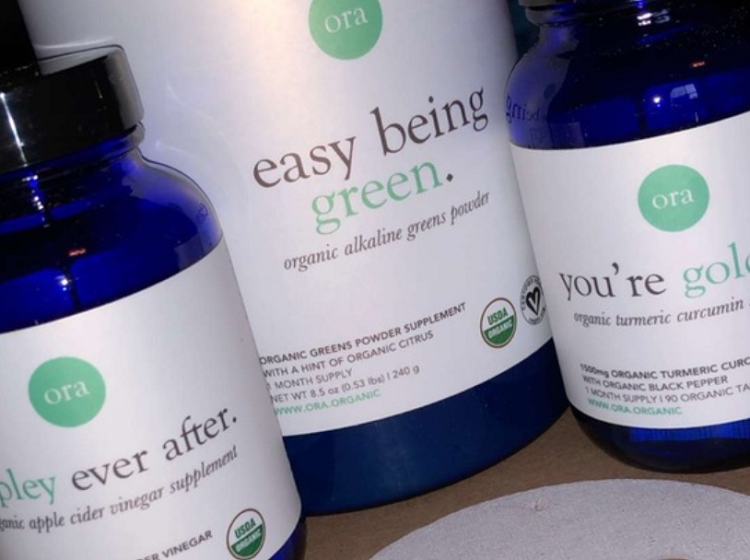 Some people may be worried about Ora Organics Easy Being Green powder being gluten-free. It has been tested by a third party and has been approved to be gluten-free. However, you may be wondering how this is because it contains wheatgrass juice powder and barley grass juice powder.
The seed kernels of wheatgrass and barley grass contain gluten. However, the seeds aren't used in the ingredients in this powder, only the grasses.
See also: Wonderslim vs Ideal Protein: Meal Replacements or Lifestyle Changes?
Pros and Cons of Ora Organics Easy Being Green Powder
Pros
Contains third-party testing certificate of analysis

Doesn't Contain any artificial ingredients, any artificial Colours, sweeteners, GMOs, dairy, gluten, so way, tree nuts, peanuts, fillers, or preservatives

Very affordable

Has a very pleasant taste

Contains antioxidants, adaptogens, and prebiotics
Cons
The Blends in this Easy Being Green powder are proprietary blends

Leaves a cooling sensation in your mouth
Alternatives to Consider
If you don't feel like the Ora Organics Easy Being Green powder is the right option for you, don't worry. There are several other options available in the market for you to consider. So, I've gone ahead and selected a list of other green powders that I would highly recommend you consider looking into.
Organifi Green Juice
This is a brand that uses completely organic ingredients. I think that shopping around for an organic green supplement is very important because it does help to ensure that you're investing as few chemicals and pesticides as possible.
Like Ora Organics, this green powder doesn't contain any dairy, gluten, GMOs, or soy. There aren't multiple flavor options for you to choose from, which isn't any different from what Ora Organics offers.
Live Conscious Beyond Greens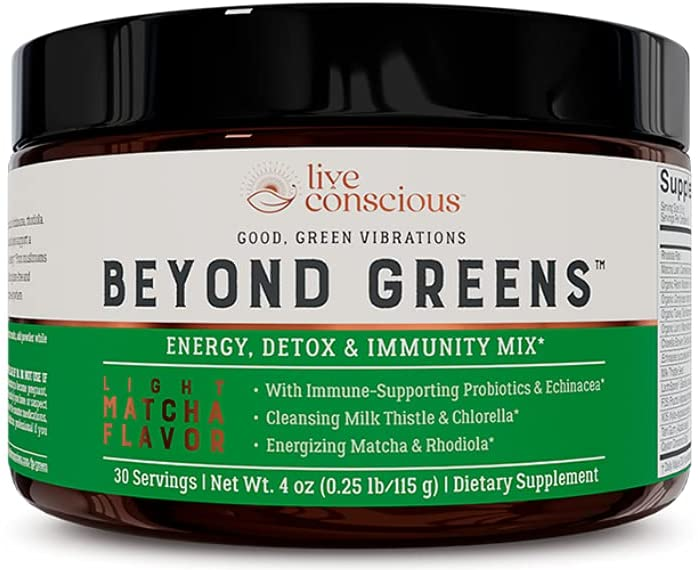 If you're looking for a green powder that tastes like matcha, look no further than this brand. A lot of people love this green powder because it's got a great light matcha flavor but contains a lot of amazing superfoods.
You can also find probiotics inside this formula comment, which helps support your overall health and even your immune system. Also, the serving size of this powder doesn't contain a lot of calories, which is important if you're looking to cut back when your overall daily consumption.
Transparent Labs Prebiotic Greens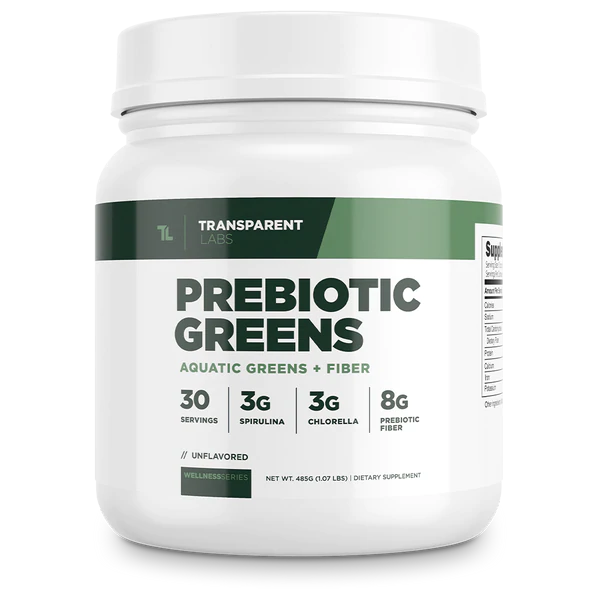 This is another great powder to consider if you're specifically looking to support your gut health. Up there is a lot of algae added into the formula for this greens powder, which is great if you are considering options to help you detoxify your body.
The biggest complaint that I personally have About this green powder is that it doesn't come with any flavor. But, on the other hand, this could be a good thing, especially if you're only looking to add this green powder and two dishes that you're making.
FAQs
Question: Is Ora Organics Really Organic?
Answer: Yes, Ora Organics really is organic. All of their powders and their protein powders are certified by the USDA to be organic. None of their products contain any artificial colors, flavors, added sugar, preservatives, added sweeteners, or filler ingredients.
Question: Does Ora Organics Have a Money-back Guarantee?
Answer: Yes, they do! On all of the products Ora Organics offers, they provide a 60-day return policy. My only complaint is that it's super hard to find this return policy and a money-back guarantee on their site.

I almost feel like they have it hidden. If you're still completely unsure and don't trust that they do offer this, I would recommend that you go to the FAQ section of their website. They highlight that they offer a money-back guarantee and add a 60-day return policy.
Question: Is Ora Organics Worth the Price?
Answer: The way the pricing works out, if you just buy a tub of the Ora Organics Easy Being Green powder without the subscription option, you're basically paying $0.93 a serving. I think this is super cheap, especially because some people are willing to pay more than a dollar for one protein drink.

All of the ingredients in this are organic and vegan, and Ora Organics has proven that they use super high-quality all-natural ingredients. So, I think that this price is absolutely amazing, especially considering the overall quality of the ingredients.
Is Ora Organics Easy Being Green Worth the Hype?
I think it depends on who you ask. I'm not the healthiest I've ever been (thanks to being a new mom), so finding a quick way to get a healthy dosage of vitamins and minerals inside of my body was super easy, thanks to the Easy Being Green powder.
World organic says that this alkaline green powder helps to naturally detoxify my body as well and also supports stress relief.
 Personally, I really liked that this only had one gram of sugar in it because it's a great option for people who have problems with their blood sugar or are looking to stay low carb.
There are a lot of other products out there on the market that provides easy ways to consume veggies, but a lot of them are filled with sugar. I respect Ora Organics for not filling this green powder supplement to help with sugar and other filler ingredients.
I love the simplicity of the ingredients; I love that I can pronounce all of the ingredients in this powder. I love the simplicity of the packaging, the ordering experience, and the unboxing experience. Plus, I just felt better taking this alkaline green power. I enjoyed the taste a lot more than I was expecting to.
I'm going to be ordering this again. Plus, I would happily give this to my son, too, once he gets a little older!  
Recommended Reads: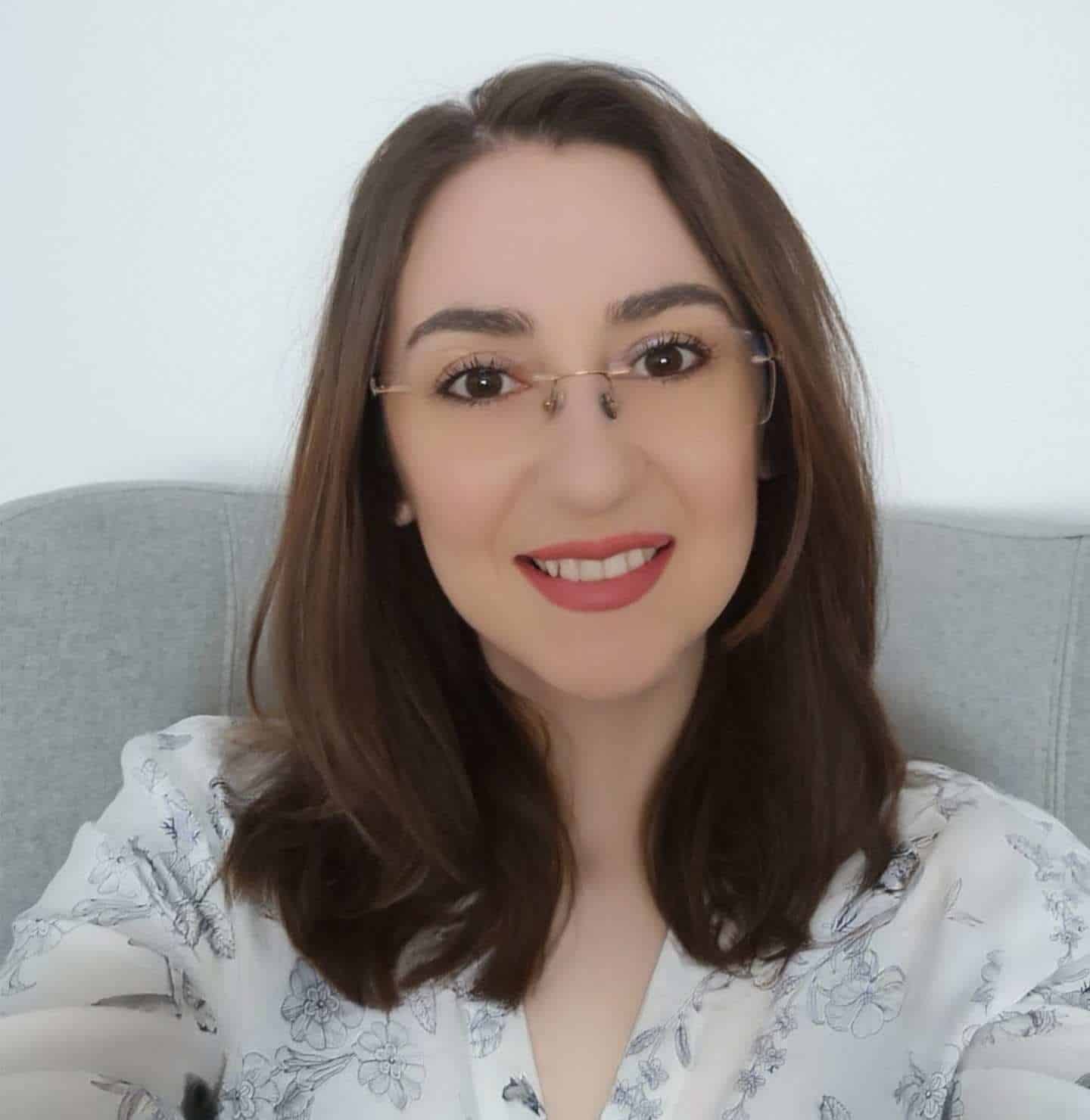 Alexandra Gavrilescu had a difficult time with her health, specifically her weight. She didn't know how to ask her parents for help in this department and that resulted in her becoming a little overweight. Children were mean to her in school and she wanted to find a way to become both physically and emotionally healthy. After finding things that worked for her like pilates, long walks, and salsa dancing paired with healthy eating—most of the time. She wanted to share what she's learned with others. This is why she's here on Alt Protein giving advice to readers in need of help.