Have you tried other weight loss programs that never worked for you?
If you're like me, you're probably here because you've decided you've had enough with your weight problem. I've always struggled with my weight. The only time I could 'lose' the weight was when I developed an eating disorder in my teens. It was a rough time, but recovering from my restrictive eating disorder made me realize how many of these "weight loss companies" are just a scam.
Now that I'm older, I have a few health conditions that make it challenging to manage my weight. I'm so busy working a full-time job, taking care of my ten-month-old son, and being a homemaker I don't get much time to myself. Plus, I know I don't make the healthiest eating decisions either. Any chance I get to eat, I usually pick up a sugary packaged good and scarf it down in two seconds.
I don't want to live like this anymore. I want to change. I want to feel better about my body and in my body. 
That's why I decided to take a gamble on Bariwise. I'll admit, I didn't expect much from Bariwise, but I've spilled all of the tea on my favorite meals in this Bariwise review!
What I'd tell anyone about Bariwise
I think it's a great way to lose weight if you're too busy to cook for yourself. I was surprised at how yummy everything was, and I didn't feel deprived of the 'normal' food I like to keep in my life! Their meals are delicious, but I'm in love with their drinks. Their high protein sugar free hot chocolate is amazing!
What Is Bariwise?
Bariwise isn't your typical meal replacement or weight loss program, like Wonderslim or Nutrisystem. Instead, Bariwise offers packaged goods at Walmart, Diet Direct, or Amazon. The food they offer is low in calories, fat, and carbohydrates. The main source of nutrition that comes from their foods is protein. 
What I love about this company is they don't focus on providing your typical healthy foods. You won't find them selling packages of vegetable soup or salad. I think it was brilliant that they did this because I know I'm not going to want to eat something like that. Whenever I get the chance to eat, I want it to be comforting. So I love how they made a bunch of meal options that are all comfort food.
I think offering comfort foods with a healthy twist will make their meals a lot easier to stick to. I didn't feel deprived or like I was eating something that was bariatric-friendly while I ate their meals. I tried their protein chicken fettuccine alfredo pasta, protein hot cocoa, protein diet cereal, protein pancake and waffle mix, protein cappuccino, protein fruit drink, and protein snack bars.
I was impressed with everything, and I wouldn't say that there was anything that I hated or was disappointed in. I found everything to be surprisingly delicious!
Pricing
Since Bariwise doesn't offer a meal delivery service plan or a subscription option, there isn't a consistent price you can expect to pay every month. You can expect to pay around $14 to $15 for a box of food. Inside each box, you'll find around seven meals in individual packaging.
One package is a serving size; you're getting around seven meals or snacks inside each box. That means you're paying about $2.14 for each serving of food. Considering what I pay Doordash for a late-night snack at my house on the weekends, I'm saving money!
What Does Bariwise Offer? 
If you're not sure what all of the meal options from Bariwise are, I've created a list of some of the meals, snacks, and drinks I tried for you! As a side note, please know that all of their meals have protein in them. If you were to look these up by yourself, put "protein" before the meal name. I've kept the first meal option correctly listed as an example for you: 
Protein hot chocolate with marshmallows

Chicken noodle soup

Blueberry pancake and waffle mix

Maple and brown sugar oatmeal

Cinnamon cereal

Mint hot chocolate

Chocolate chip pancake and waffle mix

Pumpkin spice latte

Golden Delicious pancake and waffle mix

Apple and cinnamon oatmeal

Cappuccino

Rocky Road snack bar

Peach mango fruit drink
There are still a lot of other options available, so don't feel like this list is exhaustive.
My Top Picks
Since there are so many options available at Bariwise, I know narrowing down the different options can be overwhelming. I've included this list of some of my top picks I would highly recommend you check out too!
130 calories

2 grams of fat

13 grams of carbs

15 grams of protein
Bariwise recommends you cook this in the microwave, but I liked heating my meal up on the stovetop. I wouldn't say I like microwaved meals and I feel like cooking on the stove tops makes a massive difference in the taste. I almost felt like the sauce was sticky when I cooked this in the microwave. But, once I cooked it on the stovetop, I felt like it made a big difference in the flavor! 
I wasn't surprised about the portion size, but I was a bit surprised by how mushy this was. It didn't have the bounce that "normal" pasta tends to have. In terms of taste, I didn't feel like there was any difference between a bowl of chicken fettuccine alfredo and this! The chicken was cut smaller than I normally like mine, but other than that, I loved this!
The chicken fettuccine alfredo was my favorite meal!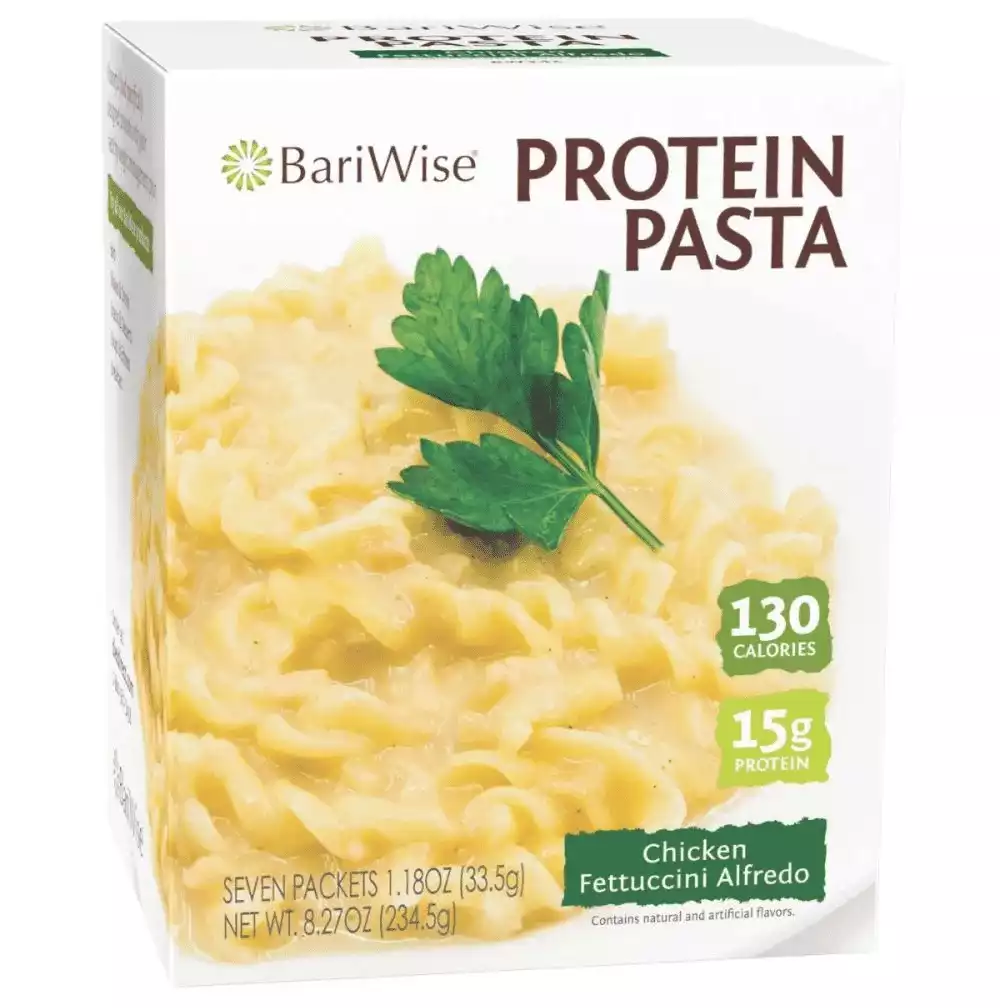 BariWise Chicken Fettuccini Alfredo Lite Entree | DietDirect
When you're trying to lose or maintain weight, it helps to have a portioned controlled meal option that is guaranteed to fill you up. Chicken Fettuccini Alfredo is a hearty Italian pasta covered in a creamy Alfredo sauce. This protein meal will keep you energized for hours.
Check Price
We earn a commission if you click this link and make a purchase at no additional cost to you.
80 calories

1 gram of fat

2 grams of carbs

15 grams of protein
If I could have this drink every day, I would. I'm obsessed with it! I'm normally a huge fan of hot chocolate, and I love how rich this hot chocolate is. It's dark, smooth, rich, and decadent. For 80 calories, where could you go wrong? Plus, it's sugar free too!
I love how if I had to do a blind taste test for this, I would never be able to tell that this was a bariatric-friendly drink! I wouldn't recommend this drink every day because I do feel like it "triggered" my sweet cravings again, which were hard to fight off. I heat some water in my Keurig, and I'll throw a pack of this in a mug. Boom, all set to enjoy the deliciousness!  
This is my winner for the best drink from Bariwise!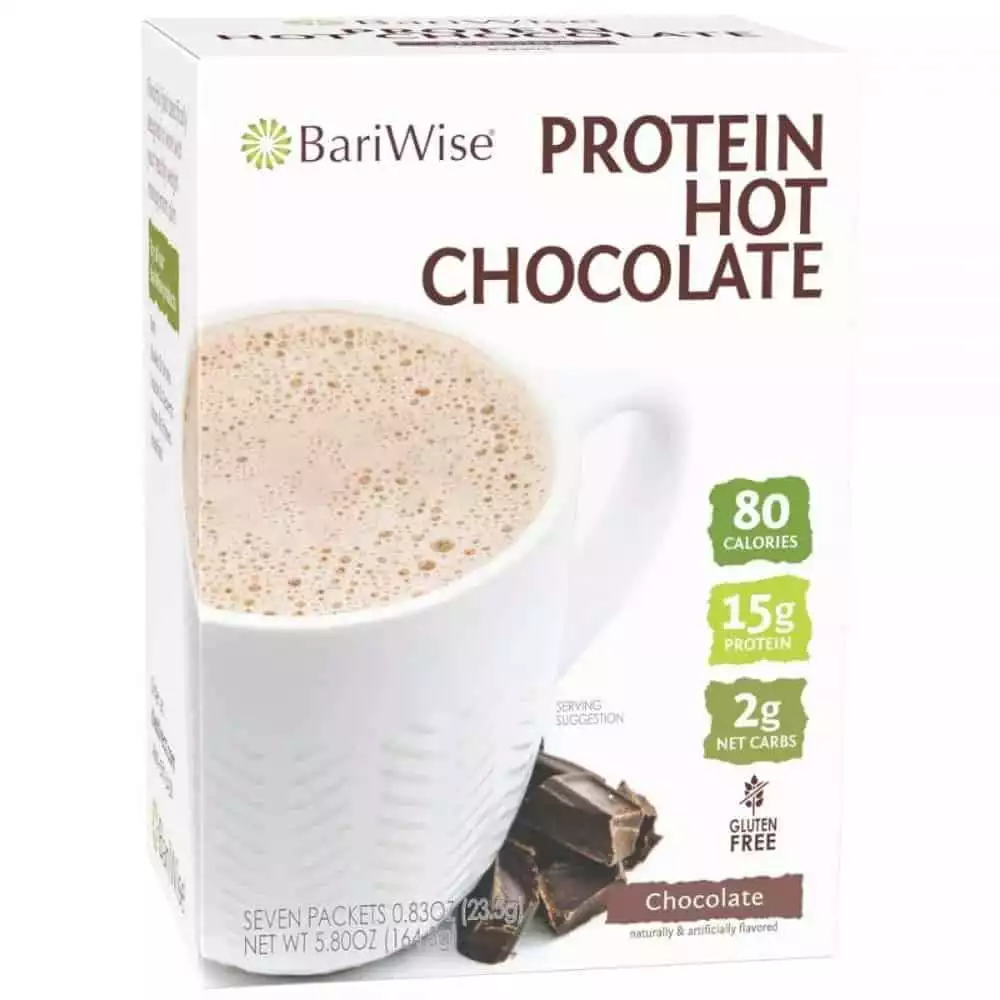 BariWise Protein Hot Chocolate | DietDirect
Premium cocoa gives this protein hot chocolate mix the rich flavor you're looking for when a chocolate craving strikes. Best of all, each delicious cup contains only 80 calories, 1g fat, and 15g of satisfying protein.
Check Price
We earn a commission if you click this link and make a purchase at no additional cost to you.
170 calories

8 grams of fat

12 grams of carbs

15 grams of protein 
Are you a big fan of butterfingers? I am! I hoped this was going to be like a Butterfinger, but it was even better. I love the nougat in this, which was a surprising treat in a protein bar! This one was kind of high in carbohydrates, but I wasn't eating this like a snack bar. If I didn't have a cup of hot chocolate, I grabbed one of these at the end of the day! I am very much into texture, and I felt like the nougat was a little tough, but I still enjoyed the overall flavor of the bar.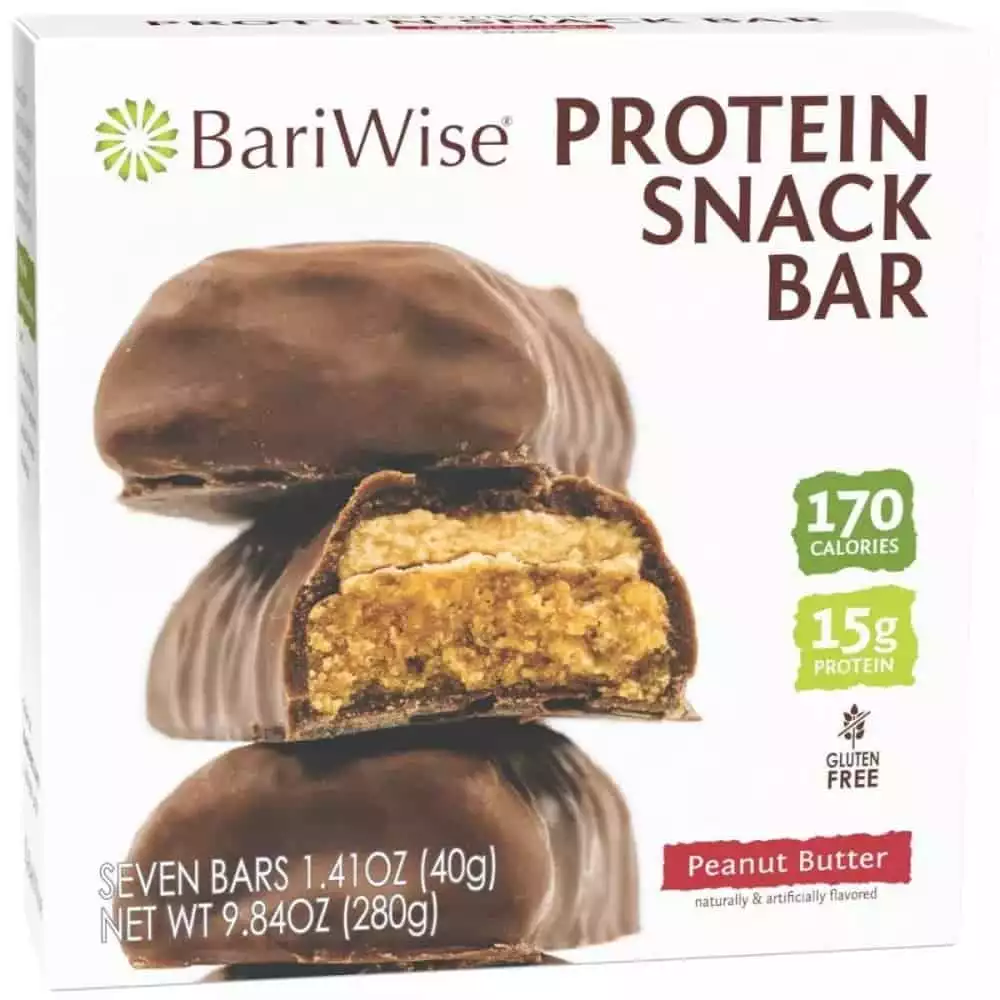 BariWise Protein Peanut Butter Snack Bar | DietDirect
A creamy peanut butter center is wrapped in a chocolate coating to make these protein diet bars one of the tastiest ways to add 15 grams of high-quality protein to your healthy diet plan.
Check Price
We earn a commission if you click this link and make a purchase at no additional cost to you.
Alternatives to Consider
If you don't feel like this is the best option for you, I completely understand. There are a lot of other meal plan options out there that offer delivered meals, so you don't have to worry about cooking or leaving your house. Here are a few other alternatives I would recommend you check out:
You've probably heard of Nutrisystem at least once in your life. If you don't feel like you can trust yourself with having all of those meals available, you should look into Nutrisystem! They deliver all of the meals to your home, pre-portion out the meals, and help you to lose weight too! There are so many people who swear by Nutrisystem. I think it's a great option if you're looking to lose weight quickly to achieve gastric bypass surgery. The meals are yummy, and they're honestly affordable too! 
Optavia is a lot like Bariwise, where you have a selection of premade meals available to you. Optavia encourages you to eat between three to seven meals a day, depending on how quickly you're looking to lose weight. All of the meals are delivered to your home, plus you get a coach that'll help to support you during your weight loss journey too.
If you're someone who needs accountability and isn't a huge fan of cooking (or your want portion sizes controlled for you), I think Optavia is a great choice for you to look into!
If you're not a big fan of the idea of prepackaged meals, look into Noom. Noom is a great way to help you lose weight, but it doesn't approach it like Bariwise does. Instead of focusing on controlling your portion sizes and meal choices, you'll get taught about the psychology behind your food choices.
I think this is great for anyone looking into Bariwise, because if you have a problem with binge eating disorder (or overeating in general), this will help you to change those eating habits. Basically, Noom works to solve the problem at the core instead of just giving you healthier meals for you to fuel your body with! 
If you're looking for high-protein food that's bariatric friendly, look into Wonderslim! I love Wonderslim because they offer unique food options compared to Bariwise. I didn't find Bariwise had a lot of spicy food options, but I love that Wonderslim did. If you're like me and love a little heat in your life, I would recommend you look into Wonderslim's meal options!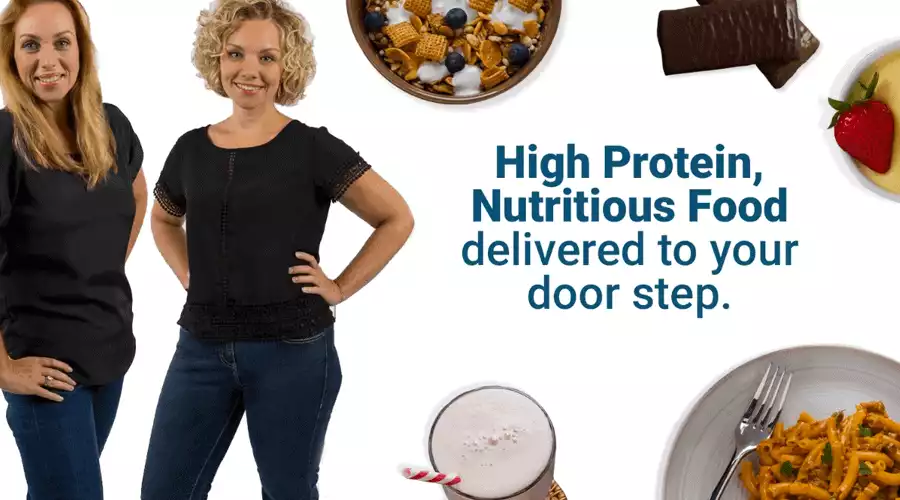 FAQs
Question: Is Bariwise Hot Chocolate keto-friendly?
Answer: It depends on what style of keto you're following. If you're following the "clean" keto method, this hot chocolate wouldn't be keto-friendly because it contains artificial sweeteners. However, if you're following the "dirty" keto method, yes, you could totally drink this while you're on the keto diet!
Question: Are the portion sizes small?
Answer: Since you're a bariatric patient, yes, you probably will find the portions smaller than what you're used to. But remember, this is important to help you lose weight. If you don't feel full after eating a meal, I would recommend you drink some water to help fill you up!
Question: Where does Bariwise manufacture its products?
Answer: All of their products are either manufactured in the USA or Canada. I love that! 
Should You Try Bariwise? 
I would highly recommend Bariwise, especially if you're struggling to lose weight. I love how they've made healthy spins on everyday meals, which makes following along with a weight loss plan so much easier. Also, I would recommend you check out Diet Direct for your ordering, because that's where you'll find all of the options provided by Bariwise!
I think they provide a great variety of tasty food for bariatric people who are struggling to lose weight (or just received their surgery). If you're worried you're going to feel like you're missing out on life because of the yummy "unhealthy" meals you'll miss before your weight loss, Bariwise has your back. Just be prepared for the portions to be smaller than what you're anticipating! 
Recommended Reads: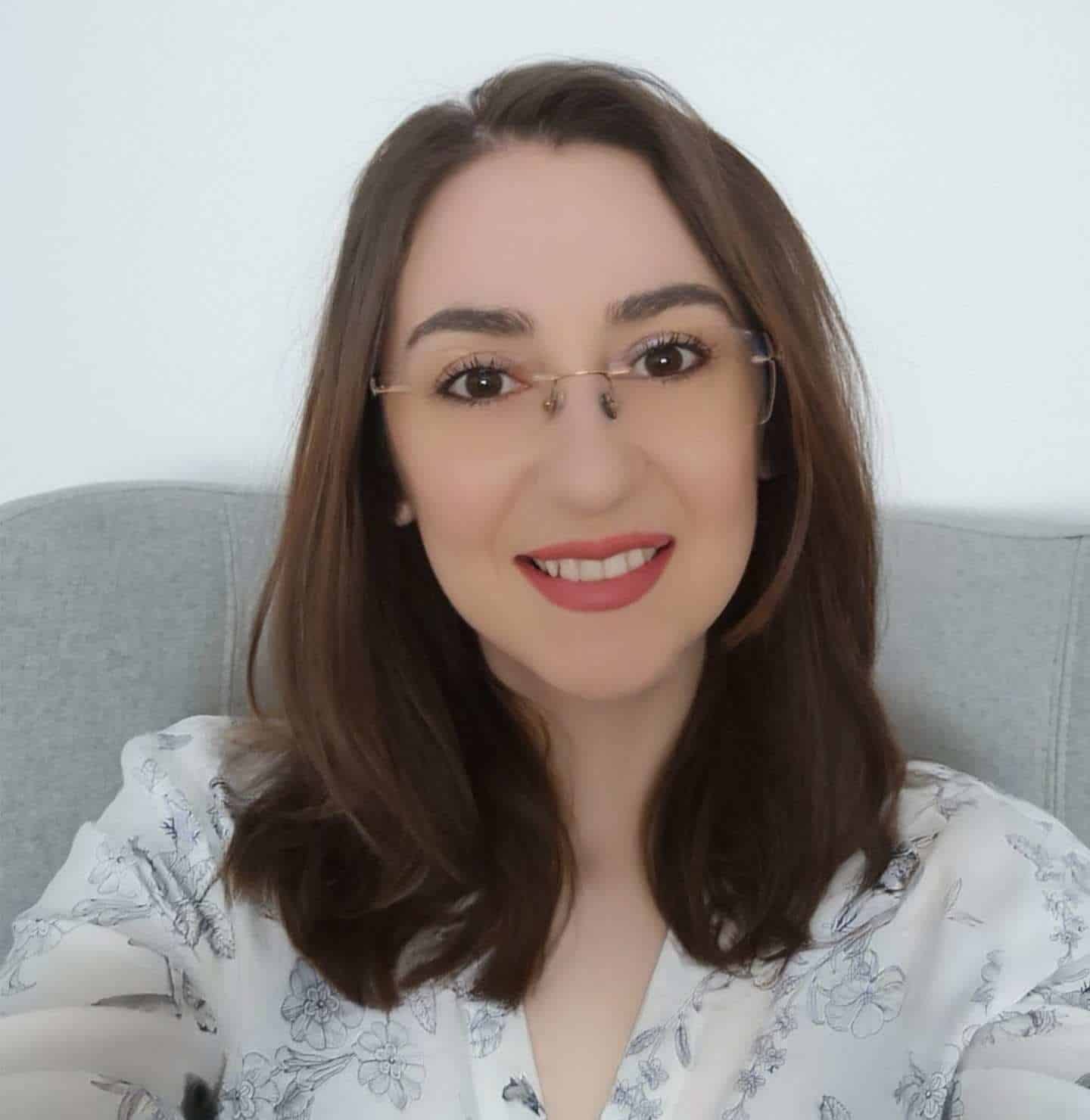 Alexandra Gavrilescu had a difficult time with her health, specifically her weight. She didn't know how to ask her parents for help in this department and that resulted in her becoming a little overweight. Children were mean to her in school and she wanted to find a way to become both physically and emotionally healthy. After finding things that worked for her like pilates, long walks, and salsa dancing paired with healthy eating—most of the time. She wanted to share what she's learned with others. This is why she's here on Alt Protein giving advice to readers in need of help.