Smoothies are a tasty and energy-providing snack to consume right before a workout. They are rich in nutritious elements. Not to mention, they are easy to digest and refreshing. You don't need some miraculous product to rock an intense workout. If you want to keep things simple and clean, you should know that smoothies are the way to go.
So, go fuel your fitness routine with some of the best protein-packed smoothie ideas. The following list that includes some of the best pre-workout smoothies will provide ideas on how to supercharge your training in a healthy manner.
The Best Pre Workout Smoothie Options for an Energy Boost
#1. Banana Cinnamon Smoothie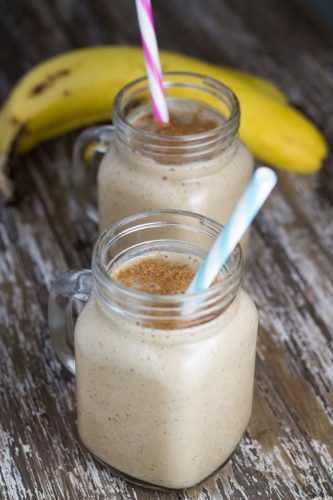 For all banana lovers out there, this is a simple and easy-to-prepare smoothie recipe. If you usually work out in the morning, you should make a habit out of preparing yourself a healthy and nutritious smoothie instead of eating a regular breakfast. Bananas are packed with potassium and they are known for their ability to change one's mood for the better.
Ingredients
For one serving, you will need the following ingredients:
One ripe banana – you can choose to freeze the banana the night before if you want a thicker smoothie;
One cup of almond milk;
One teaspoon of cinnamon;
One teaspoon of coconut sugar – if you don't like this option, there are also other alternatives such as maple syrup or raw honey;
Two tablespoons of almond meal;
A couple of ice cubes – optional.
A scoop of vanilla powder – optional.
How to Prepare It
Cut the banana into smaller pieces. Add all the above ingredients in a blender and mix them all together until the smoothie gains a nice and creamy texture. Serve immediately because, with time, all the beneficial properties of the smoothie will be lost.
Bonus tip! Make sure to add all the solid ingredients first and pour the liquid ones last.
Benefits
Bananas are rich in potassium and magnesium. Both these elements help you cope with stress, relax you and improve your sleep. On the other hand, cinnamon is also great for your health because it balances your blood sugar level.
Furthermore, bananas, as well as cinnamon, lower the risk of dealing with muscle spasms during intense workouts. This is due to the fact that they eliminate muscle tension.
#2. Kiwi and Kale Smoothie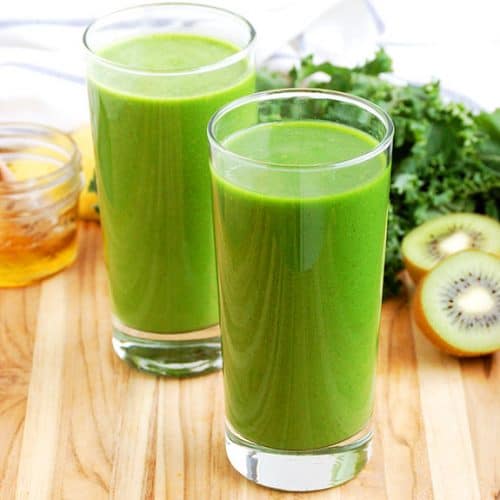 Do not hesitate to get energized with this protein-packed green power smoothie. Combining fruits and veggies in the same smoothie is a nice way to start your day. To top it all off, kale is rich in nutritious vitamins and minerals such as calcium, iron, and vitamins A, C, and K.
It is also a great option if you want to lose weight because one serving of this smoothie contains only around 170 calories.
Ingredients
One peeled kiwi;
Two cups of fresh kale leaves – you should remove their stems prior to using them;
One cup of coconut water;
½ medium-sized pear;
One small frozen banana – optional;
A few ice cubes for a more refreshing effect.
How to Prepare It
Use a powerful blender to mix all these ingredients together. Cut the fruits into small pieces and add them in the blender. Then, pour the coconut water on top of the solid ingredients and mix until the entire combination gets smoother. Add as much coconut water as you want to achieve your desired consistency. Serve this smoothie right after its preparation.
Benefits
Both kiwi and kale are amazing healthy ingredients that have powerful antioxidant properties. Also, vitamin C fights against free radicals which are harmful to the body. So, in other words, this smoothie can even lower the risk of cancer.
Kale also contains vitamin A which is great for improved eyesight. Not many people know that kiwi contains fibers and folates that benefit lung function. Both these ingredients are anti-cancer and anti-inflammatory superfoods.
#3. Raspberry Orange Smoothie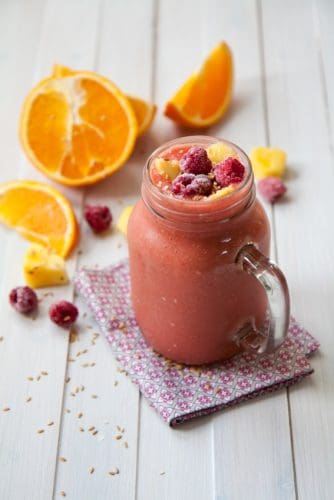 This is a great immune booster recipe that is rich in vitamin C. Not only is this a super delicious smoothie but it is also a breeze to prepare. It takes only five minutes to make it. This raspberry orange smoothie is the best alternative for hot summer mornings and you should consume one before your most intense workouts.
Ingredients
One small orange;
½ cup of fresh or frozen raspberries;
One small banana – optional;
½ cup of fresh or frozen pineapple;
One tablespoon of sesame seeds – optional;
Around 200 ml filtered water;
One teaspoon of raw honey for that extra sweet taste;
½ cup of Greek plain yogurt.
How to Prepare It
Peel the banana and the orange and cut them into larger chunks. Place them in the blender; add the pineapple and the raspberries on top along with the sesame seeds. Now, it is time to add the yogurt and pour the filtered water into the blender. Pulse the blender button until all ingredients are mixed together.
You can sprinkle hemp hearts on top of everything if you want. Enjoy it and make sure to consume it right after preparation.
Benefits
Raspberries are packed with fiber, antioxidants, vitamins, and other nutritious elements. All these provide a wide range of health benefits. Also, these fruits contain ellagic acid which is a phenolic compound that lowers the risk of cancer.
Oranges, on the other hand, prevent kidney diseases, reduce cholesterol, and boost your heart health. Moreover, they relieve constipation and fight against viral infections.
#4. Grapefruit and Pineapple Smoothie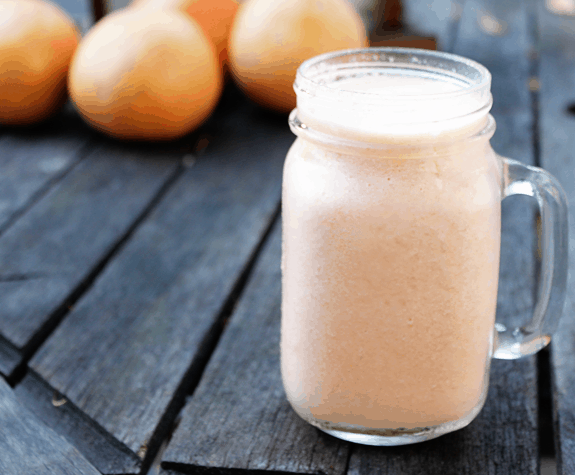 If you want to shed some extra pounds, you should consider consuming this smoothie right before a workout. Some smoothie enthusiasts state they prepare this recipe plenty of times during spring but you can try it all year long. This is a sweet and healthy refresher that will definitely kick start your day.
Ingredients
One large peeled grapefruit;
One cup of canned or fresh pineapple;
One peeled clementine;
One large frozen banana – optional – it provides a thicker texture;
Eight ounces of coconut water – another option is using filtered water;
Two dates;
A couple of ice cubes.
How to Prepare It
Place all solid ingredients in a blender. If you don't have a powerful blender, you can prepare this smoothie in several batches so you don't remain with bits or chunks of fruits. Finally, you can pour the solid ingredient on top of the solid ones and blend them together until they gain a smooth consistency.
Benefits
Grapefruits are high in antioxidants and nutrients. These fruits promote optimal health, lower cholesterol, and might even prevent kidney stones. Also, grapefruit is used in plenty of diets due to the fact that it promotes a healthy weight loss.
There are many great and healthy fruits that one should consume on a regular basis and pineapple makes no exception. It has anti-inflammatory properties and provides digestive benefits. Furthermore, it boosts your entire immune system and protects your body against macular degeneration.
#5. Strawberries and Cream Smoothie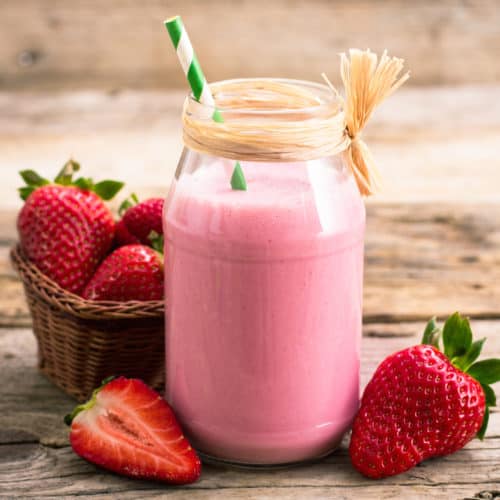 Although this is not a revolutionary smoothie recipe, it is, without doubt, a great tasty one that you should definitely try, especially during late spring and summer months. Don't let this smoothie sweet taste fool you. It might seem to be a dessert but it is healthy and nutritious enough to replace your breakfast once in a while.
Ingredients
One cup of fresh strawberries;
½ cup of regular milk or low fat vanilla Greek yogurt – if you want to try the vegan version, you should replace milk and yogurt with coconut milk and almond or soy yogurt;
½ cup of frozen raspberries;
One tablespoon of raw honey or another natural sweetener;
A couple of ice cubes if you want to enjoy a more refreshing taste.
How to Prepare It
Slice the strawberries and place them in a blender along with all the other solid ingredients. Then, pour all the liquid ingredients and add the ice cubes in the end. Combine them all together until the mixture becomes smooth and creamy. Pour the smoothie into a tall glass and drink it immediately.
Benefits
Strawberries are an amazing source of vitamins such as C and K. They also contain excellent doses of folic acid, potassium, fiber, and magnesium. All these elements regulate your blood sugar level and slow digestion. Also, these tasty refreshing fruits are packed full of biotin which makes your nails and hair stronger.
Did you know that these small red heart-shaped fruits help burn stored fat in your body? In fact, they provide a wide range of benefits such as boosting short-term memory, easing inflammation, promoting bone health, and having strong anti-aging properties.
#6. Blueberry Avocado Smoothie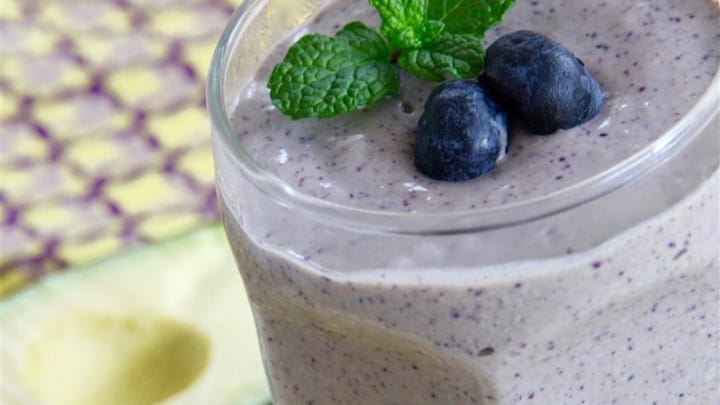 Drinking this smoothie will improve your health and mood. If you can find wild blueberries then don't think twice before using them to prepare this recipe. These fruits are amazing for the brain. Avocados will only enhance this drink's healthy properties due to their good fat content.
Ingredients
One cup of fresh or frozen blueberries;
¼ peeled and diced avocado;
About six ounces of plain low-fat Greek yogurt;
½ cup of water – filtered water is the ideal option;
½ cup of almond milk;
About 30 grams of baby spinach leaves – optional;
A couple of teaspoons of maple syrup or another sweetener of your choice.
How to Prepare It
Place all the solid ingredients in a regular blender and pulse them a couple of times. Then, pour all the liquid ingredients and blend the entire mixture until it gets smooth. Transfer the smoothie to a glass and don't hesitate to top it with your favorite toppings such as fresh fruits and nuts.
Benefits
Due to their antioxidant properties, blueberries combat aging, lower the risk of cancer, support digestion, and boost your brain function. Also, they aid weight loss while promoting a healthy heart.
As we mentioned previously, avocados contain good fats which improve cardio health and lower cholesterol. They are filled with fat-soluble vitamins which lead to a better-looking skin, brighter eyes, and shinier hair. Not many people are aware of the fact that avocados are amazingly nutritious, containing more potassium than bananas. This prevents kidney and heart diseases.
#7. Banana Pear Smoothie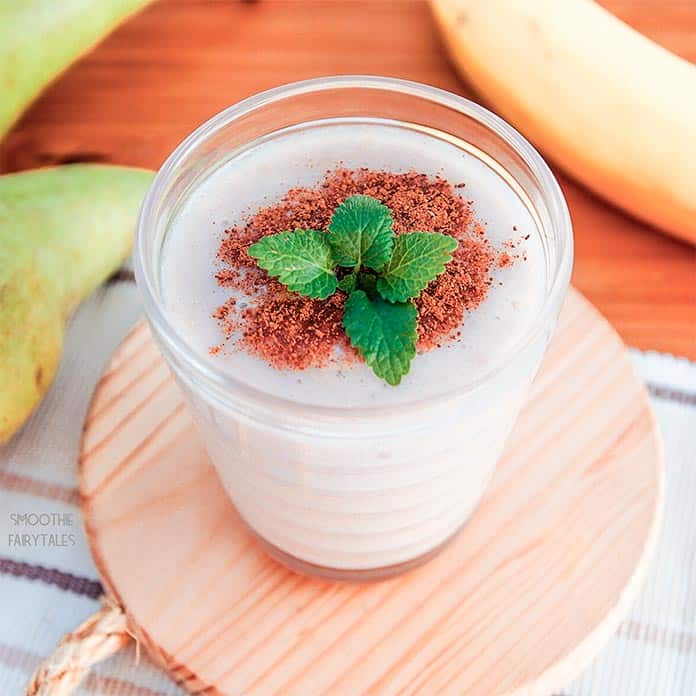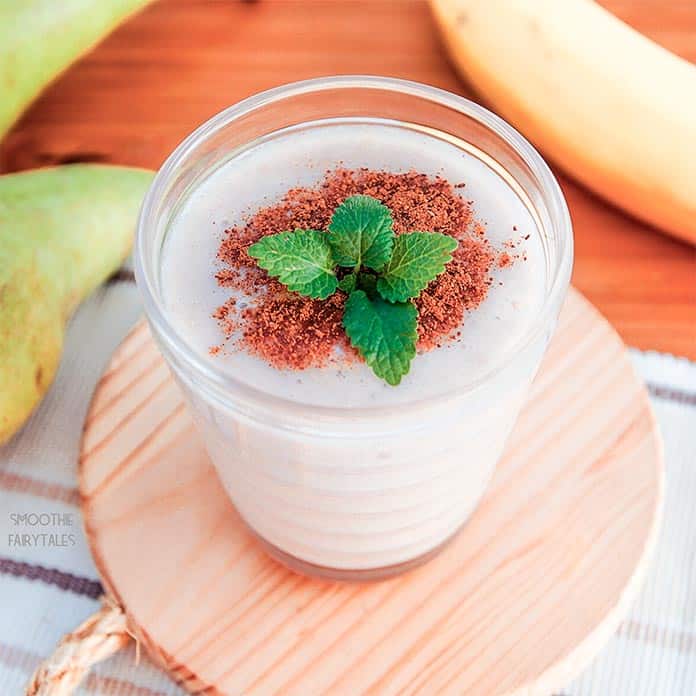 This smoothie is high in protein which makes it the ideal afternoon snack or pre-workout breakfast. It takes only a couple of minutes to prepare and it will definitely power up your entire morning. A serving of banana pear smoothie contains plenty of fibers which will boost your immune system.
Ingredients
½ fresh or frozen banana;
½ medium-sized ripe pear;
One half of teaspoon cinnamon – optional – it gives this smoothie a great taste;
½ scoop of vanilla or regular protein powder;
½ cup of almond or soy milk;
2-3 ice cubes.
How to Prepare It
First, cut the pear and the banana in small pieces and add them in the blender. Then, place all the other ingredients in the blender as well and mix them together until you get a creamy texture. Add the ice cubes for a cooling effect if you choose to drink this smoothie during hot summer months.
Benefits
There are plenty of evidence-based benefits when it comes to consuming bananas. Still, if you want to lose weight, you should consume them moderately because they contain less water compared to most other fruits. Hence, they have more sugar and more calories. Bananas moderate your blood sugar levels, improve digestion, support your heart health, and promote kidney health.
On the other hand, pears aid weight loss, being among the lowest-calorie fruits out there. They have powerful antioxidant properties. Pears fight against cancerous cells and speed up the healing process. Eating a pear every day or on a regular basis will help you get rid of body inflammation and achieve better circulation.
Summing It Up
The above smoothie recipes contain all the fibers, protein, and nutrients your body needs and deserves in order to function properly. All these delicious pre-workout smoothie ideas are easy to prepare. They are tasty and healthful, boosting your immune system and improving your overall health.
Try them out and let us know which one is your favorite smoothie!
Recommended Reads: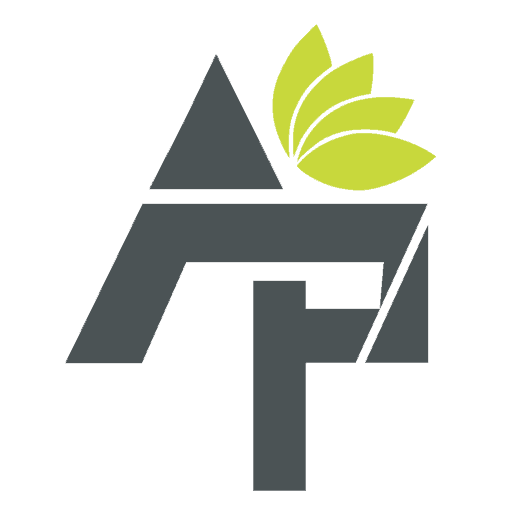 Alt Protein Team is a team of professionals and enthusiasts committed to bringing you the most up-to-date information on alternative protein, health and wellness, workouts, and all things health-related. We've reviewed a lot of products and services so you don't have to guess when you spend your hard-earned money on them. Whether you want to shed some pounds, build lean muscle or bulk, we can help you figure out what you need to do and what you need to have to achieve your goals.