Dealing with stomach issues can interfere with your daily activities. When remedies like drinking plenty of water, engaging in regular workouts, or taking drugs (which, by the way, I don't recommend you to take right from the start) don't seem to work anymore, you can always turn to the best probiotic for constipation that you can afford.
So, which are the most effective ones? I've put together a list of some of the most popular products that are known for treating and preventing constipation.
The Best Probiotic Alternatives on the Market
1. Nutrition Essentials Probiotic Supplement
This brand is a popular one in the health industry because they seem to manufacture only high-quality and effective products. The company's probiotic supplement has received tons of positive reviews from consumers. Some medical practitioners even recommend this probiotic.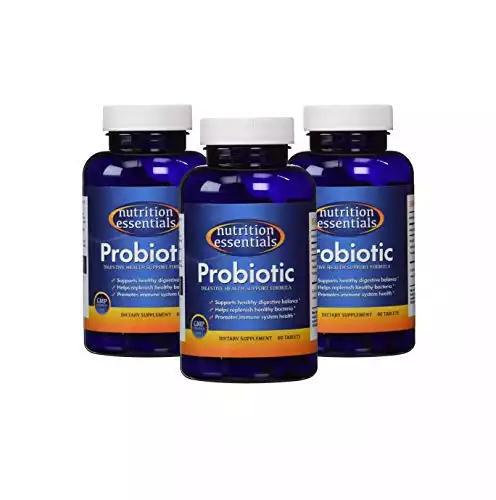 Nutrition Essentials' probiotic is produced in the United States, in a facility that's GMP-certified. One thing I really love about it is that one serving comes with the highest possible number of CFU.
Pros
There's a money-back guarantee that you can take advantage of, in case you really don't like how this supplement works
Not only will this probiotic alleviate your constipation symptoms but it will also promote healthy gut flora due to its high content of CFU
It is a completely safe and clean product, being free from binders, preservatives, and fillers
Nutrition Essentials probiotic capsules are very effective
Promotes strong, healthy bones by enabling calcium absorption
Supports one's general health by boosting immunity.
Cons
I couldn't find out whether the company is eligible to ship this product internationally or not
The capsules are a tad fragile, so they can easily break during delivery
A few clients have complained about the fact that the pills didn't deliver their expected results. Well, I guess every organism reacts in a different manner to this kind of supplement
Price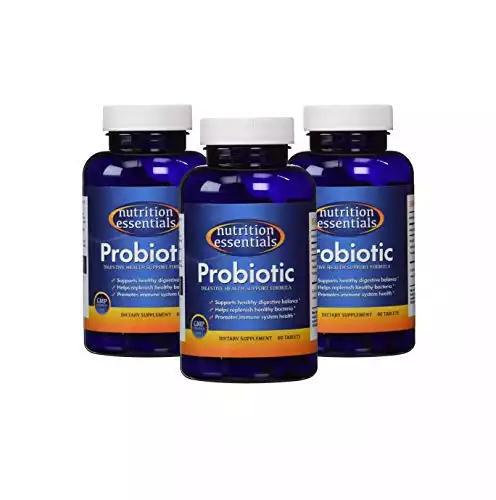 You can purchase one bottle of Nutrition Essentials Probiotic Supplement for the price of $18.99 (for subscribers).
One-time buyers will pay almost $20 for the same amount of 60 servings.
2. Enzymatic Therapy Probiotic Pearls
Probiotic Pearls by Enzymatic Therapy is a unique product. These capsules are small and soft, which makes them very easy to swallow.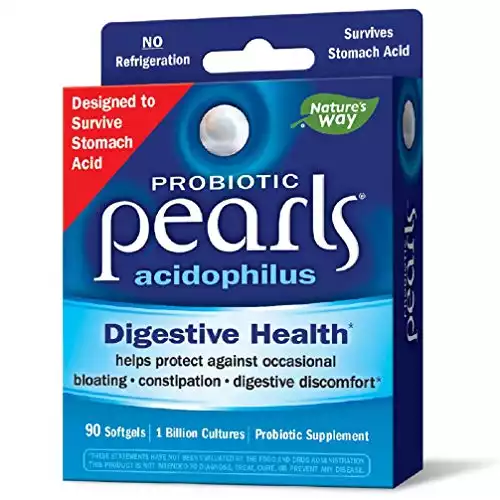 They are formulated with two probiotic strains that support your digestive system's balance. Simply put, these pills will help you avoid issues such as diarrhea, constipation, gas, and bloating.
Pros
This supplement is a gluten-free product
It doesn't contain sugar, wheat, yeast, salt, corn, or any other potentially-allergenic compound
The capsules are easy to ingest
The product protects your body from constipation, diarrhea, and other colon and digestive issues
It is a highly convenient probiotic, and it doesn't require refrigeration
You will find not one but two strains of probiotics which increase the supplement's potency
Cons
Some of the consumers have reported mild issues and side effects like acid reflux
The company doesn't ship at an international level
I've heard some people complain about how useless and ineffective the product was for them, but this probiotic won't work the same for everyone
Price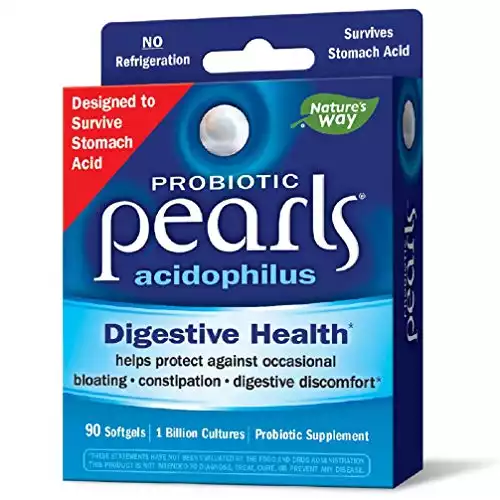 Two packs of Probiotic Pearls cost $48.69. One box contains 90 softgels.
3. Schwartz Advanced Strength Probiotic
The Schwartz probiotic is one of the best probiotics for constipation. In fact, its potency level is 20 times higher than many other similar supplements. The company is a reputable one, and all their products are created and formulated by medical experts.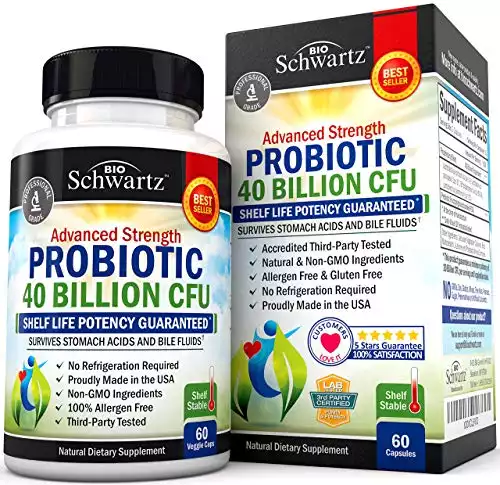 They only use high-quality and pure ingredients. Also, the manufacturer has been an important player in the health industry for many years. This probiotic contains no less than 40 billion CFU.
Pros
It is a remarkably potent and effective probiotic supplement
You can easily enjoy and maintain this product fresh without refrigerating it
It doesn't contain gluten
Schwartz probiotic has been tested by third-party institutions
It is a shelf-stable product, and it remains effective its entire lifecycle, until the expiration date
A highly controlled facility in the United States manufactures this probiotic
Cons
Ironically, this supplement might not work very good for people who have a sensitive stomach
The company is not entitled to ship their products internationally
A certain intriguing rumor has surfaced all over the Internet. Apparently, the manufacturing company is willing to give you a free bottle of their probiotic as long as you write a positive review about their supplements. This approach might raise some questions regarding their reliability
Price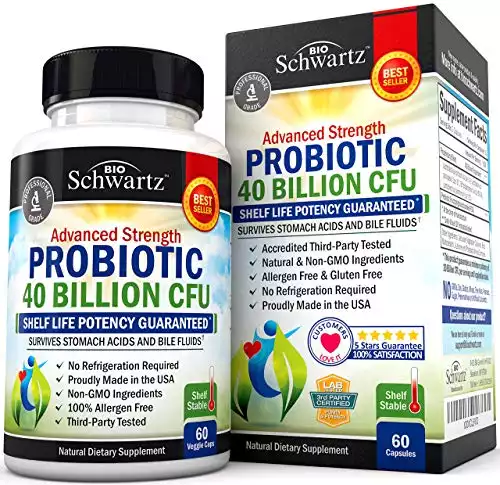 The Advanced Strength Probiotic made by Schwartz is sold for $17.85 (a container of 60 veggie capsules).
4. Colon Health Daily Probiotic by Philips' Daily Care
Philips' Daily Probiotic]is one of the most popular supplements on my list. Unlike many other probiotics, this one can be found all over the globe and on both online and offline shops, including local supermarkets and even drugstores. Its formula supports a healthy colon. To prevent constipation, you should take this probiotic on a daily basis.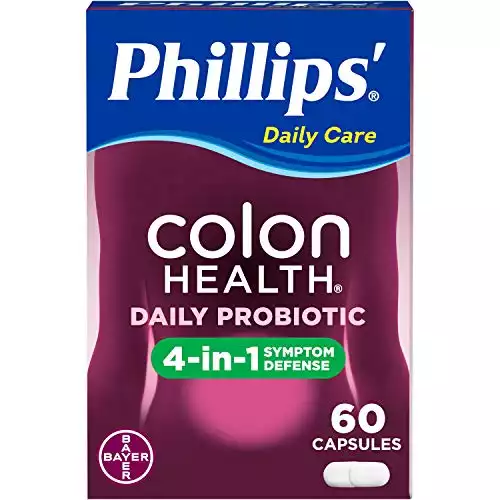 Even though Philips' probiotic might not be the ideal solution for people with IBS issues, it is a gentle product. What I mean by that is you can easily take it with a laxative or another dietary supplement to replenish your digestive tract's good bacteria.
Pros
It is a gentle supplement so you can take it every day without worrying about side effects
This probiotic is supposed to prevent several colon-related issues like constipation, diarrhea, bloating, or gas
Supports your gut's natural flora which leads to a healthy colon
Each serving comes with 1.5 billion CFU
It is free from soy, dairy, and gluten
It is made with non-GMO ingredients
Cons
Unfortunately, this product is another one that cannot be distributed internationally
People who suffer from irritable bowel syndrome might not achieve significant results
A few consumers have said that buying this probiotic was a waste of money because it didn't work for them
Price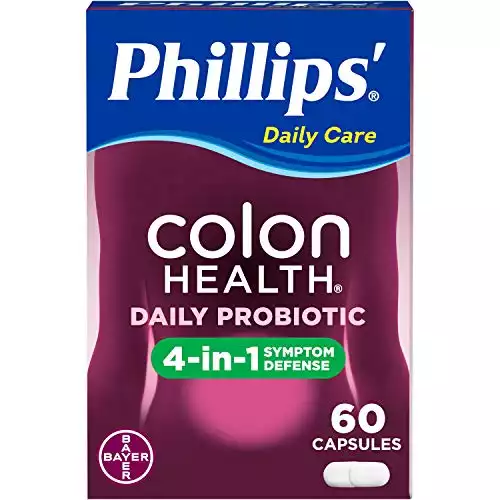 Phillips Colon Health - Probiotics Capsules | Amazon
Phillips' Colon Health Probiotic Capsules provide 4 in 1 symptom defense against four occasional digestive issues: gas, bloating, constipation, and diarrhea.
Buy at Amazon.com
We earn a commission if you click this link and make a purchase at no additional cost to you.
04/30/2023 12:35 pm GMT
On Amazon, Colon Health Daily is marketed for the price of $21.47 (a container with 60 capsules).
5. RelaxSlim Constipend Supplement
Despite the controversial opinions of some of the clients, the Constipend probiotic has a unique formula, and many specialists consider it to be a very effective product that can cleanse one's colon.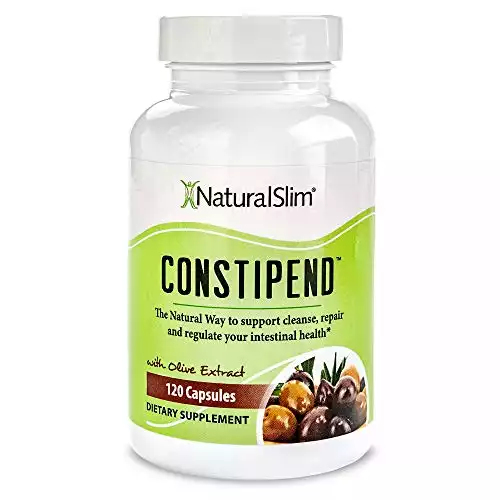 The company claims their probiotic is potent, lowers constipation symptoms or even prevents them, and keeps one's intestines healthy.
Pros
It is one of the best remedies that can work as a colon cleanse
The product is manufactured in the United States
It is formulated with magnesium which is a helpful and effective mineral in cases of constipation
The company applies a full-refund policy that is available 30 days since the purchase
According to the manufacturer, Constipend will boost your metabolism and unlock nutrient absorption
It is supposed to help your organism repair the damages occurred at the intestinal tissue level
Cons
I wasn't able to find any information related to the company's eligibility when it comes to shipping their products to other countries, outside the US
People with sensitive stomachs should be cautious when taking this dietary supplement
There are several negative reviews from Constipend consumers. Some state that this product didn't deliver any results while others even complain about having experienced side effects such as cramping and nausea
Price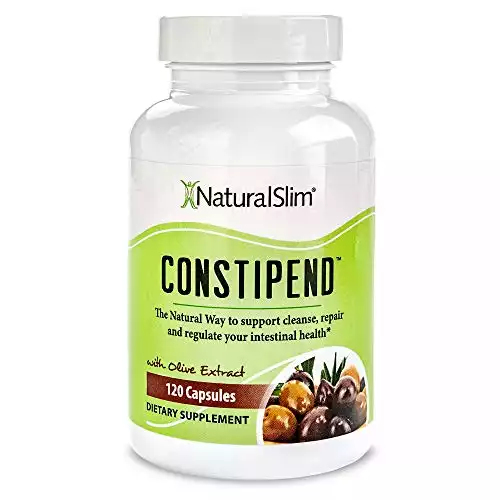 Those who are interested in purchasing the Constipend probiotic from RelaxSlim can find it online. One tub of 120 capsules costs $19.
6. BioGanix BIOPRO-50 Probiotic
BIOPRO-50 provides a dazzling amount of live cultures. Each capsule contains 50 billion CFU. In terms of live strains, BioGanix is a highly potent probiotic. It has eleven different probiotic strains.
All the good bacteria contained by BioGanix will relieve constipation symptoms. Furthermore, the brand has gained a huge number of fans and loyal clients who state this product has helped them treat or alleviate some other gastrointestinal issues, while also improving their GI tract function.
Pros
BioGanix comes in the form of capsules that are easy to swallow
According to the manufacturer, this product has a very long lifespan
Taking one single capsule per day is enough to achieve your desired results
The supplement doesn't require refrigeration
There are many loyal fans and satisfied consumers who state only positive things about BioGanix
The probiotic is produced in a facility located in the United States
Cons
Although CFU is usually a good thing for your gut health, a high amount can cause troubles, especially when consumed on a regular basis
The fact that the manufacturer included FOS in the product's formula might raise some questions and concerns
The company ships the product in one single container and many clients would prefer it to be shipped in individual blister pack because it would increase the probiotic's stability
Price
You can choose to purchase BioGanix probiotic's smaller container of 30 servings which costs 23.97 or simply buy the larger alternative of 60 capsules. The second option is marketed for the price of $32.97
7. Naturenetics Flora Pro-Health Supplement
This probiotic contains five probiotic strains. They have been carefully selected to help you relieve constipation problems. The company has included no less than 30 billion CFU in each serving's formula.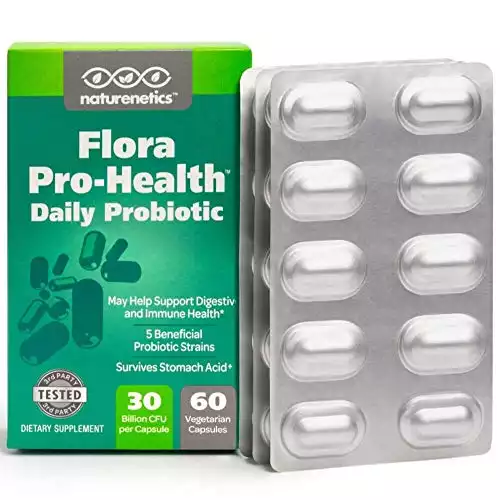 Moreover, Naturenetics probiotic is free from gluten, and it is a vegan-friendly supplement. Although the FDA didn't evaluate this product, it was tested by third-party labs.
Pros
It is a daily probiotic that can maintain your gut's health and treat constipation
The company provides a money-back guarantee. So, if you don't like the product, you will receive a full refund
Like most of the other products listed in today's article, this one doesn't need refrigeration
It has a highly convenient packaging, and each serving is individually wrapped, so it is easy to take during travel
The capsules are small and easy to swallow
Cons
Some specialists seem to think that probiotics with more than 10 billion CFU might be unsuitable for a daily consumption
A few consumers said Naturenetics didn't really help them alleviate constipation
It is not an FDA-approved supplement
Price
The Flora Pro-Health probiotic is $21.97 (a container of 30 servings). The larger pack with 60 capsules costs $39.71.
Constipation Insights
Main Causes
A sedentary lifestyle
An unbalanced, unhealthy, or chaotic eating habit
Changes in the way you live, eat, etc.
Consuming too many dairy products
Going through periods of high stress
Taking laxatives in high dosages
Certain drugs and medications can lead to constipation
Traveling a lot might also modify your bowel movements
Neurological conditions and other health problems can also lead to constipation; etc.
Constipation Symptoms
Difficulty expelling stool
Lumpy or even hard stools
The sensation that you haven't wholly evacuated
Abdominal fullness, bloating, or discomfort; etc.
The Best Probiotic Types for Constipation
Bifidobacterium longum
Bifidobacterium lactis
Lactobacillus casei rhamnosus
Bifidobacterium infantis
Lactobacillus plantarum
Bifidobacterium animalis
Lactobacillus casei shirota
How to Choose the Best Probiotic You Can Afford
Look at the number of bacteria contained by the probiotic you want to purchase. The minimum acceptable level should be one million CFU
See how many bacteria strains the probiotic has. Usually, probiotics with a higher number of strains are more effective
Make sure the formula includes strains like Bifidobacterium and Lactobacillus because these two types are known for their constipation-relief properties
Finally, you must consider the supplement's lifespan and shelf stability
How Do Probiotics Work?
Here are some ways in which probiotics work:
Lower the number of unhealthy gut bacteria
Promote healthy bacteria and flora in your intestines
Strengthen your intestines' lining
Normalize motility
Lower abdominal pain as well as visceral hypersensitivity
Probiotics Benefits
A good and effective probiotic can:
Lower abdominal bloating, gas, pain, and the sensation of fullness
Balance your bowel movements frequency
Improve or alleviate IBS-related symptoms
Decrease flatulence
Bottom Line
Taking a probiotic supplement to treat your constipation can also bring a wide range of other health benefits. The secret lies in finding the right product for your needs. All the supplements presented in this article have the potential to promote a healthier digestive system and a better-functioning colon.
This Might Interest You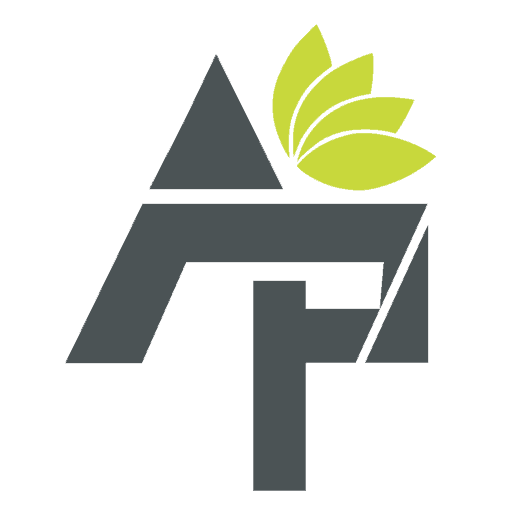 Alt Protein Team is a team of professionals and enthusiasts committed to bringing you the most up-to-date information on alternative protein, health and wellness, workouts, and all things health-related. We've reviewed a lot of products and services so you don't have to guess when you spend your hard-earned money on them. Whether you want to shed some pounds, build lean muscle or bulk, we can help you figure out what you need to do and what you need to have to achieve your goals.