Nowadays, a lot of people are taking probiotic supplements to help them with their digestive and gut health, clear their skin, and even improve their mental state. More and more people are taking these capsules while they're traveling to help them alleviate an upset stomach.
Still, there are plenty of choices out there so it can be quite tricky to find the right product to match your unique needs. This is why I've decided to talk about some of the best probiotics on the market that you should consider buying if you want to avoid travel-related unpleasantries.
*The following products are listed by price, from the least to the most expensive one.
Which Are the Best Probiotic Supplements? – Top 7 Choices
1. Dr. Formulas Nexabiotic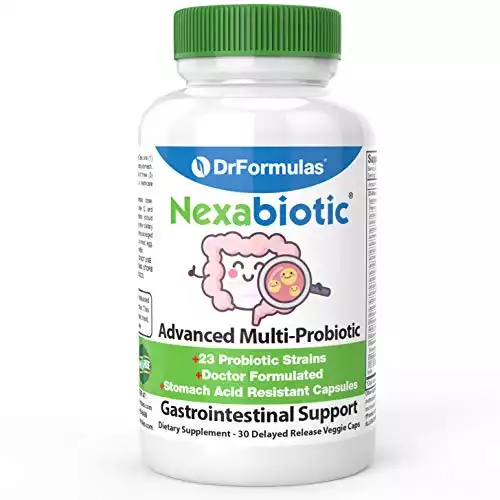 I have included this particular probiotic in my list because it is said to be the best solution for IBD and IBS relief. So, whether you're suffering from irritable bowel syndrome or dealing with acute infectious diarrhea, Dr. Formulas Nexabiotic might a way to treat those problems. The only issue comes from the average size of the capsules.
One serving contains an amazing number of CFUs: 34.5 billion. Also, it has 23 probiotic strains, among which there are the E. Faecium and L. Acidophilus ones. Furthermore, this product has received high Labdoor scores due to its high level of efficacy. Here are some more important features to consider:
The capsules are made in such a way that they are resistant to stomach acid;
These pills are vegetarian-friendly;
Besides the probiotic strains, the product also contains the following ingredients: gellan gum, medium chain triglycerides oil, hypromellose, and maltodextrin;
It has potentially-allergenic compounds like soy and dairy protein;
The recommended daily dosage is one capsule taken a half-hour before one of your main meals, preferably in the morning;
It is not an FDA-evaluated product, so it is not sold with the purpose of treating or preventing any health conditions;
By consuming this supplement, you will develop a healthier gut and a stronger body.
Price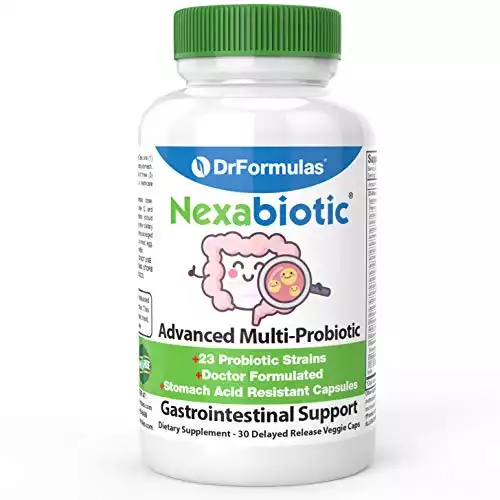 On Amazon, you can choose from a couple of pricing options:
2. Align Probiotic Supplement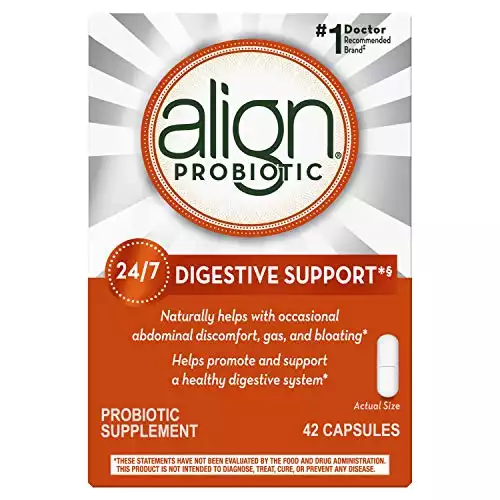 This is the best probiotic to travel with if you're on a tight budget. It is more affordable than many other similar supplements. The manufacturer uses a patented probiotic strain, called Bifidobacterium. This strain helps you maintain your digestive balance.
The product contains 1 billion CFUs. However, make sure to consume the entire content of the container before it expires because the number of CFUs tends to decrease with time. If your stomach finds it difficult to digest dairy products, caffeine, and other foods, this alternative is the right one for you.
One container comes with 28 capsules which are quite big. This supplement was created and improved by certified gastroenterologists. Not only is this product good during travels but it can also help restore your gut flora in other circumstances as well such as during periods of high stress, when you make changes to your diet, or when you deal with disruptions in your routine.
Another significant advantage that you will get if you decide to buy the Align Probiotic Supplement is the company's money-back guarantee, supported by Procter & Gamble. So, if you're not happy with the way this probiotic works, all you have to do is return your sales receipt along with the package's UPC code within 2 months since the purchase.
Price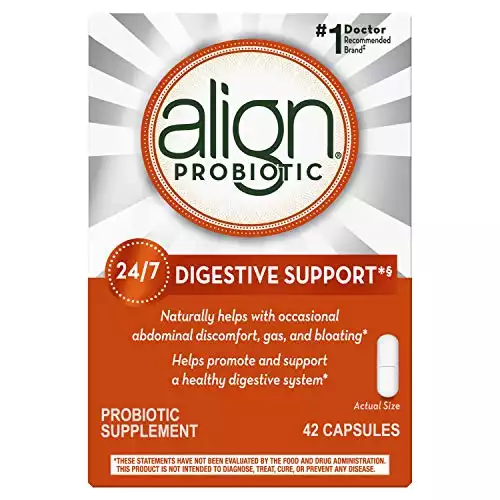 The cost of one container of Align probiotic is $24.24. If you become a member of the Amazon Prime program, you will benefit from a small discount of 9%.
3. Vita Miracle Ultra-30 Probiotic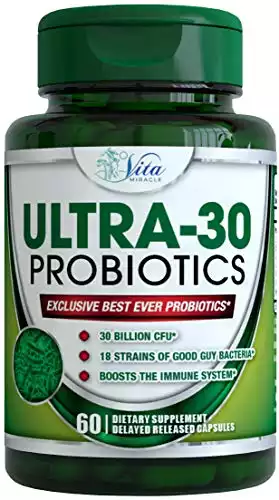 This probiotic supplement promotes gut health, and it is both dairy-free and gluten-free. Although the capsules are very small, each of them contains 9 out of 10 strains that support one's general gut health.
Unfortunately, you will have to take 2 capsules instead of one at a time to create a whole serving. Two capsules (one serving) contain no less than 30 billion CFUs. This product has the following main ingredients:
L. Acidophilus;
B. Longum;
L. Plantarum;
B. Lactis;
L. Brevis.
It is a great probiotic for when you're traveling because it acts easily on your digestive system because it doesn't contain dairy or gluten. So, it is the perfect choice for people with an already sensitive stomach.
A potential drawback might be the sour smell that some users have complained about. Still, the Ultra-30 probiotic provides plenty of benefits like boosting your immunity, alleviating constipation, and promoting a healthy digestive system.
Price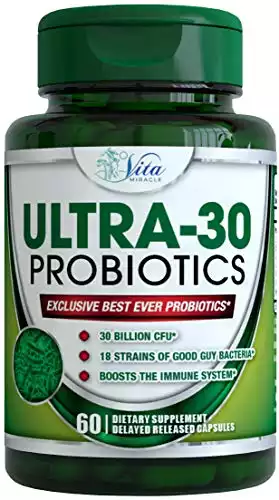 On Amazon, you can purchase the Vita Miracle Ultra-30 Probiotic for the price of $27.50 (a container of 60 capsules), but that's the price that subscribers can benefit from. For one-time purchasers, the cost is $28.95.
4. Florastor Daily Probiotic Supplement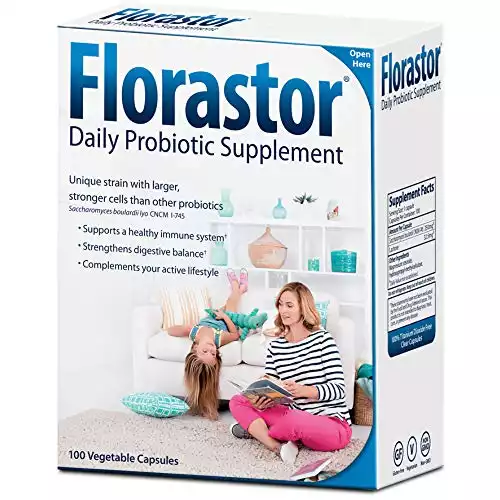 The thing that makes this probiotic stand out is its stronger and larger cells compared to many other similar supplements. One box comes with 50 capsules which provide you with plenty of health benefits:
They boost your natural immune response;
These supplements support an active lifestyle;
The product alleviates an upset stomach, especially when you're on the go;
It strengthens one's digestive balance.
All these perks are possible due to the unique strain that the manufacturer uses to create this probiotic: Saccharomyces boulardii lyo. Moreover, Florastor stimulates your body's immunoglobulin A production. This particular antibody defends your organism against infections. The recommended dosage is one or even two pills per day. Here are some other benefits that you will experience when consuming this product:
Breaks down poorly-digested sugars and carbs;
Facilitates nutrient absorption and increases the number of your digestive enzymes;
Works effectively even during antibiotic use; etc.
Florastor probiotics are made with natural ingredients. The formula is free of gluten, vegetarian-friendly, and suitable for people who deal with lactose intolerance. According to the company's representatives, you should take one capsule in the morning and the second serving in the evening. It is said to treat both constipation and diarrhea.
Price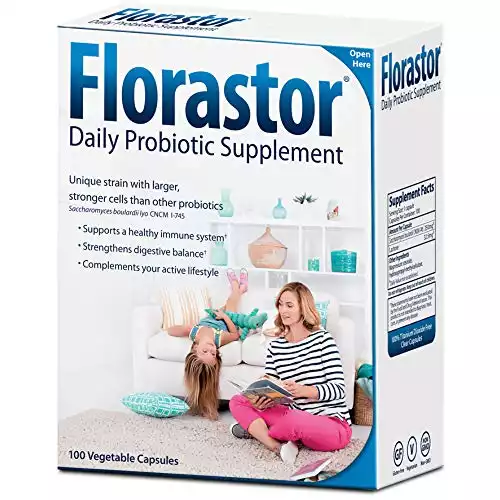 The Florastor Daily Probiotic Supplement works just as well for both men and women, and it costs $30.91 on Amazon (one bottle of 50 capsules), or $54,16 for 100 capsules.
5. Jigsaw Essential Blend Probiotics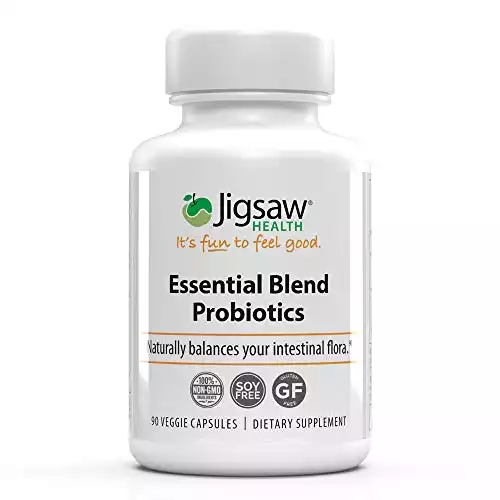 This dietary supplement will naturally boost your immune system while also balancing your intestinal flora. The formula is comprised of five probiotic strains that help your body absorb vitamins a lot quicker. I recommend you to use it when you're traveling or after the use of antibiotics.
All the brand's products are certified by a third-party organization which makes these supplements reliable, pure, and safe to consume. But that's not all! Jigsaw probiotic blend was specially created to meet the unique needs of vegetarian consumers.
The product contains a proprietary blend with more than 25 billion healthy active bacteria. Besides probiotic strains (L. Plantarum, B. bifidum, L. acidophilus, B. longum, etc.), the supplement also has some other ingredients as well:
White rice flour;
Magnesium stearate.
The probiotic-created by Jigsaw is backed by science and extensive research, and it contains high-quality ingredients. Another thing you should know is that all the brand's products are manufactured in the United States, and the label is verified and certified, as I previously mentioned.
Price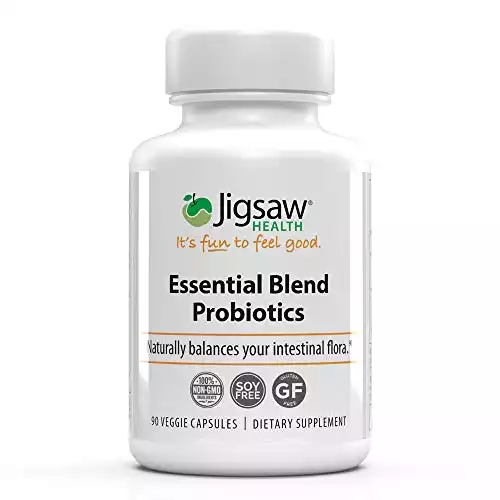 You can buy one tub of Jigsaw Health Essential Blend Probiotics that contains 90 capsules, on Amazon.
The cost of one container is $39.97, and the shipping is free of charge. Also, the company offers a 90-day 100% money-back guarantee.
6. High Potency Probiotic Capsules by VSL#3
This is the best probiotic supplement for people with digestive issues. One single capsule contains 112.5 billion good bacteria strains. So, if you have ulcerative colitis or the irritable bowel syndrome, VSL #3 is the right dietary product you should turn to.
Nevertheless, this is a medical supplement. Therefore, it must be taken under medical supervision only. These probiotic capsules are more expensive than many other alternatives on the market, but they are also much more effective.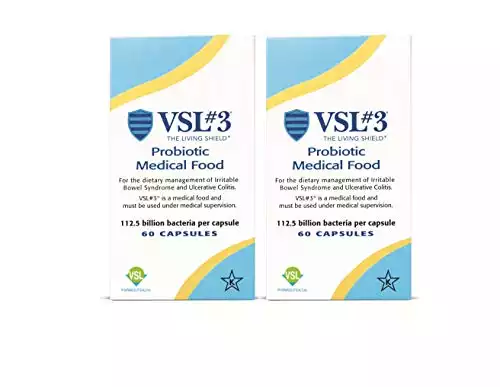 The product comes with 8 probiotic strains that alleviate symptoms like cramping, constipation, bloating and diarrhea. One bottle contains 60 capsules.
An interesting fact about these high-potency probiotic capsules is that they are delivered in an ice pack cooler so that all the strains are preserved alive. Potential clients should be aware of the fact that VSL #3 contains milk which might make this product unsuitable for people who have lactose intolerance.
Here are some of the probiotics that this supplement contains:
Bifidobacterium brevis;
Bifidobacterium infantis;
Lactobacillus Plantarum;
Lactobacillus bulgaricus;
Bifidobacterium longum;
Streptococcus thermophiles;
Lactobacillus acidophilus;
Lactobacillus paracasei.
Most reviewers are pleased with the way this product works although the majority of people think this is an expensive supplement. They were also satisfied with how fast the shipping was. On the other hand, there are a few individuals who claim they haven't achieved the results that the company claims to offer.
Price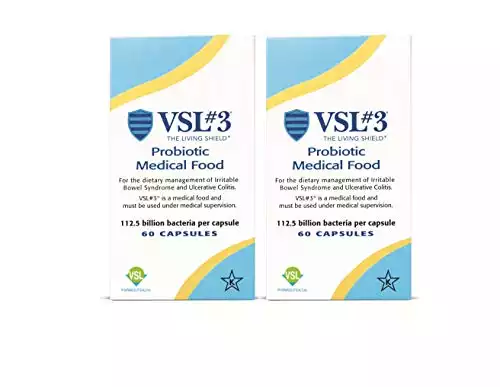 You can buy the VSL 3 – 60 Capsules on Amazon. One tub of 60 pills is marketed for the price of $75.28.
7. Klaire Labs Ther-Biotic Complete
If you have food allergies, then Klaire Labs probiotic is the answer to your problems. This dietary supplement contains 25 billion CFUs and the strains are sourced from multispecies. The capsules are vegetarian and the company uses the patented Intact Technology.
You don't have to worry about potentially-allergenic compounds because the product is free of eggs, milk, fish, wheat, soy, gluten, nuts, and other common allergenic compounds.
One capsule is enough as a daily serving. Klaire Labs is a manufacturing company with an excellent reputation. Since 1969, the year in which they were launched on the market, Klaire Labs has always delivered clean, safe, and pure products and formulas which are suitable for all people, including the most sensitive ones.
The producer claims their supplements are rich in active compounds which makes them highly potent. Of all the Klaire line of products, their probiotic is the most comprehensive supplement.
This trusted dietary product is both non-GMO and hypoallergenic. Moreover, it is free of artificial flavors, preservatives, and colorings. The company's experts recommend their clients to take one capsule per day with food or as advised by a healthcare professional.
Price
If you decide to buy Klaire Labs Ther-Biotic Complete Probiotics you should know that you can opt for a one-pack or a two-pack pricing option:
The Best Probiotics for Travel on the Go – the Final Verdict
All of the probiotics presented in this post are effective, and they provide a clean and pure formula. Still, before deciding which one to buy, you must take into consideration several factors: the product's potency level, whether or not it contains multiple bacteria strains, its price, guaranteed viability, and many other aspects that make a supplement good, reliable, and efficient.
Recommended Reads: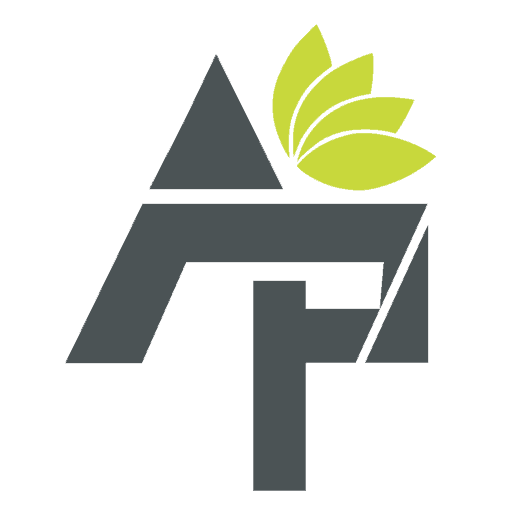 Alt Protein Team is a team of professionals and enthusiasts committed to bringing you the most up-to-date information on alternative protein, health and wellness, workouts, and all things health-related. We've reviewed a lot of products and services so you don't have to guess when you spend your hard-earned money on them. Whether you want to shed some pounds, build lean muscle or bulk, we can help you figure out what you need to do and what you need to have to achieve your goals.