Welcome to my BiOptimizers probiotic review. Today I'll talk about P3-OM by BIOptimizers which is a natural and beneficial supplement. Pretty quickly after its launch, P3-OM has conquered the probiotics' world as one of the best products of its kind that are sold online.
This, however, doesn't come as a surprise because its formulation is unique, even one-of-a-kind, I might add. Most, if not all of the reviews, are positive and it seems that the results one can achieve by taking this supplement are more than satisfactory.
Ok, so, enough with the chit-chat. I, now invite you to indulge in the reading below that will reveal plenty of interesting and useful details about the aforementioned probiotic.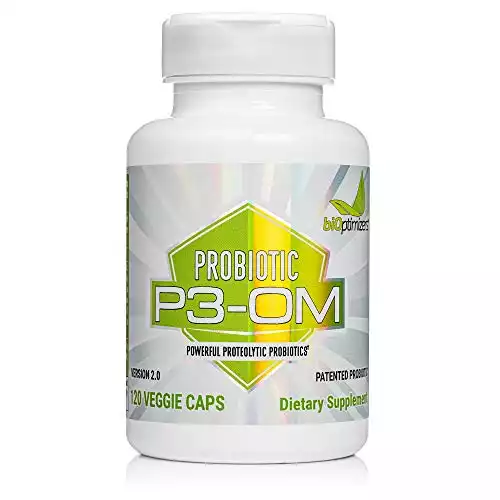 What Is BIOptimizers Probiotic?
BIOptimizers is a company that produces and sells the P3-OM probiotic supplement which promotes a healthier body, starting from the digestive system. It works as a rolling snowball effect.
In other words, consuming this product leads to an improved digestion, full of healthy bacteria, which will further translate into a better general performance. Therefore, taking the P3-OM probiotic will make you get rid of a fatigued state and feel a lot more energetic.
The bacteria contained by the P3-OM supplement are kept in a freeze-dried mix. That means the probiotic has a dried form and the bacteria will only spring back to life when it gets in touch with water or any other liquid. So, when hydrated, the products' ingredients work better in fighting harmful bacteria that are found in your organism.
A Few Words About the P3-OM BIOptimizers' Creator
The person who has developed this probiotic is Wade Lightheart who is a professional bodybuilder. He has even won three national bodybuilding championships. His professional life and accomplishments are impressive, especially when you consider the fact that he is an appreciated author who has written books about how to stay alive and well in a toxic world. Also, he collaborates with the American Anti-Cancer Institute, as an advisor.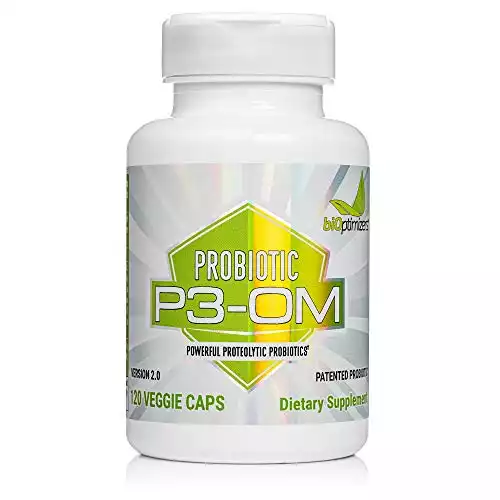 More importantly, Wade is the founder of the Prosperity & Health Alliance where he continues to promote good health which is one of the reasons why he created the P3-OM probiotic. According to him, people's belief according to which one must consume more protein in order to gain muscle is a common misconception. Instead, people should make sure their digestive system stores good bacteria that helps their body consume all the protein they consume.
Ingredient Profile
This is a natural and safe probiotic supplement that contains only three ingredients:
Lactobacillus Plantarum OM – supports the health of your colon walls, making them stronger; improves your intestines' mucosal status while also lowering gut inflammation;
Vegetable capsule made from water and plant cellulose;
Stabilized rice bran – it can prevent a wide array of chronic health conditions; lowers cholesterol, provides plenty of nutrients, and it is a great source of fiber.
As you have probably guessed, the most important ingredient of all is the first one which is nothing else than a highly-adaptive bacteria. Its existence in the human body is critical for one's health because it fights pathogenic compounds like E-coli while also repairing your intestinal lining.
Nutritional Values
One capsule of P3-OM manufactured by BIOptimizers contains 250 mg of Lactobacillus Plantarum which is the equivalent of 10,000,000,000 CFU per gram.
How Does This Supplement Work?
This BIOptimizers probiotic contains a large amount of Lactobacillus Plantarum which offers numerous health benefits:
Boosts your immune system which increases your body's resistance to a lot of diseases, from a simple cold to cancerous conditions;
Leads to a better brain development which further prevents autism, ADHD, and many other sensory disorders;
Lowers brain inflammation and helps you achieve a better mood. This is helpful in cases of depression and other psychological issues.
The manufacturing company claims their product works in three ways:
The first way is through assimilation – the process during which your body absorbs nutrients from food more effectively;
Secondly, it works through nitrification which increases your body's rebuilding process;
Finally, the third step refers to the optimization process when one's body achieves a higher overall performance due to the ingredients added to this supplement's formula.
According to both the manufacturer and health specialists, this type of product has the following properties:
Anti-tumoral capability – it is said to lower the size of a tumor;
Proteolytic activity – helps your digestive system to break down proteins a lot easier;
Anti-viral capabilities – the P3-OM BIOptimizers probiotic fights against infections and viruses that already exist in your bloodstream;
Anti-retroviral activity – this supplement's powerful ingredients might even fight against certain immunodeficiency viruses such as HIV, T lymphotropic, and Rauscher virus.
All in all, you will be able to focus more on the task at hand, your mind will become clearer, and your body will feel energetic. This supplement is an excellent addition to your regular nutritional eating regimen.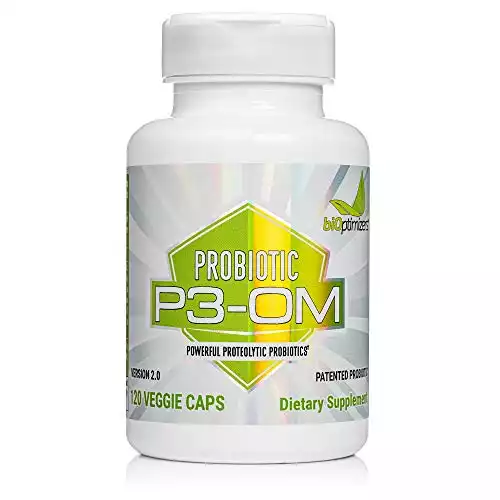 Pros and Cons
Advantages
Helps your body absorb nutrients a lot better and quicker;
Leads to lean muscle mass growth increases muscle performance, and speeds up muscle tissue recovery;
Will help you control your cravings;
It is a vegetarian-friendly probiotic;
It creates enzymes that remove harmful bacteria;
Prevents gas and other digestive issues;
Boosts your overall immune system;
Lowers blood pressure which might prevent the appearance of certain cardiovascular diseases;
By producing healthy bacteria, this product will help you prevent tooth decay;
Might make your skin look better;
Supports weight loss in a healthy and balanced manner while also detoxifying your organism.
Disadvantages
This probiotic is very expensive although many people say it is worth it;
Consumers don't have access to any free trials before purchasing this supplement;
Those of you who suffer from serious medical conditions might not be allowed to take this probiotic;
When it comes to its weight-loss properties, you can expect results but not overnight and not unless you also work out while taking BIOptimizers probiotics.
How Much Does This Product Cost?
BIOptimizers Online Page
You can buy the BIOptimizers probiotic from what I consider to be the most trustworthy option which is the company's online page. Here, you will have to choose from three available choices:
One bottle of P3-OM capsules – $70 per month (the full retail price is $80; this option is recommended for those consumers who simply want to maintain their present level of health);
A package of three containers of BIOptimizers probiotic – $177 per month (the full retail price is $240; this option should be bought by people who deal with digestive issues like constipation, bloating, irritable bowel, gas, acid reflux, and others);
A package of six bottles of P3-OM capsules – $297 per month (the full retail price is $480; it is the perfect alternative for a long-term digestive health management and general health improvement).
All these prices listed above don't include the shipping fee which must be paid separately.
An important perk that the company provides is a 60-day money-back guarantee which applies to those who are not happy with the way this product works. Moreover, you can cancel your membership anytime you want without fearing a penalty.
On Amazon
Other third-party sellers such as Amazon also market this product. Here, one container of P3-OM which offers 120 capsules is sold for the price of approximately $70 (Check out the latest price here!). If you become a member of Amazon Prime, you might benefit from a significant discount.
Potential Side Effects
The majority of those who have tried this product declare themselves happy with the way it works. According to them, the P3-OM BIOptimizers probiotic is a safe supplement that doesn't create any serious adverse effects. Still, certain mild side effects might appear sometimes but the cases in which they manifest themselves are very rare. Here are some of the potential issues one might experience:
Stomachaches;
Repeated bowel movements;
Soft stools; etc.
If you start dealing with any of these symptoms, you must stop taking the probiotic immediately and make a doctor's appointment to see if everything is alright.
The Right Dosage and Recommended Precautions
The P3-OM probiotic is a proteolytic supplement that has its own patent. It supports digestive health as well as your immunity.
However, for it to function at an optimal level, you must take the proper daily dosage. You must consume one or two P3-OM capsules after each meal. Also, you must take another capsule right before bed. Make sure to store the container in a dry and cool location.
Main Precautions:
Keep this product out of your children's reach;
If you suffer from serious health conditions, including gastritis or ulcer, you shouldn't use this probiotic;
This product shouldn't be used by pregnant women or nursing mothers unless a doctor approves it;
Even if you're healthy, for safety reasons, I recommend you to always seek your physician's approval first;
If any side effects occur, you must stop taking this supplement immediately.
How to Consume This Supplement?
The classic way to take the P3-OM BIOptimizers probiotic is by swallowing one or two capsules with each of your daily meals. Don't forget to drink plenty of water with it. The recommended amount is one full glass of water. However, you can also take this supplement in another, more unusual yet interesting way.
All you have to do is open up a couple of capsules and then pour their content into about 34 ounces of coconut water. Leave this combination to settle for approximately 12 hours. During this interval, the probiotics found in the supplement will double every 20 minutes. When the time is up, you will have achieved 36 times more healthy bacteria than if you had taken the capsule by swallowing it.
BIOptimizers Contact Details
The company is relatively new on the market so it is natural for you to want to know how you can contact its representatives in case you have any questions or even complaints regarding their products. Well, you'll be glad to know that you can easily get in touch with their customer support department and get things sorted out this way. They provide their clients with two contact details:
Putting It All Together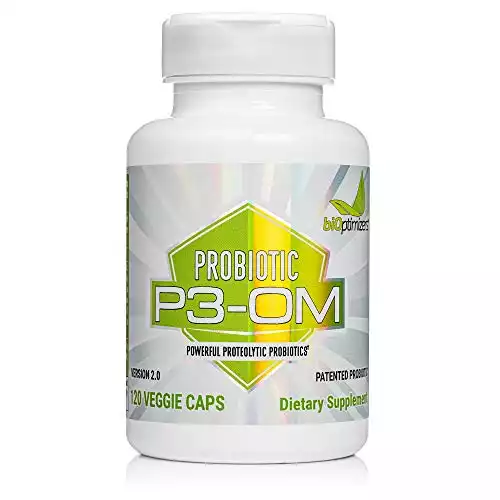 Although the BIOptimizers company is pretty new in the supplement niche, their P3-OM probiotic is safe, reliable, and effective. It contains only three natural ingredients and it supports a healthier digestive system and a better general body and mind performance. Its main drawback might be represented by its price which is pretty high. Still, P3-OM does a great job at detoxifying your organism while also keeping you fit and healthy.
To conclude with, P3-OM probiotic-created and marketed by BIOptimizers is definitely an amazing option that ensures a happy stomach.
Recommended Reads: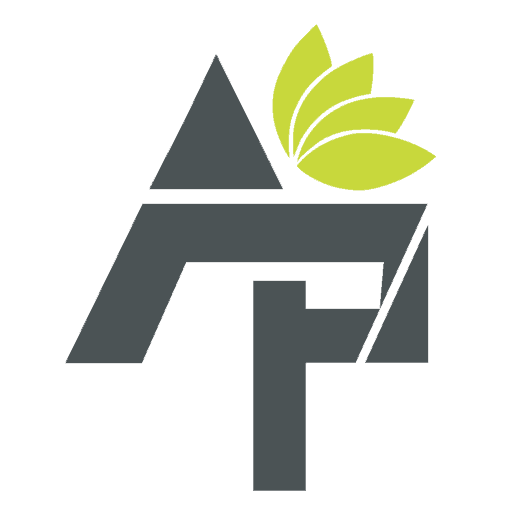 Alt Protein Team is a team of professionals and enthusiasts committed to bringing you the most up-to-date information on alternative protein, health and wellness, workouts, and all things health-related. We've reviewed a lot of products and services so you don't have to guess when you spend your hard-earned money on them. Whether you want to shed some pounds, build lean muscle or bulk, we can help you figure out what you need to do and what you need to have to achieve your goals.