If you're looking to lose weight safely and quickly, you should consider following a cleverly-made dieting plan. I am sure you have already heard about Medifast which is an effective weight loss program that even doctors recommend to obese patients. Medifast provides a lot of meal replacement options. But how can you know which ones are the best for you?
Well, in this article we will take a closer look at what the best Medifast foods are and which ones to include in your diet. But first, let's discuss briefly this dieting program and what it is.
What Is the Medifast Diet Plan?
Medifast is a fast weight-loss program that encourages you to combine meal replacements with certain solid foods throughout the day. Nutritionists and doctors alike have prescribed this eating plan to patients who suffer from obesity and even morbid obesity.
The program is also highly convenient, being a home-delivered diet plan. For this reason and for all its other benefits, Medifast has become very popular in these last couple of years. If you decide to follow this diet, you will be surprised to know that there are six meals included each day.
I am sure you're asking how you can eat so many times a day and still lose weight. Well, Medifast plan presents itself as follows:
Five Medifast meal replacements per day: Medifast has a wide range of meal replacements such as soups, nutrition bars, puddings, and oatmeal but their most popular products are the shakes;
One classic meal with solid foods per day: you can eat almost anything you want as long as it is a lean and green meal; make sure you eat small portions that include two cups of veggies or salad;
You must eat every 2-3 hours: this diet's secret is eating small portions six times a day and drinking at least 64 ounces of water every single day; you can also consume other drinks and beverages in addition to the water but make sure they are natural and low-fat.
The Best Medifast Foods to Eat
What Types of Foods Can You Find in the Medifast Diet?
Creamy soups – tomato, chicken, and broccoli;
Food supplements – hot cocoa, peach protea, chicken noodle soup, oatmeal, etc.;
Supplement bars – crunchy lemon, peanut butter, double berry, chocolate divine, oatmeal raisin, and chocolate mint;
Fast soups and nutritious snacks – robust tomato, delicate chicken, cheese puffs, cereal crunch, and others;
Weight-loss shakes – there are 70 protein shakes available to choose from.
What Are You Allowed to Include in the Lean and Green Meal?
Lean meat – turkey or chicken breast, healthy fish such as tuna and salmon; you can also include lean cuts of lamb, beef or pork. In order to lose weight, you should poach, grill or bake these meats. Luckily, during the Medifast diet, you are allowed to use condiments;
Cooked vegetables – 1 or 2 cups of fibrous veggies that will replace the salad option;
Green salad – 1-2 cups of salad combined with a quarter cup of raw vegetables.
The Best Medifast Foods to Eat
1. Medifast Shakes
When it comes to the Medifast diet, shakes are its foundation as well as its most popular meal replacements. Many clients consider a highly competitive advantage the fact that the company has included so many options as food and meal replacement alternatives into this eating program.
Furthermore, Medifast shakes are probably the most convenient and most delicious option out there for those of you who want to lose weight while also staying healthy.
Medifast Shakes come in six different flavors:
Dutch Chocolate: it has a rich flavor and nice taste and it is one of the favorite shake varieties that Medifast prefer;
French Vanilla: this is the second-best flavor that Medifast provides in terms of shakes, according to consumers; it comes with a clean and light texture and we can almost guarantee you will never get tired of drinking this shake;
Orange Crème: the Medifast orange shake flavor will remind you of an orange sherbet and it works great as a breakfast meal replacement;
Banana Crème: if bananas are your favorite fruits, this shake is the best choice for you, especially because it has a very pleasant taste; this delicious flavor will remind you of banana pudding;
Swiss Mocha: unfortunately, this is one of the least favorite Medifast shake flavors that many dieters think it is not as enjoyable as the other varieties; still, these feedbacks might also be a matter of personal taste and preference, so you might as well give it a try;
Strawberry Crème: the Strawberry Crème shake has a good flavor although it can be a little too sweet for some of you.
We could say that out of these six flavors, the top 3 best ones are French Vanilla, Dutch Chocolate, and Banana Crème.
2. Crunch Bars
Along with the shakes, the crunch bars are some of the best Medifast foods to eat during your weight loss program. Some customers might think that the bars are quite small but as long as you take your time to savor them, you have nothing to worry about.
They already have a nice texture as they are but, to give them that extra touch, you can easily put them in the microwave and heat them up for about 5 to 10 seconds. Another way to approach these meal replacements is by freezing them to achieve a refreshing effect. All these preparation options translate into the fact that you will not get bored of Medifast products.
You can choose from three available varieties: Mint Chocolate, Caramel Crunch, and Smore's Crunch. However, the most popular ones are the first two flavors while the third one is the least preferred by dieters (not because it has a bad taste but because the other two are better).
3. Pretzels, Bites, and Puffs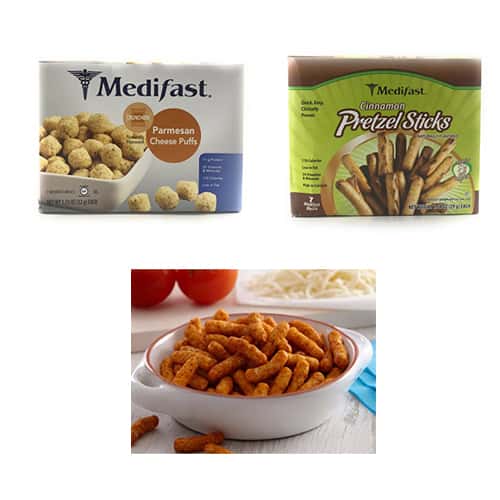 These Medifast foods will truly surprise you with their rich savor. They work great in salads instead of the classic croutons or you can use them as a breading to prepare your lean meals.
You have three crunchy snack options to select from:
Parmesan Cheese Puffs: you will simply end up loving these Medifast snacks; you can eat them as they are or you can add them to your salads; it is a great mix of parmesan tanginess and puff crunch;
Cheese Pizza Bites: you will get a combination of tomato and cheese flavors and these snacks' texture resembles the well-known Cheetos; the even better part is that you will not get orange fingers like you do when you eat Cheetos;
Cinnamon Pretzel Sticks: if you love cinnamon like I do, you will definitely include these Medifast snacks in your dieting plan; they work best on the go although they can be quite dry; all in all, they have a nice flavor and an ok texture.
4. Medifast Desserts
I am positive you will love all Medifast desserts because they are very delicious and they will curb your sweet-tooth cravings. Feel free to unleash your cooking creativity when it comes to these products because adding spices and other additional elements such as baking soda and salt to Medifast cookies and brownies will only enhance their flavor.
The best Medifast desserts that all dieters love are the following ones:
Chocolate Pudding which everyone simply loves and it is a very convenient treat;
Medifast Brownies that have a more than pleasant texture, especially if you add a pinch of salt;
Hot Cocoa that is even better than the popular Nesquik. The secret lies in the way you prepare it. Make sure to mix the powder with only a couple of tablespoons at first, until you get an even paste. Then, add the rest of the water. This method is a sure way to avoid any clumps. And the best part is that you can add a small amount of hot cocoa powder to your morning coffee;
Apple Cinnamon Soy Crisps which are the perfect snack if you ask me. They are greatly satisfying, especially if you have a sweet tooth and you can consume them as they are or add them to your meals.
If I were you, I would avoid purchasing the Mango Soft Serve that Medifast sells because many consumers have complained about its bad taste. On the other hand, it has an excellent texture that reminds us of a soft ice cream treat.
5. Medifast Pancakes
Most Medifast clients are quite hesitant about trying the company's pancakes because they are afraid that these might have a bad taste. As it turns out, the pancakes are pretty damn good and you will not even be tempted to serve them combined with other things like syrup because they have just the right amount of sweetness.
These Medifast treats come in two different flavors: chocolate chip and spice pancakes. While the first one is most people's favorite option the second variety is also good but not as great as the chocolate chip alternative. Overall, both of them provide a nice taste and a great texture.
What We Think You Should Avoid
1. Lunch Meal Replacements
a. Macaroni and Cheese
This Medifast lunch meal replacement is not that bad and it has a nice texture. On the other hand, it does contain way too much cheese which, unfortunately, is too thick. I have tried it once but I don't feel tempted to order it again.
b. Chicken Noodle Soup
Some clients stated they have returned this product because it is too thick and chunky. Also, this soup's vegetables remain hard even after you properly cook them. Salt and pepper cannot make a difference with this soup so we don't really recommend you to buy it.
2. Medifast Cereals
Medifast cereals seem to be quite popular among dieters but this is mainly because they are very convenient and quite portable. Still, they have a mineral-like taste that is quite hard to get rid of even if you add a lot of milk.
There are two cereal flavors available for purchasing: mixed berry cereal crunch and cinnamon and brown sugar cereal. Regrettably, both of them are pretty hard to eat because of their taste although their texture is a little bit better when compared to the flavor.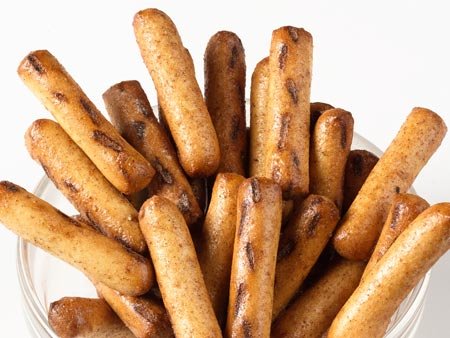 The Best Medifast Foods Categorized by Meals and Snacks
1. The Best Medifast Breakfast Options
Shakes: banana, chocolate, vanilla;
Medifast oatmeal: blueberry, apple cinnamon, peach.
2. Mid-Morning Snack
Protein crunch bars: chocolate mint, peanut butter – they are the best ones due to their nice chewy texture and lovely taste.
3. Lunch Meals
Medifast meal replacements: taco salad, chili, rice and chicken noodle, tomato soup, crab, broccoli.
4. Afternoon Snack
Medifast shakes: you can add a little caramel syrup in the Dutch Chocolate shake to achieve an even better-tasting and satisfying beverage;
Medifast Crunch bars: make sure you don't eat several snacks at the same time; you should either consume one shake or one crunch bar per snack or meal.
5. Dinner Options
Lean and green meal: lean meat, free-fat cheese, eggs, vegetables, salad.
6. Night Snack
Medifast puddings: the banana flavor is the best one, according to most Medifast clients;
Chips: you can opt for this Medifast snack if you are craving something salty;
Soft baked foods like brownies but these require more time for preparation.
Putting It All Together
All in all, most Medifast food and meal replacements are great. They have a nice taste and an enjoyable texture. Almost all their proposals in terms of snacks, meals, and shakes are edible and they can be improved by adding small amounts of additional ingredients or spices (make sure this weight loss program allows the ingredients you want to include in your meals).
You can definitely get the most out of this eating plan as long as you follow it to the letter and combine it with regular exercises.
Let us know which Medifast foods are your favorite ones by leaving a comment below.
Additional Readings: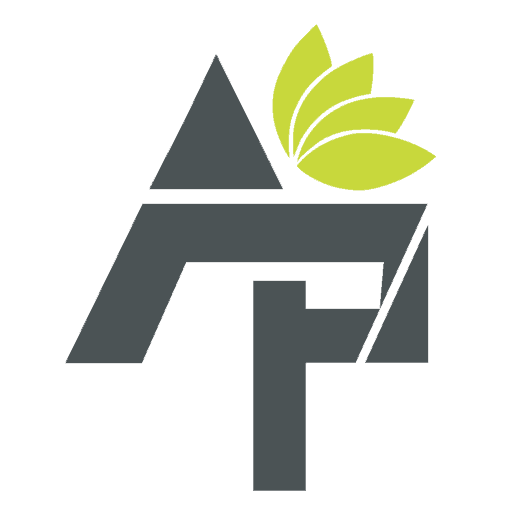 Alt Protein Team is a team of professionals and enthusiasts committed to bringing you the most up-to-date information on alternative protein, health and wellness, workouts, and all things health-related. We've reviewed a lot of products and services so you don't have to guess when you spend your hard-earned money on them. Whether you want to shed some pounds, build lean muscle or bulk, we can help you figure out what you need to do and what you need to have to achieve your goals.