Both GNC and Herbalife are well-known supplement brands that have attracted thousands of fans and consumers. Their protein shakes are said to help you lose weight while also providing numerous health benefits but is that really true or just an overstatement?
You're about to find out in this GNC Lean Shake vs Herbalife comparative review.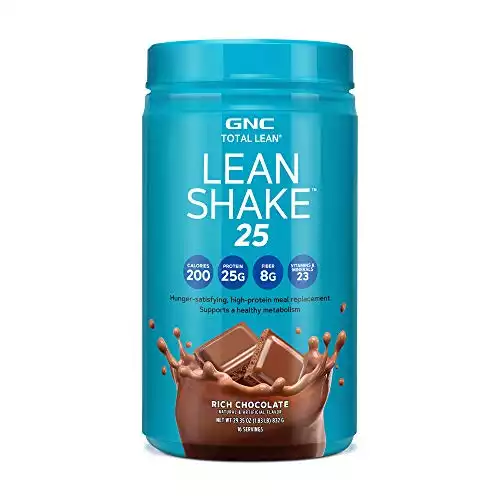 GNC Lean Shake
GNC is a well-known worldwide brand that manufactures meal replacement shakes to help people achieve their weight-loss goals while also maintaining their health. Each shake comes packed with a variety of minerals and vitamins, and they are low-calorie beverages.
According to the company, these products will help you lose weight by keeping you full and suppressing your appetite. Some consumers have even said they experienced a lowered hunger sensation for up to three hours after drinking one of these shakes.
Herbalife Shakes
Herbalife is one of the main competitors of GNC Lean Shake due to their popular nutritional protein supplements. Their shakes contain protein, fiber, minerals, vitamins, and many other essential nutrients that boost one's metabolic function. Still, I'm not sure that Herbalife shakes are a good option as a meal replacement supplement. They might work as a snack, but that's about it because one serving contains a low number of calories.
Ingredient Profile
GNC Lean Shake
These shakes have a blend of various ingredients that are supposed to suppress your appetite while also boosting your energy and improving your digestion. Here are some of the main ingredients included in the formula:
Protein blend;
Carbohydrate blend;
Whey protein concentrate;
Skim milk;
Sunflower seed oil;
Filtered water;
Safflower oil;
Calcium blend.
All the compounds listed above are harmless. Nevertheless, I must also tell you about the other elements contained by GNC shakes that aren't very healthy:
Artificial flavorings;
Soy;
Salt;
Sucralose;
Dairy.
I couldn't find any evidence that says GNC meal replacements are free from gluten and, as you could read, they aren't free from soy and lactose either which is an issue for allergic people.
Herbalife Shakes
The primary ingredients of Herbalife shakes are plant-based protein powder, soy protein isolate, and fructose, which is a form of sugar. You will find additional ingredients in the list below:
Calcium caseinate;
Oat fiber;
Lecithin powder;
Both natural and artificial flavors;
Guar gum powder;
Citrus pectin;
Vitamins and minerals blend – calcium, zinc, iron, magnesium, folate, vitamin A, niacin, biotin, vitamin B6, etc.
You should also know that this product contains soybean, milk, and oat which are all allergenic compounds.\
Nutritional Value
GNC Lean Shake Nutritional Facts – per one serving (2 scoops)
| | |
| --- | --- |
| Calories | 180 |
| Proteins | 5 g |
| Carbohydrates | 30 g |
| Total fat | 2 g |
| Fiber | 8 g |
| Sugar | 4 g |
| Sodium | 100 mg |
Herbalife Shakes Nutritional Facts – per one serving (2 scoops)
| | |
| --- | --- |
| Calories | 90 |
| Proteins | 9 g |
| Carbohydrates | 13 g |
| Total fat | 1 g |
| Fiber | 3 g |
| Sugar | 9 g |
| Sodium | 95 mg |
Flavors and Taste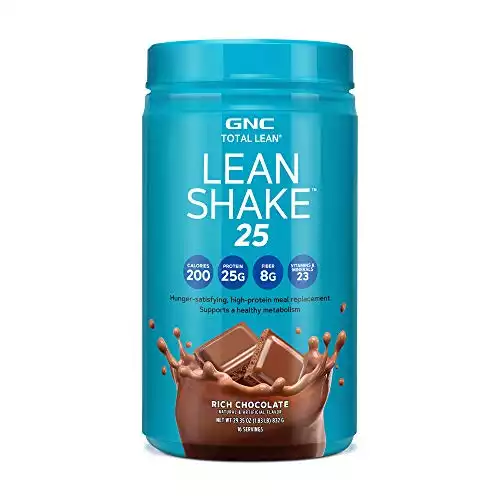 When it comes to flavor options, GNC has managed to develop a lot of alternatives. You can choose from eight different flavors:
French Vanilla;
Rich Chocolate;
Banana;
Chocolate Peanut Butter;
Cookies and Cream;
Orange Cream;
Mixed Berry;
Snickerdoodle.
Still, regarding the taste of these shakes, reviewers seem to have mixed feelings. Some say they really love the way these supplements taste while others claim the flavor is terrible. Most consumers complain about one specific flavor, the vanilla one. A few dieters even said that the texture and consistency of the GNC Lean Shake are not very good. On the other hand, you can always adjust the consistency to suit your preferences. For instance, feel free to add fruits to make the shake thicker or add more water to obtain a thinner consistency.
The GNC powder can be added to almost anything you like, from smoothies to milkshakes, and any other drink of your choice.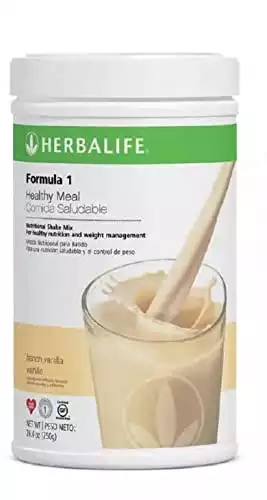 Herbalife Formula 1 Shake Mix | Amazon
Before using this product, or beginning any weight-control program, it is advisable to consult a physician. This is especially important for individuals with chronic kidney problems or insulin-dependent diabetes. A healthy weight-loss program should include modest calorie intake, balanced diet, and regular physical activity.
Buy at Amazon
We earn a commission if you click this link and make a purchase at no additional cost to you.
04/30/2023 10:50 pm GMT
Compared to GNC, Herbalife markets a wider array of available flavors:
French Vanilla;
Mint Chocolate;
Orange Cream;
Wild Berry;
Café Latte;
Dutch Chocolate;
Dulce de Leche;
Pumpkin Spice;
Cookies 'n Cream;
Piña Colada.
Besides these ten options, you can also choose one of the following Vanilla varieties:
Alternative Proteins;
Kosher;
Non-GM ingredients.
Even though there are plenty of options to choose from, most consumers still complain about the taste of the Herbalife shakes. Some even say that they believe the company has changed something in their formula because certain flavors don't have the same taste anymore. According to them, the worst taste is the one of the Vanilla flavor while the most delicious option is the Cookies 'n Cream shake.
How Do They Work? – Main Benefits and Effects
GNC Lean Shake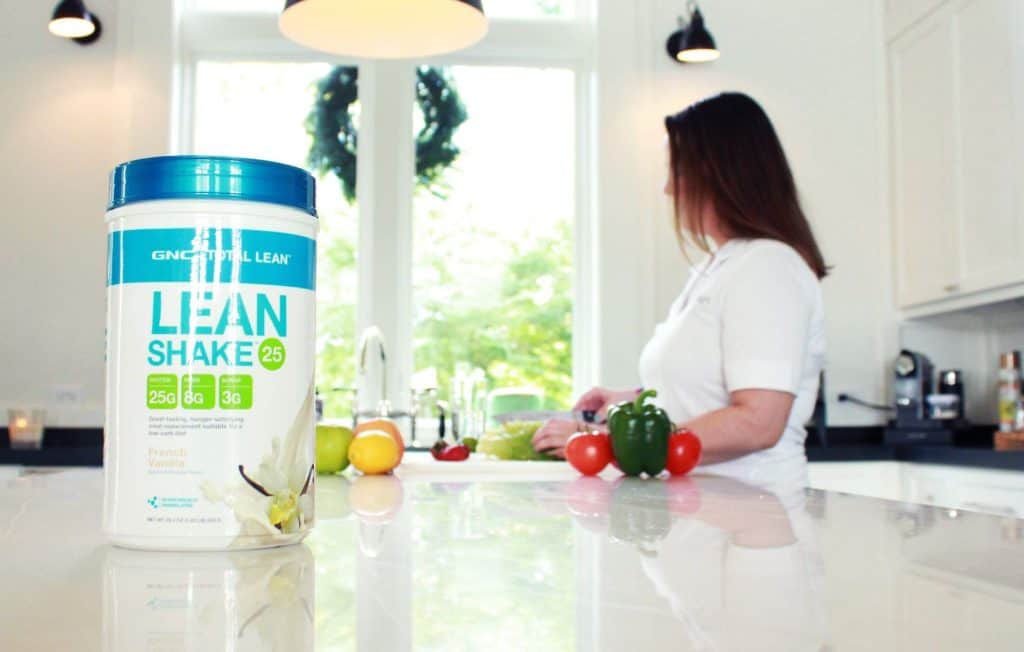 The GNC shakes provide plenty of health benefits such as the ones listed below:
Improved digestive system;
Regulated blood sugar level;
Supported and controlled weight loss;
Increased satiety and fewer cravings;
Improved nutrition intake.
Most meal replacements, including GNC Lean Shake, can play a crucial role in a person's weight-loss journey because they help one reduce the overall calorie intake. However, these products aren't miracle workers so you should always combine the consumption of these supplements with a general well-balanced nutritional lifestyle and regular workouts.
Herbalife Shakes

These supplements are rich in minerals, vitamins, and other essential nutrients so they can replace one or two of your main meals per day. Furthermore, they are said to keep consumers satisfied, satiated, and energized for a longer time. The company claims that their products help you build as well as maintain lean muscle mass. One single serving provides proteins and fiber.
The correct way to prepare and consume this product is by combining two scoops of powder with either soy or low-fat milk. It is better to mix it with milk instead of water because this way, you will achieve a beverage that's high in calcium and additional protein.
Are These Meal Replacements Effective?
As a conclusion to the entire section presented above, I must mention that, according to research, a good and useful meal replacement shake should have the following characteristics:
A real meal replacement product should provide around 300 calories per portion which both GNC and Herbalife shakes fail to deliver;
They should also contain between 15 and 25 grams of protein per serving. Again, both products I've reviewed today don't meet this requirement either;
Each serving should offer no less than 5 grams of fiber. When it comes to fiber content, GNC Lean Shake wins the battle because it provides 8 grams while Herbalife has only 3 grams of fiber per serving which is a minimal amount;
Regarding the content of healthy fats, a good meal replacement must have between 10 and 13 grams per scoop or per portion. With the risk of repeating myself, I must say that once again, both reviewed products fail to deliver this specific amount of healthy fats.
Possible Side Effects
GNC Lean Shake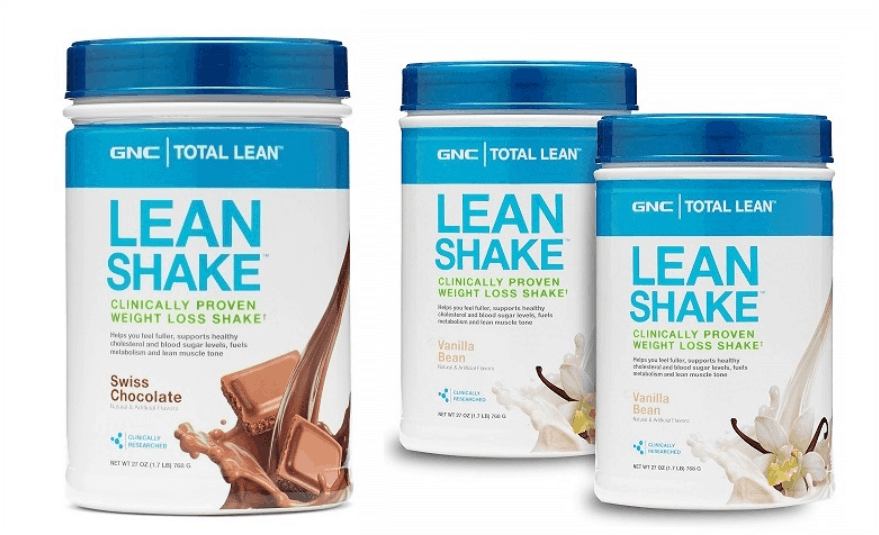 There aren't any severe or harmful adverse effects that you might experience when consuming the GNC Lean Shake meal replacement. However, some individuals have reported the following mild side effects:
Diarrhea;
Constipation;
Mild headaches and sometimes even migraines;
Nausea.
As a precaution measure, breastfeeding mothers should not consume more than one single meal replacement per day and only when they're too busy to eat whole foods. Also, these beverages might not be the best meals for kids because they have different and unique nutritional needs.
Herbalife Shakes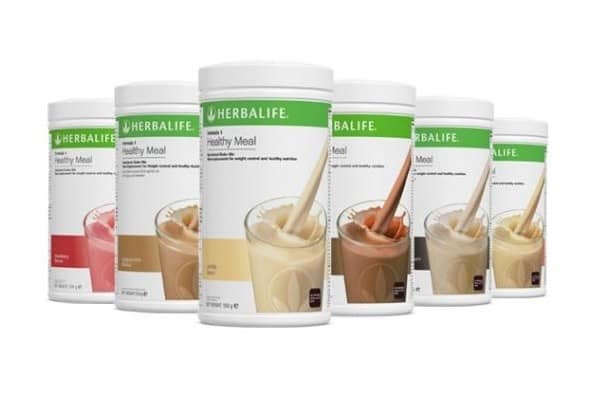 Unlike their competitors, it seems that Herbalife products are highly processed which is a bad thing because this means they contain undesirable ingredients that can lead to several issues such as the following ones:
Allergic reactions;
Nutritional deficiency;
High blood pressure;
There were also cases of liver toxicity which were linked to the consumption of Herbalife products.
Therefore, if you suffer from any severe medical condition or allergies, make sure you consult your physician before consuming these shakes.
*Update! More recent studies have shown that the risk of developing hepatotoxicity from drinking these shakes is actually quite low, but it is always good to be extra careful with any kind of meal replacement.
How Much Do These Supplements Cost?
The price of protein shakes is always an important factor you should consider when choosing a brand or another. When it comes to GNC Lean Shake, you can purchase this meal replacement on Amazon or order it directly from the company's official website.
On Amazon
The price on Amazon for one container of GNC Total Lean Shake varies, depending on the seller, the chosen flavor, and the size of the jar:
One container that measures 1.69 lbs. costs almost $40;
A jar of 1.83 lbs. is $35;
A 12-pack of ready-to-drink bottles is sold for the price of $30.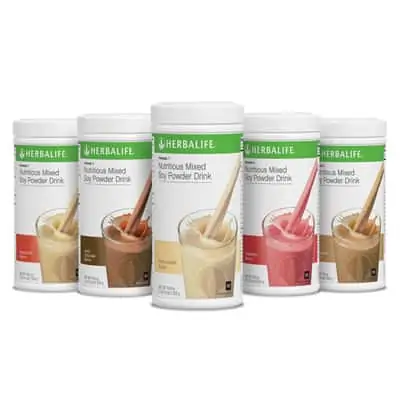 On the Herbalife's online catalog, you will find these protein supplement powders at the price of $41.20 per one container that measures 750 grams. If you decide to buy the vanilla flavor which comes in a non-GMO version and measures 810 grams, the price is $50.60.
The same amount of Herbalife protein powder costs between $37.88 and $39.49, on Amazon, depending on the chosen flavor. If you want a strictly kosher version, you will have to pay $55.55, and for the allergen-free vanilla option, consumers must take out of their pocket the sum of $61.99.
Pros and Cons
GNC Lean Shake
Pros
These shakes contain whey protein isolate which translates into a product that is both low in fat and high in protein;
One single serving provides no less than 25 grams of protein and 8 grams of fiber. These elements will keep you satiated for a longer time and will lower your cravings;
It is a relatively affordable supplement, especially when you compare it with other similar protein shakes;
The product is rich in minerals and vitamins which make the GNC shakes highly nutritious;
It is a calorie-restricted supplement that will help you lose weight.
Cons
When it comes to taste, reviewers have mixed opinions, especially regarding the vanilla flavor which is the least favorite one;
According to some people, one might need two scoops instead of one to achieve an optimum thickness and texture;
If you are an intensely active person, you might need to consume a higher calorie intake than the one provided by these beverages;
The label doesn't say whether or not this product contains lactose or dairy or if it is an organic supplement;
Unfortunately, GNC shakes don't contain any probiotics, superfoods, or herbs.
Herbalife Shakes
Pros
Herbalife means so much more than just some weight-loss shakes. For instance, you can enroll in one of their healthy living programs during which you will be provided with plenty of shakes and meal replacements;
The shakes are highly convenient, and they are easy to prepare and consume;
They are low in both calories and fat which makes them a healthy alternative to a regular snack;
Herbalife is an appealing brand that has been in the supplement industry for a very long time, and it has gained a solid reputation.
Cons
The company uses an MLM sales system which some people might consider unreliable;
Another significant disadvantage is the lack of research. Although Herbalife shakes together with all the other products made by the company have been marketed for decades, there weren't many studies that confirm the level of effectiveness of these supplements;
The Herbalife shakes contain both milk and soy which are dangerous ingredients for people who are allergic to these compounds. Also, some consumers say that these meal replacements are way too processed;
One serving of Herbalife shake contains too much sugar (9 grams) which might interfere with your weight-loss goals.
Bottom Line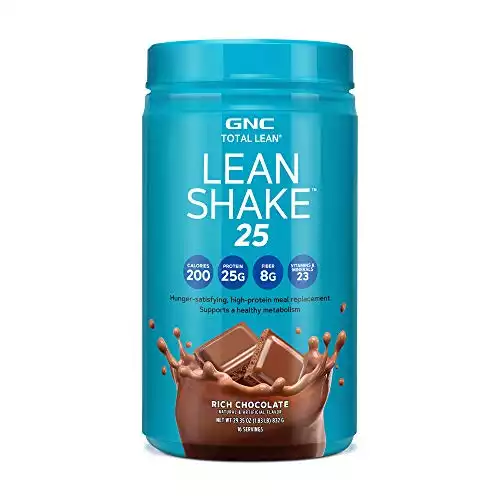 Herbalife might be a more popular brand of dietary supplements, but GNC Lean Shake is more nutritious and works better as a true meal replacement. Moreover, Herbalife uses an MLM sales system which many individuals consider to be something that benefits the company solely.
Finally, Herbalife shakes are way too processed, and they contain too much sugar, but GNC Lean Shake lacks some important ingredients such as superfoods and probiotics. So, the final choice, although a hard one, is all yours!
Recommended Reads:
—-
Disclaimer
Last updated: December 16, 2019
The information contained on www.altprotein.com website (the "Service") is for general information purposes only.
Alt Protein assumes no responsibility for errors or omissions in the contents on the Service.
In no event shall Alt Protein be liable for any special, direct, indirect, consequential, or incidental damages or any damages whatsoever, whether in an action of contract, negligence or other arising out of or in connection with the use of the Service or the contents of the Service. Alt Protein reserves the right to make additions, deletions, or modification to the contents on the Service at any time without prior notice.
Alt Protein does not warrant that the Service is free of viruses or other harmful components.
Fitness disclaimer
The Service offers health, fitness and nutritional information and is designed for educational purposes only. You should not rely on this information as a substitute for, nor does it replace, professional medical advice, diagnosis, or treatment. If you have any concerns or questions about your health, you should always consult with a physician or other health-care professional.
Do not disregard, avoid or delay obtaining medical or health-related advice from your health-care professional because of something you may have read on the Service. The use of any information provided on the Service is solely at your own risk.
You can also review our Editorial Integrity Policy.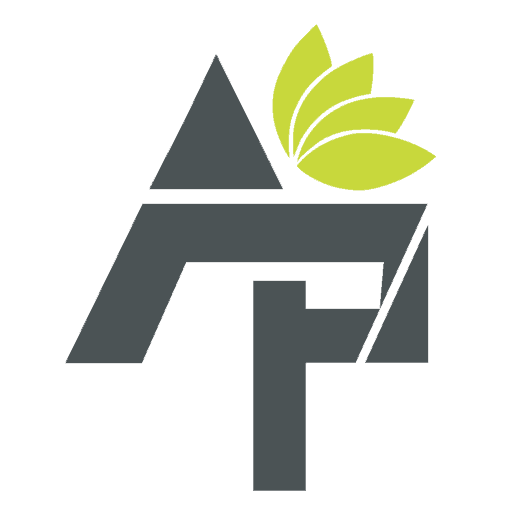 Alt Protein Team is a team of professionals and enthusiasts committed to bringing you the most up-to-date information on alternative protein, health and wellness, workouts, and all things health-related. We've reviewed a lot of products and services so you don't have to guess when you spend your hard-earned money on them. Whether you want to shed some pounds, build lean muscle or bulk, we can help you figure out what you need to do and what you need to have to achieve your goals.