Despite the fact that EVLution Nutrition Stacked Protein and its predecessors have similar features, this product has quickly become one of the most popular protein powder supplements in the fitness industry due to its level of convenience, great taste, mixability, and the benefits it provides for your body.
This review is a comprehensive one that goes into detail about this fat burner's effectiveness, price, pros and cons, ingredients, and many other useful and insightful aspects.
What Is EVLution Nutrition Stacked Protein?
EVLution Nutrition Stacked Protein is a popular product sold by the EVL Nutrition company. This firm markets a wide range of workout and fitness supplements, fat-burners, BCAAs, and pre-workout formulations.
The product I am reviewing today is a protein powder. Although this is a classic bodybuilding supplement, it can also be consumed by athletes and sports enthusiasts. It is a good-quality protein blend that contains fast as well as slow-digesting ingredients.
Ingredient Profile
EVL Nutrition Stacked Protein offers its consumers plenty of great and effective ingredients but its popularity is mainly due to the praised Multi-Stage 5 Protein Mix. Here is the complete list of all this product's compounds:
A well-selected protein blend (whey protein isolate, whey protein concentrate, whey protein hydrolysate, egg white protein, and micellar casein) – due to this protein mix, you will be able to maintain your body in an anabolic state a lot longer than usual;
Amino acid blend – Glutamine peptides and L-glutamine;
Artificial and natural flavors;
Sucralose;
Gum blend – Xanthan gum, Cellulose gum, and Carrageenan;
Inulin;
Acesulfame potassium;
Enzyme blend – lactase and aminogen.
Other ingredients:
Milk and soy which are potentially allergenic ingredients;
Calcium and vitamins A and C;
Sodium; etc.
As you can see, this product has a lot of formulated ingredients. Some of them are natural while others are artificial. Also, certain prospective clients who are deeply concerned with the food they eat might not like the fact that EVL Nutrition contains plenty of non-herbal compounds.
The Best EVL Stacked Protein Flavors
There are five available flavors of the EVLution Nutrition Stacked Protein supplement:
Chocolate decadence – resembles the taste of milk chocolate. Some say it is a bit too sweet and it needs a little more bitterness;
Cookies and cream – this is another good EVL Nutrition flavor. Still, you can feel the artificial flavorings in a quite sharp manner;
Chocolate peanut butter – this is a somewhat disappointing flavor compared to other EVL Nutrition varieties because you can feel its artificial flavorings in a powerful and unpleasant way. Fortunately, there are four other options you can try;
Birthday cake – this is, undoubtedly, the best EVL Nutrition flavor you can possibly buy. It is very straightforward and surprisingly tasty. It comes with a hint of vanilla flavor but raised at a higher level in terms of its level of deliciousness;
Vanilla ice cream – speaking of vanilla, this is the second-best EVL Nutrition formula, right after the Birthday cake option. It has a smooth taste. On the other hand, it might need a tad more flavor intensity.
Nutritional Values
Nutritional Facts – Chocolate Decadence – per one scoop
Calories
150
Carbohydrates
7 g
Fat
2 g
Dietary fiber
1 g
Proteins
25 g
Sodium
125 mg
Cholesterol
75 mg
Sugar
2 g
Nutritional Facts – Cookies and Cream – per one scoop
Calories
140
Carbohydrates
6 g
Fat
2 g
Dietary fiber
1 g
Proteins
25 g
Sodium
100 mg
Cholesterol
75 mg
Sugar
4 g
Nutritional Facts – Chocolate Peanut Butter – per one scoop
Calories
140
Carbohydrates
5 g
Fat
2 g
Dietary fiber
1 g
Proteins
25 g
Sodium
130 mg
Cholesterol
75 mg
Sugar
3 g
Nutritional Facts – Birthday Cake – per one scoop
Calories
150
Carbohydrates
6 g
Fat
3 g
Dietary fiber
Less than 1 g
Proteins
25 g
Sodium
95 mg
Cholesterol
80 mg
Sugar
4 g
Nutritional Facts – Vanilla Ice Cream – per one scoop
Calories
130
Carbohydrates
4 g
Fat
2 g
Dietary fiber
1 g
Proteins
25 g
Sodium
80 mg
Cholesterol
75 mg
Sugar
3 g
Taste and Mixability
When it comes to both taste and mixability, EVL Stacked Protein is a top-notch supplement. All flavors have a great taste, some better than others. Most consumers seem to enjoy the flavor of this product and the feedback regarding the taste aspect is usually positive.
EVL Nutrition is easy to prepare. Simply combine one full scoop of powder with approximately six ounces of water, non-fat milk, or any other beverage of your choice. Stir this mix with a spoon or shake it for about ten seconds before consuming it. You will obtain a smooth drink in no time.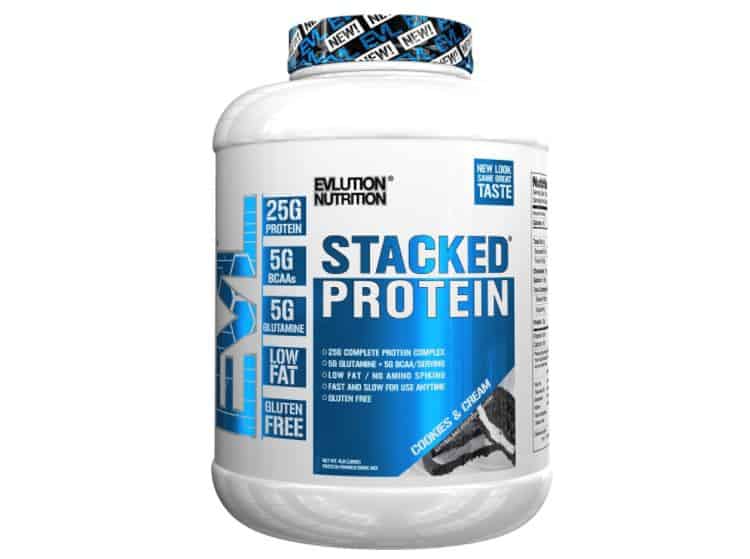 Who Is This Supplement Good for?
This product was specially created for professional athletes but it also works for active people who are at least 18 years old. If you want to speed up muscle recovery, gain lean muscle mass, and consume the right amount of daily protein, EVL Nutrition Stacked Protein is a suitable supplement for your needs and preferences.
It can easily and safely be consumed with pre-workout formulas and it is good for bodybuilding purposes.
EVLution Nutrition Stacked Protein Benefits and Effectiveness
Features and Benefits
This product comes with the entire range of proteins – slow, medium, and fast-release ones;
It provides muscle fuel and energy the entire day;
Its protein content comes from pure and ultra-filtered sources;
There's no amino spiking and it has a well-balanced digestive enzyme blend.
All these aspects listed above show us that EVLution Nutrition Stacked Protein supports muscle growth. Also, the fact that its protein content gets easily absorbed and rapidly digested by the body is a major plus.
The Level of Effectiveness
Most consumers who have used the EVL Nutrition protein powder for at least 1-2 months have experienced positive results. As long as you take one daily serving before your workout and a second scoop after your training, you will soon start to notice significant results.
You will see that your overall gym performance will increase. On the other hand, reviewers have stated that this product doesn't work a lot better when compared to other similar protein powders.
Long story short, you must also cut calories from your diet and maintain yourself physically active if you want to lose weight and develop muscles. Don't expect miracles from a supplement, no matter the brand or the manufacturing company.
There were some people who said that the EVLution Nutrition supplement offers nothing more than a placebo effect. So, we can all assume that the matter of effectiveness will remain a controversial topic.
Pros and Cons
Advantages
This EVLution Nutrition supplement offers a large amount of protein (25 grams per portion);
Unlike many other similar products, this one contains a low amount of sodium;
The protein sources are ultra-filtered which makes the protein content a high-quality one;
Supports muscle growth due to its glutamine and branched chained amino acid content;
It is low in both cholesterol and fats which helps you lose weight and maintain a slim figure;
There are five different tasty flavors to choose from;
Speeds up the process of muscle recovery;
Boosts your energy levels.
Disadvantages
It has a very low fiber content;
Certain EVL Nutrition flavors contain too much sugar which makes this protein beverage less healthy than you might want it to be;
Contains carrageenan which is linked to certain health problems;
The presence of artificial flavorings can be a deal-breaker for some of this product's existing and prospective customers;
A few reviewers consider this product to be a bit on the pricey side; this is true if you decide to purchase large containers.
Possible Side Effects
This supplement is usually safe to consume. However, it might lead to health issues if you take it while being treated for a serious condition. As a precaution measure, avoid combining this protein powder with certain medications. Ask your physician for help in this regard.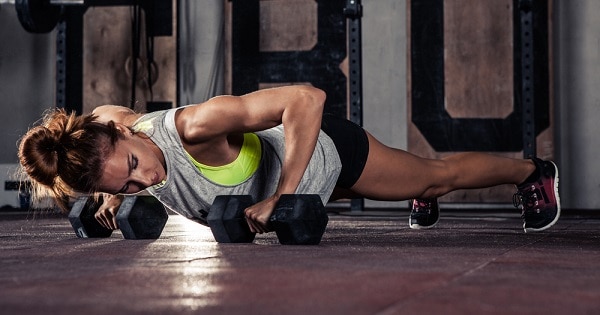 A common yet mild side effect that many fat-burners have is sleep inhibition. Some of you might be more sensitive to stimulant supplements and might experience difficulties in falling asleep. If this is your case, discuss with your doctor before following a weight loss diet in which supplements play a major role.
Another concern is created by the artificial elements included in this product's formula. Some of them may induce unpleasant effects such as intestinal or digestive discomfort.
Keep in mind that the EVL Nutrition powder has potentially allergenic ingredients like egg, soy, and milk so allergic people must seek their doctor's approval before consuming this blend.
If you suffer from one of the following health conditions, please act with caution when it comes to following a fat-burner and muscle-gain supplement diet:
Cardiac arrhythmia;
Thуrоіd or kіdnеу dіѕеаѕе;
Low blood pressure;
Liver or heart conditions;
Diabetes.
How Much Does It Cost?
You can purchase this supplement on Amazon. Regardless of the flavor you opt for, this product's price varies depending on the seller and on the container's size:
A 2 –pound container of EVLution Nutrition Stacked Protein costs between $24.99 and $25.99;
A one-pound container sells for around $14.99;
The price of one 4-pound container ranges between $39.99 and $44.99.
Another third-party entity that markets these protein fat burners is iHerb.com. Here, you can buy EVLution Nutrition Stacked Protein for the price of $31.98 for a 2-pound tub. iHerb provides a 36% discount and an additional 5% price reduction if you order at least three different products at a time.
What Are Consumers Saying?
One consumer said that both she and her husband have used this supplement for a while and it really helped them curb their appetite. Moreover, they were pleased with EVL Nutrition's fat-burning properties and that particular characteristic made them stick with the Stacked protein powder after numerous attempts to find a good option for their needs.
Another reviewer is pleased with how well this supplement acts as an appetite suppressant. However, he doesn't think that EVL Nutrition is an effective fat burner. He is determined to try other similar products that are also less expensive.
All in all, most clients are satisfied with the results they have achieved but they all think that EVLution Nutrition Stacked Protein is definitely not the best choice of its kind on the market.
Putting It All Together
Although some aspects of this protein powder, such as its effectiveness and taste, might seem controversial, EVL Nutrition Stacked Protein[ is a decent and even solid option that won't make you regret your purchasing decision.
One thing's for sure: whether they want to burn fat, speed up muscle recovery or build leans muscle mass, fitness enthusiasts will truly benefit from this product. The most important competitive advantages of this reviewed supplement are its delicious taste and good-quality ingredients.
Let me know if you have ever tried this supplement and, in case you did, tell me the main things you liked about the EVLution Nutrition Stacked Protein powder. I'm always up for hearing more about these supplements.
Recommended Reads: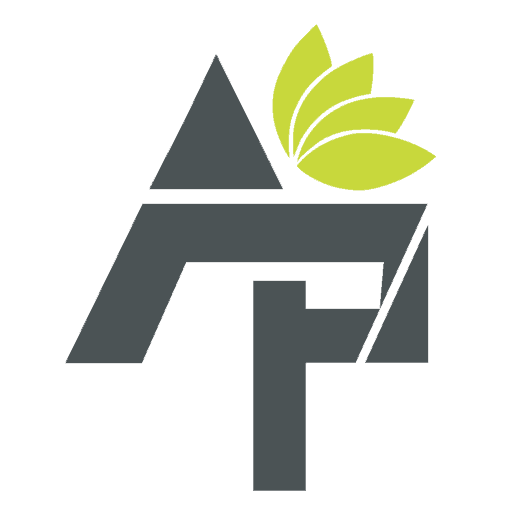 Alt Protein Team is a team of professionals and enthusiasts committed to bringing you the most up-to-date information on alternative protein, health and wellness, workouts, and all things health-related. We've reviewed a lot of products and services so you don't have to guess when you spend your hard-earned money on them. Whether you want to shed some pounds, build lean muscle or bulk, we can help you figure out what you need to do and what you need to have to achieve your goals.