EVLution Nutrition Trans4orm is a fat-burning supplement. When used in a proper manner, it can become your best friend and will help you get rid of those extra pounds that have been bugging you for so long. Although the EVLution brand is not as well-known as some of its competitors, it has marketed Trans4orm which provides several important weight-loss and health benefits.
We have tried this product to see exactly how effective it is and we're ready to share all those valuable insights with you.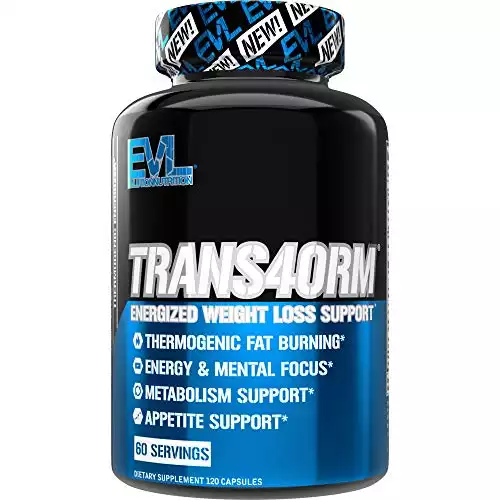 What Is EVLution Nutrition Trans4orm?
This is a dietary supplement that contains natural fat-burning ingredients like green tea extract, black pepper, B vitamins, and more. Users can consume up to two servings per day. EVLution Trans4orm was launched in 2014 and it was created by EVLution Nutrition company.
Its name comes from the product's main health and fitness claims:
Boosting metabolism;
Lowering cravings;
Burning fat;
Increasing energy levels.
It does all that but not at the expected level of effectiveness. To most of its customers, this is a simple or mediocre half nootropic and half fat burner.
A Few Words about the Manufacturer
As mentioned above, Trans4orm is manufactured by EVLution Nutrition and, according to the company's representatives, this supplement aims to burn fat. Moreover, the brand's officials do their best to come up with an impressive customer service or at least that's what they say.
At a first glance, their main website is not that great and lacks some essential aspects such as a quick loading time, consistent copy (there are too many different fonts and graphics that can confuse online users), etc.
Nutritional Value
EVLution Nutrition Trans4orm Supplement Facts – per one serving/2 capsules
Vitamin B3
15 mg
Vitamin B6
2 mg
L-Tyrosine
200 mg
Caffeine
175 mg
Black Pepper Extract
5 mg
Green Tea Extract
500 mg
Folic Acid
400 mcg
EVLution Ingredients and the Way They Work
When consuming Trans4orm you can take up to two servings per day, each containing two capsules or powder cups. It is recommended to take the first serving in the morning and the second one after a 4-6 hour window. Taking into account its stimulating properties, we advise you not to take this supplement too late in the evening. Trans4orm contains the following ingredients:
Niacin or Vitamin B3 – this will regulate your metabolism and help you burn more calories;
Vitamin B6 – transforms glycogen into glucose which provides you with a higher level of energy;
Vitamin B12 – supplementing this essential vitamin will support weight loss and increased energy levels;
L-Tyrosine – promotes a fat reducer element that occurs in your body in a natural way and increases focus and alertness;
Folic Acid – this is a popular vitamin B complex that helps your body to process both carbs and fats a lot quicker;
Garcinia Cambogia – this extract is said to aid fat burn and weight loss but it is an unproven ingredient;
Synephrine – it is believed that this ingredient supports weight loss but it hasn't been proven yet; moreover when combined with caffeinated herbs, it might lead to some unpleasant side effects;
Caffeine Anhydrous – this is a must-have ingredient in any fat burning supplement; it increases the organism's energy and boosts metabolism;
Green Coffee Bean Extract – it is a great element when it comes to losing weight and burning fat; it lowers the glucose build up in your liver;
Black Pepper Extract – with this element, your body will absorb nutrients in a much more effective way and it will speed up the ingestion process.
Other Ingredients
Choline Bitartrate – this element is already produced by your body in a natural way but supplementing it leads to improved cognitive functions and speeds up the fat burning process;
Raspberry Keytones – despite what some people believe, this ingredient doesn't provide any weight-loss benefits whatsoever;
Pikamilon – it is a controversial nootropic that was created in Russia and it said to alleviate stress while sharpening one's focus; on the other hand, don't expect this element to help you lose weight;
Rauwolfia Vomitoria Extract – this ingredient almost eliminates the organism's need to store fat and aids in the fat burning process;
A-GPC (Alpha-Glycerolphosphorylcholine) – it will improve the way you learn and memorize new information but if you consume a high dosage, it might cause some negative side effects;
Huperzia Serrata Extract – boosts brain power and improves cognitive memory but, when used inappropriately, it can cause dangerous side effects.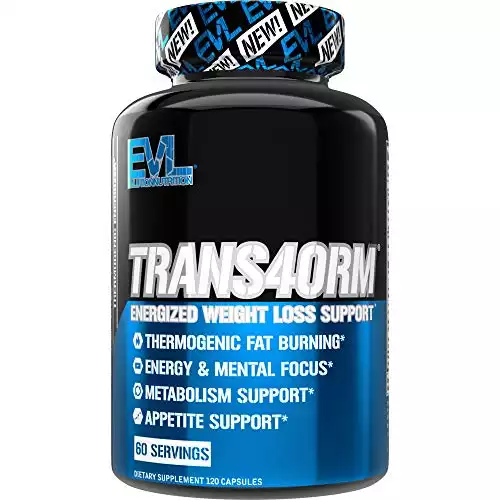 Pros and Cons
Advantages
It is a great source of natural stimulants as well as vitamins;
Its formula allows you to consume more than just one single serving per day;
It contains mostly good ingredients that boost brain power and help you lose weight;
This product burns fat and boosts metabolism;
It is created from standardized herbs in almost the right dosage;
This supplement is less expensive than most other supplements on the market.
Disadvantages
Although it contains healthy herbs, some of them are dosed too low which affects the product's overall effectiveness;
Some ingredients contained in this supplement are said to have potentially-dangerous side effects;
The ingredient profile is a tad controversial because certain elements added in the formula are either unproven or completely ineffective.
Benefits and Effectiveness
EVLution is marketed as a fat-burning product which also works as a metabolism booster. It is a standard stimulating supplement. On the other hand, it doesn't work as well as other similar products and although it provides nootropic benefits, their effect is minimal at best.
We have calculated the level of effectiveness of the EVLution Nutrition Trans4orm based on three different factors: the quality of its ingredients, pricing options, and ratings and reviews from consumers.
a. Content Quality
EVLution Trans4orm contains Garcinia Cambogia, a tropical fruit which is well-known for its weight-loss properties. However, the supplement we are reviewing today has only 500 mg of this element which is not enough if you want to receive a significant effect from this component.
Another ingredient with a quite low dosage in the formula is L-Tyrosine. This is an amino acid. It improves energy levels while also boosting metabolism. You will find around 500 mg of L-Tyrosine in this EVLution fat burner and this amount can be enough to alleviate stress and provide a positive effect on your body but it all depends on your organism type and the way it assimilates this ingredient.
When it comes to the caffeine content, this product contains approximately 174 mg which is similar to two medium-sized cups of coffee. EVLution's caffeine dosage offers you a mild effect, unlike many other fat burners that have a higher amount of caffeine.
So, all in all, it's not very unlikely that you might be disappointed by the way this product works because although it has plenty of ingredients with great potential, they come in low amounts which are not enough to help you achieve your weight loss and physical performance objectives.
b. Pricing Options
EVLution Trans4orm is marketed in two main forms: as capsules and in the form of a powder supplement. You can choose from a couple of different container sizes such as 30 or 60 servings. The price of a large container ranges between $25 and $39 which places this supplement among the less expensive ones. From the cost point of view, EVLution Trans4orm is a very affordable product.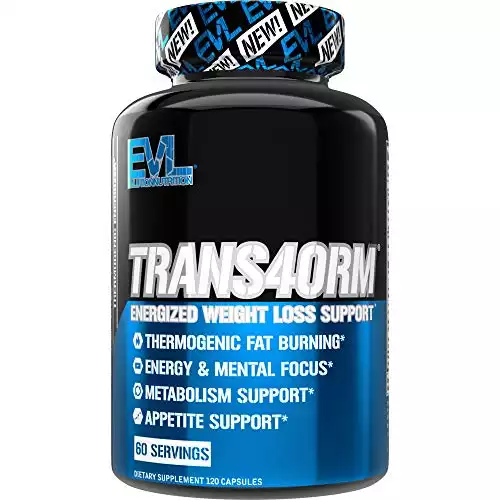 c. User Reviews
Many users say they were satisfied with how this supplement works. Generally speaking, you will achieve a nice mental focus boost but don't expect much after that. There were clients who were not very pleased, saying this fat burner is less powerful than other comparable brands.
Who Is This Supplement Good for?
According to the manufacturing company, this supplement has two main target markets:
The workout community – those individuals that purchase powder supplements and other stimulants to boost their physical performance during workouts or training.
The dieting community – people who have the main goal of losing weight and consume diet pills.
EVLution Nutrition Trans4orm plays both these roles; it improves the function of your metabolism while also burning fat. On the other hand, some consumers have stated that this product offers a moderate stimulant effect rather than a powerful or significant one. According to these people, the EVLution supplement is good for casual gym enthusiasts who are looking for something a little bit more effective than a simple green tea.
So, simply put, EVLution is best suited for those of you who participate in Zumba classes, use the treadmill often, and lift very light weights. What we're trying to say is that professional athletes might not be completely satisfied with this thermogenic fat burner.
How to Properly Consume This Fat Burner
This is a dietary supplement so taking one or two servings per day is more than enough. You should consume the first serving in the morning, before breakfast, and then wait 4 and 6 hours before taking the second serving. You should never consume more than 2 servings, the equivalent of 4 capsules, in a 24-hour time frame.
To avoid some unpleasant side effects, you should drink at least eight glasses of water during an entire day. Also, specialists recommend us to take this supplement for only eight weeks at a time and then, discontinue it for at least four consecutive weeks.
How Much Does EVLution Nutrition Trans4orm Cost?
You can purchase the EVLution Nutrition Trans4orm on the company's official website or on Amazon.
The price may vary depending on the container's size and its seller.
a. The Official Website/iHerb.com
A large container of 120 capsules – $29.99 (the original price, before the discount – $59.99);
A powder container of 30 servings or 5.3 ounces – $39.74 (initial price – $59.99).
If you buy this product from iHerb.com, you will benefit from various offers such as the quantity discount. If you purchase three containers, you will pay only $37.75 for the 30-serving powder container and $28.49 for the 120-capsule bottle.
b. On Amazon
A 30-serving container – $19.99;
A large tub of 60 servings – $24.99.
If you subscribe to Amazon Prime, you will receive a discount of minimum 5%.
Possible Side Effects
We must warn you that there are some possible unpleasant side effects that appear after consuming this supplement, especially if you exceed the recommended dosage of two servings per day.
The proprietary blend this product contains is a gamble because the label doesn't show the quantity of all the ingredients. Furthermore, certain ingredients like Huperzia Serrata are linked to dangerous side effects:
Nasal obstruction;
Diarrhea or constipation;
Anxiety;
Nausea;
Thirst;
Hyperactivity;
Vomiting;
Dizziness;
Insomnia.
Other potential side effects are:
Skin rash;
Headaches;
Confusion.
We're afraid that there are too many possible side effects that come with the consumption of EVLution Nutrition Trans4orm and some prospective customers believe that this product is simply not worth the risk.
What Do Consumers Say About It?
Some people say this is a great product, others state it is a decent supplement, while certain consumers declare themselves unsatisfied with the way it works. Although many reviews are positive and they unveil this fat burner's benefits like increased focus and energy, boosted metabolism, and a greater overall well-being, there is negative feedback as well.
A few clients felt underwhelmed by the effects they have experienced and say that Trans4orm is a mediocre product. Some of them have even felt some issues like insomnia, jitters, and shakes. So, we can all agree that Trans4orm will not suit all of you.
Bottom Line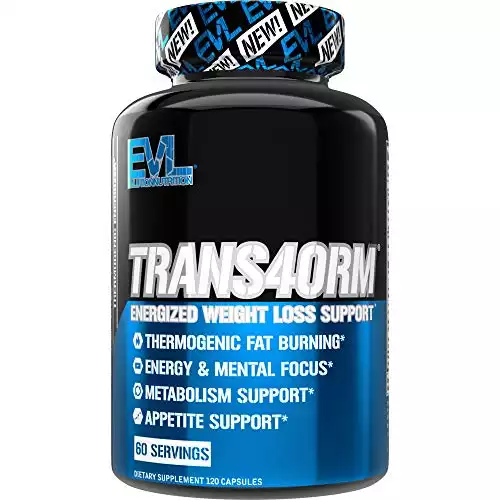 On one hand, EVLution Trans4orm is full of many great stimulants that will provide a lot of benefits for your body. You will feel more energetic and will be able to focus more during your workout routines.
On the other hand, there are many negative comments regarding this supplement's level of effectiveness. Certain ingredients are not proven to work when it comes to losing weight and burning fat.
To conclude with, there is only one thing that we can certainly say: this is a fat burner that is best suited for casual gym member and might not work that well for professional athletes.
Recommended Reads: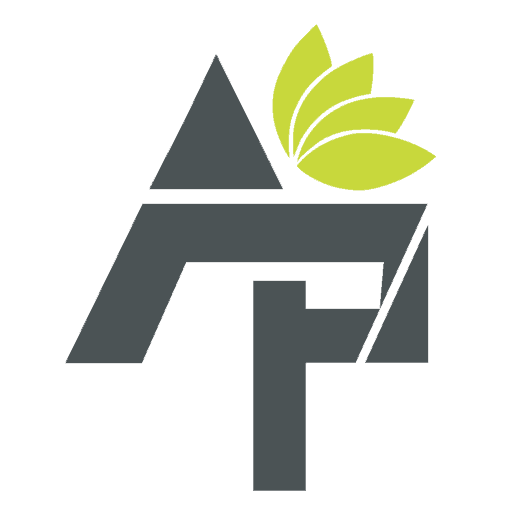 Alt Protein Team is a team of professionals and enthusiasts committed to bringing you the most up-to-date information on alternative protein, health and wellness, workouts, and all things health-related. We've reviewed a lot of products and services so you don't have to guess when you spend your hard-earned money on them. Whether you want to shed some pounds, build lean muscle or bulk, we can help you figure out what you need to do and what you need to have to achieve your goals.