If you are a protein shake fan, you may want to know that there are specific blenders for protein shakes that are much more efficient at making delicious shakes than a shaker cup. We have taken the top 10 blenders for protein shakes and reviewed them for you below. These are guaranteed to make delicious, nutritious shakes and save you time!
What are protein shakes?
For your body to provide proteins, it uses up to twenty amino acid types that you consume from plant and animal sources. You generally get more protein from animal sources, but if you're vegetarian or vegan, this could be a problem.
Vegans and vegetarians have much less protein in their bodies, and they need something to supplement the lack of proteins from animals. This is where protein shakes come into play. They are currently not the biggest consumers of protein shakes at the moment, maybe because they are unaware of how good shakes can be for them. Protein shakes are generally had by people that are working out at the gym because they shake help them to grow and repair muscles.
There are many different protein shake powders out there, and some are used for very specific needs and situations. Usually, a protein shake needs water or milk, or another liquid to make it drinkable, and this is where the blender comes in.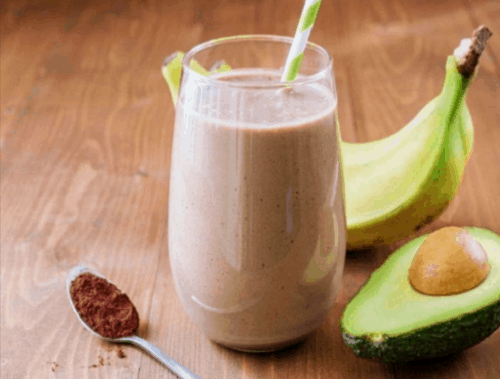 How to choose the best protein shake blender
When you search for a protein shake blender, you may want to have a few things on your checklist. There are tons of blenders on the market, and it can be challenging to choose between the various materials, cups, motors, sizes, and designs. There is also another crucial element, price.
So before you decide on which blender to get, you need to look at the following buyer's guide to help you make the right decision.
Here are a few points to consider when you are browsing for a blender that specializes in protein shakes:
Motor or power
Size
Cup size
Ease of use
Weight
Warranty
Accessories
What are the different types of blenders out there?
Blenders are very versatile appliances, and they often come with a ton of tips, tricks, and accessories that we are not sure what to do with. Not to mention the different types of blenders you get.
In the end, you want something that mashes up ingredients. And this is what most people think about when buying a blender. There isn't much to it really. But this is false. There most certainly is more to it.
Depending on the brand and type that you have, your blender will be able to make a range of things from smoothies to soups, sauces, ice creams, and even crushed ice. The possibilities are all out there, and you just need to understand what you want your blender to do for you.
So remember that one blender cannot make all of the above. Certain recipes call for more powerful blenders, and this is a significant step in the buying process. So let's have a look at the basic blenders which are countertop and immersion blenders for more clarity.
Countertop blenders
These are also known as Jar Blenders, and they are quite heavy-duty blenders when compared to immersion blenders. They are huge and heavy, which means that they need a countertop, hence the name. These blenders are generally used for a variety of kitchen tasks, but the food types that can be made in countertop blenders really depend on their model and power.
Immersion blenders
These blenders are also known as hand-held blenders or stick blenders. They are the ones that you may have seen in a home store that look like a stick where the blades are at one end. This is generally used to make sauces, mayonnaise and the like. You can also make creams and soups with them. They are practical for smaller spaces and very easy to clean. They also depend on speed, power and design so have a look at these elements when choosing an immersion blender.
Your preferred protein shake type will determine your blender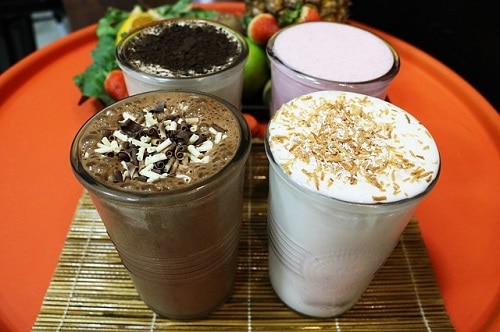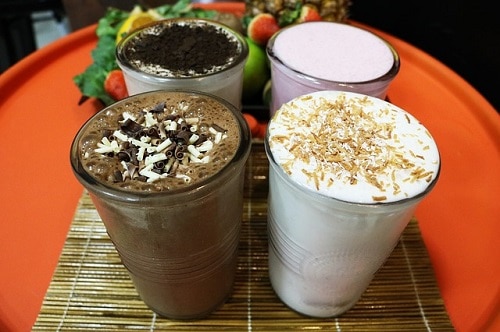 When you start to drink protein shakes for the first time, you may feel as if they are a little annoying when it comes to taste. This generally happens with shakes that are protein powder with water added to them. If these are the shakes you prefer, then you probably won't need an elaborate protein shake blender. You just need something simple that gives you a protein shake and not much more. You will be able to blend a simple shake like this in just a few seconds, and you're ready to go.
If you want to add things like bananas and ice, you need to go for a blender that is more advanced. If you have a slightly more advanced blender, you will easily be able to add nuts and ice to your drink without having to worry about your blender's strength.
Remember that the more advanced blenders can also act as mixers for a batter and even make foods like mayonnaise! It is wise also to check if a blender is dishwasher safe or not, for added convenience. Simply take a look at our top 10 list of blenders for protein shakes to determine what type you need for your daily dose of blending.
What is the best blender for protein shakes?
If you feel like you're always tired and you're not getting sufficient protein from your diet, protein shakes are the way to go. You need to have them for working out and as a daily dose of protein, especially if you're a vegetarian or vegan. So don't be afraid to start drinking these shakes, and don't waste your morning shaking them for ages, use a blender and make sure you get the right one.
There are loads of many high-quality blenders out there, and the market is becoming more and more saturated as time goes by and more people realize that they need to eat healthier. So take your time in choosing the right protein shake blender for you.
We have a list of the top 10 blenders for protein shakes, and this list is designed for you to be able to analyze the pros and cons of each blender, and choose what suits you best. Our list includes a mix of features, value, and budget for high-end shakers.
Best of guide
We have compiled a list of 10 blenders for protein shakes that are available online, easy to use, easy to buy and they are on the list because they work well. Keep reading to find out which blenders made the cut!
1. Tribest Personal Blender PB-250
This is a very high-powered blender, and it can make smoothies easily from raw fruits and vegetables. You can even make soups and all sorts with this blender, purely because of its power. You can see that if you research this product online, many reviews say you are even able to crush ice with this blender. We put it to the test and found that you absolutely can, provided that you add fruits or vegetables to the ice. It doesn't seem to do a sparkling job of crushing ice cubes on its own.
The design of the blender is very modern, and it is quite compact which means that it won't be taking a ton of space on your countertop. It is seen as a versatile and portable blender which is perfect for your fast-paced lifestyle.
You get two types of blades with this blender where one is for blending and the other for grinding. It is quick and easy to clean and generally a great blender for protein shakes and smoothies. On Amazon, the Tribest Personal Blender is $69.95.
Pros
Modern design
Easy to clean
Two blades for versatility
Compact design
Cons
Can't crush ice on its own
Lower powered when compared to other blenders
2. Blendtec 1003257 Designer Series
The design is absolutely stunning. It has a simple and clean look, and the blender is a great complement to any kitchen out there. The Blendtec 1003257 blender is sold in a red and black. Of course, the red is more expensive than the black so keep that in mind when purchasing.
It could cost you up to $100 more for the striking red option! You will see that the blender is labeled WildSide after the design of the actual jar. The jar actually has a fifth side which is very unusual, and this was designed to help make a better surface area for blending, as opposed to the usual four-side blenders.
The blender also has a flat display panel which is also different. Most blenders out there have a dial or buttons on them, yet the Blendtec has six simple images to choose what type of blend you would like.
These show functions for ice crushes, smoothies, batters, ice creams, soups, and whole juice. These icons look quite neat and are much better than having to move dials or press buttons constantly. There is so much power in this blender, being 1560 watts it is just the thing to be able to make the perfect protein shake, and so much more.
This blender replaces other kitchen appliances like mixers, coffee grinders, and food processors. If you are in need of a blender to make your protein shakes and a whole lot more, this is definitely one to consider.
Pros
Extremely powerful
Can be used as a food processor as well as a coffee grinder
7-year warranty
Great design
Cons
Slightly more expensive
Quite large
3. Cuisinart CPB-350
The Cuisinart CPB-350 is quite a popular blender for protein shakes for a blender that is portable. It is quite small so you can easily move it around and it has a good amount of power for its size. The blender has a 350-watt motor which is more than capable of making a protein shake. It is also great for chopping and mixing ingredients.
Because it is smaller with lower power when compared to other heavy duty blenders, it is quite silent which is always good. It has indicator lights and speed buttons that make it very easy to control. The size of the blender is small enough for you to save a good amount on kitchen counter space too.
You can even pack it away if you don't use it on a daily basis. However, there are a few disadvantages which include the fact that this blender isn't designed as a food processor and is not heavy duty at all. It often has issues chopping up tough green vegetables.
Although, it can crush ice, nuts, and coffee beans. It is also perfect for smoothies and protein shakes.
Pros
Small and light
Portable
Can be cleaned easily
Cons
Cups are not spill-proof
Lower speed
Does not chop green vegetables well
4. Cuisinart CSB 79
If you're looking for a blender that is going to be used for making protein shakes, you don't want to buy one that has a load of containers to clean. These accessories and features generally come with the bigger blenders. So you may want to have a look at immersion blenders, like this one.
The Cuisinart CSB 79 blender is one of the best immersion blenders on the market today. It is slightly lower powered and has a 200-watt power which can make protein shakes, soups, and dressings easily. This handy tool can also be used to beat eggs and make foods like mayonnaise with no fuss. You may have noticed that the blender comes with a nice feature that lets you attach it to bowls and pots too.
It's a great blender if you're looking for something that is simpler, quick to clean and use and a blender that doesn't take up a ton of space in your kitchen. Remember not to grind coffee beans or nuts with this as it is not high-powered enough. Stay away from crushing ice too!
Pros
Small hand blender
Portable
Grips easily
Attaches to bowls and pots
Cons
The lid-lock mechanism isn't high-quality
Not high-powered
5. Hamilton Beach 58146 Power Elite
This blender is ideal if you are on a strict budget. It has a 700-watt motor that is quite powerful, but not the most powerful for a countertop blender. You can make a great protein shake or smoothie in this. You can choose up to 12 speeds for mixing and use functions for chopping, pureeing, grinding, crushing, grating, and more. The blender is really easy to clean, and it has so many different features that it's hard to say no to buying it.
There are are many things that this blender can do, so you would think that it is really versatile. The trouble is that it can't be as versatile as we expect because the 700-watt power isn't enough for doing so much, like crushing nuts and ice. There are speeds for those, but sometimes the blender doesn't crush or chop as well as we would like it to.
But if you are looking for a blender that can handle softer ingredients very well without breaking the bank, then this one is it. This blender is very good at making smoothies, shakes, purees, soups, and sauces. If you are looking to make something that has green vegetables in it, add a little water to help decompose the vegetable before turning the blender on.
Pros
Easy to use
Affordable
Has 12 speeds
3-year warranty
Cons
The motor should be more powerful
A little noisy
6. Oster BLSTPB-WBL My Blend
This Oster blender is something rather different. It provides style, performance, and power all in one. The blender is quite small, but this isn't always a bad thing. It means that you can move and carry it around if you need. It really doesn't take much space on a kitchen counter, and it is very stylish when it's displayed. This appliance is just the thing for making protein shakes. It's quick and convenient, with just a touch to begin blending.
The motor offers 400-watts of power which is a fair amount for the blender's size. You can make smoothies and protein shakes very easily, but more tough ingredients may be an issue to try and crush or grind. This doesn't mean that the blender can't crush ice, it most definitely can.
However, it does battle with the larger chunks of ice, so make sure you use smaller pieces of ice when adding this to a smoothie. Overall the blender is modern and very chic. It has no buttons or dials which is a great feature. Less to clean and manage when you are busy blending!
Pros
Great design
Easy to clean
Relatively powerful
Portable
Cons
The lid is not always leak-proof
The blender cannot grind and crush ingredients well
7. Vitamix 5200
This is one of the best blenders on our top 10 list, but as you will find it does come at a price. The Vitamix 5200 blender is capable of making the perfect protein shake as well as crushing nuts and ice. You can use this blender to blend, crush and do a range of other things in the kitchen. You can even control and customize the blending according to what you like. Frozen ingredients also work well in this blender and blend ingredients in a matter of seconds.
The design is chic and very functional. You can see that it is quite sturdy and has a square base. Unfortunately, this also means that the blender is heavy, so make sure you have space for it in your kitchen. There are switches for speed and power as well as dials that allow you to control further what you want to do while you blend.
You get a cooking class DVD with the blender that will show you some tips and tricks, as well as a warranty which is always good to keep handy. If you are looking for a multifunction blender, this is it. However, if you want something specifically for protein shakes, this may be too elaborate.
Pros
Very powerful
Easy to clean
7-year warranty
Multifunction
Cons
8. Smeg BLF01 CUS 50s Style Blender
This blender is very stylish, and if you're worried about the look of your blender on your counter, Smeg is the way to go. It is available in quite a few retro colors which include cream, red, green, pink, and blue. If you are looking for something a little closer to home, you can always opt for the black or silver option.
The Smeg Blender has four speeds that are standard, and include smoothie and ice-crushing settings that you can choose by turning the dial. There are also start and pulse buttons. Even though there are buttons and dials, which you may think are old-fashioned, the point of this blender is to feel as if we are back in the 50s so embrace it!
The container section of the blender is dishwasher safe which is always a nice feature. It also comes with a self-clean option that is nice too. The blender itself can blend shakes, smoothies and crush ice in less than 60 seconds. It has an 800-watt motor which is very powerful, and it is swift to mix ingredients thoroughly.
Pros
Stunning design
Easy to clean
Powerful
Multifunction
Dishwasher safe
Cons
Does not include a soup feature
Fairly expensive
9. The Sharper Image Stainless Steel Multi Blender
The Sharper Image Blender is versatile and can really do everything you will need it to, and more. It is capable of grinding coffee and meat. It can mix yogurts, smoothies, and batters as well.
This means that if you're happy to buy a blender like this, you can be sure that you won't need a separate mixer in your kitchen. If you look at the size in store, you may think that the blender does not have as much strength as you think, but it truly does. It is small, so it doesn't take up a lot of space, but it is quite powerful with a 300-watt motor.
You get 3 cups with this blender which is ideal for shakes on the go. It is important to note that the cups are plastic, so crushing ice is possible, but it could also ruin your cups if you crush ice often enough. It is very affordable and if you're looking for specifically a protein shake blender, this is one of the best bets regarding affordability and performance.
Pros
Good design
Easy to clean
Great capability
Small
Cons
Plastic cups
Requires manual operating to blend
10. Ninja Professional 72 oz Countertop Blender
This blender is one of the most powerful blenders out there, but it also comes with a decent price tag. If the price is not a huge factor for you, you should consider this. The Ninja Professional is known to be a great brand out there, and there are too many good reviews on this product to leave it out on a top 10 list of blenders for protein shakes. The design is boxy, but it is quite practical. It has three rows of blades on the inside that is used to make shakes and crush ice. You can even crush vegetables or fruit with no hassle.
It is important to try to be careful when cleaning the blender as the blades are sharp and you don't want to cut yourself. Rather use the self-clean option so that you don't have to hand wash or use the dishwasher. The blades are removable, but they are a bit of a battle to get back on. The blender is very versatile and powerful, so if you need to prepare baby food, make shakes and grind nuts, this is the blender for you.
Pros
Large cup size
Very powerful
Good capability
Cons
Final Thoughts
Remember that when you are choosing a blender for protein shakes, there are plenty of options out there. However, the final choice needs to link back to what you want your blender to do for you. What do you need the blender for? How will it impact your goals in the kitchen? How important is design? How much money do you have for a blender?
All of these questions, along with our review, will help you better choose which blender is the right one for you, your family, and your home. We prefer the Smeg 50s Style Blender as a first preference, but of course, this is quite expensive. So if you can't budget that much for a blender, look at getting something else more affordable on our list.
So be sure to comment and let us know which blender you decided to buy. If you found one that is great and not on this list, add that on too! We want to know more from you and your experiences with these appliances. Now it's time to choose your best protein shake blender and blend away!
This Might Interest You