Bullet-style blenders have become very popular in the last few years. Their unique design makes them a highly practical solution for those who want more blending power, and who don't mind a smaller blender cup. They're a wonderful choice for smoothies, protein shakes, juices, and even homemade jams and jellies.
The Nutri bullet blender is the best-known of the bullet-style blenders, but many people consider the Magic Bullet blender to be a better alternative. Below, we've taken a closer look at the two blenders to determine which is the best choice for you. Whether you decide to go with the Nutri bullet RX or choose the Magic Bullet style, this compares and contrast post is here to help you decide!
The Specs
The bullet-style blenders look fairly similar, but their specs are a bit different.
The Nutribullet Blender
| | |
| --- | --- |
| Product Dimensions | 12.9 x 9 x 13 inches |
| Item Weight | 7.7 pounds |
The Magic Bullet Blender
As you can see, the Nutribullet is slightly larger and significantly heavier than the Magic Bullet. Some believe this indicates a higher degree of sturdiness and durability for the Nutribullet, as evidenced by the customer reviews (see below).
Accessories
Both of the blenders come with a variety of accessories in addition to the motorized power base.
With the Nutribullet, you get:
1 Nutribullet Extractor Blade
1 Nutribullet Milling Blade
1 Tall Cup
2 Short Cups
1 Handled Lip Ring
1 Regular Lip Ring
2 Stay-fresh Resealable Lids
The powerful blender also comes with a cookbook, user manual, and a pocket nutritionist's handbook. Great resources to help you make the most of your blender! You could also purchase Nutribullet cups separately if you want to stock up. If your entire family is drinking smoothies, or you just want to have a Nutribullet party (and why not?) we recommend stocking up on the Nutribullet cups so everyone can have their own!
With the Magic Bullet, you get:
1 cross blade
2 solid lids
1 flip-top lid
2 Comfort Lip Rings
1 party mug
1 short cup
1 tall cup
The Magic Bullet also comes with a 10-Second Recipes book filled with foods and drinks you can make in just a few minutes. (The "10 Seconds" refers to the amount of time it will take to blend the ingredients in the Magic Bullet).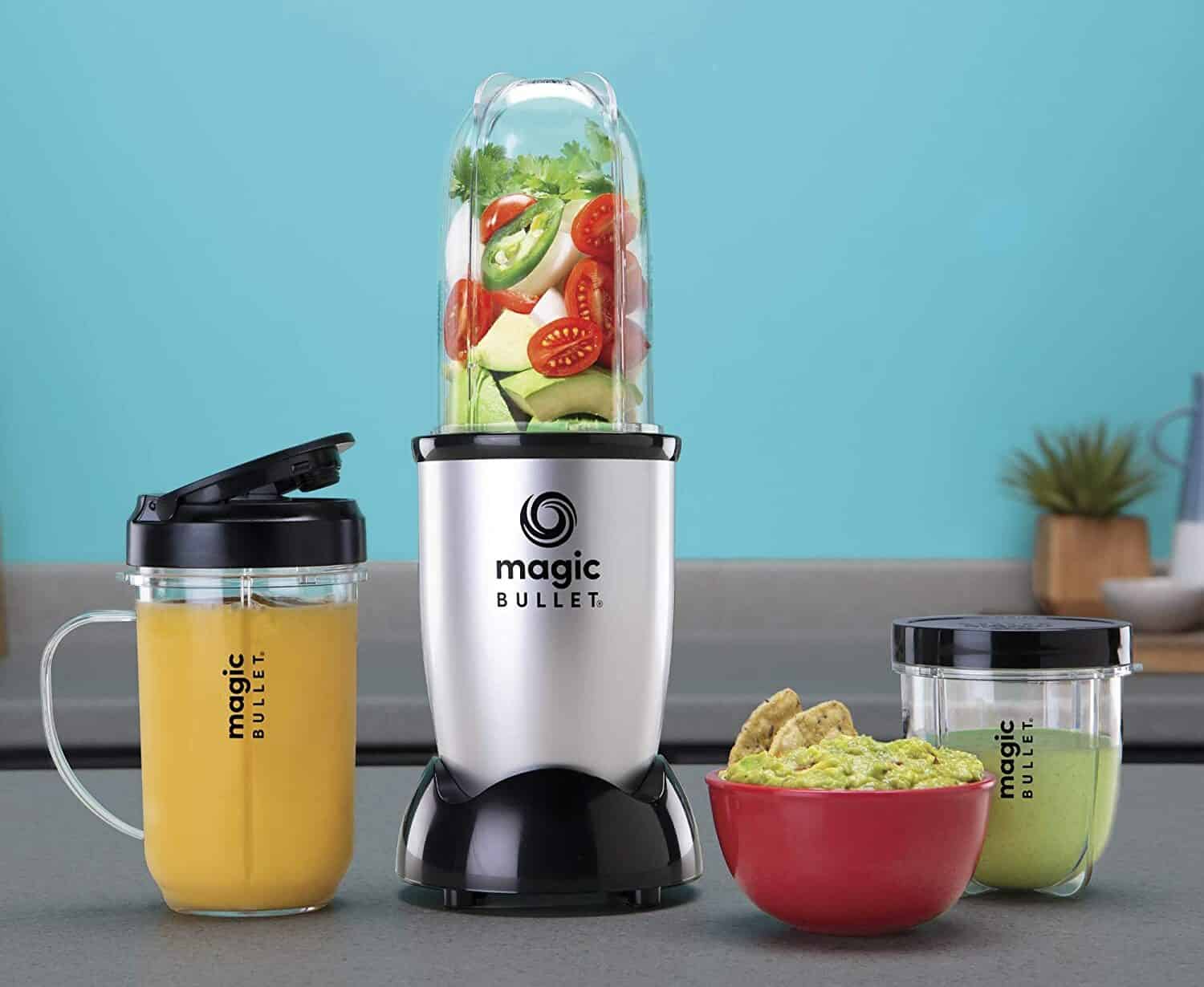 Winner: Both come with handy accessories, but the Nutribullet's second blade (milling blade) gives you a backup in case the extractor blade breaks. That's definitely worth more than an extra blender cup!
Power
When it comes to blending frozen fruits, ice, and other hard ingredients, the sharpness and design of the blade take a back seat to motor power. After all, a powerful motor is required to slice through the hard and frozen foods!
The Nutribullet comes with a 600-watt motor that is also high-torque powerful enough to chop through just about anything. Add in that wonderful extractor blade, and you have a very high functional bullet-style blender.
The Magic Bullet only has a 250-watt motor. The cross blades are able to chop through most frozen produce and ice, but you don't get as much power in your blender.
Winner: The Nutribullet's higher torque and motor power ensure you can blend your food and drink with ease. While this might not be the blender to pulverize seeds, it does a good job, on let's say, green smoothies.
Design
The design of both bullet-style blenders is pretty much identical. Both feature the wide-mouthed blender cup, and the Magic Bullet's cross blades and Nutribullet's extractor blades serve an identical purpose.
Winner: Draw. Both are designed with a practical style that makes for easy blending!
Clean-Up
This is one area where the bullet-style blenders always outshine regular blenders when you are making those green smoothies that we all love! The fact that the blades screw onto the mouth of the cup means there's no need to wash both a lid and blade attachment. It's one less part to wash, and the wide-mouthed cup can more than accommodate your hand and a sponge, and you still get to enjoy the cyclonic action.
However, one of the Nutribullet's primary flaws shows up during clean-up. If you wipe down the motorized base, you may dislodge one of the three rubberized grips on the base. If even one is out of place, the blender won't work. Lose them and you're in serious trouble!
Winner: Tie. Both are just as easy to clean!
Durability
Both of the blenders are built in the same style, meaning they share many of the same design flaws. If you fill the cups too much, the pressure could crack the plastic.
Neither of the bullet-style blenders is ideal to use for blending hot liquids. The plastic is designed to handle ice, frozen produce, and cold liquids easily, but excess heat can cause spider cracks to form in the plastic. You may end up wearing out the blender quickly if you blend a lot of soups or hot liquids.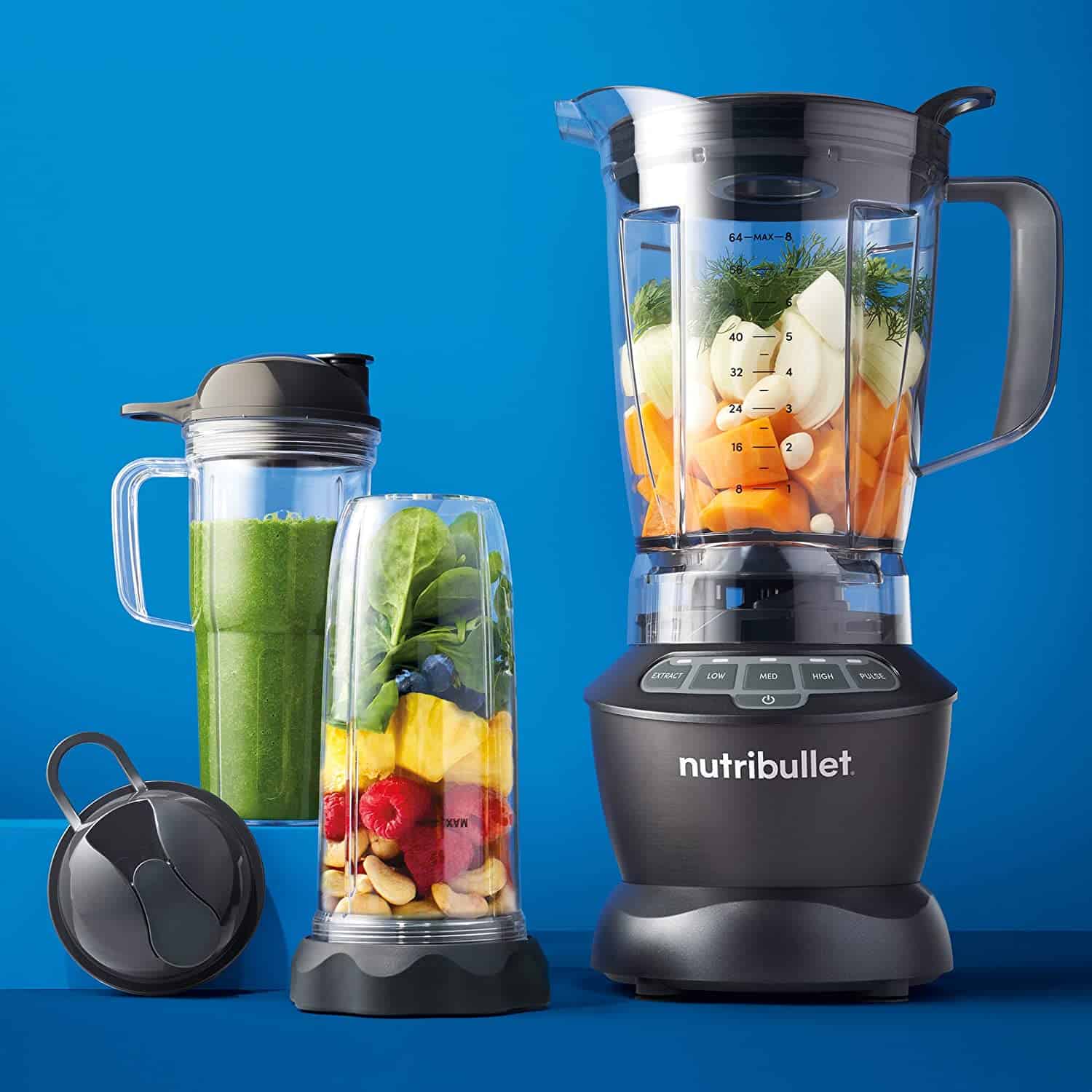 Also, after a year or so of use, the base of the blades can become stuck or difficult to spin. This can strain the motor, leading to burnout. You're better off replacing the blades or fixing them (no easy task).
Winner: Tie. Both are similarly durable, with the same flaws and strengths built into their design.
How to Use the Magic Bullet Blender
Step 1 – Add the Ingredients
Make sure the ingredients are ready for blending. Remove all the stems, seeds, and peels that you don't want to consume;
Chop larger foods into smaller chunks, when necessary. The diameter of the blender's container is not very wide so the chunks must be smaller to fit into the container;
Choose your desired Magic Bullet cup. Magic Bullet comes with three main containers: a party mug, a short cup, and a tall one. People usually use tall containers for the majority of their recipes. Still, I recommend you use the short version if you're preparing smaller amounts of smoothies;
Place all the ingredients into the cup while making sure they don't exceed the fill line. It appears as a tiny rim placed below the top of the container.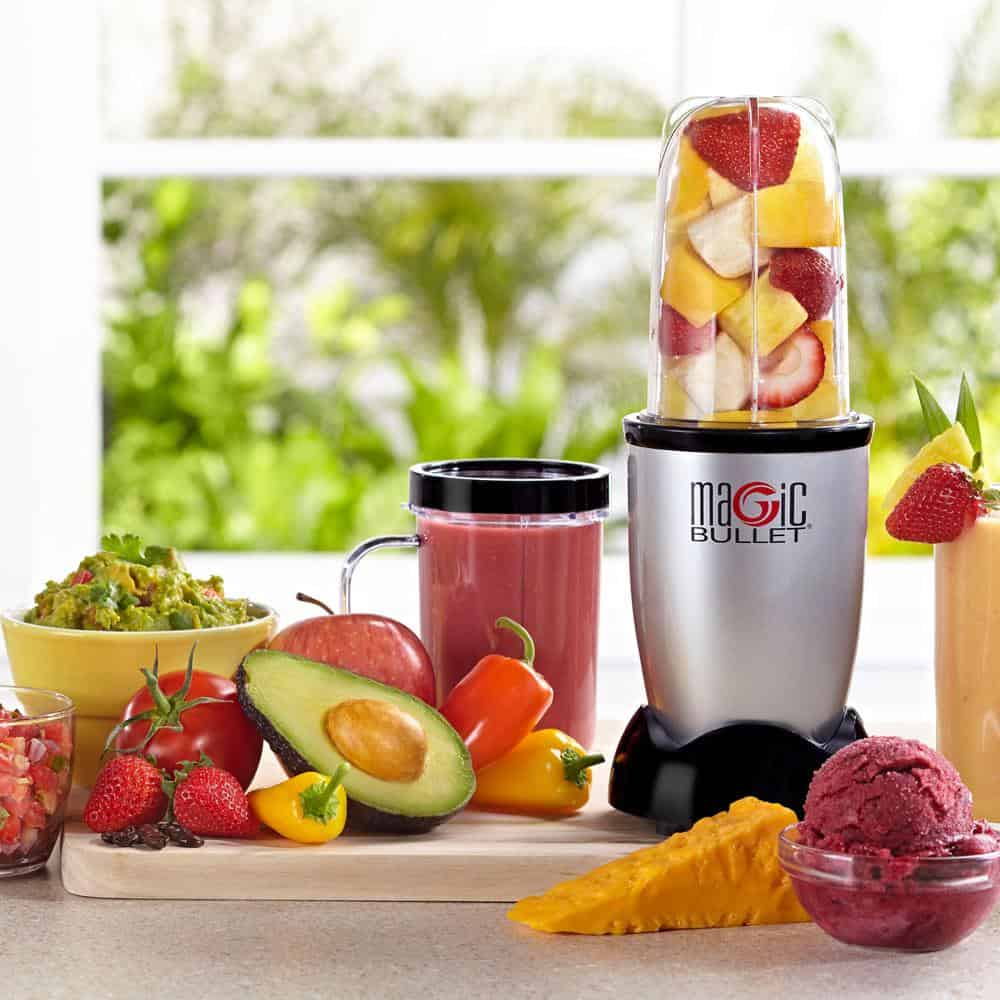 Step 2 – Operating Instructions
Choose a blade and close the lid of the container. Normally, a Magic Bullet blender is sold with two different blades: the Cross blade is designed for grating, pureeing, and mixing while the Flat blade works for chopping or grinding thicker ingredients such as nuts, beans, etc.;
Place the closed cup on the blender's power base. To do that, you must turn the container upside-down, fix the tabs that are located on both the cup and the base, and, finally, set it in place;
To turn it on, you must keep the cup pressed down. When you want to turn it off, simply release the cup. For pureed recipes, it is best to lock the blender in place to achieve a creamier texture. The blade should never run longer than 60 seconds. Otherwise, the motor might get damaged. For chunkier consistencies, it is best to just pulse the container;
Remove the cap from the power base and open the lid. Pour the beverage into a glass and don't forget to clean the container.
How to Use the NutriBullet Blender
Step 1 – Operating Instructions
NutriBullet comes with two blades so you must pick the right one for the recipe you want to prepare. You can choose between the Extractor blade which is a regular four-sided chopping tool and the Milling blade which is normally used when you add dry ingredients to achieve a powder;
Use the blender near a plug and on a level surface. Your kitchen counter or even a table will do. During use, the motor base shouldn't get wet;
Choose the cup you want to use and fill it with your desired ingredients like fruits, nuts, seeds, vegetables, etc. Like in the case of Magic Bullet, you mustn't exceed the line that appears at the top part of the container. You will probably need to chop most fruits and veggies into smaller chunks. To obtain a more liquid consistency, you could add some milk or water;
Close the container with the bladed lid and place the cap on the base. The container will be upside-down when attached to the power base;
Mixing everything together will only take a couple of seconds during which you must push the container down.
Step 2 – Cleaning the Blender
You can easily clean the components of this blender by placing them in the dishwasher, above all the other dishes. This works only for the lids and cups because the blades and the base mustn't be cleaned in the dishwasher;
The base is best cleaned with a damp rag while the blades can be manually washed with soapy water.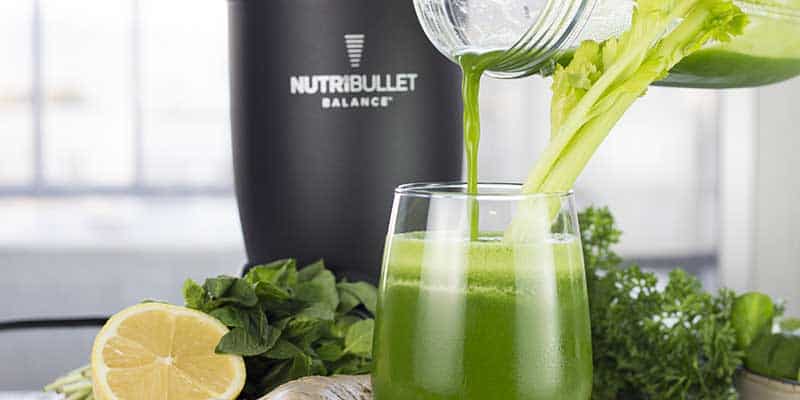 User Satisfaction
This is one of the most commonly evaluated hallmarks of a product's success: its user rating.
The Nutribullet has over 6,800 reviews on Amazon and a 4.3 out of 5-star rating. Positive reviews include things like:
"After 2 years of regular use, it's still performing the same and making me delicious smoothies. Very impressed."
"I have never had a blender work as well as this one! The price is right and it works really well so you don't get any chunks or anything."
"I can throw in entire pieces of fresh kale, frozen berries, entire flax seeds, whatever I want, and it makes smooth, perfect drinks. The right size cups, never leaks (because I make sure not to fill above the FILL line), easy to keep clean, doesn't take up much space on my counter."
"After 3 months of daily use, I'm very pleased with the NutriBullet. Each morning I make a smoothie, usually using some sort of green (kale, Swiss chard, Romaine, arugula, parsley) and frozen fruit, with Greek yogurt and low-fat milk added for protein and calcium, along with a teaspoon each of flax seeds and chia seeds. I'm pleased that I'm eating more fruits and vegetables and cutting back on grains; a bonus is that I've lost some weight."
However, there are a number of negative reviews as well:
"Great Product. Horrible Customer Service"
"Good product, but can leak if you overfill it or don't hold the top on while it's blending."
Overall customer satisfaction is good, but there are a few issues people have with the product and customer service.
The Magic Bullet has over 1,900 reviews on Amazon and a 4.0 out of 5-star rating. Positive reviews include things like:
"Love that I can quickly 'mix and go' in the morning. Powerful blade easily blends frozen fruit & the recipe book has some great ideas also."
"I make smoothies and protein drinks in a minute and this thing cleans out super fast. Some soap and water and it seem like new."
"I can use my hands and throw in berries and fruits, screw on the blade and blend away in less than two minutes. I can drink directly from the blending vessel once I attach the accessory."
"My Magic Bullet really has made my life easier! I work long hours and need something to prepare quick and easy healthy meals, and this little wonder works for me! I also bought another for a relative of mine and we are happy campers (also lost weight too!). I highly recommend this product for anyone looking to make their lives easier, healthier and to make "killer" shakes!"
Some of the negative reviews include:
"The gaskets leak. I've unscrewed, rescrewed the lids, blades accessories. It leaks. It leaks especially when you're shaking it to get the food to distribute evenly. It leaks through the bottom hole where the blade connects to the motor. From there it leaks INTO the unit."
"One huge annoyance is the blades can't seem to handle ice cubes. I was disappointed that it won't chop up frozen fruits."
Winner: Nutribullet. The "cons" of the product seem much more minor, and the pros are much greater.
Alternative to Try
An even better and more effective alternative to both Magic Bullet and NutriBullet is the Ninja Fit blender. This smoothie maker is small yet sturdy. Although some of you might say that it is quite similar to NutriBullet or Magic Bullet, Ninja Fit is actually more portable and easier to clean. Here are the tool's main features:
It has a powerful motor of 700 watts and it comes with a pulse setting;
You will also receive a useful guidebook that comprises 30 delicious beverage recipes;
Buyers will receive two containers of 16 ounces each;
With this blender, you can easily crush frozen fruits and even ice.
Pros
It is small so it won't occupy a lot of space;
It is the ideal tool for single-serve shakes;
Ninja Fit is a powerful blender while also being more affordable than other products of its kind;
It is dishwasher safe;
Its blades are more durable than the ones of the Magic Bullet and NutriBullet blenders.
Cons
The one-year warranty is shorter compared to other alternatives on the market;
A few consumers have said that it can be a bit noisy at times, depending on what ingredients you use.
Price
This is one area where the two differ very greatly!
The Nutribullet will run you $72.99 on Amazon, and it comes with a one-year warranty. Check out the latest prices and discounts here.
The Magic Bullet will run you $31.99 on Amazon. It also has a 1-year warranty. Check out the latest discounts and prices here.
Winner: Magic Bullet. The Nutribullet is twice the price!
Magic Bullet and Nutribullet – Which is Best?
Winner Overall: Nutribullet
The Nutribullet seems to have fewer flaws, more power, and an overall better function than the Magic Bullet. It may be more expensive, but it's worth paying the higher price for this better-quality powerful blender.
Recommended Reads: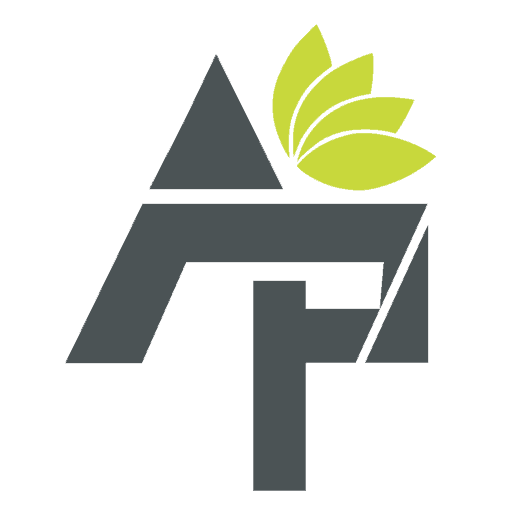 Alt Protein Team is a team of professionals and enthusiasts committed to bringing you the most up-to-date information on alternative protein, health and wellness, workouts, and all things health-related. We've reviewed a lot of products and services so you don't have to guess when you spend your hard-earned money on them. Whether you want to shed some pounds, build lean muscle or bulk, we can help you figure out what you need to do and what you need to have to achieve your goals.