No matter how hard we try to eat healthy foods and get every vitamin our body's need, there are times when we deal with nutritional gaps in our diet.
This can become a harmful element, especially for the elderly who need a nutrient-dense diet to prevent heart disease, maintain blood pressure, have an optimate bone health and muscle. Seniors must consume plenty of vegetables, vitamins, protein, calcium, acids, and minerals in order to maintain their health.
Because our nutritional needs change as we age, we should be very careful with what we include in our daily eating habits. Nutritional drinks, also known as fortified beverages, can come in handy when a person is not able to achieve all the body's requirements from regular food.
Below, we have gathered some of the best nutritional supplement drinks for elderly on the market that are exactly what seniors need for a happy and healthy life. They are rich in protein and one can choose from a wide range of varieties and flavors in any nutritional supplement drink.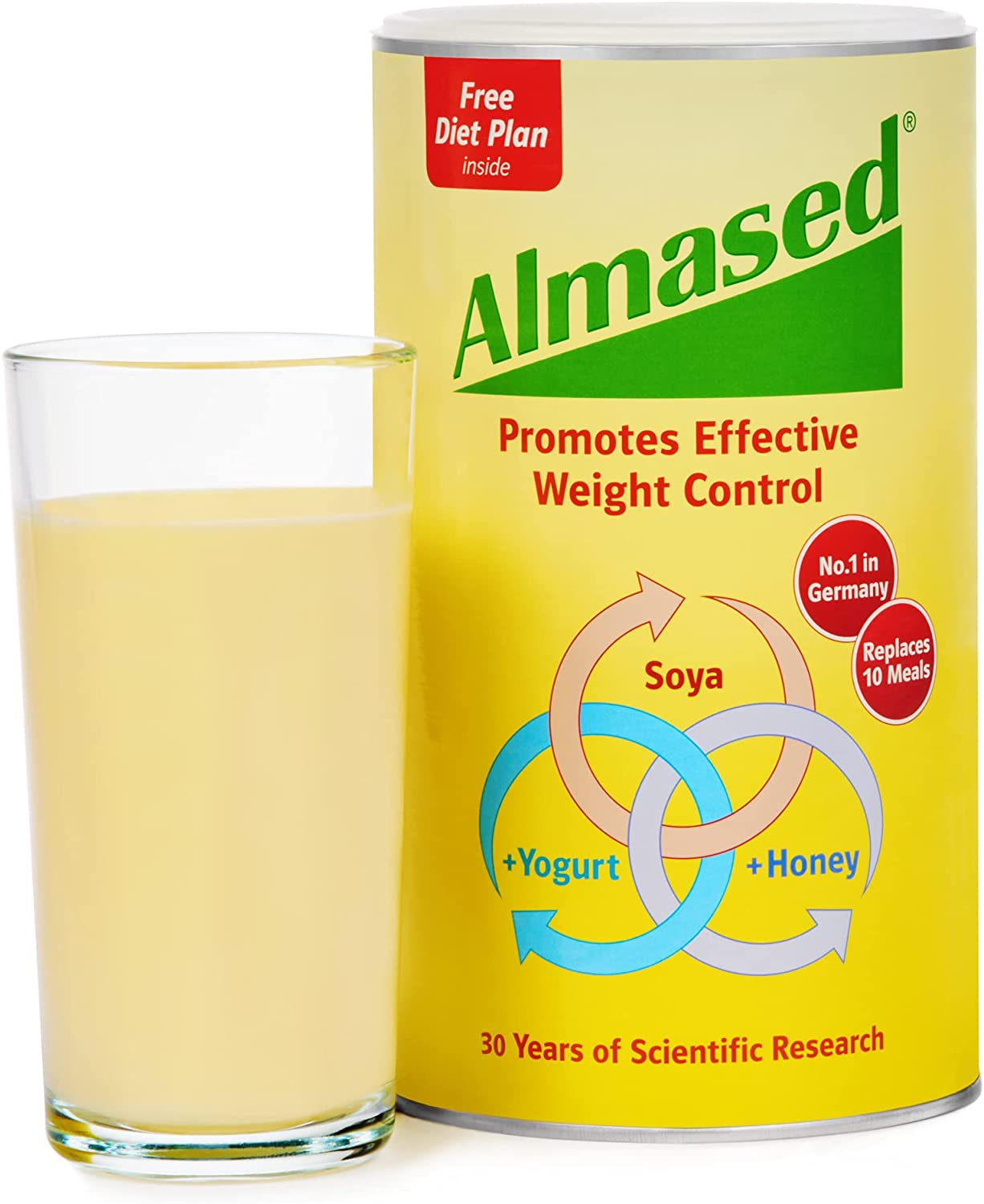 Caution! Pay attention to the fact that these drinks cannot replace whole foods entirely or any medications. For example, fresh whole fruits and vegetables should be your number one option.
My Top 7 Favorite N

utritional Supplement Drinks for Elderly Folks
Which Are the Best Nutritional Drinks for Seniors? – Top 7 Choices
Almased is a well-known multi protein shake that can support you throughout your weight loss journey while also helping you maintain your health at an optimum level. It is created with a unique fermentation technique during which bioactive peptides are released.
Besides the fact that Almased does not contain gluten, you will be more than pleased to know that it is also free of any artificial flavors, preservatives or other stimulants. As long as you consume it on a regular basis, you will soon start seeing significant results in your overall health. You can find the Almased nutrition label below.
Nutrition Facts Per Serving – 50g
| | |
| --- | --- |
| Calories | 180 |
| Protein | 27 g |
| Total Carbohydrate | 15 g |
| Skim Milk Yogurt Powder in % | 23 % |
| Honey enzymes in % | 25 % |
| Water and Added Micronutrients in % | 2 % |
Advantages
If you drink this beverage in the morning, you will feel satiated for hours. This beverage regulates your blood sugar level and lowers your cravings. It contains several essential nutrients that your body needs. All these factors along with its rich amino acid and enzyme content will help you improve your digestive function.
Simply put, you will start eating less, craving less, and feeling more satiated throughout the day. Your metabolism will receive a boost and your body will burn calories a lot quicker. This will enable your organism to function optimally. You will shed fat without harming or losing muscle mass.
Price
You can buy one container to give this product a try and if you like it, you can then purchase in bulk:
Boost Glucose Control has landed on our list of the best nutritional drinks for seniors due to its gluten-free and lactose-free characteristics. This is a great meal replacement option for diabetics or people who have dietary concerns.
One scoop of this powder contains 190 calories and has 16 grams of protein. Among its ingredients, you will find milk protein concentrate, soy protein isolate, calcium caseinate, minerals, and vitamins. It is easy to prepare this ready-to-drink nutritional shake that keeps your blood sugar level under control.
Nutritional Facts Per Serving – 237ml
| | |
| --- | --- |
| Calories | 190 |
| Calories From Fat | 60 |
| Total Fat | 7 g |
| Total Carbohydrate | 16 g |
| Dietary Fiber | 3 g |
| Protein | 16 g |
Advantages
Besides being amazing for diabetic people, Boost Glucose Control is also beneficial for anyone's health due to its nutritional content; it provides over 24 different essential vitamins and minerals. It also aids in weight loss; one portion of this beverage has four grams of sugar.
This beverage comes in three different flavors so that you won't get easily bored while consuming this product. Moreover, this meal replacement is a well-balanced supplement which is the perfect choice for those of you who want to avoid consuming too many carbohydrates.
Price
On Amazon, you will find all three flavors marketed by Boost Glucose Control manufacturer:
Each of the above varieties comes in a 237 mL container.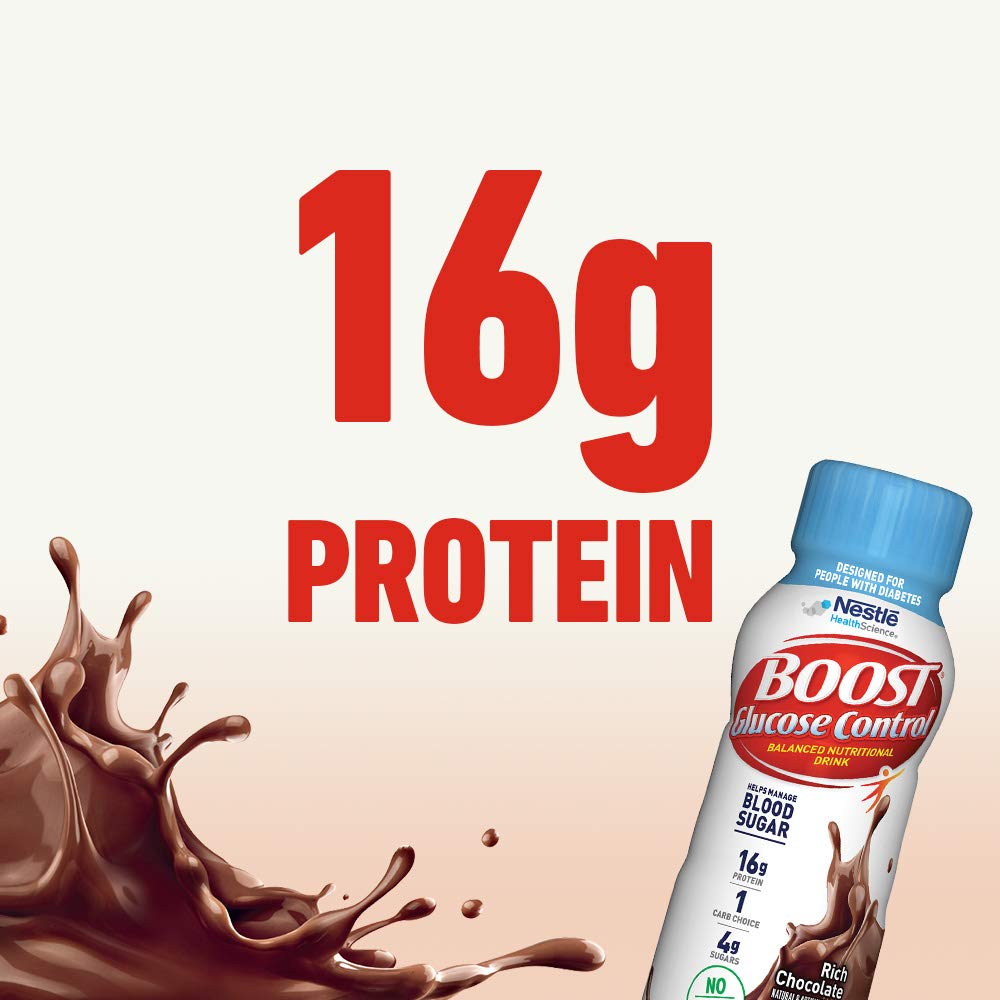 Not only Glucerna is a great nutritional drink that is well-suited for the elderly, but it is also a product specially created for people with diabetes. Besides its popular shakes, the company also commercializes healthy protein bars and other snacks.
The main purpose of Glucerna drinks is aiding you in maintaining a proper blood sugar level. Also, these beverages help you lose weight. One serving of the original formula contains about 190 calories and ten grams of protein.
Drinking a Glucerna shake on a daily basis will offer you 27 different minerals and vitamins. Glucerna was created by Abbot General and it was first launched on the market in 2007. You can choose from two different flavors: chocolate and vanilla. This product is an on-the-go and ready-to-drink beverage.
Nutritional Facts Per 100g
| | |
| --- | --- |
| Calories | 435 |
| Protein | 20.10 g |
| Total Fat | 14.5 g |
| Total Carbohydrate | 60 g |
| Dietary Fiber | 5.20 g |
| Fructo-oligosaccharides | 3 g |
Advantages
The product's health benefits are backed up by scientific studies. These researchers are evidence of the fact that Glucerna regulates your blood sugar level and supports weight loss.
Regarding the drink's taste, opinions differ from one user to another. Some say it tastes great and has a pleasant flavor while others state the opposite. All in all, according to our own research, we can definitely say that Glucerna drinks are suitable for seniors, especially those with diabetes, being a gluten and lactose-free product.
Price
Ensure Diabetes Care is marketed on Amazon, for the price of around $29.16 for a 14.11-ounce container.
With Ensure, you will achieve your needed daily nutrition and increased energy, and all these in the form of a meal replacement nutritional shake. First and foremost, unlike other similar products, Ensure is commercialized as a prepackaged drink which is ready to consume once you open the bottle's cap.
Each portion has 160 calories and nine grams of protein. As long as you consume this shake as a part of your well-balanced low-calorie diet, you will e able to lose weight and boost your metabolism.
Nutritional Facts Per Serving – 1 Bottle (8 fl oz/ 237 ml)
| | |
| --- | --- |
| Calories | 160 |
| Calories From Fat | 20 |
| Total Fat | 2 g |
| Total Carbohydrate | 19 g |
| Dietary Fiber | 1 g |
| Total Protein | 16 g |
| Features | 23 Vitamins and Minerals |
Advantages
Ensure is marketed in a wide range of varieties and formulas: Original (220 calories), Plus (350 calories), High Protein (160 calories), Enlive (350 calories), Light (70 calories), Clear (180 calories), Compact (220 calories), Powder (250 calories), Pre-Surgery (200 calories), and Surgery (18 grams of protein). Besides the Surgery formula, all the other varieties provide between 8 and 20 grams of protein.
Moreover, you can choose from plenty of available trademark flavors such as vanilla, chocolate, dark chocolate, strawberry, coffee latte, and butter pecan. Ensure is worth a try because it doesn't contain any harmful ingredients.
Price
Ensure Light, Chocolate flavor, costs around $9.32. If you want to buy a larger supply, you can opt for a pack of six bottles. One available option is the Ensure Plus Butter Pecan flavor six-pack which sells for the price of around $48.08.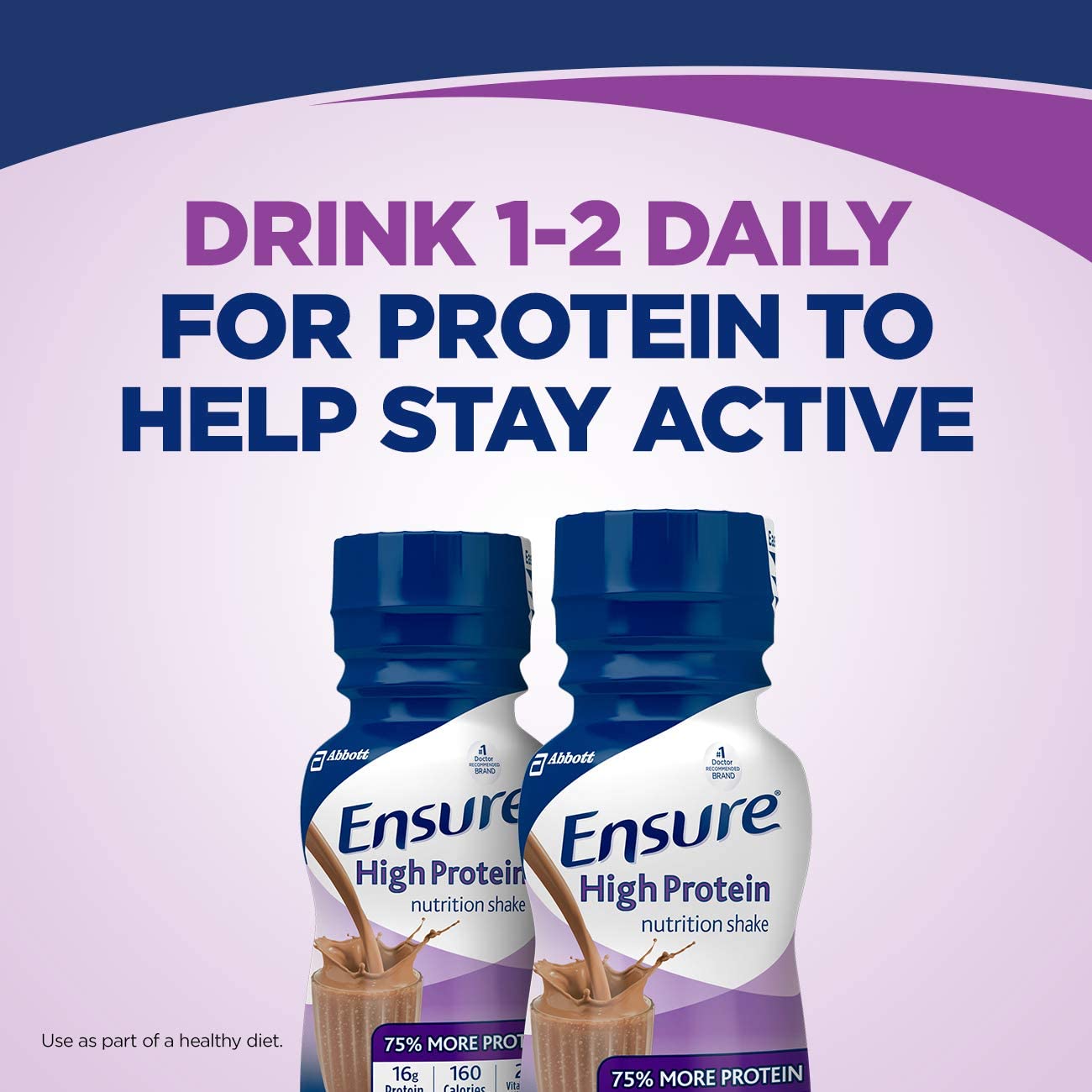 Carnation Instant Breakfast, marketed by Nestlé, has been around for quite some years now, and it has received plenty of positive reviews from the product's consumers. The company focuses on the high-quality nutritional value of this beverage.
This nutritional drink is not great only for seniors. Anyone can consume it due to its tasty flavor which is milk-based as well as its health benefits. Unfortunately, this supplement contains sugar and maltodextrin which might become a serious drawback for some people.
Nutritional Facts Per Serving – 1 Bottle (8 fl oz/ 237 ml)
| | |
| --- | --- |
| Calories | 220 |
| Calories From Fat | 50 |
| Total Fat | 6 g |
| Total Carbohydrate | 28 g |
| Dietary Fiber | 3 g |
| Protein | 15 g |
| Features | 22 Vitamins and Minerals |
Advantages
The bright side is that Carnation Instant Breakfast has both macronutrients and micronutrients that deliver a lot of benefits for the body. It is a low-calorie drink with only 130 calories and five grams of protein per serving.
Another advantage of this product is represented by its low-fat content and lack of trans fat. Moreover, Carnation doesn't have any artificial coloring or flavors. Its main ingredient is nonfat milk.
This nutritional beverage contains vitamin C, B, and A, as well as calcium and iron. This is why it is a great and effective way to meet one's daily nutritional needs.
Price
There are two flavors available on Amazon if you decide to purchase the Carnation Instant Breakfast powder: Classic Chocolate and French Vanilla. The price varies between approximately $28 and $40 depending on the number of servings contained in the box and the chosen flavor:
This nutritional drink was developed by a medical doctor. Francine Kaufman, MD was also the president of the ADA which stands for the American Diabetes Association. This shake is made from a mix of proteins, carbs, and fat that keeps you full for up to nine hours at a time.
You will find three available flavors on the market: chocolate, vanilla, and strawberry. All you have to do to prepare this nutritional beverage is to combine it with water. One serving provides 110 calories and 15 grams of protein. If you're aiming for a higher calorie intake, you should mix this powder with milk.
Nutritional Facts Per Serving Size: 1 Packet (32g)
| | |
| --- | --- |
| Calories | 110 |
| Calories From Fat | 15 |
| Total Fat | 1.5 g |
| Total Carbohydrate | 12 g |
| Dietary Fiber | 5 g |
| Protein | 15 g |
| Features | 24 Vitamins and Minerals |
Advantages
This is a gluten-free and kosher product that will control your blood sugar level for up to nine consecutive hours. Moreover, it controls your hunger and it makes you consume fewer calories at the next meal. Seniors who struggle with hypoglycemia should definitely give this drink a try.
Price
There are two Extend shake mix flavors available on Amazon: Rich Chocolate and Creamy Vanilla. Each of these formulas comes in 5-serving packages and costs around $14.99.
Rounding out my list of nutritional supplement drinks for elderly is the number one best seller. Many consumers say this has one of the tastiest flavors in the category of protein shakes available on the market. So, it is a delicious beverage that will energize you. And, to top things off, this is also a convenient snack as well as a high-quality protein source on the go.
The best way to consume this supplement is by drinking one can per day as a healthy snack. The process is more than simple: buy it, shake it gently, and serve it chilled. If you cannot finish an entire serving, you should refrigerate it once you open the can.
Nutritional Facts Per Serving Size – 1 Can (11 fl oz/ 325 ml)
| | |
| --- | --- |
| Calories | 170 |
| Calories From Fat | 15 |
| Total Fat | 1.5 g |
| Total Carbohydrate | 4 g |
| Dietary Fiber | 1 g |
| Protein | 35 g |
| Features | High-Quality Protein Essential For Nutritious Diet |
Advantages
Pure Protein, as the name implies, is a healthy and effective source of clean protein. It can be consumed before or after a workout and it will definitely satisfy your appetite. This energizing beverage is well-suited for seniors due to the fact that it contains plenty of calcium which your bones need in order to remain strong and healthy.
Being free of sugar makes this product an excellent choice for people with diabetes. Also, if you choose to live a low-carb lifestyle, this is the right option for your needs.
Price
Although we presented the Frosty Chocolate flavor which is the company's most popular variety, potential customers will be glad to know there are other available formulas as well: Banana Cream and Cookies & Cream. The Frosty Chocolate version costs around $37.32 (For the latest prices and discounts, check here) for a pack of 12 cans.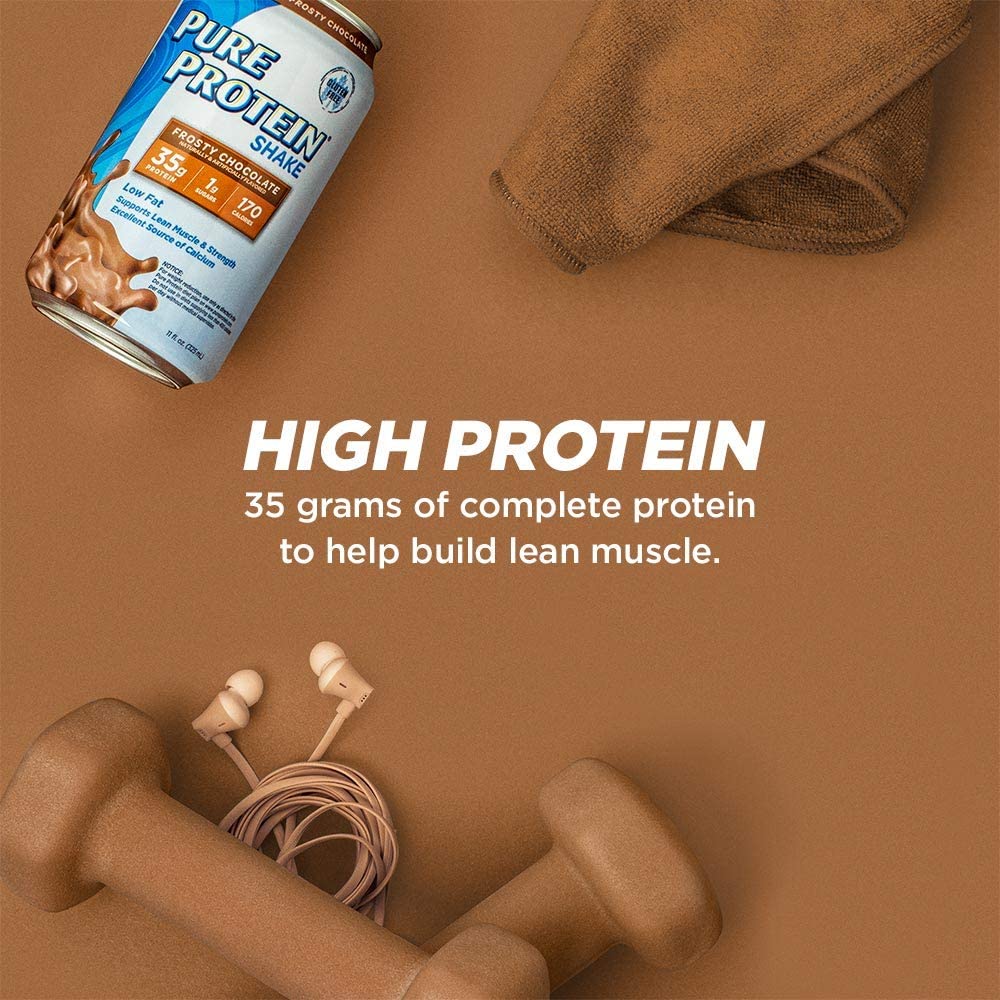 Best Plant-Based Protein Drink for Seniors: Yuve Protein
If a non-dairy or vegan diet is part of the equation, I would recommend going with a plant-based protein drink called Yuve.
You can read all about why I like it, but the main attraction is a soy-free, Non-GMO, all-natural supplement WITH a specific Digestive Blend of veggies and minerals.
Most seniors that I speak with frequently point to digestive issues as the main reason for why a particularly protein supplement isn't work. Yuve is at least worth a try as it specifically is targeted to be gentle (even helpful) to the digestive tract.
A Word on Nutritional Goals
"The Elderly" is such a broad term; in fact, I hate it.
We used it in this article to refer to an older demographic, but the truth is that nutritional needs will vary. Some 80 year old's might just be looking for supplementation to an otherwise healthy diet.
"Weight loss" or "weight control" might not be the goal of every person in this demographic. Some individuals may be looking for nutritional supplementation after having gone through surgery, extended recovery, or during a debilitating illness.
I have tried to identify plenty of options, but just keep in mind that needs can vary.
As always, please do consult a qualified medical professional when making these decisions!
Let's Recap – Top Nutritional Shakes for the Elderly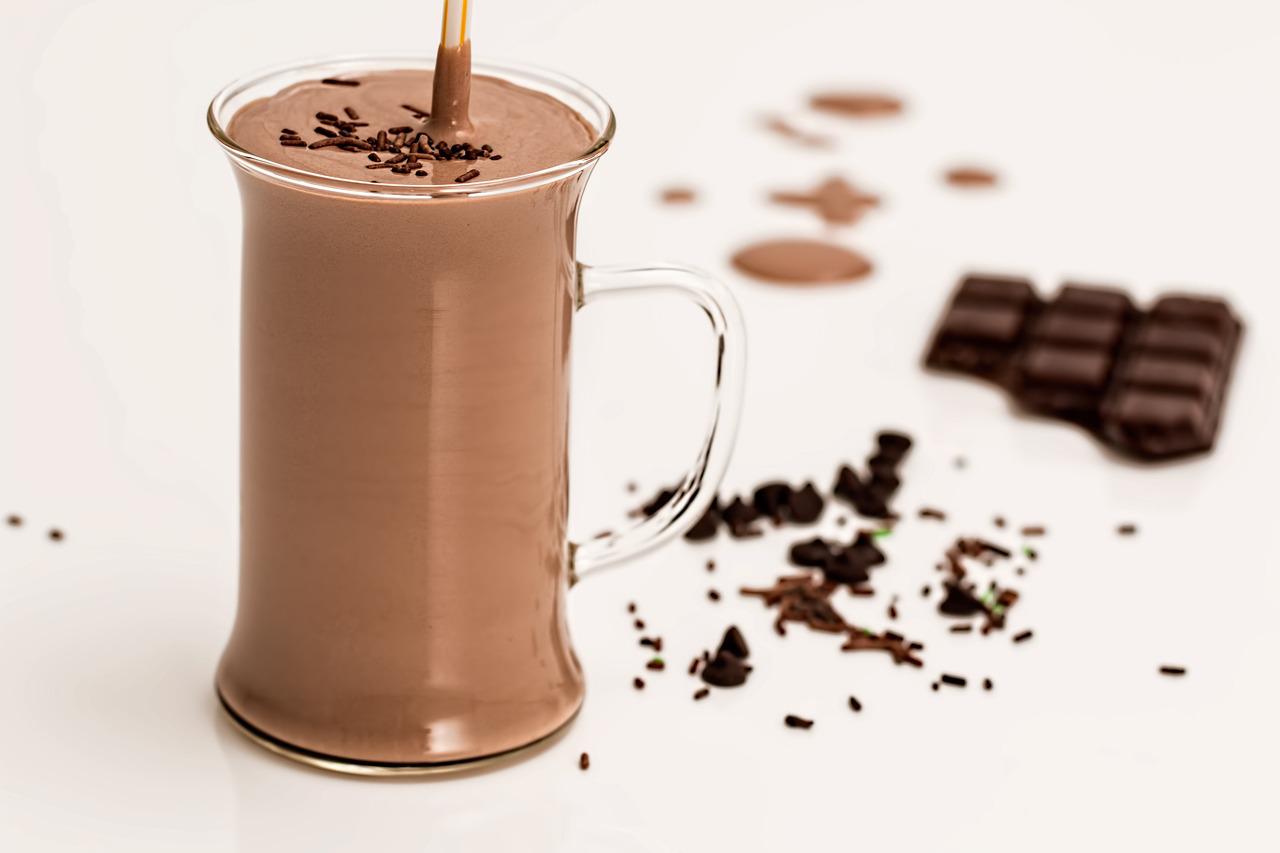 If you experience symptoms such as difficulties in swallowing whole foods, extreme fatigue, and lack of motivation when it comes to preparing a complex meal or changing nutritional needs, you should turn to liquid supplements as aiding elements that maintain a healthy and properly-functioning body.
As we previously mentioned, older adults need a nutrient-dense eating plan, one that is rich in vitamins, minerals, protein, calcium, and healthy fat. And all the above nutritional drinks can provide those essential elements. Some of them can replace an entire meal while others can be consumed as snacks.
Have you tried any of these products before? Let us know what you think about them in the comment section below! We truly value your insights!
So if I HAD to Pick One? I really like the balanced all-natural profile of Almased. There's minimal "junk" but a multi-faceted nutritional profile. Use this link to order on Amazon if you are interested.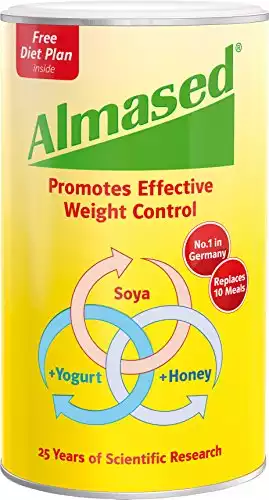 Almased Meal Replacement Shake | Amazon
This unique multi-protein formula is created from different sources to fit the amino acid profile the human body needs for optimal function as exactly as possible, which makes Almased the best healthy diet for weight loss.
Buy at Amazon.com
We earn a commission if you click this link and make a purchase at no additional cost to you.
Recommended Reads:
—-