BodyTech Whey Tech Pro 24 is of many protein powder supplements on the market. So, what makes it so special that might make you want to purchase it? Well, that is the reason for our review; we want to provide the answer to that question and help you find more about this product.
Is it a decent supplement to consume? We have tested enough products to know the difference between a good and a bad powder supplement. In this review, we did our best to explain the reasons why BodyTech protein is a good choice as a whey supplement.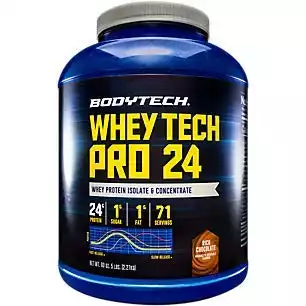 What Is BodyTech Whey Tech Protein?
BodyTech protein supplement is commercialized by Vitamin Shoppe which is a popular fitness supplement chain that has more than 750 stores all over the United States. This product is made from a mix of whey isolate and concentrate. It is deliberately engineered to stand out among some of the most popular supplement brands on the market.
One of the reasons why this product is significantly less expensive than other supplements is because it is made from a mix of whey isolated and concentrates while other brands contain only isolates. Although BodyTech protein contains fillers and added sugar, it has a low amount of sugar of only one gram.
The price break was also allowed by the fact that BodyTech has both natural as well as artificial flavors. It is a tasty and affordable supplement and the consumers' favorite variety is the Chocolate Mint one.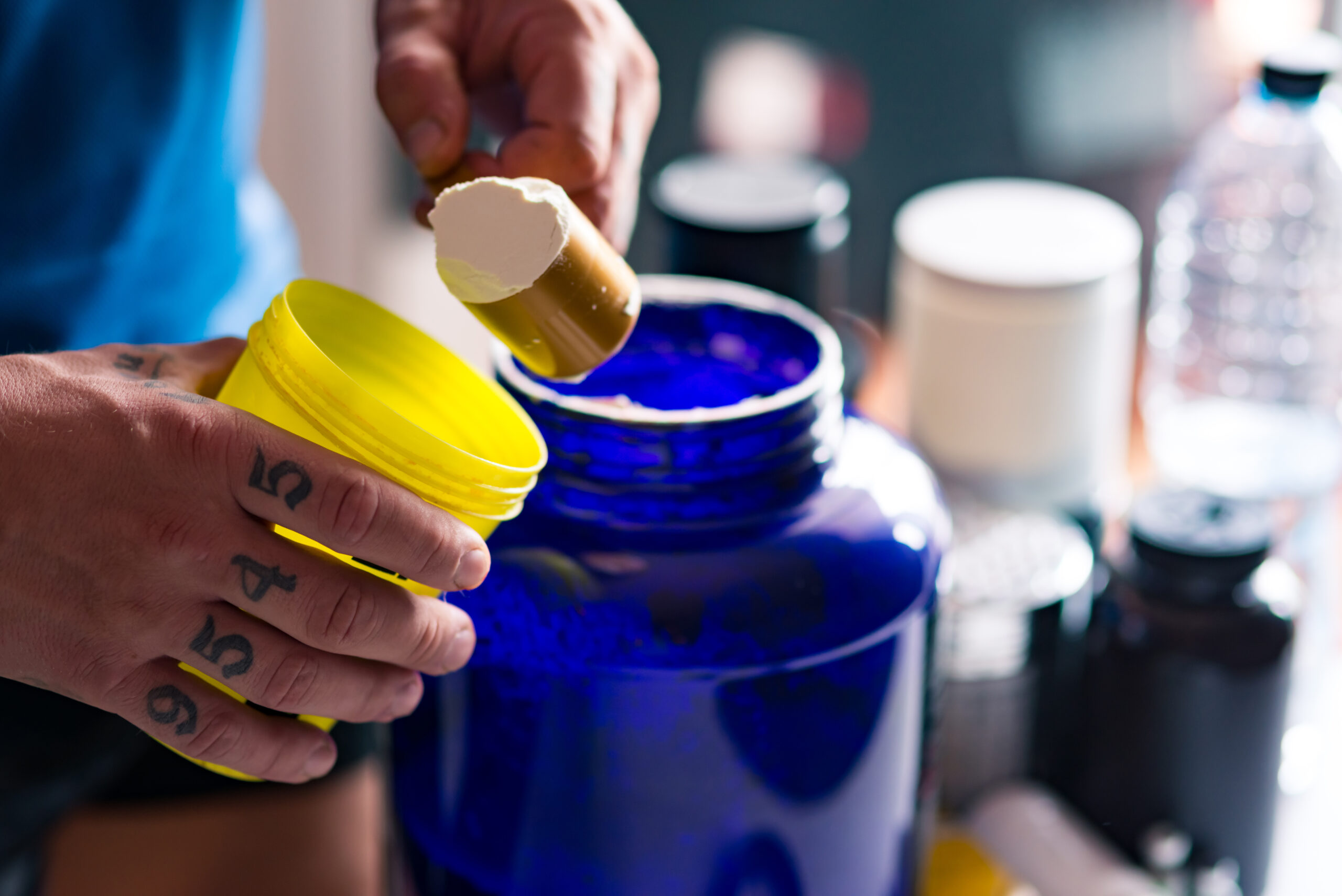 Is BodyTech a Good Brand?
BodyTech has time and again proven that they are a legitimate brand, and are capable of making a superior product. BodyTech products are generally superior to other low-cost proteins on the market, but are understandable beat out by premium brands.
Who Should Consume the BodyTech Protein Supplement?
Basically, BodyTech protein can be consumed by anyone who wants to live a healthier lifestyle. Most people take this protein powder after workouts and along with low-protein meals. It is a good fit for bodybuilders and fitness enthusiasts who want to increase their muscle mass.
So, as you can see, BodyTech is not only for athletes and professional bodybuilders. It works well for all people who try to increase their protein intake and achieve endurance and strength. After all, why not try it as long as this product is not expensive, has a great taste, and does its job well.
Ingredient Profile
When it comes to BodyTech's ingredient list, it is very similar if not identical to another popular brand, Gold Standard for Optimum Nutrition. There are a few differences in the fact that BodyTech contains sucralose which is quite controversial and that Gold Standard also contains hydrolyzed whey besides whey concentrate and whey isolate.
You will find several main types of ingredients when buying BodyTech supplement: a protein blend with concentrates and isolates, an amino acid blend of 18 different amino acids, soy, cocoa, both natural and artificial flavors and additives, digestive enzymes, sucralose, a low iron content, and some fillers and oils.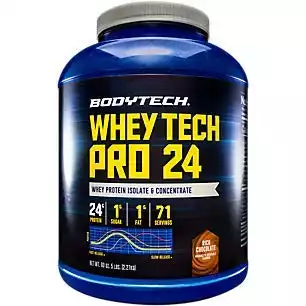 Amino Acids List & Their Benefits
Now, let's take a look at a detailed list of important amino acids included in this product:
IsoLeucine – BodyTech has 1448 milligrams of IsoLeucine which provides a great value to the product;
Arginine – this amino acid plays a crucial role in immune function and cell division;
Glutamine – BodyTech contains 3.83 grams of glutamine while most other supplements have almost five grams; taking into consideration that BodyTech is not a BCAA supplement, its glutamine amount is a great one;
Lysine – Whey Tech contains a dose of 2234 milligrams of lysine while the recommended daily amount is between one and three grams;
Serine – this element helps your brain functioning better and supports your central nervous system;
Leucine – this BCAA assists muscular health; it boosts muscle growth and it is a valuable branched-chain amino acid;
Proline – proline is well-known for its healing properties, especially when it comes to injured or damaged joints and cartilage; it supports your body in breaking down proteins; our cells use this amino acid to create healthy tendons, collagen, heart muscle tissue, and ligaments;
Threonine – threonine is usually used to heal and treat several nervous system conditions such as multiple sclerosis and spinal spasticity; however, a higher-than-normal dose might lead to nasty side effects like skin rashes and headaches; luckily, BodyTech contains a safe dose of 1533 milligrams.
Nutritional Facts
BodyTech Nutritional Value – per one serving
Calories
120
Carbohydrates
3 grams
Protein
24 grams
Total Fat
1 gram
Dietary Fiber
1 gram
Sugar
1 gram
Taste and Mixability
You will be truly surprised by how pleasant this supplement's taste is, especially because many affordable protein powders don't have such a good taste. Most consumers declare themselves to be more than satisfied with BodyTech's taste and flavor.
This supplement comes in four different available flavors: Rich Chocolate, French Vanilla, Chocolate Mint, and Banana Crème. Still, the favorite and most popular ones are the first two varieties mentioned in the list.
While it is true that BodyTech isn't probably the best protein supplement you will ever try, it will taste pretty good when combined with milk and very good when mixed with water.
This product's mixability is rare to find. You will not find another whey powder that mixes so well with plain water. According to most reviewers, BodyTech whey protein has a sweet taste and combining it with milk might lead to too much sweetness. If you want to achieve the right amount of sweetness, you should definitely prepare this product by adding water.
BodyTech mixes very well and it is easy to prepare. It dissolves quickly by simply adding milk, water or any other beverage. The final texture is slightly frothy and it will remind you of a milkshake. One serving requires only one scoop that equal approximately 24 grams of powder and it comes with 18 amino acids. We recommend you to consume it after your workouts but you can also consume it in the morning.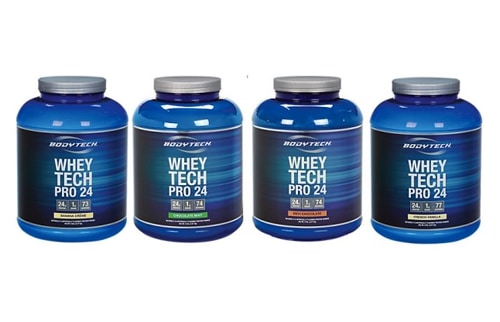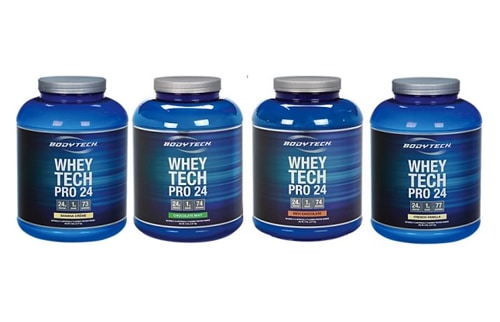 Pros of BodyTech Protein
It provides a great value considering its price as well as its benefits;
This product mixes well with milk and water and it is easy to prepare;
Has a more than decent taste and a pleasant flavor;
Provides 18 different branched-chain amino acids per one serving;
Contains a low number of carbohydrates and calories;
Has plenty of beneficial digestive enzymes;
It is one of the most affordable whey protein supplements on the market.
Cons of BodyTech Protein
Compared to other supplements, BodyTech is not highly effective;
Contains soy which is a potentially allergenic ingredient;
The taste becomes a little too sweet when combined with milk;
There are some controversial elements among this product's ingredients such as fillers and artificial flavors.
BodyTech Protein Benefits – Is It Effective?
According to most of its consumers, BodyTech seems to work well when it comes to muscle recovery and improved fat loss. It is an additional source of protein that leads to lean muscle mass gain. BodyTech is considered to be a reputable brand with effective products.
However, it is true that there are other similar products out there that work more effectively than BodyTech whey protein but they are all more expensive than Whey Tech Pro 24.
One serving of this supplement will give you the right amount of energy boost and they will help your muscle tissue recover quickly after an intense training session. So, we can definitely state this is a decent product that deserves our attention.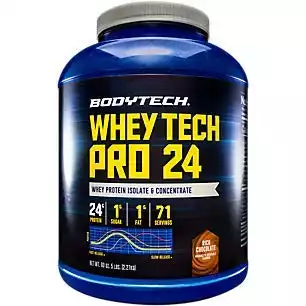 Possible Side Effects
There are no severe or noticeable side effects when consuming BodyTech whey protein. You shouldn't worry even if you have a sensitive stomach. This supplement provides nice results without making your experience nasty side effects. This is another big plus besides the product's price tag.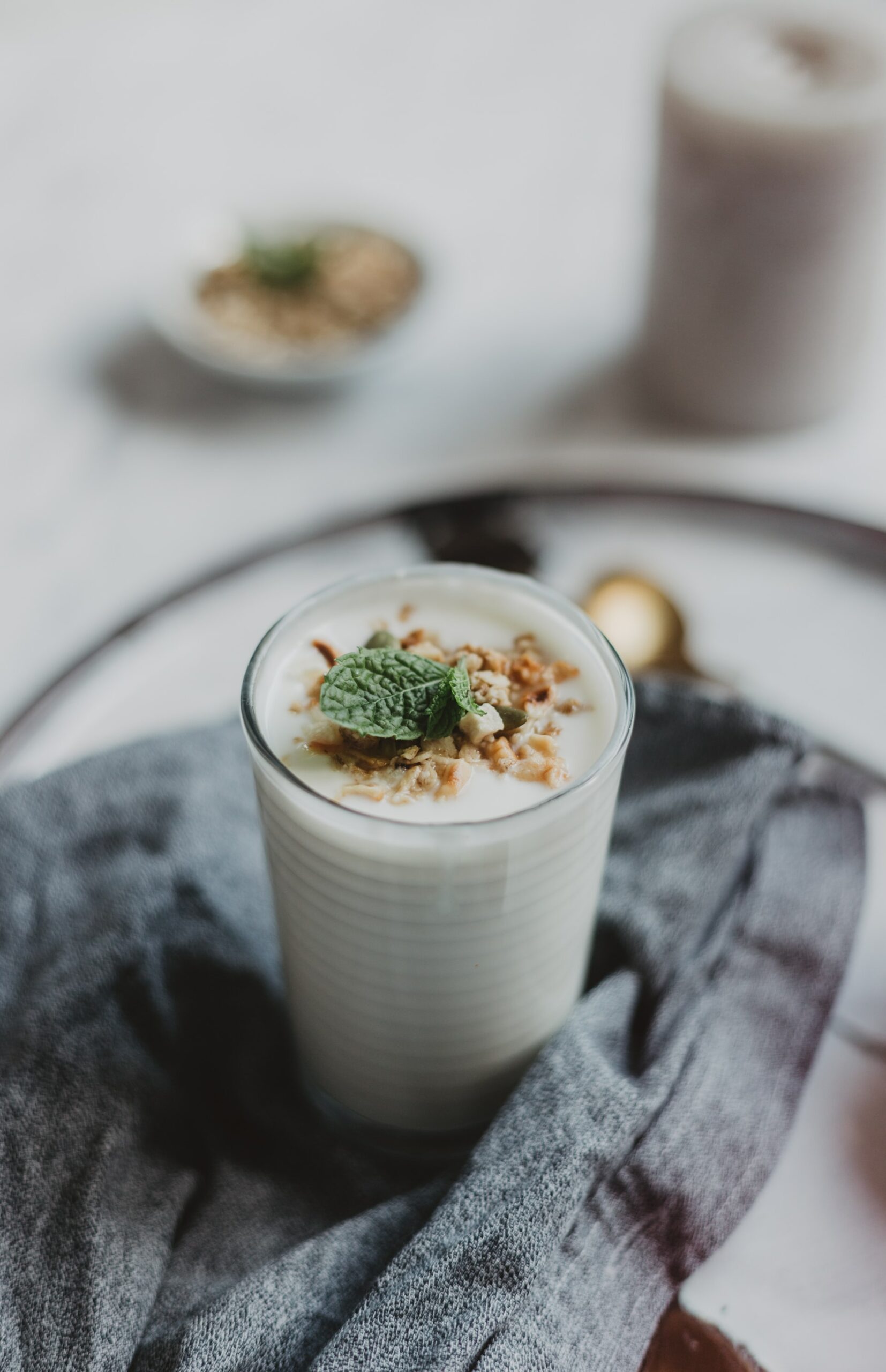 Where Can You Buy the BodyTech Whey Tech Pro 24 from?
You can purchase BodyTech protein supplement on the company's official website and on other e-commerce sites such as Shoppe store or Amazon. Many people like to buy it from Shoppe store due to its highly effective customer support team. On the other hand, others might like to go to Amazon in search for significant price discounts.
Pricing Options
On Amazon, a five-pound container of BodyTech Whey Protein, Rich Chocolate flavor, costs 49.99 dollars (For the latest prices and discounts, check here) and there is no shipping fee. So, that equals 9.71 dollars per pound.
Other sellers might commercialize this product at a lower price. For example, one seller provides the French Vanilla variety for the price of 49.99 dollars per one five-pound container. In this case, the cost per pound is only 7.46 dollars.
On Vitamin Shoppe store, you will find this product at a variable price that depends on the container's size:
So, all in all, the prices on Vitamin Shoppe store are lower than those provided by Amazon sellers, which is quite unusual considering that Amazon usually offers the best deals. Besides a lower price, another perk you can benefit from if you buy BodyTech from Vitamin Shoppe a spark auto-delivery discount of ten percent. Also, they offer buyers awards to those who subscribe to their database.
What Consumers Say about BodyTech Protein Supplement – Ratings & Reviews
On Amazon, BodyTech Whey Tech Pro 24 has received 4.5 stars out 5 with 62 percent of the reviewers offering the maximum number of stars for this product. 33 percent gave four-stars reviews while only five percent provided three-stars ratings.
Most buyers are satisfied with BodyTech protein powder, especially due to its price. Besides the fact that this is an affordable supplement, BodyTech also has other advantages such as the fact that is mixes well, has a decent taste, and it gives you an energy boost.
On the other hand, you will notice some drawbacks when purchasing this protein powder. For example, it is not as effective as other similar and more expensive products. Also, it contains several artificial sweeteners and flavors that might represent a deal breaker for some of you.
Summing It Up – Should You Purchase BodyTech Protein?
To conclude with, BodyTech protein is very affordable and it is way better than most other low-cost powder supplements on the market. In other words, it provides a more than decent level of quality at a quite low price. Furthermore, you will be able to save a lot of money by purchasing in bulk.
It might not be the best whey protein supplement in the industry but it sure offers you your desired results. If you're eager to save some bucks, you can give this product a try. Buy it once and see whether it works for you or not. BodyTech's main advantages are its price and the amino acid blend container by this product. On the other hand, it might not be as effective as other (more expensive) brands.
Our Final Verdict
Don't be fooled by this product's low price. It is very effective and it has a great value. Try it and you will be pleasantly surprised by how well BodyTech works. It contains enzymes that will improve your digestion and it has a great taste when combined with water.
If you don't mind the fact that this supplement contains soy and a few artificial ingredients, you will be more than satisfied with this product and its results.
Recommended Reads:
Disclaimer
Last updated: December 16, 2019
The information contained on www.altprotein.com website (the "Service") is for general information purposes only.
Alt Protein assumes no responsibility for errors or omissions in the contents on the Service.
In no event shall Alt Protein be liable for any special, direct, indirect, consequential, or incidental damages or any damages whatsoever, whether in an action of contract, negligence or other arising out of or in connection with the use of the Service or the contents of the Service. Alt Protein reserves the right to make additions, deletions, or modification to the contents on the Service at any time without prior notice.
Alt Protein does not warrant that the Service is free of viruses or other harmful components.
Fitness disclaimer
The Service offers health, fitness and nutritional information and is designed for educational purposes only. You should not rely on this information as a substitute for, nor does it replace, professional medical advice, diagnosis, or treatment. If you have any concerns or questions about your health, you should always consult with a physician or other health-care professional.
Do not disregard, avoid or delay obtaining medical or health-related advice from your health-care professional because of something you may have read on the Service. The use of any information provided on the Service is solely at your own risk.
You can also review our Editorial Integrity Policy.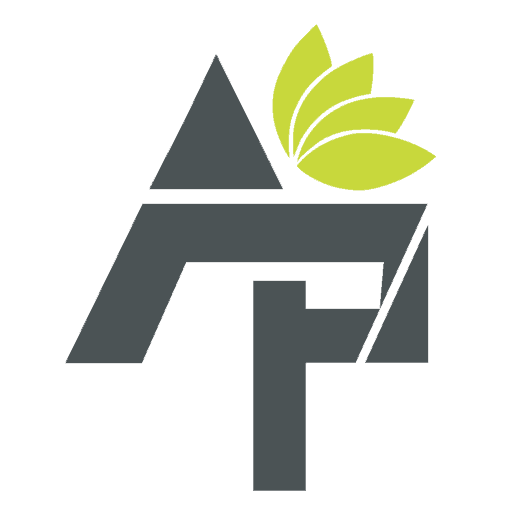 Alt Protein Team is a team of professionals and enthusiasts committed to bringing you the most up-to-date information on alternative protein, health and wellness, workouts, and all things health-related. We've reviewed a lot of products and services so you don't have to guess when you spend your hard-earned money on them. Whether you want to shed some pounds, build lean muscle or bulk, we can help you figure out what you need to do and what you need to have to achieve your goals.