If you looked at all the protein powders available on the market, you'd be amazed to find that a large majority of the top-rated products are animal-derived. That's right, many of the best protein powders come from milk (both whey and casein) and eggs. For vegetarians and vegans, this makes it hard to find a quality protein powder they can trust. My Vega Sport Protein reviews hopes to make that all a little bit easier.
Please note, if you are looking for more of a meal replacement, I've also tested the Vega One product here.
Thankfully, there are a number of good vegetarian/vegan protein powders available on the market. All of these protein powders are made using plant-based ingredients, making them a great option for people who want to cut animal products from their list. Vega Sport Protein is one such product, and you may find that it will be just what you're looking for…
Vega Sport Protein is a 100% vegan protein powder. It is made with no animal products, but all of the protein in the powder is derived from plants. While the label doesn't list the plants from which the protein is derived, it does clearly state that there is no dairy, gluten, or soy in the powder. It is also sugar-free, making it a decent option for diabetics.
The product was created by Brendan Brazier, a professional IronMan triathlete. He designed it to be used by anyone looking to improve their physical condition and athletic fitness.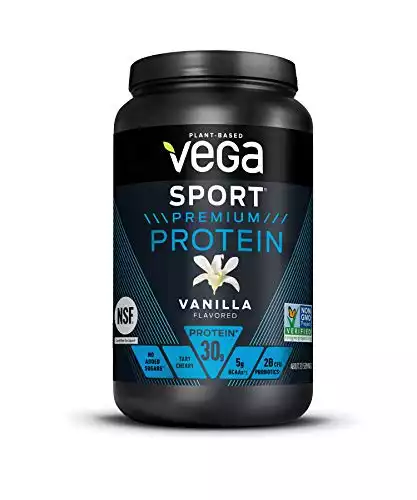 Vega Sport Protein comes with a solid 25 grams of protein per serving (the industry average, though slightly higher than many vegan protein powders). However, it also contains both Branch Chain Amino Acids and L-glutamine.
Branch Chain Amino Acids (BCAAs) help to reduce fatigue, boost concentration, improve athletic performance, and prevent muscle catabolism (breakdown) after a workout. They are some of the best additions to protein powders designed for athletes.
L-Glutamine is one of the most important amino acids for a healthy body. It's not one of the 9 essential amino acids for muscle-building, as your body produces glutamine on its own. However, it is vital for a healthy immune system, efficient digestion, and a properly functioning brain.
Key Nutrition Facts
25 g of protein per serving
5 grams of BCAAs per serving
5 grams of glutamine per serving
100% Certified Vegan, dairy-free
Free of gluten (certified less than 20 ppm) and soy
No added sugar, just 6 grams of carbs per serving
Third-party tested, Informed Choice Certified
Supplement Specifications – Key Selling Points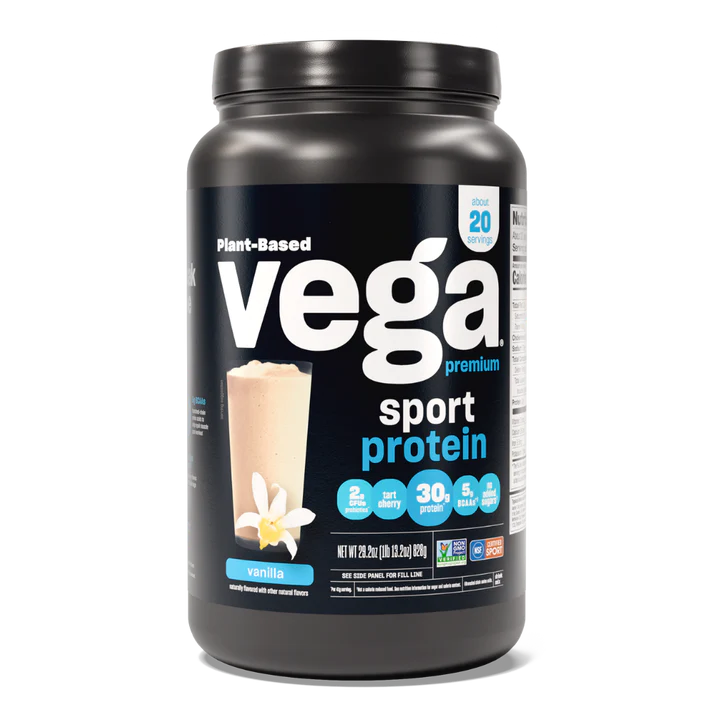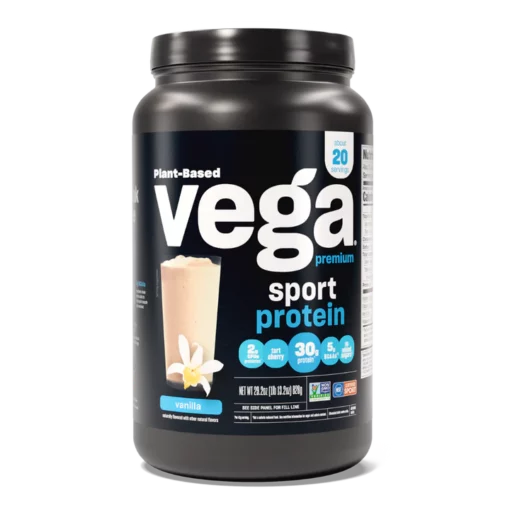 Instead of milk or egg-based protein, Vega Sport Protein delivers plant-based amino acids that are safe for vegetarians and vegans to consume. The product is certified by Vegan Action.
Vega Sport Protein is designed to be consumed 45 minutes after a workout, delivering the nutrients needed to facilitate post-workout muscle recovery and repairs. Thanks to the balance of amino acids, BCAAs, and glutamine, it can help you recover from even the most intense workout.
The product is made with a highly alkalizing formula, reducing post-workout acidity and promoting a healthy pH balance in the body. This reduces inflammation and helps to speed up recovery.
If you're looking for a safe, animal-free protein powder, Vega Sport Protein is a good option to consider.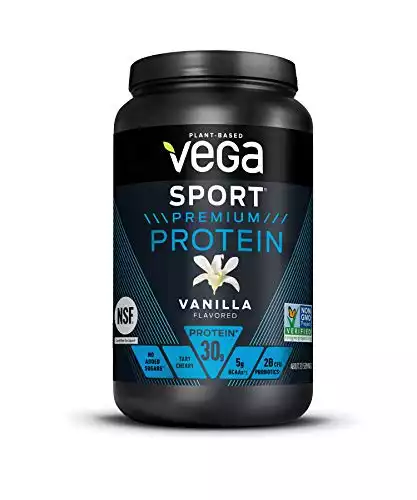 Pros of Vega Sport Protein
Here are a few of the positive things users have had to say about Vega Sport Protein:
Easy on the Stomach — Many people who take whey and casein protein powder regularly note that the supplements cause indigestion, stomach aches, and other digestive problems. Not so with this plant-based protein powder. It's gentle on your stomach, easy to digest, and won't leave you feeling queasy.
Good Taste — The vanilla-flavored protein powder tastes a lot like vanilla ice cream, and the chocolate-flavored protein powder is rich and creamy (for a plant-based protein powder). If you're looking for a good-tasting protein powder–with flavors that mask the "plant" taste–you may want to try Vega Sport Protein.
High Nutritional Value — Compared to many other vegan protein powders on the market, this is one of the best in terms of sheer nutrition. Not only does it deliver 25 grams of quality amino acids (more than a lot of the vegan protein powders around), but you also get 5 grams each of BCAAs and glutamine. This is more than many protein powders contain, so it's better nutritional value for your money.
No Added Sugar –– For those who are worried about excess sugar/carbs–such as diabetics or on low-carb diets–this is a good option to consider. You get about 6 grams of carbs per serving, but it's not enough to cause a spike in your blood sugar or push your carb intake over the edge. Plus, there is no added sugar, so you don't have to worry about refined sweeteners.
Cons of Vega Sport Protein
As with any product, there are a few negative things people had to say about Vega Sport Protein:
Odd After-Taste and Texture — While the initial taste is pleasant, many users have reported an unpleasant "plant-y" after-taste in their vega sport protein reviews. Also, though the product claims to mix well with water and milk (almond, soy, etc.), it has an odd texture when mixed in a Blender Bottle. The texture is a bit thick and chalky and brings out the less-than-pleasant after-taste.
Product Recalled — Vega Sport Protein was recalled a few years ago (in 2013), due to the risk of contamination by a chemical called Chloramphenicol. While that was only a precautionary measure, it raises questions as to the product's safety.
Pricey –– Compared to other protein powders, this is one of the priciest non-organic vegan protein powders around. In fact, you can find a number of 100% organic vegan protein powders for less than you'd pay for this container–$55 or so for a 29-ounce tub. I frequently

see coupons and discounts at this listing

.
Non-Organic — Unlike a lot of other vegan protein powders, this is a non-organic product. This means that the plant-based protein may be derived from GMO plants.
Other Options to Consider
If you're looking for a good vegan protein powder and aren't sure Vega Sport Protein is the product for you, here are a few alternatives:
Sun Pyramid Organic Raw Vegan Protein Powder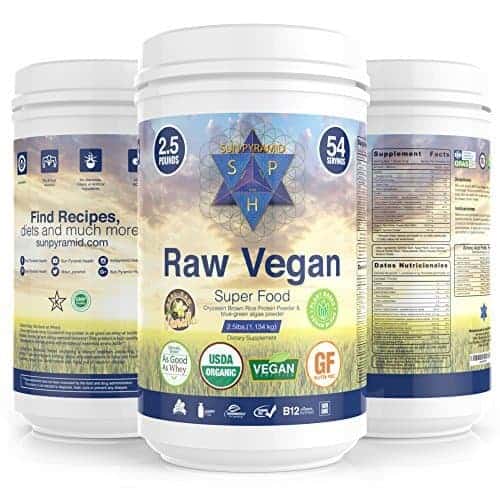 This is so much more than just a vegan protein powder! It's packed with nutrients (Vitamin B12, antioxidants, amino acids, etc.), many of which come from the superfood "Spirulina"(a type of algae). It's also certified USDA Organic, and though it's not as pleasant-tasting as Vega Sport Protein, it's a good alternative (if a pricier one). (Find it here…)
Sunwarrior Warrior Blend Raw Vegan Protein Powder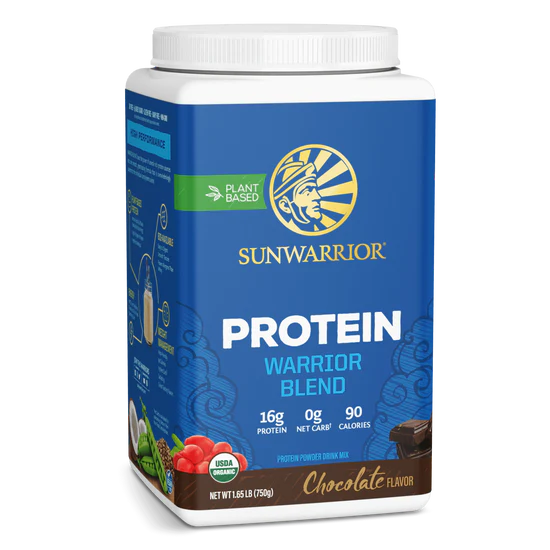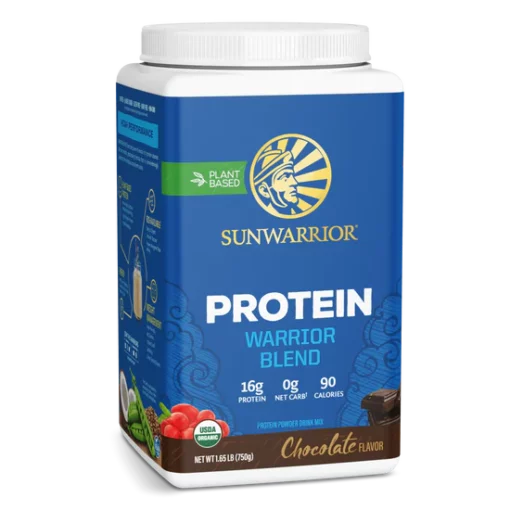 I've previously reviewed this protein powder in depth here, but here are the highlights: This plant-based protein is also free of gluten, soy, egg, milk, wheat, yeast, and added sugar. It's certified organic, free of GMO ingredients, and contains no artificial preservatives, colorings, or flavorings. It's cheaper than Vega Sport Protein, though it comes in a "natural" flavor–which may not be as tasty. (Find it here…)
Yuve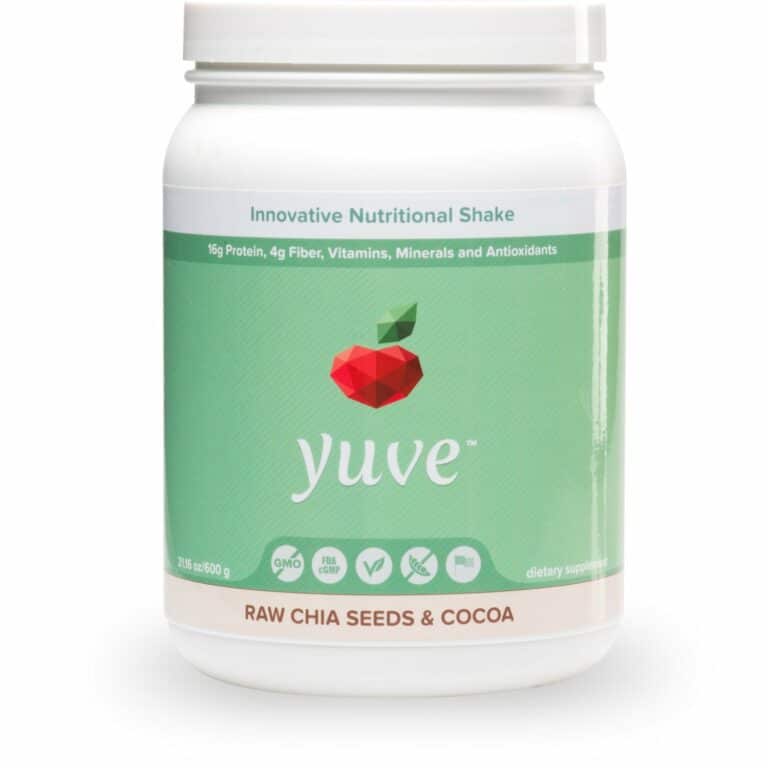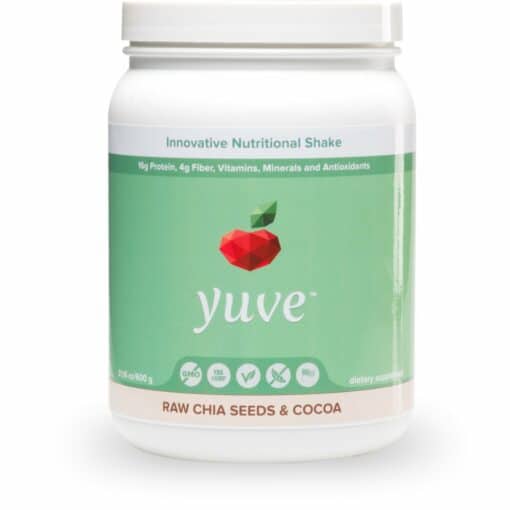 According to the product page, PETA rated Yuve as the "best tasting chocolate vegan protein powder". If you care about good flavors, this may be the vegan protein powder for you to try. You only get 16 grams of protein per serving, but it provides fiber from the wide range of superfood ingredients. If only it wasn't so pricey. (Find it here…)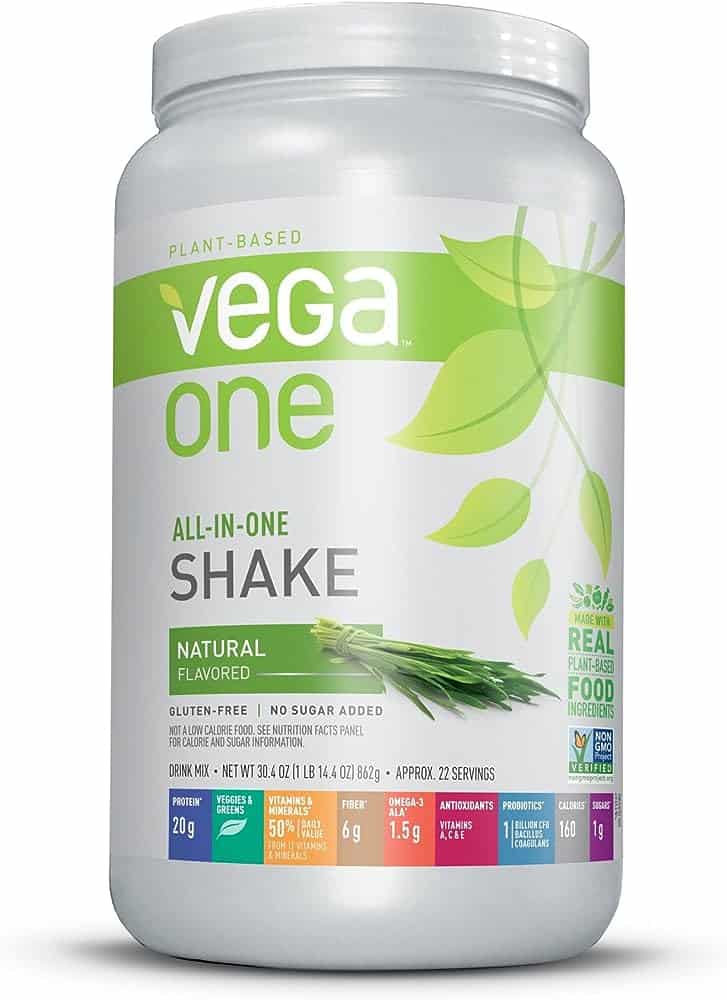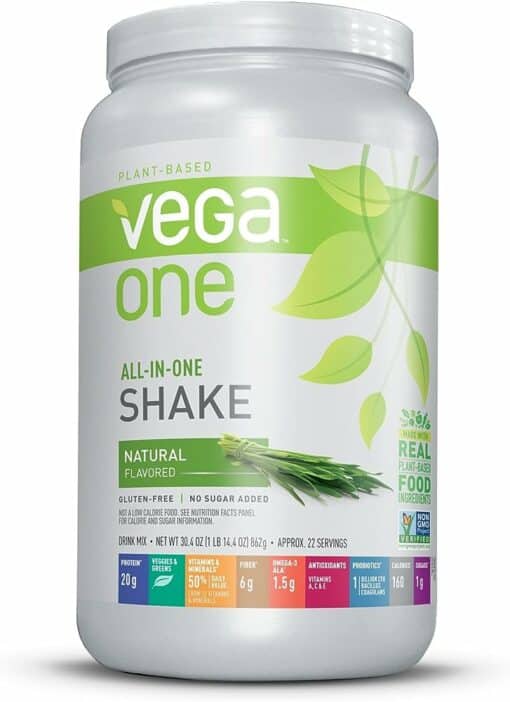 Of course, if you are looking for a true "meal replacement" Vega One contains all the greens and superfoods you'll want. It offers a similar base of protein, but with all "the extras" included. One strategy I like to use is Vega Sport as a pre/post workout and Vega One as a meal replacement in smoothies. You can check out my full review of Vega One and/or check out the product listing here.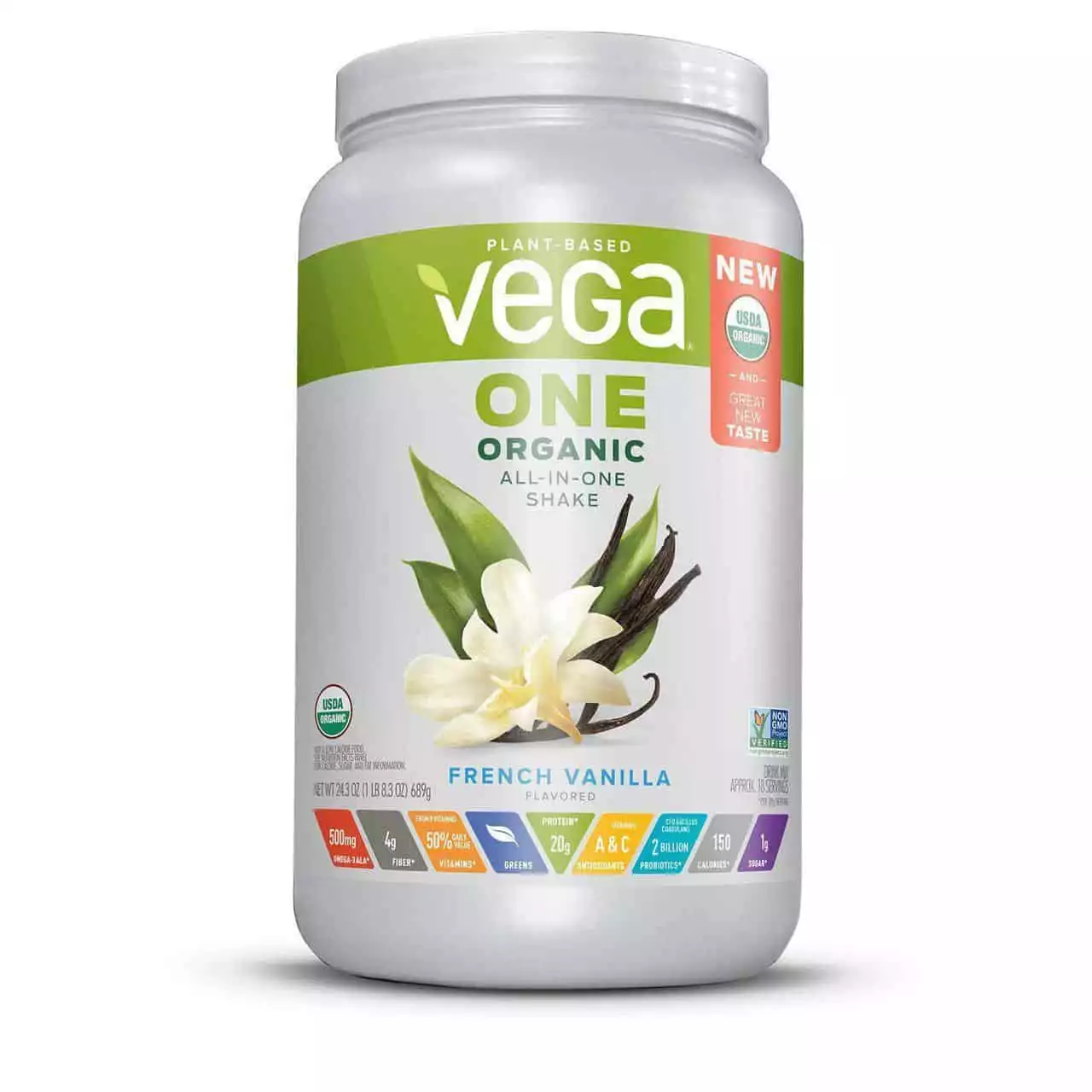 Vega One Organic All-in-One Shake | MyVega
Full of real, organic plant-based ingredients, Vega One Organic All-in-One Shake harnesses the power of plants to help you supercharge your day, deliciously. Excellent source of Antioxidant Vitamins A, C & D to help support the immune system.
Check Price at MyVega.com
We earn a commission if you click this link and make a purchase at no additional cost to you.
The Bottom Line of My Vega Sport Protein Review
For a vegan protein powder, Vega Sport Protein is one of the best on the market. Despite the fact that it's non-organic, it's still an excellent source of plant-based protein powders, along with BCAAs and glutamine. If you can afford the high price tag, it's a high-value product.
Recommended Reads: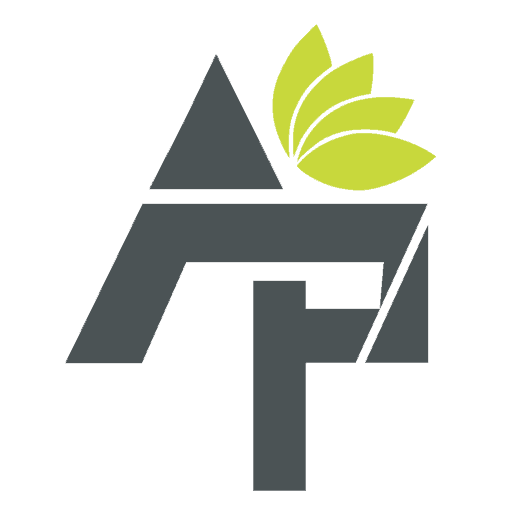 Alt Protein Team is a team of professionals and enthusiasts committed to bringing you the most up-to-date information on alternative protein, health and wellness, workouts, and all things health-related. We've reviewed a lot of products and services so you don't have to guess when you spend your hard-earned money on them. Whether you want to shed some pounds, build lean muscle or bulk, we can help you figure out what you need to do and what you need to have to achieve your goals.