If you're looking for a good protein powder that acts as an effective body fuel and boosts lean muscle growth, Beast Protein might be just the right option for your needs.
It is not true that all protein supplements work and are the same, and my review of the Beast Protein powder will support this statement. This particular product comes in four different flavors and contains no less than 25 grams of protein per scoop but let's find out more about it, below.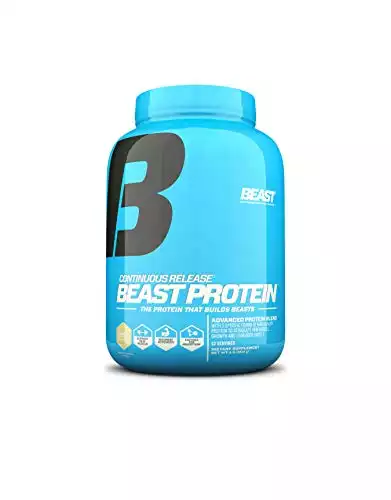 Beast Protein – Quick Overview
| | |
| --- | --- |
| Supplement form | Powder |
| Protein per serving | 25 g |
| Main ingredients | Five protein types, BCAAs, digestive enzymes. |
| Taste | Four available delicious flavors. |
| Mixability | Mixes up easily with water, milk, etc. |
| Purposes | Boosted strength, building muscle mass. |
| Possible side effects | Mild belly pain and bloating. |
| Macro analysis | 140 calories, 25 g protein, 5 g carbs, and 2 g fat. |
What Is Beast Protein?
This protein powder is an effective supplement that is rich in amino acids and contains a lot of protein in order to help you reach your fitness and health goals in the best way possible. Beast Protein contains a complete amino acid profile as well as five different types of protein which will provide you with a boosted stamina during your workouts.
What I like most about Beast Protein is the fact that it was created for people like me and you, not just for professional athletes or weightlifters. In other words, it is a suitable product for all people who want to simply shed those extra pounds they've been struggling with for quite some time.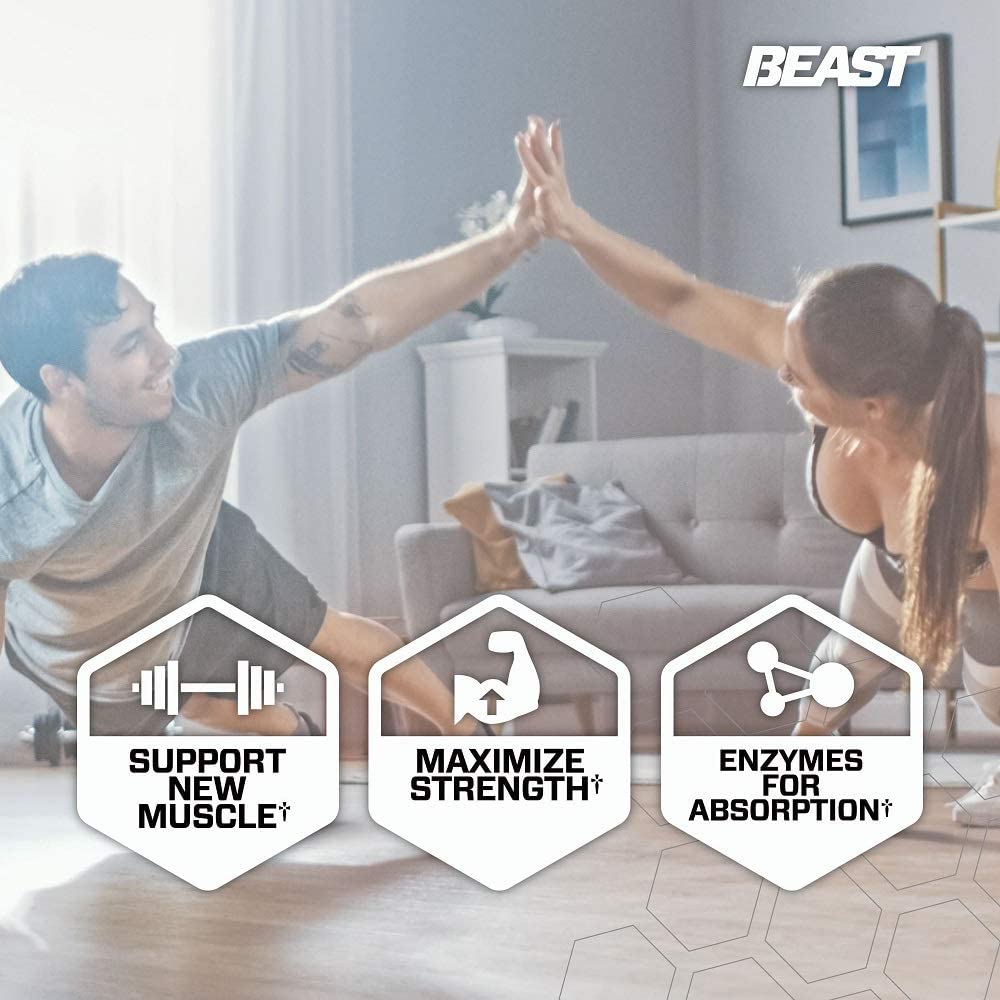 How Does Beast Protein Work?
This product was specially created to help your body's protein absorption process which is most needed after an intense workout. Beast Whey Protein contains high quality protein from great sources that improve your organism's digestive function and boost muscle recovery.
By accomplishing all these in a timely fashion, your muscles will receive their needed level of energy exactly when and where they need it the most.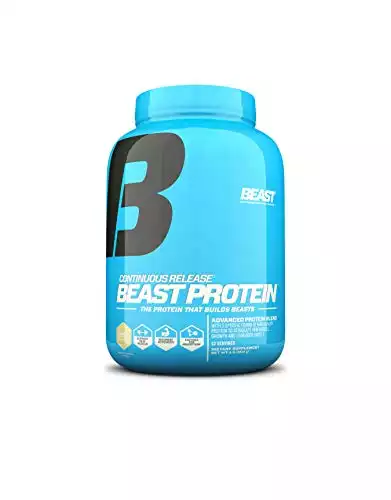 Beast Protein Ingredient List
This powdered supplement is made from three main groups of ingredients:
Protein blend
The most important part of any protein supplement is its protein blend which must come from the best possible protein sources. Beast Protein contains the following protein mix: whey protein isolate, whey protein concentrate, whey protein hydrolysate, egg white albumin, and Micellar Casein protein. While this is not the best blend in the supplement industry, it remains one of the top options available out there.
Branched Chain Amino Acids blend (BCAAs)
These elements are naturally contained by any protein. This ingredient is responsible for decreasing muscle recovery time as well as for speeding muscle growth. Premium supplements will always contain additional BCAAs which provide a huge advantage for those of you who want to remain energized during their workouts.
Enzyme blend
Protease, lactase, and amylase. These ingredients help your body digest more complex sugars and protein such as lactose, casein, and gluten. Moreover, they alleviate acid reflux symptoms. With the assistance of digestive enzymes, your organism will absorb more essential nutrients which are further transformed into fuel for your muscles.
Besides these two main blends, Beast Protein also contains other ingredients:
Natural and artificial flavors;
Cocoa bean powder;
Xanthan gum;
Salt;
Sucralose;
Potassium citrate;
Acesulfame potassium.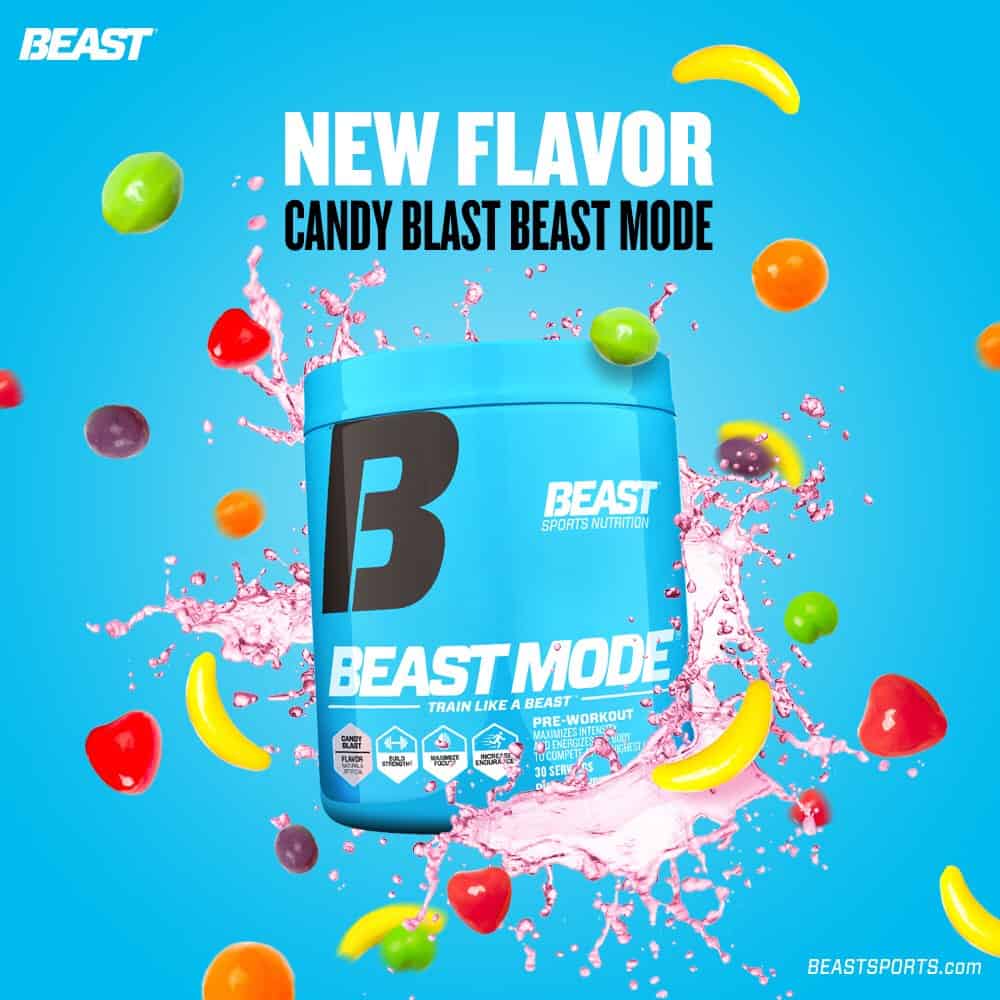 Beast Protein's BCAAs – Purposes & Benefits
In order for you to understand exactly how each type of amino acid works, I have decided to detail the BCAAs contained by Beast Protein while also highlighting their purposes and health benefits:
Whey protein isolate
This protein promotes both weight loss and muscle growth. It is one of the most common forms of protein and it is created during the cheese production process. When it comes to health benefits, whey protein isolate lowers blood pressure, reduces stress and depression, and fuels your entire body.
Whey protein concentrate
This amino acid type boosts immunity, lowers blood pressure, speeds up your muscles' recovery time, supports lean muscle tissue growth, and acts as a prebiotic. This means it feeds your intestines' healthy microflora.
Whey protein hydrolysate
This is not as common as other forms of protein. However, it provides amazing health benefits like being safe for lactose intolerant people, promoting weight loss, improving recovery in damaged muscles, and others. As for drawbacks, whey protein hydrolysate can be quite expensive and it has a bitter taste.
Egg white albumin
All the proteins derived from egg white albumin (ovomucoid, conalbumin, lysozyme, and ovalbumin) contain large amounts of cysteine.
This element improves muscle mass. Egg whites are complete and fat-free proteins. They don't contain cholesterol but are rich in essential amino acids. Also, this type of protein boosts cognitive functions, prevents cardiovascular diseases, and lowers chronic fatigue.
Micellar Casein
This is yet another amino acid that invigorates protein synthesis. It remains longer in your organism while helping your muscle go through intense workouts. Micellar Casein also improves one's metabolic rate and provides better strength.
So, if you want to lose weight, build muscle, and maintain a healthy colon, make sure to consume a supplement that contains this type of amino acid.
Nutritional Value
Nutritional Facts – Beast Whey Protein – per one scoop/serving
Calories
140
Protein
25 g
Carbohydrates
5 g
Total Fat
2 g
Sugars
2 g
Cholesterol
75 mg
Sodium
135 mg
How to Use It and Who Should Take It
This protein supplement is very easy to use and consume. All you have to do is mix one scoop or serving of powder with 6-8 ounces of plain water, almond milk, or any other beverage of your choice.
Although some say you don't really need a blender to prepare this protein beverage, it is best to use one if you want to avoid dealing with clumps. Another good alternative is using a shaker cup and mixing the beverage for around ten seconds. All in all, Beast Protein has a nice consistency and a rich texture.
Beast Protein powder supplement is good for all those who want to lose weight, build muscle tissue and lean mass, and boost their overall strength. So, if you are a healthy adult with an active lifestyle and you're over 18 years old, this product might help your body meet its daily protein requirements.
Taste and Mixability
The majority of users believe this supplement has a delicious taste. I have tried the Vanilla variety and I must say that for me, it had a pretty bland taste. On the other side, many people I know prefer their supplements like this instead of being too sweet.
Beast Protein sells in four different flavors: chocolate, vanilla, chocolate peanut butter, and cookies & cream. All these flavors have a solid taste and they don't have a bad aftertaste like many other comparable supplements do. The best flavor, according to consumers, is the classic chocolate one.
While it is true that this product's flavor is not the best on the market, it is not the worst either. After all, we must appreciate that the manufacturer has kept the sugar content at a pretty decent level.
Even though Beast Protein mixes up pretty quick, it might need an extra shake. Otherwise, the final beverage will have some chunks and clumps here and there. To make sure you get rid of those lumps, I recommend you use a good shaker or blender.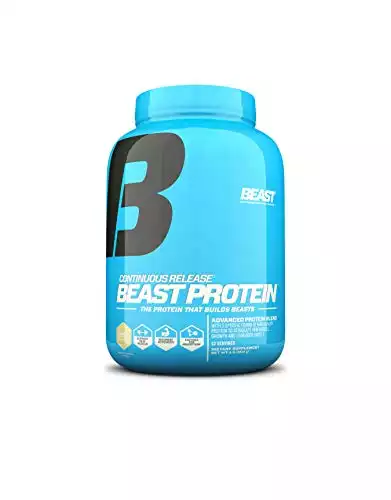 Pros and Cons
Advantages
Supports lean muscle mass growth;
Boosts your stamina, endurance, and strength;
It is easy to digest and comes in four delicious flavors;
Contains plenty of essential amino acids;
It comes with a high protein content per each serving;
Beast Sports Nutrition Protein is appreciated for its increased iron and calcium content, both of which boost one's overall health;
You will be pleasantly surprised by this supplement's potent enzyme blend which increases the efficiency of protein absorption;
Has five protein types that come from high quality protein sources;
It is an affordable protein supplement.
Disadvantages
This product is a bit difficult to mix;
It is not a gluten-free supplement;
Contains potentially-allergenic ingredients such as egg, milk, and soy;
Besides the common essential amino acids, Beast Protein doesn't contain any additional BCAAs;
For those of you who are allergic to nuts, this protein might not be safe to consume;
It is a bit high in sodium and cholesterol, so you might want to seek your doctor's approval before consuming this supplement;
Although the protein blend is good enough, it could be better because it doesn't stand out at a level some of you might expect.
Possible Side Effects
Luckily, Beast Protein doesn't have any severe or dangerous side effects. Still, if you suffer from certain health conditions like diabetes or cardiovascular diseases, you should always check your doctor's opinion first. Also, those allergic to nuts, soy, eggs, milk, wheat, peanuts, or shellfish should avoid consuming this supplement.
I, for one, did not experience any annoying side effects but some other reviewers have complained about dealing with certain unpleasant symptoms like moderate stomach pain and bloating.
How Much Does Beast Protein Cost?
The price of the Beast Protein powder supplement may vary depending on the seller and the size of the container. You can purchase it on Amazon, where a two-pound container with 26 servings costs $23.99 while a four-pound bottle with 52 servings sells for $38.95.
Those interested in buying this product can find it on iHerb.com as well where a container of four pounds is marketed for $42.67. iHerb offers several discounts such as a quantity price reduction; if you purchase three containers, you will pay only $40.54 per each tub.
Most Beast Protein customers consider this product a really affordable one compared to a lot of other similar supplements. Furthermore, considering its value and efficiency, Beast Protein is totally worth it due to its solid protein blend.
Putting It All Together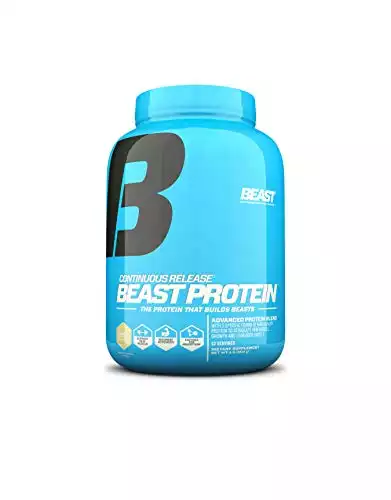 Are you ready to gain control over your body, lifestyle, and workout regimen? Then, I hope my review has made it easier for you to decide whether or not Beast Sports Nutrition Protein is the right product for your needs.
For me, this supplement is an excellent choice due to its amino acid and protein content. It simply keeps my body on the right track even after a tough workout. Once you consume this protein powder, you will soon notice its benefits that last for hours on end.
All in all, in my opinion, Beast Protein is full of top-notch ingredients and has a unique profile that will help you accomplish all your fitness goals.
FAQs
Question: How does beast protein work?
Answer: The Beast Protein works in a similar way any other protein supplement works, meaning it provides the body the essential BCAA and solid amino acids that promote muscle growth, and strength as well.
Question: What are the symptoms of too much protein?
Answer: Proteins are essentials for our health, but some people are consuming them at very higher levels than they should, and this is why they might experience nausea, dehydration, exhaustion, headache, or diarrhea.
Question: How much proteins should I consume a day?
Answer: Proteins should be consumed according to age and weight, so the average person should eat 0.8 grams per kg, which basically leads to 56 grams per day.
Recommended Reads: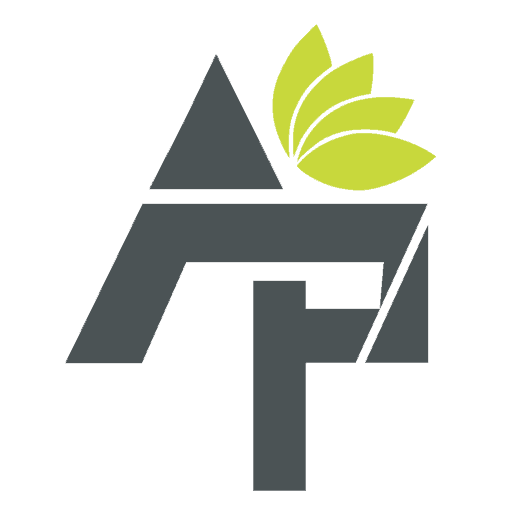 Alt Protein Team is a team of professionals and enthusiasts committed to bringing you the most up-to-date information on alternative protein, health and wellness, workouts, and all things health-related. We've reviewed a lot of products and services so you don't have to guess when you spend your hard-earned money on them. Whether you want to shed some pounds, build lean muscle or bulk, we can help you figure out what you need to do and what you need to have to achieve your goals.