Today, I will review the Bella Rocket blending tool, with a focus on its basic model, the Personal Size blender. It is a cheap yet effective appliance that can help you make delicious single-serve smoothies in no time. Below, I will discuss some of its most important features, functions, and characteristics. Also, I will talk about its pros, cons, components, and price.
Bella Rocket Blender – Brief Overview
| | |
| --- | --- |
| Motor Power | 240 watts – the basic model |
| Power Source | Corded electric |
| Warranty | 2 years |
| Blades Material | Stainless steel |
| Contents and Accessories | BPA-free |
| Design | Compact |
| User Manual | Download the PDF here |
Bella Rocket Blender – Design and Main Features
The blender I am currently reviewing has impressed me with its great features as well as unique design. These two aspects are definitely perks that differentiate this tool from many other similar personal blenders. Moreover, they offer just the right amount of convenience while also delivering a good performance.
Main Characteristics
Its simple design makes this tool easy to assemble, maintain, and operate. Long story short, here are the main characteristics of the Bella Rocket blender:
A high-power base – the motor power reaches 240 watts for the basic model which might not seem a lot but it is enough to chop, blend, and grind your ingredients into delicious treats. With this appliance, you can grind whole vegetables, fruits, nuts, coffee beans, and spices.
Three different blending cups – the Bella Rocket blender comes with one short and two tall blending cups. The short one has a capacity of 13.3 ounces while each of the other two has a 21.6-ounce capacity. Therefore, you can prepare several smoothies or beverages and store them in your refrigerator.
Two stainless steel blades – both blades are extra sharp and they can emulsify or grind a large array of foods. One of them is a cross blade which works great for breaking down whole vegetables, fruits, etc. The second blade is a flat grinding one which comes in handy when you want to chop seeds, nuts, and spices. For coffee beans, I recommend you use the flat blade.
Shaker lids – the set of accessories also has two shaker lids. One of them has large holes and it is specially made to serve grated cheese, chocolate, and coarse spice blends. The other lid, the one with small holes, will be useful when you need to sprinkle spices that have a finer texture.
Recipes and user manual – when you purchase this blender, you will also receive a user manual to learn the proper way to use this appliance. Also, you will benefit from the manufacturer's list of recipes which will inspire you with new ideas on the beverages you can prepare using the Bella Rocket tool.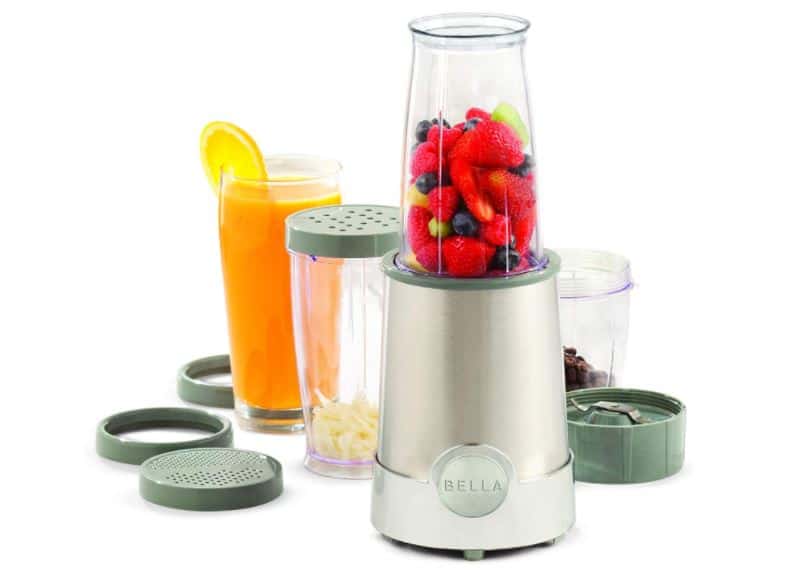 Operation and Maintenance
Having a straightforward design makes this appliance easy to operate. All you are required to do is to assemble the two stainless steel blades to the mixture container. Then, you must lock the entire thing in to start using the blender. All cups are dishwasher-safe so it will be easy for you to clean it. Finally, you can store the blender in your kitchen cabinet because its compact design allows an easy fit.
Included Accessories or What Comes in the Box
A blender base with 240-watt motor power. If you decide to buy a more complex Bella Rocket version, the motor power will be higher, reaching up to 700 watts;
One cross blade for blending jobs;
One flat blade made for grinding and milling purposes;
A short blending cup with a capacity of 13.3 ounces;
Two tall blending containers with a 21.6-ounce capacity each;
Three storage lids;
Two lip rings that will help you drink the beverage a lot easier directly from the cup;
An additional travel lid;
A shaker top.
Pros and Cons of Bella Rocket Blender
Advantages
The main advantage of this blender is its low price which makes Bella Rocket a very affordable product;
It has a compact design which makes it easy to use;
It comes with a wide range of versatile accessories so that you can use it for several different purposes;
This blender can easily replace multiple single-application kitchen appliances;
It has two durable stainless steel blades;
With this tool, you will be able to handle many types of ingredients, even tough ones;
You can choose from no less than 8 available colors;
The base of the Bella Rocket blender is fairly easy to wipe clean;
Your investment will be protected by this product's 2-year warranty;
The blender will help you prepare delicious smoothies in no time;
You can even grind coffee beans with it;
All the tool's parts can be safely cleaned in the dishwasher;
It is a relatively quiet blender.
Disadvantages
Although it works very good for most types of blender-friendly recipes, when it comes to frozen drinks, Bella Rocket is not that great;
If you prepare something that contains tomato sauce you should expect the jar to get stained;
Most people consider this to be a quiet blender. However, a few users have complained about the fact that Bella Rocket might get a bit loud from time to time, depending on how tough the ingredients are;
It is not as powerful as many other blenders;
You will only be able to prepare small-sized smoothies;
Certain individuals said the blade design is not that durable;
The warranty policy doesn't include any replacement parts;
If you use this blender for a very long time, it might make its base part crack and leakage might appear.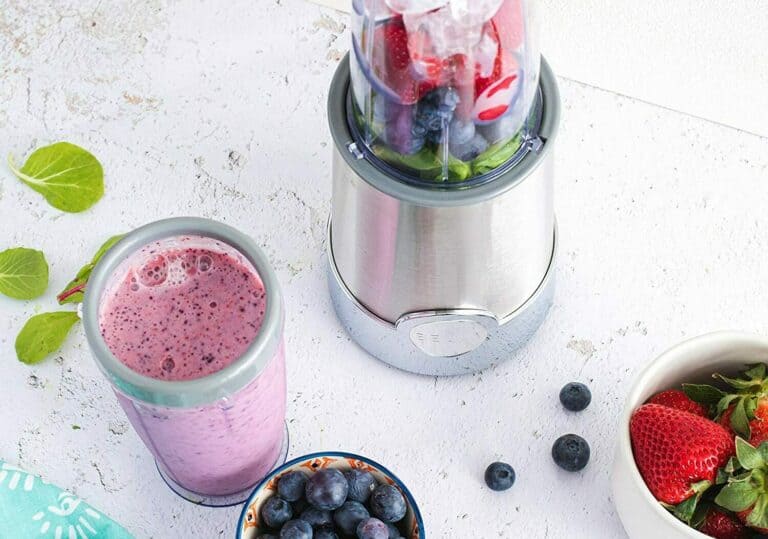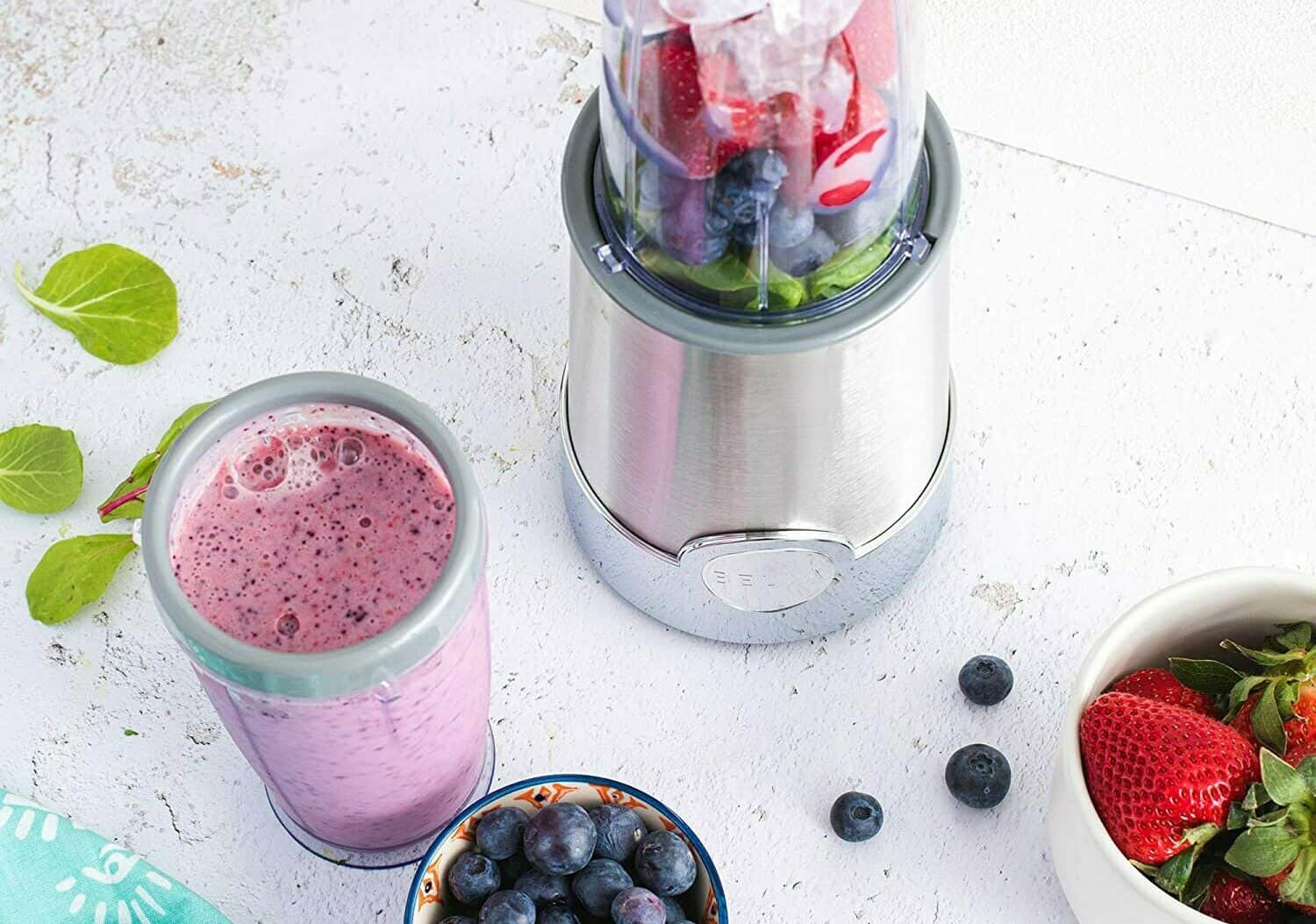 Why Should You Buy This Blender?
In my opinion, this appliance will not suit all people's needs and preferences. In fact, I believe it is a tool that matches certain needs and it is a great addition for people who want the following things:
A simple and easy-to-use kitchen tool that prepares small-sized smoothies from soft ingredients;
A portable blender to carry on the go;
Preparing quick drinks made from protein powder supplements;
A portable blender for grinding and chopping purposes;
A simple blender with lower motor power to prepare purees and baby food.
On the other hand, if you're looking to make more complex and complicated smoothies with very hard vegetables or nuts, this blender will not work as well as in the cases mentioned in the list above.
Warranty and Return Policy
The usual warranty period for the Bella Rocket blenders is two years but it may vary between one and two years, depending on the seller as well as the tool model you choose to buy. If you want to extend the standard warranty period, you must pay a minimum fee of $5.
I suggest you purchase this product on Amazon because they offer a lot of perks. For example, you can buy Bella Rocket along with an Electronics Accident Protection Plan which can extend your warranty to 2 or even 3 years. Furthermore, Amazon provides a 30-day return policy. Therefore, if you're not pleased with the way this appliance works, you can easily return it and receive a full refund. Still, I'm almost sure you'll be pretty satisfied with your brand new blender.
How Much Does Bella Rocket Blender Cost?
You can find many Bella Rocket blender models on Amazon. Their prices range from almost $20 for a basic model to approximately $60 for a more complex and multifunctional version. Here are some examples I have found on Amazon:
Bella Rocket Personal Size Blender – $19.93;
Bella Rocket PRO Power Blender – $39.99;
Bella Rocket PRO Plus Multifunctional Blender- $59.99.
Something very interesting that I have discovered during my research is that prices also vary depending on the color and the material this blender is made from. This is, however, applicable only to the Personal Size Blender model:
Metallic version – $16.88;
Stainless steel, black color – $19.93;
Stainless steel, red color – $24.99;
Chrome, red color – $42.99.
Is Bella Rocket Blender Easy to Use?
Using this kitchen appliance is both an exciting and easy experience. The assembly process can be done in just a few minutes and it doesn't require you to have any special or out-of-the-ordinary skills. Bella Rocket will chop, grind, and blend ingredients and food items within a short amount of time which makes this tool a very convenient smoothie-maker.
It is a machine specially created to offer a high versatility because its two blades can chop, grind, or blend almost any type of food, including whole fruits, vegetables, and nuts. With this blender, you can even prepare freshly ground coffee and spices. Bella Rocket's versatility is also supported by its many accessories.
Another characteristic that makes this tool easy to use is the fact that all its components are dishwasher-safe. This makes the blender easy to clean as well as maintain the machine at a proper functioning level. Finally, you won't have to occupy a lot of space on your kitchen counter because most Bella Rocket blender models have a compact design which makes storage a lot easier.
Noise Levels
According to most users, Bella Rocket blenders have optimal noise levels. It is true that the appliance does make a noise of some sort, especially in the beginning, when you add tougher ingredients. However, the overall noise level is not very high and it will not disturb you.
The higher the motor power is, the louder the blender will be. Kitchen appliances that have a high rotational velocity produce more decibels. So, a basic Bella Rocket blender model of only 240 watts will lead to a quieter blending process. This tool is powerful enough to crush many kinds of food items but, at the same time, it works smoothly enough to not make a lot of noise.
Some reviewers have said that due to this useful blender, they can now prepare their favorite beverages late at night or early in the morning without worrying they will annoy their neighbors.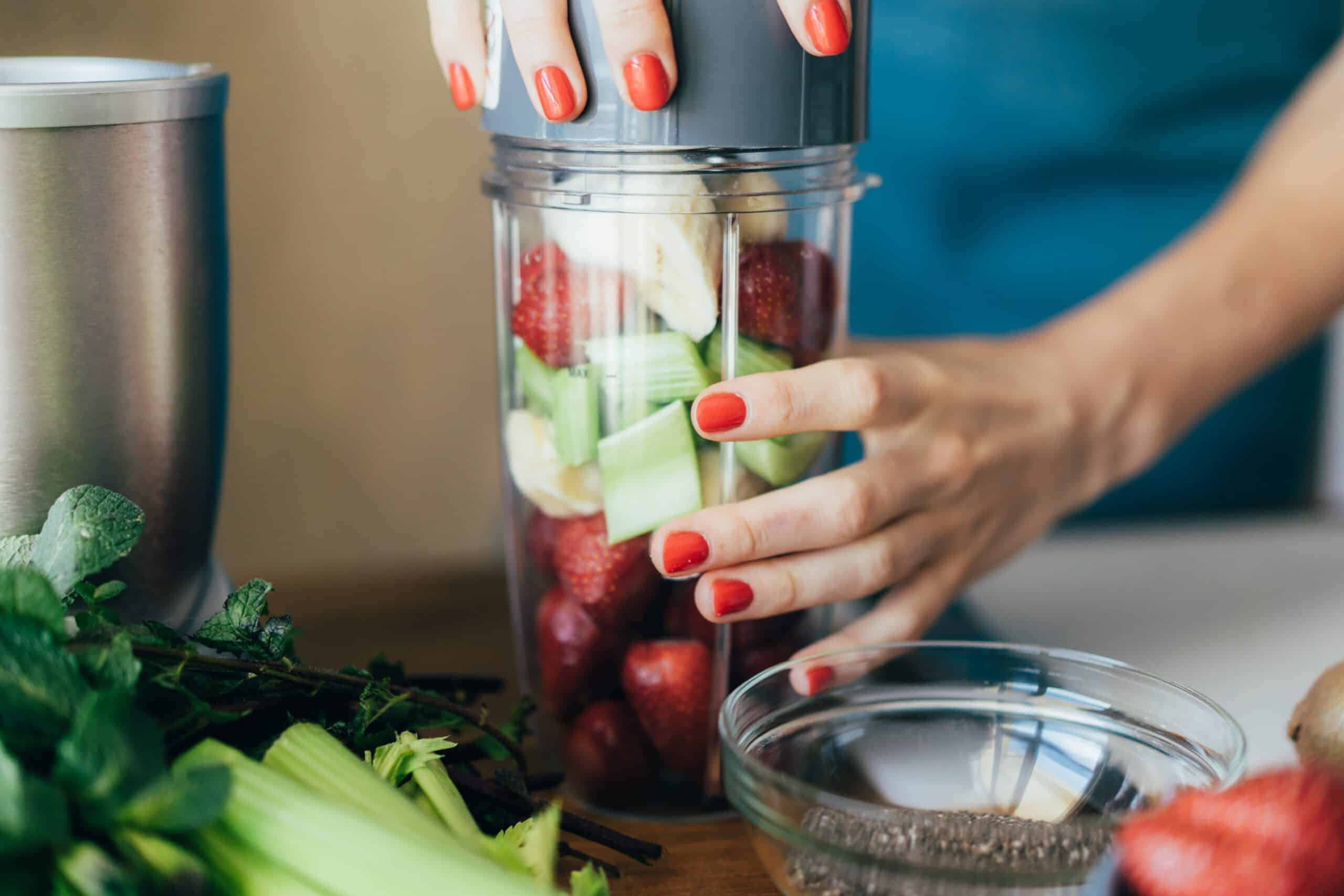 Let me tell you a little secret that I always apply in order to lower my blender's noise even more: simply place it over a kitchen towel or a thicker cloth sheet if you want to lower the noise as much as possible.
What to Expect
Bella Rocket is both compact and versatile – you will use this tool daily so the fact that it has a smaller size comes in handy. I consider counter space to be the king of my kitchen which is why, in my home, larger appliances end up in the cabinet and they usually remain unused. With Bella Rocket, I am able to grind spices (cinnamon is my favorite one) and coffee. A couple of times, I have even dared to chop ice cubes and although the result was not spectacular, the blender did its job.
Easier cleaning – most conventional blending tools require separate containers or glasses and one must clean the jar by hand. This is both annoying and time-consuming. Furthermore, in the long run, this will cost you more money with detergents, water and electricity bills, etc. Luckily, with Bella Rocket you can forget about all those issues because this tool can be safely cleaned in the dishwasher.
Value for money – I don't know about you, but I tend to enjoy a refreshing smoothie, even more, when I know how much money I saved on preparing it. Instead of waiting in line in order to purchase a more expensive healthy beverage at a drive-through, I can simply make my own customized recipes in the privacy of my own home without spending the same amount of money.
Bottom Line
There are two things I like most about this blender. For starters, I find its price to be the most appealing characteristic. It is one of the greatest bargains you will ever find. Secondly, I enjoy this Bella Rocket's functionality. Despite its design and size, it is a really solid product. So, if you're looking for a less expensive yet quite effective blender, this one is the right choice for you.
Recommended Reads: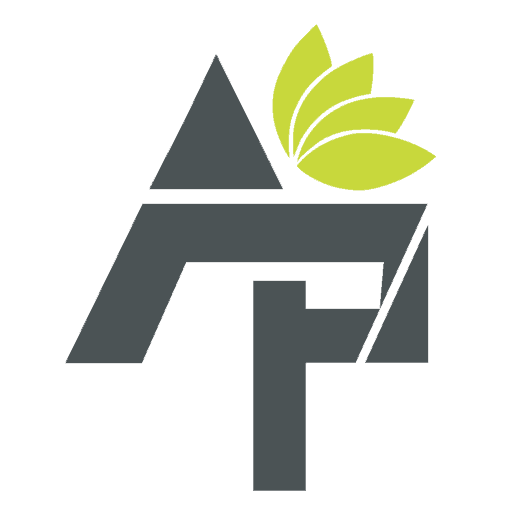 Alt Protein Team is a team of professionals and enthusiasts committed to bringing you the most up-to-date information on alternative protein, health and wellness, workouts, and all things health-related. We've reviewed a lot of products and services so you don't have to guess when you spend your hard-earned money on them. Whether you want to shed some pounds, build lean muscle or bulk, we can help you figure out what you need to do and what you need to have to achieve your goals.