This Vital Proteins Matcha Collagen review looks at the combined benefits of matcha and collagen in a single product, as well as the flavor and texture. Will it mix well? Does it taste delicious enough to enjoy or will you have to choke it down? How's the price? Let's discuss.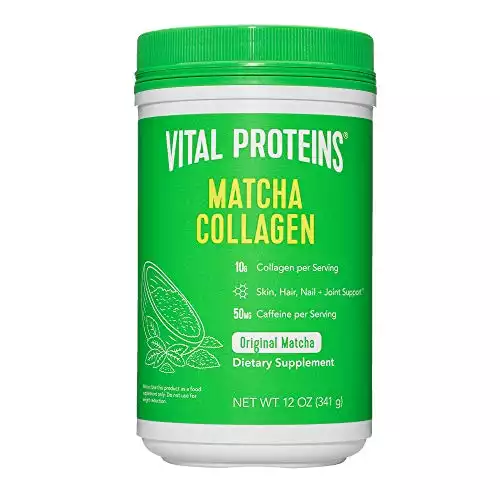 Vital Proteins Collagen Benefits: Why Collagen? Why Matcha?
Collagen is having a bit of a moment right now.
It's a supplement that will help your hair and nails grow long and strong, your skin glow, and ligaments and tendons feel good again.
Collagen protein isn't intended to grow muscle as much as it's to add strength and health to the ligaments and tendons while making you look vibrant and more youthful on the outside.
Matcha is even healthier than the green tea you've probably heard about for a large portion of your life. It makes you more alert without that unpleasant buzz and irritability that can come from too much coffee.
Matcha has antioxidants and may help you detox your body. You could find yourself in a better mood, more able to concentrate, and possibly even losing weight (it can boost the metabolism).
It makes sense to add collagen and matcha to any roadmap to a healthier version of yourself. Why not enjoy them in a single convenient product that can be used in so many ways? The price of Vital Proteins' product is really comparable to buying matcha and collagen separately to mix your own.
Overall Vital Proteins Matcha Collagen Review
My Vital Proteins Matcha Collagen review is pretty positive. First, I want to note that collagen supplements rarely have as much protein as actual protein powders, but this one is only shy of what you might find in a plant-based protein powder by about five grams.
I like that this product seems to be high-quality, from grass-fed, pasture-raised cows. The matcha is also high-quality and has no added sugar. That can't be said about a lot of matcha powders. They often come with sugar and other fillers.
Because this is a powder that has the collagen and matcha mixed together, it's easy to use. It also tends to dissolve well. You can use it in water (hot or cold), smoothies, desserts, baked goods, or really anything that calls for matcha powder.
The versatility is another perk. Most reviewers like the taste, especially of the original one, but I'll get into more specifics on the flavors, how they perform, and what they combine well within a minute.
What's in It?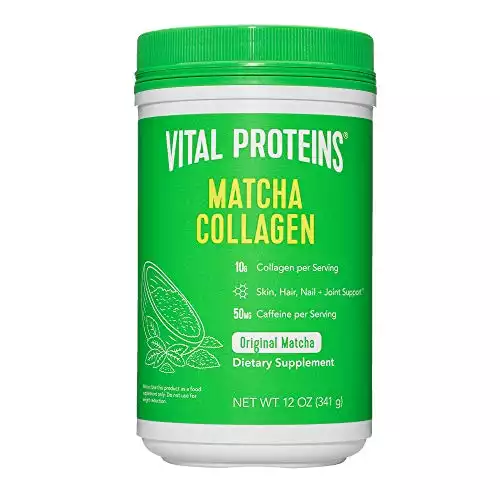 The list of ingredients is sweet and to the point, just how I like them. You have the bovine hide collagen peptides, of course. There's also…you guessed it! Matcha. The original also contains coconut water powder.
The peach version just has organic peach added and doesn't list coconut water powder.
Nutrition Facts
Here's a quick look at the nutrition facts as they're listed on the Vital Proteins website (one 14g scoop is a serving):
| | |
| --- | --- |
| Calories | 50 |
| Total Carbohydrates | 3 g |
| Total Sugars | 2 g |
| Protein | 9 g |
| Sodium | 60 mg |
| Collagen | 10 g |
| L-Theanine | 20 mg |
How's the Taste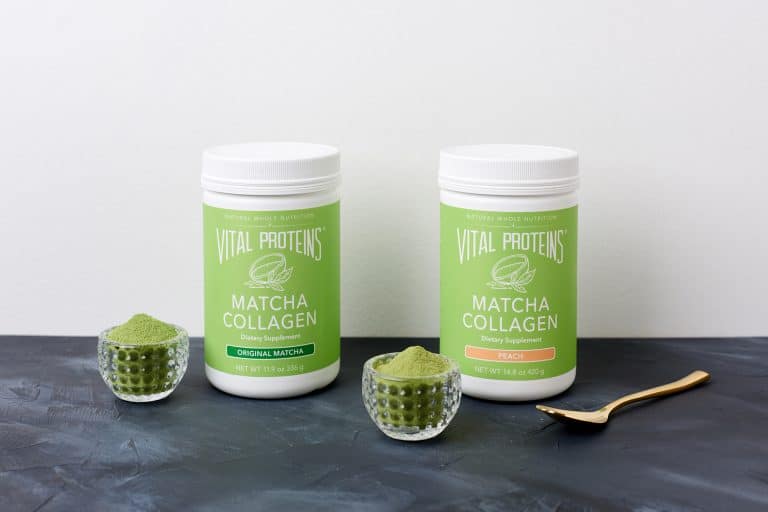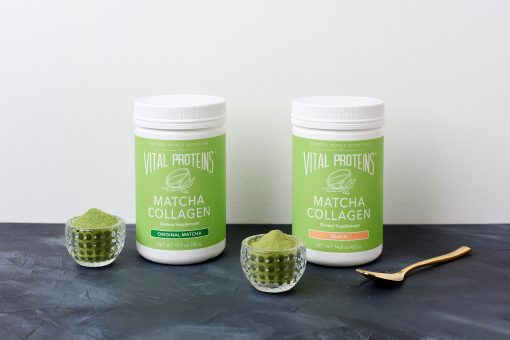 There are two different matcha options: Original and Peach.
In short: People love them both. Original performs better than Peach, though. Some reviewers say the peach just isn't their favorite. One comment I saw said it tasted fishy, though that could've been more of the matcha component than the peach, and it's hard to know whether they only tried that kind or if they would like the original.
The Original has more reviews in general and they tend to be better overall. However, they're not all glowing, either. Some negative comments say that it has too much of a "marine" smell and that it's not very good in water but does well in smoothies.
The rave reviews are really strong. Some people replaced their coffee/café habit with Vital Proteins Matcha Collagen. Reviews say it's creamy, delicious, filling, slightly bitter (in an enjoyable way), and great in hot water, almond milk, cashew milk, or smoothies. Some add stevia to sweeten it up a bit.
Because they use the highest level of food-grade matcha that isn't actually the ceremonial grade, you can expect a clean, not-too-bitter taste. Matcha tends to have an earthy, grassy undertone, which tastes better than it sounds like it would.
Will Vital Proteins Matcha Wake You Up?
That really depends on who you are. Yes, you'll be more alert because of the matcha, but that doesn't mean you'll be able to glide seamlessly from a serious coffee habit to just making a latte with Vital Proteins Matcha Collagen on the first day, either.
Some reviewers reported being able to swap this out for their morning or afternoon coffee, while others didn't feel it provided enough of a boost. It just depends on what you're used to. That said, if you already want to stop drinking coffee (at all, or just so much of it), you could use this to wean yourself off of one of your usual cups.
Each serving contains 60 mg of caffeine. The average eight-ounce cup of coffee has 95 mg.
Does It Mix Well?
Yes!
That said, just using a spoon isn't the best method (though it'll work in a rush). The best results come from using a shaker cup, whisk, or immersion blender. This not only helps the powder dissolve better, but it gives it that foaminess that latte-lovers enjoy.
Some reviewers aren't so impressed by how it mixes with cold liquids, especially if you're not using one of those methods I mentioned above (so don't just put a scoop in your room temperature water and stir, expecting something magical.
The Price and Size
The Vital Proteins website has the 12 oz. size (about 24 servings) listed for $49.00, or just over $2.00 per ounce. You can also buy it in stick pack form (14 sticks per box) for the same price. Obviously, the bigger tub is a much better deal, but if you're after convenience on the go, the sticks are a nice alternative.
For comparison's sake, the regular Vital Proteins collagen is 20 oz. (about 28 servings) for $43.00 (about $1.54 per serving), 10 oz. for $25.00, or 20 sticks for $34.00. If you're not that worried about the matcha or your budget doesn't regularly allow for the matcha one, you can get the regular collagen for less.
Pros and Cons to Vital Proteins Matcha Collagen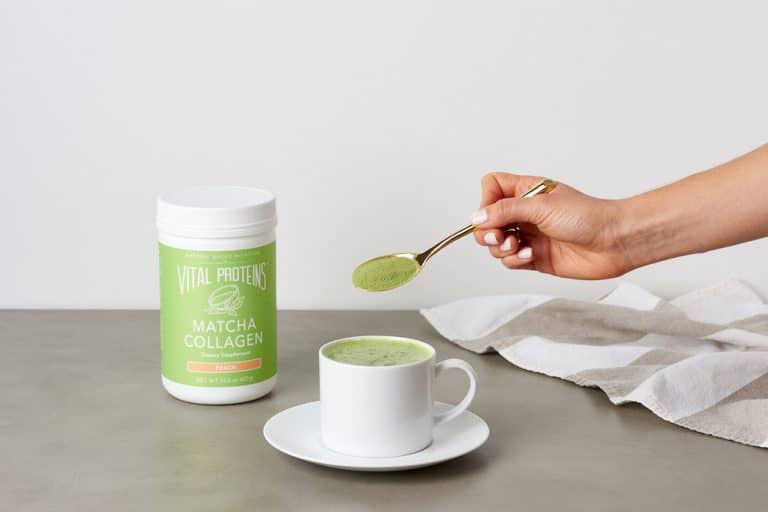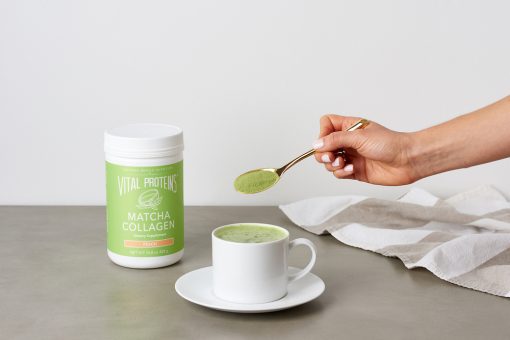 Even though there are more positive Vital Proteins Matcha Collagen reviews than I've seen on most collagen options, it's still always a good idea to look at the pros and cons.
Pros
You can get free shipping on all orders from Vital Proteins if you live in the United States
It's available on Amazon Prime
Two-in-one benefits—you get all the good of collagen and matcha! That means stronger, healthier skin and nails, plus gorgeous glowing skin, as well as 137 times the antioxidants that regular green tea has.
You can save more by subscribing.
It dissolves in hot or cold water.
No dairy, soy, gluten, or added sugars
Helps you stay alert but calm. This is due to the L-theanine in the matcha. You won't get high and crash that you might with other types of caffeinated beverages.
Cons
The price. Especially the matcha version, which is understandable because not only is there high-quality collagen involved, but matcha green tea, too. Matcha's not exactly inexpensive anywhere (if you've seen it at an absurdly low price, be sure to check the ingredients list for fillers and sugars).
It's bovine hide collagen, so it's not going to work for vegetarians or vegans.
Not really a con, but it could be if you want a product that does it all: you probably won't want to mix this into just any drink because of the matcha and coconut water flavors. The unflavored collagen will mix with just about anything, but it won't give you the alert-yet-calm feeling the matcha will (of course, you could always mix unflavored collagen into your cup of matcha tea).
Other Options to Try
If you want an all-in-one collagen and matcha product, you won't have too many options to choose from. This is the only one I've found that combines the two. However, you can always mix your own separate collagen and matcha powders into your beverage, so here are a few options you could use:
Recommended Reads: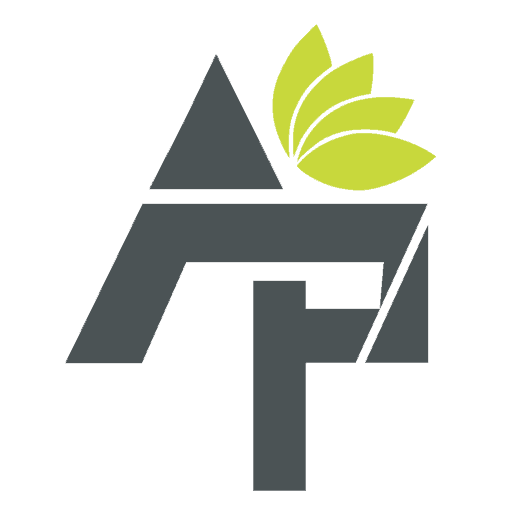 Alt Protein Team is a team of professionals and enthusiasts committed to bringing you the most up-to-date information on alternative protein, health and wellness, workouts, and all things health-related. We've reviewed a lot of products and services so you don't have to guess when you spend your hard-earned money on them. Whether you want to shed some pounds, build lean muscle or bulk, we can help you figure out what you need to do and what you need to have to achieve your goals.