The best collagen supplements provide multiple health benefits such as stronger bones and joints, better-looking skin, thicker hair, and many others. It offers structural support and increases your body's mobility and elasticity. The lack of collagen can lead to loosened skin and wrinkles, weakened joints, and other issues.
So, for that reason, I've decided to present you some of the most effective collagen products on the market. You will find a detailed list in which I describe these products' features, benefits, ingredients, and price.
*The following products are listed in no particular order but they were selected based on their current online ratings, properties, effectiveness, popularity, and consumer reviews.
1. Anti-Aging Collagen Peptides by AminoSculpt
AminoSculpt collagen has a rating of 4 out of 5 stars on Amazon, and most of its reviews sound like this product is a true magic elixir. Many people say they have achieved visible results in just a few days. However, their statements are not scientifically-proved yet. Nevertheless, collagen provides plenty of health benefits such as improving your mobility and the way your hair and skin look.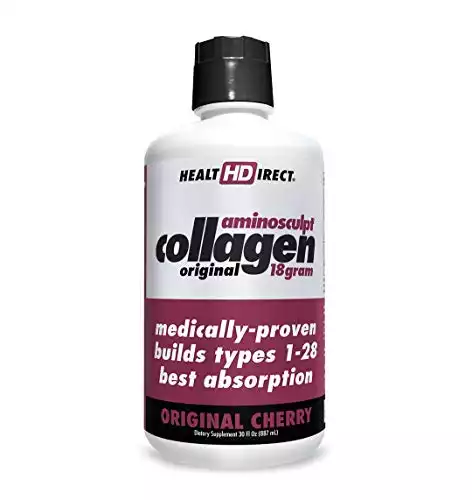 There were a few individuals who stated that this collagen supplement had helped them with back pain or weight loss. Therefore, due to all its many praises, I think it is worth a look. Below, there's a short list of AminoSculpt main features:
Contains type I collagen and the company guarantees that their ingredient is a pure one;
The recommended dosage is composed of 1-2 tablespoons each day. You must take this serving mixed with a couple of ounces of water, every day, before bedtime;
Other ingredients: purified water, citric acid, potassium sorbate, natural cherry flavor, sodium benzoate, etc. This collagen supplement is kosher, and it is free of artificial colorings, flavors, and sweeteners. Moreover, it doesn't contain potentially-allergenic compounds like whey, soy, gluten, and milk.
Price
On Amazon, the AminoSculpt Collagen Peptides product is sold for the price of $35.65 (a bottle of 15 ounces).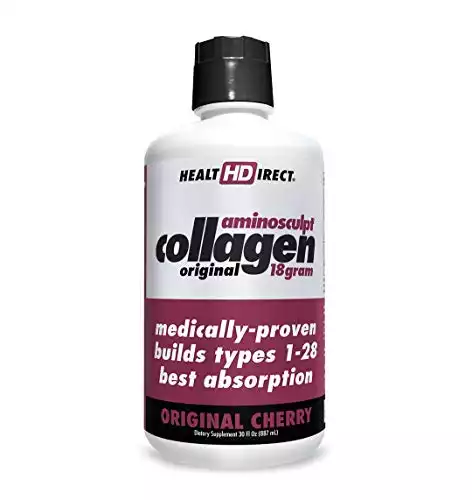 2. Beauty, Bones & Joints by BioSil
BioSil might have a rating of 4.1 stars on Amazon, but it is worth a try. In fact, this product is unique and not like any other joint supplement you've ever seen. What I mean is that BioSil is not a simple collagen product but a collagen generator.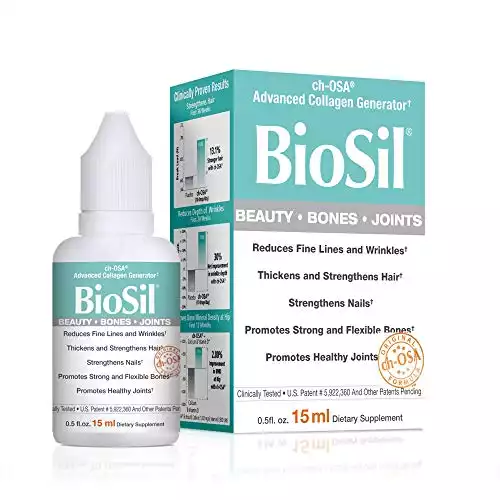 The manufacturer has created a patented formula that is based on a compound named ch-OSA which stands for acid choline-stabilized OrthoSilicic. This particular element is known for its collagen-stimulating properties.
When it comes to the product's key features, here is what you should know:
It is fluid, and you're supposed to consume 5 drops two times per day. Just add it to a half cup of a liquid of your choice;
Good news, vegetarians! This product is for you because it doesn't contain any animal-sourced ingredients;
Besides choline, it also contains purified water and glycerol;
Not only will this product alleviate joint pain but it will also fight oxidative stress and make you look younger;
The main ingredient is clinically-studied and makes your hair thicker.
Price
You can purchase the Beauty, Bones & Joints by BioSil on Amazon. You will pay around $18 for 60 servings. The bigger package that contains 120 servings costs $25.59.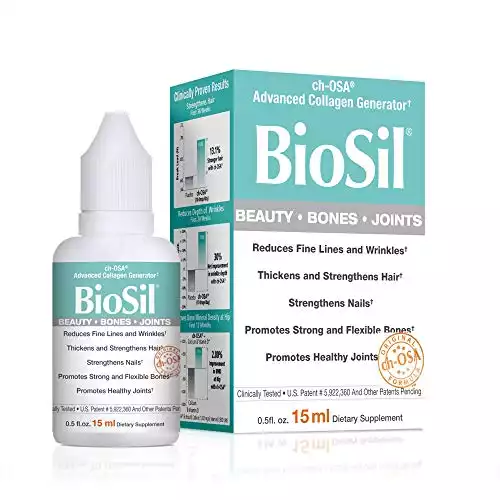 3. Ancient Nutrition Multi-Collagen by Dr. Axe
This collagen protein powder offers consumers five types of collagen and has a current rating of 4.3 out of 5 stars. The manufacturer promotes this multi-collagen supplement as a product made especially for women because it is said to meet their unique needs.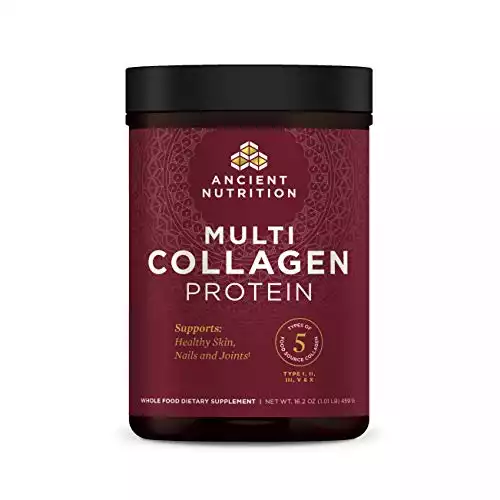 You can easily dissolve the powder in your favorite smoothie, but it is a tasteless product so you can add it to basically anything such as muffins or puddings.
Dr. Axe's collagen supplement has the following main characteristics:
The proper daily dosage is one tablespoon;
One serving contains 7 grams of protein;
Dr. Axe's supplement provides a fantastic blend of collagen types: X, I, II, III, and V;
The protein is sourced from chicken, bovine, eggshell, and fish collagen peptides;
All the above sources are pure and clean. Therefore, you can rest assured that this product is free of chemicals, antibiotics, and growth hormones;
It is a high-protein low-calorie supplement that comes in handy in any diet you might be following;
Ancient Nutrition collagen supports healthy joints, promotes healthy skin, and improves your digestive function;
You can try it risk-free. If you don't like the way it works, the manufacturer will refund your money due to their 30-day money-back guarantee.
Price
A container of 16.2 ounces of the Ancient Nutrition Multi Collagen Protein Powder costs around $44, on Amazon.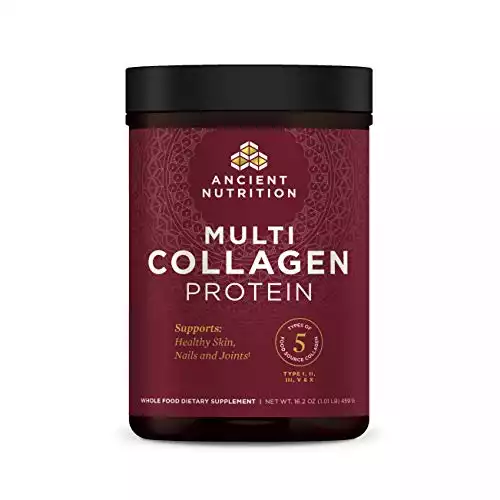 4. Collagen Adult Gummy Vitamin by Flamingo
A rating of 4.2 out of 5 stars is not bad for a collagen-based health product. This Flamingo supplement comes in the form of gummy vitamins, and their formula is both Kosher and Halal.
Still, if you're a vegetarian, this product is not for you because it is derived from fish. It comes in two delicious flavors: tropical and orange both of which have earned a large number of loyal fans among consumers.
Other characteristics that you should be aware of:
This product doesn't contain any potentially harmful or allergenic compounds like eggs, gelatin, gluten, soy, or milk;
It offers a combination of two collagen types: I and III;
The recommended dosage is composed of two gummies per day;
It is made in the US, and it is produced in an FDA-registered facility;
Promotes joint tissue re-growth, alleviates joint pain, strengthens your nails and hair, and rejuvenates skin cells;
All the ingredients are non-GMO;
The company offers a 100% money-back guarantee.
Price
The Flamingo Supplements - Hydrolyzed Collagen Gummies are one of the most affordable collagen supplements out there with a price tag of only $17.79 for a bottle of 100 gummies.
5. BioCell Collagen – Joint and Skin Care by Health Logistics
With a rating of 4.2 stars, this product is one of the most popular collagen supplements on the market. It is sourced from chicken sternal cartilage that is free of antibiotics.
The product has multiple purposes: it makes your bones stronger, promotes healthy joints and tighter skin, etc. The daily dosage varies, depending on what your main goal is. For instance, if you want healthier joints, you must take 2 grams per day but if your target is better-looking skin, then only one gram per day will suffice.
Here are some other characteristics of this product:
Whether you take one or two capsules once or twice per day, you must always take them before meals, on an empty stomach;
There are three types of collagen in this supplement: I, II, and III;
It is a safe and clean product that is free of shellfish, eggs, sugar, soy, gluten, GMOs, fish, and peanuts;
The manufacturing company has a long history and an excellent reputation in the supplements industry;
It is a clinically-studied supplement that has proven its effects on lowering joint stiffness and skin dryness.
Price
On Amazon, the Health Logics BioCell Collagen Joint and Skin Care Capsules costs $26.23 for a container of 120 capsules.
6. Collagen Peptides Primal Protein by Natural Force
With an excellent rating of 4.6 stars, Natural Force's collagen protein is a flavorless powder that can be easily mixed with plain water or any other of your favorite drinks. It is a certified product, derived from pasture-raised and grass-fed cows. Its formula is both gluten-free and non-GMO. Although you can choose from three available containers, regarding size, I prefer to buy the larger ones because it takes a while until you achieve significant results.
Here's more about this particular collagen supplement:
It contains only one type of collagen: I
One serving provides 10 grams of protein;
The daily recommended dosage is one scoop added to a cold or hot beverage;
It is both unflavored and odorless so you can add it to smoothies, coffee, shakes, tea, and other recipes;
Promotes healthy joints but it also makes your skin look younger and lowers the visibility of your wrinkles;
The company offers the possibility of a full refund within 30 days from your order.
Price
Here are the options you can choose from, on Amazon, when buying Grass Fed Collagen Peptides
A tub of 15 servings – $20;
A 30-serving container – $25;
The largest package that measures 32 ounces costs $50 (in my opinion, you should buy this product in bulk).
7. Grass-Fed Collagen Protein Peptides by Amandean Natural Products
It seems that the Amandean collagen supplement is more popular compared to the ones I've previously discussed due to its 4.6 rating. This is a premium anti-aging and unflavored powder that is soluble in cold water. So, if you have swallowing pills, this alternative can be an excellent solution that matches your preferences. You can easily add it to your daily coffee, tea, yogurt, or your favorite juice. You won't notice the difference in taste, but your organism will certainly feel better.
I've made a brief list of this product's key features:
Contains type I collagen;
It is sold in packets that you can easily take on-the-go;
The company offers a full refund in case you're not satisfied with the supplement's effects;
Provides no less than 18 different amino acids that will curb your appetite, help you lose weight, and boost your metabolism;
You can consume this collagen-based supplement regardless of the diet you're following. It works with keto diets, low-carb eating plans, paleo, and many others;
One scoop per day is enough to improve your health.
Price
You can buy the Grass Fed Collagen Peptides on Amazon. One container of 2.2 lbs. costs almost $46 for a one-time purchase and $43.65 for subscribers.
8. Grass-Fed Collagen Peptides by Equip
With a current rating of 4.6 stars, this collagen supplement is one of the best products of its kind on the market. So, if besides healthy joints, you also want youthful skin and stronger nails, this might be the right alternative for you.
It works equally well for both men and women. It is flavorless which makes it perfect as an additional ingredient to your morning milk or any other recipe, for that matter. Unlike most other similar collagen supplements, this one establishes a timeframe for achieving visible results: 4 to 6 weeks.
Here's what you should know about this supplement:
It is a safe and clean product. It contains only one ingredient: collagen peptides sourced from grass-fed bovine;
The product mixes two types of collagen: I and III;
One serving offers no less than 15 grams of high-quality protein which is a lot;
Supports the health of your joints and tissues and speeds up the recovery process of damaged tendons and ligaments;
It is very easy to mix it with soups, smoothies, juices, shakes, or any other recipe or beverage of your choice. You won't even feel that it's there;
The company doesn't use artificial fillers, and their product is free of carbs.
Price
Online sellers like Amazon market the Grass-Fed Collagen Peptides by Equip for the price of almost $30 (a package of one pound of powder).
9. Move Free Joint Health Collagen Supplement by Schiff
This collagen supplement has a 4.2 rating on Amazon currently. If sore joints represent a problem for you, Move Free is definitely a great solution for you. It has a special formula, being a blend of type II collagen, HA, and boron. The recommended dosage is only one single pill per day. Potassium chloride which is one of this product's ingredients is supposed to prevent bone damage and helps the lubrication process of your joints. So, you will be able to move easily.
People with old injuries or even those who have arthritis should give this supplement a try. Here are some of its key features:
Contains a mix of type II collagen, hyaluronic acid, and boron. All these elements promote healthy bones, cartilages, and joints;
Other ingredients are modified corn starch, titanium dioxide, magnesium stearate, microcrystalline cellulose, etc.;
Reckitt Benckiser distributes it and one tablet provides 40 mg of proprietary cartilage blend;
Move Free is made with undenatured collagen which is sourced from poultry.
Price
You can purchase the Move Free Joint Health Collagen Supplement by Schiff on Amazon. The price of one container varies, depending on the number of servings and the seller. It usually ranges between $17 and $56. The second price tag is for a container of 75 tablets.
Let's Recap
Regardless of their online ratings, all of the collagen supplements listed above are worth a try because they are safe to consume and effective. Still, when it comes to collagen intake, you must be patient because results will appear after several weeks. If you decide to buy one of the alternatives mentioned in my post, feel free to share your experience with me.
Recommended Reads: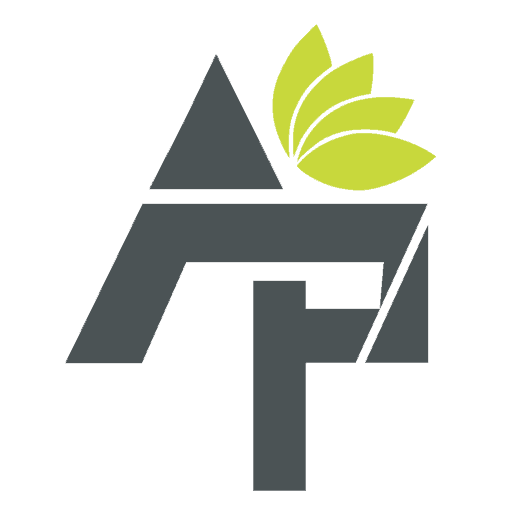 Alt Protein Team is a team of professionals and enthusiasts committed to bringing you the most up-to-date information on alternative protein, health and wellness, workouts, and all things health-related. We've reviewed a lot of products and services so you don't have to guess when you spend your hard-earned money on them. Whether you want to shed some pounds, build lean muscle or bulk, we can help you figure out what you need to do and what you need to have to achieve your goals.