A lot of people ask me – Is Indian Food Keto? Indian food, with staples like millet, rice, and beans, doesn't seem like it would be one of the best options for keto. But beyond these staples is an array of diverse and aromatic low carb dishes. Discovering these dishes, and some of their health benefits can really change your outlook.
For Anuradha Rewatkar, Indian food literally transformed her life. Five years ago, after being diagnosed with lymphoma, Ms. Rewatkar realized how much her personal health and being able to cook for others, meant to her. After a year of treatment, Ms. Rewatkarwho is cancer-free, opened Rita's Ethnic Foods in Columbus, Georgia.
All of her dishes and full of spices and all the food is freshly sourced. Her goal is to bring her passion into healthy food into every Indian dish. And some of those spices, along with healthy protein sources are exactly the components that make Indian cuisine a great choice for keto dieters.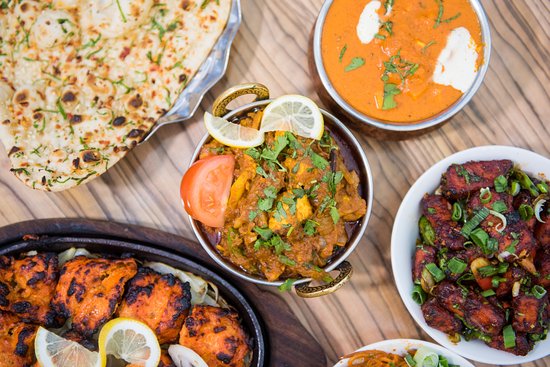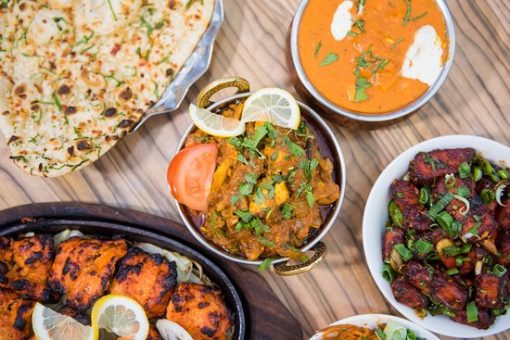 First off – Is Indian Food Keto?
Indian food is a surprising option for keto, but there are many reasons to look at this cuisine. For one, Indian food is rich in nutrients. With an emphasis on fresh vegetables, Indian dishes provide fiber and essential vitamins and minerals. They also tend to be less heavy on preservatives, especially of course if you make meals from scratch, but even if you're dining out.
Yogurt is also a central ingredient to many Indian dishes. Yogurt, especially Greek yogurt, is rich in protein and a source of calcium. While yogurt does contain carbohydrates, it's still one of the best healthy foods for people following keto (as long as it's unsweetened). Calcium intake, in addition to being essential for bone health, has been linked to fat burning in cells.
What kinds of spices does Indian food use, and what does it mean for keto?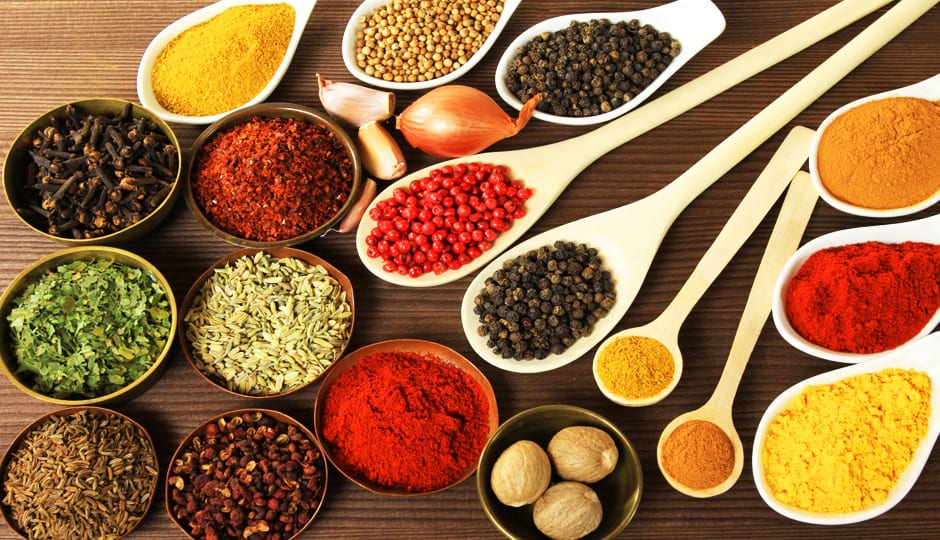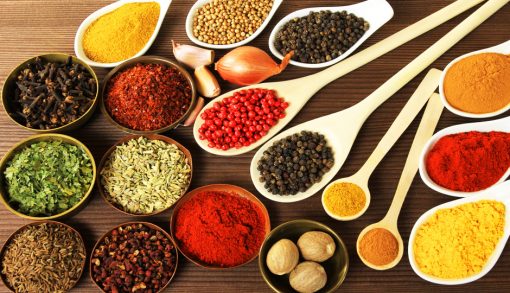 Indian food is especially flavorful and aromatic because of the spices and seasonings it incorporates in its dishes. Spices and some herbs have been linked to fat burning properties, ideal for anyone hoping to reach or maintain ketosis. Beyond that, spices and herbs have properties that support a variety of body functions, immune response, and overall good health.
Here's a look at the most common spices in Indian food, and their benefits:
Cardamom: antioxidants; associated with lowered blood pressure, anti-inflammation, reduced risk for some cancers, immune support, and treating stomach ulcers
Saffron: lowered risk of some cancers; supports memory; protects against common colds
Turmeric: antioxidants; anti-inflammation; linked to improved brain function; lower risk of cardiovascular disease and some cancers
Coriander: lower bad cholesterol and higher good cholesterol levels; digestive system support; anti-inflammatory properties; rich in iron, antioxidants, and Vitamin K
Cumin: supports healthy digestion; controlling diabetes and blood cholesterol levels; associated with treatment for drug dependence and food-borne illnesses
Mustard Seeds: a source of omega 3's, manganese, and copper; anti-inflammatory
Curry Powder: anti-inflammatory; supports bone health; associated with lower risk of some cancers and Alzheimer's disease
As you can see, the biggest theme is anti-inflammatory properties. Anti-inflammation is linked to ketosis itself, so consuming these spices can help further support your keto diet. Even if a recipe doesn't call for all of these spices, considering adding them, as they're a natural complement to most Indian food and pack a powerful nutritional punch.
What are the best Indian dishes for keto?
While it's true that Indian foods can be heavy in carbohydrates, there are a number of nutritious and delicious dishes that are not. This list will give you a peek at some recipes to give a try (and if you don't feel like cooking, some you may be able to find at an Indian restaurant near you).
Our focus is low carbohydrate counts, natural whole foods, little to no added sugars or preservatives, and, of course, for main dishes, a heart source of protein.
Appetizers and Side Dishes
Appetizers and side dishes can be served for get-togethers, or simply to accompany main meals. Many of these smaller dishes are rich in nutrients because they incorporate a variety of vegetables. The great news is, even if you aren't a vegetable lover, these dishes, with special preparation and spices, are also innovative and just may change your mind about getting in your Baingan ka Bharta (Indian Eggplant)greens.
Non-starchy vegetables not only are fine for the keto diet plan, but can actually help with your diet and give you the nutrients you need. Cruciferous vegetables, like broccoli, cauliflower, kale, and cabbage have been linked to reduced cancer rates and are rich sources of folate, fiber, and vitamins E, C, and K.
1. Indian-Spiced Cauliflower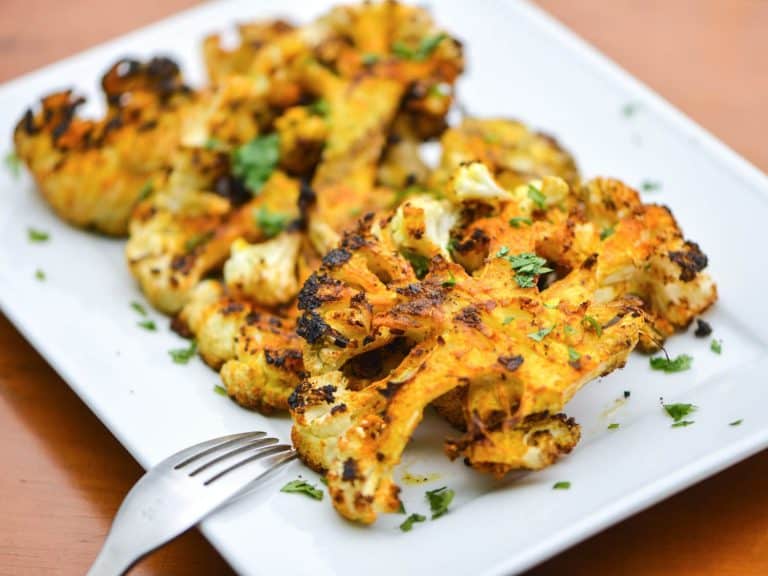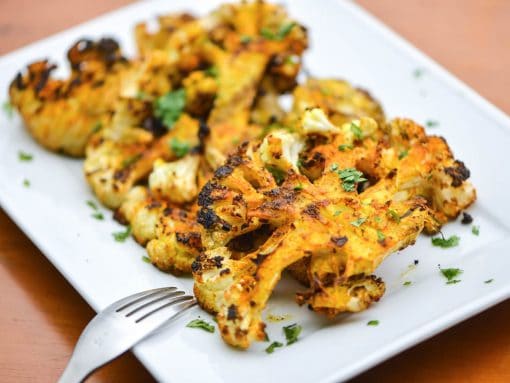 Rice is undoubtedly a staple of many Indian dishes, but that doesn't mean it has to be totally off the plate for keto. Instead of rice, this innovative side dishes uses cauliflower, which is chock full of nutrients and fiber, as well as plenty of flavors.
In case you haven't heard about it, cauliflower is a favorite versatile vegetable for low carb and keto diets. Since it's so mild in flavor, cauliflower can be used to substitute for carbs by preparing it in certain ways. You can even make pizza crust from cauliflower.
Riced cauliflower, though, is one of the most popular trends. Using either a food processor or, if you're in a pinch, a grater, cauliflower is processed into tiny rice-like pieces, then pan-fried for a crispy texture. It's surprisingly satisfying and filling, and this recipe takes the concept up a notch by incorporating olive oil and rich blend of cumin, turmeric, ginger, cardamom, cinnamon, and ground cloves.
Four servings
Gluten and dairy free
Great source of fiber
2. Baingan ka Bharta (Indian Eggplant)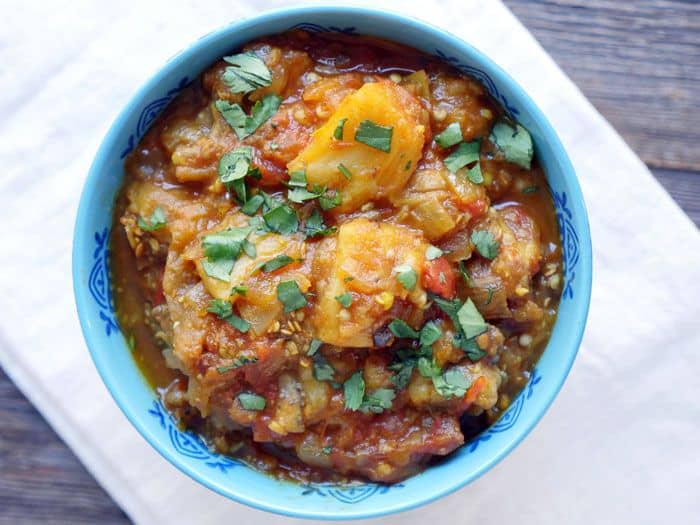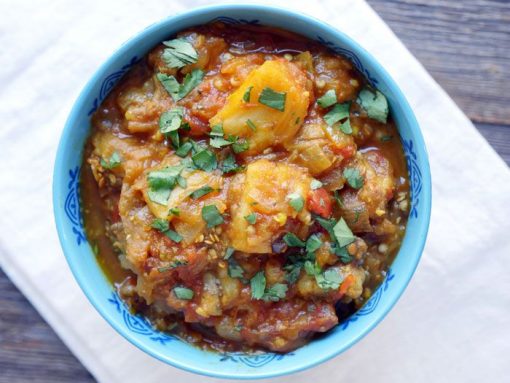 Eggplant is one of those vegetables you may have never had, or have a bad feeling about. If you've never tried eggplant and are hesitant, we suggest at least giving this dish a try. Eggplant has properties associated with lower blood pressure, improved cardiovascular health, and even the prevention of certain cancers.
As far as keto, eggplant is one of the best vegetables, low in carbs and full of fiber. It's mild but slightly acidic flavor is similar to squash, and it works well paired with spices and hints of sweetness, as this recipe showcases. When it's cooked and paired with spices like ginger, cumin, turmeric, and even some black pepper, the result is a rich and smoky taste.
A spicy tomato masala sauce adds that extra kick. The recipe suggests serving with one of three sides-the keto friendly suggestion is spaghetti squash. In this way, like many Indian dishes, this could either be a side or a main dish (if you want a vegetarian dish). Since keto has an emphasis on protein, though, we like this better as a side. If you do serve it as an entree, we suggest adding cool yogurt to complement the heat of the spices.
Gluten and dairy free
Lots of heat
Versatile
3. Indian Vegetable Samosas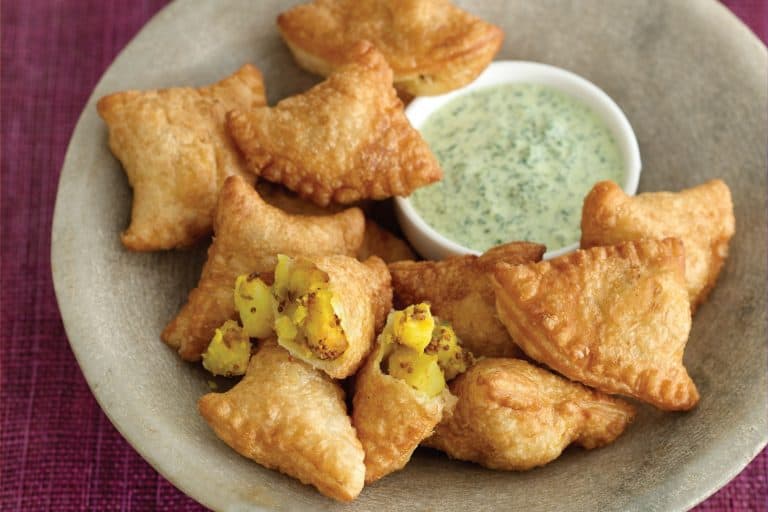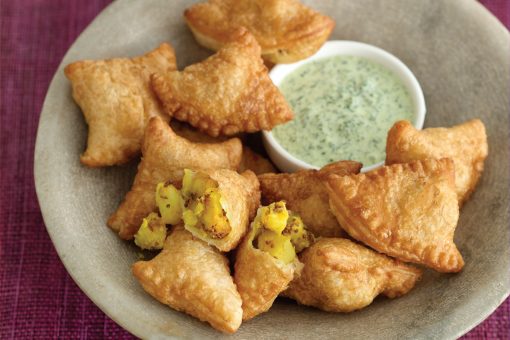 Samosas, in case you aren't familiar with the term, are often fried dough with savory fillings; think of them like mini pot pies or savory turnovers. They're incredibly popular as appetizers and are often served with sauces for dipping.
If this sounds off-limits to keto, they usually are. Fried dough isn't exactly low carb or ketogenic friendly. But this rendition retains the same appeal of samosas with a low carb twist. To emphasize healthy fats, the samosas are baked instead of fried. Instead of the potato lining or pastry exterior, this recipe uses a dough made from mozzarella cheese and almond flour, with just a touch of cumin.
The filling combines mashed cauliflower and minced onions. Spices like cumin, fresh ginger, and garam masala add layers of complexity. While this is vegetarian as it is, you can swap some of the vegetables for healthy meat for a source of extra protein.
The nutritional stats are impressive, with a mere 3g of net carbs per serving, 11g of natural fats, and 10g of protein.
Great source of protein and fats
Savory & spicy
Great for entertaining
Main Dishes
Indian food is great for keto when it comes to main dishes, so long as you know what kinds of dishes to seek and avoid. While rice and beans often accompany main dishes, swapping these for low carb options (see above) and relying on healthy protein, like yogurt, beef and chicken is key. So too is embracing traditional Indian spices and seasonings, not only to add flavor but also to increase levels of satiety and amp up those health benefits.
Curries reign supreme, as do ingredients like coconut. Still, there are plenty of other options as well.
4. Coconut Chicken Curry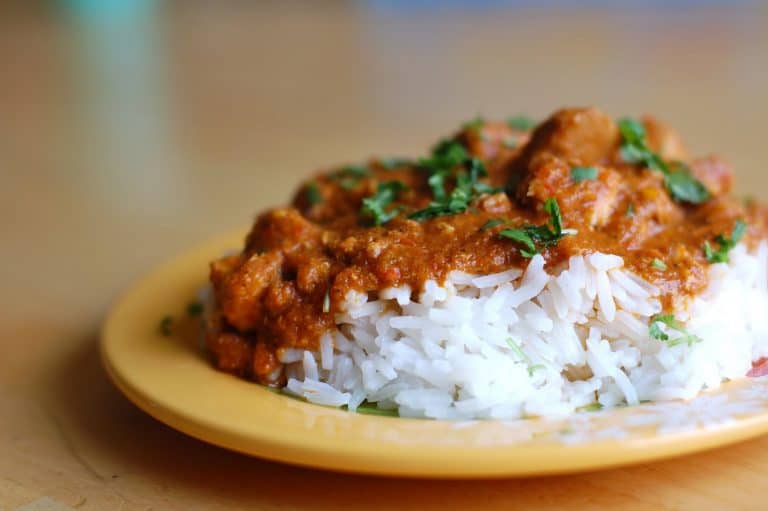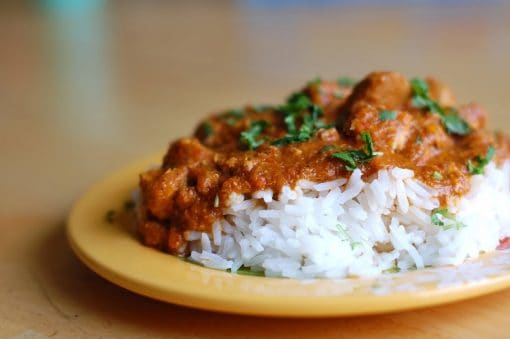 Not only is this dish colorful and pleasing to the eye, but it also has layers of complex and fresh flavor. Chicken is a great source of protein and even helps support amino acid levels in the body (high levels are associated with cardiovascular disease). Plus, the B Vitamins are known to have metabolism-boosting properties.
The worst part about chicken as a protein source for keto is it tends to be very lean, and thus, low in fat. This recipe is great because it combines that lean meat with coconut fat–packing in natural proteins and fats. While coconut itself can be higher in carbohydrates, used in moderation, as it is here, coconut milk is a healthy fat source.
Coconut milk, naturally creamy and mild in flavor, is a perfect match for curry paste and powder, while lime wedges add a fresh splash of citrus. The fresh green onions and sesame seeds add a crunchy texture to the dish, not to mention that sesame seeds may help reduce free radical cell damage.
Rich in protein and natural fats
Colorful for a wide array of nutrients
Savory, sweet, spicy and fresh
5. Indian Spiced Meatballs in Curry Sauce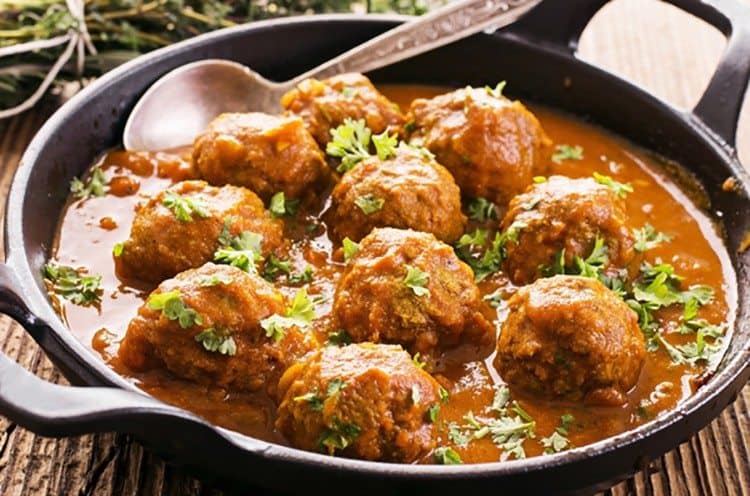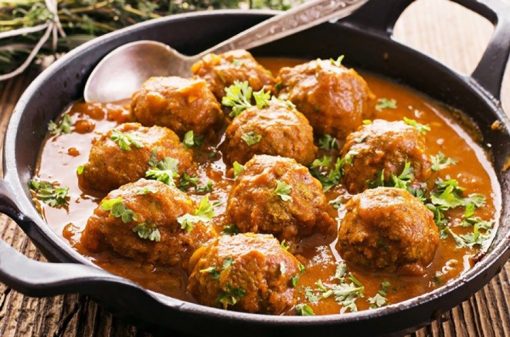 Yes, technically you can eat meatballs as an appetizer, but this dish is hearty enough to be a meal, especially with a rich curry sauce. Unlike the lighter, fresh taste of the coconut chicken curry recipe above, this is rich and perfect for very cold nights, or when you're serving with lighter side dishes.
While the recipe suggests serving with rice, we suggest either cauliflower rice (a plain rendition might be more appropriate in this case), spaghetti squash, or another vegetable side. Another note: while this recipe suggests using lean pork, you can sub with the meat of your choice. A great complement? Lamb, which is not only used in many curry dishes but is a great source of fats and a rich taste suited for a dish like this.
If you're looking for s dish with plenty of spices, look no further: the meat is marinated with ginger, coriander, cloves, cinnamon, nutmeg, black pepper, cayenne pepper, and yogurt. The curry sauce, meanwhile, is comprised of onions, garlic cloves, ginger, cilantro, curry paste, and a cream sauce (use normal, not reduced fat cream).
Rich and creamy
Robust flavor
Serve as appetizers or a main meal
6. Chicken Tikka Masala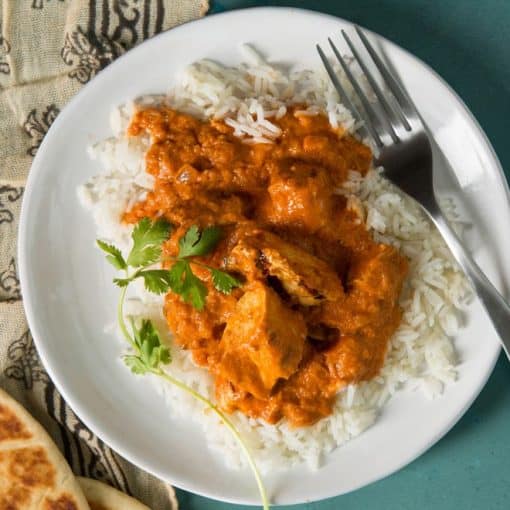 Masala is perhaps one of the most popular and widely known Indian dishes, and this version is keto friendly. This by no means is a simple recipe-it'll take time to prepare, both to cook and to find all of the ingredients but it is a great example of an Indian dish that is both complex and simple at the same time.
Whole fat greek yogurt adds even more protein and fats to this dish, as well as a creaminess that adds flavor and velvety texture for the masala. Coriander, cumin, garlic, fresh ginger, and tomatoes make for a flavorful sauce. Don't skimp on the ghee-which adds that signature flavor to the dish.
Serve along with fresh cilantro and lime wedges for garnishes.
Rich and creamy
Rich source of protein
Great with any side dishes
Desserts: With keto, or really any healthy diet, you want to limit to desserts. In fact, Indian cuisine seems to have far less in the way of sweets anyway than other cuisines, but that isn't to say that you should forgo sweet dishes completely. Studies have linked small to moderate dessert consumption with long-term weight control.
7. Baked low-carb Sugar-free Kala Jamun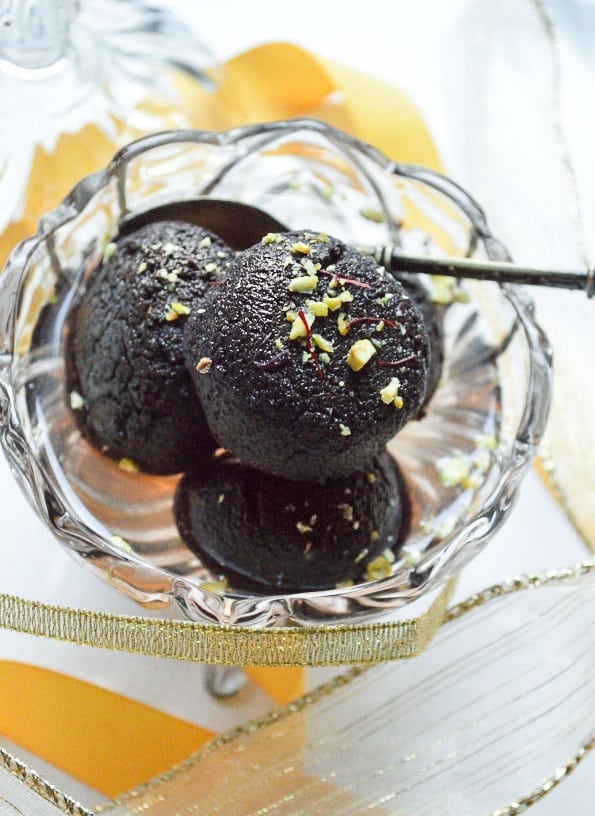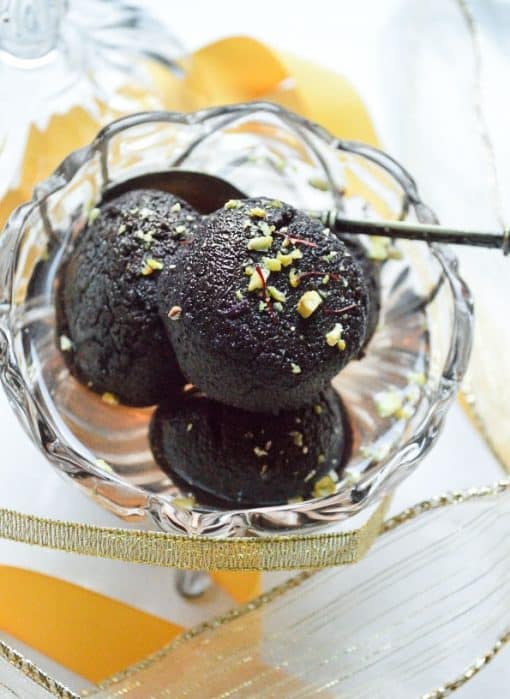 Chances are unless you're very familiar with Indian food, you may not know exactly what Kala Jamun is. Kala Jumun is typically fried donuts made from milk, flour, sugar, and ghee or oil to be fry in. They are usually round and dark in appearance. This version is baked (you can still fry them if you choose). The traditional ingredients are replaced with almond flour and ricotta cheese, while it's now sweetened with stevia and sugar-free agave.
It's fairly simple to prepare: you simply prepare the dough and let the donuts bake for five minutes on each side. The syrup consists of sweeteners, cardamom, and a touch of saffron. The donuts are then soaked in the syrup for a few hours for a sweet and rich flavor.
At only 2g net carbs per serving, this is a wonderful Indian dessert option for keto (or even serve for a sweeter breakfast along with eggs or yogurt).
Very low carb
Use for dessert or breakfast
Source of fat and protein
8. Cauliflower Rice Pudding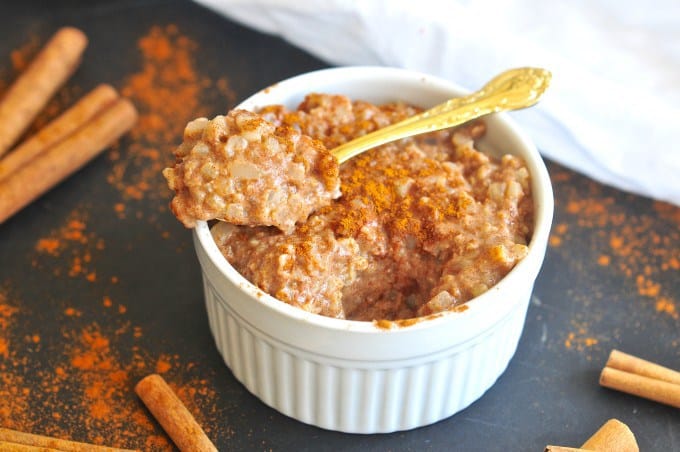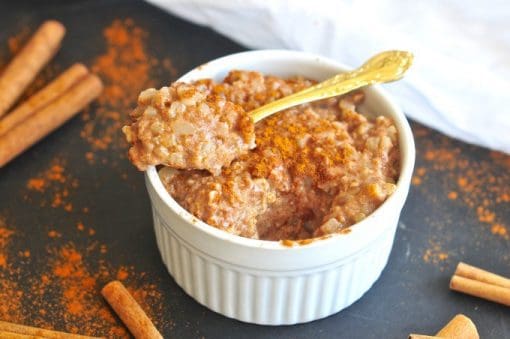 At the risk of using cauliflower too much on this list of best Indian foods for keto, we decided to include this recipe for rice pudding. Rice pudding is a delicious and hearty dessert that can be eaten cold or hot. While technically this recipe is not Indian rice pudding, you can make it more authentic by adding cardamom along with the cinnamon, and serve with a splash of coconut milk over top.
The recipe is also highly versatile: choose from different milk alternatives, extra spices (ginger and nutmeg), extracts and add-ins. With that kind of customization, you can both make it to your likely and still stay within your daily carb count limits.
We do suggest you skip out on raisins, as they are high in carbohydrates, and can add to your carb count quickly. If you're craving some more texture, add sliced toasted almonds (or nuts of your choice) for some healthy fats.
Versatile
Sweet, creamy
Serve hot or cold
Is Indian Food Keto? Final Thoughts
Indian food is rich, aromatic, and certainly full of flavor. For keto, it can also be incredibly versatile, not to mention full of essential nutrients to support your overall health goals.
If you feel like Indian food will fit into your tastes and your keto lifestyle, take it slow: some individuals, especially with sensitive stomachs or who aren't accustomed to spices might need some time to get used to Indian cuisine. A tip: start small with spices, maybe a bit less than called for in recipes, than gradually add to taste.
This Might Interest You: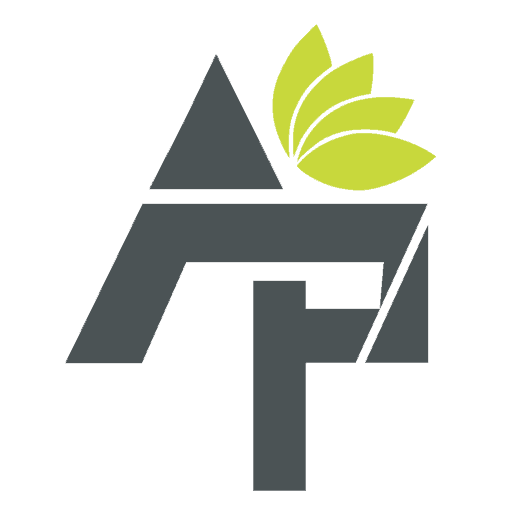 Alt Protein Team is a team of professionals and enthusiasts committed to bringing you the most up-to-date information on alternative protein, health and wellness, workouts, and all things health-related. We've reviewed a lot of products and services so you don't have to guess when you spend your hard-earned money on them. Whether you want to shed some pounds, build lean muscle or bulk, we can help you figure out what you need to do and what you need to have to achieve your goals.