Burning fat is the primary goal for many individuals. Selecting the right thermogenic metabolism booster is not as simple as it sounds. There are plenty of options to choose from, but you have to be careful about which one you choose. Many fat burning thermogenics have unwanted side effects that can be detrimental to your overall health.
In this post, we will first be defining exactly what makes a good thermogenic supplement and then offer a few recommendations and reviews of the best options.
How Do Thermogenic Supplements Work?
Before giving some recommendations, it's important to define exactly what we mean by "good" thermogenic supplement. Essentially what it does is accelerate the metabolism rate. This is ideal for digesting and metabolizing fat cells quickly and efficiently, without letting them go into "storage" i.e. visible fat. A Thermogenic works by raising the core body temperature (slightly) as a way to jump-start metabolism.
A quality supplement will also provide other benefits to enhance fat burning. Beneficial side effects of thermogenics include suppressing appetite, preventing fat cell creation, increasing overall energy, and regulated insulin levels. With the full package put together, a thermogenic can exponentially enhance your workout regimen and lead to weight loss.
Thermogenic Side Effects
Yes, there are some. It definitely depends on the particular supplement. The main things to be concerned with are the following:
Difficulty Sleeping: Don't take thermogenics before going to bed. My general rule of thumb is to avoid taking any thermogenics after 4 pm, assuming a 10-11pm bedtime.
Dehydration: Because you are burning calories more quickly and stimulating metabolism (and heart rate), you will want to consume extra water especially during and following workouts.
Elevated Heart Rate: Know your body. The point of most thermogenics is to raise your metabolism and heart rate. I'd recommend starting below the recommended dosage of any thermogenic and then working your way up as needed. If you don't see any results, you can always adjust up later. If you have a history of heart conditions, you definitely should check with your doctor before taking
(as with any supplement).
Main Benefits of Thermogenics
Now that we know "what" a thermogenic does, let's go over the main benefits to consider. Each supplement tends to vary, but here are a few general principles:
enhanced metabolic rate
helps facilitate burning calories more efficiently
enhances workouts but maximizing calorie burn
also helps "post workout" burn rate
increases energy levels
helps to isolate fat loss during and after workouts
Below you will find our top list of the best thermogenics currently available. We do update this list frequently as new products hit the market.
So What Makes a Good Thermogenic?
Before we get into specific recommendations, let's establish some base criteria for evaluating a
good thermogenic.
Brand Reputation – Read the reviews. Not all reviews are honest, but try and get the overall gist of customer sentiment from those who have actually used the product. Similarly, not all brands in the supplement industry are reputable. We cross-check brands to ensure they don't have a history of – well – being sketchy! Similarly, we don't want a "fly by night" operation that hasn't been around for a while and makes dubious claims.
Tested Ingredients – Many supplements try and include the latest "hot" new ingredients. This is not necessarily a problem, but we like to verify that there is some testing (independent research) out there to back up the claims. In particular, we at least want to know if there are any negative side effects.
Caffeine is a One Trick Pony – Don't be fooled by supplements where the dosage of caffeine is higher than usual. Caffeine – as part of a holistic ingredient list – is an excellent supplement. Most products we test have at least some levels of caffeine. However, we've also come across supplements that are 1) branding, 2) fillers, and 3) caffeine. In some cases, you might be being sold an overpriced cup of joe!
Value – Many supplements are run on branding and there are actually few differences to spot beside price. We like to look at thermogenics that are doing this a bit differently, whether it's higher quality ingredients, better combinations, etc… We dig down into the ingredient list to only select thermogenics that are both tested, are doing something better, and aren't in the stratosphere when it comes to pricing.
Top Thermogenic Supplements
Please feel free to comment at the bottom of this post if you have questions, concerns, or success stories with a particular supplement.
#1 Kor Nutrition Thermakor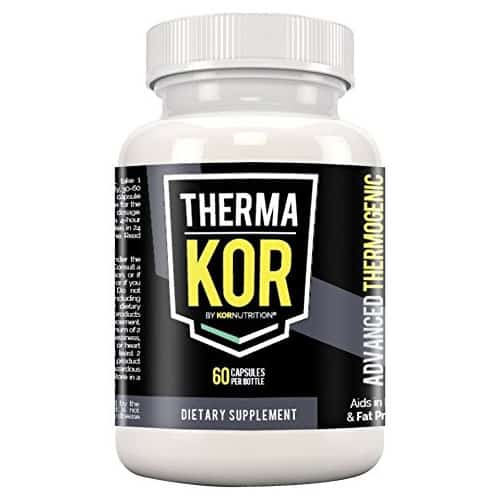 Kor Nutrition is not one of the established players in the market, but they have found a solid niche with there standout "Thermakor" thermogenic supplement. Kor offers a "clinically backed" product with natural ingredients. This type of credibility is nice, especially in a market where frauds and chemically laden supplements are the norm.
In our trials, we liked the energy boost it gave us. Initially, that was the only results we noticed. It was nice to "feel" the impact, but we didn't see results right away. However, after about 2 weeks we started to see weight loss and body toning. It worked well in conjunction with other protein supplements and didn't counteract muscle building routines.
By far, this was the best thermogenic in terms of pure results after about 4 weeks of use.
Thermakor is probably not the cheapest thermogenic on the market, but it does have some vocal fans and testimonials.  For us, the slightly higher cost was well worth it in terms of visible results. For volume discounts (2 or more bottles), (link to website). USE THE CODE: "altprotein" for a 10% coupon discount
at checkout!
#2 BELDT Force Thermogenic
The Beldt formula is not new, but the latest Sunator Black Mask – Improved 2019 Formula – Product of United Kingdom – Blackhead Remover, Charcoal Peel-Off Mask. is an excellent new addition to the thermogenics market. They just recently revamped the formula and it seems to be better than ever. We have been receiving a number of recommendations to take try this thermogenic so we were eager to test it out. At first look, this is a professional thermogenic.
Beldt appears to have a singular focus in delivering a premium weight loss supplement which is helpful. Some supplement companies have their fingers in too many pots and this can lead to many substandard offerings as opposed to a few great ones.
We recommend definitely starting out with taking just one pill daily until you get fully acclimated to the product. For some, it can be an adjustment depending on what other supplementation you are doing. After starting with one, we ramped up to two and stayed there for about 3 weeks.
There was a definite impact even within the first two weeks. While it is not marketed as a "pre-workout supplement" it helps by providing sustained energy throughout a workout (if taken 20 minutes or so before).
BELDT is actually quite affordable, coming in at around $25-30 with shipping. For a limited time they are doing a SKALD, so be sure to check out our link below for the correct listing.
[easyazon_cta add_to_cart="yes" align="center" asin="B007Y2D09U" cloaking="default" height="28″ key="wide-orange" localization="yes" locale="US" nofollow="default" new_window="default" tag="altprotein-20″ width="176″]
#3 NatureWise Raspberry Ketones+
NatureWise is marketed a bit differently. It is intended to have a gentler impact on the body which is especially beneficial for people who have struggled with side effects from other mainstream thermogenics. Raspberry Ketones have received a fair amount of publicity in recent years, but deservedly so.
While some thermogenics harness the power of ketones, NatureWise offers a weight loss supplement specifically built around a foundation of ketones, with other helpful ingredients.
We wanted to test out an alternative thermogenic. True to our "altprotein" name, it's okay to go off the beaten path to find the results you are looking for. We noticed strong results after taking for about a month.
The effects were not as immediate as some of our other recommendations, but the overall effect was the same: significant fat loss after about 4 weeks. Furthermore, the proprietary blend of resveratrol, African mango, acai berry, green tea extract, apple cider vinegar, grapefruit extract and kelp was an all
natural solution!
NatureWise has a relatively competitive price point, right around $30. While you pay a bit more for all-natural ingredients, they are backed by top ingredient safety. You can read more about the product on Amazon by visiting our link below.
[easyazon_cta add_to_cart="yes" align="center" asin="B00B2N4YP6″ cloaking="default" height="28″ key="wide-orange" localization="yes" locale="US" nofollow="default" new_window="default" tag="altprotein-20″ width="176″]
#4 NatureWise CLA 1250, Ketons, Green Coffee, and Forskolin
This isn't necessarily in the same category as most thermogenics. It's an all natural, non-GMO, GMP/NSF certified weight loss supplement with no artificial ingredients.
It doesn't necessarily raise the heart rate, but I've had some success in conjunction with my fitness regimen. It's an excellent option for people who find that most mainstream thermogenics cause too many side effects.
NatureWise CLA 1250 Natural Weight Loss Exercise Enhancement (2 Month Supply), Increase Lean Muscle Mass, Non-Stimulating, Non-GMO, Gluten-Free, & 100% Safflower Oil (Packaging May Vary) [180 Count] CLA is derived from Safflower oil with 80% CLA (conjugated linoleic acids). You can combine this separately with their NatureWise Green Coffee Bean 800mg Max Potency Extract 50% Chlorogenic Acids | Raw Green Coffee Antioxidant Supplement & Metabolism Booster for Weight Loss | Non-GMO, Vegan, & Gluten-Free [1 Month], NatureWise Raspberry Ketones Plus | Advanced Weight Loss & Appetite Suppressant with Powerful Antioxidant Blend Boosts Energy & Metabolism | Vegan & Gluten-Free [2 Month Supply - 120 Veggie Capsules] and NatureWise Forskolin Plus+ for Weight Loss with Chromium for Healthy Blood Sugar Support, Coleus Forskohlii Supplement, 250 mg, 120 count to get a very similar end result to a traditional thermogenic. This combination with exercise leads to weight loss and enhanced energy.
Why both with separate supplements? I personally like to carefully control what's going into my body. Not all of the ingredients common in thermogenics are helpful or even always the best for you. Most times, it's a convenience factor.
One pill is easier to remember than multiple ones. However, if you've studied these supplements for a while – like me – you tend to figure out which ingredients are truly helpful and which ones need further testing.
If you are wary of complicated ingredient labels, I'd definitely recommend checking out the .
#5 BSN Hyper Shred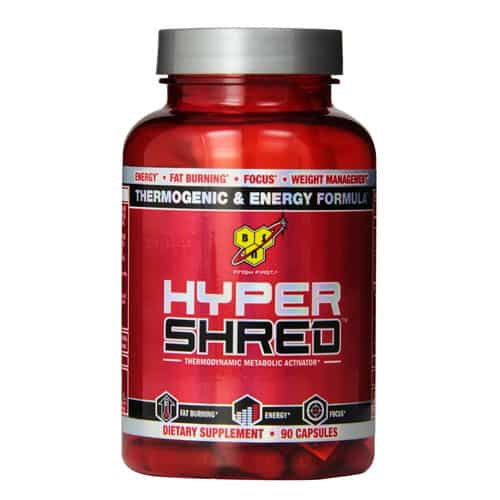 BSN is a well-recognized brand with a strong following in the supplement industry. Their Hyper Shred thermogenic fat burner is a top of the line addition to their offerings.
Their formula creates a synergy between promoting good weight management, boosting focus, generating energy, and ultimately increasing physical performance. We had actually used BSN Hyper Shred in the past, so we already knew that it was a solid product before testing it out.
The first thing we noticed was some jitters on an empty stomach in the morning, more so than the other thermogrenics that we tested. However, a simple fix was to eat something within 30 minutes before/after taking the capsules. Like with other similar supplements, starting with just one capsule for the first 3-4 days is recommended.
With a good workout routine, we noticed some solid fat loss over about 4 weeks without any negative effect on muscle mass. Hyper Shred is ideal for fitness enthusiasts who already have a set workout routine.
In terms of affordability, BSN Hyper Shred is right in the mix at roughly $30 per 90 capsules. You can generally find the best prices for Hyper Shred ont their website.
[easyazon_cta add_to_cart="yes" align="center" asin="B007EW142A" cloaking="default" height="28″ key="wide-orange" localization="yes" locale="US" nofollow="default" new_window="default" tag="altprotein-20″ width="176″]
These are the top 5 thermogenics on the market right now that I can recommend. Depending on your goals, each one offers something slightly different. That said, you really can't go wrong with trying out any of them. We will continue to update this list as we test out more products, so check back frequently.
Recommended Reads:
(Visited 182 times, 1 visits today)
Health enthusiast, runner, protein nut. Owen likes to write about protein, particularly alternatve supplementation and supplement comparisons.