When you're looking for BCAAs and the choice comes down to Scivation Xtend vs Amino X, which one should you choose? Let's look at flavor options, sizes, and ingredients to see which one is the best BCAA powder for your needs.
All About Scivation Xtend
There are several different types of Scivation Xtend, all set on helping you achieve your fitness goals, whatever they may be.
If you want to lean out, there's one for that.
Train hard for hours at a time? There's another one for that.
Generally into fitness, maintain a regular, reasonable workout schedule and want a boost in hydration and amino acids for muscle repair? The regular one is perfect.
Each serving contains seven grams of BCAAs: L-Leucine, L-Glutamine, L-Isoleucine, and L-Valine. It has a highly recommended 2:1:1 ratio that will help you grow all the muscle and strength possible from your workouts.
The electrolytes and citrulline malate in Scivation Xtend are there to make sure you have the endurance it takes to finish your workout.
The Flavors
One of the best things about Scivation Xtend is the variety of flavors. These are the regular Scivation Xtend flavors:
Blood orange
Blue raspberry
Freedom Ice
Fruit Punch
Watermelon
Lemon Lime
Mango
Grape
Green apple
Margarita
Pina colada
Pineapple
Pink lemonade
Raw
Strawberry Kiwi
Strawberry mango
Tangerine
It comes in a few sizes:
30 servings
90 servings
20 servings
12-count beverages
The price for the Scivation Xtend range from about $20.00 (smaller tubs) to around $40.00 (90-serving tubs). Check out the latest prices on Amazon.
Other Types of Xtend
Scivation Xtend has most of the bases covered with the regular version, but they didn't stop there. There are others:
Texture
I have personally tried Scivation Xtend and have been impressed by how well it blends with water in a shaker bottle. I use more water than it suggests because the flavor is strong (delicious, but strong).
Is It Effective?
With such high ratings across the board, I would say Scivation Xtend is effective. There are well over 6000 total reviews just on Amazon, and the average is about four out of five stars.
In my personal experience, I feel more hydrated, recover more quickly, and can work out longer. When I'm done working out, my body can handle the rest of the day without feeling exhausted. That's not always the case when I'm just relying on water during my workout and a protein shake after I'm done.
Scivation Xtend vs Amino X: Is Amino X Better?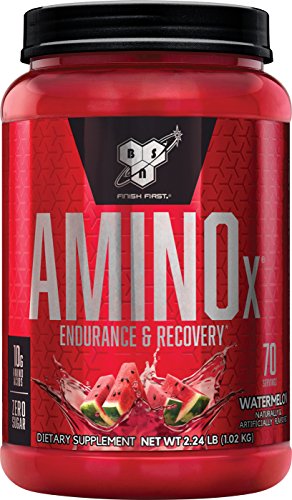 It depends on what you're looking for. If you want some unusual flavors you won't find anywhere else, this could be it for you. Amino X has the same 2:1:1 ratio that Scivation Xtend has (for growing lean muscle mass and getting stronger), plus some vitamin D, which a lot of people tend to need more of.
Amino X is also sugar-free, carb-free, and calorie-free, so it shouldn't interfere with any of your macro-tracking, even if you're in an incredibly strict phase.
Flavors available:
Watermelon
Blue Raz
Caffeinated Cola and Cherry Cola
Caffeinated Dr. Amino
Fruit Punch
Germanchocolatekake
Grape
Green Apple
Strawberry Dragonfruit
Strawberry Orange
Tropical Pineapple
Unflavored
Not all flavors are available in all size options. Sizes available:
30 servings
20 servings caffeinated
25 servings (Coldstone Creamery flavor)
70 servings
The prices of the Amino X vary from around $10.00 to just over $30.00. Check out the latest prices on Amazon.
Comparison: Scivation Xtend vs Amino X
A lot is going on with both products, and it could be hard to even make a solid comparison for Scivation Xtend vs Amino X without a chart, so let's do that:
| | | |
| --- | --- | --- |
| | Scivation Xtend | Amino X |
| Carbohydrates | 0g | Less than 1g |
| Calories | 0 | 0 |
| Sugar | 0g | 0g |
| Sodium | 220mg | 160mg |
| Potassium | 170mg | Not listed |
| Amino acids present | L-Leucine, L-Glutamine, L-Isoleucine, L-Valine | L-Leucine, L-Valine, L-Isoleucine, L-Alanine, Micronized Taurine, Micronized L-Citrulline |
| Ingredients | BCAA 2:1:1 (L-Leucine, L-Isoleucine, L-Valine), L-Glutamine, L-Citrulline Malic Acid 1:1, sodium citrate dihydrate USP/FCC, potassium chloride with .5 percent MgCO3, flavors, citric acid FCC, sodium chloride, sucralose, malic acid, acesulfame potassium, artificial colors, MCT oil | Micronized BCAA Blend (L-Leucine, L-Valine, L-Isoleucine), L-Alanine, Micronized Taurine, Micronized L-Citrulline, citric acid, malic acid, sodium bicarbonate, cholecalciferol, natural and artificial flavors, silicon dioxide, lecithin, sucralose, acesulfame potassium, artificial colors |
| Price | Around $20.00 to $40.00 | $10.00 to $30.00 |
| Available Flavors | Blood Orange, Blue Raspberry, Freedom Ice, Fruit Punch, Watermelon, Lemon Lime, Mango, Grape, Green Apple, Margarita, Pina Colada, Pineapple, Pink Lemonade, Raw, Strawberry Kiwi, Strawberry Mango, and Tangerine | Watermelon, Blue Raz, Caffeinated Cola, Caffeinated Cherry Cola, Fruit punch, Caffeinated Dr. Amino, Germanchocolatekake, Grape, Green Apple, Strawberry-Dragonfruit, Strawberry Orange, Tropical Pineapple, Unflavored |
| Number of servings per container | 20, 30, or 90 available (plus 12-count beverage option) | 20, 25, 30, or 70, but not all flavors are available in all sizes |
| Caffeine | None in the regular, but the GO version has caffeine and L-Theanine | Some flavors |
| Sweetened with | Sucralose and acesulfame potassium in most, but the Xtend Free version has stevia | Sucralose and acesulfame potassium |
| Special features | Ideal 2:1:1 ratio, lots of variety, electrolytes, easy to find | An ideal ratio of 2:1:1, contains 12.5 mcg of Vitamin D per serving, interesting flavors, fairly easy to find |
| Where to buy | Amazon, GNC, The Vitamin Shoppe, Target, Dick's Sporting Goods, Vitacost, Kroger, Target | Amazon, Kroger, Dick's Sporting Goods, Lucky Vitamin, GNC, Vitacost, The Vitamin Shoppe |
| How does it taste? | Delicious, and there's a big variety of flavors | Delicious, and there's a big variety of flavors |
| How does it mix? | Very well | Very well |
| When should you use it? | Before, during, or after workouts. Any time is fine, though. | Before, during, or after workouts. Two servings a day. |
| How to use it | Mix with water and drink it before, during, or after workouts. I prefer a shaker cup for mixing. | Mix with water. Don't eat or drink anything for 20 minutes after consuming. Use it for three months, then take at least a month off. |
Either Will Work for Most People
In most ways, these are close enough for me just to say buy the one that fits your budget best, comes in the flavor you want to try, is convenient to purchase, or has the number of servings you want.
They both will get the job done, in that they'll help you perform better and longer in the gym, stay hydrated, and build lean muscle mass in combination with a healthy diet.
What They Have in Common
Both are designed to help you stay hydrated before, during, and after your workout while also promoting lean, healthy muscle growth. There are no sugars or carbohydrates to worry about.
Both have L-citrulline and malic acid or citrulline malate, which are there to promote a healthy circulatory system and boost blood and oxygen flow.
Both have L-Glutamine, which supports the healthy function of the digestive and immune systems (in addition to helping the body build muscle with that 2:1:1 ratio of leucine, isoleucine, and valine that's so important), especially when your body is stressed. And yeah, working out hard puts stress on the body, even if it's "good" stress.
When to Choose Amino X
You suspect you're vitamin D deficient (Amino X vs Scivation Xtend is an easy choice)
You like experimenting with flavors
Your budget's extremely tight
When to Choose Scivation Xtend
Comparing the two regular versions of Scivation Xtend vs Amino X leaves you with the answer: Either. However, if you want something more tailored to your specific, unusual goals, Scivation Xtend wins.
You want something without artificial sweeteners and colors (Scivation Xtend Free)
You want extra help cutting (Ripped)
You're training for an extra-long time (Elite)
You want to add MCTs to your diet for the potential enhanced focus, better HIIT performance, and endurance
Frequent Asked Questions: FAQs
What are BCAAs For?
BCAAs are a group of branched amino acids that stimulate the production of muscle mass and help balance insulin levels. Insulin is a fundamental hormone for muscular increase and energy.
Consuming BCAAs prevents the body from using its own reserves of protein and energy while you exercise.
Which Scivation Xtend flavor is the best?
Scivation Xtend has a good variety of flavors, but if you are looking for a not-so-sweet flavor to drink every day without getting bored, we recommend you try the Fruit Punch option.
How many times a day should I use Amino X?
Amino X helps you get the correct amount of Aminoacids you need per day having an exercise or gym routine. It is recommended to consume 12-15 grams of BCAAs once a day during while you are at the gym or after working out.
Other Options to Consider
The Scivation Xtend vs Amino X will get you to a fantastic BCAA no matter which one you choose, but there are others on the market to consider, too:
1UP Nutrition: Great taste but only comes in a handful of flavors and in 30-serving tubs. The For Her version contains glutamine, collagen, and ingredients for extra hydration. The For Him version has glutamine, joint support, and hydration complex.
BPI Sports Best BCAA: Only a handful of flavors and you can only get it in 30 or 60 serving tubs. Contains a proprietary CLA matrix that could promote fat loss and improved skin.
Further Read
(Visited 203 times, 1 visits today)
Health enthusiast, runner, protein nut. Owen likes to write about protein, particularly alternatve supplementation and supplement comparisons.