There is a wide range of probiotic supplements on the market, nowadays. Everybody seems to praise them for their effectiveness in fighting oxidative stress, infections, and other health-related issues.
Out of the dozens of brands marketed out there, I have decided to review Progurt today because its CFU concentration has got my attention. To provide you with the complete image of the brand's profile, I have written about Progurt's ingredients, side effects, cost, and more.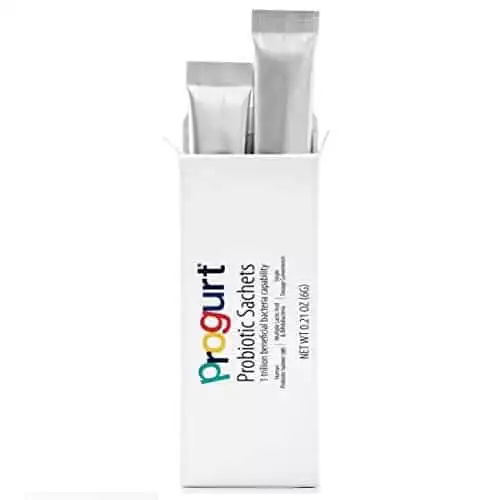 Progurt Probiotic - 1 Trillion CFU | Amazon
Progurt Probiotic sachets are the most advanced probiotic available, with over 1 trillion beneficial bacteria capability per Sachet.
Buy at Amazon.com
We earn a commission if you click this link and make a purchase at no additional cost to you.
04/30/2023 11:16 am GMT
What Is Progurt?
Progurt is a well-known probiotic that contains one trillion CFUs. It provides human probiotic isolates. The brand markets several different products such as probiotic sachets, prebiotics, chloride, and PH caps. All these are said to restore one's gut health. Out of these supplements, the PH capsules are not probiotics but ocean alkaline salt caps. They were created to help consumers stay hydrated while also maintaining a good blood circulation flow.
Another supplement included in the Progurt product line is chloride which is a mineral concentrate that is composed of potassium, magnesium, calcium chloride, and sodium. These elements keep the human organism functioning properly.
The company's prebiotic is, in fact, probiotic syrup that stimulates healthy gut flora. Moreover, it supports mineral absorption and improves your digestion.
How Did It All Start?
Although the company has published its brand mission and its goals on the official website, I couldn't find when everything got started. What I do know is that the manufacturer is based in Australia. Also, Progurt's developers have a fruitful collaboration with respected Japanese organization, one of the international Institute of probiotics. The company's founder is Robert Beson.
What Does the Company Claim?
According to Progurt's representatives, the brand's supplements are the most complex and advanced products in the world due to the fact that they contain a significantly higher amount of concentrated probiotics than most other similar products.
Furthermore, the company claims that Progurt contains human probiotic isolates. These elements are almost identical to the ones found in a healthy baby's gut at birth. Simply put, Progurt seems to fight bad bacteria like Clostridium perfringens and E-coli and promotes healthy gut bacteria such as Lactococcus, Lactobacillus Bifidus, and Lactobacillus.
Ingredient Profile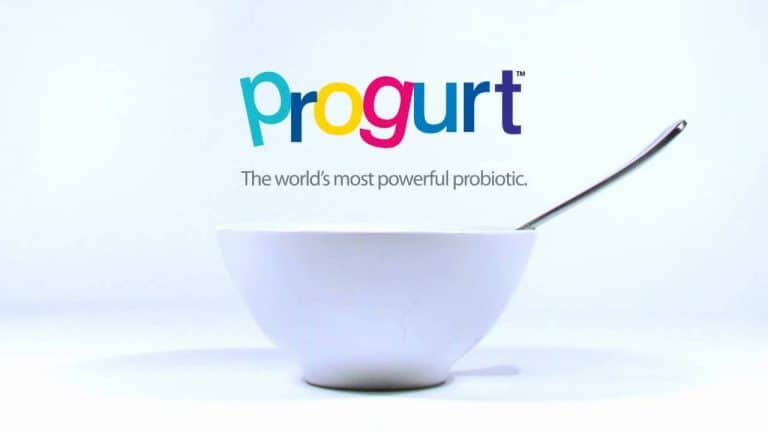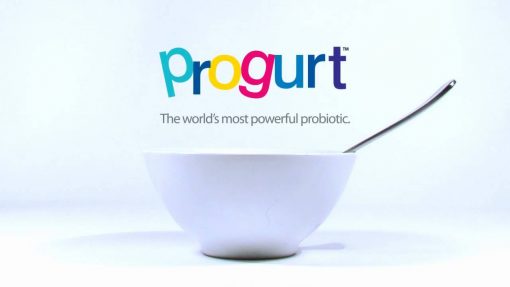 I have made a list of all the ingredients contained by Progurt:
Lactobacillus Bifidus – it is a probiotic strain that can easily break down into several different other strains. It helps your digestive system. Moreover, it is said to lower anxiety, inflammation, and cholesterol. This particular probiotic boosts brain function, the immune system, and lowers stress. It is usually found in fermented foods, vegetables, and kefir;
Lactobacillus Acidophilus – this is the most proven probiotic that is crucial to human health. Several studies have shown that Lactobacillus Acidophilus improves blood pressure, regulates cholesterol levels, fights different kinds of infections, boosts one's digestion, and lowers symptoms of allergies. You can find this probiotic in yogurt and other dairy products;
Streptococcus Thermophilus – this ingredient is another well-known and researched probiotic strain that produces lactase which is an element that helps your stomach digest milk a lot quicker and more effectively. Besides lactase, it also produces antibiotic chemicals that fight and supposedly prevent health conditions like pneumonia, ulcers, and other infections;
Cellulose – it is used to create the capsules but it is also good for your body because it contains fiber which is essential for proper digestion. Due to the fact that cellulose is actually an insoluble type of fiber, it may prevent constipation;
Inactivated Yeast Extract – there are plenty of benefits of nutritional yeast extract. It contains vitamins, minerals, and protein. Inactivated yeast is different from the regular one because it cannot be used in the fermentation process. It is highly nutritious, provides antioxidants, boosts immunity, lowers cholesterol, and fights oxidative damage.
Is Progurt Effective?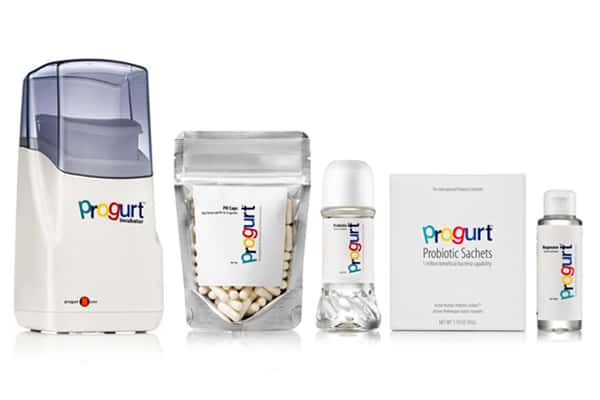 Most clients are satisfied with the way Progurt works for them and they declare themselves pleased with the results they have achieved. Many of them don't have to endure digestive issues anymore due to this product. On the other hand, some people say that nothing special happens when they consume this supplement. In their opinion, Progurt is not that different from the average probiotic one can find on the market.
Different institutions and associations say that certain probiotics are helpful when it comes to preventing an upset stomach or even diarrhea caused by antibiotics or infections. These organizations go even further, saying probiotics might lower the unpleasantries of irritable bowel syndrome. However, more facts need to be discovered and learned.
There are different types of probiotics and they don't have all the same results or effects. For instance, a specific strain of Lactobacillus might prevent a certain illness but that doesn't mean that a different strain of the same group of probiotics would have the exact same effect.
What concerns me is that the FDA hasn't approved probiotics as a form of treating or preventing health problems. Health experts recommend us to be cautious when it comes to the consumption of these products, saying that companies' promotions and marketing tactics have long outpaced scientific research.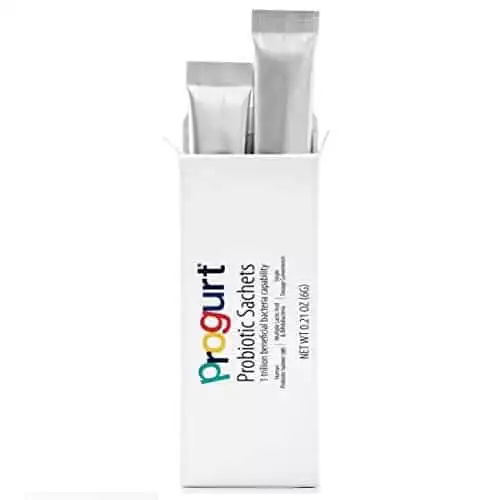 Progurt Probiotic - 1 Trillion CFU | Amazon
Progurt Probiotic sachets are the most advanced probiotic available, with over 1 trillion beneficial bacteria capability per Sachet.
Buy at Amazon.com
We earn a commission if you click this link and make a purchase at no additional cost to you.
04/30/2023 11:16 am GMT
Main Benefits
According to the manufacturer as well as the majority of its customers, Progurt seems to be effective in replenishing your gut's healthy bacteria and microorganisms. This makes the digestive process a lot easier and maintains your immunity at a proper level. As I mentioned previously, many individuals report they have stopped dealing with issues like bloating and gas due to their regular probiotic consumption.
Some of you might ask whether or not this supplement is helpful in weight loss. Well, Progurt might not contain fat burners or appetite suppressants. However, it can assist you with weight loss until a certain limit. Let me put it this way: when you optimize your digestive system, you're following a balanced diet, and you work out on a regular basis, it will be a lot easier to lose weight.
How to Properly Use This Probiotic?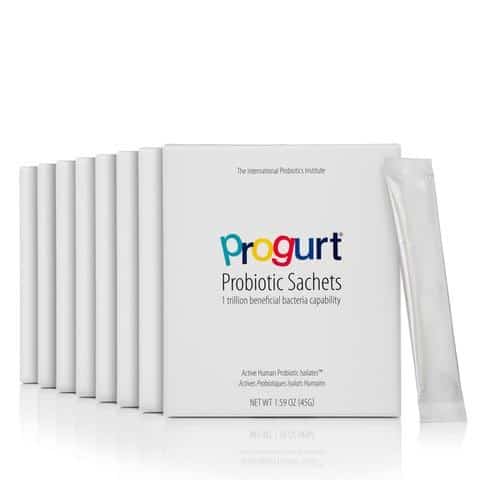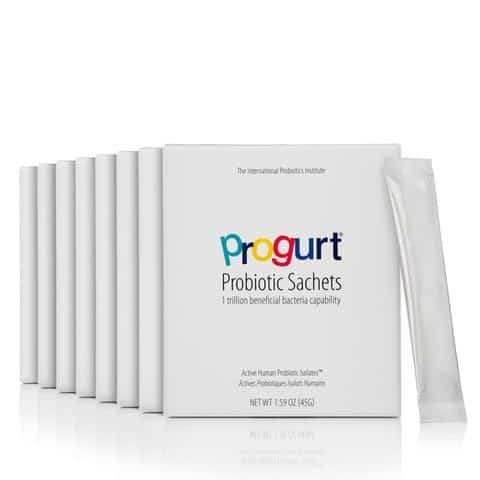 To consume this probiotic in the correct way, you must dissolve one Progurt sachet in a glass of water that should measure approximately eight ounces. You can also consume it with fresh juice and the recommended dosage is one sachet per day.
You must consume the content of the sachet right after you opened it and then store the rest of the product at room temperature. The company also provides the option of preparing your own yogurt with the help of their Progurt Incubator. It will help you make one liter of probiotic yogurt at a time. The general recommendation is to consume a minimum of 8 ounces of Progurt per day.
Potential Side Effects
If you have never tried probiotic supplements before, there are chances that you will experience some mild side effects. The ones you might notice are:
Gas;
Constipation;
Diarrhea;
Bloating;
Intestinal discomfort.
Another issue that may occur is increased thirst but all of these symptoms are usually signs that the probiotic works. It detoxifies your digestive system so all the adverse effects mentioned above should fade away in a couple of weeks or even days. If you still deal with these problems after 14 consecutive days, I advise you to stop consuming the product and seek a doctor's opinion.
All in all, probiotics are safe to consume, especially for healthy people. Some of you might not even experience any symptoms at all but if you do, they will normally be harmless, manifesting in reactions like gas or bloating.
Pros and Cons of Probiotics
Pros
Probiotics provide a large number of health benefits;
They fight infections and boost one's immunity;
These supplements are usually safe to consume;
They are said to alleviate symptoms of certain conditions such as stress, anxiety, stomach aches, and more;
Some say probiotics can prevent a wide range of illnesses, from the most common ones like the flu to more severe ones such as ulcers;
Apparently, probiotics regulate your blood pressure and cholesterol levels.
Cons
Some consumers may experience mild yet unpleasant side effects like gas, bloating, constipation, and others but these are only a temporary problem;
Certain probiotic brands like the one I'm reviewing today can be pretty expensive which is definitely a drawback for some people;
A few reviewers claim that probiotics, including Progurt, don't have the results they expected and that the manufacturing companies claim to offer.
Progurt Controversies
There was an issue that Microbioflora Pty Ltd, the company that markets the Progurt brand, has encountered in 2011. The NSW Food Authority has fined the company for claiming their supplements could treat illnesses and prevent infections. According to the NSW organization, it is hard to believe that Progurt can actually alleviate symptoms of asthma, HIV, multiple sclerosis, and diabetes. A representative of the authority claimed that the product's labeling included claims for therapeutic action which is illegal.
In the company's defense, Robert Beson, the founder, stated he was not aware of any of the aforementioned breaches.
How Much Does Progurt Cost?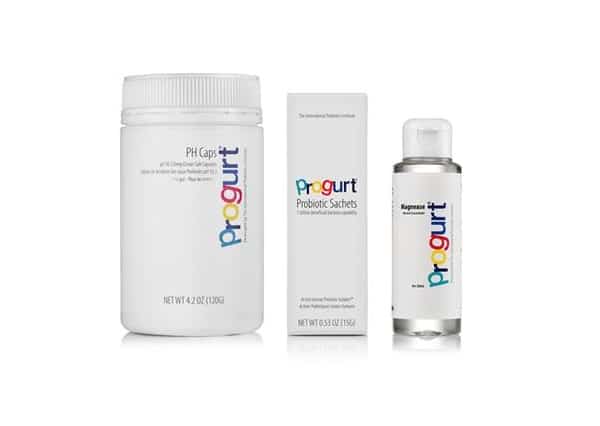 This probiotic supplement is quite expensive if you take a look at the price tags published on the company's official website:
Five servings cost almost $100;
A ten-pack supply is sold for the price of $195;
You can purchase a pack of 15 sachets for $290;
A 20-pack box costs $380;
30 servings are marketed for the price of $550;
If you want a 60-pack supply, you will have to pay $990.
The most expensive options are those that provide the highest quantity:
90 servings – $1,450;
120 sachets – $1,900.
Clients can benefit from free shipping as long as their order reaches or exceeds the value of $300. The company delivers its products all over the globe within 2 to 4 days. As you can see, it is better to buy larger quantities of Progurt at a time in order to save more money.
Regarding the manufacturer's other products, here are their price tags as well:
PH capsules – a container of 105 caps is $59 while a supply of 210 capsules costs $99;
One container of chloride that measures 3.4 ounces is sold for $59;
Progurt Prebiotic – one container of 10 ounces is $59;
The Progurt Incubator product costs $79.
Luckily, Progurt offers a money-back guarantee but it is applicable only if you purchase their products on their official website. You can either receive an exchange or a full refund.
Progurt Alternatives to Consider
If for some reason, you don't like Progurt or you want to try other options too.
Here are some of its alternatives:
Up4 Probiotics – these are small capsules that are easy to swallow. All the company's supplements are non-GMO, gluten-free, vegan, kosher, free of preservatives, and shelf stable;

Biozyme Probiotic – this special blend of microorganisms acts as a natural immunity booster. It is also rich in essential nutrients. The product's formula is a powerful one, containing both probiotics and prebiotics;

ProBioZyme | Amazon

4 Probiotic Strains and a duo of Digestive Enzymes support your digestive health and enhance nutrient absorption.

Buy at Amazon.com

We earn a commission if you click this link and make a purchase at no additional cost to you.

It Works! Probiotics – this is another good option when you're looking for a dietary probiotic supplement to balance your gut flora and enhance your immunity. It contains prebiotics, probiotics, spinach leaf, chlorophyll, kale, and watercress. You must become a member to receive this product but it is significantly less expensive than Progurt.
Progurt Review – Bottom Line
To conclude, the fact that Progurt has a higher concentration of CFUs compared to other similar products is definitely a plus. These elements create balance in the human body's intestinal microbiome. However, if you just want to lose weight, a simple probiotic will not help you very much.
You need to combine it with a fat burner. Probiotics remain a controversial topic. Some say they are effective and good for your health while others claim there are still studies to be conducted in order to prove those claims.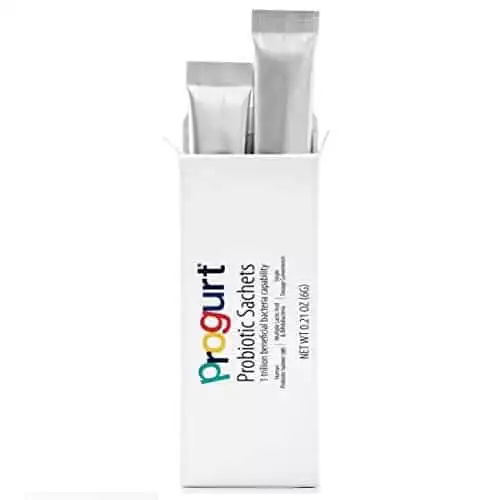 Progurt Probiotic - 1 Trillion CFU | Amazon
Progurt Probiotic sachets are the most advanced probiotic available, with over 1 trillion beneficial bacteria capability per Sachet.
Buy at Amazon.com
We earn a commission if you click this link and make a purchase at no additional cost to you.
04/30/2023 11:16 am GMT
Recommended Reads: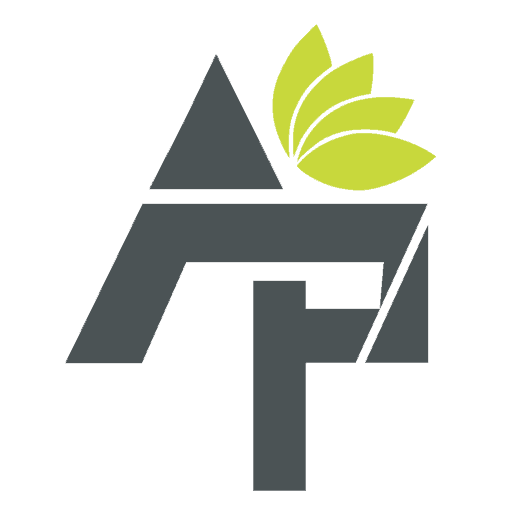 Alt Protein Team is a team of professionals and enthusiasts committed to bringing you the most up-to-date information on alternative protein, health and wellness, workouts, and all things health-related. We've reviewed a lot of products and services so you don't have to guess when you spend your hard-earned money on them. Whether you want to shed some pounds, build lean muscle or bulk, we can help you figure out what you need to do and what you need to have to achieve your goals.