Looking for a rundown of Huel vs Joylent compared? I've got you covered. At first glance, they seem pretty similar, but Huel and Joylent (Jimmy Joy) have some distinct differences.
If you're looking for Huel vs Joylent, you may also find Huel compared to a product called Jimmy Joy, which is Joylent's new name. Joylent, or Jimmy Joy, has the wider variety of shakes: Original, Vegan, Sport, and Wake Up. They also have the Twenny Bar, a bar version of the shake that's available in vanilla or chocolate.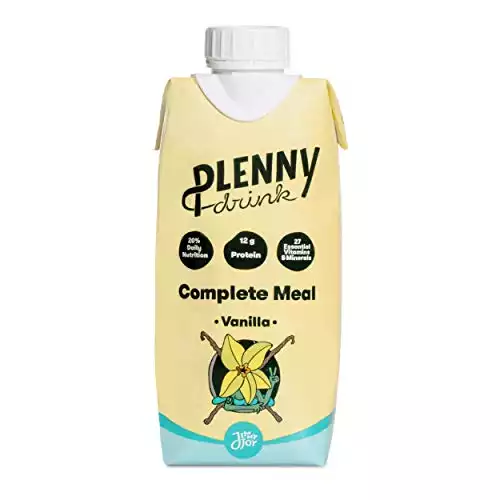 Options and Ingredients

First, the options:
Original (available in Vanilla, Chocolate, Mango, Banana, and Strawberry)
Vegan (available in Vanilla, Banana, Chocolate, Unflavored & Unsweetened, and Strawberry)
Sport (available in Banana)
Wake Up (available in Cappuccino flavor)
There's also the option to create your own personalized shake.
Here are the ingredients in the original vanilla:
Oat Flour
Soy flour
Whey protein concentrate
Ground flaxseed
Maltodextrin
Freeze dried fruit
Guar gum
Sucralose
Vanilla flavor
Vanilla powder
Custom Jimmy Joy vitamin and mineral mix
How the shakes differ: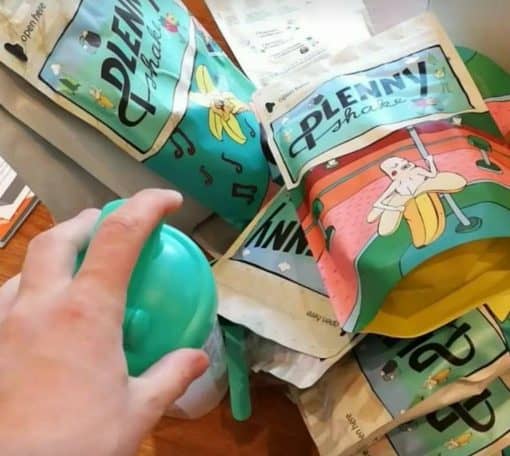 The Vegan Plenny Shake has a mix of soy and rice proteins instead of whey.
The Sport Plenny Shake has a perfect carb-to-protein ratio for use around workouts and contains creatine monohydrate, beta-alanine, acetyl L-carnitine, and glucosamine sulfate.
The Wake Up Plenny Shake has caffeine and beta-alanine to wake you up.
There are slight differences in ingredients based on which flavor you choose, too.
Pros
There's a lot of variety in flavors and formulations, so you can make it work for you as a meal replacement, support for an athletic lifestyle, or a way to combine nutrition and caffeine first thing in the morning. If they don't have you covered with their pre-made shakes, you can work with them to make something that's perfect for you.
You can purchase one time or set up a subscription (every one to eight weeks) at a discounted price.
If you're trying to cut calories, this shake option's only about 400 kcal per recommended but filling.
The website is mostly clean and easy to read.
Joylent/Jimmy Joy tries to minimize their effect on the environment. They have plans to become CO2 neutral in the future and have planted trees in Bolivia.
Cons
Uses animal products in the majority of the shakes (this isn't a con for everyone, but worth mentioning).
If you don't like bananas, you're probably not going to be able to use the Sport Shake.
It's only 390 kcals, so you may need to supplement your meal with something extra depending on your caloric needs. That said, you can use more or less. Joylent/Jimmy Joy recommends about half of a serving (200 kcal) for a snack, 400 kcal for a meal, 700 kcal for a big meal, and 2000 kcal for an "are-you-sure-you-want-to-do-this meal."
Trying to navigate the nutritional information can be tricky if you live in the United States (daily values are based on the European recommendations). The ingredients and nutrition page was also difficult to read and process because of the layout and way the information was presented.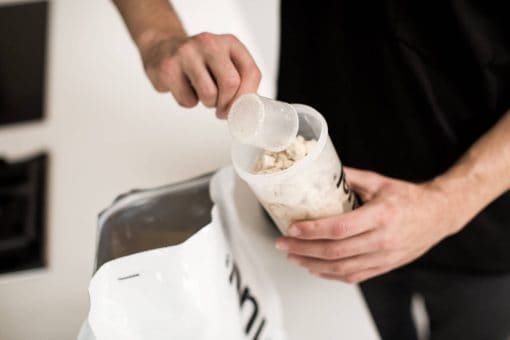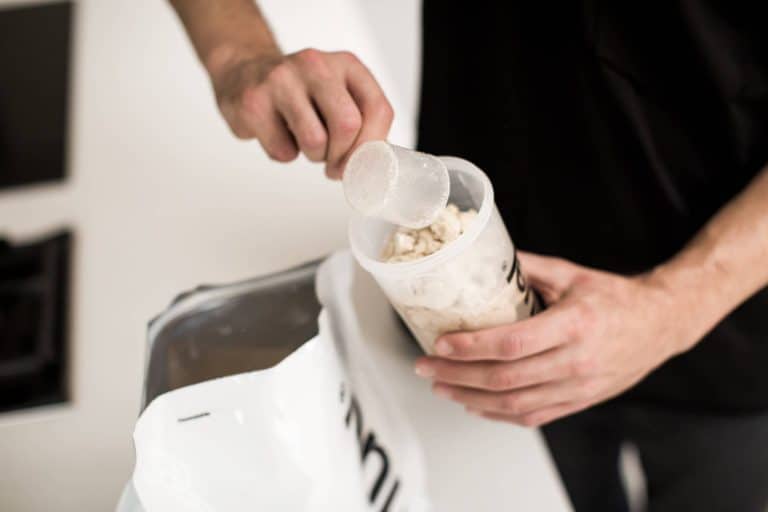 Huel is a nutrient-rich plant-based shake designed to take the place of a meal. It's designed to provide affordable nutrition without harming the planet or animals. Julian Hearn created it in response to the obesity epidemic as a way for people to get inexpensive, convenient, tasty, nutritious food.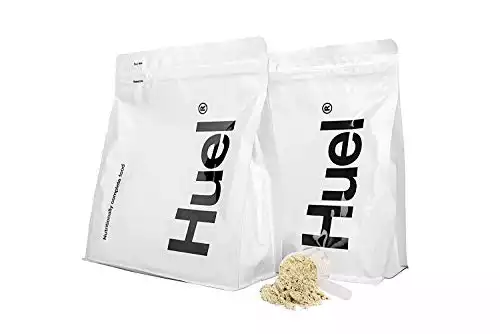 Ingredients
I'll just list the ingredients for the vanilla one here since they're not that different from one flavor to the next:
Oats
Pea protein
Flaxseed
Brown rice protein
Vitamin and mineral blend
Medium chain triglycerides from coconut
Sunflower oil powder
Vanilla flavor system (includes artificial vanilla flavoring, stevia, and sucralose)
Acacia gum
Guar gum
Xanthan gum
Each one-cup serving has 500 calories, so it's enough to be considered a substantial meal. To make it, you mix five parts cold water, one part Huel, and three ice cubes. Shake or blend it. You may find that you prefer a different consistency, so feel free to tweak the ratio after you make your first serving.
Flavor Boost options are available in Chocolate, Chocolate Mint, Strawberry, Banana, and Cappuccino. They're around $9.00 for 75 servings.
Pros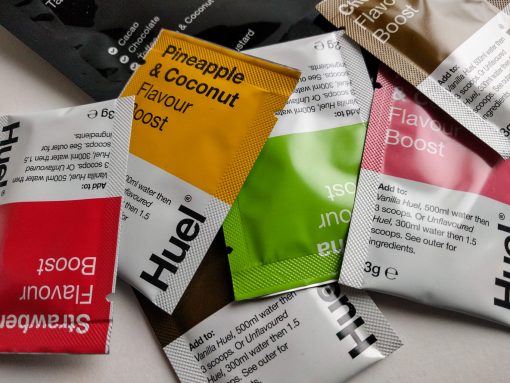 There are quite a few pros with this one.
You can get it for as little as $1.95 per meal if you take advantage of bulk orders and other discounts. Even without those, you can get it for $2.35 per meal. That's competitive with any fast food temptation.
All ingredients are vegan and ethically sourced.
Lasts approximately 1 year
It produces very little waste (food or packaging).
It was formulated by a nutritionist and got a Registered Dietician's seal of approval, too.
A portion of the profits goes to Vitamin Angels to help women and children in places where there's a lot of malnourishment.
The subscription service is flexible and easy to manage in your account. There are tons of options for frequency of shipments and additional products, plus you don't have to choose all the same flavor unless you just want to.
Their website is clean and easy to navigate.
Cons
Other than potentially being boring after a while, there were only a couple of cons.
They only have two flavors: Vanilla and Unflavored & Unsweetened. I could see myself getting burnt out on those two flavors and don't think I'd want to come up with my own flavor creations all the time.
If you have to add flavor boosts to them (either their packets or stuff you have on hand at home), it quickly becomes more expensive and less convenient. It's still not excessively pricey or inconvenient, though.
I don't like that sucralose is in the vanilla version, but that's not an issue for everyone and the unsweetened one is still an option.
Sucralose is the sweetener.
Huel vs Joylent Compared Side-by-Side (Vanilla)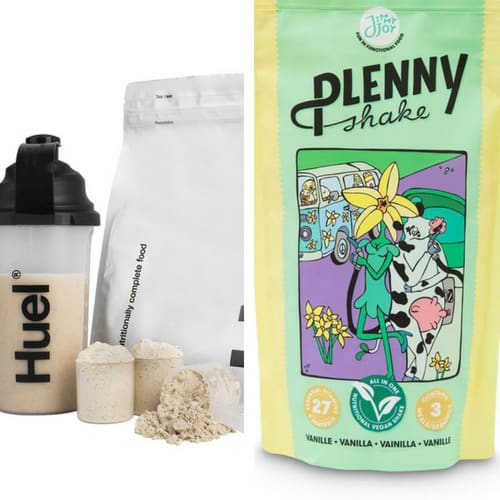 | | | |
| --- | --- | --- |
| | Huel (127 g) | Joylent (100 g) |
| Flavors/Formulations | Vanilla or Unsweetened & Unflavored, plus a gluten-free option (same flavors) | Banana, Strawberry, Mango, Chocolate, Unsweetened & Unflavored, and Cappuccino |
| Vegan? | All | Vegan comes in Vanilla, Banana, Chocolate, Unflavored & Unsweetened, and Strawberry |
| Price | As low as $1.95 per meal | As low as $1.22 per meal |
| Subscription Options | Every one to 10 weeks | Every one to eight weeks |
| Calories/Kcals | 500 per serving | About 400 per serving |
| Protein | 37 g | 26 g |
| Carbohydrates | 47 g | 48 g |
| Fat | 16 g | 9 g |
| Sodium | 410 mg | 0.8 g |
| Fiber | 9 g | 7.6 g |
| Vitamin and Mineral Profile | Generally in the 25% to 30% recommended daily value range, but in some cases it's over 100% (manganese and molybdenum). | Generally 18% to 60% daily recommended value, varies by vitamin or mineral (European standards) |
Is Huel or Joylent Better?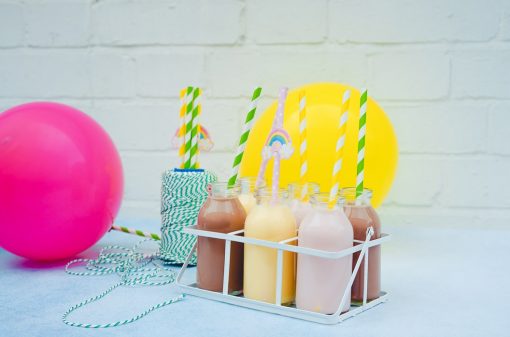 My personal choice would be Huel if I were forced to choose. That said, there are things I like and dislike about both brands. In some cases, it's the same thing for each one, like the use of sucralose as a sweetener (dislike) or offering a vegan option (like).
If you like meals that are higher in calories and prefer not to snack a lot, Huel may be right for you. If you require fewer calories than the average adult, you may like Jolyent, aka Jimmy Joy, better.
Flavors are an important thing to factor in, too. If you don't like it, you won't drink it. Huel, honestly, sounds boring to me. However, the Flavor Boost option may save the day. They're inexpensive and I like Chocolate Mint and Cappuccino flavored drinks. The extra product and extra step might get annoying after a while, though. If you want everything you need, down to a flavor that isn't vanilla, in your shake, you'll want to see if Joylent can meet all of your other needs.
I do appreciate the variety from Joylent, too. I like that there are options to replace coffee and breakfast as well as shakes to use when you have a hard workout. That would make me consider Joylent/Jimmy Joy over Huel.
I don't think there's really a "better" option here. It just depends on your lifestyle and flavor preferences more than anything. The nutrition will shake out to be close enough for the average person, so unless there's a specific vitamin or mineral that you're specifically trying to find a supplement for or avoid, I feel like either one will work.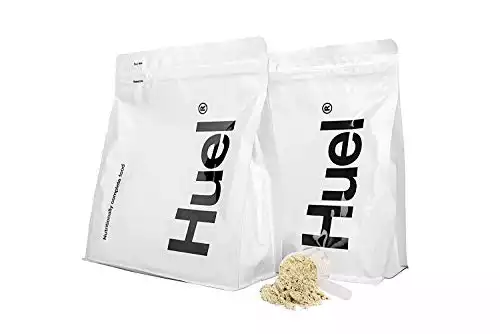 Recommended Reads:
Disclaimer
Last updated: December 16, 2019
The information contained on www.altprotein.com website (the "Service") is for general information purposes only.
Alt Protein assumes no responsibility for errors or omissions in the contents on the Service.
In no event shall Alt Protein be liable for any special, direct, indirect, consequential, or incidental damages or any damages whatsoever, whether in an action of contract, negligence or other arising out of or in connection with the use of the Service or the contents of the Service. Alt Protein reserves the right to make additions, deletions, or modification to the contents on the Service at any time without prior notice.
Alt Protein does not warrant that the Service is free of viruses or other harmful components.
Fitness disclaimer
The Service offers health, fitness and nutritional information and is designed for educational purposes only. You should not rely on this information as a substitute for, nor does it replace, professional medical advice, diagnosis, or treatment. If you have any concerns or questions about your health, you should always consult with a physician or other health-care professional.
Do not disregard, avoid or delay obtaining medical or health-related advice from your health-care professional because of something you may have read on the Service. The use of any information provided on the Service is solely at your own risk.
You can also review our Editorial Integrity Policy.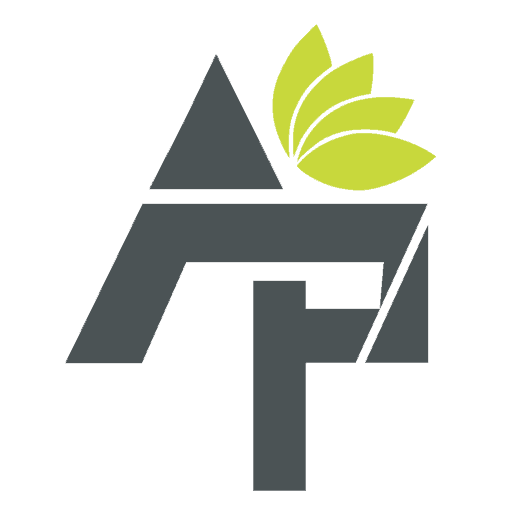 Alt Protein Team is a team of professionals and enthusiasts committed to bringing you the most up-to-date information on alternative protein, health and wellness, workouts, and all things health-related. We've reviewed a lot of products and services so you don't have to guess when you spend your hard-earned money on them. Whether you want to shed some pounds, build lean muscle or bulk, we can help you figure out what you need to do and what you need to have to achieve your goals.