Plant-based protein powders have exploded in the past few years as more and more people consume a plant-heavy diet. Popular plant-based protein sources include hemp, soy, rice, and pea. Often times multiple plant-based sources are mixed together for a more "complete" protein source as not all plant-based proteins contain all the essential amino acids.
Pea protein is one of the most popular plant-based protein sources and for good reason.
There are multiple reasons why pea protein is good for your body. Unlike many protein sources, like whey and soy, pea protein is hypoallergenic meaning you won't develop that nasty bloated, gassy feeling.
Pea protein is also rich in branched-chain amino acids (BCAAs), which help your body repair and build new muscle tissue after a tough workout. Plus, it's a great source of natural plant-based protein!
There are a lot of nutritional companies in the supplement industry that offers plant-based protein powders. One of my favorite companies is NuZest. Trevor and Monique Bolland founded NuZest in 2005. Monique was just 23 years old when she was diagnosed with Multiple Sclerosis, an autoimmune disease of the central nervous system that currently has no cure.
Partnering with Dr. Robert Verkerk, the director of The Alliance for Natural Health International in New Zealand, the Bollands developed plant-based nutritional supplements that are allergen-free and good for our health.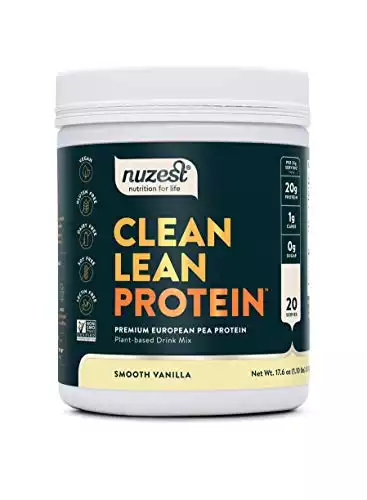 About NuZest Clean Lean Protein
NuZest Clean Lean Protein powder is NuZest's staple product. It is completely allergen-free and made up of 100% natural vegetable protein. The protein powder is made from 100% pure European Golden Peas grown in Northern France and processed in Belgium. Clean Lean Protein is allergen-free and manufactured under strict regulations in a facility free of dairy, soy, nuts, or eggs.
Clean Lean Protein comes in multiple sizes and flavors with the most popular size being the 30 serving 17-ounce tub. Flavors include Smooth Vanilla, Rich Chocolate, Creamy Cappuccino, Wild Strawberry, and Just Natural. All flavors contain under five ingredients with the three common being pea protein isolate, vanilla flavor, and Thaumatin.
The Quick Facts About NuZest Clean Lean Protein
The Review
We love Clean Lean Protein. Perhaps we're a sucker for a good emotional story, but we really love NuZest's products. While the product isn't huge in the US marketplace, it's big in Australia and New Zealand. We hope it becomes the next big thing in US-based nutritional supplement stores, as it's pretty darn good if you ask us.
We love the taste. Clean Lean Protein comes in five flavors ranging from the traditional vanilla and chocolate to natural and cappuccino. There is a flavor for everyone. Each flavor contains fewer than five ingredients with the base mix containing pea protein isolate, vanilla flavor, and Thaumatin.
Thaumatin is a natural protein isolate added for sweetness and flavor derived from a West African fruit. The other flavors have a couple of other ingredients to make up their flavor and taste. All of which are natural.
Each flavor tastes authentic with no bad aftertaste, as the product contains no artificial colorings or flavors. None of the flavors taste too strong or sweet, but it also depends on your taste buds. The powder mixes well in everything from water to protein bars. The Just Natural flavor is great for mixing in everything from cookies to oatmeal. The texture is smooth and fine. Just the way we like it.
Pea protein is one of the best vegan and vegetarian protein sources available naturally. The amino acid profile of the pea protein isolate contains all nine essential and nine non-essential amino acids. In other words, it's a great protein source. At 21 grams per serving and 95 calories, you're looking at a great product for both weight management and highly active individuals.
We also love that NuZest offers different size product options. Too many times we are forced to buy a big tub of a protein powder that we try once and hate. Talk about a waste of money. NuZest offers a four-pack starter pack and a 10-pack box if you just want to try some of the different flavors until you find your favorite. Once you find your favorite then you can order the big tub containing 30 servings.
Unfortunately, the major drawback of the Clean Lean Protein powder is the cost of the product. As expected, for a super clean protein powder, it is rather expensive.
A 17-ounce 30-serving tub retails for about $55 (For the latest prices and discounts, check here) online. If you purchase multiple containers at a time you can get a bit of a discount. This makes the price per serving to be about $1.83. Overall not too bad considering it's a clean plant-based protein powder, but if you're on a strict budget it might be a bit expensive.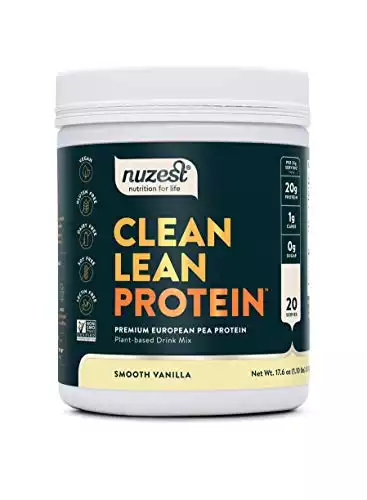 The Pros of NuZest Clean Lean Protein
Allergen-free
Under 5 ingredients
Multiple flavors
Can be used in water, smoothies, or even baking
Low calorie and high protein
Multiple size options
The Cons of NuZest Clean Lean Protein
For more amazing Vegan protein options, you can check out my top vegan protein supplements you gotta try!
The Final Scoop
Overall we love this product. NuZest is a great company that stands by its products.
The pea protein isolate comes from the highest quality non-GMO European Golden Peas in France and is manufactured in an allergen-free facility to ensure Clean Lean Protein is of the highest quality and allergen-free for those with sensitive needs.
NuZest Clean Lean Protein powder comes in five flavors so you'll always find a flavor that is right for you. It mixes well with anything from water to smoothies to protein bars. It's not too sweet and has a great texture. Although it may be too expensive for some budgets, we think it is worth the price.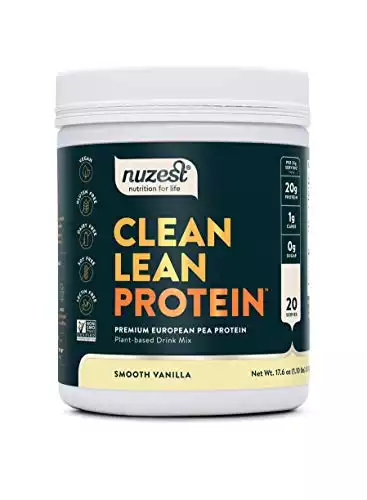 Recommend Reads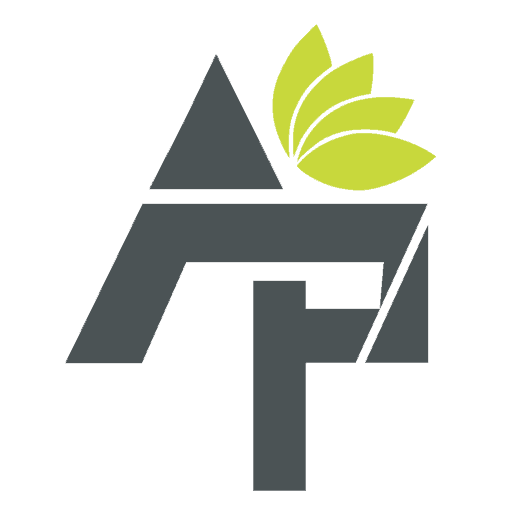 Alt Protein Team is a team of professionals and enthusiasts committed to bringing you the most up-to-date information on alternative protein, health and wellness, workouts, and all things health-related. We've reviewed a lot of products and services so you don't have to guess when you spend your hard-earned money on them. Whether you want to shed some pounds, build lean muscle or bulk, we can help you figure out what you need to do and what you need to have to achieve your goals.