When it comes to protein supplements, too many people believe they are stuck with a gross tasting powder mixed with water that they have to practically force themselves to drink.
Not only are there some incredible tasting protein powders out there but they are versatile too! Just because the label mentions only water or milk doesn't mean that is all you're limited to. Instead, mix things up and actually look forward to your protein fix by adding your scoops to a smoothie.
The days of mediocre flavors are long gone and these 5 choices are sure to please.
Syntha-6 by BSN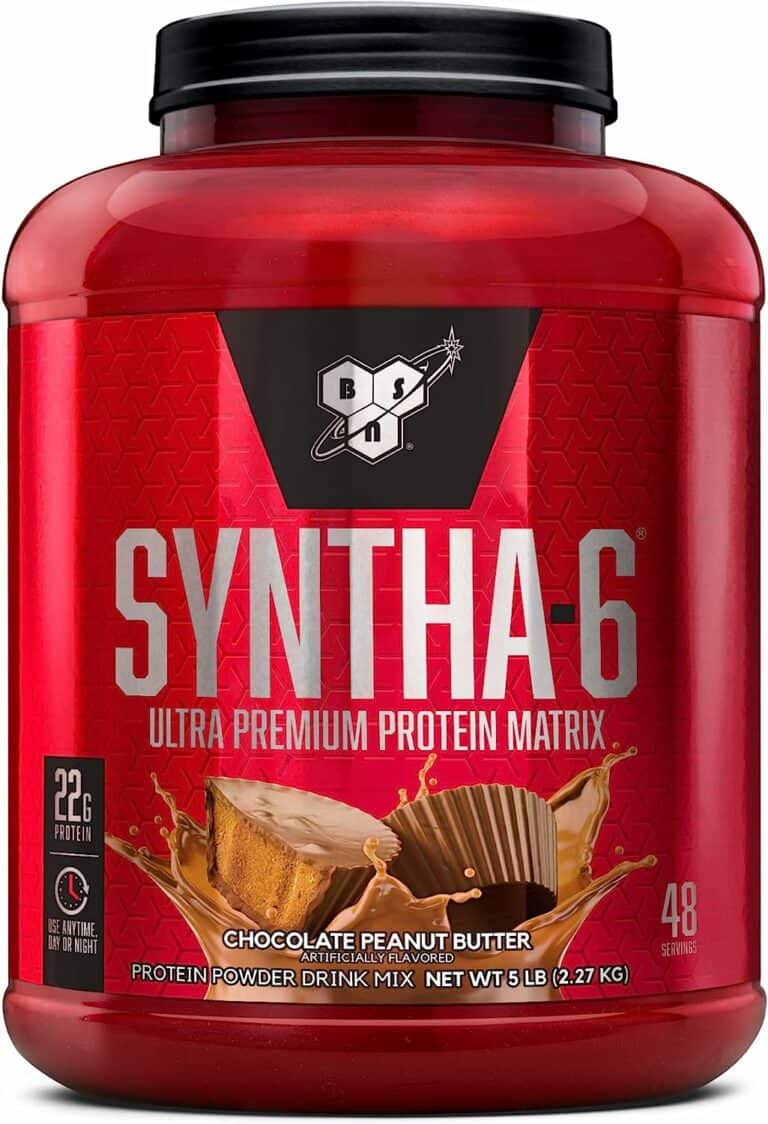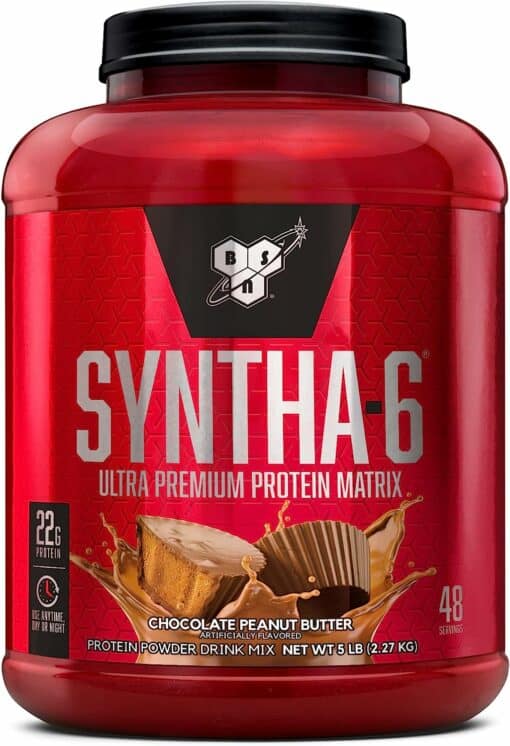 BSN's claim of their Syntha-6 protein blend tasting like a real milkshake is fairly spot on. Not only do these powders delivering a well-rounded kick of protein, but everyone will be able to find a flavor they love.
Details of the Syntha-6 blend include:
Nutrients per serving:
22g protein
200 calories
6g fat
2g sugar
14g carbs
5g fiber
Nine flavor options – Cinnamon Bun, Banana, Chocolate Cake Batter, Chocolate Milkshake, Chocolate Peanut Butter, Cookies & Cream, Peanut Butter Cookie, Strawberry Milkshake, and Vanilla Ice Cream
Supports muscle growth, synthesis, and recovery
The protein blend of whey, casein, egg albumin, and glutamine peptides
Post-workout powder with no caffeine
Since the Syntha-6 blend has no caffeine it is particularly ideal for smoothies since you can enjoy them throughout the day or night without worry. The flavors are all quite good and can really taste like a milkshake when mixed up with other ingredients. This protein is a bit higher in calories and carbs so don't overdo it.
Banana Malt Shake
A particularly nice twist on the milkshake is a banana malt shake. Here is a simple recipe to try:
1 scoop of Syntha-6 in Banana
1 scoop of Syntha-6 in Vanilla Ice Cream
1 to 1 ½ cups of unsweetened almond milk
½ a frozen banana
1 cup of ice
1 tablespoon of malt (or more to taste)
Blend it up and drink!
Pro JYM by JYM Supplement Science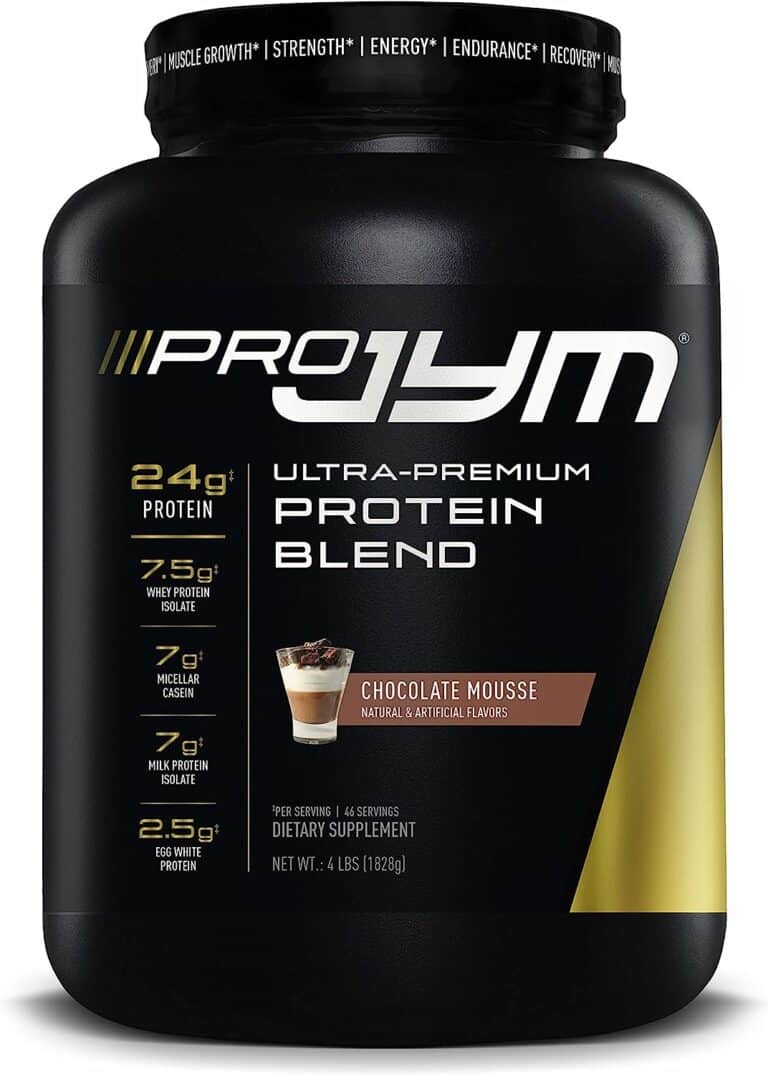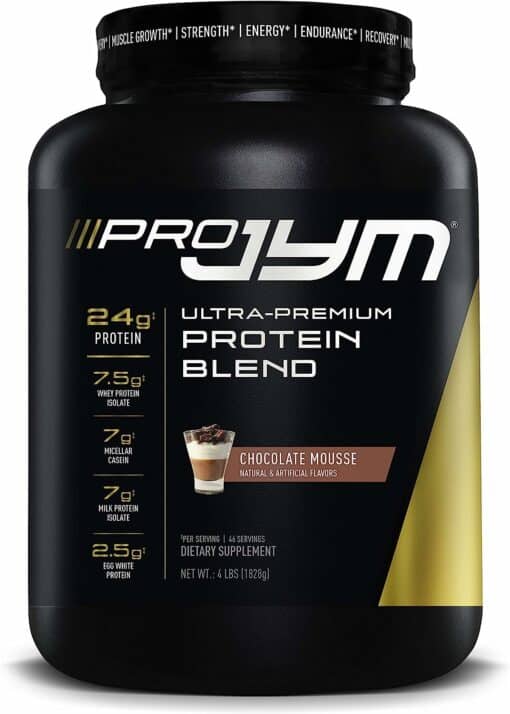 There aren't that many protein supplements on the market that aren't just backed by a doctor but actually created by a doctor. JYM Supplement Science was created by Dr. Jim Stopanni and contains some of the highest-quality ingredients you could wish for. The Pro JYM powder is the brand's ultimate protein blend.
Details of the Pro JYM blend include:
24g protein
150 calories
5g fat
3g sugar
8g carbs
Four flavor options – Chocolate Cookie Crunch, S'mores, Vanilla, and Cookies & Cream
The protein is made of whey protein isolate, micellar casein, egg albumin, and milk protein isolate
Total triple blend of 50% micellar casein, 40% whey, and 10% egg albumin
While the fat, sugar, and carbs are a little higher compared to other protein blends, it's for a good reason. The Pro JYM blend is a bit more of a "beefier" powder if you will. It has more natural nutrition and a more extensive ingredient list. This makes most of these flavors best saved for a smoothie or shake rather than just mixing in water, though it works perfectly either way.
If you're a s'mores lover you're definitely going to want to try out this recipe:
1 scoops Pro JYM in S'mores
¾ cup of unsweetened vanilla almond milk
2 tablespoons of a natural marshmallow creme
Graham cracker
1 tablespoon of a natural or sugar-free chocolate syrup
1 cup ice
Blend the first three ingredients first, then add the syrup and ice. Add enough ice for a thick shake consistency. Crumble the graham cracker, mix some into the drink, and saving some for a topping.
Gold Standard 100% Whey by Optimum Nutrition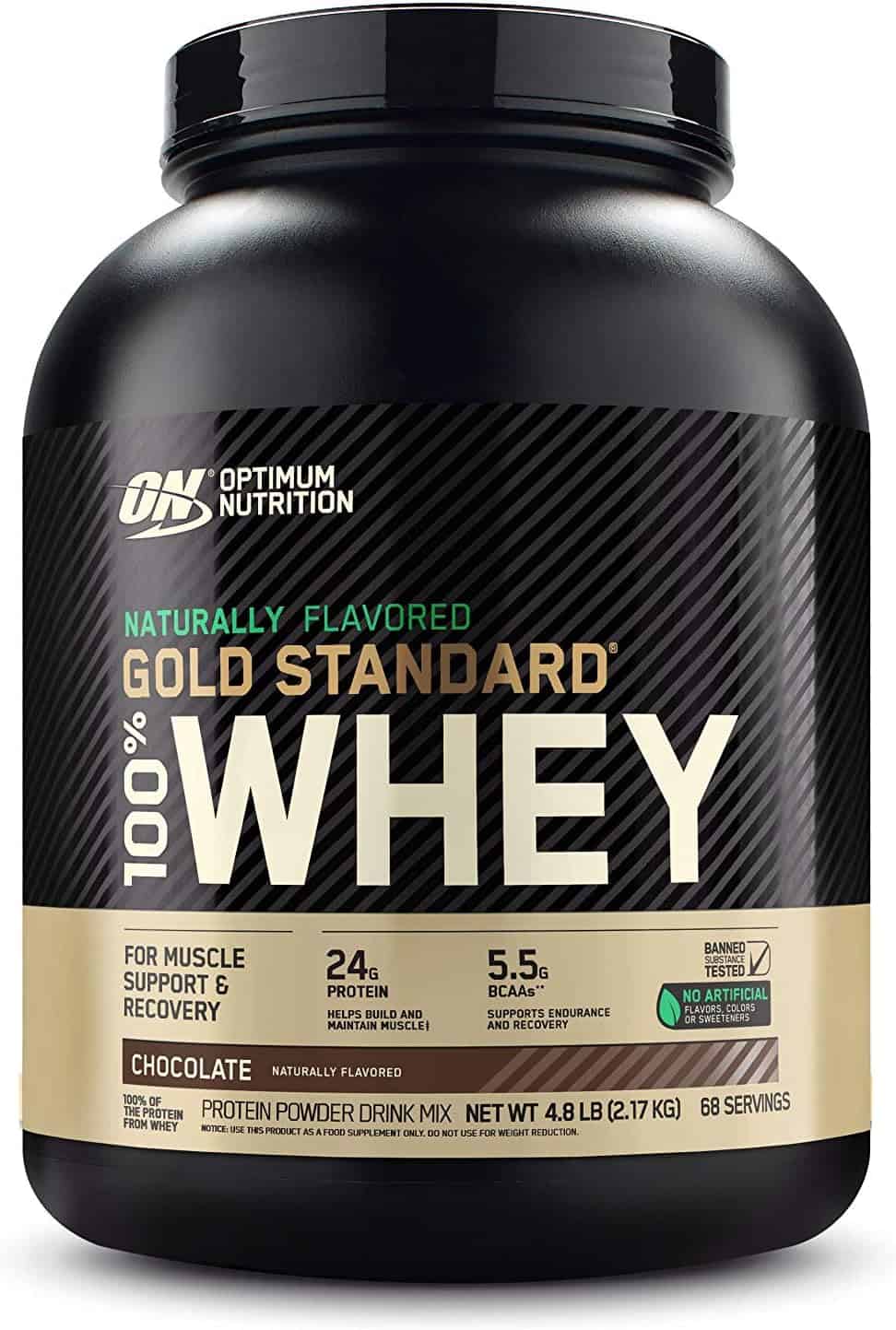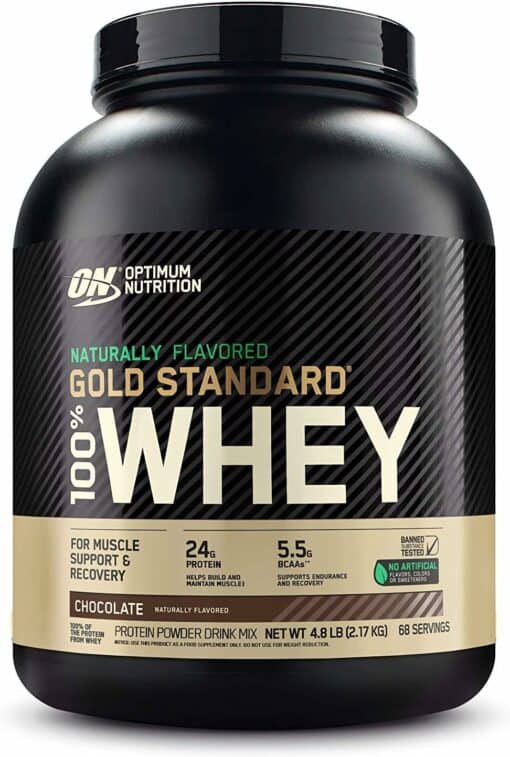 Optimum Nutrition's Gold Standard 100% Whey held its position as supplement and protein of the year for 10 years by Bodybuilding.com. This is quite a feat but when you look into the details of this product, it's easy to see why it remains an extremely popular option.
Details of Gold Standard 100% Whey include:
Nutrients per serving:
24g protein
120 calories
1g sugar
1g fat
3g carbs
Incredible 20-flavor selection including – chocolate mint, banana cream, mocha cappuccino, strawberry banana, caramel toffee fudge, key lime pie, vanilla ice cream, cookies & cream, and more
Also has 3 naturally flavored powders chocolate, vanilla, and strawberry
Available in serving size containers from 3 to 146 depending on the flavor
Has 5.5 grams of BCAAs and 4 grams of glutamine
Extremely water soluble
There isn't much to be said about the Gold Standard whey protein because it simply is so impressive. The huge range of flavors, from simple to quite decadent is excellent. Most people find the flavor to be quite tasty and very similar to the real thing. Most supplements, even this brand's, tend to be artificially flavored of course but the addition of three naturally flavored powders is a great idea.
Not only are the flavors amazing but the powder is so well made that you can quickly dissolve it in water with a spoon without a problem. This makes this product excellent for smoothies as well as a quick, on-the-go option. If you are craving something really sweet and have a moment to whip up a smoothie, try out this key lime pie recipe:
Key Lime Pie in a Glass
1 scoop Gold Standard 100% Whey Protein in Key Lime Pie
½ cup of Greek yogurt
1 tablespoon of fresh lime juice
1 cup of milk (or substitute almond milk)
1-2 cups of ice cubes
For more of a vanilla flavor, you could add an additional ½-1 scoop of the Vanilla Ice Cream flavor.
Gardenia All-Natural Vegan Protein by Body Nutrition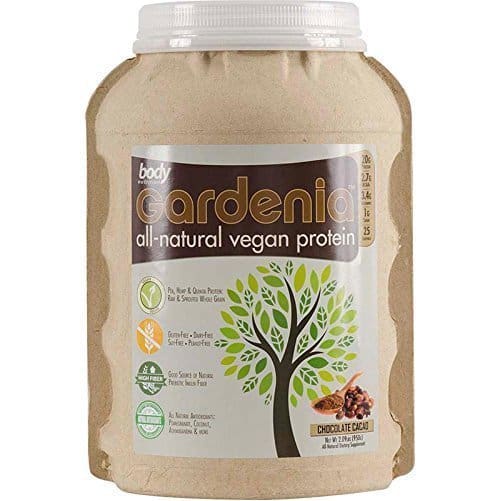 Vegan protein powders are often thought of as chalky, lumpy or gritty. If you've been searching for a plant-based protein that is going to blend beautifully into a smoothie, the Gardenia powder will be a lifesaver.
Details of the Gardenia vegan powder include:
Nutrients per serving:
20g protein
120 calories
2g fat
4g sugar
8g carbs
3g fiber
Four flavors – Vanilla Bean, CinnaBun, Mocha and Chocolate Cacao
Sold in 25-serving tub
Vegan blend of pea, quinoa, and hemp protein
100% organic and non-GMO ingredients
Amino acid profile of 2.7 grams of BCAA and 3.5 grams glutamine
If you've been disappointed by plant-based proteins in the past, this blend will become a fast favorite. Numerous users have found it to be one of the best-tasting vegan powders on the market while still delivering very impressive nutrition and protein. It doesn't have an overwhelming "green" taste and is sweetened naturally with coconut sugar and Monkfruit.
Staying on the trend of plant-based protein power, here is a perfect green smoothie with a protein punch:
The Perfect Green Smoothie
1 scoop of Gardenia All Natural Vegan Protein in Vanilla Bean
1 banana
½ cup of fresh strawberries
½ cup of blueberries
1 handful of spinach
1 handful of baby kale
1 ½ cups unsweetened almond milk
Blend and enjoy at breakfast.
COR-Performance Casein by Cellucor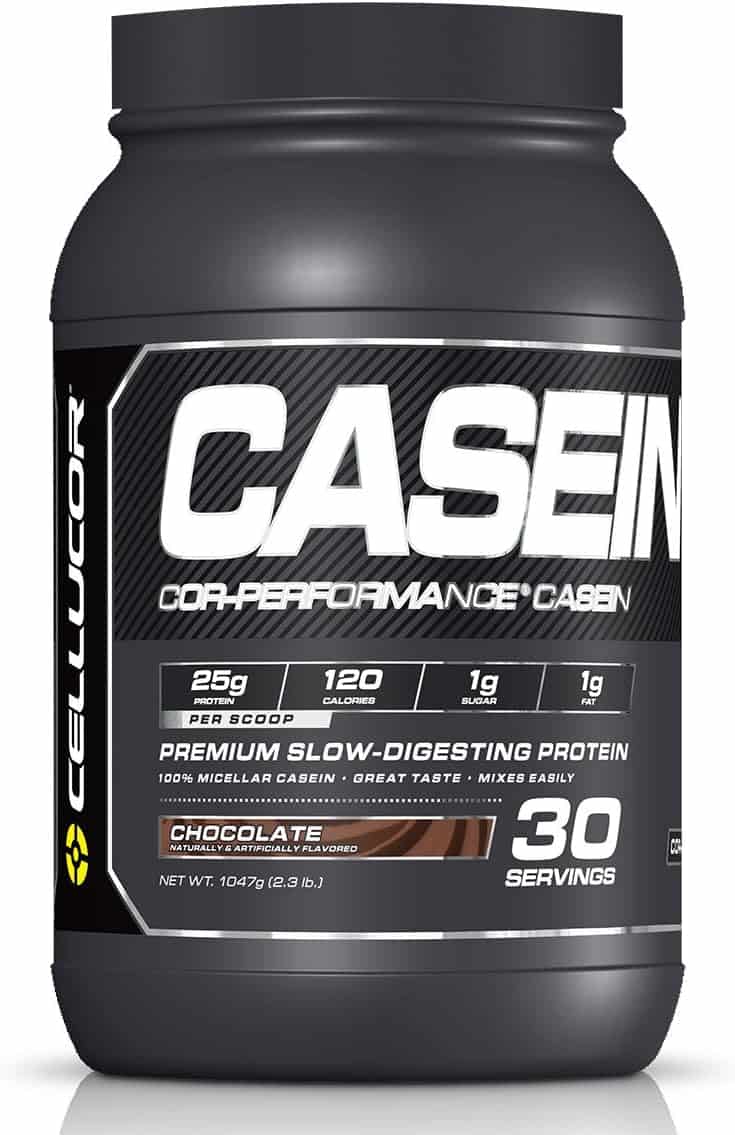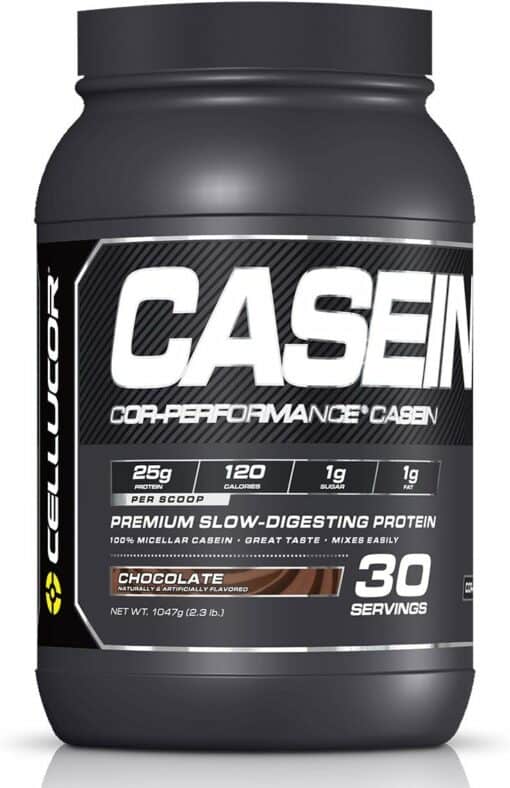 COR-Performance Casein is a very well-liked product produced by Cellucor. Many users find this powder to not only be delicious but easy on the stomach. It is made of high-quality ingredients and is a fairly fine powder, making it ideal for adding to smoothies or shakes.
Details of this casein powder include:
Nutrients per serving:
25g protein
120 calories
4g carbs
1g sugar
1g fat
Two flavors – Chocolate and Vanilla
Sold in 30-serving size tub
Supports muscle growth
Slow releasing 100% Micellar Casein protein
The COR-Performance Casein powder is unfortunately limited to only two flavors but its other benefits make it a great choice. Many users find the vanilla to be more subtle or natural, a nice change of pace in a world of strong, artificial vanilla powders.
The chocolate is very tasty and both flavors are great flavor bases for a variety of smoothies. The powder is very smooth and blends very well into water, milk, almond or soy milks, and more. Casein tends to feel more filling than whey and is ideal in a meal replacement shake or a smoothie before bed.
Here is a great late-night shake especially for chocolate lovers that will fuel your muscles while you sleep:
Get to Bed Chocolate Shake:
1 scoop COR-Performance Casein powder in Chocolate
1 cup unsweetened vanilla almond milk
1 small handful of spinach
½ tablespoon of cocoa powder
1 cup ice
Blend it up and top with some ground cinnamon to finish.
Powdered protein drink supplements don't have to just be added to water or some other plain liquid. Adding a scoop or two to a smoothie can really improve the taste and, depending on the ingredients, become a well-rounded meal replacement. Don't be afraid to experiment!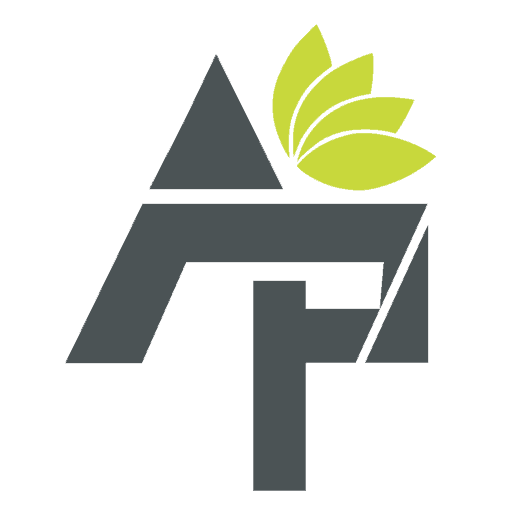 Alt Protein Team is a team of professionals and enthusiasts committed to bringing you the most up-to-date information on alternative protein, health and wellness, workouts, and all things health-related. We've reviewed a lot of products and services so you don't have to guess when you spend your hard-earned money on them. Whether you want to shed some pounds, build lean muscle or bulk, we can help you figure out what you need to do and what you need to have to achieve your goals.