For decades the only protein powders available on the shelves were animal-based. Whey was king. In recent years due to the popularity of veganism, nutritional supplement companies have created and released plant-based protein powders for people who choose a plant-based diet.
There are many benefits of plant-based protein powders with the most common reasons being easy to digest, free of growth hormones and antibiotics, and more environmentally friendly. While some hardcore gym rats will tell you that plant-based protein powders are not complete, most products actually are because they use a mix of various plant-based protein sources.
Now that there is more than just a few different types and brands of plant-based or vegan protein powders on the shelf it can be difficult to determine which ones are worth your money. Insert Everlast. You're probably thinking, "aren't they the boxing and fitness equipment people?" Yes, you are correct.
Everlast recently decided to branch into the nutritional supplement industry too. And they're doing a pretty good job at it.
About Everlast Vegan Protein
Everlast Vegan Protein is a plant-based protein mix providing up to 22 g of protein per serving and 110 calories. The protein powder contains only seven ingredients: pea protein, carrageenan, sea salt, rice protein, hemp protein, and Stevia glycoside.
The main protein source, pea protein, is high in BCAA's and is easily digested by the human body. Additionally, the product contains rice protein and hemp protein, which contains all nine essential amino acids. If you look at the ingredient list of other products it's not uncommon to see up to 31 ingredients. Yikes!
One scoop (29 g) of Everlast Vegan Protein contains 22 g of protein at only 110 calories. What it doesn't contain is sugar, lactose, soy, gluten, or cholesterol. It's a pretty clean product. Although, the product is manufactured at a facility that handles common food allergens, like peanuts and soy.
The Quick Facts of Everlast Protein Powder
| | |
| --- | --- |
| | Everlast Protein Powder |
| Protein Source: | Pea Protein, Rice Protein, Hemp Protein |
| Grams per Serving: | 22 g |
| Calories: | 110 cal |
| Flavors: | Light Vanilla Flavor |
| Cost per Serving: | $1.29 |
The Whole Scoop
Overall, the Everlast Vegan Protein powder impressed us. Coming from a boxing and fitness equipment company we were a bit unsure at first. Thankfully, the product blew us away. Most of the protein powders, whether animal- or plant-based, we try are filled with lots of ingredients. Many we can't even name.
However, we can name and identify what each of the seven ingredients used in the Everlast Vegan Protein powder.
Due to plant-based protein sources not being "complete," we were glad to see that Everlast used a mix of three plant-based protein sources to create a "complete" amino acid profile. Pea, rice, and hemp protein combined create a complete essential amino acid profile high in BCAA's that is easily digestible and lactose and gluten free.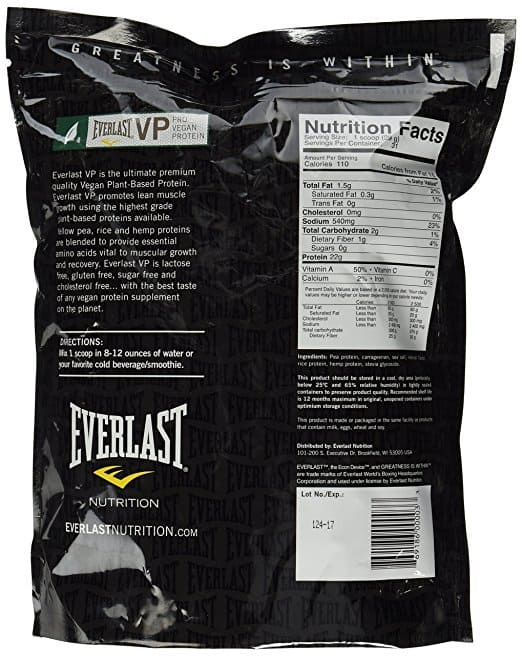 The only ingredient we're not a fan of is the Stevia glycoside, but it could be worst. Stevia is a plant-based natural sweetener commonly used in protein powders and other products to sweeten the often bitter taste. Sometimes too much Stevia can mean a sickly sweet product. However, Everlast hit the nail on the head. The vanilla flavor is just sweet enough to taste and enjoy in everything from just plain water to fruit smoothies.
One of the important factors that we look for in a protein powder is its ability to mix well with liquid. Not every protein powder does well in this category. To test Everlast Vegan Protein powder's ability to mix well, we added 8 ounces of tap water to the recommended serving size of 29 g or one scoop. We then took a spoon and stirred.
Overall the powder mixed well with the water. We did notice a few small clumps of powder, but we didn't notice it much when we took a sip. When mixed with milk its texture was a bit more like pudding. It also tastes great in smoothies!
The biggest issue we had with the product was the packaging. The packaging is a minimal resealing bag, which is great in concept. However, we couldn't get the bag to reseal afterward. Maybe our fingers were too sore from our recent workout, but we just couldn't get the single set of resealing grooves to meet up.
Instead, we just decided to store it in a storage jar. Just be careful pouring the powder into the jar. It's fine and may make you look like a ghost afterward.
Everlast Vegan Protein powder retails on their website for $59.99 (For the latest prices and discounts, check here), but you can often find it on sale on their site and other online retailers for $39.99. A 2-lb bag contains 31 servings for a price per serving of $1.29, but check out the latest prices and discounts. For the quality and taste, we think that's a good buy.
The Pros of Everlast Vegan Protein
Only seven ingredients
22 grams of protein per serving
No sugar, dairy, gluten or cholesterol
Great taste and texture
Good economical buy
The Cons of Everlast Vegan Protein
The container does not reseal easily
Is manufactured in a facilities that uses common allergens
The Final Scoop
We really like the Everlast Vegan Protein powder. We like how it only contains seven ingredients that we can name and identify. The product contains no sugar, dairy or gluten, which are all common allergens. However, it is manufactured in a facility that does so be careful if you have a severe allergy.
The taste is great and subtle. Nothing too sweet about this product and it mixes well in a variety of liquids. At an average price of $1.29 per serving we think it's a great buy. If you're looking for a tasty and clean plant-based protein powder then we definitely recommend Everlast Vegan Protein.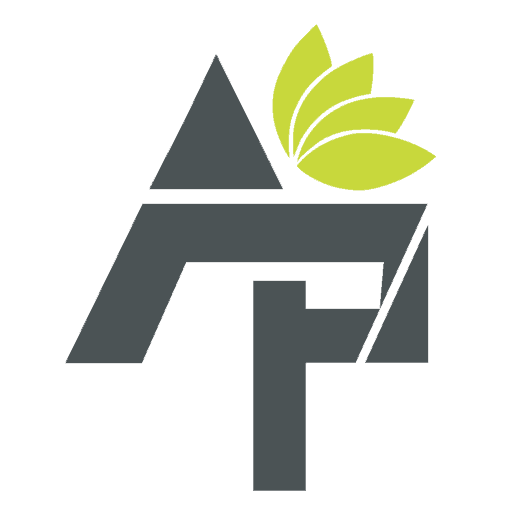 Alt Protein Team is a team of professionals and enthusiasts committed to bringing you the most up-to-date information on alternative protein, health and wellness, workouts, and all things health-related. We've reviewed a lot of products and services so you don't have to guess when you spend your hard-earned money on them. Whether you want to shed some pounds, build lean muscle or bulk, we can help you figure out what you need to do and what you need to have to achieve your goals.