If you're on the lookout for the best whey protein supplement you can afford, we recommend you to go for a clean and non-modified organic whey protein powder. That is the best choice for your body. Although there are several good options out there, some brands are better than others. This is also the case of Natural Force Organic Whey protein.
In this review, we will discuss all the aspects that make this organic whey protein powder one of the best of its kind. Natural Force supplement is an organic powder made from clean ingredients without any additives and full vitamins and minerals.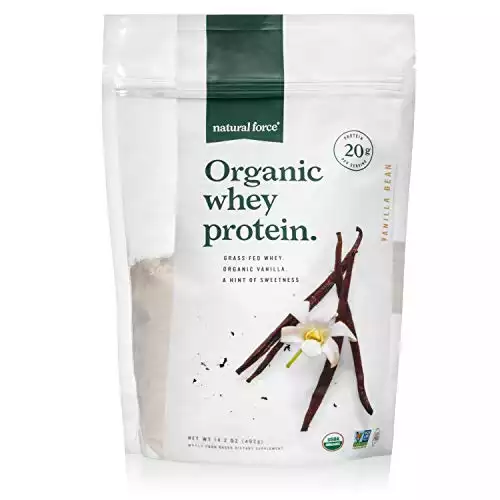 What Is Natural Force Organic Whey?
Natural Force protein is an USDA-certified organic supplement obtained from grass-fed cows. The source is free of hormones and antibiotics. This is a popular brand in the fitness nutrition industry as a non-GMO project. The company's mission is to provide high-quality effective training supplements like protein shakes.
Moreover, this protein powder is one of the company's most successful products which deliver important nutritional elements like vitamins and minerals for those of you who want serious results.
Ingredient Profile
Natural Force Organic Whey protein powder is rich in amino acids and fatty acids that come from the milk of hormone-free cattle. The manufacturing process is a unique one: this protein powder is created during a cold-temperature and acid-free technique. This ensures the quality of the ingredients.
When it comes to the main benefits of a good protein supplement, the secret lies in a complete amino acid profile. These elements are small compounds that our organisms use in order to develop larger protein structures such as muscle mass. This is why protein supplements are so popular among fitness enthusiasts and bodybuilders .and this organic protein powder is not the exception.
This organic powder contains BCAAs, which stands for branched-chain amino acids which are vital nutrients for the body's proper functioning. It's worth noting that Natural Force Organic Whey contains pure organic ingredients and valuable amino acids such as Leucine, Valine, and Isoleucine.
All these elements improve the synergistic action of your body. Another advantage of BCAAs is represented by the fact that they are quickly absorbed by the organism which leads to better nutrition and improved overall health.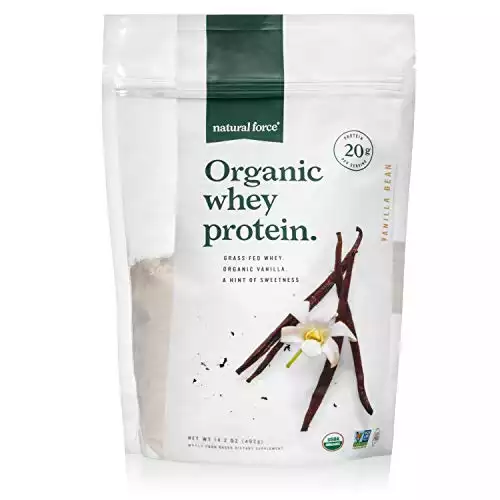 Main Ingredients
To summarize, the main ingredients of Natural Force Organic Whey are:
Branched-chain amino acids;
Whey protein concentrate that comes from the milk of grass-fed and pasture-raised cows;
Valuable minerals such as calcium, potassium, and sodium.
Natural Force's manufacturer is well-aware of the fact that the quality of a supplement's ingredients is crucial and it is probably the most important feature of a nutrition product along with its effectiveness. Besides the type of ingredients they include in the protein powder, Natural Force representatives also focus on how they process these ingredients like the raw organic whey.
Most other manufacturers process them through high-temperature and chemical methods which most likely will damage the natural structure of the BCAAs. Because Natural Force doesn't follow harmful trends, the company decided to go with a different approach: they rely on mild or low temperatures and a chemical-free process.
This organic powder is free of soy and gluten, hence having a low allergenic impact on its consumers. According to the manufacturer, Natural Force Organic Whey will never sacrifice the quality of its ingredients.
Nutritional Facts
Natural Force Organic Whey Nutritional Value – per one scoop or serving (26.7 grams)
Calories
110
Protein
20 grams
Fat
1.5 grams
Carbohydrates
3 grams
Calcium
78 mg
Benefits of the Natural Force Organic Whey Protein
Natural Force Organic Whey is the only whey protein certified by the Paleo Foundation and recognized as a great paleo-friendly nutritional supplement. Still, probably the most important benefit of this protein powder remains the quality of the whey's source. Other benefits that this powder provides are:
It is a certified organic powder;
Contains only natural and clean ingredients from verified sources;
It doesn't contain hormones, antibiotics or heavy metal residues;
It helps build lean muscle mass.
As mentioned previously, this protein powder supplement is also free of allergens such as soy and gluten which makes it an excellent choice for people with special nutritional needs. It is easily absorbed by the body and represents a much-needed support after an intense workout.
How to Use Natural Force Organic Whey
This protein powder is very easy to prepare and use. For optimal results, you should always prepare and consume it within 20 minutes of finishing your workout. On the other hand, Natural Force protein powder supplement is a versatile one. So, you can drink this energizing beverage whenever you need a little protein boost.
All you need to do to prepare this drink is to mix a scoop or a serving of this powder with cold plain water. In order to evenly distribute the powder and avoid any clumping, you should use a shaker bottle.
This is the simplest way to prepare this protein powder supplement. Still, there are many other options to create a delicious beverage. For example, you could combine it with milk or prepare several shake or smoothie recipes if you feel creative. Those will certainly provide the protein punch you need.
Taste and Mixability
Natural Force protein has a pleasant taste. If you're aiming for a great taste, you should mix it with milk instead of water. There are currently three available flavors on the market: vanilla bean, cacao bean, and coffee bean. As stated above, the preparation process couldn't be simpler. Just mix one scoop of Natural Force powder with water or milk and drink it while it is freshly made.
Natural Force Organic Whey Pros
It is a clean organic powder with natural ingredients;
It contains a well-balanced profile of amino acids and minerals;
Unlike many other similar supplements, Natural Force has an affordable price;
It contains valuable protein concentrate which provides focus, energy, and strength;
Consuming this nutritional drink will speed up your muscle recovery time and you will be able to go through more intense workouts;
Promotes weight loss in a healthy and controlled manner;
Will enhance your body's overall structural integrity;
There are no side effects associated with this whey protein powder.
Natural Force Organic Whey Cons
Some consumers complain that this powder contains only basic protein without having anything impressive when it comes to protein-related ingredients;
Although this is a USDA certified supplement, it hasn't received the approval of the FDA.
Precaution! This product is safe to consume and there are no side effects that come with it. Still, you suffer from a serious medical condition you should always seek your doctor's advice before taking this supplement.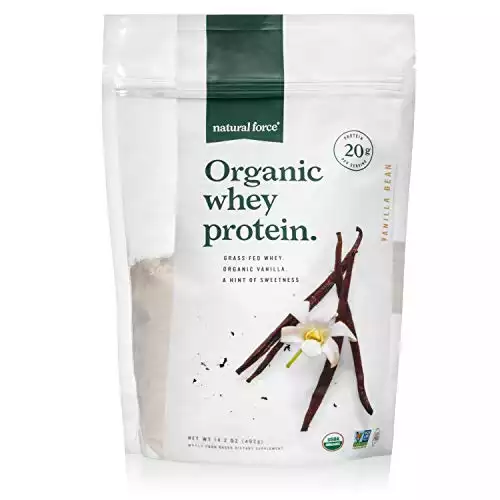 Where to Buy the Natural Force Organic Whey Supplement – Pricing Options
All Natural Force products, including the Organic Whey supplement, are easy to find online but also at some brick-and-mortar retailers like Target or Natural Grocers. To find the nearest store location, you must visit the company's store locator page on the brand's official website.
Natural Force Organic Whey is also available for sale through their online store. One 14.1-ounce container that has 15 servings costs $39.99 (For the latest prices and discounts, check here). This price tag is for a one-time purchase. If you decide to subscribe and receive this powder on a regular basis, you will benefit from a 20% discount.
You will also find the Natural Force protein powder on e-commerce shops like Amazon. Unfortunately, there are only two varieties marketed on this site. The Unflavored version costs $28.49 (For the latest prices and discounts, check here) and it is listed separately than all the other flavors.
All the other varieties (vanilla, cacao, and coffee bean) have the price tag of $33.24 (For the latest prices and discounts, check here) per one container of 15 servings. If you are an Amazon Prime member, you will receive free shipping.
One-time purchases will cost you a little bit more. If you're not an Amazon subscriber, you will be required to pay $34.99 per tub..
How Long It Will Take Before You See Any Improvement
This organic whey protein powder is an effective one that will provide amazing results. However, these benefits and results will not come on their own. Like in the case of all the other diets or nutrition plans, you will have to put in some effort. This is where the effect of Natural Force Organic Whey kicks in; you will gain more energy.
Being more energetic will help you go through more intense workouts and your muscles will recover quicker after training. In other words, if you expect significant physical changes, you must include this organic protein powder in a balanced and healthy lifestyle. That means you should stick to a regular workout schedule as well as a serious diet. You can enjoy a cheat day now and then but be sure not to make this a habit.
Putting It All Together
Other fitness plant-based protein supplement manufacturers rely on an aggressive marketing strategy to raise awareness and popularity when it comes to their brands. This is not really the case of Natural Force because the powder speaks for itself. The sole fact that this powder is made from organic and natural ingredients should be enough to convince you to give it a try.
Moreover, Natural Force Whey powder is not exposed to high temperature or chemicals during its manufacturing process. It contains a complete amino acid profile as well as essential branched chain amino acids. All these will deliver your desired results sooner than expected.
In the opinion of many fitness experts and nutrition specialists, this protein powder is an excellent choice when it comes to healthy and effective supplements. So, if you want to develop a healthier lifestyle, go ahead and try this energizing drink. Don't forget to let us know how well it worked for you!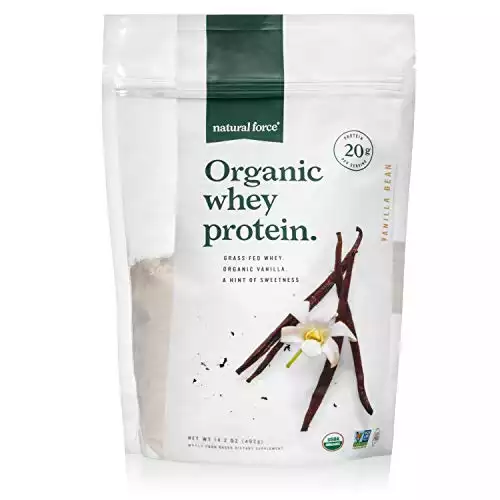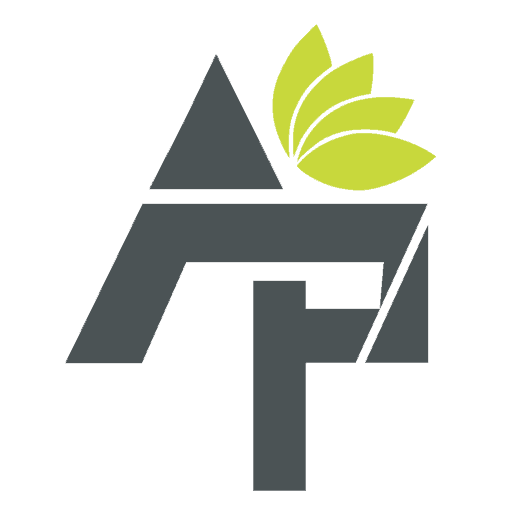 Alt Protein Team is a team of professionals and enthusiasts committed to bringing you the most up-to-date information on alternative protein, health and wellness, workouts, and all things health-related. We've reviewed a lot of products and services so you don't have to guess when you spend your hard-earned money on them. Whether you want to shed some pounds, build lean muscle or bulk, we can help you figure out what you need to do and what you need to have to achieve your goals.