When it comes to whey protein supplements, the most basic fitness supplement there is, you won't be lacking for choices. For such a simple and relatively undifferentiated product, you have literally hundreds of options to choose from. So it's no surprise that most consumers stick to the most popular choices such as Optimum Nutrition Gold Standard 100% Whey.
But just because certain brands of whey protein are the most popular doesn't necessarily mean they're the best. Even in the almost similar crowd of whey protein products, some companies try to offer consumers something a little more niche.
Bluebonnet Optimum Nutrition is one such supplement from the Bluebonnet Nutrition company which is founded in 1991 and is a family-run, independent supplements manufacturer based in the United States with a focus on the higher end organic and natural products niche.
To that end, the company has worked hard to obtain a variety of certifications such as the USDA Organic certification and Kosher certification. The company also has a strict non-GMO policy.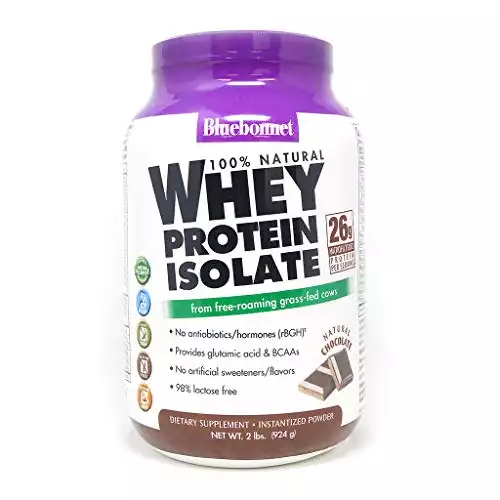 In today's article, we will be looking at the full Bluebonnet whey protein isolate review with its full features– Bluebonnet 100% Natural Whey Protein Isolate Powder. We'll look at what differentiates this product from other brands, its pros and cons, and whether or not it's worth your hard-earned dollar. Let's get right to it.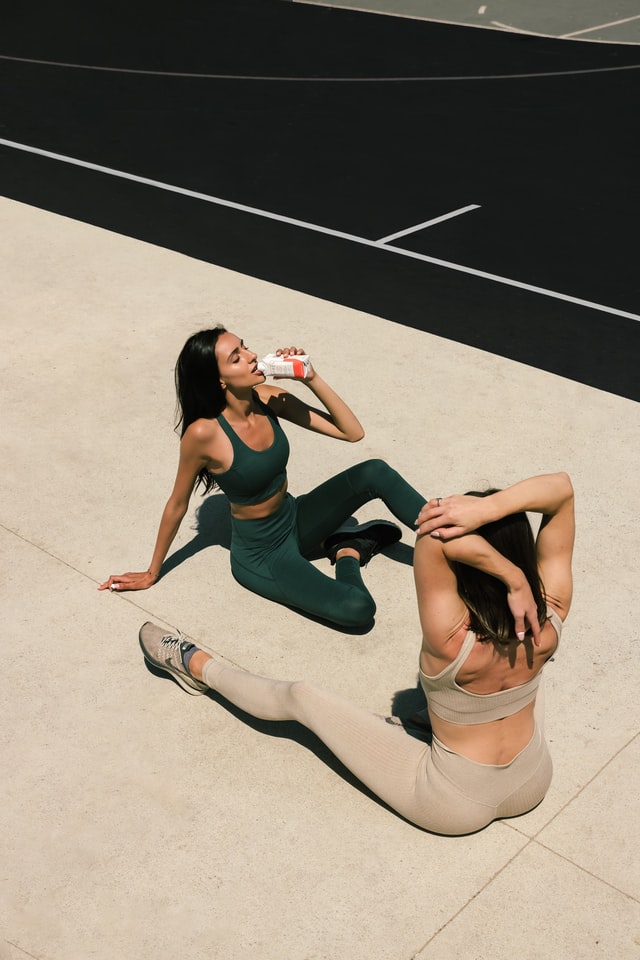 Basic Information
Let's see what goes into each serving of Bluebonnet Whey Protein Isolate powder.
| | |
| --- | --- |
| Serving Size | 31g – 33g |
| Servings per Container | 14 or 28 servings* |
| Calories | 125 calories |
| Protein | 26g |
| Carbohydrates | 3g (0g dietary fiber) |
| Sugar | 1.5g |
| Fat | 0.5g (0.5g saturated fat) |
| Sodium | 60mg – 140mg |
| Cholesterol | 15mg |
*If you opt for the original flavor, each container will have either 16 or 32 servings.
Right off the bat, we can see that the Bluebonnet's whey protein isolate has very minimal carbohydrates and fats. It has so little of either in fact, that it might be one of the purest protein products we've ever seen. Breaking down its macronutrient ratios by protein/carbohydrates/fats gives us about a 86/10/4 ratio.
So if you're looking for a whey protein dietary supplement that comes with the barest minimum of carbohydrates and fats, then the Bluebonnet's whey protein isolate seems to fit the bill.
Protein Sources
Bluebonnet Whey Protein Isolate uses, as the name implies, whey protein isolate as its protein source. Whey protein isolates are the more processed form of whey and contain more protein by weight compared to the cheaper whey protein concentrate. For instance, whey protein isolate is about 90% protein by weight while whey protein concentrate is about 80%.
Hence, whey protein isolate also contains a much lower lactose content (1% or less), making it suitable for people with lactose intolerance or indigestion issues.
Most protein powders contain whey protein isolate, however, they typically mix it with whey protein concentrate to keep costs down. In line with its more upscale target market, Bluebonnet ensures that this product is a 100% pure whey protein isolate.
There's also one more thing that differentiates Bluebonnet Whey Protein Isolate from the pack, and that is the manufacturing process. The company claims that its whey protein isolate is processed using a special low-temperature method, which does not denature the protein. The company claims that this leaves the beneficial immunoglobulins (which can have positive benefits on the immune system) intact. It calls its whey protein isolate 'undernatured'.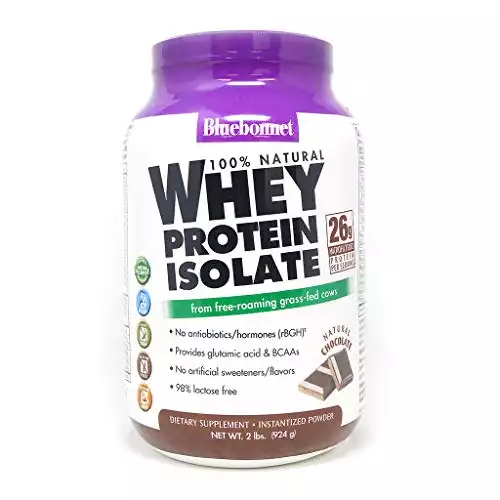 Note that just because a whey protein is denatured does not mean the protein is ineffective. Denatured whey protein isolates (the most common form) will still give you a dose of quality, complete, and easily digestible protein. That said, if you are looking for some of the additional immune benefits from the immunoglobulins (which is a secondary benefit at best for most whey protein consumers) then Bluebonnet Whey Protein Isolate might be just what you are looking for.
As a note of caution, however, keep in mind that just like almost all dietary supplement companies like Bluebonnet's claim that its undenatured whey protein isolate keeps the immunoglobulins intact is a statement that has not been evaluated by the FDA (the FDA does not regulate dietary supplements, hence the amount of spurious and exaggerated claims in the industry).
The research on whether undenatured whey protein isolate is better than regular whey protein isolate is also lacking. Further, if you are looking for the maximum immunoglobulin benefit, then whey protein concentrate, which is less processed than whey protein isolate (but contains more dairy and less protein), will have much more immunoglobulins and other bioactive peptides by comparison.
Finally, Bluebonnet states that its whey protein isolate is rBGH free. rBGH is a recombinant bovine growth hormone. The summary of the research surrounding rBGH is thus; it can cause adverse health effects in grass fed cows, but any potential harm to humans is inconclusive. However, it is not surprising that some people might prefer to avoid rBGH enhanced dairy product choices as much as possible.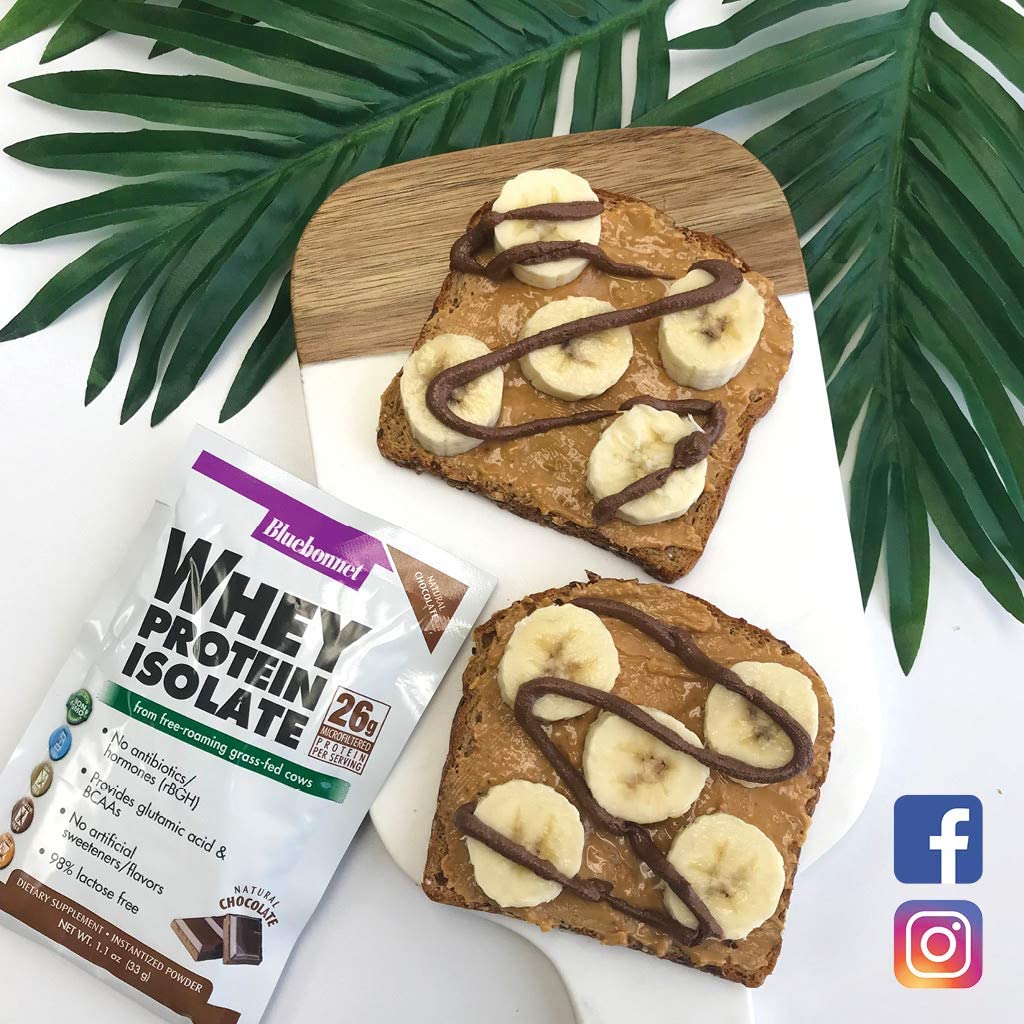 Carbohydrate and Fat Sources
Bluebonnet Whey Protein Isolate has 0.5g of saturated fat per serving, an almost negligible amount. This small amount of saturated fat probably comes from the whey protein isolate and sunflower lecithin (which the company stresses is non-GMO).
We note that the original flavor version of this product also shows a small amount of Medium Chain Triglycerides oil. Similarly, the carbohydrates in the product are also entirely incidental. Very likely they also come from the whey protein isolate.
Flavor and Mixability
Bluebonnet Whey Protein Isolate is currently available in five flavors – Original, Chocolate, French Vanilla flavor, Mixed Berry, and Strawberry flavor. The general consensus is that the Original, Chocolate, Mixed Berry, and French Vanilla flavor all taste good, however, the Strawberry flavor is best avoided.
For those wondering how the Original flavor tastes like (the ingredients list a natural vanilla flavor), the best comparison we can give is cake mix. The Original is also the most popular flavor, followed by the Chocolate. A note about the Chocolate flavor; while it doesn't taste bad, it also doesn't taste very chocolatey. It tastes a bit like a milk hot chocolate drink.
Given the company's niche in natural and organic products, the only sweetener that Bluebonnet Whey Protein Isolate uses is stevia. Refreshingly missing from this product are two of the most common sweeteners in the supplements industry – sucralose and acesulfame potassium. While both these ingredients are generally safe and FDA approved, some people prefer to avoid them.
Sucralose has been claimed to be a migraine trigger, and in rats, has been shown to have a negative effect on gut bacteria. The Center for Science in the Public Interest has repeatedly claimed that acesulfame potassium, despite FDA approval, should be studied more closely for its potential cancer risks.
On the mixability side, this product does well, and the vast majority of users report no issues whatsoever.
Value for Money
Since Bluebonnet does not sell its products directly through its official website, we are calculating the product's value for money based on its current prices listed on Amazon. As mentioned, Bluebonnet Whey Protein Isolate comes in either 1lb or 2lb containers, with the exception of the Original flavor, which comes in 1.1lb or 2.2lb containers. Based on flavor and container size, the price per serving can be broken down as follows:
| | | |
| --- | --- | --- |
| | 1lb / 1.1lb container | 2lb / 2.2lb container |
| Original Flavor | $1.75 | $1.50 |
| Other Flavors | $2.00 | $1.72 |
As you can see, the original flavor, due to a higher number of servings per container, is significantly cheaper compared to the other flavors. Nevertheless, even the original flavor is still significantly more expensive compared to the most popular whey protein brands out there which cost on average about $0.75 to $0.95 per serving (they also typically come in the larger and thus better value 5lb container sizes).
However these are typically whey protein concentrate and isolate blends, not pure isolates. Pure whey protein isolates come out to about $1.20 per serving, meaning that Bluebonnet Whey Protein Isolates are still priced at a significant premium.
Bluebonnet Whey Protein Isolate's price is more comparable to the premium vegan protein products out there. However, keep in mind that vegan protein is quite a specialized product while whey protein isolates are not.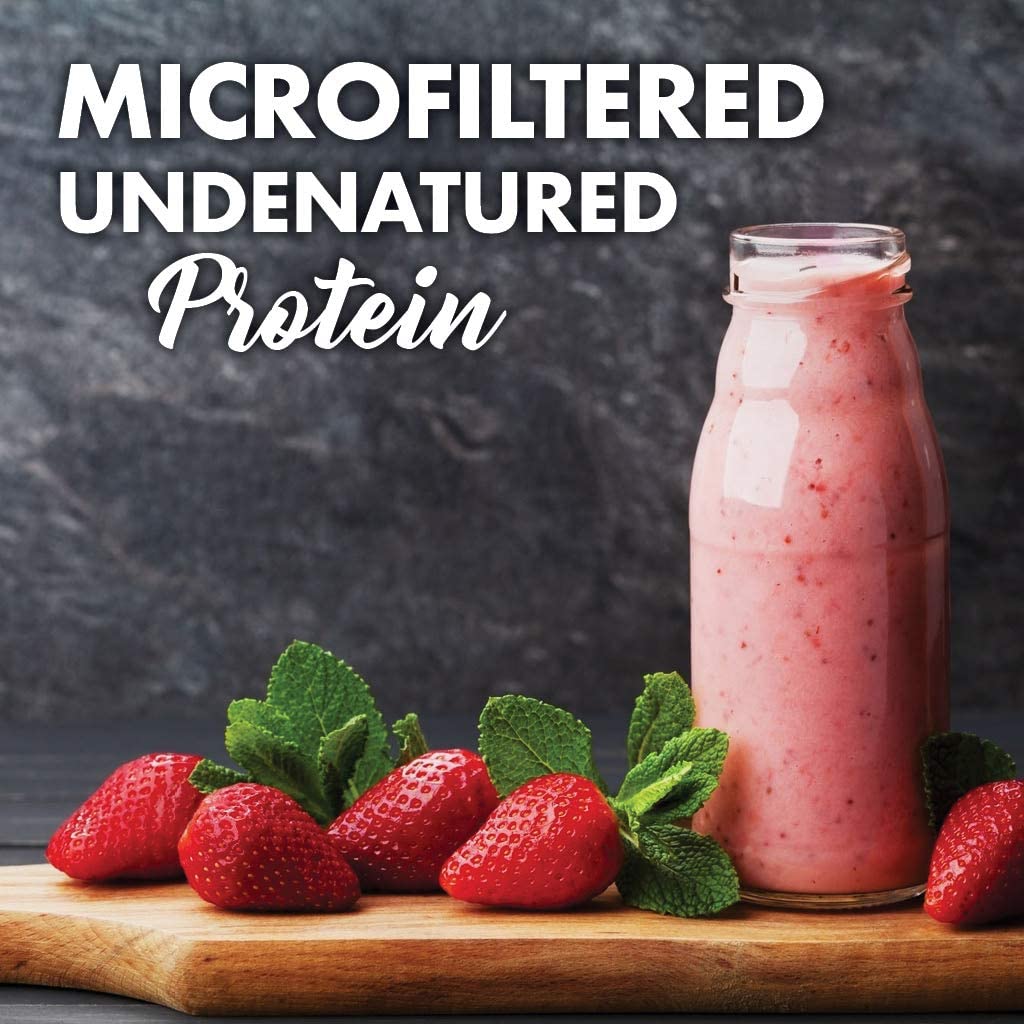 FAQs
Question: Does the Bluebonnet Whey Protein Isolate has any allergens?
Answer: This dietary supplement does not contain any of the common allergens like tree nuts, peanut butter, wheat, and soybeans and it also contains very low dairy levels and there are no artificial sweeteners making it the perfect supplement for people with allergies and lactose intolerance.
Question: What amino acids are in Whey Protein Isolate?
Answer: The Whey Protein Isolate includes essential amino acids like histidine, lysine, threonine, methionine, and others which are normally consumed through healthy food of an animal kind and from plants.
Question: Can beginners take Whey Protein Isolate?
Answer: Yes. Beginners can take Whey protein isolate as it will help them increase their strength and muscles, so they will experience a faster way of muscle growth.
Final Verdict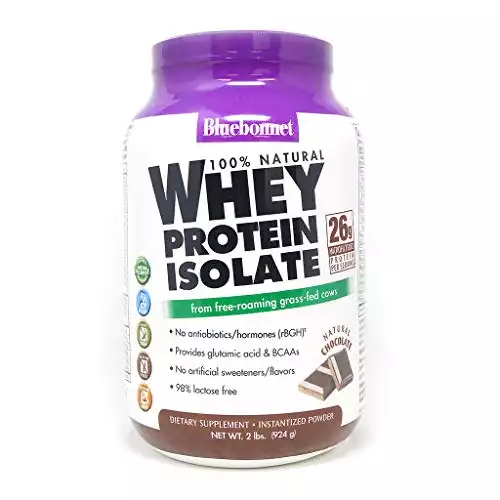 Whey protein is a complete source of protein and as a protein supplement is probably the most ideal source. And whey protein isolates, being so pure, have removed one of the most common downsides of whey protein which is digestion issues from lactose.
If you are looking for a pure whey protein isolate, then Bluebonnet Whey Protein Isolate is ideal for you. We like that it has minimal fat and carbs. We like that it minimizes the use of artificial ingredients. However, this is something you will pay a significant premium for. If you feel that some of the more 'side benefits' of this product are worth paying this premium, then you won't have any regrets buying this product.
Quick Review Table
| | |
| --- | --- |
| Pros | Cons |
| Pure whey protein isolate | Premium pricing |
| Very minimal fats and carbohydrates | |
| Mixes well | |
Disclaimer
Last updated: December 16, 2019
The information contained on www.altprotein.com website (the "Service") is for general information purposes only.
Alt Protein assumes no responsibility for errors or omissions in the contents on the Service.
In no event shall Alt Protein be liable for any special, direct, indirect, consequential, or incidental damages or any damages whatsoever, whether in an action of contract, negligence or other arising out of or in connection with the use of the Service or the contents of the Service. Alt Protein reserves the right to make additions, deletions, or modification to the contents on the Service at any time without prior notice.
Alt Protein does not warrant that the Service is free of viruses or other harmful components.
Fitness disclaimer
The Service offers health, fitness and nutritional information and is designed for educational purposes only. You should not rely on this information as a substitute for, nor does it replace, professional medical advice, diagnosis, or treatment. If you have any concerns or questions about your health, you should always consult with a physician or other health-care professional.
Do not disregard, avoid or delay obtaining medical or health-related advice from your health-care professional because of something you may have read on the Service. The use of any information provided on the Service is solely at your own risk.
You can also review our Editorial Integrity Policy.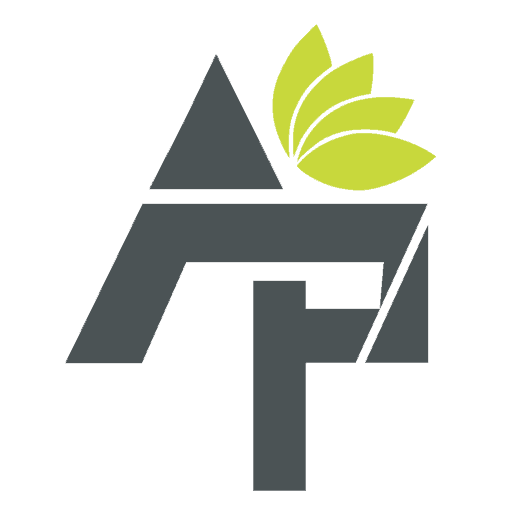 Alt Protein Team is a team of professionals and enthusiasts committed to bringing you the most up-to-date information on alternative protein, health and wellness, workouts, and all things health-related. We've reviewed a lot of products and services so you don't have to guess when you spend your hard-earned money on them. Whether you want to shed some pounds, build lean muscle or bulk, we can help you figure out what you need to do and what you need to have to achieve your goals.