The best yogurts for the keto diet are usually whole fat (healthy fats – sometimes called full-fat greek yogurt) and plain, though some exceptions make the list. Sound boring? It's totally not.
What other diet or meal plan tells you to go ahead and dive into the goodness of creamy, whole milk?
Well, keto recipes and keto diet food heavily features yogurt as a star player, despite the calories.
Flavorings or not, that experience in itself feels decadent.
Keep in mind, you'll need to watch your serving sizes to make sure any yogurt fits into your ketogenic diet and ketogenic lifestyle framework for the day.
These are the best yogurts for Keto ("good yogurt"):
Oikos Triple Zero
Each one of the Oikos Triple Zero Strawberry Greek Yogurt, 5.3 Ounce -- 12 per case. yogurt cups contains 15 grams of protein. There's no fat, though. Most–if not all–of the flavors have 14 total carbs, six grams of dietary fiber, and six grams of sugar. Unlike a low-carb diet, these extra carbs are permissable as they are almost entirely healthy fat based.
These are especially nice when you're bored with plain yogurt or want something quicker and more convenient than adding your own toppings. Flavors include:
Apple Cinnamon
Salted Caramel
Mixed Berry
Peanut Butter Banana
Banana Crème
Cherry
Dark Chocolate
Coconut Crème
Coffee
Orange Crème
Peach
Strawberry
Vanilla
There are no added sugars or artificial flavors in these. They're sweetened with stevia.
You can find this option at most grocery stores, though flavor options will vary from place to place.
Fage Total
Fage Total Greek Greek Yogurt, 17.6 Ounce (Pack of 6) contains 10 grams of fat, six grams of carbs, and 18 grams of protein. It's rich, tart, and creamy, and the plain flavor makes a wonderful base for berries, vanilla extract, and stevia, or whatever else you'd like to add.
This should be relatively easy to find at most grocery stores and comes in three sizes: seven ounces, 17.6 ounces, and 35.3 ounces.
Similar to Fage Total, this greek yogurt should be pretty easy to find at any store that sells yogurt. It's made with whole milk and triple-strained to make sure it's as thick, creamy, and delicious as possible. You can get it in the 32 oz. size.
This yogurt is vegetarian-friendly, kosher, free of artificial sweeteners and preservatives, gluten-free, and made only from non-GMO ingredients. The cows are not treated with rBST. If you're mildly lactose intolerant, this may be a good option for you because it contains less than five percent lactose.
The nutrition breakdown looks like this: nine grams of fat, eight grams of carbs, and 20 grams of protein.
Black Sheep Yogurt
Old Chatham Sheeping Herding Plain Sheeps Milk Yogurt, 6 Ounce - 12 per case. is made in Chatham, New York, and has been made much the same way for about 25 years (Old Chatham Sheepherding Company was started in 1993). It may be a little more challenging to find, but it's another good option for those who don't tolerate dairy well.
You can buy it online, but you'll need to buy several containers at one time to do so. Get six, 16-ounce containers for about $35.00.
There are 12 grams of fat, 9 net carbs, and 13 grams of protein per eight-ounce serving.
White Mountain Bulgarian Yogurt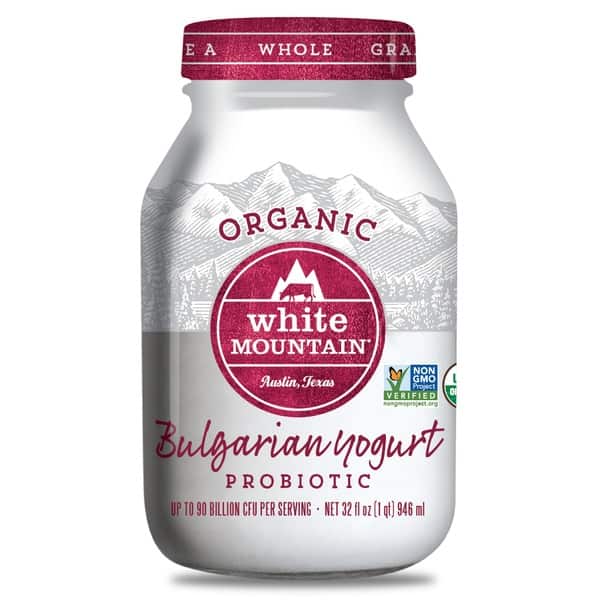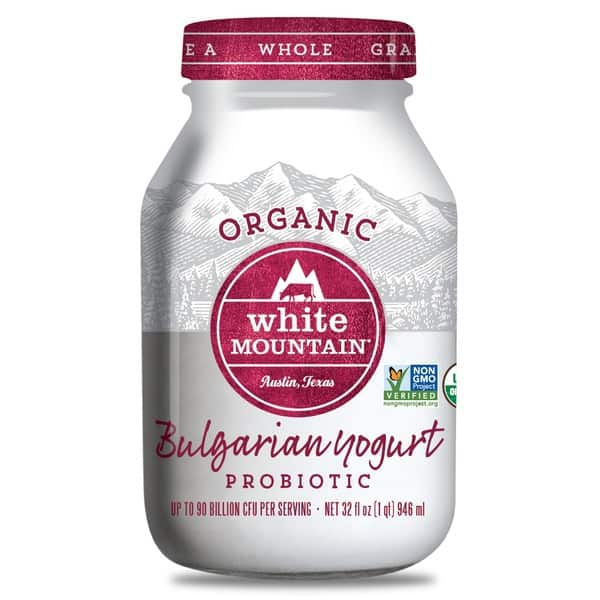 White Mountain Bulgarian yogurt is made from two things: milk and live cultures. There's nothing extra thrown in to compromise its health benefits. It's similar to Greek yogurt, but a bit more under the radar.
It's lactose-intolerance friendly and high in probiotics. The 24-hour fermentation process is the reason it's good for people who suffer from lactose intolerance. There are up to 90 billion probiotics in each serving, making it an excellent choice for gut health.
You may not be able to find this one at all grocery stores the way you can find Oikos or Chobani, but it's worth checking for it if you want to try something new and different.
White Mountain Bulgarian yogurt comes in:
Whole Milk Bulgarian Yogurt (regular and organic), which has eight grams of fat, five carbs, and 13 grams of protein
Nonfat Milk Bulgarian Yogurt (regular and organic), which has no fat, 10 carbs, and nine grams of protein but probably isn't the best choice for the keto diet most days
Whole Milk Greek Yogurt, which has eight grams of fat, five carbs, and eight grams of protein
White Mountain Foods even offers a money-back guarantee if you don't like their products, so there's not much to lose if you want to try it. You'll just need to send them a proof of purchase within 30 days.
Stonyfield Organic Whole Milk Smooth & Creamy Yogurt
Stonyfield Organic Whole Fat Yogurt has nine grams of fat, 12 grams of carbohydrates, and eight grams of protein per serving. It's a pasture-raised, non-GMO, kosher-certified, and gluten-free option made from whole milk. It contains cultured pasteurized whole milk, pectin, vitamin D3, and live active cultures.
There's a vanilla option, too, but it contains cane sugar so it's probably best to just mix your own flavorings into the plain one.
Like the idea of this one but need more fat? Stonyfield's got you covered with the Double Cream Smooth & Creamy Plain. It has 15 grams of fat, 12 carbs, and eight grams of protein.
There's also a whole milk Greek yogurt version, which has eight grams of fat, nine grams of carbohydrates, and 21 grams of protein. It, too, is organic, pasture-raised, non-GMO, kosher-certified, and gluten-free. The ingredients here? Just cultured pasteurized whole milk and live active cultures.
Plain Cabot Greek
Cabot Plain Greek yogurt has 22 grams of fat, 12 carbs, and 16 grams of protein per serving. It's thick and creamy, the perfect base for flavorings and even the occasional addition of berries. You can also use it in dips or cooking.
Its list of ingredients isn't as simple as some, but it's still short and everything is recognizable: pasteurized milk, cream, whey protein concentrate, milk protein concentrate, and live active cultures.
In my experience, this one's available in almost all the stores where you can find the Oikos and Chobani yogurts. It's not too hard to find.
Elli Quark
It's not technically marketed as a yogurt (instead, they say, "think cheesecake in a cup"), but it's close enough. And it's delicious. It also comes in so many flavors, it'll take a while to get bored.
Overall, these are high in protein and don't have added sugar. They're sweetened with stevia and erythritol and made from non-GMO ingredients and non-rBST milk.
There are two versions—whole milk and 0 percent—but I've personally found it easiest to find the nonfat ones. There are fewer whole milk flavors than nonfat ones, too.
It seems like stores are beginning to carry more flavors as a whole; when I first found out about Quark by Vermont Creamery (8 ounce), I was often limited to only a few flavors per store. What you can find will depend on your location, of course.
Whole Milk flavors include:
Apple pie
Brownie batter
Coconut
Plain
Mixed Berry
These have 4.5 to 5.5 grams of fat, 12 to 14 grams of protein, and five to nine carbs.
0% flavors include:
Vanilla bean
Strawberry
Blueberry
Sea salt caramel
Red velvet
Lemon
Peach
Mint dark chocolate
Bananas foster
Cherry
Pineapple
Plain
These, of course, contain no fat. The carb count is generally a bit higher here than in the whole milk option. The amount of protein is roughly the same.
Comparing Labels – Best Yogurt for Keto at a Glance
Here's a look at how all of these yogurts compare in macros. The best yogurts for a ketogenic diet will depend on what the rest of your diet actually looks like. Some people struggle to get their protein in for the day, while others find it challenging to hit their fat goals. Some choose to consume more net carbs than others.
About Those Pesky Carbs and Sugars
You can cut the carb count in half since some of the sugars are consumed by active cultures. The number of net carbs and sugar on the label do not take the fermentation process into account. To be absolutely sure that yogurt (in general or new yogurt brands you'd like to try) isn't affecting your attempts to stay in ketosis, you'll need to monitor your ketone levels when you eat yogurt at first.
Adapting Your Yogurt to Fit Your Needs
Some followers of the ketogenic diet suggest adding heavy whipping cream to your yogurt if you need more fat. This will shift the macro percentages and could help you fit yogurt into your day.
Just Make Your Own If you're feeling adventurous, you could make your own coconut yogurt using a recipe like the Coconut Cream Yogurt one at Ruled me or the Low Carb Yogurt at Keto Connect.
Further Keto Diet Reading
---
Disclaimer
Last updated: February 26th, 2020
The information contained on www.altprotein.com website (the "Service") is for general information purposes only.
Alt Protein assumes no responsibility for errors or omissions in the contents on the Service.
In no event shall Alt Protein be liable for any special, direct, indirect, consequential, or incidental damages or any damages whatsoever, whether in an action of contract, negligence or other arising out of or in connection with the use of the Service or the contents of the Service. Alt Protein reserves the right to make additions, deletions, or modification to the contents on the Service at any time without prior notice.
Alt Protein does not warrant that the Service is free of viruses or other harmful components.
Fitness disclaimer
The Service offers health, fitness and nutritional information and is designed for educational purposes only. You should not rely on this information as a substitute for, nor does it replace, professional medical advice, diagnosis, or treatment. If you have any concerns or questions about your health, you should always consult with a physician or other health-care professional.
Do not disregard, avoid or delay obtaining medical or health-related advice from your health-care professional because of something you may have read on the Service. The use of any information provided on the Service is solely at your own risk.
You can also review our Editorial Integrity Policy.
(Visited 3,291 times, 19 visits today)
Health enthusiast, runner, protein nut. Owen likes to write about protein, particularly alternatve supplementation and supplement comparisons.